Endurance:

World Marathon Majors
March, 28, 2013
3/28/13
12:26
PM ET
When two Kenyan distance runners were
sanctioned for doping offenses
by Athletics Kenya last week, initial news reports described one of the athletes, Jynocel Basweti, as "relatively unknown."
[+] Enlarge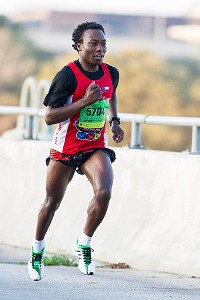 Cal Sport Media/AP ImagesJynocel Basweti, who has won 17 marathons in the U.S. since 2006, was suspended two years by Athletics Kenya for a doping offense.
However, the 27-year-old Basweti is very familiar to organizers of mid-market marathons in the United States. He has won 17 marathons in the U.S. since 2006, sometimes stringing together multiple victories only weeks apart. His resume includes three wins at the Quad Cities Marathon; two apiece in Buffalo, Richmond and Atlanta; and others in Denver, Seattle, Jackson, Miss., and Louisville, Ky.
Basweti's times weren't world-class, and the prize money he collected was modest by professional standards, topping out in the $10,000 range per race over the years. But the frequency of and spacing between his wins were eyebrow-raising, and his recently-revealed doping violation highlights a tricky issue for directors of small-budget races with a recreational or charity focus that do little to no drug testing.
According to the IAAF, track and field's international governing body, Basweti tested positive for boldenone, an anabolic steroid intended for veterinary use, after finishing second at the Culiacan Marathon in Mexico on Jan. 22, 2012. His two-year suspension announced last week was back-dated to July 2012. During the interlude between the test and the beginning of the suspension, Basweti ran in at least four marathons in the United States and won three of them within a six-week stretch:
• Feb. 19: 2nd place, Austin (Texas) Marathon (2:23:52)
• March 18: 1st place, Shamrock SportFest, Virginia Beach, Va. (2:22:57)
• April 1: 1st place, Knoxville (Tenn.) Marathon (2:29:24)
• April 28: 1st place, Kentucky Derby Marathon, Louisville, Ky. (2:23:04)
"This is a first for us," said Knoxville Marathon race director Jason Altman. "We'll have a discussion and see if we have any recourse. If he cheated, he cheated not only the participants but the race organizers."
February, 24, 2013
2/24/13
11:48
AM ET
By
David Monti
| Competitor.com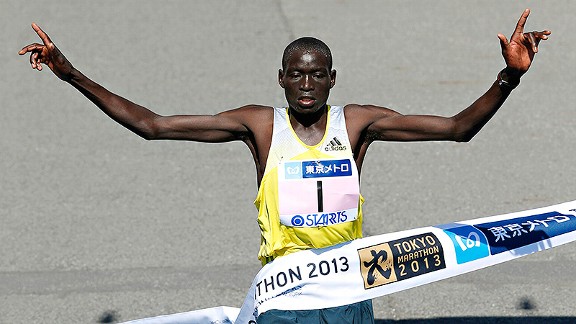 AP Photo/Shizuo KambayashiKenya's Dennis Kimetto takes first place at Sunday's Tokyo Marathon in a course-record 2:06:50.
(c) 2013 Race Results Weekly, all rights reserved. Used with permission.
TOKYO -- Battling cold and windy conditions, Kenya's Dennis Kimetto and Ethiopia's Aberu Kebede emerged as winners of Sunday's Tokyo Marathon. Kimetto, who was the runner-up at last September's BMW Berlin Marathon and is the world 25K record holder, ran a superb second half to set a course record of 2:06:50. Kebede struggled with the wind in the second half, but her winning time of 2:25:34 fell only six seconds short of a course record. A record 36,201 runners entered the race, now part of the World Marathon Majors series.
The men's contest started conservatively with the pacemakers running the first 5 kilometers in a restrained 15:15 and halfway in 1:04:22. Although skies were bright, athletes were feeling the strong winds combined with the 45-degree temperatures and were holding back.
"I tried to conserve energy to 30K and go with whoever was there," said Japan's Kazuhiro Maeda, who stayed tucked in the big lead pack of 25 runners.
The pack stayed together until the 29th kilometer. when diminutive Kenyan James Kwambai broke the race open with a 2:55-kilometer, followed by a 2:48. Kimetto, Michael and Bernard Kipyego, and Gilbert Kirwa followed. Kwambai continued to push the pace, but later said that breaking the wind sapped his strength.
"My body is very light, so I can't resist [the wind]," the 105-pounder told Race Results Weekly.
Kimetto saw his chance to try for the victory and pushed ahead. Running with his left arm awkwardly angling away from his body, Kimetto put the hammer down, running 14:20 from 30 to 35K. That gave him a 5-second lead over defending champion Michael Kipyego, his nearest challenger who soon realized that he was running for second. Kimetto's lead only grew on his way to the blustery waterfront finish at Tokyo Big Sight, where he completed his second half in a swift 62:28. Michael Kipyego clocked a personal-best 2:06:58 to finish second, and Bernard Kipyego got third in 2:07:53.
February, 22, 2013
2/22/13
2:10
PM ET
By
David Monti
| Competitor.com
(c) 2013 Race Results Weekly, all rights reserved. Used with permission.

TOKYO -- Standing shoulder to shoulder on a stage in the Tokyo Metropolitan Government building here, directors of the six marathons of the World Marathon Majors announced Friday that they had agreed on tougher anti-doping measures designed to thwart and punish drug cheats.

Contracts awarded to elite athletes competing in the commercial marathons of Berlin, Boston, Chicago, London, New York and Tokyo will now include clauses for both the suspension of payment and repayment of prize money, appearance fees and bonus for doping convictions.

"As a group we want to speak with one voice on the subject of performance enhancing drugs," Boston Marathon race director Tom Grilk told a symposium of race organizers.

Specifically, the new athlete contracts will contain provisions that include the right for the events to suspend payment and to demand repayment of prize money, appearances fees, and performance bonuses for any athlete found in violation of a criminal offense involving drugs, anti-doping rules, or if for any other reason the athlete's result has been nullified by a relevant governing body. These new measures come on top of the group's present policy of not inviting any athlete found guilty of a doping offense to participate in its events.