Eric Karabell Football:

Justin Blackmon
October, 15, 2013
10/15/13
12:05
PM ET
Six weeks down, and still many more before the fantasy playoff picture begins to take shape. Here in the end-of-season rankings update, we try to make sense of not only what has happened to this date but also what we think will happen the rest of the season. Perhaps your stars from Weeks 1 and 2 aren't faring as well in the rankings as recent stars, or even players who have yet to play. Either way, hopefully this helps for trade (or pickup) purposes ... or if you happen to have a draft this week!

Remember, these are not the Week 7 rankings; those will be posted Wednesday. Have thoughts? Hit me up on Twitter at @karabellespn. Enjoy!


October, 8, 2013
10/08/13
3:19
PM ET
We've already seen trading in the NFL this season (
Trent Richardson
), and other potentially relevant players switching or finding teams (
Willis McGahee
,
Josh Freeman
), so it's yet another reason to see how the real-life changes affect our end-of-season fantasy rankings. Each Tuesday I update my rest-of-season rankings, by position and overall, to aid fantasy owners in evaluating talent for trades, pickups and, hey, for entertainment and debating purposes, as well!
Remember, these are
not
the Week 6 rankings; those will be posted on Wednesday. Have thoughts? Hit me up on Twitter at @karabellespn. Enjoy!
To continue reading this article you must be an Insider
October, 6, 2013
10/06/13
11:15
PM ET
Poor
Dallas Cowboys
quarterback
Tony Romo
just can't get a break. While the talk Monday will be about Romo's crucial late-game interception that led to the
Denver Broncos
escaping Big D -- actually, there was little D, as in defense, here -- with an exciting 51-48 win, the fact is Romo delivered one of the top quarterback performances in franchise -- and recent fantasy -- memory. Romo
lost
the game -- of course he did, right? -- but he will win many fantasy owners their Week 5 contests by having scored 40 fantasy points. Let's not bury Romo but rather praise him, for he has been a consistent, reliable asset in our game for years, and his performance Sunday is a likely harbinger of more good things to come.
Through four weeks, Romo was a top-10 fantasy quarterback, which stands right in line with much of his
underrated
career, at least statistically. In fact, he has finished among the top eight fantasy quarterbacks three of the past four seasons. However, Romo is seldom viewed for his successes, statistically or otherwise. This season, 11 quarterbacks, on average, were chosen before him in
ESPN live drafts
, and among the players at other positions deemed more preferable but already looking like busts are
Chris Ivory
and
Kyle Rudolph
. Romo just keeps on producing fantasy numbers, and three of his weapons were able to amass more than 100 receiving yards and a touchdown catch Sunday.
[+]Enlarge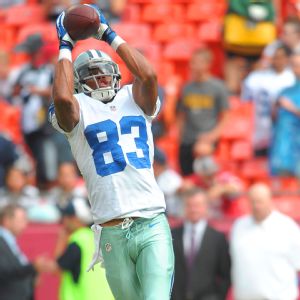 Denny Medley/USA TODAY SportsTerrance Williams is owned in just 1.3 percent of ESPN standard leagues.
To continue reading this article you must be an Insider
October, 1, 2013
10/01/13
12:39
PM ET
One month of games is complete, which of course still leaves a lot more of the fantasy season. But at least now we have a pretty good idea who is good and who is a Jacksonville Jaguar. The exercise remains the same in this space each Tuesday, as we rank each position and the overall as if we could all start over. Perhaps it helps you gauge value for free-agent pickups or for potential trades.
Remember, these are
not
the Week 5 rankings; those will be posted Wednesday. Have thoughts? Hit me up on Twitter (@karabellespn). And enjoy!
To continue reading this article you must be an Insider
September, 13, 2013
9/13/13
10:23
AM ET
It's understandable that
Pittsburgh Steelers
running back
Jonathan Dwyer
would show up on ESPN's
most dropped list
. After all, Dwyer didn't even make the team a few weeks ago, a surprise victim of a numbers game, or perhaps due to the hope that starter
Le'Veon Bell
wouldn't miss much time. Of course, it's worth pointing out that there are currently
four
Steelers running backs among the 14 most dropped, including Bell, so something has to give. I mean, someone has to get the touches, and Dwyer, who was brought back to the team this week, seems to have as good an opportunity as anyone there to seize a relevant role. They're not bringin'
Jerome Bettis
back, you know.
[+] Enlarge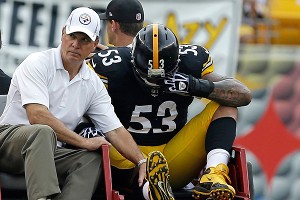 AP Photo/Gene J. PuskarThe injury to center Maurkice Pouncey is a devastating blow to the Steelers.
You're probably wondering how any member of the Steelers running game will matter in fantasy football moving forward, but here in the Sneaky Pickups blog entry we like to dream big, or at least consider possibilities, however unlikely they might be. The Steelers not only lost in Week 1 to the
Tennessee Titans
in a poor offensive performance, but they lost really good center
Maurkice Pouncey
to a season-ending injury. Not only that, but nominal starting running back
Isaac Redman
looked terrible, actually costing the fantasy owners who started him two points. He rushed eight times for nine yards and lost a fumble. Bell is out at least another month with foot issues, perhaps quite a bit longer,
LaRod Stephens-Howling
is out for the year,
Felix Jones
is flat-out terrible and ... welcome back, Mr. Dwyer. No hard feelings, right?
Well, fantasy owners
want
hard feelings, don't they? Whatever makes a player more dedicated and motivated to produce numbers is fine with us. As stated in this
blog entry
from ESPN Steelers writer Scott Brown, it sure looks like Dwyer relishes the new opportunity he's been given, and has a sizable chip on his shoulder. There's no guarantee any Steelers running back will succeed Monday night against the
Cincinnati Bengals
, which is precisely why you buy low now. Nobody's saying to use Dwyer or Redman this month! After all, the Bengals are good. Then after that ... it's the
Chicago Bears
! But Dwyer isn't as bad as most real-life free agents, either.
To continue reading this article you must be an Insider
January, 23, 2013
1/23/13
3:30
PM ET
For the second consecutive season, the No. 2 wide receiver in ESPN standard fantasy leagues scored 210 points. Congrats to
Brandon Marshall
on the accomplishment this season. Of course, one wideout managed to beat Marshall in scoring, and it's the same one who beat
Jordy Nelson
of the
Green Bay Packers
in 2011. Hmm, who could this dominant wide receiver be? It won't come as much of a surprise; again, the more pertinent question surrounds the rest of the top-five, top-10, top-whatever choices at the position, not the first fellow.
Wide receiver is deep, just as it always has been -- certainly in relation to running back -- and myriad choices stepped up during the 2012 season to claim top-10 consideration. While the
Chicago Bears
' Marshall ultimately finished second in position scoring in standard formats, he has company in the top-5 conversation. With
quarterback
and
running back
recaps/previews in the rear view mirror, let's tackle wide receivers.
[+] Enlarge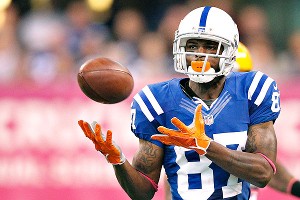 Sam Riche/Getty ImagesReggie Wayne finished 15th among WRs in fantasy scoring after having an ADP of 93.8.
Wide receiver MVP:
OK, so
Calvin Johnson
of the
Detroit Lions
is pretty good. We get it. But he was also a first-round pick in most leagues, and unlike the 2011 season, he finished outside the overall top 20 scorers. Disappointing season? Well, he did score 40 fewer points, mainly thanks to being unlucky in the touchdown department. Yes, he broke the league mark for receiving yards in a season, but 29 other wide receivers caught more than his five touchdowns, including
Santana Moss
. So it is that
Reggie Wayne
of the
Indianapolis Colts
edges out the
Denver Broncos
'
Eric Decker
for the MVP nod. Wayne was a 10th-round pick in
ESPN average live drafts
, a forgotten older player who was certainly not close to done.
Andrew Luck
made Wayne his top target and Wayne responded by producing nearly the exact same numbers from his final year playing alongside
Peyton Manning
in 2010. Meanwhile, Decker was the only one of the top 13 wide receiver scorers this season who wasn't selected among the top 20 in ADP. Yep, there was no real stunning out-of-nowhere
Victor Cruz
-like performance. Decker was an eighth-round pick, 28th at the position, but he finished tied with
Andre Johnson
for eighth in WR scoring and finished second only to
James Jones
of the Packers in receiving touchdowns.
To continue reading this article you must be an Insider
November, 18, 2012
11/18/12
11:21
PM ET
Perhaps the proverbial changing of the guard occurred in Houston on Sunday, as a pair of talented wide receivers -- one on the "wrong" side of 30 years old and the other a fresh-faced rookie -- each managed to eclipse 200 receiving yards, just the second time two receivers have reached that mark in a single game. It sure was exciting watching longtime
Houston Texans
standout and fantasy stalwart
Andre Johnson
produce his best game of the season and previously disappointing
Jacksonville Jaguars
wideout
Justin Blackmon
do the same.
For Johnson, now 31 and past his prime (which included him being the top wide receiver in fantasy), his 14 receptions on 19 targets for 273 receiving yards validated his WR2 relevancy, which really hadn't left anyway. The ESPN Fantasy crew has been ranking Johnson in its top 20 regularly, yet this is the first time since Week 3 that Johnson topped 11 fantasy points. He scored 33 of them and nearly broke the league record for receiving yards in a game, which concluded with him turning an ordinary bubble-screen pass into an electrifying 48-yard touchdown in a 43-37 overtime victory.
[+] Enlarge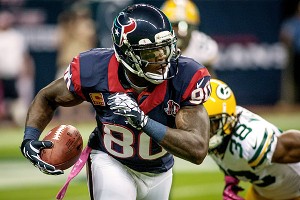 Andrew Richardson/Icon SMIAndre Johnson has had eight or more catches in four of his past five games after catching that many just once in his first five games this season.
While Johnson's fantasy numbers have been modest -- he entered Week 11 a mere 36th among wide receivers in standard scoring -- there's obvious upside for more, and he showed it in skewering the Jaguars. In reality, Johnson had given us harbingers of production recently, with 25 receptions and 279 receiving yards over a three-game span. Let's not call Johnson a
safe
top-10 fantasy wide receiver again, as the risk of injury and the team's general reliance on the running game remains. But there isn't a tough pass defense remaining on the Houston schedule, either. There's just no reason to sit a healthy Andre Johnson.
To continue reading this article you must be an Insider
October, 19, 2012
10/19/12
2:54
PM ET
The
Jacksonville Jaguars
are pretty much all or nothing for fantasy football these days, as in running back
Maurice Jones-Drew
is owned and active in all leagues, and the rest of the squad represents pretty much nothing. Perhaps that's not entirely fair, but look around your leagues and report how many owners are actually using rookie wide receiver
Justin Blackmon
, tight end
Marcedes Lewis
or, digging deeper, quarterback
Blaine Gabbert
or the team's kicker or defense. It's rare.
[+] Enlarge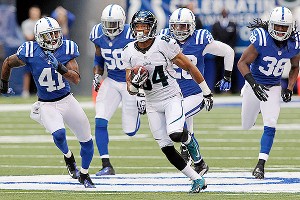 (AP Photo/AJ MastCecil Shorts has displayed big-play ability, but is short on opportunities.
This week the Jaguars are facing a rather appealing matchup against another struggling franchise in the
Oakland Raiders
. Would I use Gabbert or one of the wide receivers in fantasy? It would have to be a deep league, but as we often do in the Friday Sneaky Pickups blog, we dream about possibility and plan ahead past the current week. Maybe the Jaguars won't score a ton Sunday -- they're averaging only 15 points per contest -- but planning ahead for fantasy purposes, let's not be so quick to dismiss the potential of the passing game if, as this offense-challenged team is suggesting, Gabbert is given a chance to open things up a bit.
To continue reading this article you must be an Insider
August, 21, 2012
8/21/12
3:03
PM ET
No matter which fantasy sport you play, using a tiered system to choose, or at least judge, players is often a wise move. It's a dangerous tact to enter any draft or auction proceedings intent on ending up with any particular names, as in many cases there are others -- from wide receivers to outfielders to point guards -- in a similar class who can easily become bargains. We're talking statistics here, and while all of us bring some degree of inherent bias to who we choose and who we ignore, a tiered system helps alleviate this.
To continue reading this article you must be an Insider