October, 27, 2014
Oct 27
7:08
PM ET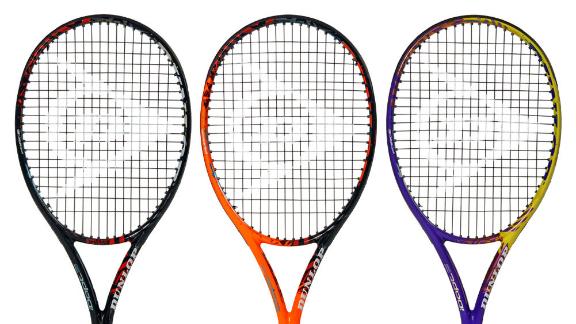 If only you could design your own jeans or shoes. Or tailor your food order exactly the way you want it. Wouldn't that be nice.
Or, say … customize your own tennis racket. There's a novel idea. Well, welcome to the game, Dunlop iDapt.
Think your tennis racket isn't pretty enough? No sweat. Too long? Too short? Not an issue. With Dunlop's latest line, you have options aplenty. The company has created four new models in the iDapt Force series, all customizable and, truthfully, a potential game-changer.
With each model you can select standard or extended length frames, choose the feel (flexible, medium or firm) and, naturally, pick out the cosmetics that suits your discerning eye.
Serious, you can go flashy or air on the side of monochromatic, if that's your style.
But here's the thing: These sticks are more than a pretty face.
I took a couple for a test drive recently and was admittedly surprised at the feel off these frames.
iDapt Force 100
For the record, here's how I customized my frame: standard length, firm and neon yellow (think the color Jimmy Connors' racket during his 1991 US Open run).
Bottom line: stout. The first things I noticed was the massive plow-through and the gaping sweet spot. The racket was just about as comfortable as any frame I have tested this past year. I've seen some comparisons to the Babolat Pure Drive, but I wasn't buying it. This iDapt had a much deeper cushion and was noticeably less harsh on my arm.
The frame weighs in at 11.3 ounces, but at only three points head light, it packed a much bigger punch than I expected. The head-heavy feel augmented an already plush response.
I was able to hit big groundstrokes continuously without feeling fatigued or overwhelmed. As a matter of fact, more than most rackets, I felt this one gave me the option to be aggressive while maintaining serious control.
Net play was smooth. The racket had no dead zones and sticking a ball deep in the court or dropping it over the net seemed seamless. This frame served huge. For a "tweener," this racket felt much more like a player's stick than some other wider-beamed rackets.
I used the racket for about 75 minutes, hitting a series of crosscourt groundies and then some volley drills. The end result was explosive shot-making, which instilled confidence to hit even bigger shots.
So there you have it. Pretty and potent. Not a bad combination. Actually a stellar one.
iDapt Force 98
This was a fun racket for me. Light and maneuverable with easy access to spin, in many respects, this racket felt similar to its slightly larger brother, the Force 100, but without as much of the plush response. I ended up adding some lead tape around 3 and 9 o'clock, which helped. (By the way, Dunlop offers "Blast Zone weights" that add two or three grams of weight.) Just another cool, customizable feature.
This was one of those rackets that truly felt like an extension of my arm. The directional control was exceptional. If there was one downside, this one lacked some of the stability the 100 had. I noticed this more when hitting from a defensive position. Offensively, though, the Force 98 allowed me to take healthy cuts from both wings without the fear of spraying too many balls -- which, yes, I can do.
The highlight on this frame was the ease in which the 98 moved through the air. This racket is right in the wheelhouse of specs I typically gravitate toward -- a weight just north of 11 ounces with a swingweight around 320. It allows for some customization without drastically altering the feel off the stringbed. This racket had comfortable power without producing those vexing fliers. I felt like I could either swing out or take some speed off the ball and hit sharper angles without having to think about it.
Like the 100, I went with the firmest iteration of this frame and standard length. I feel like I would have benefited from the half inch if I had chosen that route. Especially on the serve, which was very much control oriented, but lacked a little bit of the punch I found in the iDapt Force 100.
But I'll say it again: Whether going for broke down the T or kicking serves out wide, I felt like the directional control was superb.
This racket was easy to wield around net, and the added weight really helped the stability in sticking volleys where I wanted.
All in all, the iDapt 98 is a fantastic all-court frame, which, by the way, comes in three nifty colors as well. I'd recommend spending some time manipulating the specs. Mostly the weight. If you get it right, you won't be sorry.
The bottom line here is that both the 98 and 100 frames are quick and eminently comfortable. And if you need a tweak here or there, Dunlop gives you that option.
What more could you ask for in a racket?