September, 25, 2014
Sep 25
12:20
PM ET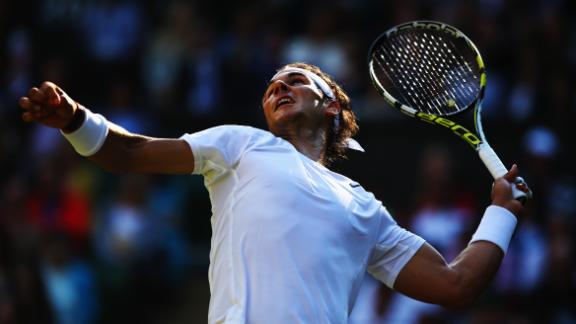 It's hard to pinpoint the exact genesis of the tennis racket. Some reports suggest they go back as far as the 14th century. Crazy enough, though, from the late 1800s, when tennis truly began its descent on a mainstream sport, rackets didn't change much.
But then it was on. Steel rackets, including the legendary T2000 made famous by Jimmy Connors, found their way on to the tour in the 1960s. The next iteration of frames were primarily made of aluminum, and racket heads began to increase in size. And finally manufacturers discovered graphite, a far lighter and stiffer substance that is the dominant element in today's rackets.
Of course, it's far more detailed than this, but through it all, a few select frames have penetrated the racket market as technology has advanced. The Prince Original Graphite and Jack Kramer Pro Staff from the late 1970s to the Dunlop Max 200G in the 1980s to the Head Prestige in the 1990s.
There are many more, of course, but nothing like the onslaught of frames today. Name a big-time tennis manufacture and it has a celebrated model with ubiquitous appeal, whether on the pro circuit, the junior ranks or even at the club level.
One of these stylish, sought-after rackets comes via Babolat, which soon after creating its world famous Pure Drive, came up with a more aerodynamic version, the AeroPro Drive -- the racket made famous by Rafael Nadal.
Admittedly, I was late to the game when it came to giving this stick a whirl. I had always gravitated toward thinner-beam frames, mainly to help with maneuverability. In retrospect, I was a little parochial in my search for a racket that would best suit my game. My mistake.
Just north of its throat, the AeroPro Drive's beam is 26mm, which by comparison is six to eight millimeters wider than a typical thin-beamed frame. But I can tell you this: This racket cuts through the ball like a knife. And it's rock solid, to boot.
The current iteration of this frame also uses cortex technology, which alleviates a lot of the harsh response the older models were criticized for. I play-tested this racket for over 90 minutes recently, and I wanted to keep going. Overall, the racket weighs 11.3 ounces (plus an overgrip and dampener), but it feel like you're swinging a much lighter frame with the stability of a 12-ounce racket. A winning combo, for sure.
Because the racket moves so quickly, serves felt far more natural than I thought they would, and I could deliver solid pop with minimal effort. If there's one manipulation I'd make, and this is just a personal preference, I'd jack up the length by a half inch. Good news is that this racket comes in a "plus" size, too (27.5 inches), which I will explore.
But I can safely say I get the universal demand for the AeroPro. It does everything really well. Exceptionally well, that is.
Babolat Pure Control Tour
Finally, a true classic frame that can measure up to today's tweener frames without losing any stability. The bottom line is that this racket is a perfect hybrid of mass and touch. With a low flex rating, this Pure Control is eminently comfortable off the ground.
Make no mistake, you have to do the work. At 11.8 ouches, and with a tight string pattern, it might feel unwieldy at first, but there is uncanny comfort as long as you stay out in front of the ball. And with that, some serious power.
Personally, once I got into a rhythm, I didn't want to put this frame down. It exuded confidence from all areas of the court. Only a select few rackets I have tested this season have had consistent stability off the string bed. The benefits were most evident in hitting short balls and playing attack-first tennis. Offensively, this racket is a machine. With a lower flex rating of 63, there is a lot of comfort -- and more so, a sweet pocket upon impact.
The precision was spot on with volleys. Because of the heft and stability, sticking balls deep in the court came naturally and with ease. One recommendation, though: The frame seemed to perform better (or more comfortably) with a blend of gut and polyester string, or, at a minimum, a softer poly rather than a full bed of a harsher poly.
This racket really surprised me, though. Despite a denser string pattern, spin was easy to generate. But it was the overall confidence-inspiring feedback that made this one a real winner.
Babolat Pure Strike 16x19
If the Pure Control seems like too much frame, might we recommend the Pure Strike 16x19? Weighing in at 11.3 ounces (the same at the AeroPro Drive), this frame performs well from all areas of the court.
The bite off the ball is stout. Actually, it's right up there with the best spin-oriented rackets I have play-tested in a while. With an open string pattern and a stiffer flex, the combination of power and control was ideal.
Even though structurally and aesthetically (and by the way, this racket is pretty handsome), it's quite different from the AeroPro Drive, I felt the same bite off the ball -- but in a much sleeker frame.
If there's one knock, I felt like there was occasional instability, mainly returning serves. While the Pure Control Tour easily blocked back big serves, the Pure Strike tended to wobble if I missed the sweetspot.
On the flipside, this frame was superior on the defense or when scrambling to turn defense into offense. It truly felt like an extension of my arm.
This racket has garnered universal appeal, and for good reason. The frame also comes in three other models. A heavier 12-ounce, 18x20 version, a lighter (11.4) 18x20 frame as well as a lighter (10.8) 16x19 version.
Babolat has raised its level of rackets for well over a decade now as you might infer by the number of pro-level players who use them. Each of these frames has its own unique attribute. So which one is for you?