January, 31, 2015
Jan 31
4:59
AM ET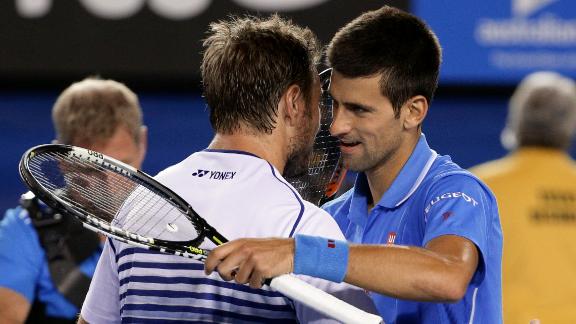 MELBOURNE, Australia -- The two Australian Open finalists have taken very different routes through the tournament.
Andy Murray
has been carrying a chip of his shoulder, while
Novak Djokovic
has been throwing bouquets. But it's working for them.
Andy Murray
His sense of humor and popularity in the locker room are in contrast to his public persona, but Andy Murray has kept up with his sometimes cranky reputation during this tournament.
-- As
Rafael Nadal
got praise for his competitiveness in a five-set win in the second round, Murray sent a pointed tweet saying he hadn't got the same reaction at the US Open. (Though it's not clear his is an accurate assessment.)
When I cramped and won in the us open last year I was a "drama Queen, unfit, needs to see a shrink, faker" weird...

— Andy Murray (@andy_murray) January 22, 2015
-- Having already beaten one Aussie, Murray didn't endear himself to locals when he defeated new hope
Nick Kyrgios
in the fourth round in straight sets. The crowd was cheering wildly against him, but Murray is known to like being the bad guy.
-- But it was Murray's semifinal against
Tomas Berdych
that got things really heated. With Murray's former assistant coach, Dani Vallverdu, now coaching Berdych, a firecracker first set saw Murray pump his fist at Berdych's box and get a stare in return. Berdych then complained about the balls and Murray complained about Berdych's complaining, and an argument about what Berdych said as the two walked by each other at net. Even Murray's fiancee, Kim Sears, got into the act, with television showing her appearing to swear something about Berdych.
-- Following the match, Murray blamed the media for the heated atmosphere, saying, "You wanted there to be tension.
"I sat in here the other day and got asked more questions about Dani than I did about the match I just played. So you wanted there to be tension. When there's a lot of tension surrounding something, which you created, then it's completely normal that, yeah, the whole first set everyone was tight."
-- But Murray also wanted to bring attention to his coach,
Amelie Mauresmo
. Having attracted attention for the unusual decision to choose a female coach, Murray's choice had been questioned during his subpar season, and he wanted a little credit for the two now that he is playing well again.
"A lot of people criticized," he said in his on-court interview, noting the success of female coaches at the tournament. "We've shown that women can be very good coaches as well."
He's had some nice moments, but it's been a combative two weeks for the No. 6 seed. Perhaps it's just what he needed to get himself stoked up again. Either way, Murray is back in the final and playing some good tennis.
Novak Djokovic
Novak Djokovic's raucous humor behind the scenes is in contrast to his increasingly polished public presence, and the Serb has been sweetly sentimental through the Australian Open.
-- The new father didn't bring his wife and son Stefan with him, but Djokovic kicked off proceedings with this little speech.
"Well, I can say definitely that it's the best, most joyful thing that ever has happened to me and my wife. We are so blessed and grateful to have a child.
"They're not here with me, so I'm trying to stay in touch with them. The technology nowadays helps me to stay connected and see them and watch them on a daily basis. I can't wait to be with them. Everything that you do as a father is very special. Everything that you see, all the facial expressions, changes on a weekly basis, daily basis, as a matter of fact, is quite remarkable.
"It's inexplicable for somebody that hasn't experienced it before. That is what people were telling me before I became a father. They said, 'When it happens, you will understand the feeling.' I do now. I'm completely fulfilled in every aspect of my life. That gives a whole another meaning and purpose to my tennis as well. I'm trying to draw that energy and motivation and love that I have for my family and for my boy into the tennis court as well."
-- He may not be doing diaper duty during the tournament, but Djokovic took the time to make another kid's day with this surprise appearance.
-- It was Djokovic's turn to be surprised when he was shown a tweet with son Stefan in front of the television for the world No. 1's match.
-- His coach is getting some compliments, too. Asked about his unusually big serving during the tournament, Djokovic said, "Now I know what it's like to be like Boris Becker."
-- During the second week, the Serb tweeted that the warm atmosphere is a reason why he's been playing so well.
#Thankyou to all my #nolefam who have already so far kept my positive sentiment so high for #AusOpen.

— Novak Djokovic (@DjokerNole) January 30, 2015
Djokovic didn't look quite as good in his semifinal against
Stan Wawrinka
, but no surprise: He's staying positive for the final.