November, 19, 2014
Nov 19
7:57
AM ET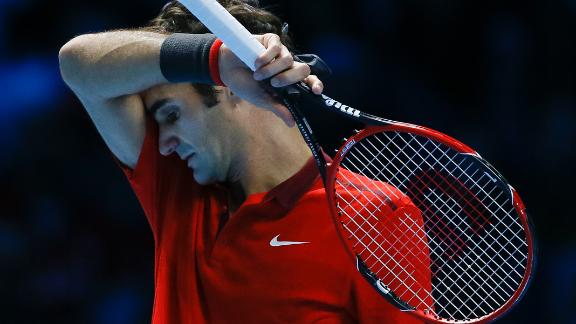 If four brand new swanky Roger Federer rackets aren't enough, how about a high-tech bag to complete your collection?
This one, it should be pointed out, is quite a bit different than traditional storage, to say the least. Wilson describes the Federer elite bag as having a torpedo shape. The idea was that most racket bags have a similar architecture -- larger where the racket head lies and then narrower at the other end.
So, as John Lyons, global product director of Wilson Racquet Sports, explained, the impetus behind the Federer bag was to maximize the negative space.
"When you put a racket into a bag, traditionally there's a good amount of unused real estate by the handle," Lyons said. "And it's pretty safe to say players don't really want to jam apparel down there because it's then difficult to get the rackets out. So the concept here was to create a compartment under the handles (i.e., the negative space), where you could place your shoes, wet clothes -- whatever you want."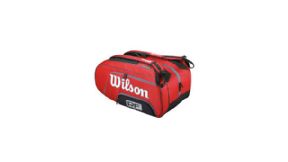 Courtesy Wilson Sports This bag fits all your needs and keeps out the moisture. What else could you ask for?
Once this was completed, the bag took on a new configuration, and as the development process wore on, it became apparent that you could actually make the bag smaller and still fit the same amount of equipment. So a lot of players who carry massive three-compartment luggage -- which in tennis-equipment parlance is known as a 15-pack or Super 6 -- are actually toting around a lot of extra baggage.
The backstory behind this bag comes with a technological twist as well. In the racket compartment, there's a small mesh pocket on the side wall. Inside the mesh pocket is a silver canister. And inside the canister is a desiccant, a moisture-absorbing material, the same substance found in the small bag in a box of electronics.
It's actually an active moisture-management system.
"It's based on the idea that strings, particular gut, absorb moisture, and that affects their play," Lyons said.
"So we did some testing by saturating the string. This literally meant weighing a set of string, submerging it in water for a period of time to allow it to absorb moisture more rapidly than it normally would, find out the maximum water it could absorb and then weigh it afterward."
What Lyons & Co. found was that gut absorbs a good amount of moisture, which makes up a lot of the string's weight. Nylon-based string like synthetic gut or a multifilament can consume about 15 percent of its weight, give or take.
And as strings absorb moisture, there's a discernible drop-off in strength. Natural gut and nylon-based strings specifically began to lose durability, if not break. Bottom line: These strings are painfully susceptible to moisture.
Polyester strings, which Lyons refers to as non-hydrophilic -- that is they don't absorb much moisture -- weren't affected nearly as much as you'd imagine, but even small doses caused some tension loss. Maybe a half to one percent, Lyons said.
So the idea of that small canister in the Federer bag is that it absorbs the moisture. Wilson tested this by building a moisture chamber and then tested the bag with and without the desiccant.
"We found out, we got half the moisture in the bag when we used the desiccant canister," Lyons said.
Another cool concept is that the canister is rechargeable. There's a little window on it in where the beads change color when fully saturated. You can take the thing out, bake it in your oven, which evaporates the moisture, and re-use it over and over.
The result is that your strings and grips will play better when protected from moisture.