January, 20, 2015
Jan 20
1:39
AM ET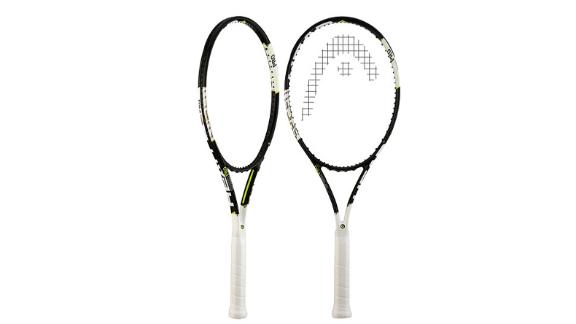 MELBOURNE, Australia -- I recently googled the most rock-solid things on Earth. Because why not. Obviously, things like diamonds and various other precious stones popped up, as did substances only a well-versed geologist would appreciate. Raise your hand if you've heard of wurtzite boron nitride or mineral lonsdaleite anyway. If so, good on you, but here's the one thing that surprised me. Graphene XT didn't make the cut.
Yeah, seriously.
I have no idea how that glaring omission escaped this group of world-wide wizards. Now truth be told, I can't tell you anything about the carbon atoms and other elements that make graphene the able material it is, but here's what I can tell you:
I had a chance to use the new Novak Djokovic-endorsed Graphene XT Speed Pro -- and it's rock solid. I mean diamond-esque solid. Or for you Earth science wizards, wurtzite boron nitride solid. Every groundstoke felt like it was being unleashed by a cannon. Forehands, backhands, you name it, this new line of Head rackets, most notably the XT Speed Pro, felt as stable and husky as any frame I've used.
Last year, I reviewed the previous iteration of the Speed Pro, which I enjoyed a lot. But if there are two takeaways, it's this: The XT is a little more muscular near the top of the head than its predecessor, and, admittedly while this seems somewhat counterintuitive, it swung much faster despite the added strength up north.
The stats say the XT Speed Pro is only one point head lighter than the 2014 model, but there's a discernible difference. Whereas last year's stick predominantly catered to advanced players, I feel like this year's XT Speed Pro -- because of the ability to cut through the ball more easily -- will appeal to a wider spectrum of competitors.
I can't say enough about the groundstrokes. Aside from the sturdy, steady response, there were absolutely no fly-aways -- that is I felt eminently connected to the ball upon contact. The racket moved little, if at all, when making off-center contact.
This year's XT Speed line, all of them in fact, have been engineered, according to Head Tennis, "to optimize the racket's weight distribution to where players need it most." In this case, it means the power in this line is generated closer to the upper hoop. For what it's worth, Head also says Graphene XT is 30 percent stronger than last year's frames, which after hitting for quite some time with the new Speed Pro, seems about right.
Aside from the ground game, volleys were spot on and extremely plush. It took minimal effort to stick a ball with authority and place it in the corners. And the controlled response spawned a lot of confidence at net as well.
If there was one shot I needed some time to acclimate to in this racket, it was the serve. With an 18/20 pattern, the raw power isn't what you'd get from other more powerful frames, but after 15 minutes or so, I was serving as well as I had been with wider 'tweener rackets. Although I felt like my radar-gun speed was down slightly, I was able to place balls down the T, out wide and into my opponent's body better than any other racket I've play-tested in quite a while -- perhaps since using last year's Speed Pro. And the swing speed helped deliver a good amount of spin, far more than you'd normally receive from a denser string set-up.
I highly recommend players give this one a stab. The line of Head Graphene XT Speed rackets honestly have a unique, confidence-inspiring feel. The Speed Pro might be Head's heaviest model in this line, but aside from being one powerhouse of a frame, it swung with serious speed. Go figure.
Head Graphene XT Instinct MP
[+] Enlarge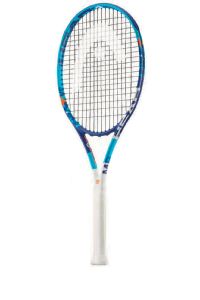 Head TennisThe new Head Graphene XT Instinct MP is a solid frame in all aspects.
If you haven't seen Head's latest Instinct yet, you will soon. Actually, it's kind of impossible to miss. With various hues of blue, it's really, well, blue. Sort of a combination of mix of air force blue and baby blue.
So if you like the color blue, this is definitely the racket for you, and if you don't -- it's probably a good choice as well.
The XT Instinct MP is a tremendous hit from all aspects of the court. It's a nice improvement from last year's model, which was solid in the sweetspot but a little shaky outside of it.
The Instinct swings freely at 11.1 ounces, but based off the response, you'd think it was heavier because of the XT technology in the upper hoop.
I found easy access to power from both wings. Compared to the Speed Pro, I was able to generate more spin, a product of the more open 16/19 pattern, although the response was slightly less crisp. I think a small amount of led tape in the head would solve that issue.
Head rackets in general have a unique handle shape. They're more rectangular (and a smidge smaller) than most other major brands. I found this to be a huge advantage in Head's latest line of XT Graphene frames because it allowed me to whip through the ball and take advantage of the weight at the top of the head.
Like the latest Speed Pro, I was able to stick volleys with precision and place them deep into the corners of the court or drop them over the net. And while I felt more native power from the Speed Pro serving, the Instinct was as efficient in terms of placement as any racket out there.
As I mentioned before, I think a small amount of led tape would help, especially on the serve, but don't get me wrong: There's nothing wrong with it at all.
So, if you're feeling down about your tennis game or tennis racket, pick up this new Instinct. There's a good shot it will solve your blues.