ESPN Tennis:

Agnieszka Radwanska
May, 24, 2014
May 24
6:00
AM ET
Aching joints and muscles are nothing new on the men's and women's tennis tours, but the injury bug seems to be biting even more than usual this year.
Three players who were coming off significant injury problems a year ago --
Roger Federer
,
Andy Murray
and
Maria Sharapova
-- have stayed relatively fit, but a lot of their rivals can't say the same.
Here's a quick recap of some of the problems the top players have been experiencing this season.
ATP Tour
Rafael Nadal
-- Suffered a back injury in the Australian Open final, and, although he says it hasn't bothered him for a while, Nadal hasn't played his best since.
[+] Enlarge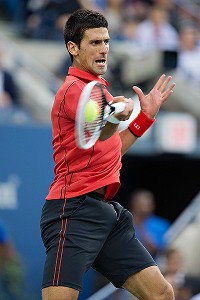 Susan Mullane/USA TODAY SportsA wrist injury appears to be behind Novak Djokovic, but it is worth monitoring.
Novak Djokovic
-- Suffered a wrist injury before Monte Carlo, which was identified by his physiotherapist as an inflamed tendon. Gave him no problems in Rome after two weeks of treatment and rest, but now he must try to avoid aggravating it.
Stan Wawrinka
-- Tweaked his back slightly at Rome, although he insists it will not be a problem for the French Open.
David Ferrer
-- Experienced a groin injury that kept him out of Indian Wells, but tests showed no tear and he has looked fit since.
Juan Martin del Potro
-- Expected to be out for months after undergoing surgery on his left wrist.
Milos Raonic
-- An ankle problem affected him at the Australian Open and kept him out of Davis Cup, but he has returned strongly.
Kei Nishikori
-- Withdrew from the Miami semifinals with a groin problem and retired in the Madrid final with a back injury that also kept him out of Rome, but is expected to return at the French Open.
Richard Gasquet
-- Has not played since Miami with a back problem, which has improved after extensive treatment but only just allowed him to start hitting balls again. Questionable for the French Open.
Tommy Haas
-- The shoulder that repeatedly has required surgery is again giving him problems, including a quarterfinal retirement at Rome a week ago.
John Isner
-- Went out of the Australian Open with a foot injury and withdrew from doubles at Madrid with a back problem.
Fabio Fognini
-- A right quad problem has affected him throughout the season, perhaps a reason for some of his frustrated performances recently.
Mikhail Youzhny
-- Withdrew from Indian Wells with a back injury.
Santiago Giraldo
-- Had a hip flexor injury at Rome.
Nicolas Almagro
-- A leg problem has affected him in the clay season, including a withdrawal at Rome.
Philipp Kohlschreiber
-- has been having an elbow problem, although it hasn't kept him from playing.
Florian Mayer
-- A hip injury is expected to keep him out of the French Open.
Gael Monfils
-- Withdrew at Nice this week with a persistent ankle problem, saying he could not move well enough for singles, and could be hampered in the French Open.
Benoit Paire
-- A persistent knee injury has kept him out of tournaments and caused him to withdraw at Nice this week.
Jurgen Melzer
-- Had to withdraw from Acapulco after returning from a shoulder injury, which kept him out until the clay season.
Vasek Pospisil
-- Has been experiencing back problems since the start of this season.
Lleyton Hewitt
-- Had problems with his shoulder after the Australian Open, but has played regularly since.
Bernard Tomic
-- Was booed after retiring to Nadal at the Australian Open, had double hip surgery, got defeated in record time in his first match back and hasn't won since.
WTA Tour
Serena Williams
-- A back problem affected her at the Australian Open, and a thigh injury at Charleston and Madrid, but then she swept to the title at Rome a week ago.
[+] Enlarge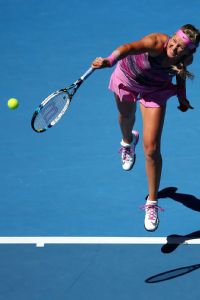 Clive Brunskill/Getty ImagesVictoria Azarenka has been out of action since Australia, and will miss the French Open.
Victoria Azarenka
-- Has not played since the Australian Open with a foot injury and has withdrawn from the French Open.
Agnieszka Radwanska
-- A shoulder injury affected her in the Indian Wells final, but she has played regularly.
Simona Halep
-- Withdrew from Rome with an abdominal injury and is still adjusting her schedule after becoming a top player.
Angelique Kerber
-- Retired at Madrid with a back problem but says she is finding her rhythm again.
Sara Errani
-- Was affected by a hip flexor injury in front of her home fans when playing the final at Rome.
Caroline Wozniacki
-- Withdrew from Stuttgart with a wrist injury and had knee problems in Madrid that kept her out of Rome.
Ana Ivanovic
-- Suffered a hip injury in her run at the Australian Open, but has returned strongly.
Sloane Stephens
-- Ongoing wrist problems at the start of the year.
Svetlana Kuznetsova
-- Withdrew from Rome with hip injury.
Maria Kirilenko
-- Returned at Charleston from a knee problem, only to experience a wrist injury that caused her to withdraw at Madrid.
Bethanie Mattek-Sands
-- Underwent hip surgery about a month ago.
Laura Robson
-- Underwent wrist surgery about a month ago.
February, 4, 2014
Feb 4
6:00
AM ET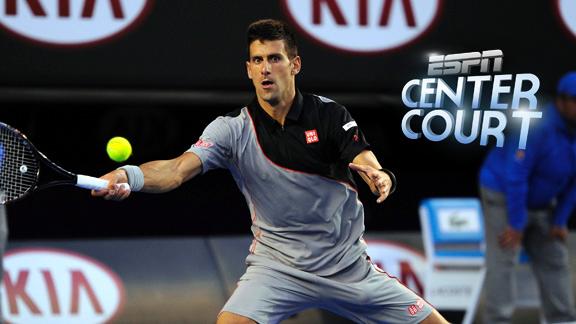 Twelve seconds into the Super Bowl, the tone was set and the game was pretty much over. It wasn't supposed to go down this way, not with one of the most prolific offenses in the history of the league, led by the play-calling wizardry of
Peyton Manning
on one side of the ball. But the
Denver Broncos
were so bad, it made Joe Namath's coin-flip faux pas look like a Hall of Fame-worthy performance. Apparently, stifling defense is still en vogue, no matter how much the league has tried to transform itself into a collective scoring juggernaut.
So, in honor of the
Seattle Seahawks
' D, how about a look at the top five defensive players in tennis today?
1. Andy Murray
If anyone has ever needed an injection of offense into his game, it's Murray -- or so we thought. You know the criticisms he faces by now: too passive, too patient, too stubborn. And then, of course, he won two majors and we never said another word. But win or lose, Murray is, by nature, a retriever -- and that seems to suit him and his trophy case just fine. Under the behest of Ivan Lendl, Murray has become more aggressive on the court in the past couple of years, but you won't see the kind of ruthless power that you do from his big-four cohorts.
Brad Gilbert says
:
"Murray plays as much defense as anybody. Unlike [Novak] Djokovic and [Rafael] Nadal, who play defense when they want to, Murray is more comfortable hanging back and passing the ball back to his opponent. He wins using his legs. Nadal has brilliant defense, but it's not the basis of his game. Relentless offense is. Murray likes to take the wind out of his opponent."
2. Agnieszka Radwanska
Touch, guile and patience seem like appropriate words to describe Radwanska. She's a fairly nondescript player. There's not that much of a visceral reaction when she comes into the spotlight -- much like Joe Namath, except not at all. But she's one of the best players in the world at combating hard hitters. She is a former Wimbledon runner-up and a staple in the top five. She frustrated two-time defending champion
Victoria Azarenka
all day long in this year's Australian Open quarters, much in part to her steadfast effort to play with patience.
Gilbert says
:
"Radwanska goes out there and says, 'OK, I'll just put the ball in the court and make you run until you make mistakes.' She's a little bit like Murray in that she'll just keep returning the ball until you get impatient and start hitting the ball out and racking up errors. She makes you think you're in the point until you lose your patience. Players like Radwanska and Murray shrink the size of the court."
3. Sara Errani
Two years ago, all 5-foot-4 of Errani entered the French Open with an 0-28 record versus top-10 opponents. It was (and still very much) is an era of muscle and raw power between the likes of
Serena Williams
, Azarenka and
Maria Sharapova
. But Errani, who is a scraper and clawer, reached the final in Roland Garros that year -- much of it a result of heart. Errani said the difference in her game was that she finally "believed." Who needs to clock serves at 120 mph when all you need is … belief? Errani, who just reached (but lost) the final of the Open GDF Suez in Paris, still remains the seventh-ranked player in the world.
Gilbert says
:
"Tremendous. She has great ability to trust her legs when playing. She tries to get to you by dribbling in slow serves 80 percent of the time and making you overhit. She wins with her legs."
4. Gael Monfils
If you're looking for a good show -- some spine-tingling shot-making -- look no further than this Frenchman, who comes full of flare. Oh, and fraught with boneheaded decisions. You have to wonder what he would be capable of if he actually played up to his talent on a regular basis, but Monfils is athletic and agile, so much so that you might mistake him for a rubber band if you didn't know any better. His game is very much predicated on retrieval and athleticism, even though he's more that capable of adding juice to any of his shots.
Gilbert says
:
"If he just wants to play defense, he can run 10 corners like nobody else. The core of his game is defense, and he'll sometimes play some offense when he's in the mood. But Monfils came on to the tour as a counterpuncher, and that's what he is today."
5. Lleyton Hewitt
The good news with Joe Namath's presumptuous coin toss Sunday night was that no one noticed, given that they were probably horrified from all the fox, rabbits, minks and beavers that spared their lives to help keep the "Broadway" in Joe. Speaking of which, in 2001, Hewitt spent two weeks in the greater Broadway area, squelching the likes of
Tommy Haas
,
Andy Roddick
and, finally, Pete Sampras en route to winning the US Open. Now, 13 years later, Hewitt is far removed from his Slam-winning ways, but his retro style of play has been good enough to garner some impressive wins. Take, for instance, just a few weeks ago when the former two-time year-ending world No. 1 stunned
Roger Federer
in the final of Brisbane. Last year, Hewitt won on the grass of Halle and lost in the final of Newport. Not too shabby for someone who isn't blessed with a rocket serve or groundies.
Gilbert says
:
"Hewitt, like Michael Chang, is a very good counterpuncher. Technically, perhaps counterpunching and defense might be considered two different things, but the bottom line is that Hewitt wins with his legs. His speed is incredible."
Who didn't make the cut that you think might have?
David Ferrer
Take Ferrer's dimensions, 5-foot-9, weighs about 160 pounds or so, and throw him into a cage with the lions and tigers that occupy the rest of the tennis space and see what happens. I mean, how can this little fella hang with likes of
Juan Martin del Potro
,
Jo-Wilfried Tsonga
and, even though he hasn't had many wins against them, the big four on a regular basis. Ferrer might not always come out on top, but he won't go down without a skirmish. Since the beginning of 2012 (that's nine Slams), Ferrer has made the quarters each and every time -- including the final of last year's French Open. And he does 90 percent of his work with indefatigable defense. That's right; just look up "Ferrer" in the urban dictionary, and you'll find it means "to deliver venomous bites to bigger, stronger human beings." The success Ferrer has on this tennis court defies much of today's modern, in-your-face game.
Gilbert says
:
"It's a misconception. He's small and fast, but if you hit the ball down the center of the court, Ferrer is going to crack it. He's started to dictate play a lot more in recent years."
Dominika Cibulkova
The common backdrop here for most of these players is small size, and no one comes closer to ground level than Cibulkova, who stands 5-foot-3, or a foot shorter than the opponent she knocked out in the fourth round of the Aussie Open, Sharapova. It doesn't take more than a cursory glance at her to realize she is a workout fanatic, and that showed in Melbourne. In her first three matches, that is six sets, she lost a total of nine games before skating by Sharapova. Then, Cibulkova, who reached her first-ever major final, crushed the 2013 comeback player of the year and 11th seed,
Simona Halep
and fifth-seeded Radwanska in the quarters and semis, respectively, losing just six games before running into
Li Na
in the final. It really was one of the more impressive runs in recent Grand Slam memory.
Gilbert says
:
"Cibulkova is a lot like Ferrer in that she's small and quick, but in terms of execution, I look at her more in the vein of James Blake -- a player who had great speed but who's basis was to be the first one to strike. She doesn't hit balls down middle of court and doesn't trust her legs like the other truly defensive players. She thinks power first."
October, 23, 2013
10/23/13
4:14
PM ET
It wasn't a warning to her fellow players per se, but you don't need to be Condoleezza Rice to interpret what
Serena Williams
was saying before the onset of the WTA Championships.
"Every tournament I play, I play to win," Williams said. "Not that I didn't do that before, but it was just different, just at a different place in my life, and more than anything I enjoy playing tennis. I love being out there.
"Right now, I can't imagine my life without a tennis racket in my hand and playing, you know, the next event. I think maybe that makes a difference."
Serena, who swiped away
Agnieszka Radwanska
6-2, 6-4 to improve to 2-0 in the round-robin stage of the year-enders, is more driven than ever and only wants to further reform her game.
So this is probably a good time to retract the opening line of this story. Yes, it was a warning -- a very stern one, in fact.
Williams, who wasn't as crisp Wednesday as she was in her opener, is nonetheless having a career year at the age of 32, which for most players is a few years past the demarcation line of playing world-class tennis. How many other competitors have begun fazing themselves out of the game, if not completely into retirement, by their mid-20s?
Granted, the game has become more physical in recent years. Bigger, harder hitters have thrived on all surfaces. Clay specialists and players with only sneaky, deft games aren't thriving anymore. The day of teenage Slam winners is long gone. The last one:
Maria Sharapova
, who was 17 when she won Wimbledon in 2004.
And when you think about it, how many truly great, young players are there on tour right now?
Sloane Stephens
comes to mind; she's strung together some nice runs in the majors the past couple of years, and she's the youngest player in the top 20. But is she a top-five player, someone who's going to be a stable face on the final weekend of Slams?
There's
Laura Robson
, who is rife with talent and capable of pulling off upsets, which she showed last year at the US Open with wins over
Kim Clijsters
and
Li Na
. But like so many other fledgling stars, Robson hasn't strung together consistent results. And quite frankly, it's too early to figure out whether the likes of
Madison Keys
,
Eugenie Bouchard
and
Monica Puig
, among a few others, will have robust futures.
But all that said, it seems to defy some kind of logic that Williams, who is 17 years into her vocation, will end 2013 with a career-best 11 titles if she wins in Istanbul. Not only is she playing the best tennis of her life, but she has the clarity of mind to keep this stunning run going.
Since losing to
Sabine Lisicki
in the fourth round of Wimbledon, Williams has played five tournaments (excluding the year-enders), and has won four. Her only loss came against
Victoria Azarenka
in a third-set tiebreaker of the Western & Southern Open final, a tournament right before the US Open, which, yes, Williams won.
After she defended her New York crown, wouldn't you figure she would lose some sort of motivation? Not according to Williams. She was reflective and honest when asked to assess her success this year.
"When I was 20 or 18, I never thought I'd be playing at this stage, and I have had a lot of time to think about it," Williams said right before the WTA Championships began. "The sport has just been growing so great. It's just been a great opportunity for me to continue to play, so I never thought I would have one of my best years this year, but I always just try to keep doing better."
Jelena Jankovic
recently said that what Williams is doing right now is "inspiring."
Angelique Kerber
admitted she had "no chance" against Serena in the opening match in Istanbul.
Look, we're not breaking any new ground by declaring Serena the empress of today's game. Her collective package -- athleticism, strength and mind -- separates her by a wide margin, as the rankings suggest. (Williams has nearly 5,000 points more than the second-ranked Azarenka.) We're merely pointing out how easily we can forget that Williams shouldn't be doing what she is.
Except that she is.