December, 9, 2013
Dec 9
8:07
AM ET
Editor's note: On Dec. 9, we begin our 10-part year-end awards series. Stay tuned each weekday for our latest entry.
Rafael Nadal
may be an obvious choice as the men's player of the year, but at this time last year it was not even obvious when Nadal would play again.
Given that uncertain start, an already amazing season looks even greater: two Grand Slams, 10 titles total, the No. 1 ranking, $14.5 million in prize money, a 75-7 record and just three events in which he did not make at least the final. And if the summary is impressive, watching it unfold was even more so.
Returning in February after seven months away with a knee injury, Nadal performed a series of successive, interlocking feats that vaulted him back to the top of the men's game:
[+] Enlarge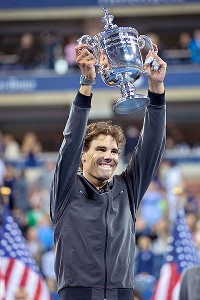 Susan Mullane/USA TODAY SportsAnother U.S. Open title was just one of Rafa's amazing feats in 2013.
• He started his return by playing five of seven weeks, going 17-1 and reaching the final in his first tourney, and winning the next four events.
• He won Indian Wells for the third of those three titles, his first event on hard courts in almost a year.
• He played six of nine weeks during the European clay season, going 26-1 and reaching the Monte Carlo final, and then he went undefeated in his next four events.
• He won a record eighth French Open for the fourth of those four titles, coming from a break down against
Novak Djokovic
in the fifth set of their semifinal.
• He played four of five weeks on North American hard courts, going 17-0 -- or 22-0, counting his earlier victory at Indian Wells.
• He swept the Montreal Masters, Cincinnati Masters and US Open, joining Patrick Rafter and
Andy Roddick
in doing so.
Though Nadal did not win a title the rest of the season, he still had some of his best post-U.S. Open results, reaching the final of the year-end Tour Finals. His only major defeat -- and it was a big one -- was a first-round loss at Wimbledon. The knee injury didn't completely go away, either, though Nadal insisted his play was largely unaffected.
As if he hadn't played enough already, the 27-year-old from Mallorca has also kept himself busy in the offseason, taking part in a lighthearted Necker Cup for charity, then starting a six-day exhibition tour of South America before coming back to Spain to accept an award for being voted the greatest Spanish athlete in history.
If his long break amplified his achievements, it also spurred them on.
"When you are coming back from a situation that I came, after injury seven months, it's true that you came with a special feeling, very fresh, special motivation, because you feel that you lost a year for things that you cannot control," Nadal said earlier this season. "That really motivates me."
There have been a lot of great seasons on the men's tour over the past few years -- Djokovic's 2011, Nadal's own 2010, and Federer's 2006 and 2007 runs. However this one measures up, it has added considerably to Nadal's standing in the game's history. The Spaniard is now tied for third on the all-time list with 13 Grand Slam titles, and he has collected a record 27 Masters titles.
He has improved not only his position in the record books, but also his game. His forehand down the line has continued to develop, and he played more assertively at the baseline, making more forays to net and even employing an aggressive backhand slice during stretches.
These and other tactical changes helped him gain the upper hand against Djokovic for much of the year, before the Serb turned things around again by winning their last two matches of the season.
All in all, the two split their meetings 3-3, leaving the rivalry perfectly positioned going forward. And the question of who will be the next player of the year very much wide open.
September, 23, 2013
Sep 23
2:41
PM ET
Andy Murray
is not an ordinary tennis player. We know this. There is no other competitor on this planet whose every move comes with the same fierce scrutiny he faces.
So when Murray finally won Wimbledon, not only did it mark the end of a 77-year national nightmare, but it also meant he could finally exhale. For so many years, no matter what kind of success Murray had, he was a victim of his own ancestry -- a player who couldn't escape years of futility by his predecessors.
His All England Club championship changed everything. It was so intense, in fact, that he probably still doesn't realize what it means to have singlehandedly exorcized the biggest blight in Great Britain -- the ghost of Fred Perry. Understandably, this title, the pinnacle of every Murray aspiration, had to become a distraction as the season wore on. And that's why Murray's season-ending back surgery might be the best mental recovery he could have asked for.
Murray's management company issued a statement that he plans on being fully fit for the 2014 season, which seems reasonable. He's a methodical, if not relentless, worker. But this break will give him a chance to start anew and reclaim the same dogged determination he had before Wimbledon began.
Since his triumph in SW19, Murray won one match in Montreal, a tournament he had captured twice, before
Ernests Gulbis
took him down in straight sets. In Cincinnati, Murray lost to
Tomas Berdych
fairly swiftly before going down ignominiously to
Stanislas Wawrinka
6-4, 6-3, 6-2 in the US Open quarterfinals. Murray spent a good part of that match berating himself, reverting into the same mercurial and moody player we were accustomed to seeing for years.
It's fair to assume Murray doesn't carry the same heavy burden anymore. And perhaps our biggest misunderstanding was thinking all that extra elbow room would serve Murray well moving forward. Clearly it hasn't. The pressure of not winning gave him reason to succeed and push, to prove to himself and his country he could accomplish this extraordinary feat.
The truth is Murray needed a long breather after Wimbledon. The tennis season is long and laborious as it is. There is still the Asian swing, which includes the Shanghai Masters in three weeks, the Paris Masters and the ATP World Tour Finals. It's not as if Murray is competing for the year-end No. 1 or Player of the Year award. A certain Spaniard is going to procure both of those. Murray is still ranked No. 3 in the world, but he'll likely get passed by
David Ferrer
, who has just under 400 fewer points than the Brit. But chances are Murray won't fall further than that.
Roger Federer
, at No. 5, will have to string together a fairly impressive run in order to pass Murray.
All this means that by the time the Aussie Open rolls around in mid-January, Murray wouldn't have to face
Rafael Nadal
or
Novak Djokovic
before the semifinals. Ultimately, that's all anyone could ask for heading into a major.
So take a break, Andy, heal your back and rest your brain. After all, there's a good chance the spotlight will be pointed in your direction when you return. You don't want to disappoint, do you?
September, 13, 2013
Sep 13
1:28
PM ET
Isn't it great to see three members of the tennis world's vaunted big four still battling on, even though the US Open has been over for nearly a week?
Roger Federer
is the only one of that group who won't be swinging a racket this week, but there is one caveat: There's no chance that any of the top three players in the world will actually end up playing each other.
If you haven't been paying attention, it's Davis Cup semifinal and world group playoffs week. And ATP no. 1
Novak Djokovic
, No. 2
Rafael Nadal
, and No. 3
Andy Murray
are all taking part. It's a fantastic week for this 113-year-old competition that has faced some serious obstacles in the Open era.
[+] Enlarge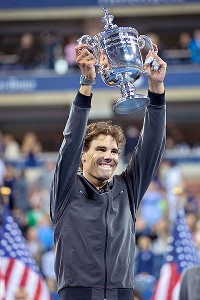 Susan Mullane/USA TODAY SportsAfter a US Open title, Rafael Nadal is right back on the court in Davis Cup action.
One of the major challenges has been the puzzling and unexpected indifference of what once was the largest tennis audience and market of all (at least until China popped
Li Na
among us), the United States. Who would have thought that the nation where the competition was conceived and brought to full splendor would suddenly lose interest in what is the world's second most popular international team competition (after World Cup soccer)?
The ITF and its U.S. affiliate, the USTA, have traditionally had trouble selling Davis Cup to newspaper editors and television executives, and thus the viewing public, in the Open era. The fact that some top stars from various nations (led by Jimmy Connors) went lukewarm on Davis Cup, usually because of the relatively low material reward, didn't help the cause.
Also, as the tour grew and became more remunerative, the Davis Cup commitment seemed more onerous. Although the competition takes place over just three days (Friday through Sunday), it's really a one-week event -- just like most tournaments.
Thus, at least two of the teams must make the commitment of a full month to the effort. And while the current dates are somewhat inconvenient, at times in the past they were much worse. Overall, Davis Cup participation still is a lot to ask of a player like Nadal or Djokovic.
Also, the choice-of-ground tradition -- teams alternate hosting or traveling to their opponent's venue each time they meet -- wreaks havoc on the increasingly rigid, pre-established schedules of the players.
For those reasons, the game is littered with erstwhile Davis Cup reformers who would like to see anything from a two-week "Davis Cup festival" that decides the entire competition at one site, to a return to some sort of "zonal" structure to ease some of the travel-related drawbacks.
So far, the ITF has instituted some reforms in the structure of the event, but it has held firm on the key and most controversial elements -– the calendar that requires four weeks from finalists and the alternating host rule.
That's why Murray is currently busting a gut in Croatia, newly crowned U.S. Open champ Nadal is back in Madrid's Caja Magica even though his next tournaments are in Asia, and U.S. Open runner-up Djokovic is basking in the love of his Serbian countrymen in Belgrade.
Now note that only one of those matchups -- Serbia versus the Czech Republic -– is part of the current competition's semifinals. Djokovic is playing for the tennis equivalent of a Super Bowl ring, but Nadal and Murray are merely trying to ensure that their teams remain in the elite 16-member World Group that plays for the Cup.
That's a little like Miguel Cabrera or Chris Davis going down to help their clubs' Triple-A affiliates win their respective divisions.
All of this is great news for fans of Davis Cup. And it's also a mild rebuke directed toward Roger Federer. Switzerland also is involved in the critical world group playoff battle (hosting Ecuador).
Stanislas Wawrinka
, the Swiss player right behind Federer, is playing the best tennis of his life (he was a U.S. Open semifinalist and ranks No. 10, just four ticks below Federer).
That means the Swiss could potentially win the whole thing next year, assuming they get past Ecuador this weekend and remain in the World Group.
The odds are good that the even without Federer, the Swiss will win out. The question then becomes whether Federer will play Davis Cup in 2014? I can think of some excellent reasons besides patriotic pride for him to do it, but for today, let's just be happy with what we've got.
July, 24, 2013
Jul 24
6:00
AM ET
Are you feeling like this stretch of the tennis season is a bit of a snoozer? Don't fret too much, it's going to pick up and all the stars will emerge and align again. And considering what happened at Wimbledon, there seems to be more possibilities than we would have envisioned a month ago.
With that in mind, here are the top 10 things I'd like to see as the US Open Series and US Open take shape:
10. I would like to see … Caroline Wozniacki regain her old form
.
[+] Enlarge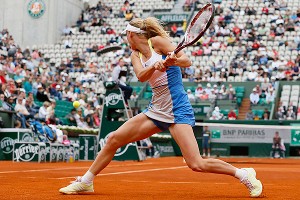 Patrick Kovarik/AFP/Getty ImagesAt what point, do we give up on hoping Caroline Wozniacki will regain her old form?
Wishful thinking, eh? Maybe. Maybe not. The good news for Wozniacki, who is perilously close to dropping out of the top 10, is that in a few weeks she will head to New Haven, where she has won four titles in five attempts. That means she generally enters the US Open with some confidence. The bad news, of course: Confidence alone doesn't compensate for a Grand Slam career of foibles, if not failure. Last year, Wozniacki won all of four games in an opening-round loss to someone named Irina-Camelia Begu. But here's to hoping for the best -- even if we know the best is a little dicey these days.
9. I would like to see … a Hall of Famer make a comeback
.
Good news! We will be able to check this one off our wish list. Just three days after her enshrinement into the International Tennis Hall of Fame, Martina Hingis announced she is unretiring to play doubles at the Southern California Open and again in New Haven. If you're scoring at home, this will be the third comeback for Hingis and her first WTA action since 2007. And if you're concerned about rust, let me ease your anxiety. I saw Hingis play exhibition doubles in Newport this past week against Todd Martin and Mary Pierce. The Swiss can still bring it -- against old folks anyway.
8. I would like to see … Roger Federer win a Masters title
.
The reality is that Federer probably isn't going to win the US Open. He has only one title this year, and he's spent some time meddling with his equipment, which only goes to show that he knows he's not the front-runner anymore. But that doesn't mean Federer couldn't snare a Masters 1000 tourney in Montreal or Cincinnati in the next few weeks. He is the defending champ at the latter, and winning one of these events would be no small feat. Federer likely wouldn't render a Slam-less, Masters-less season a successful one. It's hard to fathom that he'll go an entire year without one, something that hasn't happened since 2002.
7. I would like to see … an unheralded American woman continue her Slam success
.
It's kind of amusing (or is it sad?) how giddy we've become because an American player without the letters S-E-R-E-N-A in her name wins two or three Grand Slam matches.
Sloane Stephens
is still the leader of this respectable pack, but others, like
Jamie Hampton
,
Madison Keys
,
Alison Riske
and
Bethanie Mattek-Sands
, all had their own special moments at the Euro Slams. It's really tough to say whether any will surge, but for a nation that's failed to churn out a penthouse-esque player since the Williams sisters, we can only hope someone will continue this trend in Flushing.
6. I would like to see … Jerzy Janowicz hit a 150 mph serve
.
The dude can flat-out hit missiles. At Wimbledon, this Polish phenom belted a tournament-high 103 aces, 14 more than second-place
Andy Murray
(who played one additional match). Of course Murray won the title, so there's that. But nonetheless, Janowicz has a prodigious all-court game with the most important asset -- a nearly unreturnable serve. He smacked one at 143 mph at the All England Club, the fastest of anyone. And if he can sneak in a paltry 7 more mph, he'd join the exclusive club of radar-gun juggernauts who have registered 150 on the speedometer.
5. I would like to see … one new face to stay in upper echelon
.
So back to the Janowicz guy. We've belabored the "Who's Next?" narrative for so long that it's hard to imagine such a person exists. For years, our prescience has devolved into nothing more than a pile of potatoes as player after player with worlds of potential has faltered. Guys like Raonic, Harrison and Dimitrov (to name just a few) have hung out in tennis purgatory, showing flashes of occasional brilliance but never really mounting any consistent assaults in bigger tournaments. There's Federico Delbonis, the unheralded kid who just beat Federer in Hamburg, but it's way too early to tell whether he will amount to anything. So what about Janowicz? First off, he did make the Wimbledon semis, which is even more impressive when you consider Poland doesn't have one single grass court. Secondly, he has heart. The dude's backstory is a tale of overcoming hardship. He slept in cars; he had no sponsorship for quite a while and he couldn't afford flights to tournaments. You can feel how badly Janowicz wants to win when he's on the court. Geez, I wonder if he could clock a 150 mph serve?
4. I would like to see … John Isner and Agnieszka Radwanska play mixed doubles
.
Perhaps they're the perfect matchup. One serves aces for a living, the other bears a deft counterpuncher's game that can drive opponents nuts. But who cares about on-court success and the such. Fans would flock to see these two finely sculpted creatures, who bared it all in ESPN The Magazine's Body Issue, together in one spot. They could even brand themselves à la a WWE tag team (six-pack attack?). Win or lose, no team would attract more attention than this pair in the bare.
3. I would like to see … Jimmy Connors help Maria Sharapova in crunch time
.
[+] Enlarge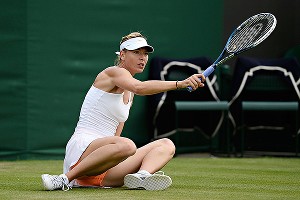 Dennis Grombkowski/Getty ImagesIs Jimmy Connors the one to transform Maria Sharapova back into a Grand Slam champ?
Is this what Sharapova needs? A hubristic in-your-throat mentor to help her get through those tense moments. Whether it's a dream matchup or a clash-of-egos nightmare, Connors, a player who relished the limelight, is now the central figure in Sharapova's corner. This pairing, odd as it may be, and it
is
odd, is about one thing:
Serena Williams
. The last time Sharapova beat Williams was so long ago,
Rafael Nadal
had a grand total of zero major titles. The problem, of course, is that when things get tough, Sharapova can't simply tag in Connors; she's going to be out there by herself. And so is Serena Williams.
2. I would like to see … Serena and Sharapova play in the US Open final
.
So let's say Connors and Sharapova
do
make it to the final of the Open. And let's say Serena is on the other end of the court. Then what? Here's the thing: It really doesn't matter. The hype leading into this match will be tantamount to, well, pretty much every NFL game every week of the season. Think about all the storylines we can cling to: Sharapova has a new, famous coach; Sharapova has Serena's old boyfriend; Serena said that beau has a black heart and Sharapova insinuated bad things about Serena's new boyfriend. Do they need a tennis court, the octagon or a reality show?
1. I would like to see … Andy Murray-Novak Djokovic play anywhere, anytime
.
I don't know about you, but I dig good rivalries. And who better to represent this than the top two players in the world? The tennis community was visibly aghast when Nadal and Federer fell early at Wimbledon. But in retrospect, it was a strong reminder that if any players deserve purple velvet on their changeover chairs, and some robes, crowns and jewels for their postmatch attire, it's Murray and Djokovic. And the cool thing about the Murray-Djokovic rivalry … is that it
is
a rivalry, unlike, ahem, the other two players mentioned in this graf. Nonetheless, make sure your DVR has enough storage when they play. It's riveting stuff every time they clash.
May, 30, 2013
May 30
3:22
PM ET
PARIS -- What can you say about the big four? They've managed to win 13 straight Grand Slam titles and 31 out of the past 32. Either
Roger Federer
,
Rafael Nadal
or
Novak Djokovic
has held the top ranking since 2004 and
Andy Murray
is your reigning Olympics and US Open champ.
By all accounts, you have to believe this is one of the most exciting eras the game has ever seen -- unless you're
Ernests Gulbis
.
In a recent interview with L'Equipe, Latvia's loose-lipped maverick went on a confounding rant. "Tennis today badly lacks characters," Gulbis said … "I respect Roger, Rafa, Novak and Murray but, for me, all four of them are boring players. Their interviews are boring."
[+] Enlarge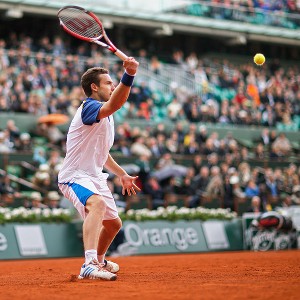 AP Photo/Christophe EnaSometimes nice guys finish first. Ernests Gulbis doesnt seem to care for that.
Then, amid all the bluster, Gulbis admonished Federer for being "a perfect Swiss gentleman" and said it turns his stomach to listen to other players channel Federer's diplomatic news conferences.
"When I hear them answer like Roger, I am terrified by phrases like, 'I had a little bit more success at certain moments and that is how I won,'" he said. "If I win, the guy on the other side of the net, I [would] have sent him home."
Wow.
To recap, today's tennis has fostered four of the most accomplished players ever -- and Gulbis is bent out of shape because they're nice guys. Let this NOT be a lesson to your children.
Perhaps, as Gulbis so desires, tennis should emulate boxing and add some punch to these humdrum pressers. Imagine this: Nadal is ripping Federer for his soft backhand, and just when you think the barbaric Spaniard is done talking, he then threatens to eat Federer's children after he's through smoking him in another French Open final. Game on.
Or maybe Djokovic goads Murray into a press-side rumpus by calling his mother a controlling, uh, witch. Yeah, baby. That'll lead to a couple of rounds of fisticuffs.
For Gulbis, a fix of acrimony would help solve an era marred by all this toxic serenity and skill.
After all, who cares about record-shattering greatness?