August, 7, 2014
Aug 7
12:15
PM ET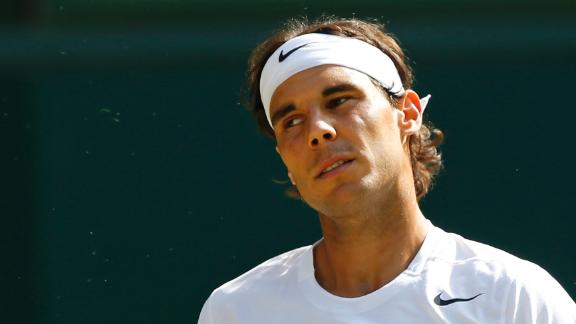 The hardcourt season kicks into high gear this week in Toronto, but it's already very different from what we saw a year ago.
Then,
Rafael Nadal
was on a rampage, winning the Masters events in Montreal and Cincinnati, and taking the U.S. Open to go undefeated on North American hardcourts.
This year, Nadal is back in Mallorca with an injured right wrist, practicing with a splint to try to get ready for the U.S. Open. Not being able to defend his Masters titles will cost him 2,000 ranking points, with another 2,000 at stake at Flushing Meadows. Even if the Spaniard does play there he will be going into the Grand Slam tournament where he's had the least success, which will make defending his title a huge challenge.
Nadal and
Novak Djokovic
are so far in front of the field that Nadal will keep his world No. 2 ranking either way, but his absence creates a big hole in the draw. He dominated this stretch of the season in 2013, and at least two of those titles will be won by someone else. But who?
Djokovic is the obvious candidate to fill the vacancy, having just won Wimbledon and already swept Indian Wells and Miami on American hardcourts this year. This is his best surface, allowing him to move securely and outmanuever opponents.
Djokovic is also playing his first event as a married man, brimming with elation from a month with "the Wimbledon title, a wedding and of course a baby coming up."
"I'm going back to the business, back to my office, but of course filled with positive energy, with joy, all the beautiful emotions that a person can experience," he said before Toronto, insisting that it would not be difficult to return his attention back to the court.
"But it's been many years already that I have been on the professional tour and with the same team of people around me."
Djokovic might be primed to replicate Nadal's 2013 dominance, but there's another thing that has changed from a year ago:
Roger Federer
is in form and eyeing big titles again. Back problems and a U.S. Open defeat to
Tommy Robredo
have been left behind, with Federer climbing back to No. 3 armed with a bigger racket, a new coach in Stefan Edberg and, oh, two more kids in tow.
With his racket offering more serving power and Edberg on hand for tips on volleys, the 17-time Grand Slam champion has been going to net more often, looking for a new way to win points against the relentless baseline games of Djokovic and Nadal. He serve-and-volleyed frequently on grass, but there is now the question of how often he will move forward when playing on hardcourts.
Like Djokovic, Federer has had plenty happening off the court as well. He and wife Mirka welcomed a second set of twins during the clay season, and Federer finally got to spend some extended time with the newborn boys following Wimbledon. Following his 2013 frustrations, Federer seems to be able to relax more these days.
"I don't have to defend like 12 tournaments a year. I only won one last year, so from that standpoint I feel like you make points every week. I feel like I don't really have to prove anything to anybody even though people are always going to disagree with that," he said.
"For me it's about how do I feel in practice, how is my motivation, how am I actually really playing, how do I feel it rather than how is everybody else thinking they see and know it. I can analyze it much more clearer today than I ever have."
Andy Murray
is also in a very different position from a year ago, going from being Wimbledon champion to No. 10 in the rankings following back surgery and a high-profile coaching change from Ivan Lendl to
Amelie Mauresmo
. But Murray has often done well at this time of year, and could be ready to start moving back up.
"I feel good. I train hard. After Wimbledon I didn't take too much time off. I feel like I'm ready to play some good tennis," Murray said of having trained in Miami before the hardcourt season.
While Djokovic, Federer and Murray lifting big trophies is a familiar sight, what's new is the ranks of younger players crowding the top 10. Though established players like Australian Open champion Stanislas Wawrinka and
Tomas Berdych
are still contenders, it is the likes of 23-year-olds
Milos Raonic
and
Grigor Dimitrov
who have been making waves more recently.
With Nadal sidelined, will any one of them step into the gap? They are aware of the opportunity, as Raonic suggested at Washington when Nadal announced his withdrawal.
"It's unfortunate to see him go but there are too many that are hungry and are licking their chops," said Raonic.
Now comes two weeks of competing for position going into the US Open, where a Nadal comeback would add even more intrigue.
At least one of the competitors is looking forward to seeing what develops.
"I think it's a very interesting time in the game right now," said Federer, "and I think the second half of the season is going to be super interesting."
March, 22, 2014
Mar 22
9:56
PM ET
If Stefan Edberg believes in the theory of threes, he might consider swapping out his flashy blue, yellow and gold Swedish threads for something a little more camouflage.
On Thursday,
Andy Murray
split with coach Ivan Lendl after two-plus years, leaving the Scott coachless as he attempts to defend his Sony Open crown.
And now, Boris Becker is taking a hiatus after undergoing surgery to repair both of his hips, leaving world No. 2
Novak Djokovic
without the guidance of his most recent mentor.
Not that
Roger Federer
needs any advice or anything, but if we could indulge him for a moment, he should ante up whatever protection he and his camp have, assuming they subscribe to the threesome conspiracy, and shield his merger with Edberg from the wrath of whatever evil is headed his way.
But the question is, how's this going to play out?
Well, the obvious answer is for Murray to swipe Edberg. If you haven't heard, he's in hot pursuit of a new mentor. And why not Edberg? Unlike the Lendl-Murray marriage, one fraught with upside-down smiley faces, the genial Edberg would add welcome sunshine on a day-to-day basis.
Now, looks can be deceiving, of course. Lendl has always maintained that he and Murray had a fun working relationship and that ubiquitous scowls were misconstrued, but c'mon, we're talking about a coach with eight Slams on his dossier and a student who ended a seven-plus decade of British futility at Wimbledon. Smile, people!
With the caustic Murray and Edberg, a gentleman if there ever was one, joining forces, this can't be anything less than a successful alliance.
What about
Rafael Nadal
? Could he pilfer the serene Swede? How cruel would that be? Not only has Rafa singlehandedly wrecked Federer with all those ruthless forehands to the Swiss' one glaring weakness, his backhand, but imagine if the two met in the Sony Open final and Edberg and Uncle Toni we sitting cheek to cheek in the stands donning matching "Vamos!" t-shirts?
Awkward.
There are a multitude of reasons why Edberg and Federer could dissolve as swiftly as they were united earlier this year, but none that make very much sense. Perhaps something as simple as a passport issue could prevent Edberg from traveling. Maybe he wants to attempt a doubles comeback a la
Martina Hingis
, and doesn't have time to pull off double duty.
According to a Bureau of Labor Statistics report last year, over eight million people have simply vanished from the U.S. workforce. I don't know what that number is worldwide, but a simple extrapolation means a whole lot more have suffered the same fate.
No matter how you slice it, there is something to the theory of threes, even if just anecdotally. People like to see things in patterns, and in general, we're all a victim of superstition.
It may all be just a cruel fallacy, but that doesn't mean we shouldn't worry about Edberg-Federer somehow breaking bad.
December, 31, 2013
12/31/13
8:08
AM ET
Another tennis season has begun, and what's the hottest new accessory for guys heading back on tour?
A former legend as coach. Everyone who's anyone is getting one, it seems.
Roger Federer
and
Novak Djokovic
have officially made it all the rage, hiring former Grand Slam champions Stefan Edberg and Boris Becker, respectively, during the offseason. Edberg and Becker were two halves of an iconic rivalry in the 1980s and '90s, and will now face off from the sidelines for the first time.
[+] Enlarge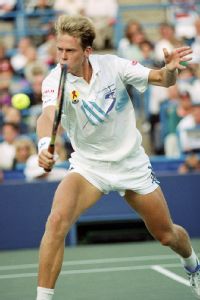 AP Photo/Rusty KennedyRoger Federer is looking to Stefan Edberg to help open up specific areas of his game.
Federer announced last week that childhood idol Edberg would be joining him for a 10-week stint that will start at the Australian Open. The pairing, already dubbed "Fedberg," will add even more interest to Federer's attempt to rejoin the top ranks this season after a difficult 2013.
"I thought if we could do a few weeks together, maybe 10, maybe 12, it would be something fresh, new, inspiring," Federer explained in Brisbane while preparing for his first tournament of the season.
Six-time Grand Slam champ Edberg was known for his legendary volleys, particularly on the backhand side, something the 32-year-old Federer may be hoping rubs off on his own game as he tries to keep to up with heavy groundstrokes from rivals like
Rafael Nadal
, Djokovic and
Andy Murray
.
Federer's former coach, Paul Annacone, also specialized in an attacking game; the two parted ways in September after more than two years together. Severin Luthi, Switzerland's Davis Cup captain, remains the mainstay of Federer's coaching setup.
The 17-time Grand Slam champ also recently announced that he and his wife, Mirka, are expecting a third child in the coming year, making it a busy time in the Federer household.
"Being the legend he is and someone I look up to so much, anything he will say will mean very much to me and my team," said Federer of Edberg's impact.
"It will be interesting to see what he thinks, if it's possible to do serve-and-volley on the slower courts we see all around the world these days, or if there are different ways for me to find my way to net."
Speculation about a possible pairing began when Federer announced Edberg had trained with him for a week during the offseason, after which Edberg expressed interest in trying to do more during the year.
"The idea of the camp was that I would give my views and come up with some feedback. He wants to try some new things," Edberg told Swedish newspaper Svenska Dagblagets.
Djokovic's decision to begin working with Becker came more unexpectedly, even to the new coach himself.
"I was approached by Novak and his manager while he was playing Beijing," Becker told the BBC. "I was surprised -- I didn't expect the phone call."
[+] Enlarge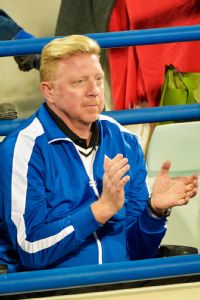 Ineke Zondag/AFP/Getty ImagesBoris Becker never won the French Open as a player, but Novak Djokovic hopes Becker's coaching will get him over the hump at Roland Garros.
The pairing has produced some head-scratching, because Becker has not elevated his reputation of late. He has become the subject of ridicule in the tennis world for his less-than-insightful commentary on BBC. Becker's latest book, a salacious tell-all, has caused regular scandals in Germany as excerpts have been reprinted in newspapers and magazines.
It also led to a distasteful Twitter and television war with German comedian Oliver Pocher, which began over comments Becker made in the book about an ex-fiancée who eventually married Pocher.
All that aside, what is it Djokovic is looking for Becker to provide? The Serb dropped both the Wimbledon and US Open finals in what he called "emotional losses," and seems to be searching for guidance in big matches.
Becker was known for his competitor's instincts, and the six-time Grand Slam champion also played a serve-and-volley game that Djokovic has long been trying to incorporate into his repertoire.
"Speaking to [longtime coach] Marian [Vajda] in the last few months of the year, we came to the conclusion that I needed another legendary player who can eventually help me understand what I would like to do in situations like the Grand Slam final stages," Djokovic said at the exhibition event in Abu Dhabi last week.
Djokovic has tried bringing in other figures to supplement Vajda before, with mixed results. Australian doubles great Mark Woodforde was tapped to improve Djokovic's volley in 2007, and a stint with two-time Grand Slam finalist Todd Martin between 2009 and 2010 ended when Djokovic began struggling with his service motion.
It appears Vajda will be taking more of a backseat than before, though, with Becker serving as Djokovic's main coach at most big tournaments. How well this latest arrangement works out will be judged largely by Djokovic's results at the Grand Slams, particularly the French Open, the only only major he has yet to win and one he freely admits is now most important to him.
The wave of former stars joining the coaching ranks is a relatively new phenomenon -- in the past, big names rarely signed up to go back on the road with another player. The trend could be traced back to Andy Murray, who began working with eight-time Grand Slam champ Ivan Lendl at the beginning of last season and went on to win the US Open few months later, followed by victory at Wimbledon in 2013.
Just as Lendl never won Wimbledon but got Murray over the hurdle there, the sport's newest big-name coaches will also be trying to help their players do something they did not manage themselves. Edberg retired relatively early in his career, while Becker never won a clay court title of significance.
Their presence also means more of Lendl's contemporaries around on the practice courts, though Murray maintains that he doesn't expect old rivalries to be reignited from the coaching box.
"I personally don't think there will be a renewal of the rivalry," Murray was quoted as saying in the Gulf News during Abu Dhabi. "Once you step on court, the coaches can do very little to the outcome of a match. It is in the preparation where the coaches can make a really good difference."
[+] Enlarge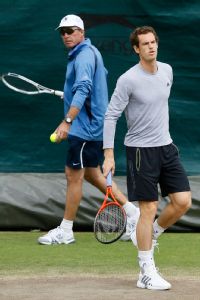 AP Photo/Kirsty WigglesworthAndy Murray now has two Grand Slam titles with Ivan Lendl behind him.
Of course, Murray then attempted to stoke just such a rivalry by tweeting, "How great is it to have all these legends of the game coaching? Absolutely loving it. #mycoachisbetterthanyoursnanananana"
One member of the current Big Four who won't be getting on the bandwagon is world No. 1 Rafael Nadal, who is sticking with his coach and uncle, Toni.
"It will be great to have Ivan and Boris around next season," said Nadal during Abu Dhabi. "However, I will stick to my team. I always feel when I play bad, it is my fault and when I'm winning I'm doing the right things. I had success in my career with the same team."
Rafa's Spanish compatriot
David Ferrer
also opted for a low-profile choice after recently splitting with longtime coach Javier Piles.
The top women also seem to have eschewed the movement.
Maria Sharapova
did take on Jimmy Connors for a few weeks after Wimbledon, but then opted for a more seasoned coach in Sven Groneveld.
Serena Williams
and
Victoria Azarenka
have continued to work with established names -- Patrick Mouratoglou and Sam Sumyk, respectively -- while
Caroline Wozniacki
opted for Thomas Hogstedt, who had most recently been with Sharapova.
But plenty of ATP players have joined in, recruiting former top players for their team.
Richard Gasquet
has added two-time French Open champ Sergi Bruguera to his roster,
Kei Nishikori
recently announced he will be working with French Open champ and former No. 2 Michael Chang this season, and
Marin Cilic
has Wimbledon champ Goran Ivanisevic working with him.
Earlier this year,
Milos Raonic
took on former No. 3
Ivan Ljubicic
, while
Nicolas Almagro
began working part-time with former No. 1
Juan Carlos Ferrero
when the former french Open champion retired towards the end of last year.
In an interview with the Brisbane Courier-Mail, Ivanisevic noted that the amount of talent in the stands could begin to rival that on the court.
"They should have a tournament for the coaches," he joked.
These days, some of those coaches might pull bigger crowds than their players.