May, 24, 2014
May 24
6:00
AM ET
Aching joints and muscles are nothing new on the men's and women's tennis tours, but the injury bug seems to be biting even more than usual this year.
Three players who were coming off significant injury problems a year ago --
Roger Federer
,
Andy Murray
and
Maria Sharapova
-- have stayed relatively fit, but a lot of their rivals can't say the same.
Here's a quick recap of some of the problems the top players have been experiencing this season.
ATP Tour
Rafael Nadal
-- Suffered a back injury in the Australian Open final, and, although he says it hasn't bothered him for a while, Nadal hasn't played his best since.
[+] Enlarge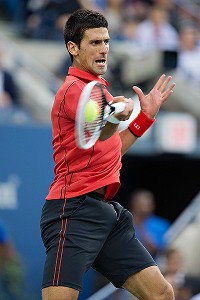 Susan Mullane/USA TODAY SportsA wrist injury appears to be behind Novak Djokovic, but it is worth monitoring.
Novak Djokovic
-- Suffered a wrist injury before Monte Carlo, which was identified by his physiotherapist as an inflamed tendon. Gave him no problems in Rome after two weeks of treatment and rest, but now he must try to avoid aggravating it.
Stan Wawrinka
-- Tweaked his back slightly at Rome, although he insists it will not be a problem for the French Open.
David Ferrer
-- Experienced a groin injury that kept him out of Indian Wells, but tests showed no tear and he has looked fit since.
Juan Martin del Potro
-- Expected to be out for months after undergoing surgery on his left wrist.
Milos Raonic
-- An ankle problem affected him at the Australian Open and kept him out of Davis Cup, but he has returned strongly.
Kei Nishikori
-- Withdrew from the Miami semifinals with a groin problem and retired in the Madrid final with a back injury that also kept him out of Rome, but is expected to return at the French Open.
Richard Gasquet
-- Has not played since Miami with a back problem, which has improved after extensive treatment but only just allowed him to start hitting balls again. Questionable for the French Open.
Tommy Haas
-- The shoulder that repeatedly has required surgery is again giving him problems, including a quarterfinal retirement at Rome a week ago.
John Isner
-- Went out of the Australian Open with a foot injury and withdrew from doubles at Madrid with a back problem.
Fabio Fognini
-- A right quad problem has affected him throughout the season, perhaps a reason for some of his frustrated performances recently.
Mikhail Youzhny
-- Withdrew from Indian Wells with a back injury.
Santiago Giraldo
-- Had a hip flexor injury at Rome.
Nicolas Almagro
-- A leg problem has affected him in the clay season, including a withdrawal at Rome.
Philipp Kohlschreiber
-- has been having an elbow problem, although it hasn't kept him from playing.
Florian Mayer
-- A hip injury is expected to keep him out of the French Open.
Gael Monfils
-- Withdrew at Nice this week with a persistent ankle problem, saying he could not move well enough for singles, and could be hampered in the French Open.
Benoit Paire
-- A persistent knee injury has kept him out of tournaments and caused him to withdraw at Nice this week.
Jurgen Melzer
-- Had to withdraw from Acapulco after returning from a shoulder injury, which kept him out until the clay season.
Vasek Pospisil
-- Has been experiencing back problems since the start of this season.
Lleyton Hewitt
-- Had problems with his shoulder after the Australian Open, but has played regularly since.
Bernard Tomic
-- Was booed after retiring to Nadal at the Australian Open, had double hip surgery, got defeated in record time in his first match back and hasn't won since.
WTA Tour
Serena Williams
-- A back problem affected her at the Australian Open, and a thigh injury at Charleston and Madrid, but then she swept to the title at Rome a week ago.
[+] Enlarge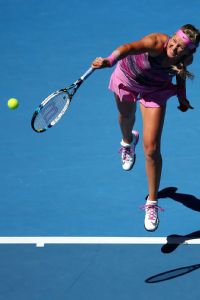 Clive Brunskill/Getty ImagesVictoria Azarenka has been out of action since Australia, and will miss the French Open.
Victoria Azarenka
-- Has not played since the Australian Open with a foot injury and has withdrawn from the French Open.
Agnieszka Radwanska
-- A shoulder injury affected her in the Indian Wells final, but she has played regularly.
Simona Halep
-- Withdrew from Rome with an abdominal injury and is still adjusting her schedule after becoming a top player.
Angelique Kerber
-- Retired at Madrid with a back problem but says she is finding her rhythm again.
Sara Errani
-- Was affected by a hip flexor injury in front of her home fans when playing the final at Rome.
Caroline Wozniacki
-- Withdrew from Stuttgart with a wrist injury and had knee problems in Madrid that kept her out of Rome.
Ana Ivanovic
-- Suffered a hip injury in her run at the Australian Open, but has returned strongly.
Sloane Stephens
-- Ongoing wrist problems at the start of the year.
Svetlana Kuznetsova
-- Withdrew from Rome with hip injury.
Maria Kirilenko
-- Returned at Charleston from a knee problem, only to experience a wrist injury that caused her to withdraw at Madrid.
Bethanie Mattek-Sands
-- Underwent hip surgery about a month ago.
Laura Robson
-- Underwent wrist surgery about a month ago.
March, 21, 2014
Mar 21
2:06
PM ET
If you're the compassionate type, you have to feel for
Bernard Tomic
, as much as you can for a guy whose Wikipedia page has 16 paragraphs dedicated to his career controversies.
But aside from the purported tanks, feuds, suspensions, saucy lap dances and daddy issues, he's still a professional tennis player, and a talented one at that.
On Thursday, however, Tomic probably wishes he was in another
police standoff
after he was utterly embarrassed at the Sony Open, losing 6-0, 6-1 to
Jarkko Nieminen
in record-setting fashion.
The numbers, ugly as they were, looked like this:
• The match lasted just 28 minutes, the shortest match since the ATP started tracking time in 1991
• Tomic won a paltry 13 points in the match
• Tomic won only six of 17 points on his first serves
• Nieminen blinked only twice during the entire encounter
So instead of riding on the tailcoat of former Aussie greats, which was the plan all along, Tomic continues his tailspin into the netherworld of tennis. And though one match isn't a cause for such hyperbole, it's hard not to be down on a guy who has been touted as highly as Tomic, but also for someone who has continually been a centerpiece of mediocrity at best.
Since the beginning of 2011, Tomic has a strung together a modest 71-67 record, which means, yes, he's only four games over .500. His ranking has plummeted to 74th in the world.
Now to be fair to Tomic, he's coming off a two-month layoff after having surgery on both hips. And as Kamakshi Tandon
wrote here
, it's possible the ATP forced Tomic to play. His level of play will improve, but still, a record, as unflattering and dubious as this one was, is still a record.
So, you ask, how does this compare to the
John Isner
-
Nicolas Mahut
three-day, 11-hour, 5-minute marathon that ended 70-68 in the fifth set at Wimbledon four years ago?
The scoreboard
Isner-Mahut: At 47-47 in the fifth set, the scoreboard couldn't count anymore and, in technical terms, it went kaput.
Nieminen-Tomic: It's still warming up.
The ball kids
Isner-Mahut: On the second day, 28 ball kids were rotated in and out of the match (that would have been one per point in the Nieminen-Tomic match), knowing this epic might not end -- ever.
Nieminen-Tomic: A standard tennis match is composed of six ball kids. But legend has it that given the record-setting haste, three of them were still lathering sunblock back in the locker room as the match concluded.
Free points
Isner-Mahut: Combined, they swatted a record-whopping 216 aces in the three-day match.
Nieminen-Tomic: Something Tomic could use, if you know what we mean.
Proliferation of perspiration
Isner-Mahut: Total number of towel-offs during the match -- 380.
Nieminen-Tomic: Winner never broke a sweat.
The aftermath
Isner-Mahut: Isner landed a spot on Letterman and threw out the first pitch at Yankee Stadium later that summer. There are plenty of reminders and relics from their match on display at the International Tennis Hall of Fame and on the grounds of the All England Club.
Nieminen-Tomic: No late-night calls yet.
The word on the street
Isner-Mahut: "This match wasn't about tennis. It was heart, perseverance, will, gumption and survival."
Nieminen-Tomic: "When does Nieminen-Tomic begin?"
August, 6, 2013
8/06/13
2:52
PM ET
Moments before his quarterfinal tussle with
Marcos Baghdatis
at the Citi Open,
John Isner
was asked what he needed to do to win. His answer was succinct -- and obvious. Serve well, he said.
Isner, of course, has one of the terrifying serves in tennis. He stands at 6-foot-10 and unfurls rockets from trajectories that seem unfair. Against Baghdatis, and then in his semifinal match against
Dmitry Tursunov
, Isner battered a combined 47 aces. It was a remarkable display of serving that thrust him into the final. But that's where he ran into
Juan Martin del Potro
, another mountain of a man, who beat Isner 3-6, 6-1, 6-2 to win the title.
[+] Enlarge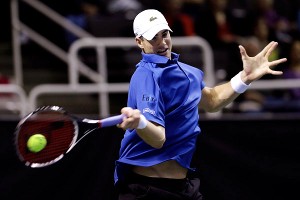 AP Photo/Marcio Jose SanchezJohn Isner leads the tour in aces, but that doesn't mean free points lead to short matches.
After struggling to greet the ball with any kind of consistency off Isner's serve in the opening set, del Potro made a pretty bold tactical change. He moved back on his return; so far, in fact, that the linemen must have feared possible concussion, if not decapitation, every time del Potro set up for one of his voracious forehands. It was bewildering, almost comical, at first. But despite giving up all that landscape, the ploy worked quite brilliantly.
Del Potro was able to soften the blow from Isner's serve and put the ball into play. But that maneuver, as beneficial as is was to del Potro, also showcased just how severely Isner is crippled by his inability to generate any kind of momentum when he's not winning on his serve.
Isner has fared nicely since Wimbledon, reaching the semis in Newport, winning in Atlanta and finishing runner-up to del Potro in Washington, D.C. before losing his opener at the Rogers Cup. But for a guy who has a serve that big, Isner is still ensconced in no-man's land when it comes to rankings and results at major events.
Is that a result of his all-court shortcomings? If you take a sweeping glance at the game's top-flight players, you'll notice they have very few impediments, if any at all. That's the era of tennis we live in. The top guys are all five-tool stars. They move, defend, serve, volley and hit massive groundstrokes.
Let's also remember, though, that Isner has a much different genetic makeup than players such as
Novak Djokovic
and
Andy Murray
. It's not easy to maneuver with short bursts of speed at his elevation. So, in many respects, Isner has no choice but to play a one-dimensional game.
But this stat shouldn't be overlooked: Isner has produced the best tiebreaker record in tennis at 29-10. As a matter of fact, in each of the past four years, he's led the tour in tiebreaker wins, which is a testament to not only holding serve but his ability to cope under pressure.
How much would Isner have benefited from playing in the power paradigm of Boris Becker, Pete Sampras, et al? Sure, it's not like Isner was going to squirm his way to a win against Sampras at the All England Club, but the reality was defense was less paramount than it is now -- especially given the speed of the grass and hard courts back then. I remember watching Goran Ivanisevic at Wimbledon and the US Open, and there were times when he wouldn't even attempt to return serve if he knew he couldn't break his opponent. He'd wait for a tiebreaker and rely on the fast courts and his hair-raising serve.
It wasn't a horrible strategy. Ivanisevic reached the Wimbledon final four times, which included his long-awaited title in 2001. He also reached the quarters or semis in every other Slam. To date, Isner has one quarterfinal appearance (US Open, 2011).
For the most part, I subscribe to the theory that players should try win with their biggest weapon rather than spend boundless hours trying to hone their flaws, which, more often than not, will still be flaws at the end of the day. Look at
Andy Roddick
's backhand or
Maria Sharapova
's serve. They worked earnestly to improve those shots. And yes, both improved, but certainly not to the extent they had hoped.
And it's not like there's some kind of benign oversight on Isner's part to become more well-rounded. Players know their weaknesses. But the bottom line is that is that whether Isner is too tall, not nimble enough or whether he just doesn't have the ingenuity to leverage the rest of his game, we've essentially seen the same Isner for years.
In 2010, Isner won one title and finished the year ranked No. 19; in 2011, two titles and finished at No. 18; and last year, two titles and finished at No. 14. This year, Isner has slipped to No. 20, and to date, he has two titles.
Isner knows he can't cede control of his biggest weapon, his serve, if he has any shot at succeeding. But because he struggles to break, Isner finds himself constantly knotted in tight matches. It's an ugly irony when you think about it: All these free points he gets on serve lead to some lengthy matches. Eleven of his past 14 matches have featured at least one set that has gone to a tiebreaker.
And you have to wonder if all these laborious encounters take a toll. Despite leading the tour with 642 aces this year, more than 100 more than second place
Kevin Anderson
(in eight fewer matches, no less), Isner has a fairly vanilla 27-18 record.
So perhaps we should resign ourselves to the fact that Isner is what he is. He gives you exciting, protracted matches, and he gives the ace-count meter a darn good workout. He just doesn't always give you the win.