December, 16, 2014
Dec 16
6:34
PM ET
Editor's note: For two weeks, starting Dec. 8, ESPN.com is unveiling its 2014 tennis awards once per day.
Dec. 8: Men's player of year
|
Dec. 9: Women's player of year
|
Dec. 10: Top men's matches
|
Dec. 11: Top women's matches
|
Dec. 12: Top shot-makers
|
Dec. 15: Top shots
|
Dec. 16: Top tirades
|
Dec. 17: Most mystifying moments
|
Dec. 18: Top on-court moments
It was a season full of surprises on the tour, with plenty of twists, turns and talk. But some unfolded in particularly unusual fashion, arresting attention as they happened. Here are some of the moments that left tennis watchers gaping.
1. Serena Williams' Wimbledon exit
She had already been ousted from the singles in a dramatic three-setter, but Serena would make an even more eventful exit in doubles. With her sister Venus sitting expressionless beside her, Serena called for the trainer during the warm-up, saying her vision and balance were affected. She then attempted to play the match, sending the ball flying when making contact in the first game. Next Williams hit four double faults that often weren't even in the vicinity of the service box, retired from the contest and, ultimately, left the tournament before giving a news conference. And she has still not given a more specific explanation than illness, saying she planned to have tests in the offseason.
[+] Enlarge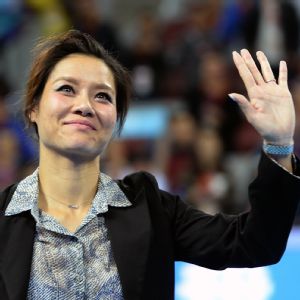 Goh Chai Hin/AFP/Getty ImagesDespite winning the Australian Open earlier in the season, Li Na called it a career in 2014.
2. Li Na's retirement
Li won her second Grand Slam at the Australian Open, injured her knee and had a sharp fall in her results during the clay season, had valued coach Carlos Rodriguez leave her following Wimbledon and withdrew from the US Open. With retirement rumors swirling, Li announced she was stopping just before her hometown tournament, which was to be played for the first time this year with her as its top attraction. Quite a roller-coaster season.
3. Rafael Nadal's injury issues
Nadal's physical problems produced some unusual sights on the court this season. He began experiencing back problems in the warm-up during the Australian Open final against Stan Wawrinka and called the trainer down a set and 2-0. Nadal had to leave the court to be examined, which led to a break of about 10 minutes, causing Wawrinka to complain angrily to the umpire. Nadal was even booed when he returned to court, but it was apparent the Spaniard was really hurt when he began serving at about 80 mph and could barely stay in points. He then improved and somehow won the third set against a nervous Wawrinka, but the first-time Grand Slam finalist was able to clinch the match in the fourth -- one of the stranger Grand Slam finals ever played.
Nadal had then only just returned from a wrist injury when he developed appendicitis in Shanghai, but chose to take antibiotics and keep playing rather than have surgery right away. Initially unable to practice and not sleeping properly because of the painful condition, he had poor showings in Shanghai and Basel and then decided to stop for the season.
4. Miami's men's semifinals
The Miami semifinals were supposed to feature Nadal versus Tomas Berdych and Djokovic versus Kei Nishikori, but instead saw no action when Nishikori withdrew with a hip injury and Berdych followed suit with a stomach problem. It wasn't the only no-show day on the men's circuit in 2014. Roger Federer withdrew from the final of the ATP World Tour Finals against Novak Djokovic because of a back injury.
5. Eugenie Bouchard's Montreal appearance
It was one of the most hyped appearances of the year -- Montrealer Eugenie Bouchard playing her hometown event in her first tournament since reaching the Wimbledon final. There were record ticket sales, television cameras and packed crowds as she walked on court for her opening round against little-known qualifier Shelby Rogers. Clearly affected by the attention, Bouchard didn't win a game in the first set and told her coach, Nick Saviano, that she wasn't even in the match. She gathered herself and took the second set, but then unraveled -- the 6-0, 2-6, 6-0 score line telling the story of a very ragged match.
6. Stan Wawrinka's Davis Cup faceoff
The fifth match of the Davis Cup final wasn't played as Switzerland took a winning 3-1 lead against France, but Wawrinka still had a faceoff with the French team that evening. A slightly tipsy Wawrinka had said during the news conference that the French players had "talked too much" going into the tie, and they confronted him in the bathroom about his comments during the Davis Cup dinner. French player Julien Benneteau told a French newspaper that Wawrinka apologized and there was no violence, but a heated five-minute discussion ensured before Gael Monfils stepped in to calm things down.
[+] Enlarge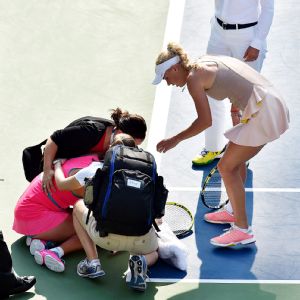 STAN HONDA/AFP/Getty ImagesShuai Peng couldn't overcome full-body cramps against Caroline Wozniacki at the US Open.
7. Shuai Peng's US Open collapse
A hotly contested match on a hot day at Flushing Meadows was too much for Shuai Peng, who collapsed on court during the second set against Caroline Wozniacki. The trainers conducted a lengthy examination that determined Peng was experiencing heat illness, not cramps, which allowed her to receive medical attention midgame. Though advised not to keep playing, she resumed for five more points before again falling to the court and retiring. The scenes of Peng on the ground crying and being wheeled off court led to tournament officials being criticized both for giving her too much assistance, disrupting the match, and for not giving her enough, potentially compromising her health.
8. Andy Murray's referendum tweet
Having insisted that he did not plan to publicly express an opinion on this year's referendum on Scottish independence, Andy Murray caused waves by
sending a tweet that morning
apparently supporting the "yes" side.
It became one of the most retweeted comments of the referendum, prompting so much negative reaction from the opposing side there was even a police investigation into some of the comments. Murray subsequently said it had been an impromptu decision, and that while he did not regret expressing an opinion, he would now have done it a different way.
9. Spain's Davis Cup captaincy
Former WTA player Gala Leon Garcia, now sporting director of the Spanish tennis federation, was appointed to select Spain's next Davis Cup captain when Carlos Moya decided to leave his position because he was unhappy that the top players had declined to show up for the World Group playoffs. Garcia chose herself, becoming the country's first female Davis Cup captain and setting off controversy. Prominent players like Nadal, Fernando Verdasco and Feliciano Lopez, as well as Nadal's coach and uncle, Toni, complained they had not been consulted and criticized her lack of coaching experience, especially on the men's tour. That led to accusations of sexism, particularly on the locker-room question, which Nadal countered by saying the new captain was misrepresenting her critics' position. Next season Spain will attempt to rebound from relegation and get the top players playing again.
10. Simona Halep's coaching changes
Simona Halep had her best season yet, reaching as high as No. 2 and making a Grand Slam final at the French Open. Much of it was while working with Wim Fissette, the former coach of Kim Clijsters, but Halep decided to get rid of him as the offseason began. There were plenty of questions about why she would change a winning formula, but then again, maybe she wasn't. Halep had done exactly the same thing a year ago, dropping Adrian Marcu despite getting to No. 11 and winning a host of titles. Perhaps her next coach shouldn't do such a good job, if he wants to keep his job.
October, 24, 2013
10/24/13
2:08
PM ET
Before
Li Na
had stepped onto the court to face
Jelena Jankovic
at the prestigious WTA Championships, she had only one thing on her mind: vacation.
Li said that because this is the final tournament of another long, draining year, her mind can't help but drift to a place far away, one deprived of anything yellow, round and fuzzy. And let's face it: Nothing says winning tennis quite like a daydreaming sojourn strolling along the Seine, spending time in one of the dazzling waterfront palazzos of Venice, Italy, or wherever Li decides to go. And for the record, she was mum on her plans.
Her priorities in order or not, Li's mindset and, as it turns out, her game were right where they needed to be Thursday in Istanbul -- at least for the 2 hours, 11 minutes it took her to finally knock off Jankovic 6-3, 2-6, 6-3. Li improved to 2-0 in the round-robin stage of the year-enders with one more match to play before a potential appearance in the semifinals.
[+] Enlarge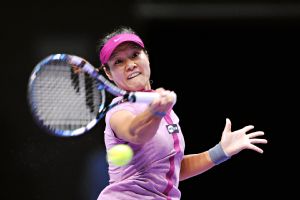 Ozan Kose/AFP/Getty ImagesLi Na didn't play pristine tennis, but she is in good position to advance in the year-ending championships.
After three days of fairly routine matches, this encounter was the first three-setter of the WTA Championships. And by all accounts, it was a sloppy match marred by far more ebbs and flows than it did brilliant shot-making. Li more than doubled her unforced errors (45) to winners ratio (21), while Jankovic's stats read 36 blunders to only 17 winners.
"So, of course, it was tight, yeah, but at least is better than last two years," Li said. "Jelena always tough match because she's very good, different player, so I think today I was running a lot, forward and backward on the court. It's very tough match."
Li was helped by some stellar net play. Since hiring coach Carlos Rodriguez a little more than a year ago, Li has made a commitment to moving forward. That's become a seminal part of a more aggressive game plan to help Li match up with today's power hitters. Against Jankovic, Li came to net 23 times and won 19 of those points, which was the clear difference-maker in this match.
In her on-court interview, Li said that "today wasn't only about technique." It was one that demanded focus, as taxing an ask as it is this time of year, at the right times.
Li's final group contest will come against
Victoria Azarenka
, who looked anything like a world No. 2 in her last match, a loss to Jankovic, on Wednesday. Azarenka hasn't tried to conceal her fatigue. Her unvarnished admission after that match that she is pretty much mentally and physically fried makes you wonder if she really wants to be in Istanbul at all. In other words, Li's yearning to be elsewhere aside, she might be considered the favorite.
If Li can get by Azarenka, she'd become the 10th player to sweep the group stage since 2003. The past four players who have pulled off this feat (including
Serena Williams
twice) all won the WTA Championships. Williams did it last year and
Petra Kvitova
two years ago, when she played primo tennis en route to the title, a run that also led her to a Fed Cup championship a week later.
"I mean, if I lose the easy tomorrow, maybe [I have] no chance?," Li said. "I don't know. So still have to fight tomorrow, one more round for the group."
Jankovic played a feisty match. It was far more competitive than the last time she played Li, which was earlier this year at the US Open, where Li won 15 straight points en route to a 6-3, 6-0 57-minute drubbing.
"Today we had a great fight," Jankovic said. "We both fought very well, and I managed to come back in the second set and played really well there, served much better.
"In the third set, it was just a couple of points. I got broken in that game. She lobbed me, and the ball went on the line. That was some few crucial points in that stage at the end of that third set and made a difference."
Nothing ever seems to come routinely for the Serbian star, whether it's her unique ability to play long matches when they shouldn't be or her penchant for drama. And because of her history of histrionics, Jankovic can also be the victim of taking a bad rap when it's not necessarily warranted. She has worked vigilantly to get back into the upper crust of the tennis world.
Jankovic, who finished 2008 as the top-ranked player in the world, fell to No. 22 a year ago, and the reality is that she wasn't a player we recently paid particular attention to in terms of Grand Slam success.
But her ebullience and appreciation of being part of the year-end championships again is obvious. She's committed to winning, even if she doesn't.
"It's not surprise because [Jankovic] was former No. 1, so she has the level to be the top 10," Li said. "Maybe now she get more confident."
Despite the loss, the good news for Jankovic is that she has a pretty good chance of reaching the final four in Istanbul. On Friday, she'll play her last round-robin match against
Sara Errani
, who is the weakest player in their group. If Jankovic wins, and Li beats Azarenka, Jankovic will advance. If Jankovic and Azarenka win, there will be a logjam atop the white group, which means the two players with the highest percentage of sets won will go through. Confused yet?
But it was Li who put herself into a prime position to reach Saturday's semifinals. There is also a chance she can overtake
Maria Sharapova
and Agnieszka Radwanska to move to No. 3 in the world if she reaches the final with a 3-0 round-robin record or wins the title. But that's all gravy.
For now, Li only needs to worry about booking her flight to an exotic resort of her liking. That seems to be working quite nicely.