ESPN Tennis:

Matt Wilansky
November, 21, 2013
Nov 21
6:00
AM ET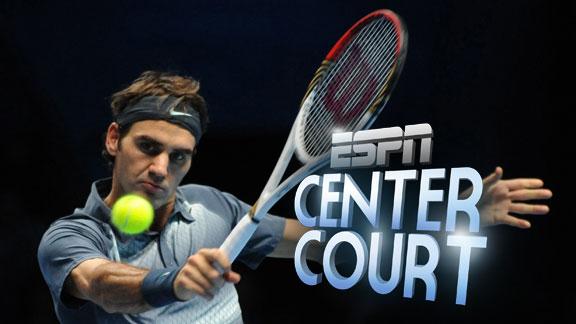 Everything seems to be going in slow motion at the moment, but the reality is that it's all happening far too fast. The camera gradually pans from one side of the famed Wimbledon Centre Court to the other. It reveals grown men unable to fight back their despair, while others applaud in both deference and sadness -- for they have lost royalty. The camera slows even more before stopping to focus on its target.
Roger Federer
looks up and waves one final time before fading into the bowels of the All England Club.
This time he is gone for good. The brilliant moments have suddenly been relegated to DVDs and rain-delay fillers. His stats are final, but his place in history is very much up for deliberation.
Of course, this scene hasn't taken place yet. We don't know when Federer will retire. We don't know how. Will he just segue straight into domestic life to help raise his two young daughters or will he leverage his emeritus status and stay on as a central figure in some capacity? Pete Sampras waffled for nearly a year after winning the 2002 US Open before announcing a former farewell in front of a few cameras. Andre Agassi's departure four years later was far more public and emotional.
No matter when that inevitable day comes (and, for the record, Federer has said he has every intention to compete in the 2016 Olympics, even if he plays a limited schedule), what kind of vacuum is it going to leave? The tour's viability isn't likely to be affected in any real tangible way, but the question becomes which players, if any, can fans really latch on to in the same mythical way?The
Rafael Nadal
s,
Novak Djokovic
s and
Andy Murray
s of the world carry an enormous amount of star power. In the past four years, that trio is responsible for 14 of 15 Grand Slam titles with Federer, who won his seventh Wimbledon title in 2012, the player to break through.
It's no secret the 32-year-old Swiss has struggled this season. He won just a single title and fell out of the top five. Not until a pretty solid showing at the Paris Masters did Federer officially qualify to make the ATP World Tour Finals -- where he made the semifinals. And though he vows he'll have a better 2014, we finally saw his human side, the guy who conceded he wasn't on par mentally with his rivals.
I've seen Federer play plenty: in Miami, Paris, Wimbledon and New York. There's something unique in the air when he's on the court. And no matter how you feel about his place in history, his groundswell of support is unmatched from a global perspective. He's beloved and cherished. Even today, while he struggles in lesser events, he's still the head-turner, the guy you want to see succeed, whether it's just out of adoration or pity.
Federer was a tremendous talent and 15, 16 years old, but his rise to the top of the record books didn't begin until years later, in 2003, when an unassuming, 22-year-old kid finally met the ambitions he had set out for himself: Wimbledon champ. From there, he utterly dominated, all the way to the tour's Grand Slam high-water mark of 17 titles. And the scary part is a lot of those championships came without much resistance.
Perhaps he is so widely respected because of the respect he has shown the game. From his granular insight to his macro knowledge of the game, Federer has always loved what the game means to him. And there very well might be a lot more we'll see from Federer, but based on his results this past year, 2013 was the first time we could legitimately start asking about retirement.
And when that day does come, the tour will go on just as it always has and people will watch -- even if that means dusting off those old DVDs.
October, 24, 2013
Oct 24
2:08
PM ET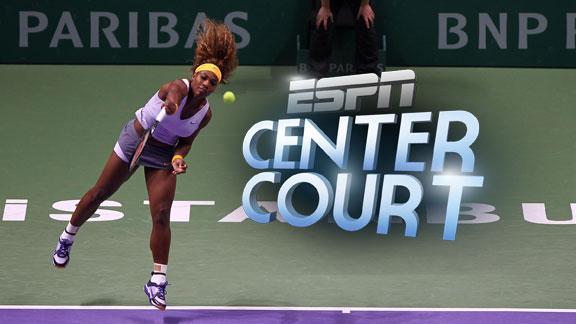 Before
Li Na
had stepped onto the court to face
Jelena Jankovic
at the prestigious WTA Championships, she had only one thing on her mind: vacation.
Li said that because this is the final tournament of another long, draining year, her mind can't help but drift to a place far away, one deprived of anything yellow, round and fuzzy. And let's face it: Nothing says winning tennis quite like a daydreaming sojourn strolling along the Seine, spending time in one of the dazzling waterfront palazzos of Venice, Italy, or wherever Li decides to go. And for the record, she was mum on her plans.
Her priorities in order or not, Li's mindset and, as it turns out, her game were right where they needed to be Thursday in Istanbul -- at least for the 2 hours, 11 minutes it took her to finally knock off Jankovic 6-3, 2-6, 6-3. Li improved to 2-0 in the round-robin stage of the year-enders with one more match to play before a potential appearance in the semifinals.
[+] Enlarge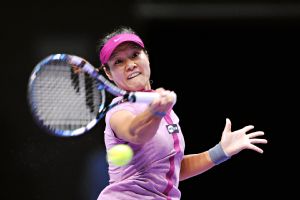 Ozan Kose/AFP/Getty ImagesLi Na didn't play pristine tennis, but she is in good position to advance in the year-ending championships.
After three days of fairly routine matches, this encounter was the first three-setter of the WTA Championships. And by all accounts, it was a sloppy match marred by far more ebbs and flows than it did brilliant shot-making. Li more than doubled her unforced errors (45) to winners ratio (21), while Jankovic's stats read 36 blunders to only 17 winners.
"So, of course, it was tight, yeah, but at least is better than last two years," Li said. "Jelena always tough match because she's very good, different player, so I think today I was running a lot, forward and backward on the court. It's very tough match."
Li was helped by some stellar net play. Since hiring coach Carlos Rodriguez a little more than a year ago, Li has made a commitment to moving forward. That's become a seminal part of a more aggressive game plan to help Li match up with today's power hitters. Against Jankovic, Li came to net 23 times and won 19 of those points, which was the clear difference-maker in this match.
In her on-court interview, Li said that "today wasn't only about technique." It was one that demanded focus, as taxing an ask as it is this time of year, at the right times.
Li's final group contest will come against
Victoria Azarenka
, who looked anything like a world No. 2 in her last match, a loss to Jankovic, on Wednesday. Azarenka hasn't tried to conceal her fatigue. Her unvarnished admission after that match that she is pretty much mentally and physically fried makes you wonder if she really wants to be in Istanbul at all. In other words, Li's yearning to be elsewhere aside, she might be considered the favorite.
If Li can get by Azarenka, she'd become the 10th player to sweep the group stage since 2003. The past four players who have pulled off this feat (including
Serena Williams
twice) all won the WTA Championships. Williams did it last year and
Petra Kvitova
two years ago, when she played primo tennis en route to the title, a run that also led her to a Fed Cup championship a week later.
"I mean, if I lose the easy tomorrow, maybe [I have] no chance?," Li said. "I don't know. So still have to fight tomorrow, one more round for the group."
Jankovic played a feisty match. It was far more competitive than the last time she played Li, which was earlier this year at the US Open, where Li won 15 straight points en route to a 6-3, 6-0 57-minute drubbing.
"Today we had a great fight," Jankovic said. "We both fought very well, and I managed to come back in the second set and played really well there, served much better.
"In the third set, it was just a couple of points. I got broken in that game. She lobbed me, and the ball went on the line. That was some few crucial points in that stage at the end of that third set and made a difference."
Nothing ever seems to come routinely for the Serbian star, whether it's her unique ability to play long matches when they shouldn't be or her penchant for drama. And because of her history of histrionics, Jankovic can also be the victim of taking a bad rap when it's not necessarily warranted. She has worked vigilantly to get back into the upper crust of the tennis world.
Jankovic, who finished 2008 as the top-ranked player in the world, fell to No. 22 a year ago, and the reality is that she wasn't a player we recently paid particular attention to in terms of Grand Slam success.
But her ebullience and appreciation of being part of the year-end championships again is obvious. She's committed to winning, even if she doesn't.
"It's not surprise because [Jankovic] was former No. 1, so she has the level to be the top 10," Li said. "Maybe now she get more confident."
Despite the loss, the good news for Jankovic is that she has a pretty good chance of reaching the final four in Istanbul. On Friday, she'll play her last round-robin match against
Sara Errani
, who is the weakest player in their group. If Jankovic wins, and Li beats Azarenka, Jankovic will advance. If Jankovic and Azarenka win, there will be a logjam atop the white group, which means the two players with the highest percentage of sets won will go through. Confused yet?
But it was Li who put herself into a prime position to reach Saturday's semifinals. There is also a chance she can overtake
Maria Sharapova
and Agnieszka Radwanska to move to No. 3 in the world if she reaches the final with a 3-0 round-robin record or wins the title. But that's all gravy.
For now, Li only needs to worry about booking her flight to an exotic resort of her liking. That seems to be working quite nicely.
October, 23, 2013
Oct 23
4:14
PM ET
It wasn't a warning to her fellow players per se, but you don't need to be Condoleezza Rice to interpret what
Serena Williams
was saying before the onset of the WTA Championships.
"Every tournament I play, I play to win," Williams said. "Not that I didn't do that before, but it was just different, just at a different place in my life, and more than anything I enjoy playing tennis. I love being out there.
"Right now, I can't imagine my life without a tennis racket in my hand and playing, you know, the next event. I think maybe that makes a difference."
Serena, who swiped away
Agnieszka Radwanska
6-2, 6-4 to improve to 2-0 in the round-robin stage of the year-enders, is more driven than ever and only wants to further reform her game.
So this is probably a good time to retract the opening line of this story. Yes, it was a warning -- a very stern one, in fact.
Williams, who wasn't as crisp Wednesday as she was in her opener, is nonetheless having a career year at the age of 32, which for most players is a few years past the demarcation line of playing world-class tennis. How many other competitors have begun fazing themselves out of the game, if not completely into retirement, by their mid-20s?
Granted, the game has become more physical in recent years. Bigger, harder hitters have thrived on all surfaces. Clay specialists and players with only sneaky, deft games aren't thriving anymore. The day of teenage Slam winners is long gone. The last one:
Maria Sharapova
, who was 17 when she won Wimbledon in 2004.
And when you think about it, how many truly great, young players are there on tour right now?
Sloane Stephens
comes to mind; she's strung together some nice runs in the majors the past couple of years, and she's the youngest player in the top 20. But is she a top-five player, someone who's going to be a stable face on the final weekend of Slams?
There's
Laura Robson
, who is rife with talent and capable of pulling off upsets, which she showed last year at the US Open with wins over
Kim Clijsters
and
Li Na
. But like so many other fledgling stars, Robson hasn't strung together consistent results. And quite frankly, it's too early to figure out whether the likes of
Madison Keys
,
Eugenie Bouchard
and
Monica Puig
, among a few others, will have robust futures.
But all that said, it seems to defy some kind of logic that Williams, who is 17 years into her vocation, will end 2013 with a career-best 11 titles if she wins in Istanbul. Not only is she playing the best tennis of her life, but she has the clarity of mind to keep this stunning run going.
Since losing to
Sabine Lisicki
in the fourth round of Wimbledon, Williams has played five tournaments (excluding the year-enders), and has won four. Her only loss came against
Victoria Azarenka
in a third-set tiebreaker of the Western & Southern Open final, a tournament right before the US Open, which, yes, Williams won.
After she defended her New York crown, wouldn't you figure she would lose some sort of motivation? Not according to Williams. She was reflective and honest when asked to assess her success this year.
"When I was 20 or 18, I never thought I'd be playing at this stage, and I have had a lot of time to think about it," Williams said right before the WTA Championships began. "The sport has just been growing so great. It's just been a great opportunity for me to continue to play, so I never thought I would have one of my best years this year, but I always just try to keep doing better."
Jelena Jankovic
recently said that what Williams is doing right now is "inspiring."
Angelique Kerber
admitted she had "no chance" against Serena in the opening match in Istanbul.
Look, we're not breaking any new ground by declaring Serena the empress of today's game. Her collective package -- athleticism, strength and mind -- separates her by a wide margin, as the rankings suggest. (Williams has nearly 5,000 points more than the second-ranked Azarenka.) We're merely pointing out how easily we can forget that Williams shouldn't be doing what she is.
Except that she is.
October, 22, 2013
Oct 22
1:44
PM ET
After 51 minutes,
Victoria Azarenka
labored to her changeover chair looking a little dazed and most certainly confused.
Seven games into the first set, Azarenka's opponent, much more diminutive underdog
Sara Errani
, had taken a commanding two-break lead at 5-2. The opening match of the 2013 WTA Championships looked like a shocker was brewing. According to online-betting.me.uk, Errani was listed as 150-1 favorite to win the tournament, far and away the worst odds of anyone in the eight-player field.
Azarenka, the No. 2-ranked player, was howling at herself for spraying balls she typically returns with conviction and ease. It hasn't exactly been a seamless stretch for Azarenka, who was mired in a three-match losing streak since she reached the final of the US Open.
But tennis, much like life itself, has a way of finding its equilibrium. Azarenka began playing a little less mechanically and eventually took the opening set in a tiebreaker. The second set, of course, went as predicted. Azarenka cleaned up her game and won the match 7-6 (4), 6-2.
There is little question this was an ugly match for Azarenka, but, because of the nature of the round-robin format, losing a single set can be extremely damaging in deciding group tiebreakers. So Azarenka was, by all accounts, fortunate to walk away from this match in straight sets.
"Well, I was a little rusty at the beginning," Azarenka said. "I think it's a little bit expected after a break, and, you know, playing right away against a top player always makes it a little bit difficult because you don't have that room, adaptation. So I had to make that adaptation kind of during the match."
But, adding injury to insult, Errani also appeared to hurt her right calf or Achilles against Azarenka. The Italian was ailing, unable to move with the usual fleeting speed and grace that have been the hallmarks of her success.
Errani has her obvious handicaps, most of them a result of her 5-foot-4 stature. Her height genes aside, though, Errani plays with a tremendous amount of heart, as she showed early in the match.
But she still has to contend with the power, spin and depth of her bigger opponents on a regular basis. Her loss to Azarenka dropped her record to 0-20 lifetime against players ranked in the top three.
Errani clearly was affected by her right leg injury. And considering she really can't contend with any of her seven cohorts in Istanbul without 100 percent health, there were some immediate questions as to whether she'll drop out of the tournament. If so,
Caroline Wozniacki
, who is the first alternate, would take Errani's place and inherit her 0-1 group record.
"Yeah, in the tiebreaker first set I felt, on the serve, a pain on my calf," Errani said. "So from there I was worried because I was feeling pain. Then I call the physio, and she make a bit of treatment.
"Then four games on, I don't know when it was, when I make the smash, I felt also cramp after, so I don't know. I am just doing treatment with the physio and see how it goes. I hope good."
Errani did imply she will give it a go against Li Na, whom she plays Wednesday.
Despite her recent travails, the caliber of work Azarenka put forth in this match was still unexpected. But she did eventually clean up her game and finished with nearly twice as many winners as unforced errors (51-27).
As the No. 2 seed, big things are expected of Azarenka. She needed this win -- you'd better believe that. Not only to regain some confidence but also because falling early in these round-robin events leaves little more room for failure.
Azarenka won't be satisfied with the aesthetics surrounding her win Tuesday, but the bottom line is that it was a win.
October, 5, 2013
Oct 5
8:29
AM ET
Two days before Wimbledon began this season,
Rafael Nadal
labored around Court 14 at the All England Club. He wasn't moving with the kind of peerless and punishing pace that had led him to 11 Grand Slam titles. Something was a little off; he was taking awkward swings at the ball and looked visibly cranky while conferring with coach Uncle Toni Nadal in between points against his practice partner,
Kevin Anderson
.
As it turned out, something
was
terribly wrong. On the opening day, Nadal crashed out of Wimbledon early once again -- but this time it came without much of a spirited fight. His opponent was
Steve Darcis
, a player who had spent a good part of his career slogging through the minor leagues. It was the second time in as many years Nadal had been ambushed by a relative unknown at Wimbledon.
[+] Enlarge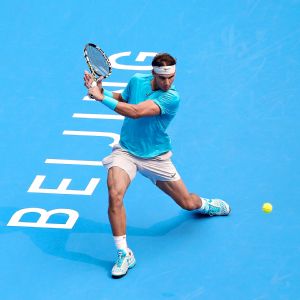 Lintao Zhang/Getty ImagesFor the third time in his career, Rafael Nadal is the No. 1 player in the world.
Nadal was unsure and off balance, and he committed uncharacteristic errors from the outset of the match, one that ended in straight sets. Afterward, Nadal refused to admit his ailing knee was a factor, but clearly it was, with him often favoring one leg in between points. It was an outcome that had anyone with a discerning eye fear for his future, especially for a guy coming off a debilitating injury.
Nadal wasn't far removed from a seven-month layoff to mend his knee, but he had been playing remarkably well since coming back in February. And the truth is that, after a successful defense at the French Open, there was little indication we were going to see an upset of this magnitude.
Now, 105 days after what very well could be considered his career nadir, things have changed for Rafael Nadal -- just ever so slightly. With an injury-shortened win over
Tomas Berdych
(the Czech retired down 4-2 in the first set with an ailing back) in the China Open semifinals, Nadal recaptured the top ranking for the first time since July 3, 2011, supplanting
Novak Djokovic
, who had held the honor for 101 weeks. Yes, Rafa is once again sitting comfortably in tennis' penthouse as the No. 1 player in the world. By all accounts, this is an amazing accomplishment, even for Nadal, who already owns one of the richest résumés in the history of the game.
"[This is] a great year, one of the best years of my career without any doubt," Nadal said after the match. "[It] sure is special be back to the top position of the rankings after more than a half year without playing tennis."
Nadal made his comeback a few weeks after the Australian Open by playing in three relatively dingy tournaments, as far as he was concerned anyway. All three were played in South America in the comfort of clay, a smart choice, considering his pedigree on dirt and the extra cushion that surface allows. Nadal won two and reached the final of the other before taking the pilgrimage north to Indian Wells, a Masters 1000 tournament played on hard courts. There, he overpowered
Roger Federer
, Berdych and
Juan Martin del Potro
in the final three rounds to capture the title.
After a near clean sweep of the clay season, including his eighth title at Roland Garros, Nadal entered Wimbledon playing with the kind of edge that had lifted him to titles there in 2008 and 2010. But then Darcis happened, and there was pretty good reason to think we could be in for a replay of 2012, when Nadal never touched a racket again for the rest of the year after falling to
Lukas Rosol
in the second round at those same hallowed grounds.
But what transpired thereafter was remarkable. Nadal ran the tables in the U.S. hard-court series, picking up titles at Montreal, Cincinnati and then, the most unlikely of them all, the US Open. He became the first player since
Andy Roddick
a decade earlier to pull off this trifecta, an arduous one, to say the least, when you consider the level of competition playing in those three events.
Nadal went 17-0 this summer, largely by making the conservative and necessary decision to play more aggressively. He moved closer to the baseline and took more forceful rips on his return of serve, a risky adjustment, but one that pushed him to the best hard-court run of his career. Maybe Rafa just needs to play out of his comfort zone, something Uncle Toni has been stressing for some time.
Before the US Open began, Nadal said that there were a lot of zeros on his résumé and that his goal was just to be healthy. Looks as if he wasn't exactly aiming for the moon on that endeavor.
Nadal's return to the summit is quite astounding when you stop and think about it: He did not play the Australian Open in January and failed to win a match at Wimbledon, which means he won only half the maximum allotted Grand Slam matches (and points) this season, yet he still was dominant enough to reclaim the No. 1 ranking.
Fittingly, Nadal will play Djokovic in the final of the China Open on Sunday. A win would give Nadal 11 titles this season, seven (yes, seven!) more than anyone else on tour. This would also tie his career best for most trophies in a season (2005). The reality is that, because Nadal has so few points to defend for the next five or so months, anything he wins from here on out is gravy, meaning his chances of
surrendering the top ranking
are unlikely for the foreseeable future.
It hasn't always been pretty for Nadal since he suffered a career-threatening injury last season. As a matter of fact, there have been some downright ugly moments. But perhaps those startling recoveries are what represent the true beauty of Nadal.
September, 23, 2013
Sep 23
2:41
PM ET
Andy Murray
is not an ordinary tennis player. We know this. There is no other competitor on this planet whose every move comes with the same fierce scrutiny he faces.
So when Murray finally won Wimbledon, not only did it mark the end of a 77-year national nightmare, but it also meant he could finally exhale. For so many years, no matter what kind of success Murray had, he was a victim of his own ancestry -- a player who couldn't escape years of futility by his predecessors.
His All England Club championship changed everything. It was so intense, in fact, that he probably still doesn't realize what it means to have singlehandedly exorcized the biggest blight in Great Britain -- the ghost of Fred Perry. Understandably, this title, the pinnacle of every Murray aspiration, had to become a distraction as the season wore on. And that's why Murray's season-ending back surgery might be the best mental recovery he could have asked for.
Murray's management company issued a statement that he plans on being fully fit for the 2014 season, which seems reasonable. He's a methodical, if not relentless, worker. But this break will give him a chance to start anew and reclaim the same dogged determination he had before Wimbledon began.
Since his triumph in SW19, Murray won one match in Montreal, a tournament he had captured twice, before
Ernests Gulbis
took him down in straight sets. In Cincinnati, Murray lost to
Tomas Berdych
fairly swiftly before going down ignominiously to
Stanislas Wawrinka
6-4, 6-3, 6-2 in the US Open quarterfinals. Murray spent a good part of that match berating himself, reverting into the same mercurial and moody player we were accustomed to seeing for years.
It's fair to assume Murray doesn't carry the same heavy burden anymore. And perhaps our biggest misunderstanding was thinking all that extra elbow room would serve Murray well moving forward. Clearly it hasn't. The pressure of not winning gave him reason to succeed and push, to prove to himself and his country he could accomplish this extraordinary feat.
The truth is Murray needed a long breather after Wimbledon. The tennis season is long and laborious as it is. There is still the Asian swing, which includes the Shanghai Masters in three weeks, the Paris Masters and the ATP World Tour Finals. It's not as if Murray is competing for the year-end No. 1 or Player of the Year award. A certain Spaniard is going to procure both of those. Murray is still ranked No. 3 in the world, but he'll likely get passed by
David Ferrer
, who has just under 400 fewer points than the Brit. But chances are Murray won't fall further than that.
Roger Federer
, at No. 5, will have to string together a fairly impressive run in order to pass Murray.
All this means that by the time the Aussie Open rolls around in mid-January, Murray wouldn't have to face
Rafael Nadal
or
Novak Djokovic
before the semifinals. Ultimately, that's all anyone could ask for heading into a major.
So take a break, Andy, heal your back and rest your brain. After all, there's a good chance the spotlight will be pointed in your direction when you return. You don't want to disappoint, do you?
September, 19, 2013
Sep 19
6:00
AM ET

With the Slam season now behind us, what better time to debate things we really don't need to debate. But that's just what we do. So without further ado, a few burning questions for this fall:

More impressive US Open title run, Serena or Nadal?

Serena Williams was expected to win -- and she did. Rafael Nadal was expected to win -- and he did. So the two players who have dominated much of the 2013 season strolled into New York, beat their archrivals in the final, snagged another Grand Slam title, and further etched their names into the greatest-of-all-time discussion. Predictable, eh? Perhaps, but consider this: No one in his right mind could have predicted Nadal was going to win the US Open, never mind string together an infallible 21-0 hard-court season. For a guy who had long been pigeonholed as a clay specialist, his latest feat is remarkable, knowing full well that cement can't be anything but an impediment to the world No. 2's health. This surely doesn't diminish Williams' run to a 17th Grand Slam title, especially the mental fortitude she showed against a determined Victoria Azarenka in the final. But anything less than a title for Williams would have been considered a failure.

Advantage, Nadal

Better success story in New York, Pennetta or Wawrinka?

What's it like to play in relative obscurity? Stanislas Wawrinka, who has fought for any back-page real estate with Roger Federer, knows better than anyone. No further explanation needed. But at this year's US Open, the unthinkable happened. Federer found himself reeling in another early-round defeat while Wawrinka played the tournament of his life, crushing defending champion Andy Murray in the quarters and then taking Novak Djokovic into a fifth set before finally conceding in the semis. Flavia Pennetta, on the other hand, helped put Italy back on the tennis radar after winning her much-ballyhooed match against countrywoman Roberta Vinci in the US Open quarterfinals. Pennetta cracked the top 10 four years ago but fell into the middle-of-the-pack matrix, never really making a name for herself until her latest Slam exploits. But considering she is 31 years old and entered New York unseeded and ranked 83rd, her accomplishment is pretty amazing.

Advantage, Pennetta

Who needs fall success more, Federer or Sharapova?

Roger Federer has been free-falling from mere mortal to ordinary since losing in the second round of Wimbledon. He played a couple of low-tier clay-court events after the All England Club, experimenting with a larger racket. That didn't work out so well. He reverted to his 90-inch-square head for the US Open, and after a few seamless matches, Tommy Robredo, who was 0-10 against Federer entering the match, eviscerated the Swiss in three swift sets. If nothing else, it only validated what we all were thinking this summer: Federer is inexorably headed toward a life of drivers and putters. For Sharapova, her past couple of months have been marred by off-the-court histrionics. There was the Jimmy Connors coaching drama, the purported name change to "Sugarpova" and her withdrawal from the US Open with a right shoulder injury. The good news for Sharapova, though, is that as long as Serena is not staring her down, she can still beat anyone. Right now, Sharapova has an image issue. Federer's problems lie in the wild ground game he showed against Robredo, which appears to be as much a mental challenge as anything else. Only match play will fix his summerlong mess.

Advantage, Federer

More important for Djokovic, Davis Cup title or year-end championship?

Here's the thing: No matter what Djokovic does the rest of the way in 2013, he's not going to be able to hang on to his No. 1 ranking -- unless Lukas Rosol and Steve Darcis conspire to kidnap Rafael Nadal. The Spaniard has zero points to defend, and for all intents and purposes, he just needs to show up and he'll garner enough points to usurp Djokovic. But after another loss to Nadal, in the US Open final, the year-end championships would be sweet retribution for the Serb. But Djokovic is a team guy through and through. It was Serbia's 2010 Davis Cup championship that propelled Djokovic to the force he is today. He rode that momentum into the Aussie Open a few months later, won, and then absolutely bludgeoned the field that year, going 70-6 with 10 titles and finishing both 2011 and 2012 as the top-ranked player. So though that streak is bound to end, he will lead his country into another Davis Cup final, this time against the Czechs. And if the Serbs win that championship again, well…

Advantage, Davis Cup

August, 28, 2013
Aug 28
5:52
PM ET
NEW YORK -- When Hank's slow, agonizing quest to find Heisenberg finally gave way to the realization that the most nefarious drug lord in New Mexico was actually family, his bad dream became nothing short of a horror flick.
It was the seminal moment in an epically slow descent into chaos. The revelation of the mastermind behind the meth empire hit a lot closer to home than Hank could have ever imagined when he discovered the truth about his brother-in-law, Walt White.
We're talking about "Breaking Bad," of course. And much like some of today's tennis players, the show's forecast is a little murky. How it will end is anyone's guess. (Feel free to speculate in
our comments section
, though.) With that in mind, here's who's breaking bad (in terms of results) on the court:
Filippo Volandri:
With a 6-0, 6-2, 6-1 loss to
John Isner
in the US Open opener, Volandri has dropped his past 20 hard-court matches. The last time he won a Grand Slam match? Six years ago. To summarize, he's breaking horrifically.
Mardy Fish:
Gotta feel for the guy who is beset by life-threatening heart ailments. But he's only 3-5 this season and has not played a single Grand Slam match. And no one would be surprised if he followed in James Blake's footsteps and called it a career.
Samantha Stosur:
She claimed she was playing the quality of tennis that led her to a win here in New York two years ago -- and then, of course, suffered a first-round loss to 297th-ranked
Victoria Duval
on Tuesday. But the good news for Stosur: She played a vital role in Duval's "Rudy"-esque performance.
Jerzy Janowicz:
With his run to the Wimbledon semis, Janowicz became the most uplifting storyline in tennis. This is a guy who had endured poverty for years, so much so that he slept in his car during tournaments. But with expectations at all-time highs in Flushing, he ignominiously lost to
Maximo Gonzalez
in his opener. But the good news for Jerzy Boy, who took home a nifty $610,000 from his Wimbledon display, he probably now has a few sweet options to snooze beyond his car.
Angelique Kerber:
She's failed to reach a major quarterfinal this season and her ranking has fallen to No. 9. In her past three events, Kerber has lost in the first round twice. Not the kind of momentum you want heading into the final Slam of the season.
Sabine Lisicki:
Has a pretty interesting pedigree with her father a doctor and her mother an artist. So naturally Lisicki is a tennis player. She made the Wimbledon final, which included a win over
Serena Williams
. But the German has had an underwhelming summer (1-2 record) since tearfully losing to
Marion Bartoli
in the All England Club final.
Maria Sharapova:
Hired Jimmy Connors. Fired Jimmy Connors. Hurt her shoulder. Seriously considered changing her legal name to Sugarpova. Dropped out of the US Open. Ugh.
August, 6, 2013
Aug 6
2:52
PM ET
Moments before his quarterfinal tussle with
Marcos Baghdatis
at the Citi Open,
John Isner
was asked what he needed to do to win. His answer was succinct -- and obvious. Serve well, he said.
Isner, of course, has one of the terrifying serves in tennis. He stands at 6-foot-10 and unfurls rockets from trajectories that seem unfair. Against Baghdatis, and then in his semifinal match against
Dmitry Tursunov
, Isner battered a combined 47 aces. It was a remarkable display of serving that thrust him into the final. But that's where he ran into
Juan Martin del Potro
, another mountain of a man, who beat Isner 3-6, 6-1, 6-2 to win the title.
[+] Enlarge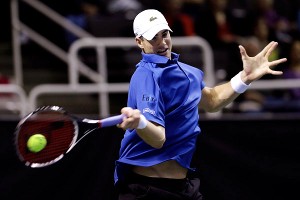 AP Photo/Marcio Jose SanchezJohn Isner leads the tour in aces, but that doesn't mean free points lead to short matches.
After struggling to greet the ball with any kind of consistency off Isner's serve in the opening set, del Potro made a pretty bold tactical change. He moved back on his return; so far, in fact, that the linemen must have feared possible concussion, if not decapitation, every time del Potro set up for one of his voracious forehands. It was bewildering, almost comical, at first. But despite giving up all that landscape, the ploy worked quite brilliantly.
Del Potro was able to soften the blow from Isner's serve and put the ball into play. But that maneuver, as beneficial as is was to del Potro, also showcased just how severely Isner is crippled by his inability to generate any kind of momentum when he's not winning on his serve.
Isner has fared nicely since Wimbledon, reaching the semis in Newport, winning in Atlanta and finishing runner-up to del Potro in Washington, D.C. before losing his opener at the Rogers Cup. But for a guy who has a serve that big, Isner is still ensconced in no-man's land when it comes to rankings and results at major events.
Is that a result of his all-court shortcomings? If you take a sweeping glance at the game's top-flight players, you'll notice they have very few impediments, if any at all. That's the era of tennis we live in. The top guys are all five-tool stars. They move, defend, serve, volley and hit massive groundstrokes.
Let's also remember, though, that Isner has a much different genetic makeup than players such as
Novak Djokovic
and
Andy Murray
. It's not easy to maneuver with short bursts of speed at his elevation. So, in many respects, Isner has no choice but to play a one-dimensional game.
But this stat shouldn't be overlooked: Isner has produced the best tiebreaker record in tennis at 29-10. As a matter of fact, in each of the past four years, he's led the tour in tiebreaker wins, which is a testament to not only holding serve but his ability to cope under pressure.
How much would Isner have benefited from playing in the power paradigm of Boris Becker, Pete Sampras, et al? Sure, it's not like Isner was going to squirm his way to a win against Sampras at the All England Club, but the reality was defense was less paramount than it is now -- especially given the speed of the grass and hard courts back then. I remember watching Goran Ivanisevic at Wimbledon and the US Open, and there were times when he wouldn't even attempt to return serve if he knew he couldn't break his opponent. He'd wait for a tiebreaker and rely on the fast courts and his hair-raising serve.
It wasn't a horrible strategy. Ivanisevic reached the Wimbledon final four times, which included his long-awaited title in 2001. He also reached the quarters or semis in every other Slam. To date, Isner has one quarterfinal appearance (US Open, 2011).
For the most part, I subscribe to the theory that players should try win with their biggest weapon rather than spend boundless hours trying to hone their flaws, which, more often than not, will still be flaws at the end of the day. Look at
Andy Roddick
's backhand or
Maria Sharapova
's serve. They worked earnestly to improve those shots. And yes, both improved, but certainly not to the extent they had hoped.
And it's not like there's some kind of benign oversight on Isner's part to become more well-rounded. Players know their weaknesses. But the bottom line is that is that whether Isner is too tall, not nimble enough or whether he just doesn't have the ingenuity to leverage the rest of his game, we've essentially seen the same Isner for years.
In 2010, Isner won one title and finished the year ranked No. 19; in 2011, two titles and finished at No. 18; and last year, two titles and finished at No. 14. This year, Isner has slipped to No. 20, and to date, he has two titles.
Isner knows he can't cede control of his biggest weapon, his serve, if he has any shot at succeeding. But because he struggles to break, Isner finds himself constantly knotted in tight matches. It's an ugly irony when you think about it: All these free points he gets on serve lead to some lengthy matches. Eleven of his past 14 matches have featured at least one set that has gone to a tiebreaker.
And you have to wonder if all these laborious encounters take a toll. Despite leading the tour with 642 aces this year, more than 100 more than second place
Kevin Anderson
(in eight fewer matches, no less), Isner has a fairly vanilla 27-18 record.
So perhaps we should resign ourselves to the fact that Isner is what he is. He gives you exciting, protracted matches, and he gives the ace-count meter a darn good workout. He just doesn't always give you the win.
July, 24, 2013
Jul 24
6:00
AM ET
Are you feeling like this stretch of the tennis season is a bit of a snoozer? Don't fret too much, it's going to pick up and all the stars will emerge and align again. And considering what happened at Wimbledon, there seems to be more possibilities than we would have envisioned a month ago.
With that in mind, here are the top 10 things I'd like to see as the US Open Series and US Open take shape:
10. I would like to see … Caroline Wozniacki regain her old form
.
[+] Enlarge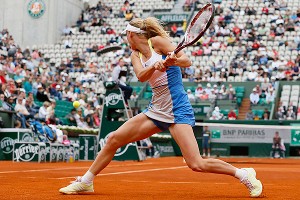 Patrick Kovarik/AFP/Getty ImagesAt what point, do we give up on hoping Caroline Wozniacki will regain her old form?
Wishful thinking, eh? Maybe. Maybe not. The good news for Wozniacki, who is perilously close to dropping out of the top 10, is that in a few weeks she will head to New Haven, where she has won four titles in five attempts. That means she generally enters the US Open with some confidence. The bad news, of course: Confidence alone doesn't compensate for a Grand Slam career of foibles, if not failure. Last year, Wozniacki won all of four games in an opening-round loss to someone named Irina-Camelia Begu. But here's to hoping for the best -- even if we know the best is a little dicey these days.
9. I would like to see … a Hall of Famer make a comeback
.
Good news! We will be able to check this one off our wish list. Just three days after her enshrinement into the International Tennis Hall of Fame, Martina Hingis announced she is unretiring to play doubles at the Southern California Open and again in New Haven. If you're scoring at home, this will be the third comeback for Hingis and her first WTA action since 2007. And if you're concerned about rust, let me ease your anxiety. I saw Hingis play exhibition doubles in Newport this past week against Todd Martin and Mary Pierce. The Swiss can still bring it -- against old folks anyway.
8. I would like to see … Roger Federer win a Masters title
.
The reality is that Federer probably isn't going to win the US Open. He has only one title this year, and he's spent some time meddling with his equipment, which only goes to show that he knows he's not the front-runner anymore. But that doesn't mean Federer couldn't snare a Masters 1000 tourney in Montreal or Cincinnati in the next few weeks. He is the defending champ at the latter, and winning one of these events would be no small feat. Federer likely wouldn't render a Slam-less, Masters-less season a successful one. It's hard to fathom that he'll go an entire year without one, something that hasn't happened since 2002.
7. I would like to see … an unheralded American woman continue her Slam success
.
It's kind of amusing (or is it sad?) how giddy we've become because an American player without the letters S-E-R-E-N-A in her name wins two or three Grand Slam matches.
Sloane Stephens
is still the leader of this respectable pack, but others, like
Jamie Hampton
,
Madison Keys
,
Alison Riske
and
Bethanie Mattek-Sands
, all had their own special moments at the Euro Slams. It's really tough to say whether any will surge, but for a nation that's failed to churn out a penthouse-esque player since the Williams sisters, we can only hope someone will continue this trend in Flushing.
6. I would like to see … Jerzy Janowicz hit a 150 mph serve
.
The dude can flat-out hit missiles. At Wimbledon, this Polish phenom belted a tournament-high 103 aces, 14 more than second-place
Andy Murray
(who played one additional match). Of course Murray won the title, so there's that. But nonetheless, Janowicz has a prodigious all-court game with the most important asset -- a nearly unreturnable serve. He smacked one at 143 mph at the All England Club, the fastest of anyone. And if he can sneak in a paltry 7 more mph, he'd join the exclusive club of radar-gun juggernauts who have registered 150 on the speedometer.
5. I would like to see … one new face to stay in upper echelon
.
So back to the Janowicz guy. We've belabored the "Who's Next?" narrative for so long that it's hard to imagine such a person exists. For years, our prescience has devolved into nothing more than a pile of potatoes as player after player with worlds of potential has faltered. Guys like Raonic, Harrison and Dimitrov (to name just a few) have hung out in tennis purgatory, showing flashes of occasional brilliance but never really mounting any consistent assaults in bigger tournaments. There's Federico Delbonis, the unheralded kid who just beat Federer in Hamburg, but it's way too early to tell whether he will amount to anything. So what about Janowicz? First off, he did make the Wimbledon semis, which is even more impressive when you consider Poland doesn't have one single grass court. Secondly, he has heart. The dude's backstory is a tale of overcoming hardship. He slept in cars; he had no sponsorship for quite a while and he couldn't afford flights to tournaments. You can feel how badly Janowicz wants to win when he's on the court. Geez, I wonder if he could clock a 150 mph serve?
4. I would like to see … John Isner and Agnieszka Radwanska play mixed doubles
.
Perhaps they're the perfect matchup. One serves aces for a living, the other bears a deft counterpuncher's game that can drive opponents nuts. But who cares about on-court success and the such. Fans would flock to see these two finely sculpted creatures, who bared it all in ESPN The Magazine's Body Issue, together in one spot. They could even brand themselves à la a WWE tag team (six-pack attack?). Win or lose, no team would attract more attention than this pair in the bare.
3. I would like to see … Jimmy Connors help Maria Sharapova in crunch time
.
[+] Enlarge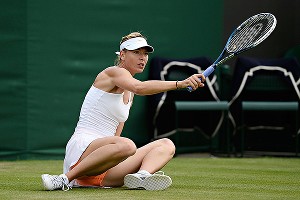 Dennis Grombkowski/Getty ImagesIs Jimmy Connors the one to transform Maria Sharapova back into a Grand Slam champ?
Is this what Sharapova needs? A hubristic in-your-throat mentor to help her get through those tense moments. Whether it's a dream matchup or a clash-of-egos nightmare, Connors, a player who relished the limelight, is now the central figure in Sharapova's corner. This pairing, odd as it may be, and it
is
odd, is about one thing:
Serena Williams
. The last time Sharapova beat Williams was so long ago,
Rafael Nadal
had a grand total of zero major titles. The problem, of course, is that when things get tough, Sharapova can't simply tag in Connors; she's going to be out there by herself. And so is Serena Williams.
2. I would like to see … Serena and Sharapova play in the US Open final
.
So let's say Connors and Sharapova
do
make it to the final of the Open. And let's say Serena is on the other end of the court. Then what? Here's the thing: It really doesn't matter. The hype leading into this match will be tantamount to, well, pretty much every NFL game every week of the season. Think about all the storylines we can cling to: Sharapova has a new, famous coach; Sharapova has Serena's old boyfriend; Serena said that beau has a black heart and Sharapova insinuated bad things about Serena's new boyfriend. Do they need a tennis court, the octagon or a reality show?
1. I would like to see … Andy Murray-Novak Djokovic play anywhere, anytime
.
I don't know about you, but I dig good rivalries. And who better to represent this than the top two players in the world? The tennis community was visibly aghast when Nadal and Federer fell early at Wimbledon. But in retrospect, it was a strong reminder that if any players deserve purple velvet on their changeover chairs, and some robes, crowns and jewels for their postmatch attire, it's Murray and Djokovic. And the cool thing about the Murray-Djokovic rivalry … is that it
is
a rivalry, unlike, ahem, the other two players mentioned in this graf. Nonetheless, make sure your DVR has enough storage when they play. It's riveting stuff every time they clash.
May, 30, 2013
May 30
3:22
PM ET
PARIS -- What can you say about the big four? They've managed to win 13 straight Grand Slam titles and 31 out of the past 32. Either
Roger Federer
,
Rafael Nadal
or
Novak Djokovic
has held the top ranking since 2004 and
Andy Murray
is your reigning Olympics and US Open champ.
By all accounts, you have to believe this is one of the most exciting eras the game has ever seen -- unless you're
Ernests Gulbis
.
In a recent interview with L'Equipe, Latvia's loose-lipped maverick went on a confounding rant. "Tennis today badly lacks characters," Gulbis said … "I respect Roger, Rafa, Novak and Murray but, for me, all four of them are boring players. Their interviews are boring."
[+] Enlarge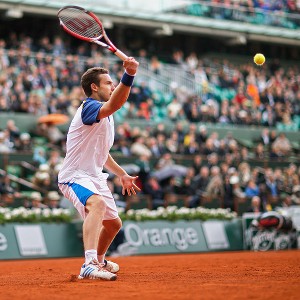 AP Photo/Christophe EnaSometimes nice guys finish first. Ernests Gulbis doesnt seem to care for that.
Then, amid all the bluster, Gulbis admonished Federer for being "a perfect Swiss gentleman" and said it turns his stomach to listen to other players channel Federer's diplomatic news conferences.
"When I hear them answer like Roger, I am terrified by phrases like, 'I had a little bit more success at certain moments and that is how I won,'" he said. "If I win, the guy on the other side of the net, I [would] have sent him home."
Wow.
To recap, today's tennis has fostered four of the most accomplished players ever -- and Gulbis is bent out of shape because they're nice guys. Let this NOT be a lesson to your children.
Perhaps, as Gulbis so desires, tennis should emulate boxing and add some punch to these humdrum pressers. Imagine this: Nadal is ripping Federer for his soft backhand, and just when you think the barbaric Spaniard is done talking, he then threatens to eat Federer's children after he's through smoking him in another French Open final. Game on.
Or maybe Djokovic goads Murray into a press-side rumpus by calling his mother a controlling, uh, witch. Yeah, baby. That'll lead to a couple of rounds of fisticuffs.
For Gulbis, a fix of acrimony would help solve an era marred by all this toxic serenity and skill.
After all, who cares about record-shattering greatness?