ESPN Tennis:

Michael Chang
September, 11, 2014
Sep 11
1:48
PM ET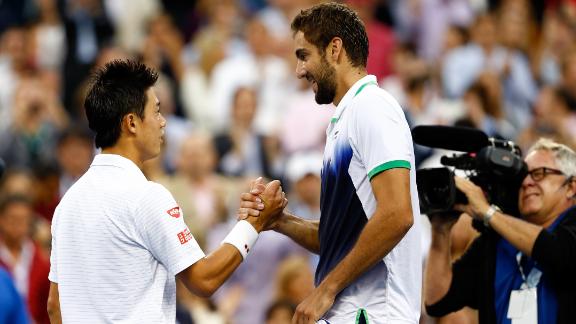 For
Marin Cilic
and
Kei Nishikori
, breaking through in a Grand Slam wasn't a question of game, ability or effort. It wasn't about being able to do it. It was about actually doing it.
For that, Cilic and Nishikori needed help from others who had done it. In Goran Ivanisevic and Michael Chang, they found their ideal coaching counterparts -- former Grand Slam champions who had similar backgrounds but also possessed attributes that they were searching for.
For Cilic, Ivanisevic was a fellow Croatian and sporting inspiration who had previously helped Cilic's career from arm's length but was now going to be hands-on in steering his game.
The 25-year-old had been coached by Ivanisevic's former coach Bob Brett and began working with Ivanisevic a year ago, when he returned to the tour from an anti-doping suspension that was attributed to a mistakenly purchased product and reduced in length. In addition to the renewed motivation Cilic got from the unsettling experience of testing positive, the new coaching arrangement has re-energized his career.
Ivanisevic's most obvious contribution has been helping Cilic with his serve, as the former Wimbledon champion had one of the most formidable deliveries in history. As Cilic struck service winner after service winner in his three-set win against
Roger Federer
in the US Open semifinals, including three aces while wrapping up the match, Ivanisevic said, "It's like watching myself."
But he has also had a wider effect on his younger compatriot, with his famous humor and personality helping bring some balance to the serious, hard-working Cilic.
That might be the biggest thing Ivanisevic has brought to his team, notes Cilic, the new US Open champion. He had reached the top 10 in 2010 but admits he started enjoying the game less and saw his ranking slip into the teens and 20s.
But there was more to the new mindset than that. For a tall, rangy player, Cilic had a conservative game, one Ivanisevic encouraged him to exchange for a more daring one.
"At the beginning when we started to work, we sat together and Goran told me that my game and my tennis has to be aggressive tennis," said Cilic. "I can't play too much tactically because most of the times before I was dealing too much with the tactics against players and not focusing on my game.
"It wasn't easy to change my perspective and to change completely my mindset. It took ... five, six months of the tournaments to be able to sink that into me and that I know on the court that's the right way for me to play. That was the most difficult part."
Ivanisevic agrees that the message took a while to deliver.
"[Cilic] was not very offensive before," he said. "You have to risk. If you don't risk, you don't know what can happen. So I tried to push him. He responded well. He was not easy, but this is the result."
The new coach also points to Cilic's fitness.
"He's covering the court well, and all the credit to the physical trainer; he really push him," Ivanisevic said. "But this year he push him even more and he really responded well."
[+] Enlarge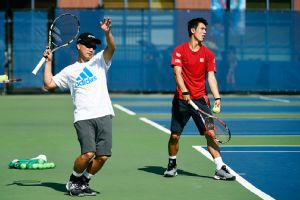 Alex Goodlett/Getty ImagesKei Nishikori's work with former French Open champ Michael Chang has sparked a renaissance in the 24-year-old's game.
At about the same time Ivanisevic and Cilic were beginning their collaboration, Chang was in the hallways at the US Open talking to Nishikori's team about coming on board. The two began working together during the offseason, with Nishikori also keeping his regular full-time coach.
Like the Croatian pair, Chang and Nishikori had a lot in common: an Asian background, a tennis childhood in the United States, small stature and striking speed. What Chang had, and Nishikori sometimes seemed to be lacking, was unquenchable competitiveness during matches and a willingness to push his limits.
As Ivanisevic did with Cilic, Chang told Nishikori to play a bigger game for bigger impact. Nishikori has said this approach is behind his rise this year, with Chang telling him to be "a little more aggressive than before and stepping more in."
"I think there are similarities there," Chang told reporters during the US Open. "There are style similarities. Obviously being Chinese, he's Japanese, there's cultural differences, but there's cultural similarities as well.
"I think mentality generally, being a little bit more on the quieter side, is something I understand a little more. So those similarities obviously make it a little bit easier to work with him and to communicate."
Despite his good five-set record, Nishikori has been frequently injured, including withdrawing from the Miami semifinals and retiring during the Madrid final this year. The 24-year-old almost didn't play the US Open either, having had a cyst removed from his right foot and not playing for three weeks. But Chang pushed the case for playing, saying, "Get through the first two matches and anything can happen."
"I gave him examples that I have known for myself and for Pete Sampras, where [we] were not quite sure if we were going to play and ended up having a great result," said Chang. "I actually ended up getting to the finals of the French in 1995 [after] almost pulling out of the tournament."
So Nishikori kept training, arrived at the US Open almost a week before for extra preparation and coasted to the second week. But Chang wasn't letting up.
"I just keep telling him, 'We're not done yet,'" Chang said. "I'm always trying to encourage him. I don't want him to be satisfied with round of 16.
"It's easy to be able to be satisfied with that, because his best result was a round of 16. Gets to the quarters, I think easy to be satisfied with that. You have the opportunity to win a Grand Slam, you have the opportunity to win your first major, you take advantage of it, and you come as best as possibly prepared as you can."
A pair of four-hour matches followed and then a four-set defeat of top-seed
Novak Djokovic
in the semifinals.
Despite reaching his first Grand Slam final, Nishikori didn't seem satisfied with a three-set defeat at the hands of Cilic, talking about building on his performance and having more chances.
The champion's mentality of the two champion coaches certainly had a noticeable impact on both Cilic and Nishikori at the beginning of their partnerships. A year later, it all came together at the US Open.
Along with everything else, don't discount the effect of having a former idol join a player's team. Several current players have benefited from working with well-known names this season.
The coaches get something from it too, with Ivanisevic saying that watching Cilic win was not unlike his famous Wimbledon victory and Chang citing an opportunity to do something for Asian tennis, just as his older brother Carl did for him.
"There has been only one other Asian man that has broken into the top 10, and that was Paradorn [Srichaphan]," Chang said. "Being in that 15-16 range, there was actually a fair amount of similarities because I was stuck in that range in 1990, 1991, until Carl came and coached me.
"So I felt I have an opportunity to be able to help a young, very talented Asian player be able to take his game to the next level."
The two US Open finalists knew how to play. Now, their coaches are showing them how to win.
December, 31, 2013
12/31/13
8:08
AM ET
Another tennis season has begun, and what's the hottest new accessory for guys heading back on tour?
A former legend as coach. Everyone who's anyone is getting one, it seems.
Roger Federer
and
Novak Djokovic
have officially made it all the rage, hiring former Grand Slam champions Stefan Edberg and Boris Becker, respectively, during the offseason. Edberg and Becker were two halves of an iconic rivalry in the 1980s and '90s, and will now face off from the sidelines for the first time.
[+] Enlarge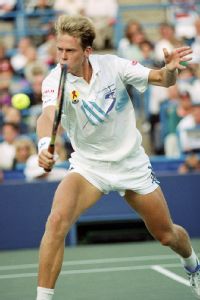 AP Photo/Rusty KennedyRoger Federer is looking to Stefan Edberg to help open up specific areas of his game.
Federer announced last week that childhood idol Edberg would be joining him for a 10-week stint that will start at the Australian Open. The pairing, already dubbed "Fedberg," will add even more interest to Federer's attempt to rejoin the top ranks this season after a difficult 2013.
"I thought if we could do a few weeks together, maybe 10, maybe 12, it would be something fresh, new, inspiring," Federer explained in Brisbane while preparing for his first tournament of the season.
Six-time Grand Slam champ Edberg was known for his legendary volleys, particularly on the backhand side, something the 32-year-old Federer may be hoping rubs off on his own game as he tries to keep to up with heavy groundstrokes from rivals like
Rafael Nadal
, Djokovic and
Andy Murray
.
Federer's former coach, Paul Annacone, also specialized in an attacking game; the two parted ways in September after more than two years together. Severin Luthi, Switzerland's Davis Cup captain, remains the mainstay of Federer's coaching setup.
The 17-time Grand Slam champ also recently announced that he and his wife, Mirka, are expecting a third child in the coming year, making it a busy time in the Federer household.
"Being the legend he is and someone I look up to so much, anything he will say will mean very much to me and my team," said Federer of Edberg's impact.
"It will be interesting to see what he thinks, if it's possible to do serve-and-volley on the slower courts we see all around the world these days, or if there are different ways for me to find my way to net."
Speculation about a possible pairing began when Federer announced Edberg had trained with him for a week during the offseason, after which Edberg expressed interest in trying to do more during the year.
"The idea of the camp was that I would give my views and come up with some feedback. He wants to try some new things," Edberg told Swedish newspaper Svenska Dagblagets.
Djokovic's decision to begin working with Becker came more unexpectedly, even to the new coach himself.
"I was approached by Novak and his manager while he was playing Beijing," Becker told the BBC. "I was surprised -- I didn't expect the phone call."
[+] Enlarge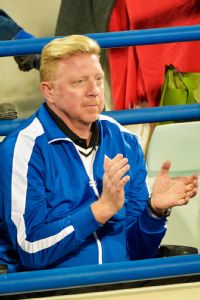 Ineke Zondag/AFP/Getty ImagesBoris Becker never won the French Open as a player, but Novak Djokovic hopes Becker's coaching will get him over the hump at Roland Garros.
The pairing has produced some head-scratching, because Becker has not elevated his reputation of late. He has become the subject of ridicule in the tennis world for his less-than-insightful commentary on BBC. Becker's latest book, a salacious tell-all, has caused regular scandals in Germany as excerpts have been reprinted in newspapers and magazines.
It also led to a distasteful Twitter and television war with German comedian Oliver Pocher, which began over comments Becker made in the book about an ex-fiancée who eventually married Pocher.
All that aside, what is it Djokovic is looking for Becker to provide? The Serb dropped both the Wimbledon and US Open finals in what he called "emotional losses," and seems to be searching for guidance in big matches.
Becker was known for his competitor's instincts, and the six-time Grand Slam champion also played a serve-and-volley game that Djokovic has long been trying to incorporate into his repertoire.
"Speaking to [longtime coach] Marian [Vajda] in the last few months of the year, we came to the conclusion that I needed another legendary player who can eventually help me understand what I would like to do in situations like the Grand Slam final stages," Djokovic said at the exhibition event in Abu Dhabi last week.
Djokovic has tried bringing in other figures to supplement Vajda before, with mixed results. Australian doubles great Mark Woodforde was tapped to improve Djokovic's volley in 2007, and a stint with two-time Grand Slam finalist Todd Martin between 2009 and 2010 ended when Djokovic began struggling with his service motion.
It appears Vajda will be taking more of a backseat than before, though, with Becker serving as Djokovic's main coach at most big tournaments. How well this latest arrangement works out will be judged largely by Djokovic's results at the Grand Slams, particularly the French Open, the only only major he has yet to win and one he freely admits is now most important to him.
The wave of former stars joining the coaching ranks is a relatively new phenomenon -- in the past, big names rarely signed up to go back on the road with another player. The trend could be traced back to Andy Murray, who began working with eight-time Grand Slam champ Ivan Lendl at the beginning of last season and went on to win the US Open few months later, followed by victory at Wimbledon in 2013.
Just as Lendl never won Wimbledon but got Murray over the hurdle there, the sport's newest big-name coaches will also be trying to help their players do something they did not manage themselves. Edberg retired relatively early in his career, while Becker never won a clay court title of significance.
Their presence also means more of Lendl's contemporaries around on the practice courts, though Murray maintains that he doesn't expect old rivalries to be reignited from the coaching box.
"I personally don't think there will be a renewal of the rivalry," Murray was quoted as saying in the Gulf News during Abu Dhabi. "Once you step on court, the coaches can do very little to the outcome of a match. It is in the preparation where the coaches can make a really good difference."
[+] Enlarge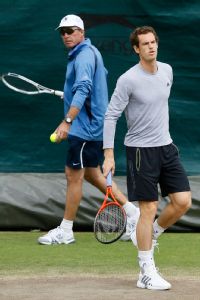 AP Photo/Kirsty WigglesworthAndy Murray now has two Grand Slam titles with Ivan Lendl behind him.
Of course, Murray then attempted to stoke just such a rivalry by tweeting, "How great is it to have all these legends of the game coaching? Absolutely loving it. #mycoachisbetterthanyoursnanananana"
One member of the current Big Four who won't be getting on the bandwagon is world No. 1 Rafael Nadal, who is sticking with his coach and uncle, Toni.
"It will be great to have Ivan and Boris around next season," said Nadal during Abu Dhabi. "However, I will stick to my team. I always feel when I play bad, it is my fault and when I'm winning I'm doing the right things. I had success in my career with the same team."
Rafa's Spanish compatriot
David Ferrer
also opted for a low-profile choice after recently splitting with longtime coach Javier Piles.
The top women also seem to have eschewed the movement.
Maria Sharapova
did take on Jimmy Connors for a few weeks after Wimbledon, but then opted for a more seasoned coach in Sven Groneveld.
Serena Williams
and
Victoria Azarenka
have continued to work with established names -- Patrick Mouratoglou and Sam Sumyk, respectively -- while
Caroline Wozniacki
opted for Thomas Hogstedt, who had most recently been with Sharapova.
But plenty of ATP players have joined in, recruiting former top players for their team.
Richard Gasquet
has added two-time French Open champ Sergi Bruguera to his roster,
Kei Nishikori
recently announced he will be working with French Open champ and former No. 2 Michael Chang this season, and
Marin Cilic
has Wimbledon champ Goran Ivanisevic working with him.
Earlier this year,
Milos Raonic
took on former No. 3
Ivan Ljubicic
, while
Nicolas Almagro
began working part-time with former No. 1
Juan Carlos Ferrero
when the former french Open champion retired towards the end of last year.
In an interview with the Brisbane Courier-Mail, Ivanisevic noted that the amount of talent in the stands could begin to rival that on the court.
"They should have a tournament for the coaches," he joked.
These days, some of those coaches might pull bigger crowds than their players.