ESPN Tennis:

Novak Djokovic
December, 13, 2013
Dec 13
6:00
AM ET
Editor's note: On Dec. 9, we began our 10-part year-end awards series. Stay tuned each weekday for our latest entry.
Dec. 9: Men's POY
|
Dec. 10: Women's POY
|
Dec. 11: Best men's matches
|
Dec. 12: Best women's matches
|
Dec. 13: Points of the year
With so many amazing points played on the tours each year, cataloging the best is a daunting task. Many factors go into a choice -- the occasion, the moment in the match, displayed skills, the length, the variety, the finishing shot. These 10 had all or most of these qualities.
1. Rafael Nadal vs. Novak Djokovic, US Open final
The match may not have been the best they played this year, but this 54-stroke rally was their best exchange. It's not often one point gets a standing ovation from the crowd. This one did.
2. Novak Djokovic vs. Stanislas Wawrinka, Australian Open 4R
An already memorable point on any occasion, but all the more so on match point. A fitting finish for a contest that could fill a highlight reel by itself.
3. Gilles Simon vs. Gael Monfils, Australian Open 3R
This one could be described as more quantity than quality, but a 71-stroke rally is an achievement in itself. It was the high-water mark of the 4-hour, 43-minute match, which featured the five longest rallies of the tournament and seven of the top nine.
4. Novak Djokovic vs. Andy Murray, Australian Open final
Fall down, make the shot, get up, hit a near-winner, run up to net, put it away. All in a point's work for Djokovic.
5. Radek Stepanek vs. Potito Starace, Rome 1R
What more could Starace do in this point? Not much, except win it.
6. Serena Williams vs. Agnieszka Radwanska, Istanbul RR
It's usually Williams making her opponents run all over the court, but Radwanska reverses the situation with some beautiful touch.
7. Rafael Nadal vs. David Ferrer, Rome quarterfinal
Think these two know how to move on clay? Ferrer suffered at the hands of his buddy Nadal this year, but did manage to get the better of him in this point by showing some amazing defense followed by a spectacular winner.
8. Victoria Azarenka vs. Caroline Wozniacki, Cincinnati quarterfinal
A lengthy exchange has Azarenka fending off a near-winner by Wozniacki before going on the offense herself.
9. Victoria Azarenka vs. Serena Williams, Cincinnati final
When it's 6-6 in the third-set tiebreak against Williams, it's time for tennis like this. And Azarenka delivers.
10. Jo-Wilfried Tsonga vs. Milos Raonic, Indian Wells 4R
A spirited net exchange produces a bit of excitement between these two attacking players.
December, 11, 2013
Dec 11
6:00
AM ET
Editor's note: On Dec. 9, we began our 10-part year-end awards series. Stay tuned each weekday for our latest entry.
Dec. 9: Men's POY
|
Dec. 10: Women's POY
| Dec. 11: Best men's matches
Looking at the top men's matches of the year, a few names keep coming up --
Stanislas Wawrinka
,
Rafael Nadal
and, most of all,
Novak Djokovic
. The Serb was involved in six of these 10 selections, including the top four contests. He might not have been player of the year, but it could be said he was the match-player of the year.
With that, our 2013 men's matches of the year:
1. Novak Djokovic def. Stanislas Wawrinka
Australian Open 4R, 6-1, 7-5, 6-4, 6-7(5), 12-10
It wasn't billed as a big-time match, but this fourth-rounder quickly became a classic. Wawrinka came out firing, hitting winner after winner and going up a set and a break. The defending champion, struggling with his footing, then came back and took a two-sets-to-one lead. But it wasn't over yet. Wawrinka didn't wilt, didn't waver, didn't go away or do any of the things lower-ranked players are supposed to do after losing a lead against a big name. With
Roger Federer
staying up well into the night to watch his compatriot, Wawrinka took the fourth set and stayed with Djokovic as they went deep into the fifth as well.
Djokovic finally finished the match with an amazing rally, ripping off his shirt to celebrate an unexpectedly tough but satisfying victory. Wawrinka, meanwhile, had announced that he would be someone worth watching this season.
2. Rafael Nadal def. Novak Djokovic
French Open semifinals, 6-4, 6-3, 6-1, 6-7(3), 9-7
Nadal-Djokovic was the rivalry of the season, and this match would be the most dramatic meeting. Nadal, who had struggled in some of his earlier matches, competed with a ferocity that stood out even from his usual exhorting, fist-pumping style.
For four sets, the advantage ebbed and flowed between the defending champion and then-No. 1 Djokovic, who had the early advantage in the fifth as he served up a break at 4-3. But as he put away a volley for game point, the Serb lost his balance and touched the net. Nadal, who had been quick to spot the stumble, had the point instead. Three points later, the Spaniard broke back, going on to win the match and subsequently his eighth French Open title.
3. Novak Djokovic def. Juan Martin del Potro
Wimbledon semifinals, 7-5, 4-6, 7-6(2), 6-7(6), 6-3
For 4 hours, 43 minutes, the two bludgeoned and retrieved the ball all over the grass on Centre Court. While del Potro was hitting his forehand with abandon, Djokovic slipped repeatedly after being told by the tournament to wear shoes without pimpled edges (which helped him grip the court better when sliding).
Djokovic nevertheless took control of the fourth set, but del Potro fought back to capture the tiebreaker. But the Argentine seemed to tire as Djokovic quickly regained his lead in the deciding set. The long match might also have taken its toll on Djokovic, who lost the final in straight sets to
Andy Murray
.
4. Rafael Nadal def. Novak Djokovic
Montreal semifinals, 6-4, 3-6, 7-6(2)
This high-quality meeting was their first of the season on hard courts, with Nadal playing more aggressively than before to defeat Djokovic on the Serb's favorite surface. Nadal even accidentally hit Djokovic in the face with a shot during the third set -- much to viewer Andy Murray's delight -- and then the Spaniard dominated the tiebreaker to defeat his opponent for the second straight time.
5. Stanislas Wawrinka def. Richard Gasquet
French Open 4R, 6-7(8), 4-6, 6-4, 7-5, 8-6
The French crowd roared and chanted as their man, Gasquet, won the first two sets, then quieted as Wawrinka came back, evening the battle of one-handed backhands in a magnificent fourth set. Gasquet began struggling with cramps but fought valiantly in the fifth, holding two break points at 6-6 before succumbing fewer than two games later. But at least he would find redemption later in the year, defeating
Milos Raonic
and
David Ferrer
in five sets at the US Open on his way to the semifinals.
6. Rafael Nadal def. Roger Federer
Cincinnati quarterfinals, 5-7, 6-4, 6-3
Unlike most of their meetings, expectations were not high. Federer was coming off a string of defeats, while Nadal was undefeated on North American hard courts for the season. But the 17-time Grand Slam champion managed to find his form for this encounter, producing plenty of winners to take the first set and having chances to pull off the upset in the second. Nadal slowly took command, however, and a tiring Federer could not keep up in the third set.
7. Novak Djokovic def. Stanislas Wawrinka
US Open semifinals 2-6, 2-6, 7-6(4), 6-3, 6-4
Their second Grand Slam marathon of the season would be almost as memorable as the first. After hurting his leg in the first set, Wawrinka played with added urgency, trying to avoid a long match. He was successful early on, winning the first two sets, but Djokovic fought back to win the next three and the match. Most memorable was the third game of the fifth set, which lasted 21 minutes with Wawrinka saving five break points to finally hold.
8. Grigor Dimitrov def. Novak Djokovic
Madrid 2R, 7-6(6), 6-7(8), 6-3
There were several twists and turns in this encounter, which was one of the season's notable upsets. The up-and-coming Bulgarian saved three set points in the first set, then went up a set and a break before cramps began to affect him. He still had a match point in the second-set tiebreaker -- and the crowd behind him -- but a fired-up Djokovic managed to level the match. Inspired by a prematch pep talk from his girlfriend,
Maria Sharapova
, Dimitrov hung in and was given an early break by Djokovic, completing his victory in 3 hours, 5 minutes.
9. Andy Murray def. David Ferrer
Miami final, 2-6, 6-4, 7-6(1)
They not only had to face each other, but they had to battle the heat as well. The third set was a tight and dramatic affair. Ferrer, who had been playing with uncharacteristic aggression, stopped play on match point at 5-4 to challenge a deep Murray ball that had left him in difficulty. But replays showed the ball in, and Murray would go on to win the game and dominate the tiebreaker.
10. Tommy Haas def. John Isner
French Open 4R 7-5, 7-6(4), 4-6, 6-7(10) 10-8
It looked like a straightforward match at first, but it turned into a gripping contest from late in the fourth set onward. The 35-year-old Haas needed not one, two or three, but 12 match points to close out the encounter. It looked like Haas was on his way to a gut-wrenching defeat when Isner pulled out the fourth-set tiebreak and then pulled ahead 4-1 in the fifth set. Yet the veteran German kept fighting, and Isner, who needed an 8-6 fifth-set win in his previous match, ran out of energy. By the finish, it had turned into one of the most memorable contests of the year.
December, 9, 2013
Dec 9
8:07
AM ET
Editor's note: On Dec. 9, we begin our 10-part year-end awards series. Stay tuned each weekday for our latest entry.
Rafael Nadal
may be an obvious choice as the men's player of the year, but at this time last year it was not even obvious when Nadal would play again.
Given that uncertain start, an already amazing season looks even greater: two Grand Slams, 10 titles total, the No. 1 ranking, $14.5 million in prize money, a 75-7 record and just three events in which he did not make at least the final. And if the summary is impressive, watching it unfold was even more so.
Returning in February after seven months away with a knee injury, Nadal performed a series of successive, interlocking feats that vaulted him back to the top of the men's game:
[+] Enlarge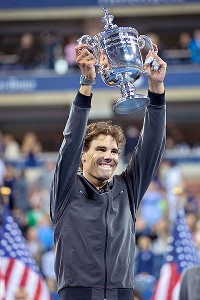 Susan Mullane/USA TODAY SportsAnother U.S. Open title was just one of Rafa's amazing feats in 2013.
• He started his return by playing five of seven weeks, going 17-1 and reaching the final in his first tourney, and winning the next four events.
• He won Indian Wells for the third of those three titles, his first event on hard courts in almost a year.
• He played six of nine weeks during the European clay season, going 26-1 and reaching the Monte Carlo final, and then he went undefeated in his next four events.
• He won a record eighth French Open for the fourth of those four titles, coming from a break down against
Novak Djokovic
in the fifth set of their semifinal.
• He played four of five weeks on North American hard courts, going 17-0 -- or 22-0, counting his earlier victory at Indian Wells.
• He swept the Montreal Masters, Cincinnati Masters and US Open, joining Patrick Rafter and
Andy Roddick
in doing so.
Though Nadal did not win a title the rest of the season, he still had some of his best post-U.S. Open results, reaching the final of the year-end Tour Finals. His only major defeat -- and it was a big one -- was a first-round loss at Wimbledon. The knee injury didn't completely go away, either, though Nadal insisted his play was largely unaffected.
As if he hadn't played enough already, the 27-year-old from Mallorca has also kept himself busy in the offseason, taking part in a lighthearted Necker Cup for charity, then starting a six-day exhibition tour of South America before coming back to Spain to accept an award for being voted the greatest Spanish athlete in history.
If his long break amplified his achievements, it also spurred them on.
"When you are coming back from a situation that I came, after injury seven months, it's true that you came with a special feeling, very fresh, special motivation, because you feel that you lost a year for things that you cannot control," Nadal said earlier this season. "That really motivates me."
There have been a lot of great seasons on the men's tour over the past few years -- Djokovic's 2011, Nadal's own 2010, and Federer's 2006 and 2007 runs. However this one measures up, it has added considerably to Nadal's standing in the game's history. The Spaniard is now tied for third on the all-time list with 13 Grand Slam titles, and he has collected a record 27 Masters titles.
He has improved not only his position in the record books, but also his game. His forehand down the line has continued to develop, and he played more assertively at the baseline, making more forays to net and even employing an aggressive backhand slice during stretches.
These and other tactical changes helped him gain the upper hand against Djokovic for much of the year, before the Serb turned things around again by winning their last two matches of the season.
All in all, the two split their meetings 3-3, leaving the rivalry perfectly positioned going forward. And the question of who will be the next player of the year very much wide open.
October, 5, 2013
Oct 5
8:29
AM ET
Two days before Wimbledon began this season,
Rafael Nadal
labored around Court 14 at the All England Club. He wasn't moving with the kind of peerless and punishing pace that had led him to 11 Grand Slam titles. Something was a little off; he was taking awkward swings at the ball and looked visibly cranky while conferring with coach Uncle Toni Nadal in between points against his practice partner,
Kevin Anderson
.
As it turned out, something
was
terribly wrong. On the opening day, Nadal crashed out of Wimbledon early once again -- but this time it came without much of a spirited fight. His opponent was
Steve Darcis
, a player who had spent a good part of his career slogging through the minor leagues. It was the second time in as many years Nadal had been ambushed by a relative unknown at Wimbledon.
[+] Enlarge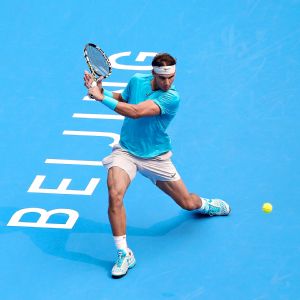 Lintao Zhang/Getty ImagesFor the third time in his career, Rafael Nadal is the No. 1 player in the world.
Nadal was unsure and off balance, and he committed uncharacteristic errors from the outset of the match, one that ended in straight sets. Afterward, Nadal refused to admit his ailing knee was a factor, but clearly it was, with him often favoring one leg in between points. It was an outcome that had anyone with a discerning eye fear for his future, especially for a guy coming off a debilitating injury.
Nadal wasn't far removed from a seven-month layoff to mend his knee, but he had been playing remarkably well since coming back in February. And the truth is that, after a successful defense at the French Open, there was little indication we were going to see an upset of this magnitude.
Now, 105 days after what very well could be considered his career nadir, things have changed for Rafael Nadal -- just ever so slightly. With an injury-shortened win over
Tomas Berdych
(the Czech retired down 4-2 in the first set with an ailing back) in the China Open semifinals, Nadal recaptured the top ranking for the first time since July 3, 2011, supplanting
Novak Djokovic
, who had held the honor for 101 weeks. Yes, Rafa is once again sitting comfortably in tennis' penthouse as the No. 1 player in the world. By all accounts, this is an amazing accomplishment, even for Nadal, who already owns one of the richest résumés in the history of the game.
"[This is] a great year, one of the best years of my career without any doubt," Nadal said after the match. "[It] sure is special be back to the top position of the rankings after more than a half year without playing tennis."
Nadal made his comeback a few weeks after the Australian Open by playing in three relatively dingy tournaments, as far as he was concerned anyway. All three were played in South America in the comfort of clay, a smart choice, considering his pedigree on dirt and the extra cushion that surface allows. Nadal won two and reached the final of the other before taking the pilgrimage north to Indian Wells, a Masters 1000 tournament played on hard courts. There, he overpowered
Roger Federer
, Berdych and
Juan Martin del Potro
in the final three rounds to capture the title.
After a near clean sweep of the clay season, including his eighth title at Roland Garros, Nadal entered Wimbledon playing with the kind of edge that had lifted him to titles there in 2008 and 2010. But then Darcis happened, and there was pretty good reason to think we could be in for a replay of 2012, when Nadal never touched a racket again for the rest of the year after falling to
Lukas Rosol
in the second round at those same hallowed grounds.
But what transpired thereafter was remarkable. Nadal ran the tables in the U.S. hard-court series, picking up titles at Montreal, Cincinnati and then, the most unlikely of them all, the US Open. He became the first player since
Andy Roddick
a decade earlier to pull off this trifecta, an arduous one, to say the least, when you consider the level of competition playing in those three events.
Nadal went 17-0 this summer, largely by making the conservative and necessary decision to play more aggressively. He moved closer to the baseline and took more forceful rips on his return of serve, a risky adjustment, but one that pushed him to the best hard-court run of his career. Maybe Rafa just needs to play out of his comfort zone, something Uncle Toni has been stressing for some time.
Before the US Open began, Nadal said that there were a lot of zeros on his résumé and that his goal was just to be healthy. Looks as if he wasn't exactly aiming for the moon on that endeavor.
Nadal's return to the summit is quite astounding when you stop and think about it: He did not play the Australian Open in January and failed to win a match at Wimbledon, which means he won only half the maximum allotted Grand Slam matches (and points) this season, yet he still was dominant enough to reclaim the No. 1 ranking.
Fittingly, Nadal will play Djokovic in the final of the China Open on Sunday. A win would give Nadal 11 titles this season, seven (yes, seven!) more than anyone else on tour. This would also tie his career best for most trophies in a season (2005). The reality is that, because Nadal has so few points to defend for the next five or so months, anything he wins from here on out is gravy, meaning his chances of
surrendering the top ranking
are unlikely for the foreseeable future.
It hasn't always been pretty for Nadal since he suffered a career-threatening injury last season. As a matter of fact, there have been some downright ugly moments. But perhaps those startling recoveries are what represent the true beauty of Nadal.
September, 19, 2013
Sep 19
6:00
AM ET

With the Slam season now behind us, what better time to debate things we really don't need to debate. But that's just what we do. So without further ado, a few burning questions for this fall:

More impressive US Open title run, Serena or Nadal?

Serena Williams was expected to win -- and she did. Rafael Nadal was expected to win -- and he did. So the two players who have dominated much of the 2013 season strolled into New York, beat their archrivals in the final, snagged another Grand Slam title, and further etched their names into the greatest-of-all-time discussion. Predictable, eh? Perhaps, but consider this: No one in his right mind could have predicted Nadal was going to win the US Open, never mind string together an infallible 21-0 hard-court season. For a guy who had long been pigeonholed as a clay specialist, his latest feat is remarkable, knowing full well that cement can't be anything but an impediment to the world No. 2's health. This surely doesn't diminish Williams' run to a 17th Grand Slam title, especially the mental fortitude she showed against a determined Victoria Azarenka in the final. But anything less than a title for Williams would have been considered a failure.

Advantage, Nadal

Better success story in New York, Pennetta or Wawrinka?

What's it like to play in relative obscurity? Stanislas Wawrinka, who has fought for any back-page real estate with Roger Federer, knows better than anyone. No further explanation needed. But at this year's US Open, the unthinkable happened. Federer found himself reeling in another early-round defeat while Wawrinka played the tournament of his life, crushing defending champion Andy Murray in the quarters and then taking Novak Djokovic into a fifth set before finally conceding in the semis. Flavia Pennetta, on the other hand, helped put Italy back on the tennis radar after winning her much-ballyhooed match against countrywoman Roberta Vinci in the US Open quarterfinals. Pennetta cracked the top 10 four years ago but fell into the middle-of-the-pack matrix, never really making a name for herself until her latest Slam exploits. But considering she is 31 years old and entered New York unseeded and ranked 83rd, her accomplishment is pretty amazing.

Advantage, Pennetta

Who needs fall success more, Federer or Sharapova?

Roger Federer has been free-falling from mere mortal to ordinary since losing in the second round of Wimbledon. He played a couple of low-tier clay-court events after the All England Club, experimenting with a larger racket. That didn't work out so well. He reverted to his 90-inch-square head for the US Open, and after a few seamless matches, Tommy Robredo, who was 0-10 against Federer entering the match, eviscerated the Swiss in three swift sets. If nothing else, it only validated what we all were thinking this summer: Federer is inexorably headed toward a life of drivers and putters. For Sharapova, her past couple of months have been marred by off-the-court histrionics. There was the Jimmy Connors coaching drama, the purported name change to "Sugarpova" and her withdrawal from the US Open with a right shoulder injury. The good news for Sharapova, though, is that as long as Serena is not staring her down, she can still beat anyone. Right now, Sharapova has an image issue. Federer's problems lie in the wild ground game he showed against Robredo, which appears to be as much a mental challenge as anything else. Only match play will fix his summerlong mess.

Advantage, Federer

More important for Djokovic, Davis Cup title or year-end championship?

Here's the thing: No matter what Djokovic does the rest of the way in 2013, he's not going to be able to hang on to his No. 1 ranking -- unless Lukas Rosol and Steve Darcis conspire to kidnap Rafael Nadal. The Spaniard has zero points to defend, and for all intents and purposes, he just needs to show up and he'll garner enough points to usurp Djokovic. But after another loss to Nadal, in the US Open final, the year-end championships would be sweet retribution for the Serb. But Djokovic is a team guy through and through. It was Serbia's 2010 Davis Cup championship that propelled Djokovic to the force he is today. He rode that momentum into the Aussie Open a few months later, won, and then absolutely bludgeoned the field that year, going 70-6 with 10 titles and finishing both 2011 and 2012 as the top-ranked player. So though that streak is bound to end, he will lead his country into another Davis Cup final, this time against the Czechs. And if the Serbs win that championship again, well…

Advantage, Davis Cup

September, 13, 2013
Sep 13
1:28
PM ET
Isn't it great to see three members of the tennis world's vaunted big four still battling on, even though the US Open has been over for nearly a week?
Roger Federer
is the only one of that group who won't be swinging a racket this week, but there is one caveat: There's no chance that any of the top three players in the world will actually end up playing each other.
If you haven't been paying attention, it's Davis Cup semifinal and world group playoffs week. And ATP no. 1
Novak Djokovic
, No. 2
Rafael Nadal
, and No. 3
Andy Murray
are all taking part. It's a fantastic week for this 113-year-old competition that has faced some serious obstacles in the Open era.
[+] Enlarge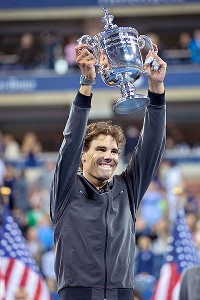 Susan Mullane/USA TODAY SportsAfter a US Open title, Rafael Nadal is right back on the court in Davis Cup action.
One of the major challenges has been the puzzling and unexpected indifference of what once was the largest tennis audience and market of all (at least until China popped
Li Na
among us), the United States. Who would have thought that the nation where the competition was conceived and brought to full splendor would suddenly lose interest in what is the world's second most popular international team competition (after World Cup soccer)?
The ITF and its U.S. affiliate, the USTA, have traditionally had trouble selling Davis Cup to newspaper editors and television executives, and thus the viewing public, in the Open era. The fact that some top stars from various nations (led by Jimmy Connors) went lukewarm on Davis Cup, usually because of the relatively low material reward, didn't help the cause.
Also, as the tour grew and became more remunerative, the Davis Cup commitment seemed more onerous. Although the competition takes place over just three days (Friday through Sunday), it's really a one-week event -- just like most tournaments.
Thus, at least two of the teams must make the commitment of a full month to the effort. And while the current dates are somewhat inconvenient, at times in the past they were much worse. Overall, Davis Cup participation still is a lot to ask of a player like Nadal or Djokovic.
Also, the choice-of-ground tradition -- teams alternate hosting or traveling to their opponent's venue each time they meet -- wreaks havoc on the increasingly rigid, pre-established schedules of the players.
For those reasons, the game is littered with erstwhile Davis Cup reformers who would like to see anything from a two-week "Davis Cup festival" that decides the entire competition at one site, to a return to some sort of "zonal" structure to ease some of the travel-related drawbacks.
So far, the ITF has instituted some reforms in the structure of the event, but it has held firm on the key and most controversial elements -– the calendar that requires four weeks from finalists and the alternating host rule.
That's why Murray is currently busting a gut in Croatia, newly crowned U.S. Open champ Nadal is back in Madrid's Caja Magica even though his next tournaments are in Asia, and U.S. Open runner-up Djokovic is basking in the love of his Serbian countrymen in Belgrade.
Now note that only one of those matchups -- Serbia versus the Czech Republic -– is part of the current competition's semifinals. Djokovic is playing for the tennis equivalent of a Super Bowl ring, but Nadal and Murray are merely trying to ensure that their teams remain in the elite 16-member World Group that plays for the Cup.
That's a little like Miguel Cabrera or Chris Davis going down to help their clubs' Triple-A affiliates win their respective divisions.
All of this is great news for fans of Davis Cup. And it's also a mild rebuke directed toward Roger Federer. Switzerland also is involved in the critical world group playoff battle (hosting Ecuador).
Stanislas Wawrinka
, the Swiss player right behind Federer, is playing the best tennis of his life (he was a U.S. Open semifinalist and ranks No. 10, just four ticks below Federer).
That means the Swiss could potentially win the whole thing next year, assuming they get past Ecuador this weekend and remain in the World Group.
The odds are good that the even without Federer, the Swiss will win out. The question then becomes whether Federer will play Davis Cup in 2014? I can think of some excellent reasons besides patriotic pride for him to do it, but for today, let's just be happy with what we've got.
July, 24, 2013
Jul 24
6:00
AM ET
Are you feeling like this stretch of the tennis season is a bit of a snoozer? Don't fret too much, it's going to pick up and all the stars will emerge and align again. And considering what happened at Wimbledon, there seems to be more possibilities than we would have envisioned a month ago.
With that in mind, here are the top 10 things I'd like to see as the US Open Series and US Open take shape:
10. I would like to see … Caroline Wozniacki regain her old form
.
[+] Enlarge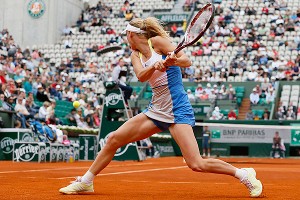 Patrick Kovarik/AFP/Getty ImagesAt what point, do we give up on hoping Caroline Wozniacki will regain her old form?
Wishful thinking, eh? Maybe. Maybe not. The good news for Wozniacki, who is perilously close to dropping out of the top 10, is that in a few weeks she will head to New Haven, where she has won four titles in five attempts. That means she generally enters the US Open with some confidence. The bad news, of course: Confidence alone doesn't compensate for a Grand Slam career of foibles, if not failure. Last year, Wozniacki won all of four games in an opening-round loss to someone named Irina-Camelia Begu. But here's to hoping for the best -- even if we know the best is a little dicey these days.
9. I would like to see … a Hall of Famer make a comeback
.
Good news! We will be able to check this one off our wish list. Just three days after her enshrinement into the International Tennis Hall of Fame, Martina Hingis announced she is unretiring to play doubles at the Southern California Open and again in New Haven. If you're scoring at home, this will be the third comeback for Hingis and her first WTA action since 2007. And if you're concerned about rust, let me ease your anxiety. I saw Hingis play exhibition doubles in Newport this past week against Todd Martin and Mary Pierce. The Swiss can still bring it -- against old folks anyway.
8. I would like to see … Roger Federer win a Masters title
.
The reality is that Federer probably isn't going to win the US Open. He has only one title this year, and he's spent some time meddling with his equipment, which only goes to show that he knows he's not the front-runner anymore. But that doesn't mean Federer couldn't snare a Masters 1000 tourney in Montreal or Cincinnati in the next few weeks. He is the defending champ at the latter, and winning one of these events would be no small feat. Federer likely wouldn't render a Slam-less, Masters-less season a successful one. It's hard to fathom that he'll go an entire year without one, something that hasn't happened since 2002.
7. I would like to see … an unheralded American woman continue her Slam success
.
It's kind of amusing (or is it sad?) how giddy we've become because an American player without the letters S-E-R-E-N-A in her name wins two or three Grand Slam matches.
Sloane Stephens
is still the leader of this respectable pack, but others, like
Jamie Hampton
,
Madison Keys
,
Alison Riske
and
Bethanie Mattek-Sands
, all had their own special moments at the Euro Slams. It's really tough to say whether any will surge, but for a nation that's failed to churn out a penthouse-esque player since the Williams sisters, we can only hope someone will continue this trend in Flushing.
6. I would like to see … Jerzy Janowicz hit a 150 mph serve
.
The dude can flat-out hit missiles. At Wimbledon, this Polish phenom belted a tournament-high 103 aces, 14 more than second-place
Andy Murray
(who played one additional match). Of course Murray won the title, so there's that. But nonetheless, Janowicz has a prodigious all-court game with the most important asset -- a nearly unreturnable serve. He smacked one at 143 mph at the All England Club, the fastest of anyone. And if he can sneak in a paltry 7 more mph, he'd join the exclusive club of radar-gun juggernauts who have registered 150 on the speedometer.
5. I would like to see … one new face to stay in upper echelon
.
So back to the Janowicz guy. We've belabored the "Who's Next?" narrative for so long that it's hard to imagine such a person exists. For years, our prescience has devolved into nothing more than a pile of potatoes as player after player with worlds of potential has faltered. Guys like Raonic, Harrison and Dimitrov (to name just a few) have hung out in tennis purgatory, showing flashes of occasional brilliance but never really mounting any consistent assaults in bigger tournaments. There's Federico Delbonis, the unheralded kid who just beat Federer in Hamburg, but it's way too early to tell whether he will amount to anything. So what about Janowicz? First off, he did make the Wimbledon semis, which is even more impressive when you consider Poland doesn't have one single grass court. Secondly, he has heart. The dude's backstory is a tale of overcoming hardship. He slept in cars; he had no sponsorship for quite a while and he couldn't afford flights to tournaments. You can feel how badly Janowicz wants to win when he's on the court. Geez, I wonder if he could clock a 150 mph serve?
4. I would like to see … John Isner and Agnieszka Radwanska play mixed doubles
.
Perhaps they're the perfect matchup. One serves aces for a living, the other bears a deft counterpuncher's game that can drive opponents nuts. But who cares about on-court success and the such. Fans would flock to see these two finely sculpted creatures, who bared it all in ESPN The Magazine's Body Issue, together in one spot. They could even brand themselves à la a WWE tag team (six-pack attack?). Win or lose, no team would attract more attention than this pair in the bare.
3. I would like to see … Jimmy Connors help Maria Sharapova in crunch time
.
[+] Enlarge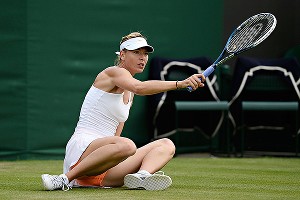 Dennis Grombkowski/Getty ImagesIs Jimmy Connors the one to transform Maria Sharapova back into a Grand Slam champ?
Is this what Sharapova needs? A hubristic in-your-throat mentor to help her get through those tense moments. Whether it's a dream matchup or a clash-of-egos nightmare, Connors, a player who relished the limelight, is now the central figure in Sharapova's corner. This pairing, odd as it may be, and it
is
odd, is about one thing:
Serena Williams
. The last time Sharapova beat Williams was so long ago,
Rafael Nadal
had a grand total of zero major titles. The problem, of course, is that when things get tough, Sharapova can't simply tag in Connors; she's going to be out there by herself. And so is Serena Williams.
2. I would like to see … Serena and Sharapova play in the US Open final
.
So let's say Connors and Sharapova
do
make it to the final of the Open. And let's say Serena is on the other end of the court. Then what? Here's the thing: It really doesn't matter. The hype leading into this match will be tantamount to, well, pretty much every NFL game every week of the season. Think about all the storylines we can cling to: Sharapova has a new, famous coach; Sharapova has Serena's old boyfriend; Serena said that beau has a black heart and Sharapova insinuated bad things about Serena's new boyfriend. Do they need a tennis court, the octagon or a reality show?
1. I would like to see … Andy Murray-Novak Djokovic play anywhere, anytime
.
I don't know about you, but I dig good rivalries. And who better to represent this than the top two players in the world? The tennis community was visibly aghast when Nadal and Federer fell early at Wimbledon. But in retrospect, it was a strong reminder that if any players deserve purple velvet on their changeover chairs, and some robes, crowns and jewels for their postmatch attire, it's Murray and Djokovic. And the cool thing about the Murray-Djokovic rivalry … is that it
is
a rivalry, unlike, ahem, the other two players mentioned in this graf. Nonetheless, make sure your DVR has enough storage when they play. It's riveting stuff every time they clash.
May, 30, 2013
May 30
3:22
PM ET
PARIS -- What can you say about the big four? They've managed to win 13 straight Grand Slam titles and 31 out of the past 32. Either
Roger Federer
,
Rafael Nadal
or
Novak Djokovic
has held the top ranking since 2004 and
Andy Murray
is your reigning Olympics and US Open champ.
By all accounts, you have to believe this is one of the most exciting eras the game has ever seen -- unless you're
Ernests Gulbis
.
In a recent interview with L'Equipe, Latvia's loose-lipped maverick went on a confounding rant. "Tennis today badly lacks characters," Gulbis said … "I respect Roger, Rafa, Novak and Murray but, for me, all four of them are boring players. Their interviews are boring."
[+] Enlarge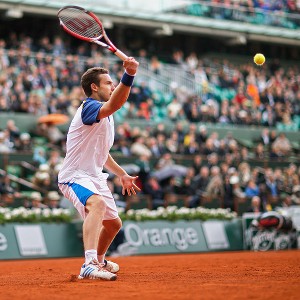 AP Photo/Christophe EnaSometimes nice guys finish first. Ernests Gulbis doesnt seem to care for that.
Then, amid all the bluster, Gulbis admonished Federer for being "a perfect Swiss gentleman" and said it turns his stomach to listen to other players channel Federer's diplomatic news conferences.
"When I hear them answer like Roger, I am terrified by phrases like, 'I had a little bit more success at certain moments and that is how I won,'" he said. "If I win, the guy on the other side of the net, I [would] have sent him home."
Wow.
To recap, today's tennis has fostered four of the most accomplished players ever -- and Gulbis is bent out of shape because they're nice guys. Let this NOT be a lesson to your children.
Perhaps, as Gulbis so desires, tennis should emulate boxing and add some punch to these humdrum pressers. Imagine this: Nadal is ripping Federer for his soft backhand, and just when you think the barbaric Spaniard is done talking, he then threatens to eat Federer's children after he's through smoking him in another French Open final. Game on.
Or maybe Djokovic goads Murray into a press-side rumpus by calling his mother a controlling, uh, witch. Yeah, baby. That'll lead to a couple of rounds of fisticuffs.
For Gulbis, a fix of acrimony would help solve an era marred by all this toxic serenity and skill.
After all, who cares about record-shattering greatness?