ESPN Tennis:

Roger Federer
November, 21, 2013
Nov 21
6:00
AM ET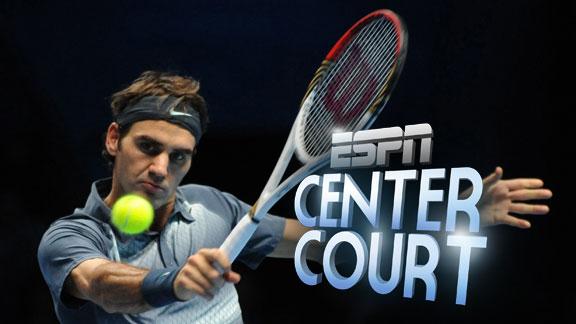 Everything seems to be going in slow motion at the moment, but the reality is that it's all happening far too fast. The camera gradually pans from one side of the famed Wimbledon Centre Court to the other. It reveals grown men unable to fight back their despair, while others applaud in both deference and sadness -- for they have lost royalty. The camera slows even more before stopping to focus on its target.
Roger Federer
looks up and waves one final time before fading into the bowels of the All England Club.
This time he is gone for good. The brilliant moments have suddenly been relegated to DVDs and rain-delay fillers. His stats are final, but his place in history is very much up for deliberation.
Of course, this scene hasn't taken place yet. We don't know when Federer will retire. We don't know how. Will he just segue straight into domestic life to help raise his two young daughters or will he leverage his emeritus status and stay on as a central figure in some capacity? Pete Sampras waffled for nearly a year after winning the 2002 US Open before announcing a former farewell in front of a few cameras. Andre Agassi's departure four years later was far more public and emotional.
No matter when that inevitable day comes (and, for the record, Federer has said he has every intention to compete in the 2016 Olympics, even if he plays a limited schedule), what kind of vacuum is it going to leave? The tour's viability isn't likely to be affected in any real tangible way, but the question becomes which players, if any, can fans really latch on to in the same mythical way?The
Rafael Nadal
s,
Novak Djokovic
s and
Andy Murray
s of the world carry an enormous amount of star power. In the past four years, that trio is responsible for 14 of 15 Grand Slam titles with Federer, who won his seventh Wimbledon title in 2012, the player to break through.
It's no secret the 32-year-old Swiss has struggled this season. He won just a single title and fell out of the top five. Not until a pretty solid showing at the Paris Masters did Federer officially qualify to make the ATP World Tour Finals -- where he made the semifinals. And though he vows he'll have a better 2014, we finally saw his human side, the guy who conceded he wasn't on par mentally with his rivals.
I've seen Federer play plenty: in Miami, Paris, Wimbledon and New York. There's something unique in the air when he's on the court. And no matter how you feel about his place in history, his groundswell of support is unmatched from a global perspective. He's beloved and cherished. Even today, while he struggles in lesser events, he's still the head-turner, the guy you want to see succeed, whether it's just out of adoration or pity.
Federer was a tremendous talent and 15, 16 years old, but his rise to the top of the record books didn't begin until years later, in 2003, when an unassuming, 22-year-old kid finally met the ambitions he had set out for himself: Wimbledon champ. From there, he utterly dominated, all the way to the tour's Grand Slam high-water mark of 17 titles. And the scary part is a lot of those championships came without much resistance.
Perhaps he is so widely respected because of the respect he has shown the game. From his granular insight to his macro knowledge of the game, Federer has always loved what the game means to him. And there very well might be a lot more we'll see from Federer, but based on his results this past year, 2013 was the first time we could legitimately start asking about retirement.
And when that day does come, the tour will go on just as it always has and people will watch -- even if that means dusting off those old DVDs.
September, 19, 2013
Sep 19
6:00
AM ET

With the Slam season now behind us, what better time to debate things we really don't need to debate. But that's just what we do. So without further ado, a few burning questions for this fall:

More impressive US Open title run, Serena or Nadal?

Serena Williams was expected to win -- and she did. Rafael Nadal was expected to win -- and he did. So the two players who have dominated much of the 2013 season strolled into New York, beat their archrivals in the final, snagged another Grand Slam title, and further etched their names into the greatest-of-all-time discussion. Predictable, eh? Perhaps, but consider this: No one in his right mind could have predicted Nadal was going to win the US Open, never mind string together an infallible 21-0 hard-court season. For a guy who had long been pigeonholed as a clay specialist, his latest feat is remarkable, knowing full well that cement can't be anything but an impediment to the world No. 2's health. This surely doesn't diminish Williams' run to a 17th Grand Slam title, especially the mental fortitude she showed against a determined Victoria Azarenka in the final. But anything less than a title for Williams would have been considered a failure.

Advantage, Nadal

Better success story in New York, Pennetta or Wawrinka?

What's it like to play in relative obscurity? Stanislas Wawrinka, who has fought for any back-page real estate with Roger Federer, knows better than anyone. No further explanation needed. But at this year's US Open, the unthinkable happened. Federer found himself reeling in another early-round defeat while Wawrinka played the tournament of his life, crushing defending champion Andy Murray in the quarters and then taking Novak Djokovic into a fifth set before finally conceding in the semis. Flavia Pennetta, on the other hand, helped put Italy back on the tennis radar after winning her much-ballyhooed match against countrywoman Roberta Vinci in the US Open quarterfinals. Pennetta cracked the top 10 four years ago but fell into the middle-of-the-pack matrix, never really making a name for herself until her latest Slam exploits. But considering she is 31 years old and entered New York unseeded and ranked 83rd, her accomplishment is pretty amazing.

Advantage, Pennetta

Who needs fall success more, Federer or Sharapova?

Roger Federer has been free-falling from mere mortal to ordinary since losing in the second round of Wimbledon. He played a couple of low-tier clay-court events after the All England Club, experimenting with a larger racket. That didn't work out so well. He reverted to his 90-inch-square head for the US Open, and after a few seamless matches, Tommy Robredo, who was 0-10 against Federer entering the match, eviscerated the Swiss in three swift sets. If nothing else, it only validated what we all were thinking this summer: Federer is inexorably headed toward a life of drivers and putters. For Sharapova, her past couple of months have been marred by off-the-court histrionics. There was the Jimmy Connors coaching drama, the purported name change to "Sugarpova" and her withdrawal from the US Open with a right shoulder injury. The good news for Sharapova, though, is that as long as Serena is not staring her down, she can still beat anyone. Right now, Sharapova has an image issue. Federer's problems lie in the wild ground game he showed against Robredo, which appears to be as much a mental challenge as anything else. Only match play will fix his summerlong mess.

Advantage, Federer

More important for Djokovic, Davis Cup title or year-end championship?

Here's the thing: No matter what Djokovic does the rest of the way in 2013, he's not going to be able to hang on to his No. 1 ranking -- unless Lukas Rosol and Steve Darcis conspire to kidnap Rafael Nadal. The Spaniard has zero points to defend, and for all intents and purposes, he just needs to show up and he'll garner enough points to usurp Djokovic. But after another loss to Nadal, in the US Open final, the year-end championships would be sweet retribution for the Serb. But Djokovic is a team guy through and through. It was Serbia's 2010 Davis Cup championship that propelled Djokovic to the force he is today. He rode that momentum into the Aussie Open a few months later, won, and then absolutely bludgeoned the field that year, going 70-6 with 10 titles and finishing both 2011 and 2012 as the top-ranked player. So though that streak is bound to end, he will lead his country into another Davis Cup final, this time against the Czechs. And if the Serbs win that championship again, well…

Advantage, Davis Cup

September, 13, 2013
Sep 13
1:28
PM ET
Isn't it great to see three members of the tennis world's vaunted big four still battling on, even though the US Open has been over for nearly a week?
Roger Federer
is the only one of that group who won't be swinging a racket this week, but there is one caveat: There's no chance that any of the top three players in the world will actually end up playing each other.
If you haven't been paying attention, it's Davis Cup semifinal and world group playoffs week. And ATP no. 1
Novak Djokovic
, No. 2
Rafael Nadal
, and No. 3
Andy Murray
are all taking part. It's a fantastic week for this 113-year-old competition that has faced some serious obstacles in the Open era.
[+] Enlarge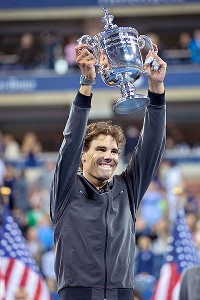 Susan Mullane/USA TODAY SportsAfter a US Open title, Rafael Nadal is right back on the court in Davis Cup action.
One of the major challenges has been the puzzling and unexpected indifference of what once was the largest tennis audience and market of all (at least until China popped
Li Na
among us), the United States. Who would have thought that the nation where the competition was conceived and brought to full splendor would suddenly lose interest in what is the world's second most popular international team competition (after World Cup soccer)?
The ITF and its U.S. affiliate, the USTA, have traditionally had trouble selling Davis Cup to newspaper editors and television executives, and thus the viewing public, in the Open era. The fact that some top stars from various nations (led by Jimmy Connors) went lukewarm on Davis Cup, usually because of the relatively low material reward, didn't help the cause.
Also, as the tour grew and became more remunerative, the Davis Cup commitment seemed more onerous. Although the competition takes place over just three days (Friday through Sunday), it's really a one-week event -- just like most tournaments.
Thus, at least two of the teams must make the commitment of a full month to the effort. And while the current dates are somewhat inconvenient, at times in the past they were much worse. Overall, Davis Cup participation still is a lot to ask of a player like Nadal or Djokovic.
Also, the choice-of-ground tradition -- teams alternate hosting or traveling to their opponent's venue each time they meet -- wreaks havoc on the increasingly rigid, pre-established schedules of the players.
For those reasons, the game is littered with erstwhile Davis Cup reformers who would like to see anything from a two-week "Davis Cup festival" that decides the entire competition at one site, to a return to some sort of "zonal" structure to ease some of the travel-related drawbacks.
So far, the ITF has instituted some reforms in the structure of the event, but it has held firm on the key and most controversial elements -– the calendar that requires four weeks from finalists and the alternating host rule.
That's why Murray is currently busting a gut in Croatia, newly crowned U.S. Open champ Nadal is back in Madrid's Caja Magica even though his next tournaments are in Asia, and U.S. Open runner-up Djokovic is basking in the love of his Serbian countrymen in Belgrade.
Now note that only one of those matchups -- Serbia versus the Czech Republic -– is part of the current competition's semifinals. Djokovic is playing for the tennis equivalent of a Super Bowl ring, but Nadal and Murray are merely trying to ensure that their teams remain in the elite 16-member World Group that plays for the Cup.
That's a little like Miguel Cabrera or Chris Davis going down to help their clubs' Triple-A affiliates win their respective divisions.
All of this is great news for fans of Davis Cup. And it's also a mild rebuke directed toward Roger Federer. Switzerland also is involved in the critical world group playoff battle (hosting Ecuador).
Stanislas Wawrinka
, the Swiss player right behind Federer, is playing the best tennis of his life (he was a U.S. Open semifinalist and ranks No. 10, just four ticks below Federer).
That means the Swiss could potentially win the whole thing next year, assuming they get past Ecuador this weekend and remain in the World Group.
The odds are good that the even without Federer, the Swiss will win out. The question then becomes whether Federer will play Davis Cup in 2014? I can think of some excellent reasons besides patriotic pride for him to do it, but for today, let's just be happy with what we've got.
July, 24, 2013
Jul 24
6:00
AM ET
Are you feeling like this stretch of the tennis season is a bit of a snoozer? Don't fret too much, it's going to pick up and all the stars will emerge and align again. And considering what happened at Wimbledon, there seems to be more possibilities than we would have envisioned a month ago.
With that in mind, here are the top 10 things I'd like to see as the US Open Series and US Open take shape:
10. I would like to see … Caroline Wozniacki regain her old form
.
[+] Enlarge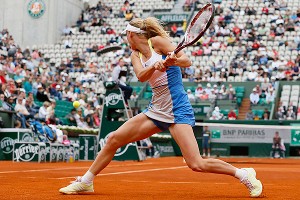 Patrick Kovarik/AFP/Getty ImagesAt what point, do we give up on hoping Caroline Wozniacki will regain her old form?
Wishful thinking, eh? Maybe. Maybe not. The good news for Wozniacki, who is perilously close to dropping out of the top 10, is that in a few weeks she will head to New Haven, where she has won four titles in five attempts. That means she generally enters the US Open with some confidence. The bad news, of course: Confidence alone doesn't compensate for a Grand Slam career of foibles, if not failure. Last year, Wozniacki won all of four games in an opening-round loss to someone named Irina-Camelia Begu. But here's to hoping for the best -- even if we know the best is a little dicey these days.
9. I would like to see … a Hall of Famer make a comeback
.
Good news! We will be able to check this one off our wish list. Just three days after her enshrinement into the International Tennis Hall of Fame, Martina Hingis announced she is unretiring to play doubles at the Southern California Open and again in New Haven. If you're scoring at home, this will be the third comeback for Hingis and her first WTA action since 2007. And if you're concerned about rust, let me ease your anxiety. I saw Hingis play exhibition doubles in Newport this past week against Todd Martin and Mary Pierce. The Swiss can still bring it -- against old folks anyway.
8. I would like to see … Roger Federer win a Masters title
.
The reality is that Federer probably isn't going to win the US Open. He has only one title this year, and he's spent some time meddling with his equipment, which only goes to show that he knows he's not the front-runner anymore. But that doesn't mean Federer couldn't snare a Masters 1000 tourney in Montreal or Cincinnati in the next few weeks. He is the defending champ at the latter, and winning one of these events would be no small feat. Federer likely wouldn't render a Slam-less, Masters-less season a successful one. It's hard to fathom that he'll go an entire year without one, something that hasn't happened since 2002.
7. I would like to see … an unheralded American woman continue her Slam success
.
It's kind of amusing (or is it sad?) how giddy we've become because an American player without the letters S-E-R-E-N-A in her name wins two or three Grand Slam matches.
Sloane Stephens
is still the leader of this respectable pack, but others, like
Jamie Hampton
,
Madison Keys
,
Alison Riske
and
Bethanie Mattek-Sands
, all had their own special moments at the Euro Slams. It's really tough to say whether any will surge, but for a nation that's failed to churn out a penthouse-esque player since the Williams sisters, we can only hope someone will continue this trend in Flushing.
6. I would like to see … Jerzy Janowicz hit a 150 mph serve
.
The dude can flat-out hit missiles. At Wimbledon, this Polish phenom belted a tournament-high 103 aces, 14 more than second-place
Andy Murray
(who played one additional match). Of course Murray won the title, so there's that. But nonetheless, Janowicz has a prodigious all-court game with the most important asset -- a nearly unreturnable serve. He smacked one at 143 mph at the All England Club, the fastest of anyone. And if he can sneak in a paltry 7 more mph, he'd join the exclusive club of radar-gun juggernauts who have registered 150 on the speedometer.
5. I would like to see … one new face to stay in upper echelon
.
So back to the Janowicz guy. We've belabored the "Who's Next?" narrative for so long that it's hard to imagine such a person exists. For years, our prescience has devolved into nothing more than a pile of potatoes as player after player with worlds of potential has faltered. Guys like Raonic, Harrison and Dimitrov (to name just a few) have hung out in tennis purgatory, showing flashes of occasional brilliance but never really mounting any consistent assaults in bigger tournaments. There's Federico Delbonis, the unheralded kid who just beat Federer in Hamburg, but it's way too early to tell whether he will amount to anything. So what about Janowicz? First off, he did make the Wimbledon semis, which is even more impressive when you consider Poland doesn't have one single grass court. Secondly, he has heart. The dude's backstory is a tale of overcoming hardship. He slept in cars; he had no sponsorship for quite a while and he couldn't afford flights to tournaments. You can feel how badly Janowicz wants to win when he's on the court. Geez, I wonder if he could clock a 150 mph serve?
4. I would like to see … John Isner and Agnieszka Radwanska play mixed doubles
.
Perhaps they're the perfect matchup. One serves aces for a living, the other bears a deft counterpuncher's game that can drive opponents nuts. But who cares about on-court success and the such. Fans would flock to see these two finely sculpted creatures, who bared it all in ESPN The Magazine's Body Issue, together in one spot. They could even brand themselves à la a WWE tag team (six-pack attack?). Win or lose, no team would attract more attention than this pair in the bare.
3. I would like to see … Jimmy Connors help Maria Sharapova in crunch time
.
[+] Enlarge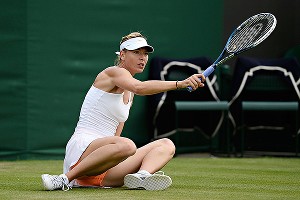 Dennis Grombkowski/Getty ImagesIs Jimmy Connors the one to transform Maria Sharapova back into a Grand Slam champ?
Is this what Sharapova needs? A hubristic in-your-throat mentor to help her get through those tense moments. Whether it's a dream matchup or a clash-of-egos nightmare, Connors, a player who relished the limelight, is now the central figure in Sharapova's corner. This pairing, odd as it may be, and it
is
odd, is about one thing:
Serena Williams
. The last time Sharapova beat Williams was so long ago,
Rafael Nadal
had a grand total of zero major titles. The problem, of course, is that when things get tough, Sharapova can't simply tag in Connors; she's going to be out there by herself. And so is Serena Williams.
2. I would like to see … Serena and Sharapova play in the US Open final
.
So let's say Connors and Sharapova
do
make it to the final of the Open. And let's say Serena is on the other end of the court. Then what? Here's the thing: It really doesn't matter. The hype leading into this match will be tantamount to, well, pretty much every NFL game every week of the season. Think about all the storylines we can cling to: Sharapova has a new, famous coach; Sharapova has Serena's old boyfriend; Serena said that beau has a black heart and Sharapova insinuated bad things about Serena's new boyfriend. Do they need a tennis court, the octagon or a reality show?
1. I would like to see … Andy Murray-Novak Djokovic play anywhere, anytime
.
I don't know about you, but I dig good rivalries. And who better to represent this than the top two players in the world? The tennis community was visibly aghast when Nadal and Federer fell early at Wimbledon. But in retrospect, it was a strong reminder that if any players deserve purple velvet on their changeover chairs, and some robes, crowns and jewels for their postmatch attire, it's Murray and Djokovic. And the cool thing about the Murray-Djokovic rivalry … is that it
is
a rivalry, unlike, ahem, the other two players mentioned in this graf. Nonetheless, make sure your DVR has enough storage when they play. It's riveting stuff every time they clash.
May, 30, 2013
May 30
3:22
PM ET
PARIS -- What can you say about the big four? They've managed to win 13 straight Grand Slam titles and 31 out of the past 32. Either
Roger Federer
,
Rafael Nadal
or
Novak Djokovic
has held the top ranking since 2004 and
Andy Murray
is your reigning Olympics and US Open champ.
By all accounts, you have to believe this is one of the most exciting eras the game has ever seen -- unless you're
Ernests Gulbis
.
In a recent interview with L'Equipe, Latvia's loose-lipped maverick went on a confounding rant. "Tennis today badly lacks characters," Gulbis said … "I respect Roger, Rafa, Novak and Murray but, for me, all four of them are boring players. Their interviews are boring."
[+] Enlarge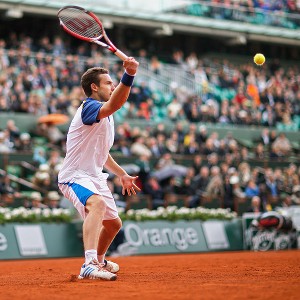 AP Photo/Christophe EnaSometimes nice guys finish first. Ernests Gulbis doesnt seem to care for that.
Then, amid all the bluster, Gulbis admonished Federer for being "a perfect Swiss gentleman" and said it turns his stomach to listen to other players channel Federer's diplomatic news conferences.
"When I hear them answer like Roger, I am terrified by phrases like, 'I had a little bit more success at certain moments and that is how I won,'" he said. "If I win, the guy on the other side of the net, I [would] have sent him home."
Wow.
To recap, today's tennis has fostered four of the most accomplished players ever -- and Gulbis is bent out of shape because they're nice guys. Let this NOT be a lesson to your children.
Perhaps, as Gulbis so desires, tennis should emulate boxing and add some punch to these humdrum pressers. Imagine this: Nadal is ripping Federer for his soft backhand, and just when you think the barbaric Spaniard is done talking, he then threatens to eat Federer's children after he's through smoking him in another French Open final. Game on.
Or maybe Djokovic goads Murray into a press-side rumpus by calling his mother a controlling, uh, witch. Yeah, baby. That'll lead to a couple of rounds of fisticuffs.
For Gulbis, a fix of acrimony would help solve an era marred by all this toxic serenity and skill.
After all, who cares about record-shattering greatness?