February, 4, 2014
Feb 4
6:00
AM ET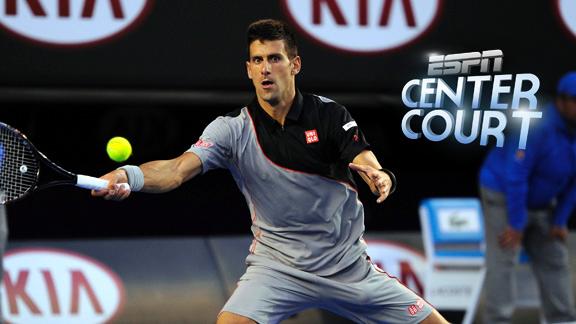 Twelve seconds into the Super Bowl, the tone was set and the game was pretty much over. It wasn't supposed to go down this way, not with one of the most prolific offenses in the history of the league, led by the play-calling wizardry of
Peyton Manning
on one side of the ball. But the
Denver Broncos
were so bad, it made Joe Namath's coin-flip faux pas look like a Hall of Fame-worthy performance. Apparently, stifling defense is still en vogue, no matter how much the league has tried to transform itself into a collective scoring juggernaut.
So, in honor of the
Seattle Seahawks
' D, how about a look at the top five defensive players in tennis today?
1. Andy Murray
If anyone has ever needed an injection of offense into his game, it's Murray -- or so we thought. You know the criticisms he faces by now: too passive, too patient, too stubborn. And then, of course, he won two majors and we never said another word. But win or lose, Murray is, by nature, a retriever -- and that seems to suit him and his trophy case just fine. Under the behest of Ivan Lendl, Murray has become more aggressive on the court in the past couple of years, but you won't see the kind of ruthless power that you do from his big-four cohorts.
Brad Gilbert says
:
"Murray plays as much defense as anybody. Unlike [Novak] Djokovic and [Rafael] Nadal, who play defense when they want to, Murray is more comfortable hanging back and passing the ball back to his opponent. He wins using his legs. Nadal has brilliant defense, but it's not the basis of his game. Relentless offense is. Murray likes to take the wind out of his opponent."
2. Agnieszka Radwanska
Touch, guile and patience seem like appropriate words to describe Radwanska. She's a fairly nondescript player. There's not that much of a visceral reaction when she comes into the spotlight -- much like Joe Namath, except not at all. But she's one of the best players in the world at combating hard hitters. She is a former Wimbledon runner-up and a staple in the top five. She frustrated two-time defending champion
Victoria Azarenka
all day long in this year's Australian Open quarters, much in part to her steadfast effort to play with patience.
Gilbert says
:
"Radwanska goes out there and says, 'OK, I'll just put the ball in the court and make you run until you make mistakes.' She's a little bit like Murray in that she'll just keep returning the ball until you get impatient and start hitting the ball out and racking up errors. She makes you think you're in the point until you lose your patience. Players like Radwanska and Murray shrink the size of the court."
3. Sara Errani
Two years ago, all 5-foot-4 of Errani entered the French Open with an 0-28 record versus top-10 opponents. It was (and still very much) is an era of muscle and raw power between the likes of
Serena Williams
, Azarenka and
Maria Sharapova
. But Errani, who is a scraper and clawer, reached the final in Roland Garros that year -- much of it a result of heart. Errani said the difference in her game was that she finally "believed." Who needs to clock serves at 120 mph when all you need is … belief? Errani, who just reached (but lost) the final of the Open GDF Suez in Paris, still remains the seventh-ranked player in the world.
Gilbert says
:
"Tremendous. She has great ability to trust her legs when playing. She tries to get to you by dribbling in slow serves 80 percent of the time and making you overhit. She wins with her legs."
4. Gael Monfils
If you're looking for a good show -- some spine-tingling shot-making -- look no further than this Frenchman, who comes full of flare. Oh, and fraught with boneheaded decisions. You have to wonder what he would be capable of if he actually played up to his talent on a regular basis, but Monfils is athletic and agile, so much so that you might mistake him for a rubber band if you didn't know any better. His game is very much predicated on retrieval and athleticism, even though he's more that capable of adding juice to any of his shots.
Gilbert says
:
"If he just wants to play defense, he can run 10 corners like nobody else. The core of his game is defense, and he'll sometimes play some offense when he's in the mood. But Monfils came on to the tour as a counterpuncher, and that's what he is today."
5. Lleyton Hewitt
The good news with Joe Namath's presumptuous coin toss Sunday night was that no one noticed, given that they were probably horrified from all the fox, rabbits, minks and beavers that spared their lives to help keep the "Broadway" in Joe. Speaking of which, in 2001, Hewitt spent two weeks in the greater Broadway area, squelching the likes of
Tommy Haas
,
Andy Roddick
and, finally, Pete Sampras en route to winning the US Open. Now, 13 years later, Hewitt is far removed from his Slam-winning ways, but his retro style of play has been good enough to garner some impressive wins. Take, for instance, just a few weeks ago when the former two-time year-ending world No. 1 stunned
Roger Federer
in the final of Brisbane. Last year, Hewitt won on the grass of Halle and lost in the final of Newport. Not too shabby for someone who isn't blessed with a rocket serve or groundies.
Gilbert says
:
"Hewitt, like Michael Chang, is a very good counterpuncher. Technically, perhaps counterpunching and defense might be considered two different things, but the bottom line is that Hewitt wins with his legs. His speed is incredible."
Who didn't make the cut that you think might have?
David Ferrer
Take Ferrer's dimensions, 5-foot-9, weighs about 160 pounds or so, and throw him into a cage with the lions and tigers that occupy the rest of the tennis space and see what happens. I mean, how can this little fella hang with likes of
Juan Martin del Potro
,
Jo-Wilfried Tsonga
and, even though he hasn't had many wins against them, the big four on a regular basis. Ferrer might not always come out on top, but he won't go down without a skirmish. Since the beginning of 2012 (that's nine Slams), Ferrer has made the quarters each and every time -- including the final of last year's French Open. And he does 90 percent of his work with indefatigable defense. That's right; just look up "Ferrer" in the urban dictionary, and you'll find it means "to deliver venomous bites to bigger, stronger human beings." The success Ferrer has on this tennis court defies much of today's modern, in-your-face game.
Gilbert says
:
"It's a misconception. He's small and fast, but if you hit the ball down the center of the court, Ferrer is going to crack it. He's started to dictate play a lot more in recent years."
Dominika Cibulkova
The common backdrop here for most of these players is small size, and no one comes closer to ground level than Cibulkova, who stands 5-foot-3, or a foot shorter than the opponent she knocked out in the fourth round of the Aussie Open, Sharapova. It doesn't take more than a cursory glance at her to realize she is a workout fanatic, and that showed in Melbourne. In her first three matches, that is six sets, she lost a total of nine games before skating by Sharapova. Then, Cibulkova, who reached her first-ever major final, crushed the 2013 comeback player of the year and 11th seed,
Simona Halep
and fifth-seeded Radwanska in the quarters and semis, respectively, losing just six games before running into
Li Na
in the final. It really was one of the more impressive runs in recent Grand Slam memory.
Gilbert says
:
"Cibulkova is a lot like Ferrer in that she's small and quick, but in terms of execution, I look at her more in the vein of James Blake -- a player who had great speed but who's basis was to be the first one to strike. She doesn't hit balls down middle of court and doesn't trust her legs like the other truly defensive players. She thinks power first."
October, 22, 2013
10/22/13
1:44
PM ET
After 51 minutes,
Victoria Azarenka
labored to her changeover chair looking a little dazed and most certainly confused.
Seven games into the first set, Azarenka's opponent, much more diminutive underdog
Sara Errani
, had taken a commanding two-break lead at 5-2. The opening match of the 2013 WTA Championships looked like a shocker was brewing. According to online-betting.me.uk, Errani was listed as 150-1 favorite to win the tournament, far and away the worst odds of anyone in the eight-player field.
Azarenka, the No. 2-ranked player, was howling at herself for spraying balls she typically returns with conviction and ease. It hasn't exactly been a seamless stretch for Azarenka, who was mired in a three-match losing streak since she reached the final of the US Open.
But tennis, much like life itself, has a way of finding its equilibrium. Azarenka began playing a little less mechanically and eventually took the opening set in a tiebreaker. The second set, of course, went as predicted. Azarenka cleaned up her game and won the match 7-6 (4), 6-2.
There is little question this was an ugly match for Azarenka, but, because of the nature of the round-robin format, losing a single set can be extremely damaging in deciding group tiebreakers. So Azarenka was, by all accounts, fortunate to walk away from this match in straight sets.
"Well, I was a little rusty at the beginning," Azarenka said. "I think it's a little bit expected after a break, and, you know, playing right away against a top player always makes it a little bit difficult because you don't have that room, adaptation. So I had to make that adaptation kind of during the match."
But, adding injury to insult, Errani also appeared to hurt her right calf or Achilles against Azarenka. The Italian was ailing, unable to move with the usual fleeting speed and grace that have been the hallmarks of her success.
Errani has her obvious handicaps, most of them a result of her 5-foot-4 stature. Her height genes aside, though, Errani plays with a tremendous amount of heart, as she showed early in the match.
But she still has to contend with the power, spin and depth of her bigger opponents on a regular basis. Her loss to Azarenka dropped her record to 0-20 lifetime against players ranked in the top three.
Errani clearly was affected by her right leg injury. And considering she really can't contend with any of her seven cohorts in Istanbul without 100 percent health, there were some immediate questions as to whether she'll drop out of the tournament. If so,
Caroline Wozniacki
, who is the first alternate, would take Errani's place and inherit her 0-1 group record.
"Yeah, in the tiebreaker first set I felt, on the serve, a pain on my calf," Errani said. "So from there I was worried because I was feeling pain. Then I call the physio, and she make a bit of treatment.
"Then four games on, I don't know when it was, when I make the smash, I felt also cramp after, so I don't know. I am just doing treatment with the physio and see how it goes. I hope good."
Errani did imply she will give it a go against Li Na, whom she plays Wednesday.
Despite her recent travails, the caliber of work Azarenka put forth in this match was still unexpected. But she did eventually clean up her game and finished with nearly twice as many winners as unforced errors (51-27).
As the No. 2 seed, big things are expected of Azarenka. She needed this win -- you'd better believe that. Not only to regain some confidence but also because falling early in these round-robin events leaves little more room for failure.
Azarenka won't be satisfied with the aesthetics surrounding her win Tuesday, but the bottom line is that it was a win.