ESPN Tennis:

Stan Wawrinka
December, 17, 2014
Dec 17
5:47
PM ET
Editor's note: For two weeks, starting Dec. 8, ESPN.com is unveiling its 2014 tennis awards once per day.
Dec. 8: Men's player of year
|
Dec. 9: Women's player of year
|
Dec. 10: Top men's matches
|
Dec. 11: Top women's matches
|
Dec. 12: Top shot-makers
|
Dec. 15: Top shots
|
Dec. 16: Top tirades
|
Dec. 17: Most mystifying moments
|
Dec. 18: Top on-court moments
The familiar and the new meshed in what was a frequently surprising year on the tennis tour. Here are some of the most significant on-court developments of the season.
1. Big Four dominance diminished
The Big Four won only two of the four Grand Slams this year, but let's also not get too carried away with talk of a decline.
Novak Djokovic
,
Rafael Nadal
,
Roger Federer
and
Andy Murray
were still six of the eight Grand Slam finalists and won seven of the nine Masters 1000s. But each was a bit off. Murray's results haven't been the same since back surgery, Nadal had a string of physical problems, Federer was consistent but lacked a little extra in a few of his biggest matches, and Djokovic was up and down in a year where he had a lot happening off the court. That opened up opportunities for other players, making this season the most open on the men's tour in quite a while.
[+] Enlarge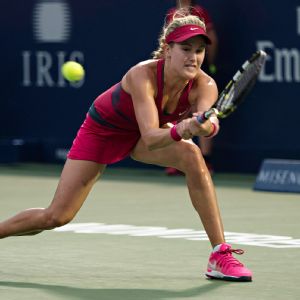 AP Photo/Paul ChiassonCanadian Eugenie Bouchard made her mark this year by reaching the Wimbledon final.
2. Serena Williams ties major company
She tripped up at the first three majors, but Serena scored her 18th Grand Slam victory and a significant piece of tennis history at the US Open, tying Martina Navratilova and Chris Evert and lifting her to fourth in the all-time ranks. Margaret Court holds the record with 24 Grand Slam singles wins.
3. Rafael Nadal nets Slam No. 14
For all the Spaniard's physical problems and defeats on clay this year, he still won his record ninth French Open title. That gave him 14 Grand Slam singles titles, tying him with Pete Sampras for second-most all time for the men.
4. Influx of injuries
They have become a regular part of the sport for players, but injuries seemed to have an even bigger impact than usual. From Nadal's back injury at the Australian Open to Federer's back injury at the Tour Finals, there was a season-long surge of physical travails. Nadal also withdrew from the US Open with a wrist injury, while
Kei Nishikori
withdrew from the Miami semifinals and retired during the Madrid final with hip and back problems. And though he reached the US Open final, he almost didn't play the tournament because of yet another injury issue.
Victoria Azarenka
's foot problem kept her off the tour for most of the season, and
Juan Martin del Potro
's wrist surgery did likewise. Serena had back and knee problems during various portions of the season, as did
Ana Ivanovic
with her hip and
Sloane Stephens
with her wrist.
And scores of other players such as
David Ferrer
,
Gael Monfils
and
Richard Gasquet
had nagging problems that took them on and off the tour, with a few even driven into retirement.
5. Men's up-and-comers
They haven't toppled the top guys consistently, but younger players such as Nishikori, US Open champ
Marin Cilic
,
Milos Raonic
,
Grigor Dimitrov
and
Ernests Gulbis
all followed through the door opened by
Stan Wawrinka
's Australian Open victory, crowding into the top 10. It was a significant shift from the veterans who had been filling the ranks in previous years.
6. Women's comebackers
Newer names like
Simona Halep
and
Eugenie Bouchard
had a big impact, but the women's game also saw several familiar figures move back toward their former heights. Ivanovic and
Caroline Wozniacki
returned to the top 10.
Petra Kvitova
won another Grand Slam title at Wimbledon, while
Dominika Cibulkova
hit her way into the Aussie Open final and
Venus Williams
found her way back into the top 20. But even with all this, the WTA comeback player of the year officially went to former prodigy Mirjana Lucic-Baroni, who defeated Halep at the US Open before winning her first WTA title in 16 years in Quebec City.
7. Canada's rise
Having steadily climbed upward for a few years, Canada announced itself on the world stage at Wimbledon this year with Raonic making the men's semifinals, Bouchard the women's final and
Vasek Pospisil
winning the men's doubles. Bouchard also reached two Grand Slam semifinals, while she and Raonic also qualified for the WTA and ATP Finals. And with doubles veteran
Daniel Nestor
also still playing and one or two younger women emerging, the new Canadian presence in tennis looks set for a while.
[+] Enlarge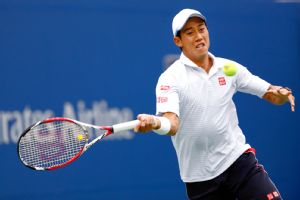 Julian Finney/Getty ImagesKei Nishikori has always had the talent and this year, he proved it.
8. The Southeast Asia boom
The Grand Slam season began with Li Na's victory at the Australian Open, propelling her to No. 2 and the highest ranking achieved by an Asian player, and though she was about to retire by the US Open, the tournament saw Nishikori reach the final and get to No. 5, the highest for an Asian man. The growing number of players from the region comes coincidentally (or not) at a time when Asia is seeing a boom in the number of tournaments there.
9. Teenagers make their mark
Almost gone from the men's top 100 for a few years and only occasionally seen in the women's, teenagers re-established themselves this season.
Nick Kyrgios
pulled off one of the year's most significant performances by defeating Nadal at Wimbledon. The 19-year-old is joined by two others -- Alexander Zverev,
Borna Coric
-- as teenagers in the top 100. Meanwhile,
Madison Keys
won her first tour title at 19 and is one of four teens in the WTA top 100.
10. Switzerland takes Davis Cup
With Wawrinka establishing himself as a top player and Federer returning to the fold, Switzerland lifted its first Davis Cup by winning a fascinating final against France in front of record crowds. It can also be seen as Federer's most notable achievement of the season, giving him one of the few significant titles he had yet to capture.
December, 8, 2014
Dec 8
6:00
AM ET
Editor's note: For two weeks starting Dec. 8, ESPN.com will unveil its 2014 tennis awards once per day.
He isn't the most straightforward choice, but choosing the player of the year isn't just about achievement. It's about impact as well.
Novak Djokovic
might have won more. A Grand Slam title, the ATP Tour Finals and four Masters were among his seven tournament victories.
Roger Federer
might have been more consistent; he reached at least the semifinals in 14 of 17 tournaments. Even
Rafael Nadal
's injury-plagued season had similar silverware: one Grand Slam victory, a Masters title and two other tournament victories.
[+] Enlarge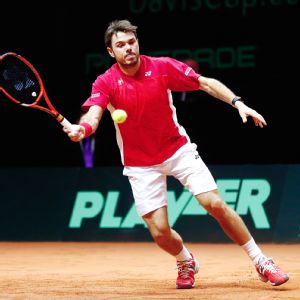 Julian Finney/Getty ImagesStan Wawrinka won the Aussie Open and, in the process, instilled confidence in the non-top-four players that they, too, could win.
But none of them had a career year, and in a season with four different Grand Slam winners and no dominant player, no one shook things up more than
Stan Wawrinka
. The second most well-known player from Switzerland established himself in his own right. He won the Australian Open and became a first-time Grand Slam champion as a 28-year-old, then took his first Masters title at Monte Carlo (by beating Federer in the final) and hoisted the Davis Cup alongside his teammates.
"Clearly, it's been an exceptional year for me," a smiling and slightly tipsy Wawrinka said after Switzerland's Davis Cup victory.
But it isn't just that Wawrinka broke new ground for himself; he did so for others as well. Going into the season, the Big Four of Djokovic, Nadal, Federer and
Andy Murray
had won 34 of the previous 35 Grand Slams. The "Wawrinka effect" was noticeable following his unexpected Australian Open triumph, as regular players saw one of their own capture one of the sport's biggest titles.
Tomas Berdych
,
Milos Raonic
and
Ernests Gulbis
were among those who noted a new sense of opportunity in the locker room, and several emerging names subsequently took big strides toward the top.
Kei Nishikori
and Raonic reached the top 10, and the season got a second new Grand Slam champion when
Marin Cilic
won the US Open.
The top players were also affected by Wawrinka and his big-swinging game. He loosened the grip Djokovic and Nadal had established on the big events the previous season and prompted Roger Federer to pursue one of the few things the 17-time Grand Slam champion had left to achieve -- the Davis Cup. What Wawrinka lacked was consistency.
All three of his tournament victories were at the beginning of the season, when he went 6-0 against top-10 players, but then he was sporadic until he found his game again at the Tour Finals and Davis Cup. He'll take it, however, especially following all those tight defeats against the big names the previous season.
"I couldn't ask for more this year," he told reporters in Shanghai. "Winning Grand Slam, Masters 1000, being in the top five. Everything has been amazing."
For men's tennis, this was an unusual -- and potentially seismic -- year. There's little doubt much of that was thanks to Wawrinka.
September, 15, 2014
Sep 15
12:48
PM ET
Roger Federer
is learning that you may be the all-time Grand Slam champion, a distinguished 33-year-old ambassador for the game, a friend of Michael Jordan and Anna Wintour, and a guy with some hefty hotel bills, considering his two sets of twins, but it still doesn't get you a free pass to anything a player of your stature might really covet.
This applies with added emphasis to the Davis Cup, where the curious mix of five matches (or "rubbers") in three days, the choice-of-ground rule (teams alternate hosting ties, no matter how much time transpires between meetings), the importance of the "swing match" doubles and the volatile nature of playing for your country instead of yourself can wreck the form chart in the blink of an eye.
Federer wants to add a Davis Cup championship to his CV; it's the only piece of his career puzzle that's still missing. Various factors -- lack of a solid Swiss No. 2 singles player, the siren call of Grand Slam titles, a reluctance to X-out four weeks on the calendar when he made his schedule -- kept the all-time men's Grand Slam singles champion from pursuing that goal when he was most dominant on the tour.
But over the past year,
Stan Wawrinka
finally embraced his talent, won the Australian Open and established himself as a top-five player. It did not go unnoticed by Federer, who is still highly competitive at majors but struggling to actually win them. He saw his chance to win a Davis Cup and leaped on it. Some conceded the championship to Federer and Wawrinka the moment Spain (without
Rafael Nadal
) and Serbia (without
Novak Djokovic
) flamed out in the first round of the competition, the latter beaten by, yup, Federer & Co.
It sure looked like that coveted free pass for Federer -- or at least it did until this weekend, when the French popped up to complicate things.
Federer and Wawrinka will travel to France at the end of November to meet Les Bleus. Both teams advanced Sunday, with Federer sewing up a fairly smooth win over Italy in Geneva with a fourth-rubber win over the visitor's top player,
Fabio Fognini
.
But the French were already sitting with their feet up, sipping champagne by the time Federer finished cleaning Fabulous Fabio's clock. Jo-Wilfried Tsonga & Co. swept the Czech Republic (who, led by No. 6
Tomas Berdych
, were hoping to three-peat) on a gorgeous, sunny weekend at Stade Roland Garros. Now the French look suspiciously like that proverbial "team of destiny."
Les Bleus have won nine Davis Cup titles, going back to the 1920s and those famous "Four Musketeers." But they are 0-2 in finals since 2002 and have been accused of playing under potential. That certainly seemed the case when they were one match from elimination for 2014 after just one day of Davis Cup play in April. They lost the first two singles matches of the quarterfinals to a pair of German journeymen. (The average ranking of the French singles players in the tie was 15; that of the Germans sounded more like the call numbers for a light FM radio station: 101.5.)
Badly stung, France snapped to life and averted disaster with a 3-2 win. They then clobbered the Czechs. France's three singles stars, Tsonga,
Richard Gasquet
and
Gael Monfils
, have been playing some terrific tennis. They have an excellent doubles player in
Michael Llodra
and a good sub in
Julien Benneteau
.
It's hard to imagine the tie will be played outdoors in France so late in the year (Nov. 21-23). That ought to help Federer, whose game really shines under ideal ambient conditions. But that won't be a major factor. It's just a small break for a great champion who isn't getting away with anything in his Davis Cup quest.
May, 24, 2014
May 24
6:00
AM ET
Aching joints and muscles are nothing new on the men's and women's tennis tours, but the injury bug seems to be biting even more than usual this year.
Three players who were coming off significant injury problems a year ago --
Roger Federer
,
Andy Murray
and
Maria Sharapova
-- have stayed relatively fit, but a lot of their rivals can't say the same.
Here's a quick recap of some of the problems the top players have been experiencing this season.
ATP Tour
Rafael Nadal
-- Suffered a back injury in the Australian Open final, and, although he says it hasn't bothered him for a while, Nadal hasn't played his best since.
[+] Enlarge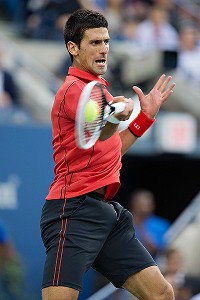 Susan Mullane/USA TODAY SportsA wrist injury appears to be behind Novak Djokovic, but it is worth monitoring.
Novak Djokovic
-- Suffered a wrist injury before Monte Carlo, which was identified by his physiotherapist as an inflamed tendon. Gave him no problems in Rome after two weeks of treatment and rest, but now he must try to avoid aggravating it.
Stan Wawrinka
-- Tweaked his back slightly at Rome, although he insists it will not be a problem for the French Open.
David Ferrer
-- Experienced a groin injury that kept him out of Indian Wells, but tests showed no tear and he has looked fit since.
Juan Martin del Potro
-- Expected to be out for months after undergoing surgery on his left wrist.
Milos Raonic
-- An ankle problem affected him at the Australian Open and kept him out of Davis Cup, but he has returned strongly.
Kei Nishikori
-- Withdrew from the Miami semifinals with a groin problem and retired in the Madrid final with a back injury that also kept him out of Rome, but is expected to return at the French Open.
Richard Gasquet
-- Has not played since Miami with a back problem, which has improved after extensive treatment but only just allowed him to start hitting balls again. Questionable for the French Open.
Tommy Haas
-- The shoulder that repeatedly has required surgery is again giving him problems, including a quarterfinal retirement at Rome a week ago.
John Isner
-- Went out of the Australian Open with a foot injury and withdrew from doubles at Madrid with a back problem.
Fabio Fognini
-- A right quad problem has affected him throughout the season, perhaps a reason for some of his frustrated performances recently.
Mikhail Youzhny
-- Withdrew from Indian Wells with a back injury.
Santiago Giraldo
-- Had a hip flexor injury at Rome.
Nicolas Almagro
-- A leg problem has affected him in the clay season, including a withdrawal at Rome.
Philipp Kohlschreiber
-- has been having an elbow problem, although it hasn't kept him from playing.
Florian Mayer
-- A hip injury is expected to keep him out of the French Open.
Gael Monfils
-- Withdrew at Nice this week with a persistent ankle problem, saying he could not move well enough for singles, and could be hampered in the French Open.
Benoit Paire
-- A persistent knee injury has kept him out of tournaments and caused him to withdraw at Nice this week.
Jurgen Melzer
-- Had to withdraw from Acapulco after returning from a shoulder injury, which kept him out until the clay season.
Vasek Pospisil
-- Has been experiencing back problems since the start of this season.
Lleyton Hewitt
-- Had problems with his shoulder after the Australian Open, but has played regularly since.
Bernard Tomic
-- Was booed after retiring to Nadal at the Australian Open, had double hip surgery, got defeated in record time in his first match back and hasn't won since.
WTA Tour
Serena Williams
-- A back problem affected her at the Australian Open, and a thigh injury at Charleston and Madrid, but then she swept to the title at Rome a week ago.
[+] Enlarge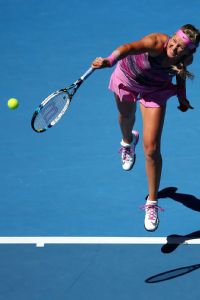 Clive Brunskill/Getty ImagesVictoria Azarenka has been out of action since Australia, and will miss the French Open.
Victoria Azarenka
-- Has not played since the Australian Open with a foot injury and has withdrawn from the French Open.
Agnieszka Radwanska
-- A shoulder injury affected her in the Indian Wells final, but she has played regularly.
Simona Halep
-- Withdrew from Rome with an abdominal injury and is still adjusting her schedule after becoming a top player.
Angelique Kerber
-- Retired at Madrid with a back problem but says she is finding her rhythm again.
Sara Errani
-- Was affected by a hip flexor injury in front of her home fans when playing the final at Rome.
Caroline Wozniacki
-- Withdrew from Stuttgart with a wrist injury and had knee problems in Madrid that kept her out of Rome.
Ana Ivanovic
-- Suffered a hip injury in her run at the Australian Open, but has returned strongly.
Sloane Stephens
-- Ongoing wrist problems at the start of the year.
Svetlana Kuznetsova
-- Withdrew from Rome with hip injury.
Maria Kirilenko
-- Returned at Charleston from a knee problem, only to experience a wrist injury that caused her to withdraw at Madrid.
Bethanie Mattek-Sands
-- Underwent hip surgery about a month ago.
Laura Robson
-- Underwent wrist surgery about a month ago.
May, 20, 2014
May 20
10:40
PM ET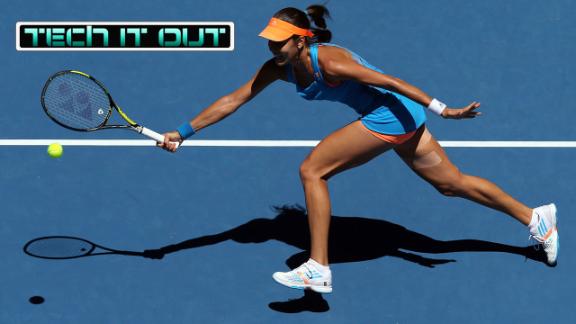 When you try out racket after racket, the results can become blurred. The different technologies -- weight, head size, string pattern, flex -- and then the variables within said specs make each racket unique, but after a while, these various ingredients can blend together when attempting to dissect so many new and different frames. It can get pretty befuddling trying to remember how each racket performed.
But then there's the Yonex EZONE AI 98.
Perhaps the most intriguing frame I have tried this season, this racket, which by the way happens to be
Ana Ivanovic
's latest choice, is about as smooth and comfortable to hit with as any new racket on the market. Absolutely nothing befuddling here.
[+] Enlarge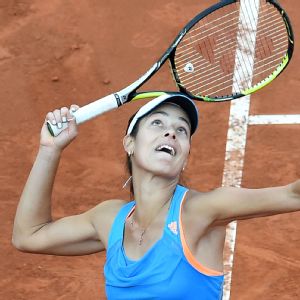 Giuseppe Bellini/Getty ImagesAna Ivanovic, who is using one of Yonex's newest frames, the EZONE AI 98, is having one of her best seasons in a few years.
First and foremost, the sweetspot is enormous. And this creates an interesting juxtaposition: The isometric head shape in Yonex rackets (which more or less means square shaped), gives the appearance of a head that is smaller than it actually is, but in this case, the EZONE AI 98 has a sweetspot you would typically find only in an oversize racket. What does this mean? It means you can measure your shots with pinpoint accuracy in a frame that produces unparalleled comfort.
It should also be noted you can take a good crack with the Ezone AI 98 and keep the ball in the court. The racket seems to play lighter than its 11.05 oz frame. I added about three inches of lead tape around 3 and 9 o'clock to help alleviate the temptation of overhitting. This is more of a personal preference; you may very well fancy the stock weight. I found that in this racket, the tape did not detract from the maneuverability or head speed.
Perhaps the most intriguing feature was the feel of the ball off the string bed. There was a discernible pocket upon contact, one that produced a buttery-smooth response. One of my favorite new rackets on the market is the Prince Tour 100 16x18 because the feedback off contact is so friendly. But there is also some unpredictability; balls can fly on occasion, although far less than previous iterations. The EZONE AI 98, however, had a Prince Tour-like feel, but it was much more control oriented. This Yonex actually felt like a hybrid of the best qualities of the Prince Tour (comfort and power) and a Babolat Pure Drive (control, command, plush).
And this was especially obvious, not just in groundstokes, but in volleys, too, in which I had total confidence to stick them where I wanted to. The racket is extremely maneuverable, which made serving easy. There was noticeable mass upon contact, and I was able to consistently hit heavy kickers.
In most rackets I've demoed, I've found some fault (bad tennis pun), but in Yonex's EZONE AI 98, none whatsoever. So much so, that I have a pretty good feeling this racket will see more mileage and wear and tear when I'm on the court than any other stick in the coming months.
May, 20, 2014
May 20
10:39
PM ET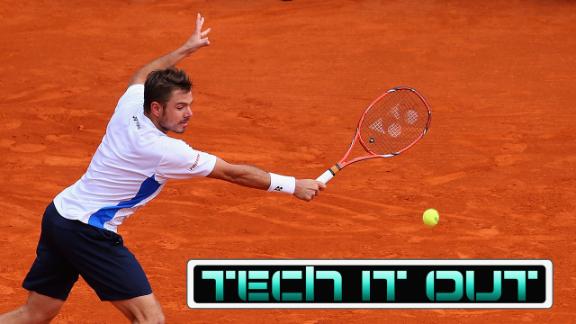 Yonex VCORE Tour G 330
If this racket is good enough for
Stan Wawrinka
, it's good enough for you. Well, perhaps. The Yonex VCORE Tour G 330 is, by all accounts, a big-boy racket.
The first thing I noticed when I hit with this frame was just how precise and crisp it is, which is appealing on many levels. Just ask your defending Aussie Open and Monte Carlo champ. But it takes work. The racket weights about 12.2 oz strung, and if you, like I, want a leather overgrip and some sort of dampener, tack on a few extra ounces.
I played with this racket twice. The first time I hit indoors and was really intrigued by the effortless power. The key, of course, was to stay ahead of the ball, which we learned in tennis 101. But the modern-day player tends to wait a little longer and then take a massive rip. I am not so sure this racket lends itself to that style, but I also wouldn't say you need to be a classic-oriented player to make this frame work for you.
[+] Enlarge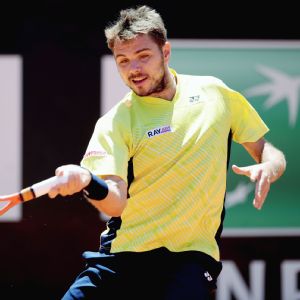 Michael Regan/Getty ImagesWith his Yonex VCORE Tour G 330 in hand, Stan Wawrinka won the Aussie Open and then Monte Carlo a few months later.
The beauty of the Yonex VCORE Tour G 330 is that the cleaner your strokes, the cleaner the response. One of the first things I look for in a racket is how much do I need to adjust my game to make the stick perform the way it should. With this one, it required very little, except, as mentioned, to make a concerted effort to rotate, get out in front and let the racket do the work. From that perspective, it was great.
The second time I used this frame, I was outside in windy conditions. It was much tougher. There was nothing wrong with power or control (it was actually rock solid), but after a while, I found myself wearing down. I lent this racket to my opponent, who is a one-hander and generally navigates toward heavier frames. He was hitting some really sweet slices off his backhand wing. As a two-hander, this is not a natural shot for me, but if I did have a slice in my arsenal, I might very well have stuck with this racket longer.
Without question, the shot I enjoyed most with the Yonex VCORE Tour G 330 was the volley. The added stability and heft made directing volleys deep into the court with precision. I noticed this even more on low volleys, shots that landed at my feet, which I was able to stick back over the net with deft and placement, which, admittedly, I can't always do.
And though this frame felt slightly cumbersome off the ground, I didn't have as much trouble serving. I didn't exactly generate the power I did with the EZONE AI 98, but placement was fantastic. The VCORE Tour G 330 is a stable stick, and it didn't require a lot of effort once the momentum of the frame took over.
Make no mistake, this is one of the most durable rackets out there, and it can pack a pretty good punch as the cliché goes. If you're a big hitter and looking for a stick that yields big results, check this one out. Stan did -- and look what it did for him.
Yonex VCORE Tour G 310
I like to think of this frame as Stan off steroids. In other words, the Yonex VCORE Tour G 310 is simply a lighter version of Wawrinka's racket, which should appeal to a host of different levels. This racket still has heft. It weighs in at 11.6 ounces, which is ideal for someone in the 4.0-4.5 level.
Aside from the weight, everything else about this stick is exactly the same as its heavier brother, from the stiffness to the beam to the paint job. As a matter of fact, there is not once indication denoting this racket is not the 330 version. So if you want to pick this one up and hornswoggle your opponent into thinking you're using the same racket as Wawrinka, you're secret is safe.
All that said, given the slightly lighter iteration here, the one issue that I had with the 330 -- that was consistently taking big hacks off the ground -- was, well, a non-issue in the 310. I could swing away and the ball would stay in the court. It's a fairly low-powered frame, which I tend to gravitate toward in general. But it has a good amount of mass, meaning the plush effect was pretty sweet. I did not love the feeling when hitting off center (the 310 felt like it had a small sweetspot, especially compared to the EZONE AI 98), but because of the mass, I was still able to keep balls deep in the court.
I wouldn't say there was anything markedly different between the 310 and 330 when it came to volleys (which were phenomenal), but in terms of serving, I was able to pronate a little more with the 310, generating some more spin. But the differences were almost imperceptible.
All in all, the 310 is a great choice if you're seeking a lower-powered, but stable, frame that you can take rips with, knowing you're going to generate a heavy ball that will stay in the court. This one is worth a hit, for sure.