ESPN Tennis:

Vasek Pospisil
August, 6, 2014
8/06/14
5:37
PM ET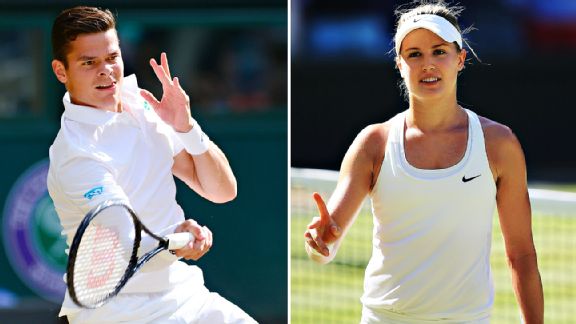 Getty ImagesMilos Raonic and Eugenie Bouchard made noise at Wimbledon and are the faces of Canadian tennis.
Following their recent success, Canadian players find themselves under the spotlight at their national events this week, with interesting results.
It's not just tennis that is supposed to be announcing its arrival at Canada this week, but also Canada announcing its arrival in the tennis world. With the ATP and WTA tours making their annual alternating stops at Toronto and Montreal, the tournaments were meant to showcase the recent surge of Canadian players who are turning the nation into the biggest thing going in tennis.
At Wimbledon, Canadians seemed to be everywhere:
Eugenie Bouchard
playing in the women's final,
Milos Raonic
in the men's semifinal and
Vasek Pospisil
teaming with American
Jack Sock
for victory in men's doubles.
There is Canadian presence in the top 10 of both the ATP and WTA rankings, with Raonic at No. 6 and Bouchard at No. 8.
And in the week leading up to this event, Raonic and Pospisil played the first all-Canadian final in ATP history, the 23-year-old Raonic defeating 24-year-old Pospisil to win the title in Washington. A year ago, they already had provided a taste of things to come by both reaching the semifinals at Montreal.
Pospisil, a little-known player from British Columbia at that time, became one of the stories of the tournament starting with a defeat of
Tomas Berdych
in the second round, while Raonic overcame his compatriot to reach his first Masters series final and play
Rafael Nadal
. That got the pair prominently featured in the weekend headlines, but this year they've been there from the beginning of the week.
Raonic, who grew up in Toronto, is the center of attention as he returns this week, while Montreal's Bouchard was stirring up the crowds at the women's event following a breakthrough season in which she has also reached two other Grand Slam semifinals. Both were expected to have a good showing this week, further showcasing their hometown tournaments.
Having Canadians in title contention has broadened the sport's appeal in a country where tennis does not have a huge presence.
"It's the first time I've seen tennis penetrate the social fabric of our city and country," said Karl Hale, Toronto's tournament director. "The non-tennis fan is interested in coming to the Rogers Cup now. The non-tennis fan is talking tennis."
Demand is high to see Raonic, who plays his first match on Wednesday.
"Our ticket sales are tremendous in both Toronto and Montreal," Hale said. "The ticketing department is talking about all the requests Milos has for his match."
If the crowds are looking forward to seeing him, Raonic is looking forward to playing.
"It was the only tournament I went to as a spectator," Raonic said of the Toronto event, which he attended as a child. "It's the tournament I would say I look forward to probably the most as far as atmosphere goes and probably one of the most important tournaments to me and my schedule."
But if their recent success has been a new experience for Canadian players, so are the expectations that follow. A period of adjustment may be required, as illustrated by Bouchard on Tuesday evening.
The 20-year-old took the court in front of a packed stadium, only to lose her opening match to an American qualifier,
Shelby Rogers
. The fluctuating scoreline of 6-0, 2-6, 6-0 indicated how much the local favorite had been affected by the occasion, as did her stunned expression during most of the match.
"I hadn't played a match in a while and I think the pressure got me a bit," said Bouchard, who withdrew from Stanford with a knee injury.
"It's good position to be in," she added. "But I'll just have to deal with it better."
Pospisil, who was coming in off a tiring week in Washington, also fell in his opening match. He was affected by a leg injury while playing
Richard Gasquet
, who Pospisil went three tough sets with in the semifinals in Washington.
Other Canadians, like
Frank Dancevic
,
Peter Polansky
and
Aleksandra Wozniak
were also gone by the second round, though Polansky did win a match as a wildcard before falling to
Roger Federer
.
That leaves Raonic to carry the weight of national expectation on his own shoulders, though at least he is the most experienced of the emerging group at doing so.
This could be a learning experience in what is anticipated as a long run from the youthful trio of Bouchard, Raonic and Pospisil, and there was at least one more match this week that suggests there could be even more to come.
Even before Bouchard went out, locals had already found another player to cheer as Montreal local , 17-year-old Francoise Abanda, took
Dominika Cibulkova
to three sets on the opening night.
They might not be sticking around for too long this week, but it looks like Canadians on tour are here to stay.
July, 9, 2014
7/09/14
3:06
PM ET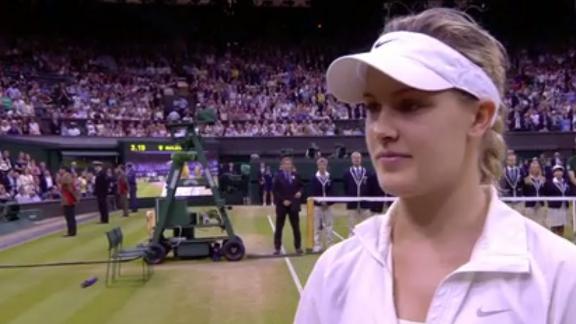 Vasek Pospisil
has a lot of explaining to do these days. Things like, "what's happening with Canadian tennis?"
"I've already answered this question so many times," said Pospisil, 24, who's already developed a standard version of his answer which begins with, "To summarize, it's a combination of a few things."
That will come in handy, because it's a question he'll probably be getting plenty more of.
Milos Raonic
, the country's top-ranked player, has already noticed the increase in interest since he broke through at the 2011 Australian Open and reached the fourth round.
"Yeah, I think there's a lot more talk about it," Raonic said. "When you do media and press questions, it comes up quite a bit more just from people in general, you see a more consistent pouring out of Canadians coming out. Sometimes you'll see a person that's not a Canadian come out to a match with a Canadian flag."
For over a year now, there has been quiet but consistent rise in players with the maple leaf beside their names. But it was at Wimbledon that the country loudly announced its arrival on the tennis scene.
Eugenie Bouchard
became the first Canadian in a Grand Slam singles final, Raonic the first Canadian to reach a men's Grand Slam semifinal, and Pospisil joined the USA's
Jack Sock
in carrying off the men's doubles title.
Previously limited to doubles players and the odd player in the men's or women's top 100, Canada's presence in the tennis ranks has swelled significantly. In addition to established standbys such as former doubles No. 1
Daniel Nestor
, the 23-year-old Raonic and 20-year-old Bouchard now are both in the top 10 and the highest-ever ranked Canadians, and both are considered emerging Grand Slam contenders.
Pospisil reached No. 33 in 2013 before experiencing a back injury this season, and is starting to regain his game. And there are more promising prospects coming up, such as the solid 2013 US Open and Wimbledon junior champion
Filip Peliwo
, and junior girls talent Francoise Abanda.
[+] Enlarge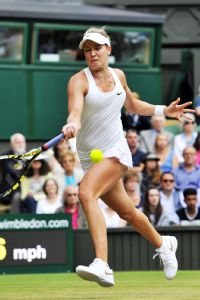 Glyn Kirk/AFP/Getty ImagesEugenie Bouchard leads a Canadian contingent that is steadily rising up the rankings.
Coincidence or conditions? Pospisil sees it as a bit of both.
"Obviously as much as people would like to say it's not a coincidence, it also is," he said. "Tennis Canada, what they've done is incredible ... Without them, this wouldn't have happened.
"But it wouldn't happen without the talent and the individuals themselves. A lot of things have to happen for someone to do well at this sport. So it's not as simple as changing a few things at the federation."
Tennis Canada, the federation that runs the country's ATP and WTA events and is responsible for the game's development in the country, overhauled its training program in 2007, putting in an extra $1 million per year and establishing a national center in Montreal.
Raonic was full-time at the center as a junior player and both Pospisil and Bouchard have spent periods training there. But the three also have taken separate routes in separate parts of the country.
The Montenegro-born Raonic grew up in Toronto, where he practiced his famous serve early in the mornings before joining the Tennis Canada program. Bouchard is from a well-to-do family in Montreal and went to Nick Saviano's academy in Florida at 12 years old to be able to train year-round. Pospisil, from Vancouver, went to his parents' native Czech Republic between the ages of 15 and 18, and at 20 came to the Montreal center.
Bouchard doesn't see a big connection.
"A few of us have done well around the same time. I think that's a happy coincidence. For example, me or Milos and Vasek, we've succeeded in completely different ways," she said.
"I wouldn't pinpoint a specific common fact. But I think it's a good thing. It's good timing. I think because of that the popularity has grown in Canada."
This year's Wimbledon set television records in Canada, with both finals the most-watched ever in the country. Bouchard's final against
Petra Kvitova
was seen by an average 2.4 million people, and Raonic's semifinal showing drew 776,000 people. Overall, 10 million -- almost a third of the country -- watched some portion of the tournament, according to sports broadcaster TSN, which shows it in the country.
But circumstances also have been cited as contributing to the recent influx of Canadians on the pro tour. The Lawn Tennis Association recently lured former Tennis Canada CEO Michael Downey as its new head, suggesting it sees a connection.
Raonic speaks well of his experience in the national program and says that his subsequent success will inspire confidence and results from others.
"There is a good program in place, but I believe a big part of it is one person breaks through," he said. "[If] you got to go train, you got to go run, you got to do weights, you got to play on court, you see that somebody is already succeeding through that system."
The most significant aspect, however, might be the country's increased success in taking players from the juniors or lower ranks and getting them to the upper levels. Increased funding and resources from the federation has helped some players take that next step.
Pospisil says that access to coaches though federation funding has had a huge impact and points to Louis Borfiga, a Frenchman who is the head of high performance development at Tennis Canada, as a central influence.
"Especially, I think, when Louis Borfiga came on the scene, when Michael Downey hired him, that kind of set the platform and allowed all this to happen," Pospisil said.
Pospisil has credited his coach Frederic Fontang, with whom he began working in 2012, as an important reason for his recent surge. Raonic went from outside the top 300 into the top 20 with Galo Blanco before starting with
Ivan Ljubicic
a year ago.
"The coaching decisions, the coaches they brought in, they made a huge difference," Pospisil said. "That's where Borfiga had a big role. He's a very wise man. He really knows tennis, he doesn't seem like it when you don't know him, but he knows what he's doing."
"Borfiga knew that [Fontang] was available, and knew that he was a good coach, and said, 'Oh, that would be a good coach to have.' And so I made a trial with him, and obviously it was great. So that's how I have the coach I have right now, who is very good. The same goes for Milos, they found a great coach for him in Galo Blanco.
"So I think they helped us use our potential and grow."
Now, their own success has the potential to do the same for tennis in the country as a whole.