ESPN Tennis:

Yonex VCORE Tour G 330
May, 20, 2014
May 20
10:40
PM ET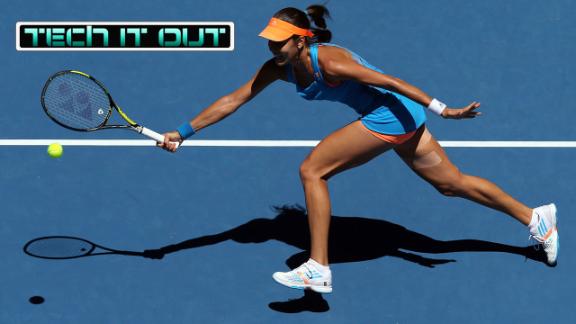 When you try out racket after racket, the results can become blurred. The different technologies -- weight, head size, string pattern, flex -- and then the variables within said specs make each racket unique, but after a while, these various ingredients can blend together when attempting to dissect so many new and different frames. It can get pretty befuddling trying to remember how each racket performed.
But then there's the Yonex EZONE AI 98.
Perhaps the most intriguing frame I have tried this season, this racket, which by the way happens to be
Ana Ivanovic
's latest choice, is about as smooth and comfortable to hit with as any new racket on the market. Absolutely nothing befuddling here.
[+] Enlarge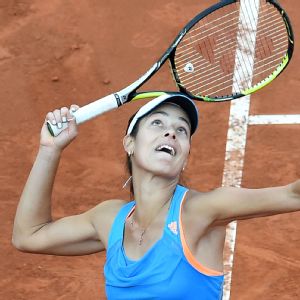 Giuseppe Bellini/Getty ImagesAna Ivanovic, who is using one of Yonex's newest frames, the EZONE AI 98, is having one of her best seasons in a few years.
First and foremost, the sweetspot is enormous. And this creates an interesting juxtaposition: The isometric head shape in Yonex rackets (which more or less means square shaped), gives the appearance of a head that is smaller than it actually is, but in this case, the EZONE AI 98 has a sweetspot you would typically find only in an oversize racket. What does this mean? It means you can measure your shots with pinpoint accuracy in a frame that produces unparalleled comfort.
It should also be noted you can take a good crack with the Ezone AI 98 and keep the ball in the court. The racket seems to play lighter than its 11.05 oz frame. I added about three inches of lead tape around 3 and 9 o'clock to help alleviate the temptation of overhitting. This is more of a personal preference; you may very well fancy the stock weight. I found that in this racket, the tape did not detract from the maneuverability or head speed.
Perhaps the most intriguing feature was the feel of the ball off the string bed. There was a discernible pocket upon contact, one that produced a buttery-smooth response. One of my favorite new rackets on the market is the Prince Tour 100 16x18 because the feedback off contact is so friendly. But there is also some unpredictability; balls can fly on occasion, although far less than previous iterations. The EZONE AI 98, however, had a Prince Tour-like feel, but it was much more control oriented. This Yonex actually felt like a hybrid of the best qualities of the Prince Tour (comfort and power) and a Babolat Pure Drive (control, command, plush).
And this was especially obvious, not just in groundstokes, but in volleys, too, in which I had total confidence to stick them where I wanted to. The racket is extremely maneuverable, which made serving easy. There was noticeable mass upon contact, and I was able to consistently hit heavy kickers.
In most rackets I've demoed, I've found some fault (bad tennis pun), but in Yonex's EZONE AI 98, none whatsoever. So much so, that I have a pretty good feeling this racket will see more mileage and wear and tear when I'm on the court than any other stick in the coming months.
May, 20, 2014
May 20
10:39
PM ET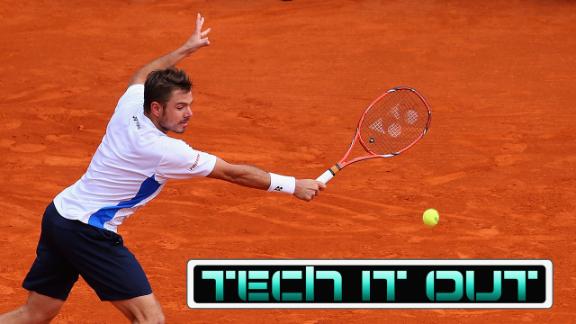 Yonex VCORE Tour G 330
If this racket is good enough for
Stan Wawrinka
, it's good enough for you. Well, perhaps. The Yonex VCORE Tour G 330 is, by all accounts, a big-boy racket.
The first thing I noticed when I hit with this frame was just how precise and crisp it is, which is appealing on many levels. Just ask your defending Aussie Open and Monte Carlo champ. But it takes work. The racket weights about 12.2 oz strung, and if you, like I, want a leather overgrip and some sort of dampener, tack on a few extra ounces.
I played with this racket twice. The first time I hit indoors and was really intrigued by the effortless power. The key, of course, was to stay ahead of the ball, which we learned in tennis 101. But the modern-day player tends to wait a little longer and then take a massive rip. I am not so sure this racket lends itself to that style, but I also wouldn't say you need to be a classic-oriented player to make this frame work for you.
[+] Enlarge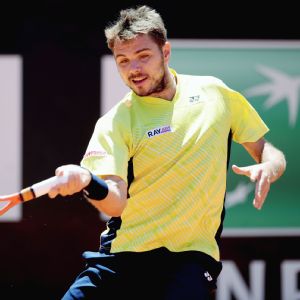 Michael Regan/Getty ImagesWith his Yonex VCORE Tour G 330 in hand, Stan Wawrinka won the Aussie Open and then Monte Carlo a few months later.
The beauty of the Yonex VCORE Tour G 330 is that the cleaner your strokes, the cleaner the response. One of the first things I look for in a racket is how much do I need to adjust my game to make the stick perform the way it should. With this one, it required very little, except, as mentioned, to make a concerted effort to rotate, get out in front and let the racket do the work. From that perspective, it was great.
The second time I used this frame, I was outside in windy conditions. It was much tougher. There was nothing wrong with power or control (it was actually rock solid), but after a while, I found myself wearing down. I lent this racket to my opponent, who is a one-hander and generally navigates toward heavier frames. He was hitting some really sweet slices off his backhand wing. As a two-hander, this is not a natural shot for me, but if I did have a slice in my arsenal, I might very well have stuck with this racket longer.
Without question, the shot I enjoyed most with the Yonex VCORE Tour G 330 was the volley. The added stability and heft made directing volleys deep into the court with precision. I noticed this even more on low volleys, shots that landed at my feet, which I was able to stick back over the net with deft and placement, which, admittedly, I can't always do.
And though this frame felt slightly cumbersome off the ground, I didn't have as much trouble serving. I didn't exactly generate the power I did with the EZONE AI 98, but placement was fantastic. The VCORE Tour G 330 is a stable stick, and it didn't require a lot of effort once the momentum of the frame took over.
Make no mistake, this is one of the most durable rackets out there, and it can pack a pretty good punch as the cliché goes. If you're a big hitter and looking for a stick that yields big results, check this one out. Stan did -- and look what it did for him.
Yonex VCORE Tour G 310
I like to think of this frame as Stan off steroids. In other words, the Yonex VCORE Tour G 310 is simply a lighter version of Wawrinka's racket, which should appeal to a host of different levels. This racket still has heft. It weighs in at 11.6 ounces, which is ideal for someone in the 4.0-4.5 level.
Aside from the weight, everything else about this stick is exactly the same as its heavier brother, from the stiffness to the beam to the paint job. As a matter of fact, there is not once indication denoting this racket is not the 330 version. So if you want to pick this one up and hornswoggle your opponent into thinking you're using the same racket as Wawrinka, you're secret is safe.
All that said, given the slightly lighter iteration here, the one issue that I had with the 330 -- that was consistently taking big hacks off the ground -- was, well, a non-issue in the 310. I could swing away and the ball would stay in the court. It's a fairly low-powered frame, which I tend to gravitate toward in general. But it has a good amount of mass, meaning the plush effect was pretty sweet. I did not love the feeling when hitting off center (the 310 felt like it had a small sweetspot, especially compared to the EZONE AI 98), but because of the mass, I was still able to keep balls deep in the court.
I wouldn't say there was anything markedly different between the 310 and 330 when it came to volleys (which were phenomenal), but in terms of serving, I was able to pronate a little more with the 310, generating some more spin. But the differences were almost imperceptible.
All in all, the 310 is a great choice if you're seeking a lower-powered, but stable, frame that you can take rips with, knowing you're going to generate a heavy ball that will stay in the court. This one is worth a hit, for sure.