October, 22, 2012
10/22/12
10:05
AM ET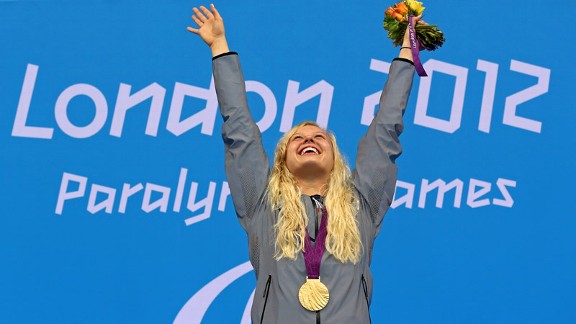 Clive Rose/Getty ImagesJessica Long won five gold medals at the Paralympics and said London 2012 was far more nerve-wracking than her previous two Games.
It was day three of the Paralympics when I started getting messages from Russian reporters on Facebook and Twitter. "We've found your family!" one said, with a photo of a Russian-looking family attached. Another asked if I'd go to Russia straight from London to be on an "Oprah"-like TV show.
Is this a joke? I thought, my mind spinning. Are they just trying to write a good story?
My brother and I were adopted from Russia when I was 13 months old, and though I've always known the story of my adoption, I've never met my biological parents.
Little did I know, some reporters had taken it upon themselves to find them.
It was so much to handle right then, in the middle of the biggest meet of my life. Yes, that family in the photo had blond hair like me. But I look like a lot of Russian families, I'm sure. Half of the Russian Paralympic team has blond hair! How was I supposed to know what was real? I wasn't angry, but I couldn't quite process it all, and of course it made it very hard to focus on the races I had each day.
[+] Enlarge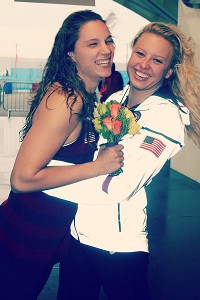 Courtesy of Jessica LongJessica Long and Kelly Becherer have been rooming together at big swim meets for eight years -- and have a lucky Natalie Coughlin poster they bring to every competition.
I kept getting messages and links to Russian newspaper articles, and on the final day of the Games, the USOC confirmed for me that it was definitely not a hoax. Since then, I've had all the articles and interviews translated into English and learned a lot about my Russian biological parents.
Now that some time has passed I've been able to recognize how cool it really is. Though I was less than thrilled with the timing of it all, I'm so proud that my biological parents found out that I'm a successful athlete. I'm even planning to go to Russia to meet them next summer, probably in June or July.
I've also realized that some greater good can come out of the media attention. There has been a lot of controversy lately surrounding Russian adoptions to the U.S., and even some support from Russian officials to end all adoption to American families. So this is a chance for me to show how in my case, adoption was an amazing thing. My brother and I have had a loving, wonderful family since we came here, and I couldn't be more grateful to my parents for all they've given me.
Now I've decided this whole big hoopla around my biological parents is just one more part of my incredible experience in London.
When I first arrived in August and saw the Olympic Village, it completely took my breath away. I knew right then that all the training was worth it. That practice I threw up after? Worth it. All those early, early mornings where I had to hold my eyes open? Completely worth it.
I was just so excited to be there at my third Games. I roomed with Kelly Becherer, who's always my roomie at big events. We know each other so well, and we have a blast together. We always bring this Natalie Coughlin poster of hers to every big meet. We took it to worlds in '06, to Beijing in '08, to worlds again in '10, and now to London. It was just a random poster at first, of a swimmer that we've always looked up to, and now it has become a part of every meet to bring us good luck.
The poster worked its magic again, though in the beginning I wasn't so sure it would. During my very first race of the Games, the 100-meter butterfly, I was in the ready room and I've never felt so terrified before. When you're in there, you usually sit for 20 minutes or so before your race, moving to a chair closer to the door every few minutes as your race gets closer and others leave the room. I know this sounds dramatic, but I almost felt like I was moving closer to my death. I had this sense of dread, and I was listening to Eminem songs, which made it even more intense.
Then I walked out there in front of 20,000 people and it felt like everything was on me, all alone with the pool. I felt so much more nervous than either Athens or Beijing, and after that race, I decided the first big change was going to be my music. From there on out, I listened to Dido, Mumford & Sons ... anything calming and relaxing.
[+] Enlarge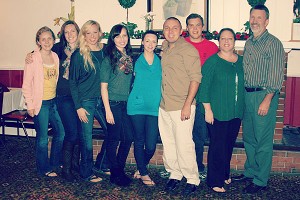 Courtesy of Jessica LongJessica Long, third from the left, celebrates her Paralympic success with her adoptive family in Baltimore.
The music change helped a lot, and I feel like I hit my stride after that. I am so proud of my five gold medals from London, the most so far of my career. As an athlete you always set your goals as high as possible, so I wish my times in a couple of events were a little bit faster. But hey, that gives me something to work for in the future. And if it came down to it, I'd much rather have the gold medal than have the time I want and be out-touched at the wall!
The best moment of all came at the end of my last race, the 100-meter free. I didn't realize how much I wanted that gold medal until I finished, and I burst into tears. I was so excited; I had won this event in all three Paralympics, so it was very cool to do a three-peat. It also hit me right then that the competition was all over, and I had done everything I wanted to. I've never really cried after a race, but I was a mess then, and the crowd went crazy. It was so special.
After our races were done we had a day where we rode the London Eye and took a boat ride around the city. We were all so exhausted, though, that we fell asleep on the boat. When you compete for 10 days straight, you're bound to fall asleep anywhere you can!
Now I'm at home in Baltimore, resting and recovering, and trying to get over my London withdrawal. I needed both a mental and physical break from swimming, and it's fantastic to let my shoulders heal from the stress of training and to wake up without an alarm. To be just a normal girl for once.
I gave up ice cream the whole year before London. It's my ultimate weakness, and so the minute I was done competing, I went to McDonald's and got a McFlurry. Now on my to-do list: to eat a whole pint of Ben and Jerry's Cake Batter. I know I can do it.
I even got to take my first vacation in a really long time (I can't remember how long!) to Ocean City, Md. I went with my best friend Becky, and we just relaxed on the beach during the day, walked the boardwalk at night, and stuffed ourselves with Fisher's Popcorn. I may well gain 20 pounds by the time this break is over, but it's been fantastic.
I do miss swimming, though, and it's very weird not to be in the pool right now. After Beijing, I rushed into swimming within a week, and it was way too fast. So now I've told myself to take my time -- that swimming is always going to be there. In November, I'll head back to Colorado and slowly get back into training. Rio in 2016 is in my plans, and also, I have a big visit to Russia next year!
September, 5, 2012
9/05/12
6:47
PM ET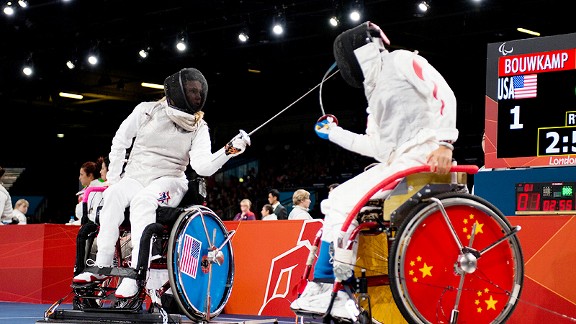 Laura Evans/U.S. ParalympicsThough Cat Bouwkamp didn't advance to the final rounds of Paralympic fencing, she'll be back for Rio in 2016.
Tuesday was the day I fenced in my event (women's foil Category A) here in London at the Paralympics, and it was rough, to say the least. I went into the experience with the biggest butterflies in my stomach and a lack of confidence in my own skills. I did have an abundance of support, though. With me were my two coaches, Julio Diaz and Les Stawicki, plus two of my amazing teammates, Ryan Estep and Joey Brinson. My parents were also up in the stands, cheering after every point.
[+] Enlarge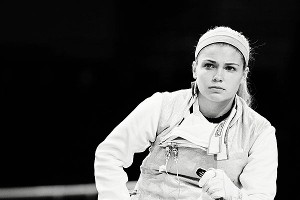 Laura Evans/U.S. Paralympics Cat Bouwkamp, at 16, is much younger than the other Paralympic fencers. On the U.S. team the other fencers jokingly call her their daughter.
One of the weirdest parts about fencing in a big competition like the Paralympics or a World Cup is that I have to be able to fight against people whom I've also learned from and have so much respect for. When I started wheelchair fencing three years ago, I had no idea what in the world I was doing. The people I compete against now are the same ones I looked to then for moves or mental approaches. There's a joke on my team that instead of being the "little sister," I'm the daughter -- because almost every other athlete in the wheelchair fencing community could be my father or mother.
When I went out to fence on Tuesday, my pool was a vicious one, and I started off slowly, not working to my full potential. After I got used to the crowd and atmosphere, I ended up working pretty well against two of my opponents. Unfortunately, it was too late to stage a comeback, and I didn't advance past the qualification rounds.
Oddly enough, I'm not devastated by this major loss. I do realize that I'm young and haven't reached my mental and physical peak in the sport. I also want to try out other wheelchair sports before Rio, and I plan on being there for the 2016 Paralympics no matter what. There is nothing that can replace the amazing feeling of coming to my first Paralympic Games, but I hope that I can achieve the first-time feeling of medaling at the Games in 2016.
Don't forget my name, America. I'll be back!
September, 2, 2012
9/02/12
8:02
PM ET
As of Saturday, I have been in London for a full week, yet it feels like I just got here yesterday.
The whole experience has been jaw-dropping. The athlete village itself really is almost its own city -- it has rows of apartment buildings, a main dining hall off on one end and an activity-filled community center at the other side. Since I watched the Olympics religiously this year, I had a vague idea what the experience would be like, but absolutely nothing could have prepared me for the experiences I would have once I got here.
In the Team USA part of the village, we occupy two apartment buildings and have team apartments with individual bedrooms off of the main apartment. In my apartment, there is my coach, team leader and two of my teammates. It's interesting since it's my first time living with these people. Our rooms are fairly small, especially when you add all the amazing Nike and Ralph Lauren clothing and accessories we received.
[+] Enlarge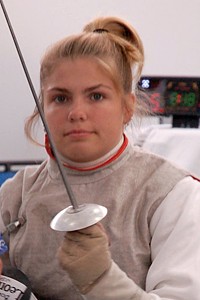 Courtesy of Alan Bouwkamp
It's impossible to find the floor in some spots. I share a room with the other woman from the fencing team who is the team leader. It's rare when both or either of us are actually in our rooms, so it's not so much of a big deal that it's a small apartment.
Speaking of clothing, though, the second day we were here, we went through processing, which is basically when you go to a faraway venue and get gifts and shoes and glasses and rings and skirts and shirts and hats all shoved at you. It was like Christmas, Hanukkah and my birthday all at once during the best four hours of my life. We get mainly T-shirts and jackets so we can easily be defined by our country. Overall, we received clothing from the wonderful Nike and Ralph Lauren, plus Oakley sunglasses, an Omega watch, Paralympic ring, an awesome P&G toiletry pack and our opening and closing ceremonies outfits. It was honestly one of the coolest things I've ever gone through.
The rest of the days between then and now have been spent examining those clothes and just hanging out and meeting athletes from other sports and countries that were in the same boat I was. Since, at 16, I'm the youngest on the team by a fairly large margin and I'm the only girl, I spent a lot of time getting to know the younger athletes from other sports, such as soccer, track and field and tennis.
With all these new friends, we walked as one huge delegation and family into the last Wednesday's opening ceremony at Olympic Stadium. As fun as standing outside moving inch by inch in 50-degree weather in a dainty skirt sounds, it was actually one of the better times I've had so far. It was the first time I had seen all the athletes from the U.S. together; finally meeting all the names I had heard about was awesome.
The moment we walked out from under the stands and into the roar of the full stadium crowd under the bright blue lights and millions of camera flashes, my breath was literally taken away and time stood still as I took in the view of everything around us. That moment was the solidification of the fact that I made it. I, the 16-year-old blonde, baby-faced girl next door had worked, cried, sweated and bled my way to the Paralympics, and I can't be stopped. I won't be stopped.
At the end of the opening ceremony, there was a song played that said:
"I am what I am; nothing less and nothing more."
So here is what I am: I am the young one. I am the underdog. I am the underestimated. I am the sarcastic one. But, most of all, I am the fighter, and I won't be stopped until I've done everything possible to reach my goal.