May, 15, 2014
May 15
5:08
PM ET
By
Amber Freeman
| ESPN.com
Courtesy of ASU AthleticsWith a one-game-at-a-time attitude, Arizona State opens at home Friday against Dartmouth.
Hi everyone! I know it has been a while since you've heard from me, but now that finals and school have come to a close you will be hearing much more from me over the next few weeks.
We just finished a tough conference schedule with the top-ranked Oregon Ducks and the second-ranked UCLA Bruins. I believe the past few weeks have been great in preparing us for my favorite part of the season: postseason! We had to play at such a high level the past few weeks that I am sure we are ready for the last third of our 2014 season.
Postseason is the absolute best time of year. This is when the most passionate and exciting softball is played. There is just something different in the atmosphere. We are fortunate to be starting with regionals on our home turf and to play in front of our fans and family.
I still think this ASU Sun Devil team has not peaked, which is a good thing. I am positive people can expect to see more from us because let's face it, we live for this. We feel as if many people have written us off, so we are prepared to come out guns blazing. Postseason is when the Sun Devils come alive and play our best softball. We are prepared to compete, fight and do whatever it takes to get back to Oklahoma City.
Our road to OKC starts Friday against Dartmouth. We know they are not to be taken lightly, but our mindset has not changed even though it is a bigger stage. We are going to take it one pitch at a time, one a game at a time, never looking too far ahead. The most important game of the season is Friday afternoon, and the Sun Devils will be ready.
Thanks so much for tuning in. Go Devils!
March, 26, 2014
Mar 26
1:45
PM ET
By
Amber Freeman
| ESPN.com
Kasey KalerAfter a rough weekend at Oregon State, ASU responded with a three-game sweep over Stanford.
Hi guys, I know it has been a while since you have heard from me, but wow! If you happened to catch any of our games over the weekend, you caught something definitely memorable.
On Saturday night, it was an offensive duel with Stanford. The final score was more like a football score than a softball score, 16-15! Some people termed it a circus. One team would score and then the other would come right back and score even more. It was a long, fun and intense game to be a part of and one of my most memorable games thus far at ASU.
Monday afternoon, Stanford jumped to a quick 5-0 lead, but that did not stop us at all. We have this saying on our team: "We are never out of the fight." The great thing about it is that all 24 of us believe in that wholeheartedly. We never give in and we never die, which has been a motto of the Sun Devils since I can remember. We are relentless and we want people to see that from us. We can never be counted out of a game.
In the fifth inning, Alix Johnson walked and Bailey Wigness got a base hit. Coming up to the plate, I knew I needed to step up for my team. The first pitch got away from the catcher and the runners moved over to second and third. On my bat, I had written the word "Compete" in big, bold letters as a reminder to myself. I looked at this and then took a deep breath before stepping back into the box. The next pitch, I hit back up the middle and both Alix and Bailey scored. As I slid into second base I quickly threw up my pitchfork, making the call to my teammates who made it possible for me to hit them in.
That is what I love about this team. We are all so quick to point out what our teammates did well, rather than what we did. We are in this together at all times. We win together and we lose together.
This past weekend was huge for us to get the sweep against Stanford. Coming off a tough weekend at Oregon State, I think it was awesome the way we were able to bounce back and pull out two of those three wins in comeback fashion.
We have a huge series at home again this weekend against our rivals, the University of Arizona Wildcats. Words cannot describe how excited I am for this series to be at our home field with our home crowd. Thanks for tuning in and go Devils!
February, 6, 2014
Feb 6
12:40
PM ET
By
Amber Freeman
| ESPN.com
Arizona State AthleticsEven great hitters get out more often than not, so the Sun Devils came up with a saying to handle that: "So what, next pitch.''
Finally! College softball is finally here. I cannot begin to tell you how excited I am to be back on the field again and to get this year started.
The Sun Devils have been preparing for the 2014 season not only physically but -- more important -- mentally. Many athletes do not take the time to train their minds like their bodies, but we got to do this as a team this offseason. In the fall, we started to work with sports psychologist Brian Cain. He has worked with elite athletes, so it was awesome that we got to work with him as well.
As a team, we realized how important it is to slow yourself down and breathe, whether that's before getting in the batter's box or after the umpire makes a bad call on you. Breathing is an awesome way to slow your mind down and to stay in the present.
Staying in the moment is what he could not stress enough to us. Baseball/softball players, in my opinion, deal with failure the most of any athletes. Think about it like this: If you are successful three out of 10 times as a batter, you are considered a "great hitter." So how do you deal with the seven times you fail?
As a team, we came up with the saying, "So what, next pitch." It is even in big letters in our dugout as a reminder to always stay in the moment. Of everything we did in the offseason, I think this is what we are going to benefit from the most.
Many people have asked, "What was the transition like from Coach Myers to Coach Nicholson?" Honestly, it was a very easy one. They teach a lot of the same things. Some things we had to get used to, but overall it has been a great fit. He brings that fire and drive that we need to get us going. He is a great coach, and I am so thankful that he is now a part of our Sun Devil family.
I have a lot of people asking me, "How will you do this year after a great season last year?" Being Pac-12 Player of the Year, a first-team All-American, Catcher of the Year and first-team All-Pac-12 was amazing and something I will never forget, but none of that is as sweet as a national championship. My main goal for this year is to be the absolute best teammate I can be and to be selfless. I would trade all the accolades I received for a national championship, and I will do whatever it takes to help this team achieve that goal.
We still remember what it felt like to lose so early in the World Series last year, and we never want that to happen again. We use that as motivation every single day to push us to be better.
Of course, the ultimate goal is to make it back to Oklahoma City and win another championship, but in order to do that, we have to take it one day at a time, one game at a time, one pitch at a time. We are not going to look that far ahead, so right now we are going to focus on the most important game, which is today against Creighton. Thanks for reading, and go Devils!
May, 28, 2013
5/28/13
12:25
PM ET
By
Amber Freeman
| ESPN.com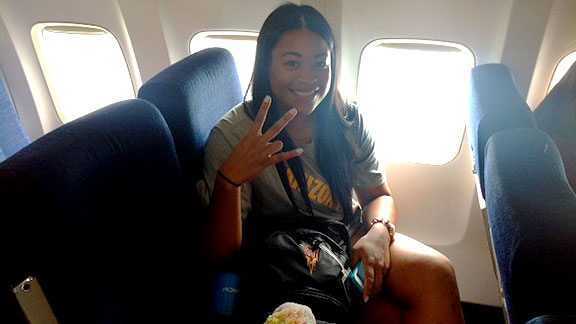 Courtesy of ASUSoftball Amber Freeman and her teammates won't mind another plane trip that ends in Oklahoma City for the start of the WCWS on Thursday.
We have made it back to Oklahoma City for the third consecutive time! Words cannot describe how excited I am to be going back to the Women's College World Series!
I feel so blessed to be able to come back for the second year in a row. I keep telling the freshmen how truly unbelievable it is to get back to the big stage and play in front of thousands of people. It is a little overwhelming at first but totally worth it. I remember the feeling I had before our first game in OKC last year against Oregon. It was a mix of excitement, butterflies and feeling sick to my stomach. This year, I come back with experience feeling a lot more relaxed because I know what to expect.
Being able to come back to Oklahoma is a special time for me because I have family here that I don't always get to see. My dad was born in a small town called Enid, Okla., right outside of Oklahoma City. I love that they will get another chance to see me play and experience of the World Series as well. I also am excited to be reunited with a lot of old teammates and friends on the other teams. These are memories that will always be cherished.
Another reason I love this time of the year is you get to play the best of the best. You get to see how you match up against great players and teams. To be the best, you have to beat the best and I feel like we are ready to take on that challenge.
I have the utmost confidence in my team and our ability to perform when necessary. This is what we have worked for all season long. Many of the girls on the team have experienced winning a national championship, but I have not yet had that opportunity. It would be awesome for our seniors to be able to leave with another ring.
I am so excited to get back on the field! I would not want to go to war with any other group of girls. Our motto this year is "Two more days," and that is what we plan to do. Tune in Thursday at 7 p.m. ET on ESPN2 as we take on the Texas Longhorns. Go Sun Devils!
May, 20, 2013
5/20/13
12:43
PM ET
By
Amber Freeman
| ESPN.com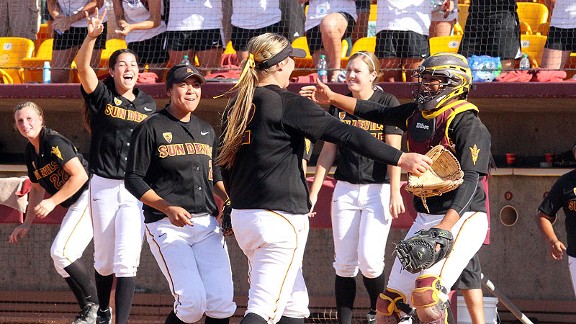 Courtesy of Amber FreemanDallas Escobedo finished 3-0 on the weekend with a pair of complete games to help propel Arizona State to the super regionals this weekend.
It's finally coming together and we are almost there. This was such an incredible weekend for Sun Devils softball. Dallas Escobedo was absolutely lights out in the circle. Her confidence within herself and within the team is what is going to take us all the way to Oklahoma City. Catching her this weekend, I saw a focus and mental toughness that has not been there all season.
While we are not swinging the bats as well as we can, she is putting us on her back. Dallas and I have found a certain connection and I think we are a dynamic battery. She is so much fun to catch and I enjoy every moment of it. She makes every pitch exciting.
[+] Enlarge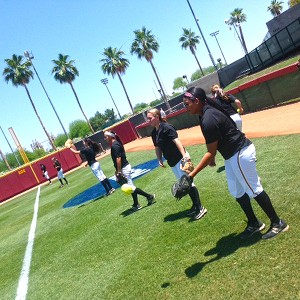 Courtesy of Amber Freeman Arizona State has been focused on playing "two more days" after coming up short in the semifinals a season ago.
This weekend was such a blast. Postseason brings out emotions in me that I never knew I had. I cannot wait to play in the NCAA super regional against Kentucky. For our team, there is no day off this week. We are extremely happy with the way we played this weekend, but we have to go back to work. Monday, we get back on the field -- working on our swings, fielding groundballs and catching fly balls. We will also start watching film on Kentucky's pitchers and get familiar with their tendencies.
Our team will not be satisfied with anything less than a national championship. We just need two more wins to take us back to the big stage in OKC. I can't wait to play next weekend, but I know we still have work to do. This is a hungry team that will do whatever it takes to get back there. Our motto this entire year has been "two more days" because as you all know we lost in the semifinals last year. We're still going to take one game at a time and not look too far ahead.
See you all next weekend. Go Devils!
May, 19, 2013
5/19/13
1:04
PM ET
By
Amber Freeman
| ESPN.com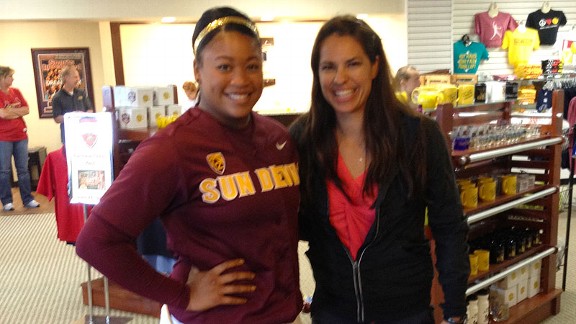 ASU AthleticsAmber Freeman grew up watching Jessica Mendoza play softball, and now Mendoza is watching her.
I hope everyone is enjoying all the softball on TV as much as I am.! The postseason is the most exciting part of the year. This is what each team works for day in and day out, which is to be able to get back to the big stage in Oklahoma City.
We are off to a good start in our regional. We won the first game against San Jose State 5-2 and also a close 2-0 game against Georgia on Saturday afternoon. We aren't swinging the bats as well as we want to, but Dallas [Escobedo] is definitely picking up the slack for us in the circle. She has only given up one hit in the regional thus far and does not look like she will be letting up any time soon.
The three key things to winning in the postseason are: clutch hitting, great pitching and good defense. I believe my team has a very strong mentality when playing in the postseason. Many of my teammates would agree with me when I say the postseason is when the Sun Devils really come alive and play our best softball.
Going into each game we try to be as prepared as we can. We watch as much film as we can to see some of the opposing team's tendencies, especially their pitchers. We just try to take one game at time, while staying as mentally tough as we can. Great teams find ways to win.
We remember what it felt like to lose to Oklahoma in the semifinals in OKC last year. After the game, I told myself I would remember that feeling and make sure it never happened again. I also promised I would do whatever I could to get my team back to the Women's College World Series the following year.
On a side note, it has been awesome having Jessica Mendoza back in Tempe! She is someone I grew up watching when I was just learning how to play softball. I admire the calm but strong presence she had in the box. She is definitely a hitter I have looked up to as well as a student-athlete and now a commentator.
One day, I hope to have the opportunity to sit down with her to talk hitting and also maybe ask her how her career path has led her to commentating on ESPN. Maybe one day I can find myself calling some great softball when my playing days are over.
Until next time. Go Devils!
May, 15, 2013
5/15/13
6:59
PM ET
By
Amber Freeman
| ESPN.com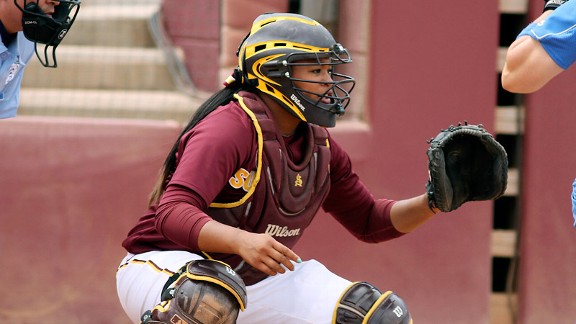 Courtesy of ASU AthleticsUpon hearing the news that she was named Pac-12 softball player of the year, Amber Freeman made her first phone call to her parents.
I got some great and unexpected news Wednesday. Corinne, our sports information director, texted me that morning and said she had a big surprise for me.
I was extremely eager to find out what this big surprise was and went into the team room to find out. She showed me a picture of me with the words in bold, "2013 Pac-12 Softball Player of the Year Amber Freeman."
Nothing could stop the big smile that spread over my face. This was extremely unexpected, especially only being a sophomore and also just by being in such a tough conference. So many great players are in the Pac-12, so I feel extremely blessed and humbled by receiving this award.
I immediately called my mom and dad back in California to share this awesome news. They were overjoyed and expressed how proud of me they were. That is the best feeling any athlete can receive, knowing they have made their parents proud.
It is also an awesome feeling knowing all your hard work has finally paid off. All the times I stayed after practice to get extra reps and swings now seem worth it.
I am not done. I will continue to be the hardworking, driven and motivated athlete that I am. I am going to enjoy this today, but on Friday the postseason starts.
As coach Scott Woodard said, "Nothing else matters at this point. It doesn't matter if you had a great season or a bad season. Postseason is when everything starts over. Everyone has a clean slate."
Nothing is more important than our next game Friday against San Jose State. Until next time, everyone! Go Devils!
May, 13, 2013
5/13/13
4:23
PM ET
By
Amber Freeman
| ESPN.com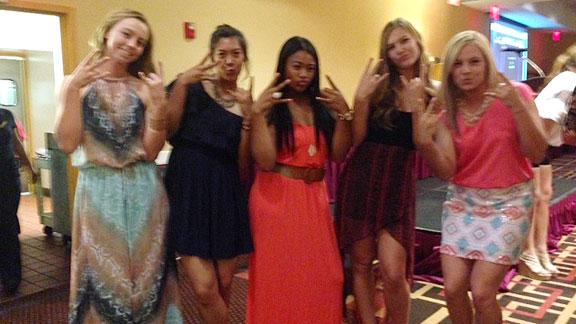 Courtesy of Amber FreemanAmber Freeman, middle, and the Arizona State softball team celebrated a 45-10 season at the Sun Devils' end of the year banquet. After earning a No. 5 seed, they'll host regionals.
And the road to Oklahoma City begins. It is now my favorite time of the year. This is what we have worked so hard for each and every year. I can honestly say I have butterflies just thinking about it.
We have just finished our end of the season banquet and are now watching the Selection Show as I write. Arizona State has just been named the fifth seed overall, and we will be hosting both regionals and super regionals as well. I wish you could feel the energy in this room.
The postseason is where the Sun Devils really shine and come to life. This is where we play our best softball. This is the part of the season we live for. The road to Oklahoma City is underway. I can't wait until our first game of regionals. We aren't looking too far ahead. One game at a time, one pitch at a time.
Stay tuned Sun Devil fans! Hope to see you in Oklahoma City!
May, 9, 2013
5/09/13
12:23
PM ET
By
Amber Freeman
| ESPN.com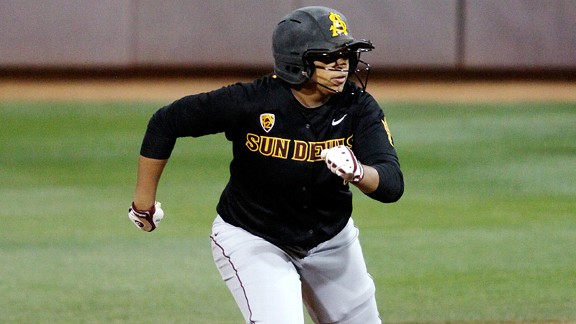 ASU AthleticsAmber Freeman injured her hip at age 11 and has used a doctor's words that she would never play softball again as daily motivation.
The past few weeks have been extremely busy with the last week of classes and finishing finals. I wanted to take some time to share a little about me and show you my journey through my softball career has not been an easy one.
When I was 11, playing a tournament in Fresno, Calif., I remember stepping on first base wrong and complaining to my dad that my leg was bothering me. We went to countless doctors and no one could figure out what was wrong with me. Finally, after getting a sixth opinion, one figured it out. The top of my femur had slipped out of my hip socket. I had been playing that way for about a year.
Apparently it was common in children, but the doctor made it clear I would never be able to play the game I loved again. I had surgery and to this day I have a 3-inch titanium screw in my left hip. The doctor's words have stuck with me, but I have used that as motivation each and every day to get back on the field.
That's not all. During my sophomore year in high school, a few days before our first game, I tore my ACL and meniscus. It was a freak accident. All I was doing was running the bases when I felt a huge pop in my left knee. The road to recover after this injury was the longest of all. I rehabbed for about nine months before I was able to start playing again. It took me a while to be completely comfortable and to fully trust my knee. But again, I got through it.
Now let me take you to this past fall. There was no specific play or incident that I can remember, but I tore my meniscus in my left knee again. This surgery was not as bad as the previous two. I was out for about two to three months and missed quite a bit of fall ball.
As you can see, I have had a few bumps in the road throughout my softball career. I have never let them stop me, and I truly believe they have made me the softball player I am today.
I would not have been able to get through all of this without the unconditional support and love from my family. Each day I feel blessed to be able to play the sport I love because I will never forget when the doctor told me I would never play again.
I just wanted to give you all the opportunity to learn a little bit about me. Last weekend did not go as well as we would have hoped down in Tucson, but ASU softball is working as hard as ever to get ready to play the Pac-12 champion Oregon Ducks at home. We are going to use this weekend to get ready for postseason.
Go Devils!
April, 26, 2013
4/26/13
9:36
AM ET
By
Amber Freeman
| ESPN.com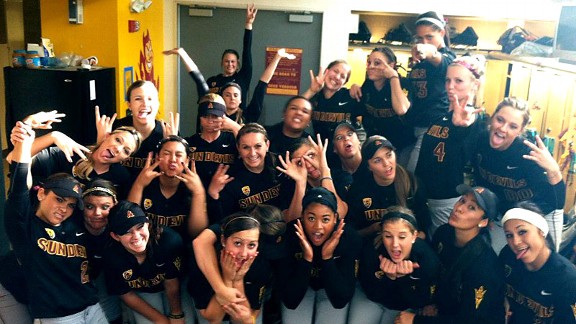 ASU AthleticsArizona State players try to get as crazy and loud as they can before games.
Words cannot describe the feelings I have on game day. I would definitely say I live for the weekend. There is something different in the air when I walk into the locker room and see all of my teammates. There are feelings of excitement, anxiousness and a little bit of butterflies in my stomach.
Not only is performance a vital part of game day, but for Arizona State softball there is something equally as important: game hair. I kid you not, our team prides itself on having the best hair and makeup on game days.
In the locker room, you will see girls lined in front of the mirrors with curling irons, straighteners, crimpers -- you name it. Not only does your hair have to be perfect, you have to get the "OK" by pitcher Dallas Escobedo. If she does not feel like it's up to standard, she will fix it for you.
Also on game days, we have a routine dance party before going onto the field. This is our way of getting pumped up for games. We try to get as crazy and loud as we can before going into the dugout. We win because we have fun while doing it.
That's it for this week. We have a big Pac-12 series against Cal this weekend. Until next time, Go Devils!