espnW:

Anastasia Pavlyuchenkova
June, 4, 2013
6/04/13
4:33
PM ET
By
Anastasia Pavlyuchenkova
| ESPN.com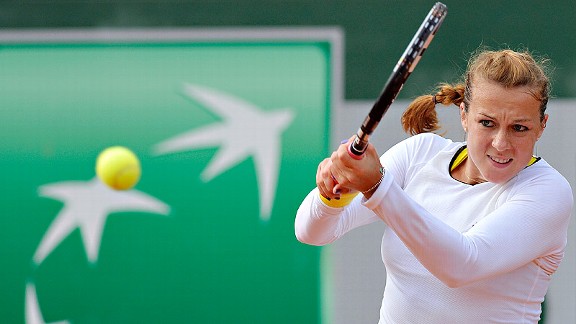 Miguel Medina/Getty ImagesAnastasia Pavlyuchenkova and her doubles partner, Lucie Safarova, have advanced to the quarterfinals of the French Open -- only the second time they've made it this far in a Grand Slam.
On to the quarterfinals! My doubles partner, Lucie Safarova, and I advanced today in our French Open match against Bethanie Mattek-Sands and Sania Mirza. Unfortunately, we didn't get to complete it because Bethanie pulled a muscle and had to stop after we won the first set 7-6 (7-0) and they were leading the second 5-3.
We knew Bethanie and Sania would be tough opponents, and we'd have to play very well against them. We actually didn't have a great start today. I think that after six weeks of nonstop playing, the two days off before this match made me relax a little bit and I just couldn't get into the rhythm. But Lucie pushed and encouraged me, and I got back on track. Though Bethanie and Sania were strong in the second set, we have beaten them before, at the Madrid Open just a month ago.
[+] Enlarge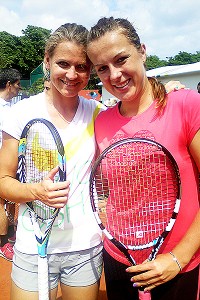 WTAAnastasia Pavlyuchenkova, right, with Lucie Safarova at the BNP Paribas tennis clinic.
So far Lucie and I have had three good doubles matches after disappointing early-round losses for both of us in singles.
We were also lucky to have the first match of the day twice, so we had some downtime after each to relax a bit. I say lucky, though to be honest I hate playing early. I'm just not a morning person. But the positive side is that my mom and I did have a chance to walk around Paris, have some coffee and tea, and chat. We shopped in some very nice stores and went to the adidas store. Not a bad way to spend an afternoon!
I also have a Wii here, and I've been playing it at my hotel with friends. Normally, I'm not very into video games, but the Wii is pretty fun. I've been playing "Just Dance," which is actually probably better to do alone because I'm so embarrassed by my dancing! I love karaoke, too, and we've been doing karaoke "doubles" to see who makes the best duets among my friends. No Doubt's "Don't Speak" is my go-to song, though I also like Pink and Rihanna.
On Saturday, Lucie and I helped out at a tennis clinic for guests of BNP Paribas, the main sponsor of the French Open. It was a lot of fun and actually quite hard work! The group ranged in age from a young boy to an older gentleman, and there was a younger girl in particular who really made me work up a sweat on the court. Since we had a couple of days off between matches, we were happy to take part -- it's always important to give back to the sponsors because without them there would be no tournaments and no prize money!
We're always having fun in whatever we do -- Lucie and I have such a good relationship both on and off the court and we're good friends. Sometimes I get down on myself if I lose a point, but Lucie always cheers me up. She's very supportive. We are both very aggressive players, so we try to dictate the game and push our opponents. She's lefty and I'm righty, and I think it's quite confusing for our opponents!
We've felt all along that we've played well, but this year it has been really clicking and we've had some great results. On Wednesday, we'll play the third-ranked doubles team of Nadia Petrova and Katarina Srebotnik, so it will be another very difficult match. When I first saw that matchup, I thought, What is this draw? We keep having tough opponents, but it's not a bad thing. My dad always said: To be the best, you have to beat the best. So tomorrow, we'll try to do exactly that.
May, 29, 2013
5/29/13
4:55
PM ET
By
Anastasia Pavlyuchenkova
| ESPN.com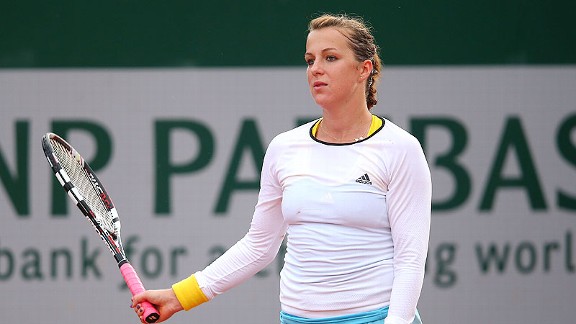 Julian Finney/Getty ImagesAnastasia Pavlyuchenkova's loss in the second round of the French Open caught her by surprise.
I'm really discouraged right now; it's tough to say something positive at the moment. I didn't expect to lose in the second round of the French Open, because I felt pretty good today. My warm-ups went well, and I was able to work on some of the mistakes I made in my first match on Sunday. I did manage to start this match off better, but I think the cloudy weather conditions are a little tough to work with, and the two-and-a-half-day break between matches isn't ideal. But it is how it is. I did what I could, and had a lot of chances, but didn't use them.
[+] Enlarge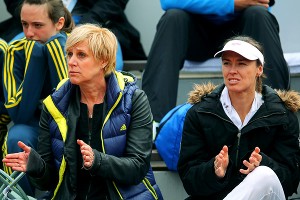 Julian Finney/Getty ImagesAnastasia Pavlyuchenkova's mom, Marina, and coach, Martina Hingis, at Anastasia's match against Petra Cetkovska.
My opponent, Petra Cetkovska, stayed very calm, and was consistent throughout the whole match. She didn't show much emotion, and I think it really helped her. I let her calmness bother me, as I was fighting for every point and showing a lot of emotion.
But I have to leave this in the past, forget about it, move on and work harder. When I was a junior, I used to think about a match that I lost for a couple of days or even weeks, and keep replaying it in my head. I would get so down and lose confidence for the next tournament and lose the motivation to work hard. Right now, though, I have great people around me: My mom is very positive, and my coach, Martina Hingis, is too. They believe in me, so they push me forward.
I hate losing but I'm sure my doubles match on Thursday with my partner, Lucie Safarova, will go much better. I was watching Lucie's match today and I felt really bad for her -- she lost a very close match against American Jamie Hampton, and she, like me, had a lot of chances to come back. So I think we will both be very motivated for doubles. We both enjoy playing together, and hopefully our losses will push us even more!
May, 28, 2013
5/28/13
3:50
PM ET
By
Anastasia Pavlyuchenkova
| ESPN.com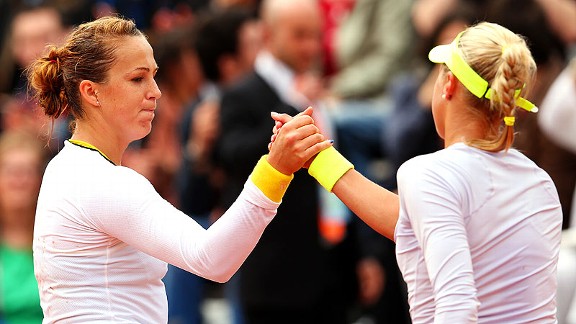 Julian Finney/Getty ImagesAnastasia Pavlyuchenkova won her first-round match against Andrea Hlavackova on Sunday.
I've had one match so far at the French Open, and to be honest, it was a tough first round on Sunday. My opponent, Andrea Hlavackova, played aggressively from the very first point, and I give her a lot of credit for that. I didn't really expect that. When I dropped the first set, I just said to myself, I've got to stay strong and hang in there, and if she kept playing that way all three sets, I'd just shake her hand and say congrats.
My coach, Martina Hingis, was not very happy with my performance -- in fact, I think she was really angry with me. But in the end, I did manage to win. I definitely could have started the match off better, but a win is a win, so I don't really mind how long the match was or the score. I believed in myself, and was fighting for every point.
[+] Enlarge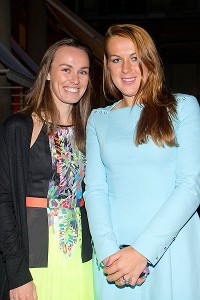 Courtesy of Fred MullaneAnastasia Pavlyuchenkova, right, with coach Martina Hingis at the players' party.
After Sunday's match I had a few days to rest, and it's a lot of fun being here in Paris, a city that I am just in love with. I like the people and think their mentality and humor are quite close to those of Russians. There are so many things you can do here, but I love walking down the Champs-Élysées with my mom and with Martina. I know it's very touristy and Paris has a lot of other good spots, but I love just walking around doing some shopping. I also want to go to the Louvre, since I always try to educate myself a bit as well. I've even been giving interviews in French, though I'm a little shy because I don't want to say something crazy by accident.
We also had a lot of fun at the players' party on Friday night. It was at the U.S. ambassador's residence here in Paris, and it was so amazing. I got to meet the ambassador, Charles Rivkin, and it was an opportunity to wear a very nice dress! I got mine here in Paris, delivered a few days before the party. It's great for all of the players to get away from tennis, chat with each other and do something a little different. The residence actually reminded me of the Louvre inside because it's like a castle. It was huge, with enormous gardens. It was absolutely beautiful.
Martina went to the players' party as well. We are working hard on court and having fun off court, so we are becoming friends now. She's been coaching me since early this year, and not only is she a good coach, but she's also someone I trust and have a good relationship with. I think she understands me better than a man would; I think men think differently on the court than women. And she understands how I feel during and after the match because she has so much experience playing. She still plays, and in fact, hits perfectly still!
I always look ahead in the draw, so I've known that I'll be playing Petra Cetkovska on Wednesday. I try to take it match by match, but you can't help but look ahead. I don't expect an easy match ever, because this is a Grand Slam and everyone deserves to be here and is working hard. I'm doing my best to prepare for that one and play better, right from the start. Wish me luck!