May, 24, 2012
5/24/12
5:57
PM ET
By
Ashley Hansen
| ESPN.com
Is it really over? I keep asking myself that question over and over again. The game that has been my life for 17 years came to an end last Sunday in Lafayette, La. Even though we fell short of a trip to the WCWS and my ultimate goal of a national championship, I wouldn't change anything.
Softball has taught me so much more than just wins and losses. The game has blessed me with some of the most incredible and most influential people in my life. Teammates, coaches, families and fans from the past 17 years have evolved into lifetime friends. Softball, in a unique way, introduced me to my boyfriend of three and a half years. It has even strengthened the already strong bond that I have with my family.
My sisters are the reason I fell in love with softball in the first place. I am the youngest of four girls, and I wanted to be just like them in every way, especially with softball.
My parents did so much to help turn my dream of playing college softball into a reality. In high school, my Dad would drive through the night (with Mom as No. 1 copilot and me asleep in the back) to one of my many California tournaments. Sometimes we wouldn't leave until 2 o'clock Saturday morning so that I could go to a football game or a dance. Looking back now, I cannot be more grateful. I am so blessed to have these amazing people in my life. Mom, Dad, Tammi, Tara and Megan: Thank you guys for everything.
It was heart-wrenching when I found out that softball would be taken out of the Olympics indefinitely. Ever since I could remember, playing in the Olympics was my dream. I always knew that softball wouldn't be a career for me; that's one of many reasons why I decided to attend Stanford and get the best of both worlds, academically and athletically. But when the Olympics were taken away, I knew that my playing days would end sooner than originally planned.
I have realized that this game has provided me with all the intangible skills I need to achieve anything in life: the confidence that every woman should have, the strength to deal not only with success but with failure, the attitude to never be satisfied and always strive for more, and the leadership to step up to the plate in a tight situation and deliver. The lessons I learned from this game have prepared me for my next journey I'm about to embark on: the real world. Does it sound a little scary? Sure, but I know I'm prepared for anything.
One last note: This is not the end of softball for me. Although I will no longer be competing, I plan on joining the fight to get our game back where it should be: the Olympics. I also plan to continue participating in camps, lessons, and I might even poke my head in on the Stanford team every once in a while (you're not going to get rid of me that easily, Coach Rittman). I'll always be an avid follower, and I even look forward to some of these super regional matchups this week. I'll be watching, following and cheering on many of the friends I have made over the years. Good luck to you all and thank you to those who have followed along with this blog. I truly enjoyed it.
May, 18, 2012
5/18/12
5:15
PM ET
By
Ashley Hansen
| ESPN.com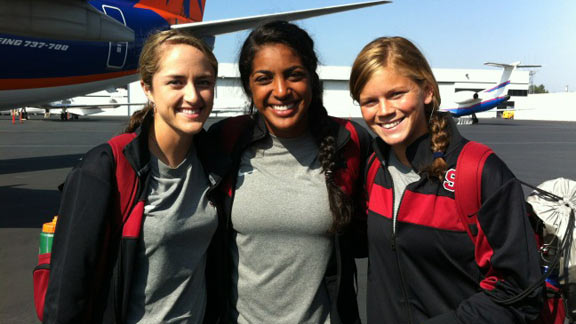 Stanford Media RelationsAshley Hansen, right, and teammates Jenna Becerra, left, and Maya Burns face Baylor on Friday.
After only a travel day between now and my last blog, I would usually not have anything to talk about. The blog would explain how we got to the airport and got through security, and it would probably be the most boring blog ever posted on the Internet. But, lucky for you, we didn't have an ordinary day of travel Wednesday.
We left campus around 8:45 a.m. in the morning and arrived at a special area of San Jose International Airport where a chartered plane stood in front of us. This was our first time on a chartered flight and, needless to say, we were enjoying the high-class lifestyle. We shared the plane with Oregon State, yet still had plenty of space to spread out, lie across entire rows (or, for some girls on my team, spread out their homework across multiple seats) and enjoy our long flight across the country. Seniors even got upgraded to first-class seats after we dropped Oregon State off in Oklahoma City.
Lafayette, La., is everything I imagined it would be, just not as humid as I expected, thank goodness. Southern hospitality has definitely lived up to its name; after practice, one of the workers who has been at ULL for over 30 years escorted us to an area with tables full of homemade cookies, fresh fruit and Mardi Gras beads! We've been down here for just a short time and I've already casually used "Y'all" in a conversation. The hotel also sits along a river that advertises bayou cruises ... how much more Louisianan can it get, right? The country girl inside me is definitely coming out.
I'm having a great time down here, but I can't wait for the games to start. The anticipation of this week will finally end Friday afternoon. We practiced at ULL's facilities Wednesday and, to put it as simply as possible, our team is ready. We have the talent, the drive and the will to win -- now we just need to make it happen on the field. Talk to you after the weekend!
May, 16, 2012
5/16/12
12:22
PM ET
By
Ashley Hansen
| ESPN.com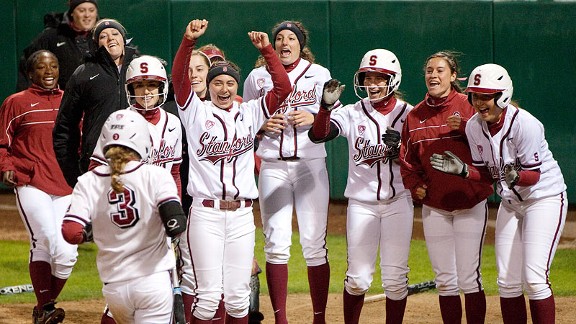 Stanford Ashley Hansen and her Stanford teammates hope there will be more moments to celebrate when they begin regional play Friday in Lafayette, La.
Lafayette, Louisiana, I hope you are ready for us because Stanford softball is heading to the ole Bayou! We found out Sunday night during the selection show that we will be heading to the Lafayette Regional with Baylor, Mississippi Valley State and Louisiana-Lafayette.
The selection show is possibly my favorite moment of the year, and this year was no exception. I always get extremely anxious before the selection show, to the point where I get fidgety. Let's just say with our regional being announced in the latter half of the hour-long program, there was a lot of fidgeting going on Sunday night.
I always love speculating with my teammates about where we might end up. Some guessed Missouri, Texas, Georgia, and we even had someone predict it correctly with Lafayette. But regardless of where we were placed, one thing is for certain: We all know that it doesn't matter where or whom we are playing, we are prepared to take on whatever obstacle lies in front of us.
This is the moment we have been working for all season long. With only 64 teams left, it is anybody's game on any given day. Every team has the same goal: a chance to play for a national championship on the biggest stage that softball has to offer, the Women's College World Series. My team and I know that we have put in the work, and now it's time to prove to the country, one game at a time, that we belong in OKC.
We head out Wednesday morning on a chartered flight to Louisiana. We practice at ULL's facilities on Thursday morning, and then our first regional game is under the lights on Friday. As much as I would have loved to host a regional, I am looking forward to heading back to Louisiana. I've spent some time down there while my boyfriend played baseball at the University of New Orleans. I can't wait to play in front of the notoriously loud Southern crowds. There's nothing better than playing in front of a packed stadium, even when they are cheering against you. In the spirit of Louisiana, Geaux Card!
May, 9, 2012
5/09/12
7:36
PM ET
By
Ashley Hansen
| ESPN.com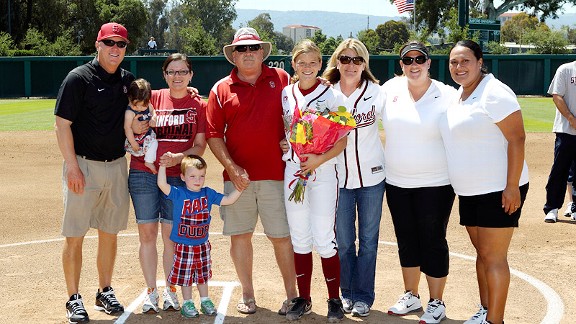 Stanford Athletics
I could not have asked for a better way to celebrate my birthday and senior weekend than a big sweep against Washington. Any time you sweep a series in the Pac-12 Conference, it's a big deal and something to be proud of. This weekend was our second sweep of the year, and it felt just as good as the first. Teagan (Gerhart) and Nyree (White) shut out the Huskies, not allowing a single run the entire weekend.
Every game is important leading up to postseason, especially for us. I want to host a regional. With the sweep against Washington, our team inched its way closer to achieving that goal, which would give me one more opportunity to play on our home field.
Senior Day on Sunday was an emotional day. After warm-ups and before the game started, my family joined me on the field to celebrate four incredible years at Stanford. I was doing everything I could to hold my momma together and still stay focused on the game ahead. It was such a special moment walking onto the field with the people that got me where I am today.
After the game, the entire team and our families and friends gathered in the Grove behind the field to enjoy a delicious BBQ. At the BBQ, the juniors continued a Stanford softball tradition by giving a speech about each senior. It was a special day full of laughter, emotions, good friends and good memories.
Now, however, my attention is on the next series. We take off Wednesday morning for Salt Lake City. Since Utah was just added to our conference this past year, it will be my first and only trip there. From here on out, it's important to treat every game like it's a playoff game. The selection show is Sunday, but I don't have time to think about that right now. It's time to catch some sleep and dream of some more W's!
May, 4, 2012
5/04/12
11:27
AM ET
By
Ashley Hansen
| ESPN.com
Happy May everyone, the best month of the year! So many good things happen in May: beautiful spring weather, the beginning of postseason, my birthday. What more could I ask for?
As many other teams are wrapping up finals, Stanford is in the middle of midterm season. Yes, you heard that right, midterms. Being on the quarter system has its advantages, but right now, it's really tough to focus on studying for my computer science midterm tomorrow night when I have this weekend on my mind.
Can it really be my senior weekend already? I feel like it was just yesterday that Jenna, Maya, Sarah and I were playing in our first game at Smith Family Stadium, and Sunday could possibly be our last. Recently, I've reflected on all the many memories I've had on our field, the good and the bad, and the only thing that comes to mind is how lucky and blessed I am to call that field my home for the past four years. The thing I'll miss most is looking over to my left during a grueling practice and watching the sun set over Hoover Tower. Stanford's beauty is beyond explanation. But memories are still to be made at Smith Family Stadium, starting with this weekend.
Playing Washington is always a fun series, and I'm excited that my parents, my sister Tara and her two kids will be attending this weekend's festivities. In addition to the craziness of senior weekend, I'll also be celebrating my 22nd birthday on Saturday. Having a birthday on Cinco de Mayo is awesome - everyone is celebrating, even if it's not for me! I also love hearing Coach sing me his favorite Cinco de Mayo song, called "Pico de Gallo,'' although he could use some help with his vocals. After the game on Saturday, we are throwing our assistant coach, Coach A, a baby shower. I'm not sure if it's supposed to be a surprise, so I hope this blog isn't a spoiler!
Sunday is officially Senior Day. My family will get to join me and my fellow seniors, Jenna Becerra and Maya Burns, on the field before the game. We'll be missing one of our other seniors and one of my best friends on the field with us, Sarah Hassman. Due to a season-ending injury that took place earlier in the season, Hass will not be taking part in this year's Senior Day. She will be back stronger than ever next year, and I can't wait to come back and watch her represent the class of 2012. But it still doesn't feel right that she won't be joining us on the field before the game Sunday. The four of us have gone through so much together, and I feel lucky to call these girls some of the best friends in my life.
Although there are so many things going on this weekend, I can assure you that I'm focused on taking care of business on the diamond. After the off weekend, our team bounced back against Santa Clara and put 12 runs on the board. I'm looking forward to carrying that momentum into the weekend against Washington.
Well, time to uphold my title of STUDENT-athlete right now and study for my computer science midterm. Congrats to all my fellow seniors at other schools who have already graduated. Only 45 days left for me!
April, 27, 2012
4/27/12
3:14
PM ET
By
Ashley Hansen
| ESPN.com
[+] Enlarge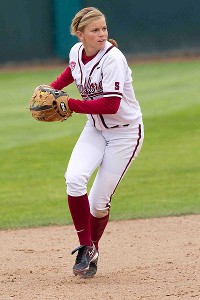 Stanford AthleticsFor Ashley Hansen, there's no better way to enjoy the beautiful weather than an outdoor concert, country, of course.
Well, the outcome this past weekend in Arizona wasn't exactly what I was looking for, but I was surrounded by so much love and support from my family and friends. I cannot believe another series is in the books and I only have two more Pac-12 series in my career. I feel old saying this, but time flies.
After we got back from Arizona, we began preparing for a midweek game against UC Davis. Unfortunately, the Bay Area weather didn't cooperate with us on Wednesday, and after playing four innings, we had to call the game. Before the game, however, my teammates Maya Burns, Sarah Hassman and I had a special opportunity to visit an 8-year-old softball player at Lucille Packard Children's Hospital. This little girl had major heart surgery after suffering from heart failure from myocarditis. Fifteen minutes before we got to the hospital, she had just finished walking for the first time in her 28 days in the cardiovascular ICU. Even after her exhausting exercise, she stayed up and talked with us about her favorite position and what she loves about softball. She is one of the biggest fighters I know and a major inspiration to our whole team.
We didn't get on a plane or prepare for a series on Thursday. This weekend is our "off" weekend, something new to the Pac-12 schedule this year with the addition of Utah to our conference. It should be a great opportunity for many of us to refresh our mind and body and catch up on schoolwork. It also gives us time to put in some extra time on the field to work on the little things that make a championship team. I've planned my weekend to take complete advantage of the beautiful Bay Area weather that's forecast. Here's what a weekend in the life of Ashley Hansen looks like without mandatory softball:
Friday: After practice, I'll be heading out to see Miranda Lambert, Chris Young and Jerrod Niemann in concert. For those who don't know, I'm a big-time country girl, and you'll definitely be seeing me in my plaid shirt and blue jeans. The concert is at one of my favorite outdoor venues, and it will be a perfect way to relish this beautiful spring weather.
Saturday: Not much is set in stone yet for this day. I'm guessing I'll be sleeping in until about noon, which is a rare occasion for me. After I get up, I'll head to the cages for some BP and then perhaps take off for San Francisco with my boyfriend for the rest of the day to hang out at Fort Mason, a former U.S. Army post.
Sunday: With such beautiful weather, there are so many options for this day. Chances are, I'll take advantage of being able to sleep in again. Whenever I wake up will probably dictate what I do for the rest of the day. One of my favorite things to do up here is go to the Farmer's Market, and there are two in the area on Sundays. Then, depending on the time, it could be a great day to catch some rays in Santa Cruz or Half Moon Bay, or just be lazy around my place and catch up on some homework.
That pretty much sums up my weekend plans. Stay tuned for my next blog and feel free to let me know what you want me to blog about via twitter @Ashley_Hansen35.
April, 21, 2012
4/21/12
1:52
PM ET
By
Ashley Hansen
| ESPN.com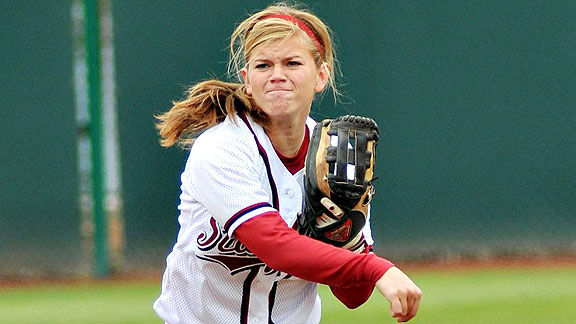 Stanford Athletic Communications This is more than just a rival series for Stanford's Ashley Hansen; it's a homecoming.
For many girls on my team, playing at Arizona State in Tempe might be just another conference series, but for me, it is so much more than that. I am Ashley Hansen, a born and raised Arizona girl, and this is my last time I'll be playing softball in my hometown.
As a senior this year, I try not to get caught up in talking about my "lasts" -- my last first game, my last conditioning test, my last conference opener. But, I'm not going to lie, this weekend means a lot to me. This is the last time that I will play in front of many of my biggest fans -- my family and friends -- the people that have supported me since day one. I plan on going out there and playing like I always do, as if it were my last time stepping on the field.
This also is a big weekend for Stanford softball. We're taking on the reigning national champions in a three-game series on their home turf. How awesome is the Pac-12 Conference? What better way to prepare for the postseason than to play Top 25 caliber teams every weekend. I live for this type of competition. This competition (not to mention the amazing academics and gorgeous campus) is the reason I decided to play for Stanford.
With only three more series remaining in our regular season, it is almost that time of year again for postseason softball. We look at each day as another chance to get better as a team and to improve our game. Like every team in the country, we have one goal in mind: get to Oklahoma City and win a national championship. Our team has been through its peaks and valleys this season, but for today, we only have one thing on our minds, tonight's game against Arizona State.
I plan on updating this blog at least twice a week (hopefully more if my workload allows) throughout the remainder of the season. I'll include pictures and video blogs, and I hope you'll continue reading!