December, 9, 2013
12/09/13
3:15
PM ET
By
Ashley Neff
| ESPN.com
Courtesy of FSU AthleticsPlaying on Floridas home court, FSU won a hard-fought five-set match to advance to the Sweet 16.
After a hard-fought weekend in Gainesville, Fla., I am very proud to say we are heading to Champaign, Ill., for the Sweet 16!
We faced Georgia Southern in the first round of the tournament Thursday night. After sweeping the Eagles, we had fifth-seeded Florida next. There was a lot of excitement going into this match because it is a huge rivalry, and there is a little history between the two teams in the second round of the tournament.
We started off the match with a lot of excitement and energy. Even though we were swept in our match against the Gators earlier this season, we knew each set was close and could've gone in our favor. Our team has made tremendous improvements throughout the season, so we knew we were prepared for this match.
With the O'Connell Center full of Florida fans, we could still hear our parents, friends and fans in the FSU section cheering for us the whole time. In addition to our fans, the FSU cheerleaders made their way to Gainesville as well! We have loved the support from our cheerleaders all season and deeply appreciated them making the trip to support us.
While we got our NCAA tournament butterflies out in our first-round match, a different type of adrenaline filled our bodies. Every single person on our team wanted to win, and it took all 12 of us to ban together and pull out the upset over the Gators.
We took the first set 25-15 and then dropped the second and third sets by close margins. Going into the fourth set we found our energy from the beginning of the match. Knowing we were capable of winning, we got out in front and won the fourth set 25-22. Going into the fifth set we had all the momentum going our way, we all believed we could win and we were not ready for our season to come to an end.
We won the fifth set 15-9, taking the match in five sets and advancing to the Sweet 16! Not only was this a huge upset with Florida being seeded fifth, it was also the first time FSU has defeated Florida in Gainesville since 1990! We stormed the court, experienced tears of joy and celebrated this amazing feat.
Next we are heading to the Champaign regional in Illinois to face 12th-seeded Wisconsin. We are ready for any challenge, and fighting the cold weather will definitely be one. It has been shorts weather in Tallahassee the last few days, touching 70s and 80s, and looking at the Illinois forecast it looks as if we will need to prepare for 30 degrees and below.
Making the trip up north early Wednesday morning will give us two opportunities to practice and time to relax and clear our minds from finals week.
Also, come Friday, we will have two seniors, Olivera Medic and myself, who will be college graduates! While it is sad we will be missing the opportunity to walk at graduation, we are blessed to be able to continue our final season as Seminoles with fellow seniors Elise Walch and Aurora Davis and the rest of our amazing teammates.
Congratulations, and good luck to all the teams competing in the Sweet 16 this weekend -- and go Noles!
December, 3, 2013
12/03/13
5:14
PM ET
By
Ashley Neff
| ESPN.com
Courtesy of FSU AthleticsFSU has made it to the postseason for the fifth year in a row and faces Georgia Southern in the first round.
It is that time of the year that everyone works hard for all season -- NCAA tournament time! It is such a joyous time for those 64 teams that have made it into postseason, and we are thankful to have made it to this point.
Coach Poole always says our season is made of three parts: preseason tournaments, conference matches and postseason. Once you make it into the field of 64, it's as if you press the reset button on your record and anything can happen.
This season will be the fifth year in a row we have made it into postseason, which is a program best.
We sat together as a team in the locker room Sunday night to watch the selection show. We learned we would be heading to Gainesville, Fla., for the first and second rounds, which is part of the Champaign, Ill., regional. In the first round we have been paired with Georgia Southern, putting us in the same set-up as my freshman year.
Postseason is a time for teams to take everything they've learned throughout the season and showcase their improvements and lessons learned.
I have seen this team make huge strides, and looking back, we have improved tremendously despite the adversity and ups and downs we have encountered. There is no doubt in my mind we can face whatever challenges are thrown at us and overcome any obstacles we might run into. We have grown as a team and as a unit, and we are ready.
There is a lot of success going around in the Florida State athletic department. Our football team is ranked No. 1 in the nation, our women's soccer team is heading to the College Cup, and our men's and women's basketball teams have started off their seasons strong. Also, our women's cross country team won FSU's first ACC title of the year before taking eighth at nationals.
We take pride in our fellow athletes' successes, so we are ready to jump on the train. Whatever losses we have had up to this point are only lessons to be learned. It is a whole new season, and we are ready to travel the road to Seattle.
It is a great time to be a Florida State Seminole!
November, 29, 2013
11/29/13
12:25
PM ET
By
Ashley Neff
| ESPN.com
FSU AthleticsWhile the end of the regular season is near, the seniors have one last postseason journey to look forward to.
We are in the final weekend of conference play. Last weekend we had strong performances against Wake Forest and Duke. It was exciting to see how strong we performed as a team. I would say it was the most fun we've had all season. Then we had senior day Wednesday against Clemson.
Senior day is always bittersweet. Although it is the end of one group's journey, it is also a celebration of the successes over the past four years. As a senior, I could never imagine my senior day would come so quickly, but while the end of the regular season is near, I know our year is far from over.
My time at Florida State has exceeded my expectations that I had when I committed my junior year in high school. During my freshman season I was supposed to redshirt, but due to a few unexpected injuries I was forced to come out of that planned redshirt. While I was disappointed at the time, I feel like with the experiences I have had, that time was made up.
My sophomore year seems like a dream. We won the ACC Championship and were also able to host the first and second rounds of the NCAA tournament. Next thing we knew, we were celebrating in Minnesota after winning in the Elite Eight! It was the first time in school history that we had a team heading to the national semifinals.
I couldn't believe it, but it felt so good. Our trip to San Antonio was a great experience. Unfortunately, our journey ended when we lost to UCLA, which went on to become national champions. Once we got a taste of the national championship, we wanted another shot.
My junior year was another year of breaking records and another ACC title. With a difficult preseason schedule, and after our six matches of the season, we found ourselves ranked No. 6 in the AVCA Coaches Poll. Unfortunately, that ranking didn't last long when we lost to our ACC and in-state rival Miami. But we moved on and continued to fight for another ACC title.
In October, we beat the University of Florida, another in-state rival, snapping a 21 match-losing streak against the Gators. Our last regular-season match, against Miami, would determine the ACC champion. In front of one of the biggest crowds in Tully Gym, we pulled out the huge win in four sets! Again we were given the opportunity to host the first and second rounds. In the second round we met up with 2011 Sweet 16 opponent Purdue. We took the match to five but lost on our home court for the first time since 2010.
Our motto for my junior season was "Unfinished Business," and I believe we still have unfinished business to attend to. We got a taste of the national championship, and we want to get back there. In our last few matches this year, we have played the best we have all season. We are finally finding our rhythm going into the last match of the regular season and into postseason.
It's crazy how fast this season has seemed to flash before my eyes, but really my whole career has done that. It feels as if my freshman year never happened, and our national semifinal season was more than just two years ago.
I've learned so much in my time of being a part of the Seminole family. It wasn't the easiest transition moving from home in Georgia, but at the end of the day it was the best decision I've ever made.
I've learned a lot about the importance of teamwork and trusting your coaches and teammates. Teamwork is a huge part of many sports, but I think in volleyball, you can't win without it. While a player can "out shine" others with the amount of kills they get, that doesn't matter if the team isn't functioning as one, and it is very hard to be successful.
It is sad to see an end of one chapter in my life, but exciting to start the next. But, until that can happen, we have a long postseason journey ahead, and I can't wait to see what this talented team can really do.
Until next time, Go Noles!
November, 21, 2013
11/21/13
12:09
PM ET
By
Ashley Neff
| ESPN.com
FSU AthleticsFSU traveled a lot early in the season, but the payoff is playing the last five regular-season games at home.
Where has the time gone? It seems like just yesterday we were headed to California for our first matches of the season. Now we are in the home stretch of conference play -- literally the home stretch. Since we spent the majority of our season traveling, we get to finish our regular season at home in Tully Gym.
Our season has had a lot of ups and downs, and there has never been a dull moment. We have had to learn to fight adversity and play as a team with one beating heart.
It is hard to believe our season is winding down and the NCAA tournament is right around the corner. With only four matches left, we are excited to go out with a bang. While it is really hard to travel a lot, it is worth it when we are able to play the last five matches of our season in our gym.
We love playing in our gym. While it isn't the biggest gym, it is a perfect environment to keep us motivated with our crowd behind us. In our past few matches, we have been reminded how much fun it is to play as a team. While individual awards and breaking individual records is fun, nothing is better than coming together as a team and winning. My favorite matches have been those where we have played like a team.
One of my proudest moments was when we beat Miami last week for the second time this season. We kept reminding ourselves to play together as a team. For the first time in my career, we won both matches against Miami. Normally we have split.
Monday was our day off and we got the opportunity to have dinner with Coach Mac's wife. She made us a homemade meal, which we were all in desperate need of. We got to have breakfast for dinner; she made pancakes that melted in our mouths. After we were done eating she revealed the special ingredient for the pancakes -- cottage cheese. We thought they were normal pancakes, but to our surprise, the cottage cheese pancakes were really good and healthy as well.
This weekend we will be playing Wake Forest and Duke for the second time this season. We know the importance of winning out, and we are excited to use our newly found team unity to finish conference play strong and start preparing for the NCAA tournament.
"Teamwork is the ability to work together toward a common vision. The ability to direct individual accomplishment toward organizational objectives. It is the fuel that allows common people to attain uncommon results." – Andrew Carnegie
November, 7, 2013
11/07/13
12:38
PM ET
By
Ashley Neff
| ESPN.com
Ross ObleyFlorida State had 28 blocks in five sets against North Carolina, a team record.
A season doesn't begin on the day of your first match, and it doesn't begin the first day of preseason practice. A new season begins when one season ends. After our NCAA tournament run was over in 2012, we got a break to finish off the fall semester and enjoy time with our families, then it was back to work come January.
While off-season training isn't always the best part of an athlete's career, it is vital to the success of the next season. This is when we have time to improve individual skills and learn new techniques. We also use this time to get stronger and faster with intense strength training and conditioning.
I believe the off-season for this 2013 team was crucial and extremely successful. This past weekend, we got to see that hard work start to pay off. We had players who made tremendous strides, and now it's really starting to come together.
We had two solid performances against ACC teams. We broke a team record for blocks with 28 in a five-set win over North Carolina. For us, this was a huge accomplishment. Not only did we upset the No. 12-ranked team, but our defense was great.
Blocking is my favorite skill in volleyball. While it might not be the most important in the scheme of things, it sure brings a lot of excitement from the crowd and it gives energy to the team.
As a middle there is no better feeling than reading the set correctly, closing to the pin blockers, and together getting a huge stuff block that causes the ball to shoot to the floor. It isn't an easy skill, and there is a lot more technique behind it than it seems. Hand placement and stability of your body are crucial to getting a great block.
We spend at least 30 minutes a day in practice working on blocking and the different situations we might run into when blocking, and it has really started to pay off.
With two wins at home last weekend, and two great team performances, we are now sitting in second place in the conference. Every match is extremely important to us, and we want to continue to get better, both individually and as athletes working together to achieve a common goal.
Until next time, Go Noles!
October, 31, 2013
10/31/13
12:16
PM ET
By
Ashley Neff
| ESPN.com
FSU AthleticsRedshirt freshman Sarah Burrington, a middle blocker, had her first double-double against Duke with 13 kills and 10 blocks.
We are in the heart of our season, with 10 conference matches completed and 10 more to go. It's hard to see the end of my Seminole career coming closer.
Despite the losses we have had, my expectations have not changed. As a team we are still working on reaching our fullest potential. During the past few matches we have had some exceptional performances from our younger players.
All of our underclassmen have done a fantastic job of stepping up in critical moments. Being a middle blocker, I would like to highlight (redshirt freshman) Sarah Burrington's success and growing confidence.
For the 2012 season we brought back both of our middles from the year before: Sareea Freeman and myself. Sarah had already told Coach Poole she was interested in redshirting. After a season of not being able to play in our matches and playing for the USA junior national team, Sarah has worked her way into our starting lineup for 2013.
Sarah's confidence and level of play have increased tremendously since the beginning of the season, and she has become a huge weapon both on offense and blocking. She also has taken on another role that middle blockers on our team have not typically been asked to do.
In the past, our middles have been opposite of the setters, and therefore middles have never had to serve. This season we've switched the lineup, and Sarah has taken on the task of serving and playing defense for one rotation.
In our match against Duke she posted her first double-double with 13 kills and 10 blocks. She has done a phenomenal job, and I can't wait to see the strides she makes the rest of our season and throughout her Seminole career.
After taking a trip to North Carolina to play (then-No. 21) Duke and Wake Forest, where we went 1-1, we are back in Tallahassee for an exciting weekend. We take on No.12 North Carolina on Friday night and N.C. State on Sunday. It will be a very exciting and busy weekend at home with our third-ranked football team playing a rivalry game against No. 7 Miami and "College GameDay" buzzing on campus.
It has been an exciting year to be a Seminole and I can't wait to see how the rest of the season goes for us and the other Florida State teams that have been so successful thus far.
It's a great time to be a Nole!
October, 21, 2013
10/21/13
2:33
PM ET
By
Ashley Neff
| ESPN.com
Maury NeiprisWith the support of the home crowd at Tully Gym, Florida State beat Maryland, Pittsburgh and Miami.
Finally, we were back in our gym, with our fans and our band. Being home this past weekend was exactly what we needed -- a weekend without plane rides and hotels, a week where we could sleep in our own beds and get some much-needed rest. Traveling every weekend for a month can be hard on your body, and we felt the effects.
We started off our home conference play with Maryland on Oct. 11 and ACC newcomer Pittsburgh the following Sunday. We have never been more excited to play at home.
We were back in our comfort zone, and it showed in the way we performed. With the support of our home crowd, we finished the weekend with two sweeps, and it felt so good. But we had a quick turnaround and had to refocus our attention to the next match.
Next on our schedule was in-state rival Miami. Last year our last match against Miami was for the conference title, and this one was just as important. Miami was the only undefeated team left in conference, and we knew how important it was to win. While we were getting ready for the big match, ESPNU cameras were in our locker room, and they sure got some great footage.
The cameras got footage of us doing our hair, putting our shoes on and, of course, dancing. Anyone watching our match across the nation got to witness what we get to see every day -- the Walch sisters' obsession with boy band One Direction. They danced to the song "Best Song Ever," and Nicole even got to show off her Harry Styles cutout, which stays in our locker room.
It was a very fun day, but we still had one goal in mind, and that was beating Miami.
We ran out to the court to a packed Tully Gym. Like always, I got chills when the fight song came on. We were ready to play. It was a very close match with a lot of long rallies, but with our fans behind us we pulled out the 3-1 win! We found ourselves back at the top with no more undefeated teams in the conference.
I believe being at home for three matches was exactly what we needed. It is almost like a reset button, and we got much needed rest and three solid wins.
The rest was crucial because we got back to traveling for a one-day trip to South Bend, Ind., where we faced ACC newcomer Notre Dame. In front of a good crowd in their Block Out Cancer match, we were able to defeat the Irish in three sets.
We will be playing Duke and Wake Forest this weekend. I'm very excited to see what this team can do for the remainder of the season, but we are taking it one match at a time in order to keep our eye on the target.
As many people know, October is Breast Cancer Awareness Month. We have had our Paint It Pink match already but will continue to wear pink socks to show our support for the remainder of the month. Everyone knows someone who has been affected by breast cancer, and that is true for myself as well.
My grandmother, Idella Tyson, was a breast cancer survivor. After fighting breast cancer at a young age, and winning, she passed away the summer before my junior year in high school because of other health problems. She was one of my biggest fans and attended every sporting event she could.
I know if she were with us today she would be very proud of everything my brother and I have accomplished, and I know she is looking down on us with a huge smile on her face. I can feel her with me through every win and loss, cheering me on every step of the way.
October, 9, 2013
10/09/13
12:08
PM ET
By
Ashley Neff
| ESPN.com
Courtesy Phil KellyAfter a loss to Georgia Tech and a come-from-behind win over Clemson last weekend, Florida State was more than ready to return to friendlier confines.
The second week of conference play consisted of a lot of ups and downs. We are still in search of our groove and trying to reach our potential.
Unfortunately, we suffered our first conference loss of the season on Friday night in my home state against Georgia Tech. For whatever reason we couldn't find a way to win, and it ended in disappointment. A positive note for me was that I got to see a lot of friends and family after the match.
Ever since I started playing I have had the best support system. My parents try to get to every match they can, and since I was in my home state, just 30 minutes from my hometown, friends and family made their way to Georgia Tech to watch the match.
I got to see my brother, my best friend, my high school coach, an old teammate and family friends. It is always great to see those who keep me going. I wish the match went the other way for us, but unfortunately, we couldn't pull through.
Right after the match we loaded up the bus and drove to Clemson for our match the next day. We didn't play until later that night so the day was pretty relaxing leading up to the match. We went to serve and pass and then watched our football team win 63-0.
Finally, 6 p.m. came and it was time to get in our zone. Before the match started, we learned that we would have to play without our starting libero. At intermission we found ourselves down 0-2, but we were not going to give up. We've come back before, and we planned to do it again. That is exactly what we did.
Despite playing down in the first two sets, we came back to win the match in five. Playing without our libero, Katie Mosher, who has dominated on defense the past two years, was a test for us. With four people with double-digit digs and the team combining for 84 digs, we overcame adversity and came away with the win.
Even though we have a loss in conference play, it doesn't change our ultimate goal of fighting for the ACC title.
Now, after nine matches, we will finally be returning to the comfort of Tully Gym! It's been a long and exhausting month being away every weekend, so we are ready to have our fans, parents and band behind us on our home court when we play Maryland and Pittsburgh.
"It's not whether you get knocked down; it's whether you get up." – Vince Lombardi
October, 1, 2013
10/01/13
12:16
PM ET
By
Ashley Neff
| ESPN.com
FSU AthleticsAfter a win over Boston College, some history-minded FSU volleyball players visited the site of the Boston Massacre, Paul Reveres house and the USS Constitution.
After traveling across the country for the past month and playing one of the hardest schedules in my career, conference play is finally here! Now it is our time to defend our ACC title.
Defending our title and going for a three-peat is a priority and goal we all have in mind. We know it won't be easy, but we have taken a lot of pride in the tradition of Florida State volleyball over the past few years. Our journey began during preseason, but we headed up North this past weekend to kick off our ACC championship run.
Our first match was against ACC newcomer Syracuse. We started off slow but ended up winning the match in four, dominating sets 2, 3 and 4. Right after the match we got to eat lunch with some awesome Florida State alumni who live in Syracuse. It was great getting to meet them while enjoying our first win on our ACC championship journey.
On Sunday in Boston we woke up and it was absolutely beautiful outside. The skies were clear, the air was chilly but it was close to perfect. I told myself that today was going to be a good day. Our football team played at Boston College and won Saturday afternoon, so we knew we had to take care of business.
After winning a close first set, we made some adjustments and used our momentum to beat Boston College in three (25-23, 25-8 and 25-13). As a team our hitting percentage was .478, and we had 13 blocks.
Being a senior, I was proud of my team's performance. Boston College has strong hitters, and our defense did a great job defending them.
Once the match was over we had a lot of time to kill before our flight back to Tallahassee, so we got to do some exploring. Some of the girls went shopping, and the rest of us explored the Freedom Trail with Coach Mac and Coach Poole. We got to see the site of the Boston Massacre, Paul Revere's house and the USS Constitution. I'm a huge history nerd, along with a few others on the team, so we had a blast walking around and enjoying our country's history and culture.
This weekend we will head to Georgia Tech and Clemson, one of my favorite trips in the conference. In my opinion these are two of the hardest gyms to play in, but we plan to face anything that is thrown at us and to keep our eye on the target: winning a third ACC title.
Until next time, Go Noles!
September, 20, 2013
9/20/13
9:43
AM ET
By
Ashley Neff
| ESPN.com
Perrone T. FordWhile Florida States loss to Florida was disappointing, the players hope to learn from it and get better down the road.
What a month it has been! We have had a roller-coaster ride from the Long Beach tournament to playing Florida this past week. In my past three seasons this has by far been the most difficult schedule we have played, finishing all of our nonconference tournaments 2-1.
This past weekend we headed to College Station, Texas, where we played Texas A&M, Siena and No. 7 Michigan. We started off our long weekend by flying to Texas on Wednesday, and with a long delay and switching planes, we finally made it to our hotel very late at night. Our first match on Thursday was against Siena, and we won 3-0. But there wasn't any time to relax and enjoy the win; we had a quick turnaround to play Texas A&M that night.
Unfortunately, we dropped three sets to the Aggies and lost 3-0. We had Friday to practice and prepare for the highest-ranked opponent we had played all season. At the time, Michigan was ranked No. 7 in the AVCA poll. As a team we sat down and agreed that we needed to play with a better attitude and play to win instead of playing not to lose.
Our goal was to remain positive throughout the match and not get down on ourselves. The first two sets were close (21-25, 23-25) with Michigan taking the W in both. There wasn't a full intermission for this match, so it was a quick turnaround for us to bounce back.
Looking around our huddle, everyone was excited and ready to make a huge comeback. With the Walch sisters putting down 44 kills combined, and with us having a combined 13 blocks as a team, we came back to win the match in five! This was the highest-ranked win in the history for our program based on the AVCA poll.
The comeback win made the long travel back to Tallahassee a little bit better. We had Sunday off and had only one practice on Monday to prepare for our rivalry match vs. No. 4 Florida.
Every year we switch off playing at home and away with the Gators. Last year won 3-0, breaking a 21-match losing streak to Florida, which was definitely one of the highlights of my career.
This year had a more disappointing ending. After losing sets two and three by two points each (24-26, 23-25), we dropped the match 0-3.
Losing is never fun. This week in practice we are working on the little things in crucial points in the game. You can't change the outcome of a match, but you can take it as a learning experience and use that to better yourself and your team. More frustrating than anything is knowing the match could have ended differently if just two plays or points went in your direction. Our loss to Florida was very similar to our other losses this season -- very close and by only a few points.
This weekend we head to Auburn to take on the Tigers, our last chance to get a good out-of-conference win before we head to Syracuse to open ACC play.
"Obstacles don't have to stop you. If you run into a wall, don't turn around and give up. Figure out how to climb it, go through it or work around it." -- Michael Jordan
September, 11, 2013
9/11/13
2:31
PM ET
By
Ashley Neff
| ESPN.com
Courtesy Larry NoveyThe Seminole Sound marching band takes game days to a new level as they play the FSU fight song and the fans do the Seminole chop.
There's no place like home. And for us, Tully Gym is our home.
This past weekend, we played our first home matches of the season and our last home matches until Oct. 11. We take a lot of pride in playing on our home court in front of our Seminole fans, family and amazing band, the Seminole Sound.
There is something about running out to the FSU fight song and our fans doing the Seminole chop. It gives me chills down my spine and lights a fire deep within to want to put my whole heart out on the court. There are moments where maybe we are down a few points and the second the band starts playing and the fans start cheering -- it's the perfect pump-up and motivation to keep fighting on.
The Seminole Sound is a huge factor to the atmosphere that makes game days so great. Even though they were unable to attend for our home tournament, I saw some of the members still attending our matches, which we appreciate so much! Their upbeat music and enthusiastic attitudes bring the whole gym together as one.
[+] Enlarge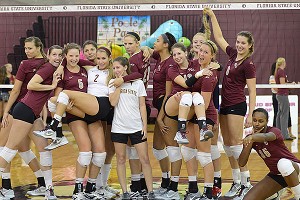 Hayley KingThe FSU volleyball team knows when to have fun and when to get serious. They have a tough road ahead of them before starting ACC play.
After the first half of our warm-up, when we are done with hitting lines, we run down to our locker room to change our jerseys. Once everyone is ready to go, we charge out of the locker room yelling the war chant, then we enter the gym and the fight song starts playing. At that moment, three years later, I still get chills running onto the court.
We pass by the fans and head to our bench while the other team finishes their warm-up. Once we complete our warm-up, we sign volleyballs to throw to the fans. We all line up, join hands and listen to the Seminole Sound perform the national anthem. The other team's starters are called, and now it's our turn.
One by one our starters are called, next my name is called. "Senior middle blocker from Kennesaw, Georgia, number 14 Ashley Neff." I go down the line giving high-fives to my teammates, and this week I threw my ball to my mom. Luckily it actually made it into her hands. I'm not the best thrower in the world, which is good because we don't have to throw in volleyball, just hit, pass and block. One year, I actually misthrew it and it hit our athletic director in the foot, which was really awkward.
We came out of our opening home weekend with two wins and one loss. Our record is now 4-2, and we are ranked 16th in the AVCA polls. These next few weeks are going to be huge for our team! We head to Texas A&M for our last tournament to play A&M, Siena, and No. 7 Michigan. After the weekend, we head to Gainesville on Tuesday for a rival match against the Florida Gators. Then we finally play Auburn in our last weekend before we start ACC play. We are continuing to improve as a team and as individuals to work as one.
I'll leave you something Coach Mac tells us every day ... "One way to play, one day at a time."
Go Noles!
September, 5, 2013
9/05/13
10:56
AM ET
By
Ashley Neff
| ESPN.com
Courtesy FSU AthleticsThe FSU volleyball team took a short trip to Huntington Beach, had lunch, walked the pier -- then beat Long Beach State that night.
Greetings from Tallahassee! My name is Ashley Neff, and I'm a senior middle blocker at Florida State University. They say it all goes by in a blink of an eye, and man were they right.
It seems like just yesterday I was a scared little freshman at my first college practice, trying to act as if I had it all together (I had no clue what I was doing). Now three years later, I'm a senior with two ACC titles and an NCAA national semifinal appearance. Where has the time gone?
Now, after eight long months of training, conditioning and lifting, the season is finally under way. We started our 2013 season in beautiful Long Beach, Calif., where we played Long Beach State, Illinois and Kentucky.
Being able to put on our uniforms and play in a match is one of the best rewards after a long off-season. We graduated four starting seniors from the 2012 team, which left us with a pretty young group.
Illinois was our first of two matches on Friday. First matches are always one of the hardest to prepare for. There isn't much to go off of besides what you can look at from last season and what you can do for yourself on your side of the net.
Finding our groove was a little harder than we thought, and we had a disappointing loss to Illinois in three straight sets. While we got better throughout the match, it just wasn't enough to come back and win.
There was no time to dwell on our mistakes from the Illinois match; we had a pretty quick turnaround to play Kentucky shortly after the loss. Instead of being down and upset, we came together as a team and pulled off a 3-0 win. While there were still pieces of our game that could've been better, the team showed a lot of heart and character by learning from the loss instead of dwelling on it.
Saturday night we played Long Beach State on its home court. But since the match wasn't until later that night, our coach let us have some fun. We took a short trip to Huntington Beach, had lunch at Dukes and walked the pier. The whole team was amazed at the surfers and all the people playing beach volleyball. While the beach was fun, we knew we still had business to attend to.
Knowing how important this match was, we went out with a lot of excitement. We dropped the first set but came back to win the match in five. The Long Beach State match was so much fun to play in because it was a 100 percent team effort. We had freshmen and other underclassmen step up big time for us and play amazing.
Sunday was an early morning as we headed back to Tallahassee with a lot to be proud of and a lot to work on.
This weekend we will be back in the comfort of Tully gym for the first time this season, so we'll take this week to practice hard and improve on our game.
Until next time … Go Noles!