February, 5, 2014
Feb 5
10:35
AM ET
David Sherman/Getty ImagesRuth Riley recently spent nine days in Morocco and Spain, an experience she said benefited her as well as the kids.
Atlanta Dream center Ruth Riley recently spent nine days on a trip to Morocco and Spain as part of a program sponsored by NBA/WNBA Cares and conducted by SportsUnited, an international exchange program of the U.S. Department of State's Bureau of Educational and Cultural Affairs. SportsUnited helps youth around the world learn to translate athletic success to life skills.
Riley, who was joined by former NBA player Adonal Foyle, shares some of her experiences and memories from the trip, and discusses the impact it had on her personally.
Jan. 19: Arrived in Rabat, Morocco, to be greeted by two vans with my photo posted on the side of them. Needless to say, our partner, NGO TIBU, was excited about our visit!
Courtesy Ruth Riley
Jan. 20: Quick photo with my ladies after our first full day of skill development and 3-on-3 games. I was really impressed with the amount of girls that showed up for the clinic.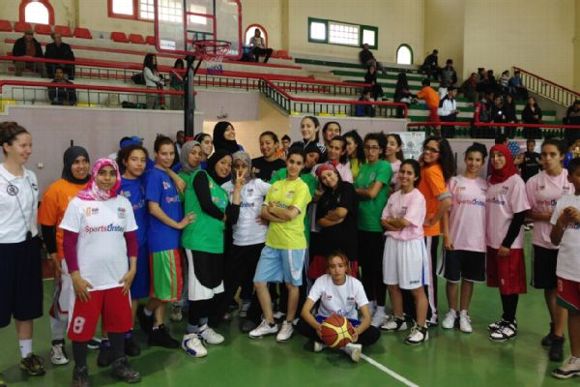 Courtesy Ruth Riley
Jan. 21: Took a quick lunch with my NBA boys, Marty Conlon and Adonal Foyle, at one of the UNESCO World Heritage Sites, the Medina (old town) in Fez.
Courtesy Ruth Riley
Jan. 22: After a long drive up the mountain, through some snow (yes, apparently it does snow in Africa), we made it to Azrou, where we were welcomed by 300 kids, two hoops and a lot of excitement about basketball.
Courtesy Ruth Riley
Jan. 23: This trip was historic for me in more ways than one. After our final day of clinics in Casablanca, we attended a reception at the U.S. Consul General's house and got to sit in the room where Franklin D. Roosevelt and Winston Churchill had their post-World War II discussions.
Courtesy Ruth Riley
Jan. 24: Our final meeting with the TIBU coaches, giving them some last-minute feedback before we headed to the airport. What an amazing and dedicated group of young coaches. The future of Moroccan basketball is in good hands.
Courtesy Ruth Riley
Jan. 25: The first day of programming in Barcelona was unique for me internationally. Adonal and I shared our stories at a juvenile detention center, where mostly immigrant children between the ages of 14-21 were waiting their court dates. We were able to share our experiences and encourage them to really think about the paths they want to take with their lives, and then we moved outside for a mini clinic.
Courtesy Ruth Riley
Jan. 26: This was one of my top sporting experiences ever! I went to my first international football match, FC Barcelona vs. Malaga. The atmosphere was amazing. GOALLLLLLLLLLLLLLLLLLL!!!!!
Courtesy Ruth Riley
Jan. 27: Our final day of programming was a busy one. This is a photo with two groups of kids that we worked with that evening: the FC Barcelona girls' and boys' basketball teams as well as the kids from a local NGO that reaches out to at-risk youth through sports programming in various areas of Barcelona.
Courtesy Ruth Riley
It was truly an amazing trip, where we were able to work with so many kids of different faiths, ethnicities, ages and talent levels. I am constantly amazed at how this sport is able to transcend so many differences and speak a language of unity and inspiration that can't always be expressed in words. I am very grateful to the State Department and NBA/WNBA Cares for putting together this trip and to our partners in Morocco and Barcelona for welcoming us to their homes.
October, 17, 2013
10/17/13
8:09
AM ET
Scott Cunningham/Getty ImagesAngel McCoughtry, drafted out of Louisville with the No. 1 pick in 2009, has won back-to-back scoring titles in Atlanta.
On this day in 2007, the WNBA announced that a new team would call Atlanta home for the 2008 season. The Dream's opening-day roster included Ivory Latta, Betty Lennox and Erika DeSouza. Things didn't exactly get off to a smooth start. The Dream lost their first 17 games in that 2008 season, a WNBA record, before getting their first win, 91-84 over the Chicago Sky, on July 5, 2008. Things picked up quickly from there. In April of 2009, the Dream selected Angel McCoughtry with the No.1 pick in the draft, and they haven't missed the playoffs since. The Dream made their first postseason appearance in 2009, but fell to Detroit in the Eastern Conference semifinals. They have made it all the way to the WNBA Finals three times, most recently this year when they lost to Minnesota, but are still looking for their first win in a finals game.
October, 8, 2013
10/08/13
10:54
AM ET
David Sherman/Getty ImagesRuth Riley can picture a better ending for the Dream in Game 2 of the WNBA Finals.
Trailing 1-0 in a WNBA Finals is not an unfamiliar situation to me.
Back when I was with Detroit, we got roughed up pretty badly by the Sparks in Game 1 of the 2003 Finals in Los Angeles. We knew we had to come home and win the next game. We watched a ton of film and saw what we needed to improve. It's all about embracing the moment and we did just that, winning the next two games and giving the city of Detroit its first WNBA title.
A lot of my teammates have been here before as well. This is the third time in four years that the Dream are playing for a championship. We know there's no reason to panic and that if we play to our strengths and play our game, we can turn this series around.
The past 24 hours, we've done a lot of self-evaluation and looked at ways for us to improve on our play from Game 1. A lot of people thought we'd lose confidence after our performance on Sunday, but that's not who we are. We still fully believe that with our experience and perseverance we can come back, just like we did against the Mystics earlier in the playoffs.
Over 13 years, the WNBA has given me the opportunity to accomplish a lot, both on and off the court. I've had the chance to travel around the world as a league ambassador, promoting the game of basketball while also trying to influence and inspire people in countries who are less fortunate. On the court, I've been blessed with two WNBA titles and a long career filled with highs and lows. I've been on teams that have overcome adversity to accomplish great things. I know our team is capable of bouncing back, and it starts Tuesday night in Game 2.
October, 5, 2013
10/05/13
10:48
PM ET
By
Angel McCoughtry
| ESPN.com
Ron Hoskins/NBAE/Getty ImagesAngel McCoughtry, celebrating with teammate Erika de Souza after winning the East, is making her third WNBA Finals appearance.
Every season we get overlooked. Every year we aren't supposed to be here. To be honest, I wouldn't want it any other way.
Me and my teammates embrace the underdog role. We feed off nobody believing in us. We also like proving people wrong and hopefully this time we can come out on top against Minnesota.
I still have a bad taste in my mouth over our series with them in 2011. We had our chances and competed, but fell short. I've prayed for a second chance at redemption and now I get that opportunity.
At the same time though, I think it's important to take a step back and appreciate the moment. We're here to have fun and I think we play our best basketball when we're loose and enjoying the game. I realize now just how fortunate I am to have a third chance at a championship. Sometimes you can get so wrapped up in winning the series that you forget to enjoy the journey that you're on.
For us, I hope our journey ends with a title. It's time to silence those doubters and prove them wrong. It's time to show that the Atlanta Dream is the best team in the WNBA.
September, 29, 2013
9/29/13
1:22
PM ET
By
Angel McCoughtry
| ESPN.com
AP Photo/Todd KirklandThe Dreams Angel McCougtry is hoping to win her first WNBA championship for her teammates who have been with her since the beginning.
I'm now in my fifth year in the league, and this is my fifth trip to the playoffs. But I'm lucky to have been able to share all five of those trips with three of my teammates: Erika de Souza, Sancho Lyttle and Armintie Herrington.
We've been together for all five years, so we know each other really well. It's been a great group to be a part of. It's never guaranteed that you'll even get to the playoffs, so it's been pretty cool that we've all gotten to experience it all five years.
Erika is one of the best post players in the world. She works so hard on the boards and her post moves are just dominant. She makes it so tough on other teams that they have to double-team her.
Erika is fierce on the court, but off the court, she's just the sweetest person you'll ever meet. She'll always give you a helping hand, she's always smiling, and she has a great spirit about her.
Sancho has been hurt this year so we haven't had her around much, but she is one of the hardest workers on the team. She's the type of player that every coach wants to have on their team because she's going to give her all every game. She always knows the right thing to do and her athleticism helps us a lot.
Sancho is also the team's mama. She's very protective of everyone. She's the type of person that cares about everyone and wants to see everyone else succeed.
And Armintie -- she's the backbone of the team. She's our rock. She keeps everything together because she's so positive. Her energy is a driving force on the team.
Armintie is also a sweetheart. She's very spiritual and pure. She's someone you just want to tell all your problems to because you know she can make things better.
So I don't want to win a championship for myself. This is for these girls. They work so hard and they deserve it. And the city of Atlanta needs a championship. We want to be the first ones in a long time to bring that here, and it would be great for the city to see that it was the women that did it.
September, 20, 2013
9/20/13
2:36
PM ET
By
Angel McCoughtry
| ESPN.com
Scott Cunningham/NBAE/Getty ImagesAngel McCoughtry scored 20 of the Dream's 56 points as Atlanta dropped its first-round opening game Thursday against the Washington Mystics. They must win their next game Saturday.
The playoffs mean a start to a new season. It doesn't matter what you did in the regular season, everyone is 0-0 when you start. It's an exciting time. It's going to be very physical, and you have to want it more than your opponent.
I try not to change my routine for the playoffs. You do everything the same as any other game, but you just have to have more focus and really adjust your mindset to increase your will to win.
Even though the routine is the same, you definitely get more amped up for a playoff game, just thinking about trying to win that championship and get that ring.
My personal favorite playoff game was in 2010 when we were at New York in the conference finals. Cappie Pondexter scored 36 points and I scored 42, and we won to go to the Finals. There was a great atmosphere, and Cappie and I were going at it, just two stars scoring at will. It was amazing. Cappie and I weren't teammates in Turkey then like we are now, so we weren't as close of friends yet. But we still both had that competitive fire going in that game.
I've been fortunate to have some success in the postseason. I've been to two WNBA Finals and helped Louisville get to the national championship game. The NCAA tournament was a lot like the WNBA playoffs -- the atmosphere, the competitiveness, the will to win. Whether it was college or the WNBA, I just love playing in that environment.
So it's playoff time again, and this year I'm expecting Atlanta to win a championship. Period.
September, 6, 2013
9/06/13
9:50
AM ET
By
Angel McCoughtry
| ESPN.com
Scott Cunningham/Getty ImagesAngel McCoughtry also gives credit for helping her become a WNBA player to her mom, Sharon, and her coach at Lousiville, Jeff Walz.
I've been fortunate to have a lot of people help me get to where I am today as a basketball player.
There was Mr. Hermann, my first coach. I had him the shortest period of time of any coach, but he's one who stands out in my memory because he was so positive and showed me what I needed to do to be successful. There was also Jeff Walz at Louisville. He didn't just take the team places no one ever thought we could go -- like the Big East championship game and the Final Four -- but he helped make me better and took me to another level. His guidance helped me transition into becoming a woman.
But the one person who's always been there who has had the most impact on me becoming the player I am today is my dad, Roi McCoughtry.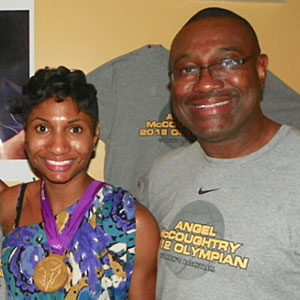 Courtesy of Angel McCoughtryRoi McCoughtry, who played at Coppin State in the 1970s, would drive eight hours from Baltimore to watch Angel play at Louisville. Now he and his wife, Sharon, have moved to Atlanta, where Angel plays for the Dream.
My dad is one of the most awesome guys on earth. He's a retired pastor and a godly man who lives life the right way. He works hard for his family, he's been great to my mom for 30 years and he's been a great dad. I get so many compliments about him. Every time people meet him they just say, "Wow, your dad is awesome."
My dad played basketball at Coppin State in the 1970s, when they were ranked No. 1 among small black colleges. By the time I was growing up, he played basketball just for fun and for exercise, but I still couldn't beat him. I didn't beat him until I was about 17 or 18.
Even though my dad had played basketball and my mom, Sharon, didn't play sports, my mom actually helped get me started in basketball when I was 8. At first I didn't even want to play, but she encouraged me, so I kept playing. My dad was so busy I don't think he even knew my athletic ability at the time. But then he saw I had game, and he's always been there supporting me.
My dad has helped me both on and off the court. On the court, he was always willing to help me work on my game. When the gyms in Baltimore would close, he would drive me to a Run N' Shoot in D.C. that was open 24 hours, and we'd be there until midnight working on my game.
Off the court, he was always pushing me in the right direction, staying on my case to help me make good decisions and keep on the right path. In high school I remember I wanted to just go to junior college because I didn't have high enough SAT scores, but he said, "No, you're not going to junior college. You're going to get four years at a D-I university."
If I didn't have him pushing me, who knows where I would have ended up.
When I was at Louisville, he was the biggest fan. He was always keeping up with the school and the team and coming to all the games. It was an eight-hour drive from Maryland, and driving through the mountains of West Virginia was not easy, especially in the winter. It was tough, but he did it. He was supportive like no other.
And now, he and my mom even moved down here to Atlanta last year. Baltimore is going through some tough times, and I think they moved to kind of start over. So now I get to see and talk to them all the time, and of course they're at every home game. It's nice to have family here to support me and help me with whatever I need.
July, 9, 2013
7/09/13
4:12
PM ET
By
Angel McCoughtry
| ESPN.com
Chris Marion/NBAE/Getty ImagesAngel McCoughtry loves that being a WNBA player gives her the chance to give back.
Being a WNBA player definitely has its advantages. One of the advantages is getting to be in the national spotlight, like tonight when we play Minnesota on national TV on ESPN2. Getting that attention is definitely a lot of fun, but I also enjoy giving attention, especially to kids. And that's why another advantage of being a WNBA player is having opportunities to give back to the community. In my case, I was fortunate enough to be able to start my own foundation -- the Angel McCoughtry Dream Foundation.
I started the foundation about two years ago. Its mission is to teach and empower youth to recognize their dreams through good character, self-confidence and valuable life skills. I want to inspire them and help them learn the values of sportsmanship. I want to get them off the streets by instead getting them involved in sports and academics.
It was something I knew I would want to do if I ever had the chance, and I've been fortunate enough to have that chance. I've always liked working with kids. One thing I didn't really like is paperwork, and there was a lot of it when setting up the foundation, but I had a great team helping me out and I'm glad we got that out of the way so I could get started giving back.
Our team is involved in a lot of community service projects in Atlanta, which is great, but ever since I went to school at the University of Louisville, I've also been heavily involved in helping the youth in Louisville. Back in May, my foundation held a function where we rewarded Louisville youth for their dedication to education and community service. They had to read three books, complete 10 hours of community service and write an essay on "How I would make my neighborhood safer."
To the winners we gave out laptops, Kindle Fires, musical instruments, books and all sorts of things. UPS donated $15,000 to help make it possible, so I have to give them a special thanks and I'm looking forward to doing more with them as well.
At the event, I got a chance to meet with the kids and play with them. They were really excited and had a lot of fun. They said they were excited to meet me, but I think they were really more excited about the laptops.
Another thing I do in Louisville is work with Elearn Olympics, which is an academic competition that gives incentives and rewards to students for all sorts of achievements. There was one young girl in particular that I had a chance to help through this program, that really made it hit home just how much influence we as WNBA players can have.
This young lady had competed in the Special Olympics as a swimmer, but she was thinking about quitting. So I wrote her a letter encouraging her to keep at it and not quit. It really wasn't a lot to do, but it must have had an impact, because she didn't quit and ended up winning some medals. Later, her mom contacted me and told me how grateful she was that I reached out to her daughter and inspired her, because she was about ready to give up, but didn't.
Hearing that story from her mom really made it sink it. All I did was put a few words on a piece of paper, and it helped inspire someone and had an impact on her life. That's such a great feeling to have.
I'm hoping to expand my foundation to make it international, and I've already seen how we can impact kids overseas as well. While I was playing in Turkey my Fenerbahce teammate, Cappie Pondexter, and I bought toys for some kids at Christmas. We went to a children's home and gave them gifts, clothes, Fenerbahce gear, that kind of stuff. They don't really celebrate Christmas like we do, but it didn't matter. The kids had a fun time, we had a fun time, we were able to brighten their lives just a little, and in the end, that's all that really matters.
May, 30, 2013
5/30/13
1:12
PM ET
By
Angel McCoughtry
| ESPN.com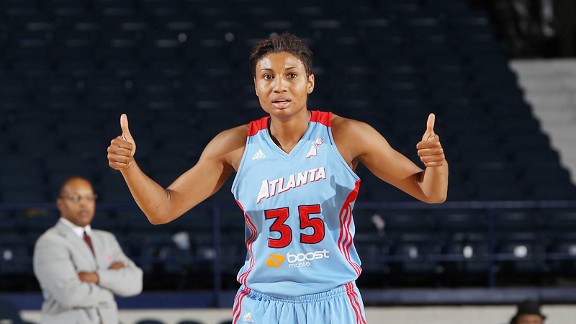 Gary Dineen/Getty ImagesAngel McCoughtry says she is passionate about both basketball and music.
People know me as a WNBA player and for helping Team USA win a gold medal in the Olympics last summer, but off the court, not everyone knows I'm very passionate about music, and have recorded a number of songs.
Music is very important to me, although right now it's not as important as my basketball career. I do it for fun and I've received a lot of good reviews, and some people even tell me it's inspired them. It's something I'd like to take more seriously after my basketball career is over.
It's not easy finding time to focus on my music with all the demands from my basketball schedule, so I usually take advantage of off days to go to the studio and work on it. I don't like for it to interfere with my basketball, because it is a lot of hard work and takes a lot of time. People don't realize how many days it might take to record one song. There's a lot of work that goes into it, so I take it slow. I don't like to rush it.
Some days I don't get enough sleep because I have so much in my head that I feel like I have to get it out on paper, and then I record it and send it to my man that mixes my stuff. Music is something that I have always had a passion for, but I just did not know how to even begin pursuing it.
It really didn't start until two summers ago when I was telling somebody about how I've always really liked music. They were like "Girl, please." And if you know me, you know I'm very competitive so I said "OK, watch, I'm going to start writing music." And I did. When I first started people kind of chuckled a bit, but eventually they saw that I was really serious about writing it.
I'd describe my musical style as pop. That's the type of music I like to listen to and the type of music I want to make. The types of artists I like are ones who worked hard when they were young and just starting. I like Jessie J a lot because she's always happy and her music makes you happy. I also like Rihanna and Beyonce because of where they started from and how they got to where they are today.
Another great thing about music is it's something I can use to vent. I spend a lot of time playing basketball and it can get tiring, and sometimes you need a break. So music is just another way to vent and get stuff off of my chest.
All I really want to get out of it right now is: I just want to be heard. I like to sing, but I'd really like to one day be able to write for a big-time artist.
So for now, my primary focus continues to be on basketball, but music is always in the back of my mind as well. And I have an EP coming out at the end of the summer, so everyone will need to check it out!