December, 13, 2013
12/13/13
1:09
PM ET
By
Bailey Webster
| ESPN.com
AP Photo/Nati HarnikOn a team as good as Texas, sometimes the toughest competition is in practice, as Bailey Webster, left, finds out when shes blocked by Chiaka Ogbogu, center, and Khat Bell.
Hello from Lincoln, Neb.!
[+] Enlarge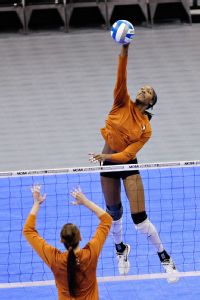 AP Photo/Nati HarnikBailey Webster and Texas are trying to soar to a second straight NCAA championship.
It's been a few weeks since I last checked in with espnW, and quite a bit has happened in that time. We ended the Big 12 Conference portion of our schedule with a perfect 16-0 record for the first time in Texas volleyball history, and we earned the No. 1 overall seed in the 2013 NCAA championships.
In addition to the ride we've been on this past month, fellow seniors Hannah Allison, Megan Futch, Sarah Palmer and I had Senior Night at Gregory Gym for our last regular-season home match against Baylor. I think I speak for all four of us when I say that we tried hard not to think of that match as our last in Gregory, but the emotions hit each of us when we were recognized with our families following the win. Sarah's family even brought us leis from Hawaii as a sign of congratulations and celebration. It was a very memorable moment for each of us and I'm grateful my family was there to share it with me.
The day after our last regular-season match, we lit the UT Tower in honor of our Big 12 Conference regular-season championship. The tradition at The University of Texas is to light the Tower burnt orange in honor of conference championships, and it's always an amazing feeling. It's a great moment for our team to celebrate our accomplishment, and this year it was a precursor to our third portion of the schedule -- the postseason.
After the Tower lighting we went to [coach] Jerritt [Elliott]'s home to watch the NCAA Selection Show and find out our position on the bracket. We expected to earn the No. 1 or 2 seed, and that held true.
After three days of practice, we faced Texas State in the first round and won 3-0 to set up a second-round match against our former conference rival Texas A&M. In front of our seventh sellout of the year, we sent the Aggies back to College Station after a 3-1 victory.
That's how we ended up in Lincoln, Neb., this week for the NCAA regionals. Tonight we'll take on American University. The Eagles advanced after upsetting Georgia and Duke last weekend in Durham. Our focus remains on one opponent at a time, and we're ready to hit the court and play the Eagles tonight.
Until next time, hook 'em Horns!!!
October, 17, 2013
10/17/13
1:38
PM ET
By
Bailey Webster
| ESPN.com
Courtesy of Texas Media RelationsThe Texas volleyball players have received lots of individual accolades but realize the total team performance is what counts.
Some days while I'm in Gregory Gym at practice, I can't help but catch myself looking around at the people who surround me. Being able to play with and against other athletes at such a high caliber every single day in practice is a blessing.
We are able to make each other better, as well as ourselves, and it helps us figure out as a team the best way to score against other great players. All it takes is a quick glance down our roster to see that some of the most talented players are Longhorns:
Hannah Allison -- 2012 NCAA All-Tournament Team
Khat Bell -- 2012 All-America Honorable Mention, Defensive National Player of the Year
Haley Eckerman -- 2012 National Player of the Year
Molly McCage -- 2012 Big 12 All-Freshman Team
Even our freshmen are helping make us better each day. Chiaka Ogbogu earned Big 12 rookie of the week honors for the first two weeks of league play, and this week, I was fortunate enough to be named the conference offensive player of the week for the second time in my collegiate career.
Although the accolades we are blessed to receive can get quite a bit of attention, it's not discussed much among our team. We are a team through and through, and none of these things would be possible without total team performances at each match.
Not only are there stellar athletes in our gym but also throughout the Big 12 Conference. Every match this season, our opponents have brought their "A" game in trying to upset Texas. Along the way, we've come across amazing players who have made it a challenge for us to keep the first-place standing in the Big 12.
Learning to play with a target on our backs is both new and foreign. Being a top-ranked team, opponents have always looked forward to playing us. Now that we're the defending national champions -- even though we don't look at ourselves that way since we're focused on becoming the 2013 champions -- teams have matches against us circled on their calendars. We have seen some amazing competition, and that continues to make us a better team as we find ways to fight back.
The sport of volleyball has grown rapidly all over the country, and athletes everywhere are getting better while becoming more physical and versatile. I see it everywhere, including in our gym and in our opponents.
I can't wait to see what the game will look like a few years down the road.
October, 3, 2013
10/03/13
12:16
PM ET
By
Bailey Webster
| ESPN.com
It's hard to believe I have just experienced my last nonconference season. Not only was it the final "preseason'' of my collegiate career, it was also one of the toughest schedules imaginable.
In our first eight matches of the year, we played five ranked teams, including the Nos. 1 and 2 -- Penn State and Stanford. We also played on the road at Hawaii to begin the year. In the tournament at Hawaii, we also played a then-non-ranked San Diego team.
We finished our nonconference slate with a 6-2 record, with our losses coming at Hawaii and against Arizona State in Illinois. Coach Elliott continually stressed to us that he set up the early portion of our schedule to be as difficult as possible. He and the staff wanted to test us, because playing the best helps us become the best. The top volleyball teams find ways to expose our weaknesses, and that gives us motivation to improve in those areas during practice.
[+] Enlarge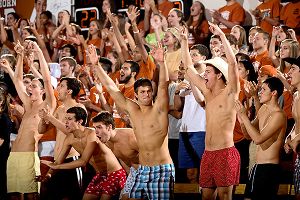 Patrick MeredithThe student-athletes at Texas support one another, and the mens swimming and diving team has a rather unique way of showing it.
Overall, this year's preseason was filled with a lot of excitement, along with many ups and downs. Coming into this new season as a new team, we knew we would be facing everyone's "A" game with a huge target on our backs. Our opponents love the chance to send the defending national champs to a loss, and boy, has it shown.
We were in many tough matches throughout the preseason, and sometimes it wasn't because we were necessarily playing horribly but because our opponents were doing some really good things. All of this was to be expected after we won the NCAA championship last year, and we have learned to embrace the challenge.
Although we faced this challenge in almost every match during the preseason, it is still to be expected in the Big 12 Conference portion of our schedule.
We began conference play on the road at TCU last week, and it was an incredible environment. Their arena was at maximum capacity, and it was an exciting atmosphere for everyone to play in. We came home from Fort Worth with our first conference victory, and we carried that into a second-straight 3-0 win against Oklahoma last weekend.
Speaking of incredible environments, I would like to thank the Texas fans for all of their continued support. Our first three home matches of the year against Penn State, Stanford and Nebraska were sellouts, and we had more than 4,000 fans in the stands when we hosted Oklahoma. Gregory Gym has become a thrilling atmosphere, and our fans are a large reason why.
Also, not only are our fans supporting us every step of the way, but so are our fellow student-athletes. Our women's soccer and women's basketball teams can always be found in the stands, and our men's swimming and diving team is also known to show up on occasion.
If you haven't seen the men's swimmers take off one item of clothing for each point -- one sock at a time, pants, shorts, sweatshirts, T-shirts -- until they're down to just their competition uniform, then that's just one of the many reasons why you need to come out to a match!
Until next time, let the games continue!
September, 19, 2013
9/19/13
11:02
AM ET
By
Bailey Webster
| ESPN.com
Texas AthleticsDefending NCAA champion Texas plays Nebraska on Sunday, then begins conference play next week.
My name is Bailey Webster and I am a senior outside hitter on the Texas volleyball team. I have a degree in corporate communications, and I'm currently a graduate student in the department of advertising here on what we call the "Forty Acres."
This is actually my fifth year being a part of the volleyball team, and I have had the experience to grow and learn from many different teammates throughout these years.
As a senior, I would like to introduce the 2013 Texas volleyball team:
• Fellow senior co-captain and setter Hannah Allison is from Arkansas and is very strong-minded and competitive.
• Senior libero Sarah Palmer and sophomore Kat Brooks are from Hawaii and represent the Big Island very well. They were our personal tour guides when we opened the season there earlier this year.
• Senior Megan Futch is from California and became part of the team when she transferred two years ago.
• Khat Bell and Haley Eckerman are the two juniors on our squad, and they bring sass and attitude to the team with their personalities.
• Sophomores Nicole Dalton, Amy Neal, Molly McCage and Sara Hattis all bring their own little thing to the team. "Cole" is blunt and sarcastic, while Molly is sensitive and loves to be open and honest. Sara is a funny and quirky teammate who had the wonderful opportunity last season to play basketball for Texas as well as volleyball.
• Tiffany Baker is a transfer from Tennessee who is working hard every day to come back from her knee injury, and she'll have two years of eligibility remaining beginning next season.
• Lastly, the freshmen are Chloe Collins, Pilar Victoria and Chiaka Ogbogu. They are all very close and are constantly enjoying the moment and laughing with one another.
I have a wonderful team and no matter how different we were raised, or how different the places are that we've come from, there's always something to laugh and talk about!
I'm looking forward to sharing our journey with everyone this season. In the meantime, we're preparing to conclude the nonconference season Sunday against former Big 12 rival Nebraska before beginning league action next week.
Until next time, "Hook'em Horns!"