July, 21, 2014
Jul 21
1:46
PM ET
By
Rebecca Greenwell
| ESPN.com
Courtesy of Duke AthleticsThe Duke basketball team has been enjoying the more relaxed pace of summer school in Durham.
Well, I'm back in Durham and college/student-athlete life as I know it is in full swing. Summer school is back in session and the whole team is finally together again staying busy with class, camp and workouts.
It's hard for me to believe I'm a sophomore already. It seems like just yesterday I was a little freshman, finding my way around campus and terrified of being on my own for the first time. Guess I can't use the "freshman moments'' excuse anymore. But now it's a year later, I'm healthy, and I feel like a seasoned veteran ready to make the most of my first year back on the court.
When most people think of summer school, it's usually followed by a groan, but it really isn't that bad. Summer school is a relaxing period of time compared with the fall session. It's a time when the whole team can work out without the distractions that come with the craziness of a full class load and basketball season combined. My summer in Durham has been really productive and fun so far. We work out every day, sometimes twice a day, doing either a basketball workout, conditioning/agilities, weights or "pick up." We also get in the gym on our own time to take extra shots and run.
Our coaches are out recruiting a lot during the summer, so Coach Will, our strength and conditioning coach, spends a lot of time helping us get in the best shape we can for the season. He helps us set customized goals to work toward throughout the summer.
Workouts are tough, but it seems like the overall disliked workout this year is the track. In just a few weeks we have the 1.5 mile test where guards have to get under 10:30 and posts under 10:45. Sprinting isn't my specialty, but endurance running is. Unlike my teammates, I actually enjoy the track workouts. Last week I managed to get the mile and a half in 9:10. So I'm hoping to go for the record of nine minutes.
We've also stayed busy with camps. We've already had three camps and we have a few clinics coming up next week, too. The 'Lil Hoopers' camp has been my favorite so far. Although those youngsters can wear you out in about 15 minutes, they're just so dang cute.
Every year at camp we have a lip sync contest and this year the freshmen excelled. Azura Stevens, Erin Mathias, Lynee Belton and Sierra Calhoun performed a flawless choreographed dance to the Cheetah girls song "Cheetahlicious." Sierra and Lynee owned the stage and Erin and Azura's remarkable Nae Nae's helped the freshmen bring home the first-place prize.
During the weekends we're free to do as we please. The July 4th weekend, the team and I spent the day at the rock quarry, which was a lot of fun. We jumped off the cliff into the water and hung out in the water on our floaties and noodles. Afterward we headed to Ka'lia Johnson and Elizabeth Williams' for a delicious cookout prepared by the seniors and hung by the pool. I ended the night perfectly by going to the Durham Bulls baseball game to watch fireworks.
In a few weeks we will head home for a short break. During that time I plan to go visit my long-lost friend Tricia Liston in Minnesota for a few days and catch a Lynx game. Then I'm heading back to Kentucky for my older sister Rachel's wedding. Lots of exciting days ahead.
I'm really looking forward to this upcoming basketball season. The freshman class plus our new transfer, Mercedes Riggs, are a hard-working group that will help contribute a lot this year. It's been a long time coming since I've been able to suit up and hit the floor. I think we have a special squad that can do some damage, so words can't describe my excitement!
Go Duke!
April, 11, 2014
Apr 11
2:45
PM ET
By
Becca Greenwell
| ESPN.com
Duke PhotographyAfter redshirting her freshman year, Becca Greenwell can't wait to get into action next season.
DURHAM, N.C. -- In three short weeks, I'll be headed back home to Kentucky after completing my freshman year here as a Blue Devil. Time sure flies, and it's been a whirlwind year, to put it mildly.
Looking back, I can honestly say I was like a deer in the headlights when I first stepped onto campus last summer. I've had a lot of "freshman moments," that's for sure! But I can also say I've grown a lot, as a player, as a student and as a person. College life is a lot of things -- great and sometimes not so great. Being a student-athlete is truly a full-time job. It's intense, even grueling at times, but it's a privilege I certainly don't take for granted. Mostly, though, it's an experience I know I will take with me for the rest if my life.
The season obviously didn't end as we had hoped, but we still have so much to be proud of. Although there were a few bumps in the road with injuries, I feel like we accomplished a lot and definitely made a lot of good memories. I'm going to miss my seniors next year most of all. It's going to be sad without them around, but they were an awesome group to learn from and did a great job in preparing me for next season.
Redshirting wasn't easy for me, but it was most definitely the right decision. I feel confident that I am more physically and mentally prepared than ever to play at this level now. Only practicing and not playing certainly wasn't the most fun, but it was definitely worth it and I'm happy to say I survived the season.
I can't even explain how eager I am to play next season. I've taken a lot in watching from the bench this year and I've learned some valuable lessons from my teammates.
It's never too early to start preparing for next season, and our team has already started the grind. We got a week off after the season ended, but basketball never truly ends at this level. We have conditioning, individual workouts and weights all throughout the week in preparation for next season. If we want to be the best, we have to keep our hands on the ball and stay strong. Summer break will be no different. Hopefully I can fit in some friends and family time, but I know I'll be spending a fair share of my "break" in the gym and on the hardwood.
Thanks for all your support this season, and we look forward to seeing you again in Cameron for the 2014-15 season.
March, 23, 2014
Mar 23
1:19
PM ET
By
Rebecca Greenwell
| ESPN.com
Duke PhotographyDuke has adjusted to its injuries at point guard, and it showed in an 87-45 victory over Winthrop on Saturday.
The NCAA tournament is finally here and in full swing. No more three-hour practices, no more conditioning and no more guaranteed wins. It's definitely March Madness with all the energy and excitement, but we have to stay focused. This is the part of the season we've prepared for all year long, and we're more than ready to make some noise. It's tournament time and we have one mission: Survive and advance.
The energy surrounding the NCAA tournament is a new and exciting experience for me as a freshman. Finding out which bracket we were in was nerve-racking, but we were excited to receive a No. 2 seed in the Lincoln region and to be able to host the first two rounds at Cameron Indoor Stadium. Although we're playing at home, our team is staying in a hotel to create the "away experience.'' There's a lot going on during tournament time, so it's important to remain focused and stay away from distractions.
We played our first-round game Saturday against Winthrop and came out on top 87-45. It was a great team win and exactly how we wanted to start off the NCAA tournament. Despite our losses this year with Chelsea Gray and Alexis Jones' knee injuries, our team has adjusted and learned to play to our strengths. We may not have a true point guard, but we showed it didn't matter with our 21 assists.
My fellow freshmen Kendall McCravey-Cooper and Oderah Chidom also represented well with some big performances. It was great to be able to play in front of our family, friends and fans and we're fortunate to have that opportunity again on Monday when we play DePaul in the second round.
There are no guarantees from this point on, no second chances, and no looking back. We're taking it one game at a time and treating every game the same. It doesn't matter who the opponent is, it matters who wants it more and who's going to fight the full 40 minutes to prove that.
For our seniors, this is where their journey/college career ends, and they are not finished doing business. We have some great senior leadership and experience to draw on. We are hungry and excited to keep the journey going on Monday.
Go Duke!
March, 17, 2014
Mar 17
1:42
PM ET
By
Rebecca Greenwell
| ESPN.com
Orin Day, DWHoops.comIn a game that went down to the wire, Duke beat North Carolina 66-61 in the ACC semifinals.
It's hard to believe March Madness is here. For anyone who cares about college basketball, it's one of the most exciting times of the year. Growing up a Kentucky girl, almost every year I would make a trip to the SEC tournament. It was always exciting just going to the tournaments; now it's even more surreal being a part of it.
Recently, I experienced my first ACC tournament. Although we did not win the championship, we played very well and proved a lot of people wrong.
We've struggled through some adversity with several injuries and have had to rely on other players to step up and fill in new roles, and it was those players who helped us win a tough game against North Carolina in the semifinals. Even though they beat us two times in the regular season, anything is possible in the postseason. It was an exciting game that came down to the wire and a great day for Duke, considering the men's team beat UNC on the same day.
The tournament was a challenge but a great learning experience. It was especially challenging for me because from my perspective -- bench view -- I wanted to be out there playing in that atmosphere. There's nothing like playing on the big stage. I can't describe how much more it would mean to me now to be able to play and contribute to our success.
Right after the ACC tournament, we all received a short break to go home and recharge before heading back to Duke to prepare for the NCAA tournament. It was a much needed three-day break, and it was good to spend quality time with family and friends, eat some good home-cooked meals, watch some "Breaking Bad'' and surprise my little sisters picking them up at school.
Duke is hosting first- and second-round games of the NCAA tournament, which should be to our advantage. This year the NCAA Final Four will be hosted in my favorite city, Nashville, Tenn. Nashville is only two hours from my hometown, and it would be an incredible experience to play so close to home and maybe even see a country music star or two.
Go Duke!
March, 5, 2014
Mar 5
5:02
PM ET
By
Rebecca Greenwell
| ESPN.com
Jon Gardiner/Duke PhotographyDuke got decked out for its Play 4Kay game against Maryland.
DURHAM, N.C. -- If you have watched any women's basketball recently, then I know you've heard the term "Play 4Kay.'' You've probably noticed the variety of unique pink uniforms and, even more, the crazy styles of basketball shoes the players are sporting. All the buzz and show is about drawing attention to a cause that is near and dear to those who have been affected in some way by cancer.
So who is Kay? Kay Yow is the former N.C. State women's basketball coach, past president and founding member of the Women's Basketball Coaches Association (WBCA), and probably most recognized as founder of the Kay Yow Cancer Fund.
She was first diagnosed with breast cancer in 1987 and passed away on Jan. 24, 2009, after facing her third bout with the disease. Before her death she joined forces with the WBCA and the V Foundation for Cancer Research.
One celebrity athlete helping the cause is Kevin Durant. He has partnered with Nike to design an insane pink floral basketball shoe called the "Aunt Pearl.'' Kevin Durant's late Aunt Pearl passed away in 2000 from lung cancer, and the Nike sneaker is his tribute to her. Our team got to rep the pearls in our Play 4Kay game against Maryland.
I'm not really a big shoe person so I didn't know how exclusive these shoes were until I saw my teammates' reaction when we first got them. Ka'lia Johnson literally fell to the ground in excitement when she found out we were getting them. I've never had a pair of floral basketball shoes, but I must admit they are pretty cool, and for a good cause.
I have not had any immediate family members affected with cancer and for that I am very thankful, but almost everyone knows someone who has. It is my hometown neighbor and mother of four young boys. It was my great grandmother. It was two of my stepfather's aunts. It is your aunt, your sister, your daughter, mother or maybe your grandmother. It may even be you. The reality is, we are all affected in some way, shape or form.
Although the Kay Yow Foundation has certainly raised our awareness and showcased the charity throughout women's basketball, it still has a long road ahead of it. Cancer does not discriminate. It does not play favorites. Please help raise awareness and donate whatever you can so we can honor Kay's memory and her efforts as well as find a cure!
Thanks and Go Duke!
February, 17, 2014
Feb 17
11:14
AM ET
By
Becca Greenwell
| ESPN.com
Duke AthleticsOut this season with a knee injury, Becca Greenwell fills various roles nonetheless, such as scout team player, cardio club participant and bench crew stalwart.
Since I am not playing this season due to a knee injury, I'm embracing my role on the team: scout team all-star, cardio club queen and member of the bench crew. These may not sound like lofty roles, but for the time being, I'm making the most of them.
At the end of every practice we have "scout," where the scout team (male practice players and myself) interprets our upcoming opponent and our team has to defend us. Scout is secretly my favorite part of practice because I usually get to interpret the opponent's main scorer or three-point shooter, which is always fun.
A tradition our team members just started is "cardio club," in order to stay in shape. After every home game, the players who played 20 minutes or less have to run sprints, and after away games they have to do an "insanity" workout the next day. I currently have a perfect attendance at cardio club, hence making me "cardio queen."
My other role is being a proud member of the bench crew. While most people don't realize the importance of the bench, this year I have a new appreciation for it. The players who come off the bench have to provide a spark of energy when they get in the game, and for those who don't play, we have to be constantly talking, alert, cheering and helping to fuel the energy on the court.
We see things from the sidelines the players can't see, so we have to be alert pointing out the cutters, yelling out the defenses or just cheering on our teammates. It can be frustrating at times, but most of the time it's a lot of fun. My bench bud Jenna Frush keeps us entertained with new dance moves every time something good happens, and chest bumps are always being passed around. While the bench's duties don't show up in the box score, it's definitely an important part of the team. My time with the bench crew has helped me grow a better understanding of the game that I will definitely take with me for next year.
My role right now is to get healthy, stronger and to learn the game inside and out. I also want to take every opportunity to push my teammates and challenge them to make our team great. I've embraced my role and I am confident this experience will make me an even better player when my time comes. I'm patiently waiting for my time and taking every opportunity to learn from my teammates. I don't want to just be a good player, I want to be a great player, and this full year of learning is one step closer to getting me there.
Make sure everyone tunes in tonight at 7 ET on ESPN2 as the Blue Devils host ninth-ranked Maryland at Cameron Indoor Stadium. It should be a great atmosphere for college basketball with the Cameron Crazies out!
Go Duke!
February, 10, 2014
Feb 10
1:24
PM ET
By
Becca Greenwell
| ESPN.com
Duke AthleticsTricia Liston, Duke's all-time leader in three-point shots made, has taken Becca Greenwell under her wing.
While not being able to play this year wasn't the ideal way to kick off my college career, I now see the situation as somewhat of a blessing in disguise. And although it kills me not being able to play, the benefits of redshirting make it worth the wait.
Instead of rushing to get back on the court, I now have a full year to get 100 percent healthy and have extra time to learn the ins and outs of the system.
Adjusting to college basketball as a freshman is a major transition and can be an overwhelming experience, even for those of us who think we came in prepared. That said, with this full year of watching and learning, I'll be more than ready and prepared when my "freshman" year comes around again next season.
One good thing about being a freshman is that you have an excuse when you mess up: You're a freshman. When adjusting to college basketball, making mistakes is inevitable. It's just a part of the transition, and those mistakes only help you to learn.
I've had my fair share of "freshman moments" and still do, practically on a daily basis during practice. Whether it's messing up the defense, doing a drill wrong, or missing a layup in a drill, causing the whole team to do it over again, more than likely I'm the guilty one. But every day I'm becoming more and more comfortable and confident. It also helps that I have some pretty great players to learn from.
Tricia Liston especially has done a good job taking me under her wing this year. Ever since I came on my recruiting trip to Duke, Tricia and I have been pretty tight. We're similar in a lot of ways on and off the court.
I was really looking forward to having one year to play with her, but because of my injury I'm just trying to learn from her instead. We both play the same position and are three-point shooters, so having her to learn from has been really helpful. Anytime I have a question, mess up a drill, or just need advice, Tricia is always more than willing to help me out.
With the adversity our team has faced this year with injuries, a lot of pressure has been put on Tricia to lead us, and she has not disappointed. She's consistent. She our leading scorer, can create her own shot, go off the bounce, and is one of our team's best leaders.
Just recently she broke the record for most career three-pointers made at Duke, and although she doesn't believe me, I keep telling her I'm going to break her record before I graduate. I've got a long way to go before I can reach that goal and I'm aware those are some pretty big shoes to fill, so for right now I'll let her hold on to that title.
Tonight, I get a chance to be a part of my first rivalry game against North Carolina in Cameron Indoor Stadium. I hope to see everyone out for this great game against two of the top teams in the nation.
Go Duke!
January, 20, 2014
Jan 20
2:15
PM ET
By
Becca Greenwell
| ESPN.com
Sara D. DavisThe Duke women's basketball team keeps athletic trainer Summer McKeehan busy.
If there's one thing I've learned about playing Division I basketball, it's that it can certainly takes a toll on your body. Spending nearly three hours a day doing some type of physical activity, whether it's practice, weights, or a game, is a lot for anyone!
Taking care of your body is very important. That said, here at Duke our training room is always poppin! Before practice and after practice there's always someone getting some type of treatment.
Every day before practice the team is in the training room. Some of us are in there up to an hour before practice using the hot tub, heat packs, e-stim (electrical stimulation), icy hot, stretching or getting taped. Summer McKeehan, our athletic trainer, always stays busy.
[+] Enlarge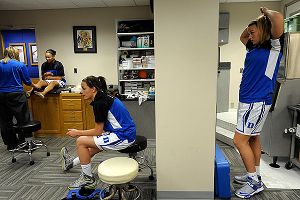 Sara D. Davis Before and after practices, there's always someone getting some type of treatment in Duke's training room.
Getting your body adjusted to the physical strain of college workouts doesn't come easy. The first few weeks of summer workouts were definitely a struggle physically and mentally for the freshman. I wasn't able to participate due to my knee, but I remember clearly watching workouts and feeling their pain. I would think to myself, "I don't know if I'm going to survive this when the time comes!"
My teammates would leave practice barely able to walk, complaining about soreness for days and dying for an ice bath. After a while their bodies got use to it and the soreness lessened or at least became bearable.
Now that I'm back to playing, it seems like I'm experiencing the same struggles they did. During my first week back practicing after sitting out eight months, my body was sore in places I didn't know existed! When Summer asked how I felt, I told her, "My calves feel like rocks, my hamstrings feel like guitar strings, and I feel like I've been hit by a train. But my knee feels great (which is all I really cared about)!"
I've been practicing for about a month now so it's not as bad anymore, but I definitely have a new appreciation for the ice bath. After practice, ice baths are always the go-to. I use to despise the cold tub when I first got to Duke, screaming and gripping a towel in my mouth every time I got in. But now, I take it like a champ.
After a long practice one day, while in the cold tub with some teammates, I was dared to go head under. At first, there was no way I was doing it, but after being offered $2 by some teammates, that was just enough motivation for me to go for it. So like a champ, I did an Olympic-worthy side dive head first into the freezing water. For a split second I regretted the decision, but when I came up to chanting, cheering teammates, it made it worth it. I was completely numb afterwards so it didn't bother me doing about three more dunks with Haley [Peters], Tricia [Liston] and Jenna [Frush], who decided to go for the plunge as well.
Taking care of your body is very important being a college athlete, and although ice baths aren't very popular, they're definitely a great way to help your body recover. Although my full body ice bath was most likely a one-time experience, I can't deny I felt pretty refreshed afterwards.
Besides the access we have to all the amazing treatments in our training room, I have to say we also have a pretty awesome cater, Sam, who cooks for us too. We have "training table" everyday after practice. The food is delicious and healthy.
Athletes have to take care of their bodies. I realize now how important it is to eat right and to stay strong. Our bodies take a lot of abuse on the court and we have to stay in the best possible shape to stay healthy and injury-free, as well as be competitive at a DI level.
Go Duke!
January, 2, 2014
Jan 2
12:32
PM ET
By
Becca Greenwell
| ESPN.com
Courtesy Becca GreenwellBecca Greenwell especially enjoyed her gift from little sister Emma: pictures of the two of them together.
Christmas break is officially over, and it was a good one for me and my family. I'm thankful for the generous six days I got to spend with some of my favorite people. I managed to make the most of it and came away with a new appreciation for family time.
This year my family started a new tradition: Instead of buying each other gifts, we decided to put our money together and give a family in need a very special Christmas.
We delivered presents, a tree and Christmas dinner to a needy family -- a single mom with six children. It felt so good to see all the little kids' faces light up when we came in. Their mother said God had answered her prayers. It had been a difficult year for their family, with a lot of recent tragedies, and this was a "miracle."
I think we all felt the Christmas spirit that day. It was an eye-opening experience for me, and especially for my younger sisters Briley and Emma.
I was able to enjoy a few days of pure rest and relaxation while home, which is always a bonus. Sleeping in, and waking up to the smell of fresh-brewed coffee, bacon frying and my mom's homemade sourdough bread baking, are some of my favorite things about being home for the holidays. I am not going to lie, I was a little pampered and it felt good.
Christmas is my favorite holiday and even though we started a new tradition this year, I enjoyed some old ones, too. Every year we wear our onesies (feet pajamas) to bed on Christmas Eve, and at approximately 7 a.m. I am awakened by my little sisters jumping up and down on my bed to go see what Santa brought us.
This year was no different. I think I still get just as excited as I did when I was little. Santa came through again with some pretty awesome gifts.
Some of my favorite gifts are the ones I get from the little ones. You never know what you're going to get, and it's usually very creative. This year I have to say Emma won most original gift giver. She gave me two pictures she found of her and me together and one of Briley's old necklaces. But the present she gave my mom was the best of all, a true Emma creation: an ornament with three cotton balls strategically glued to it. Not sure what the inspiration for that was, but hey, it's the thought that counts, right?
I also managed to find time to spend with some of my high school friends. It was fun catching up with everyone. Even though we don't get to see each other much anymore, it seems as if we can catch up right where we left off.
I was able to take in a girl's high school basketball game while I was home and talk to some of my old teammates and coaches. It felt a little strange being a spectator. It's definitely a different arena than college ball, that's for sure!
I had a wonderful time over break with friends and family. I got to ride four-wheelers, ate too much, slept in late and had laundry service, too. It was as perfect a Christmas break as I could ask for. I'm very blessed and so thankful for my family and friends.
Now it's back to the grind. I'm glad I worked out over the break because we've had some tough practices preparing for our upcoming games. We play Old Dominion on Thursday and then head straight into conference games.
Go Duke!
December, 24, 2013
12/24/13
9:34
AM ET
By
Becca Greenwell
| ESPN.com
Timothy SofrankoBecca Greenwell's Fathead hung out with her fan club, sisters (from left) Briley Elder, Rachel Greenwell and Emma Elder, during Sunday's game at Kentucky.
Two surgeries and eight months later, I'm happy to say I'm finally back to playing basketball again. If sitting out six months from my first torn ACL wasn't enough, sitting out eight months with my second ACL was certainly enough to make me never take the game for granted. You never know when the game can be taken away from you and my injuries have definitely made me appreciate basketball that much more.
Two weeks ago I took my ACL clearance test, which involved many different running/jumping/cutting tests and I passed! It was a long hard road to recovery but all the countless hours of rehab have paid off. My knee feels great and I feel stronger than ever! I've been practicing with the team for about a week now and everything's been going really well.
[+] Enlarge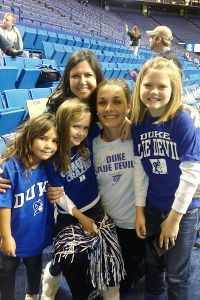 Courtsey Rebecca Greenwell familyBecca Greenwell (in white shirt) caught up with family when Duke played at Kentucky,her home state, on Sunday. From left are cousin Olivia Neubauer, sister Emma Elder, aunt Anissa Neubauer and sister Briley Elder.
I never realized how much different the college level of play was from watching on the sidelines, but now that I'm in on the action, it's been made pretty apparent. I've quickly learned that if I take the ball inside the lane there's a very probable chance it's getting stuffed right back in my face.
It's going to take me a while to get back to where I want to be, but each day I'm becoming more and more comfortable out on the floor. The team has done a great job helping me learn the plays and showing me the ropes.
I want to be 100 percent healthy and ready to go before I play in any games, so I'm in no rush to speed up the process. Although I'm finally dismissed from the repetitive everyday rehab exercises, I'm still going to continue lifting with my legs at least three times a week to help keep up my strength and remain injury free.
My time on the sidelines has definitely been a huge learning experience that will be highly beneficial for when my time comes to get out on the court. Until then, just being able to practice and warm up with the team for games is enough for me.
Things really feel like they are coming together for me right now. I'm finally healthy and to add icing to my cake we got to play in front of a sold out, record setting crowd of 24,000 at Rupp Arena against Kentucky, my home state. We played an awesome game and managed to get away with a tough win on the road.
Everyone knows Duke isn't very popular in the state of Kentucky, so getting the win with 24,000 people against us was a sweet, sweet feeling. The atmosphere was absolutely crazy and the energy was intense. The bench crew was going crazy waving our towels the whole game helping to fuel the energy on the court, and the team didn't disappoint.
The Kentucky fans were out in full force, but we had a group of Cameron crazies there cheering us on, too. Even though I wasn't playing, my family and friends made up a large part of our cheering section behind our bench.
At one point I looked behind me to find my aunt, Anissa Neubauer, going crazy after a big play doing something called the "Roger Rabbit" dance move. Then there were my little sisters, Briley and Emma Elder, waving my Fatheads in the stands and constantly poking my shoulder while I was on the bench just to say hi.
It was an awesome experience being able to display Duke women's basketball talent on such a big stage with my family and friends in the crowd. I was so happy to be back home in the Bluegrass state, just in time for the holidays.
Special thanks to Coach P for letting me hitch a ride back to Owensboro with my family after the game. We're now on Christmas break and get six days off to spend time with family and friends until heading back to Durham to continue the season.
Happy Holidays! Go Duke!
December, 10, 2013
12/10/13
9:40
AM ET
By
Becca Greenwell
| ESPN.com
Duke AthleticsWith three victories in three games, Duke won the Paradise Jam Tournament and a piece of hardware.
A couple of weeks ago, the team and I spent Thanksgiving break in the Virgin Islands playing in the Paradise Jam Tournament. This was the first Thanksgiving I've spent away from home. Although I missed my family, a trip to the Virgin Islands for Thanksgiving wasn't the worst way to spend the holiday. It was truly paradise -- 85 degrees, sunny and surrounded by crystal-clear blue water. Hey, I'll take it.
The trip was an amazing experience, and I was happy to be able to spend it with the team in one of the most beautiful places in the world. We stayed at a resort in St. Thomas right on the beach, overlooking the bay. The view was the best part. Being able to look outside your balcony and see the ocean is something that never gets old.
Although we were there to have some fun, we had to stay focused because we were mainly there on a business trip. The majority of our days were filled with either practice or a game, followed by nightly film sessions.
We played three games at the University of the Virgin Islands, going undefeated and beating Xavier, Central Michigan and Kansas. We were named Paradise Jam Island Division Champs and got our first piece of hardware. But we're not done yet. We have plans to get a couple more by the end of the season.
[+] Enlarge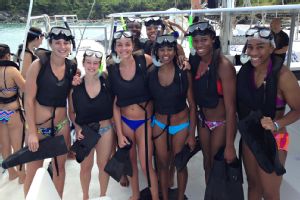 Duke AthleticsThough it was a business trip, Duke found time for some fun, including a snorkeling trip to Turtle Bay.
Playing three games in three days can be tough on your body and because Coach P is a firm believer that saltwater heals, she made postgame dips in the ocean mandatory.
So after every game, we all got straight off the bus and headed down to the beach. This was one of the most fun parts of the trip even though I swallowed a lot of saltwater trying to fight off Tricia Liston and Haley Peters from dunking me.
The trip was definitely a great bonding experience for the team. The first night there we were welcomed with a nice dinner and Virgin Island-style entertainment -- a traditional drumming band, island dancers performing with fire and a lady dancing on giant stilts. Coach P even got in on the action and did her best impression of Virgin Island-style dancing. It was quite entertaining, to say the least.
It just wasn't the same not being home for Thanksgiving. I really missed harassing my little sisters and eating all the amazing Southern comfort foods, watching football and Christmas shopping. But I was glad to be able to spend it with my second family. I have a whole team of sisters to harass now or be harassed by (however you look at it). I feel truly blessed to be a part of this Duke family.
For many the highlight of Thanksgiving is, of course, the Thanksgiving meal. For me, on a typical Thanksgiving at home, the highlight is my mom's amazing slow cooker Southern mac and cheese.
This year, being away from home, it was a little different. In the Virgin Islands we had a traditional Thanksgiving meal and it was good, don't get me wrong, but there just aren't many things that can compare with the delicious, Southern-style, home-cooked food I usually get to divulge in.
The best part of my food experience this year didn't come from dinner, but from the snack. Each night a couple of hours after dinner we would get a "snack" (aka a second meal), and I'm not kidding when I tell you they brought out a big bowl of crisp, juicy bacon -- yes, bacon! And who doesn't like bacon, right? It was a big hit among the team and definitely the highlight of my Thanksgiving meal this year.
To top off an awesome trip, the last day we went on a catamaran ride to go snorkeling. The view of St. Thomas from the boat ride was truly incredible. We went to a small island called Turtle Bay, where the water was so clear you could see all the way to the bottom. While we were snorkeling we saw the coral reef, sea turtles, sting ray and a lot of colorful fish.
It was a great trip. On the last day after our snorkeling excursion several of us spent our final hours in paradise doing what I do best -- tanning. A couple of my teammates and I relaxed by the pool and soaked up the sun, which was the perfect way to end a great trip.
With the season in full swing, our trip to the Virgin Islands was the perfect little getaway for everyone. We took care of business, had some fun and I got a nice little tan to go along with it, making it a successful trip.
Thanksgiving is the time to be thankful and spending it with my second family in one of the most beautiful places in the world was really something to be thankful for. Now it's time to get back to the grind.
It's hard to believe we're already 10 games in, but we have some big games coming up, and we're all focused and ready to keep things rolling.
Go Duke!
October, 31, 2013
10/31/13
10:58
AM ET
By
Becca Greenwell
| ESPN.com
Lindy BrownIn rehab, Becca Greenwell is focusing on strengthening her quads, hamstrings, calves and hips so she can progress to running.
Before arriving at Duke I was recovering from ACL and meniscus surgery I had in April. During my second week of summer school, I found out my meniscus hadn't healed properly and I needed a revision surgery.
Getting around campus on crutches and being in a leg brace for six weeks was not exactly what I had in mind for my first few weeks of college, but I managed to survive. I'm glad those days are behind me. Considering this was my third surgery on my right knee, it was frustrating at first but it has only motivated me more to work hard to get back on the court as soon as possible.
I'm currently three months post op and rehab is going great. I do rehab with Summer McKeehan, our team's athletic trainer, and Niles, my physical therapist, nearly every day. Right now I'm doing a lot of exercises to regain strength in my quads, hamstrings, calves and hips so I can progress to running and cutting soon.
I've also been able to start doing some cardio to get back in shape, which is pretty exciting. I thought I'd seen it all in the world of rehab, but, oh, was I wrong. It wasn't until I got to Duke that I was introduced to the underwater treadmill.
I get pretty excited doing new things in rehab, so I love running on this bad boy. I started off only being able to walk in chest-deep water, but lately I've been waist deep doing sprint intervals against jets. It shouldn't be much longer and I'll be running on ground! The facilities and equipment for Duke Sports Medicine are top-notch, and the staff here is great so I know I'm in the perfect place and in the right hands for a successful recovery.
Because of my injury, I haven't been able to participate with the team in practice, but I am able to lift weights. Our strength coach, William Stephens, is incredible and has been kicking my tail.
We had max-outs a couple of weeks ago and the team hit some big numbers this year. None of the freshmen topped any of the charts, but we did make a lot of progress from the summer to fall. I went from 110 on bench press to 135, and from 35 pushups to 60! Amber Henson led the team in bench press with a whopping 185 pounds.
The team also has a goal it shoots for every year in conditioning, and this year it was the "champions" test. A champion is similar to a suicide drill but with more turns and we have to do them in 26 seconds. The goal this year was 14 champions, and we ended up doing 15.
The girls on the team are extremely entertaining. It's definitely a fun group to be around. Thanks to Chelsea Gray, I have a new nickname: "Bec-Nasty." Don't ask why because I honestly don't know, but it's definitely stuck.
Being from the great state of Kentucky, it seems I've brought an accent with me, and the team loves to make fun of me for it. Yeah sure, I admit I'm a little country. My dad is a farmer, I love Luke Bryan and "Duck Dynasty" is my favorite show. But I don' t ride a horse to school, raise pigs or walk around barefoot all the time.
Even Coach Brown has come up to me (more than once) and commented on how he's surprised I'm wearing shoes today, because he didn't know people in Kentucky wore shoes. It's all good, though, because I'm proud of my "country-ness!" And for the record, I do wear shoes (most of the time).
It's hard to believe, but basketball season is finally here. We've worked hard all off-season to get ready, and everyone's excited to finally get the season going. Practices have been intense, and the team is more focused than ever.
We officially kicked off the season with Countdown to Craziness and our Blue/White scrimmage this past Sunday. Countdown to Craziness was nuts, and I got to see how crazy and passionate Duke basketball fans really are. Being introduced to a packed house at Cameron Indoor Stadium was an awesome feeling and really made me take pride in being here.
Our goals for the season are set high, and anything less than a national championship isn't enough. We have a veteran team with a lot of good leadership, as well as a lot of talented younger players. I have a feeling it's going to be a special year.
Go, Duke!
October, 11, 2013
10/11/13
12:00
PM ET
By
Becca Greenwell
| ESPN.com
Duke PhotographyFreshmen Kianna Holland, Oderah Chidom, Kendall McCravey-Cooper and Rebecca Greenwell arrived for summer school in July to get a head start on classes and get to know the team.
Hello, everyone!
For those who don't know me my name is Becca Greenwell, I'm from Owensboro, Ky., and I'm a freshman on the Duke women's basketball team. I'm going to be writing this blog every couple of weeks this season to give you readers updates on my life as a student-athlete, my rehab process and also on the DWB squad.
Growing up, the idea of playing for a top women's basketball program was always a dream of mine and now that I'm actually a freshman living out this dream, it's a humbling feeling. It still hasn't really hit me yet that I go to Duke, one of the best colleges in the world for academics and a traditional basketball powerhouse.
Duke is a special place and it hasn't taken me long to realize that. It's still crazy to me the people you see walking around campus on a normal basis. Oh hey, Coach K, what's up? Or such as recently when Paul Pierce and Kevin Garnett were right beside me in the training room getting ready for their first day of training camp for the Brooklyn Nets. Things like this still amaze me, but at a place like Duke it's completely normal.
My transition to thus far has been an exciting and awesome experience. After just three months here, I can honestly say I love it and Duke is a perfect fit for me.
Coming from a close family, the idea of being 10 hours away from home was a little intimidating. But with the help of the staff and my new teammates, the transition has been easy and a lot of fun. Adjusting to my new life as a student-athlete was a little overwhelming at first, I'm not going to lie. As a freshman, you're kind of just thrown on campus and given a million responsibilities all at once.
Balancing class, homework and workouts was hard at first, but now that it's a daily routine, it's a lot easier. It's easy to fall behind with so much going on, so staying on top of everything and time management is key. If I could describe life as a student-athlete in one word it would definitely be "busy."
My older sister, Rachel, who played college basketball, would always tell me that naps were essential in college, and I never really understood her until now. Days when I get to take naps are truly the best. I've now realized that 30 minutes of free time is a blessing, and in fact enough time for a power nap.
The one thing I'm probably adjusting to the most is being on my own. Before coming here my mom would always tell me, "Becca, you're never going to survive college, you need me." And just like my sister, I never truly understood her either, until now.
Each day it feels as if I'm discovering a new fact of life I never knew before. Who knew milk spoiled so fast, bread molds after only a month, clothes don't come out of the drier folded, or that you couldn't use milk as a substitute for water in Keurig coffee makers (I think I may have made cottage cheese instead)? So maybe my mom was right … but I'm getting better.
I first arrived on campus in July for summer school, along with my three fellow freshies (Kendall, Kianna and Oderah) and spent six weeks taking two classes, having workouts, getting to know the team and getting adjusted to life as a student-athlete. It didn't take long to realize the huge differences between high school and college. Classes, workouts, weights, basically every aspect is much more demanding.
The biggest difference is probably academics. Before getting here, I was terrified at the thought of having to take Duke classes, but with the amount of academic resources offered here I realized they were definitely manageable. Our academic coordinator, Heather, helps us keep up with everything. With the help of study hall, tutors and a lot of hard work, I managed to do surprisingly well in both of my summer classes and am doing well in current ones as well.
This summer at Duke was definitely successful and the team and I accomplished a lot. We had team workouts, individual workouts, pool workouts, agilities, spin class, weights and conditioning throughout the week, which only made us better. We worked hard all summer getting stronger and in better shape.
Even with my busy schedule over the summer I still found time to have some fun! I managed to get to two country music concerts (Luke Bryan and Kenny Chesney), hang by the pool, explore Durham and also make a lot of new friends with other freshman athletes. Even though I miss Kentucky, I'd have to say I feel pretty at home already.
Go Duke!