June, 3, 2013
6/03/13
4:08
PM ET
By
Kelsey Bone
| ESPN.com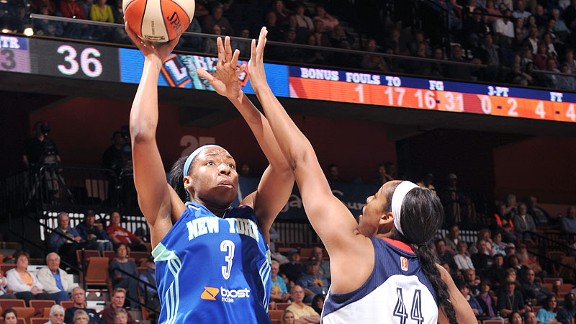 David Dow/NBAE/Getty Images)Kelsey Bone set off the fire alarm at her apartment, prompting Bill Laimbeer to say: "Rookies will be rookies."
The past month has been a whirlwind for me. I graduated from college and was drafted and made a WNBA team -- the New York Liberty. I have done things most people only dream about. Through it all, I have had the pleasure of being around a really great group of people who have helped me adjust to my new home.
My first few days in my new apartment were rather interesting. One morning after practice I came home to make breakfast. I turned on my oven, then went in the other room until I began to smell smoke. When I walked back into my kitchen smoke was everywhere. I stayed calm and opened all the windows. Well that didn't work, because the smoke alarm began to go off. I still didn't panic, so I decided to open my front door ... BIG MISTAKE! After opening my front door I set off the entire building's fire alarm and everyone had to evacuate.
Upon evacuating I went outside and tried my best to blend in with the crowd. I thought I was off the hook once everyone was cleared to go back in. Boy was I wrong. The heads of MSG had been notified of my debacle and emailed Coach Laimbeer. When I got to practice that afternoon coach read the email to the entire team :(. In the email I found out that Coach Woodson's (Knicks head coach) wife had to evacuate in her bath robe. Talk about embarrassing. Coach got a good laugh out of my little situation and said: "Rookies will be rookies."
Training camp was a really good experience for me. Having the opportunity to work with the likes of Taj McWilliams-Franklin, Barbara Farris, Teresa Weatherspoon, Tamika Whitmore, and the infamous Bill Laimbeer all at once was priceless. To have all of that knowledge in the gym at the same time is something I wish all ball players could experience. Add in Plenette Pierson, Kara Braxton and Cheryl Ford and my rookie experience has been all about learning. Being around individuals who have won championships at this level brings a different aura to practices. One thing I can say for sure is practice is far more physical than games. My teammates have welcomed me with open arms and have helped guide me. Katie Smith and Cappie Pondexter have really helped me communicate and understand the game at this level.
I am real anxious to see how things work out for us this year. With Coach Laimbeer's brilliance and all of us buying in and believing, this is sure to be a fun season.
We got a good taste of the fun that's in store with an exciting home opener against Tulsa. The energy level at Prudential Center was through the roof. The game had all the elements of a big time matchup ... there were celebrity sightings, an overtime thriller and even a game-winning shot. One of my favorite rappers, Jay-Z was in attendance, and so was Knicks star guard Iman Shumpert. You could feel the excitement from all the Liberty fans, the place was rocking!
May, 19, 2013
5/19/13
10:26
AM ET
By
Lizzie Haldane
| ESPN.com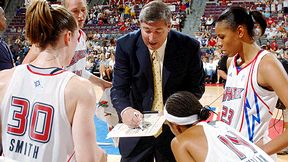 Allen Einstein/NBAE/Getty ImagesBill Laimbeer was named the WNBA's coach of the year in 2003.
Bill Laimbeer, coach and general manager of New York Liberty, turns 56 today. Laimbeer is among 16 former NBA players who went on to coach in the WNBA. He won NBA championships in 1989 and 1990 with the Detroit Pistons. He retired from the NBA in 1994, but remained in Detroit, where he eventually became the Shock head coach. There, he won WNBA championships in 2003, 2006 and 2008.
Read more WFYIs.
January, 10, 2013
1/10/13
11:47
AM ET
By
Bill Laimbeer
| ESPN.com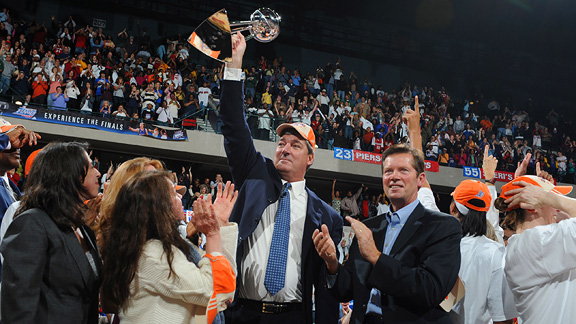 Allen Einstein/NBAE/Getty ImagesBill Laimbeer won three titles with the Detroit Shock. Now he will coach the New York Liberty.
Some critics may say that I was not the most popular guy in the league during my time in the NBA. Perhaps I was an antagonist, but they can't argue with one thing: I sure did get people going.
When I went to the WNBA's (then Detroit) Shock in 2002, I wanted to do the same thing -- get the people going. We went from a group that won five games in 2002 to a WNBA championship squad that set a franchise record for wins in a season (25) in 2003. I added Rick Mahorn and now-Minnesota Lynx coach Cheryl Reeve to the staff and won the championship two more times (2006 and 2008).
In 2009, I took a hiatus from the WNBA to focus on my family and pursue a coaching opportunity with the Minnesota Timberwolves.
Then after a 14-season playing career and seven-plus years coaching, I decided to take a break from my first love. I hadn't even been on a basketball court in a year and a half until recently. My wife, Chris, and I renewed our other passions -- golfing and fishing in beautiful Southwest Florida and hunting in Northern Michigan.
Despite stepping away from basketball, I have stayed close friends with former teammates, coaches, and colleagues -- including Reeve. I got to watch her win the 2011 WNBA Finals with the Lynx, and I could not have been prouder.
While it has been a mostly relaxing vacation from the game, my wife was ready for a change. Having me around all the time must not have been as great as I thought it was! We agreed that it was time for me to do something aside from hanging out every day.
All jokes aside, we are very excited about my new job with the New York Liberty in the Big Apple. Chris has been very supportive of the change.
From my perspective, both on the inside and out, it is easy to see how the WNBA and women's basketball as a whole have grown over the past decade. The caliber of play has greatly increased, the individual players are more talented, and more women are playing. It makes me that much more excited to be back -- especially with innately gifted players like Cappie Pondexter leading the charge in New York.
Joining a team coming off a losing record and turning a program around is not easy. However, I did it in Detroit, and I am confident that we can do it again in New York. But it's not an overnight change. You come into a situation with existing personnel and have to retrain them to perform how you want while also making changes to mold the identity of the ballclub.
I took pride as a player and take pride as a coach in a team that competes in every single minute of every single play in every single game; I call it heightened competition. We are going to play hard-nosed, physical basketball and work to bring this team to the big stage.
Get ready, New York. Kourtney and Kim had their turn, but now it's time for Bill and the Liberty to take New York!