October, 21, 2012
10/21/12
5:46
PM ET
By
Briann January
| ESPN.com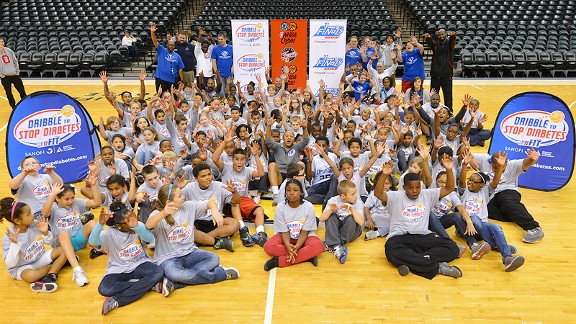 Courtesy of WNBAThe Fever players participated in the WNBA FIT Dribble to Stop Diabetes fundraiser Saturday.
A lot of people would say their teams are close-knit, everyone's friendly and they are their home away from home, but Indiana is different. I've been a member of the Indiana Fever since I was drafted out of Arizona State in 2009. A West Coast-er through and through, I packed my bags and moved more than 1,500 miles to the great Midwestern city of Indianapolis about three years ago hoping one day to be standing where I am today.
I knew three years ago I was coming into a phenomenal franchise with the Indiana Fever. Players like my teammate Tamika Catchings make you want to be better and teach you so much, but a lot of hard work goes behind getting to where the Fever are right now. We practice for hours and watch film over and over again, but we would not be here today if we had done it all alone.
If I've learned one thing about the people in this city over the past three years, it's that they revel in our highs and buoy us in our lows. We have a real community of support, whether it's my neighbor telling me what a good game we had when I go out to get the morning paper or Andrew Luck and the Indianapolis Colts telling us how much they believe in our team.
[+] Enlarge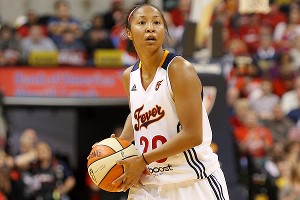 Cal Sport Media/AP ImagesBriann January has experienced plenty of positives with the Indiana Fever franchise.
Everyone probably says they have the best fans, but in Indianapolis, I don't think we have the best fans -- I know we have the best fans. They rock Bankers Life Fieldhouse for us and are amazing as our sixth woman out there on the court. My teammates and I cannot wait to see them rock the red again Sunday night!
Being able to participate in the WNBA FIT Dribble to Stop Diabetes clinic Saturday with the American Diabetes Association and Sanofi US as a part of the WNBA Finals was such a great time to add to the mix of experiences I've had with the Fever. The kids from the Boys & Girls Club of Indianapolis were so excited to be here and their genuine enthusiasm really gets me going. They are our next generation of not only fans but community, and it makes me want to bring home that big trophy even more.
All in all, my teammates and I have been through a lot over the past few years. We've been to the Finals and have had to come home empty-handed, and we don't want to do that again. We've been working on getting back here since the day we lost and we're going to keep working until we bring a championship home.
We've overcome a lot of obstacles with injuries and losing players, but it just builds our camaraderie and makes us closer as a unit. We are teammates, we are confidantes, we are mentors and mentees and we are friends. Together with our fans and the city of Indianapolis, we are one big community and we want to thank you, Fever Faithful. I couldn't be more proud and more ready to bring that championship trophy home for all of you!!
Let's go out today and show the Lynx what we mean by #FeverFinals!!!!!
October, 16, 2012
10/16/12
2:33
PM ET
By
Briann January
| ESPN.com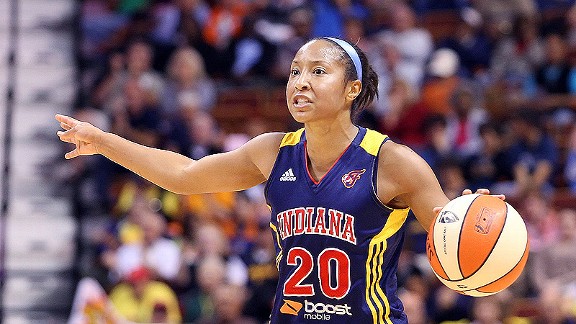 AP Photo/Anthony Nesmith/CSM Briann January had 11 points and six assists in Indiana's Game 1 win over defending champion Minnesota on the Lynx's home court Sunday night.
Briann January is a guard for the Indiana Fever, who are facing the Minnesota Lynx in the best-of-five WNBA Finals.
When we left Indianapolis after Game 2 of the best-of-three Eastern Conference finals against the Connecticut Sun last Monday, we didn't know whether we would be back in three days or 10 days.
If we beat the Sun and earned a spot in the Finals, we would be flying straight to Minneapolis after Game 3 on Thursday. If we lost, our season would be over, and we would return home to Indy the next day.
We all packed for 10 days.
And here we are, in downtown Minneapolis, one game in the books (a hard-earned win) and another ahead Wednesday.
Getting here was no small chore -- and I'm not even talking about the work we did on the court. There aren't a whole lot of direct routes from Indy to Uncasville, Conn., where the Sun play their home games. We had to take a plane into Boston and then bus two hours south to the arena. After the game, we had to take another bus -- this time to Rhode Island, where we picked up a flight to Chicago before connecting on a northbound flight for Minneapolis. Whew!
But the time rolls by on these trips. It's an incredible experience going through all this with your teammates, going through hilarious or difficult moments that bring you all closer together. Everyone is super laid-back, and we have tons of fun together, talking, eating, laughing -- especially Shavonte Zellous and Erlana Larkins, who are the biggest clowns on our team. I can hang out with this team all day, especially Jessica Davenport, who is my best friend -- I can talk to her about anything and everything.
There's always plenty to do. You can watch a movie, listen to music or read. On this trip, I just finished reading "A Thousand Splendid Suns" and I'm rereading "Mind Gym" right now. And of course, I sleep! Half the time, I'm exhausted from the nonstop physical activity. And though I'm a big sleeper, I'm nothing compared to rookie Sasha Goodlett. Luckily, we're roommates on these trips, and the arrangement works out well. Our room is dark the majority of the time so she can get her naps in.
Now, we're staked out in Minneapolis. We've been here since Friday, and we'll be here until it's time to go east for Game 3. This is a great city, but we have to remember this is a business trip, so there isn't a lot of time to go out. We'll go out and hit a restaurant -- we had a great meal at Murray's the other day -- but mostly we're focused on getting out of here with another win.
It's definitely fall here. There's a chill in the air and a lot of excitement around town about the Finals. We know we're not done traveling yet, and it's not time to rest. It's time to get ready for Game 2.