January, 30, 2014
Jan 30
4:44
PM ET
By
Brittany Bowe
| ESPN.com
Matthew Stockman/Getty ImagesBrittany Bowe, left, with Heather Richardson and Jilleanne Rookard, celebrates after learning she had qualified for the Olympic team.
Pinch me, I'm Sochi-bound!
We left for Collalbo, Italy, last week, equipped with detailed instructions from Randy Wilbur, one of the top exercise physiologists in the world, on exactly when we should be eating and sleeping on the flight to prevent jet lag and adjust to the time change.
I also wore a cool face mask on the plane to try to ward off bacteria and viruses and packed a full bottle of hand sanitizer. There are not many things I find more disgusting than recycled airplane air. But I did everything I could to try to stay healthy and control my atmosphere. There's no time for getting sick as I taper down training and fine-tune for Sochi!
We were in Italy until Thursday then flew to Munich to do all our team processing -- aka getting goody bags of Olympic gear! I'm pretty sure that's when it will hit me that I've made the Olympic team and this is all actually happening.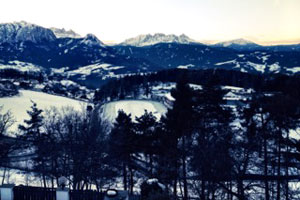 Courtesy of Brittany BoweThe picturesque track in Italy where the U.S. speedskating team trained this past week.
On the advice of other athletes who have been to the Olympics before, I tried to pack light -- just the essentials I need for racing and nutrition. They say the amount of stuff you get at team processing is out of this world. It's kind of a unique situation. Nike is the overall sponsor of Team USA at the Games, so we're in Nike most of the time. But then the opening and closing ceremony uniforms are sponsored by Ralph Lauren, so we'll be in our polos for that. It's a pretty neat experience, and I'm prepared to get spoiled!
In a lot of ways, I still haven't really wrapped my head around it all. My friend Elli Ochowicz, who's been to three Winter Olympics already in speedskating, told me to enjoy the opening ceremony -- to take some pictures and video but don't let documenting it consume your night. It's really about taking it in and enjoying the moment. So that's what I'm going to try to do.
My mom, dad and sister are coming to watch me race, so that will be really special. My mom has traveled the world as much as I have because when I was younger I competed in inline skating internationally, so she'll be the tour guide. And I know for a fact I'll be able to pick out my mom's voice over the other 8,000 people in the crowd.
Everyone keeps asking me if I'm nervous about the security situation in Sochi. Honestly, it is what it is, in my mind. It's unfortunate and it's scary, but I know the Olympic Committee is going to do everything in its power to protect the athletes. I can't worry about what I can't control.
The same thing goes for the races, really. I want to skate the best race possible, and to do that I need to stay within myself and not let the atmosphere, or the 8,000 people watching, distract me. I need to go through my normal routines.
I've been watching my world-record 1,000-meter race over and over and over again. I am going to try to mimic that and hope that will get me to the top of the podium.
It has been a dream of mine to become an Olympian, and I have accomplished that goal. Now onto new goals in Sochi!
January, 20, 2014
Jan 20
12:53
PM ET
By
Brittany Bowe
| ESPN.com
Boris Streubel/Getty ImagesBrittany Bowe got some good tips on mental preparation for the Olympics from three-time medalist Joey Cheek.
Despite the fact that I was in bed by 10 p.m. on New Year's Eve, I don't think 2013 could have ended in a more spectacular fashion for me: I qualified for my first Olympics! The trials races -- I competed, and qualified, in three: the 500, 1,000 and 1,500 meters -- took place between Dec. 28th and the 31st, so racing definitely capped the year.
Punching my ticket to Sochi obviously gave me plenty to be excited about, but my first Olympic trials experience was special for so many other reasons, too. For one, my hometown friend Joey Mantia made the team in the 1,000 meters. I've known Joey since we were 8 and 9 years old respectively, when we were both inline skaters in Ocala, Fla. Even better, our coach from back then, Renee Hildebrand, who molded us into who we are as athletes today, was able to come and watch. She'd actually never seen me skate live on ice, and the last time she was in Salt Lake City was when we came out in 2002 to watch the Olympic Games together. At the time we were dreaming about me racing in the Olympics some day, and here we are!
Throughout the process I've gotten tons of inspiration -- and advice -- from other athletes who have gone to the Olympics. After the trials my family, Joey Mantia's family, Coach Renee and 2006 gold medalist Joey Cheek all went out to dinner. I definitely took the opportunity to pick Joey Cheek's brain about the Olympic experience. His advice was to just go into the race like it's any other race. Stay focused and think about the two or three things you think about every time you step on the ice, he told me. Nothing more, nothing less.
[+] Enlarge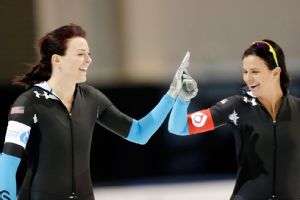 AP Photo/Rick BowmerHeather Richardson, left, and Brittany Bowe -- along with their roommates Sugar Todd and Mitch Whitmore -- are all headed to Sochi.
For me, I always think about keeping my upper body relaxed, my hips level and my right side down on the turn. If I work on nailing those three things at every practice, I hope that by the time I get into a race situation I can stay completely focused on the task at hand and the rest will happen naturally.
The other thing that is so fun about making the Olympics (as if it needs to be any better) is that I qualified with my three roommates, Heather Richardson, Sugar Todd and Mitch Whitmore. We all made it the first day in the 500 meters. It can be a pretty cutthroat atmosphere at the trials, but it's nice to be able to go home and enjoy each other's happiness. We Tivo'ed the races so we could run them back and enjoy watching them again from the comfort of our couch.
The four of us have grown really close training and living together. Let's just say we girls love to watch trashy reality TV and have convinced Mitch to join us for more episodes than he'd probably care to admit. And he's gotten me to watch more "Star Wars" movies than I ever would have on my own! Anyway, I can't wait for Feb. 7 when we all get to walk in the opening ceremonies together.
After qualifying, it was nice to get a week of recovery so I could sit back, relax, and watch the short track trials take place. It was cool to watch some of my really good friends from inline skating make the team -- two out of three girls that made it and four out of five guys who qualified were inline skaters originally, so it was awesome to watch their dreams come true, too.
After the down week, though, I'm back at it with one more hard training cycle before we head to Italy for a hard 10-day training camp before Sochi. Did I mention I'm sitting here and haven't even started doing laundry and packing for the eight-week trip ahead of me? Better get crackin'!

December, 23, 2013
12/23/13
3:16
PM ET
By
Brittany Bowe
| ESPN.com
Boris Streubel/Getty ImagesTraining and competition schedules mean short holidays for Brittany Bowe.
You might think we'd go easy and relax a bit as we head into the Olympic trials in Salt Lake City on Dec. 27, but we've actually been hitting it pretty hard, both with training and racing.
I've raced 18 times in the past five weeks, including four World Cup competitions. And even this past week we were training hard, with intervals and tempos and a time trial last Friday. It sounds funny to "train through" the Olympic trials, but our ultimate goal is Sochi, and while trials is important, it is also just a stepping-stone.
This is my first Olympic trials, but the races won't be different from any of the World Cups -- or at least that's what I tell myself. So I'm planning to go into them with the same prerace routine as I always do.
I'll get to the oval three hours beforehand, and warm up for about 45 minutes off the ice. Then I'll stretch and get on the ice for 20 minutes. I'll cool down, then relax, close my eyes and think about what I need to do. Hopefully, I'll go to the line thinking about the same things I have all year, and attack the race each time.
I'm feeling excited, even with all the pressure. Every time I've stepped on the track in the 1,000 meters this year, I've medaled. So that's encouraging! The 1,000 is my strongest race, but I'll also compete in the 500 and 1,500 meters. U.S. Speedskating will then pick three or four of us to compete in Sochi for each race, based on our performances at trials. It's nerve-wracking, for sure, but I have confidence that I'm in very good shape to make it.
My first race is on the 28th, so the schedule doesn't leave a lot of time off for the holiday. Thankfully, my mom and my sister can come out to Salt Lake on Christmas Eve, and I'm just planning on enjoying their company. I spend so much of the year away from my family that it's extra special to be spending Christmas with them.
My housemates get in on the holiday spirit as well. I live with fellow speedskaters and National Team members Heather Richardson, Sugar Todd and Mitch Whitmore, and Sugar lives up to her name. She spoils our household with baked goods, and not just at Christmastime. When it's someone's birthday it's pretty much like it's everyone's birthday. I'm sure she's going to go on a baking run, so we'll definitely be having some treats courtesy of Sugar Todd.
Nontraditional Christmases are nothing new for me. My family came out here last Christmas, too, and really, the holidays have not been what a "normal" person would consider normal for as long as I can remember. Even when I played basketball in college, we got maybe two or three days off.
A lot of people would say that's crazy, but that's just my way of life. The holidays are important, but the path I've chosen doesn't take that into consideration. I do what I can to enjoy them, but it's one of the sacrifices of being an athlete. The trade-off, though? Well, if all goes well, I'll get to compete for my country at the Olympic Games.
I'd definitely say it's worth it.
November, 20, 2013
11/20/13
4:43
PM ET
By
Brittany Bowe
| ESPN.com
Matthew Stockman/Getty ImagesBrittany Bowe set the world record in the 1000 meters in Sunday's World Cup race at the Utah Olympic Oval.
I felt just like I always do.
As I skated to the starting line for Sunday's World Cup 1,000-meter speedskating race at the Utah Olympic Oval, it was just like any other race. In fact, it was my fourth of the weekend.
I'd gotten a huge personal best in the 500 meters on Friday, and skated two more races (500 again and a 1,500) on Saturday. I woke up on Sunday, just like I had the previous two days, ate my breakfast and hung out around the house, waiting until it was time to go. I headed to the Oval and went through my prerace routine, just like I had all weekend.
And then I skated a new national and world record.
I never think about records. I focus on my race and try to get onto the podium consistently. It's hard enough to do that. I don't even know if you can blink in a hundredth of a second, and that's what it comes down to in speedskating. My teammate (and housemate) Heather Richardson was just .03 seconds behind me in Sunday's race, and she could have easily set this record. A tenth of a second can separate first through 10th place, and a hundredth can separate first through fourth. Let's just say, every move you make counts.
[+] Enlarge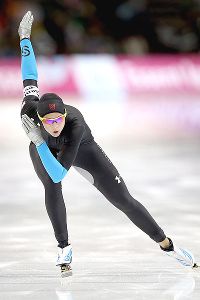 Matthew Stockman/Getty ImagesBrittany Bowe competes in the 500-meter, 1,000-meter and 1,500-meter races, and was ranked No. 2 in the 2013 World Cup rankings in the 1,000 meters.
When I'm starting a race, I just completely narrow down my vision and focus on what's directly ahead of me. On Sunday, I remember thinking to myself, "OK, I have to have a good, strong opener." The opener is the first 200 meters of the race, and coming out of my second turn I saw my coach, Ryan Shimabukuro, with the lapboard. It said 17.8 seconds -- my fastest first 200 meters ever.
That boosted my confidence, and I went on to have my fastest one-lap time of 26.5. Seeing that fueled my fire even more. I was attacking the race. I knew it was going to be a fast time, that I had a great pace on the final backstretch and that I came across the finish line in first. But I had no idea I'd set a world record until I looked up at the board and it was flashing "WORLD RECORD." I was ecstatic!
I saw Ryan on the back straightaway with his hands in the air. I threw my hands up, too, and had this feeling of being completely victorious. It's one of the best feelings an athlete can have. My mom, dad and godmother were there, too, and I spotted them and gave them one of my biggest smiles ever, along with a little thumbs-up.
It's honestly a blur after that. I didn't get to revel in my new record for too long. It was only two hours before I had another race to do -- the Team Pursuit -- with Heather and our teammate Jilleanne Rookard. All three of us had tired legs from the weekend, but it was a really exciting race. We set a national record on our home ice and won a bronze medal for the first time since 2009.
After the Team Pursuit there was a ceremony where I got to go up and take the plaque for the existing world record and replace it with mine. It was a really special moment for our team and the coaching staff.
But besides having my name on that wall, I'm the same athlete I was on Saturday, before any of this happened. It's funny, because when I go back and look at the video of my race, there are quite a few things I could have done better. My race strategy and how I attacked it was perfect. But there are different technical aspects I can nitpick when I really study it: small things like keeping my right side down in the corner, for example. You have to be a student of the game to be successful, and it's promising when you can say that with a world-record performance I still have things to improve on!
I had one day to rest, and then it was back to the airport to fly to Kazakhstan, where we'll be for 10 days leading into the next World Cup race. I've been there once before, a couple of years ago, and I remember that when we got there it was really futuristic. All the buildings resembled things that could shoot off into space at any moment. I thought it was really bizarre, but also really neat.
When I get on the line there, it's right back to where we were last weekend -- it's anyone's race to win. In speedskating, it's 36 or 37 seconds for the 500 meters, one minute 12 seconds for the 1,000, and every move is cutthroat. As we all know, everything can change in less than the blink of an eye.