February, 28, 2014
Feb 28
2:30
PM ET
By
Brittany Force
| ESPN.com
Gary Nastase photographyBrittany Force was afraid she'd be nervous before her first final round, but instead felt only excitement.
Just two races into the NHRA Mello Yello Drag Racing Series, my Castrol EDGE team finally made it to our first final round. With the 2013 rookie of the year title on our shoulders, my entire team has high expectations for our year, and we are looking for our first win.
In the offseason, we made some dramatic changes to the team. We teamed up with Todd Smith as crew chief and have already been running more consistently. We ran our career-best 3.778 seconds ET (elapsed time) at 326.24 mph in Pomona. The team has also been testing a new clutch that we believe will step us up with the rest of our competition. All last year we ran a five-disk clutch pack, and now we are experimenting with a six-disk clutch pack that will allow our car to run smoother and faster.
Sunday morning in Phoenix I woke up feeling confident our team would be going some rounds. We faced David Grubnic, who beat us last year at this track, in the first round of eliminations. After making a clean pass and getting the head start off the line, the team ran a 3.82 and advanced to the next round.
[+] Enlarge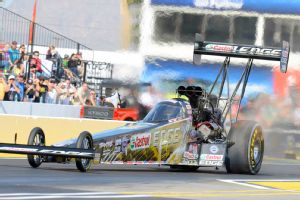 Gary Nastase photographyAfter changes to her team, 2013 rookie of the year Brittany Force is running even more consistently this year.
In the second round, I faced "The Sarge," Tony Schumacher. I knew this round would be a tough one for my team, but I was still feeling confident about turning on the win light. After another solid pass, our team improved, running a 3.80 and getting to the finish line first. Getting out of my car at the top end I was still running on adrenaline and beyond excited! My energy was through the roof because our team had just taken out the champion.
Schumacher is the seven-time Top Fuel champ and the one competitor I have always dreamed of beating. After the run, he came over to congratulate me and I hugged him knowing that round win will always be a big moment in my career.
Round 3, my team was running against Steve Torrence and we managed to get past him and got another win. We were now going into the finals. Three interviews and three laps in one day was something new to me, and I was loving every second of going rounds on race day!
I ran Super Comp for three years, A-fuel for two years and had still never made it to a final. This was going to be my first final round and it all seemed so surreal to me. Last year, I constantly thought about going into a final and worried about how stressed and nervous I would be. My biggest concern was how I would react under pressure. I feared I would be so overwhelmed I would not perform my best and would cost the team a win.
Heading up to the final, I was wrong. More than anything, I was excited! Going rounds was so exhilarating and so much fun, the fear had been driven out. My team was also on a high keeping each other and me motivated between rounds. It seemed like the day had gone by so fast as we headed up to the starting line for the last time. I knew no matter what, my team would be at the top end to pat me on the back and would be proud of what we had accomplished. After a close race, Antron Brown crossed the finish line first and got the win.
Our day had come to an end, but I was still smiling climbing out of my car at the top end. I had my best reaction time of the weekend and my team gave me a car that ran a 3.79! We got beat but put on an awesome show for the fans! This weekend the team proved our strength and that we are ready for the historic GatorNationals in Gainesville, Fla., on March 13-16.
December, 30, 2013
12/30/13
11:04
AM ET
By
Brittany Force
| ESPN.com
Courtesy of Brittany ForceA few of the Force family Christmas traditions include spending the holiday at Lake Tahoe, baking cookies and attending the same church Ashley Force got married in.
Even though a Top Fuel dragster in the Force pits is not tradition, Christmastime is one tradition my family always keeps. Every year my family packs their bags and wrapped presents and heads to Lake Tahoe for a winter holiday.
We always go overboard with Christmas by pulling out all the festive trimmings. We decorate a Christmas tree, hang stockings by the chimney, bake in the kitchen and watch our favorite Christmas movies. Mine is "Home Alone." This year, Christmastime seems even more magical with two little kiddos, my nephews Jacob and Noah, laughing and running through the house.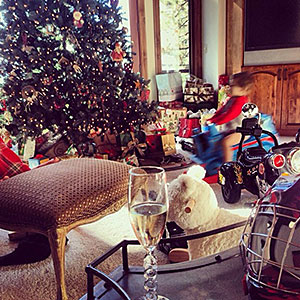 Courtesy of Brittany ForceBrittany Force's nephew Jacob ripped through his presents under the tree and spent the rest of Christmas Day playing with all his toys from Santa.
My family looks forward to Christmas all year long, and we all enjoy being under the same roof to get into the holiday spirit. Christmas Eve my dad sets out to begin his Christmas shopping, while my sisters and I stay in relaxing by the fire and baking cookies. In the evening, we all get ready and go to church together at St. Francis. It's the same church my sister, Ashley, got married in, so is filled with so many great memories for all of us.
After church my family picks up Chinese food to bring home, a Force family tradition. As a little kid we use to do Carl's Jr. on Christmas Eve, but after getting the wrong happy meal one year and crying over my chicken nuggets we made the switch to family-style Chinese dishes. After dinner, my family exchanges gifts by the tree and enjoys each other's company. This year we ended our night watching Jacob put out cookies for Santa.
The next morning my family cooked breakfast and let Jacob look under the tree to see if Santa made it down our chimney. Jacob ripped through everyone's presents and spent the rest of the day playing with all his race car toys from the North Pole.
In the evening, the entire Force family cooked up a traditional holiday meal. There are always too many people in one kitchen singing holiday songs, but it is always such a great time. With new little faces at the dinner table it is such a blessing to be able to celebrate Christmas all together, as one family.
October, 14, 2013
10/14/13
1:51
PM ET
By
Brittany Force
| ESPN.com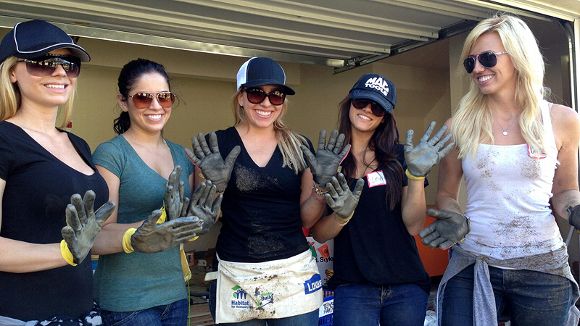 Courtesy Brittany ForceBrittany Force, middle, her sister Courtney, far right, and their friends and teammates helped transform a barren lot into a backyard for two families in Santa Ana, Calif.
October is the month for giving back here in the John Force Racing pits.
John Force Racing has always been about teamwork, and we have come together the last couple of weekends for a great cause. Saturday, a group of JFR employees, our teammates from System 51 and some good friends got their hands dirty and gave back to the community by teaming up with Habitat for Humanity.
Before the sun came up Saturday, a JFR crew headed out to Santa Ana, Calif., excited to get to work and help local families. We suited up in kneepads, aprons and gloves and spent eight hours doing intensive labor, getting dirtier than we have ever been at a racetrack. We planted flowers and shrubs, spread mulch and laid over 10 pallets of sod in one front yard and two large backyards. We were all a part of transforming a barren lot into a beautiful backyard where two families can now call part of their home.
Being able to come together with friends and give back to our community was such a privilege. Habitat for Humanity is a nonprofit organization that provides a better way of life for lower income families. The organization has helped build more than 600,000 homes and have assisted 3 million people worldwide.
Back on the track, JFR has also found a way to involve themselves in something just as powerful. Recently, when our teams were competing in Reading, Pa., they showed their dedication to Breast Cancer Awareness month by going pink. The Castrol EDGE team pulled up to the starting line in a newly painted black and hot pink dragster.
Other teams on the track, like that of my sister Courtney, with her Traxxas team, painted their race cars pink as well. My firesuit had hot pink stripes, my team had matching team shirts and some even rocked hot pink vans and sweat bands. The Castrol EDGE team had a consistent car all weekend but unfortunately went out in the first round.
In a couple of weeks, my team will be painting the Las Vegas track pink to bring awareness to the National Breast Cancer Foundation. Fans can join in by ordering either my pink Castrol EDGE dragster die-cast or Courtney's pink Traxxas Funny Car die-cast from Lionel from our souvenir store. Portions from the sale of the pink race cars will go to the foundation.
To find something close to my heart and watch my friends and teammates come together in support means so much to me.
When I began thinking about competing professionally, I knew I wanted to use racing to open doors to involve myself in a good cause. Drag racing brings entertainment to fans all over the world, but I wanted to bring more than just that. I hoped to have moved my friends, teammates and even my fans by being a good example and giving back. I am so blessed to be surrounded by so many good friends by my side who actively support the National Breast Cancer Foundation and Habitat for Humanity.
August, 21, 2013
8/21/13
5:49
PM ET
By
Brittany Force
| ESPN.com
Courtesy of Ron Lewis Photography Brittany Force hopes to get her Top Fuel team into the Traxxas Shootout.
Coming out of Brainerd, this Castrol EDGE team has a new, focused goal heading into our biggest race of the year, Indianapolis. Indianapolis is the hub of all motorsports. It holds the event that kicks off the start of the Championship Countdown and Traxxas Shootout, a $100,000 competition between the first seven Top Fuel winners of 2013. The eighth contender comes down to a fan vote and my team and I want that spot.
My rookie team has not had an easy season but one thing we have learned from my father, our boss and champ John Force, is we are all one team. We stick together, battle it out and stay positive. We've lost races together and we will win together and we plan to go after our first ever win starting in Indianapolis.
Prior to the race in Indianapolis, my team plans to do some testing to make sure we are at the same level with our competition. We are making some risky changes we believe will put us in fighting shape. Earning five round wins, qualifying No. 3 in Denver and competing in two of the quickest (and toughest) qualifying fields ever this year, our team is ready to show how competitive we really are.
The John Force Racing PR team and I are busy promoting my Top Fuel team for the fan vote in the Shootout. Everything from YouTube videos to stickers are floating around the racetracks and are in the hands of some of our biggest fans. Winning the final spot could make me the first woman ever to compete in the Top Fuel ranks in the Shootout.
Growing up as a kid at the racetrack, I remember watching my dad compete various Shootouts and specialty races and even remember watching him win. I can still recall the details of watching some of those final rounds with my sisters. Prayers in, fingers crossed, we would watch from the back seat of our teams tow trucks. Eyes burning from nitro, ears stinging from the roar of two Funny Cars launching off the starting line, we all hoped my dad's red and green-striped Funny Car would get to the finish line first. Watching my dad's win light glow in the heat of the night, my sisters and I cheered from the back seat.
My dad's wins at Indy were some of the greatest memories from my childhood and seemed like something so unreachable to a kid who began racing at 17 years old. But now I might have that chance to compete like my dad and make a memory of my own. So, today I am asking for all you readers to vote for me, Brittany Force and give this hardworking team a chance for the fight and a chance to earn our first win in our rookie season.
Also vote for my brother-in-law Robert Hight in the Funny Car category.
August, 7, 2013
8/07/13
5:33
PM ET
By
Brittany Force
| ESPN.com
Courtesy of Force RacingBrittany Force and her team explored the farmer's market in Seattle.
The life of a NHRA driver is crazy, hectic and never routine. But it is also exactly what I expected and everything I love in my rookie season. Heading into Seattle I really wanted to put a spin on things. I decided to drive in the big rigs with my crew guys and get into town a few days early to explore Seattle. I typically fly into national events, so trucking in the big rigs and our tow truck for 15 hours was going to be something I haven't done since I was a kid with my dad.
Leaving Sonoma, Calif., around 8 a.m. we ran into our first problem, luggage. I have always had a slight problem of over packing, to the point I have to weigh my bag before airport runs so I don't have to pay extra. After 30 minutes of rearranging everyone's bags we crammed it all in and hit the road. Our first stop -- about three minutes into our 782-mile drive -- was McDonald's. After the breakfast run we were getting a late start on our very long road trip.
Riding along in our Ford Explorer we listened to country music, played car games, talked and even sang about racing. My guys are pretty good at changing all the words in a country song to make it a Castrol Edge Top Fuel racing team song. Pulling over for gas, I jumped out and switched to the big rig to continue our journey.
After only a few hours of riding in the big rig I learned I have a new respect for the CDL drivers. They get cut off more than you can imagine and trying to stop an 80,000 pound tractor-trailer is not a simply task. Being so high off the ground the views from Sonoma to Seattle were beautiful. We drove though Portland and I was able to snap some pictures of the city. My guys and I got on the radio and talked to other truck drivers, went through the scales and belted out some tunes together. We finally arrived to our hotel in Auburn, Wash., close to midnight. The 15-hour drive was not nearly as bad as I thought it would be. I saw some beautiful scenery, ate fast-food three times in one day and got to know my guys a little bit better.
[+] Enlarge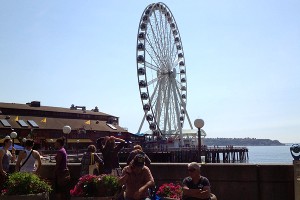 Courtesy of Force RacingBrittany Force rode the Ferris wheel in Seattle.
Getting up early the next day I was ready to see the city that always sits beneath the clouds. Some of my team and I loaded in a car and went downtown. After some research we all decided on some sites and started at Pier 57 to ride Seattle's Great Wheel. This Ferris wheel is the largest on the West Coast and we all captured some pictures of the city 175 feet off the ground. Next on the agenda, was Pikes Place, the original farmers market and biggest tourist attraction in the city. We bought everything from flowers to fresh fruit to pasta. We went on a search to find the first Starbucks built back in 1971. After stopping at three Starbucks we finally found the original where we enjoyed some iced coffee and bought a souvenir mug. Deciding it was time to head home we stopped for some fresh sushi and said goodbye to the city for the evening.
To promote the O'Reilly Northwest Nationals, I was asked to attend the NHRA news conference in downtown Seattle. Glad to go back into the city, I went with my PR rep Michelle McCullough. We started at Pike Place Fish Company where I was going to attempt to catch a flying fish. Everyone at the Fish Company was very welcoming. They were told an NHRA Top Fuel driver was going to be their guest; they all admitted they were expecting a man. The guys in white aprons had energetic personalities and drew a crowd in immediately. They announced me and asked the crowd if they wanted me to catch some huge fish. They pulled me up behind the counter and taught me the proper techniques of catching slimy fish.
One of the guys took off, stood in the crowd a good 30 feet away and began counting down. I suddenly began to panic! The crowds started cheering and people had their cameras and video cameras ready. All I could picture was the giant fish slipping out of my hands and smacking the floor. Before I could attempt to stall any longer a fish was sailing through the air and right towards me. Suddenly, my vision changed and I no longer feared I would drop the fish, but that I would be the first at Pike Place Fish Company to be smacked in the face with a giant halibut. How can I get out of this? Duck and avoid it all together or shove the man in the white apron in front of me to get the dirty work done. Nope! I will go big or go home. Arms stretched out, feet shoulder width apart and palms up the fish landed right in my hands. Smiling I held it up to the crowd who cheered and snapped pictures. Looking down at the smelly fish I had not thought this through. I have gone fishing with my dad hundreds of times but always got out of actually touching the fish and pulling out the hook.
I quickly passed it off and the guys asked the crowd if they wanted to see me catch a fish again. Before I could give my answer, another fish was flying through the air and miraculously landed in my hands again. Either the guy throwing the fish had quite the aim or I should change careers. I thanked everyone at the market and had the biggest smile on my face because that was one of the most memorable experiences of the Northwest tour.
After 12 hand washes I headed to the Space Needle to attend the NHRA news conference. At the top of this building I could see all of Seattle. I met with writers and local TV stations where Alexis DeJoria, Shawn Langdon, Spencer Massey and I all promoted the race.
After some time off I was ready to get back to work on the racetrack. My team and I qualified No. 13 Saturday and unfortunately went out in the first round of eliminations. It was a tough day but it motivated us all to get the job done right in Brainerd, Minn., in two weeks. Even though my team and I didn't go rounds like we had planned we still had such a great time. I had the opportunity to see what they do outside the track and how they get the big rigs to town to set up for our events. We got to explore Seattle and hang out off the racetrack. Those memories will be ones I will never forget!

April, 9, 2013
4/09/13
6:00
PM ET
By
Brittany Force
| ESPN.com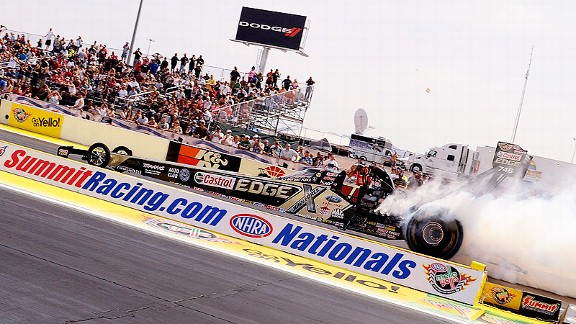 Courtesy of Force RacingBrittany Force won her first-round race in Las Vegas over the weekend.
On Thursday night before the SummitRacing.com NHRA Nationals in Las Vegas, I signed autographs at the FanFest at the New York New York hotel and casino. It was like no autograph signing I have ever been to and the fans filled the room with an energy that got me motivated for the weekend at the track. There was a line around the building when we arrived and there were a ton of other NHRA drivers participating, which made the event even more memorable. I met a lot of fans and I was able to give away a couple of free tickets for the event to a couple of kids. There was a family in line with two little boys I met earlier.
The boys were waving their hands in the crowd and I wanted to make sure they would be able to come out to the track with their parents and watch some racing. The family even came up to me at the ropes during the weekend and thanked me again for the tickets. It was a great event for not only the fans but the drivers as well and I can't wait to do it again!
[+] Enlarge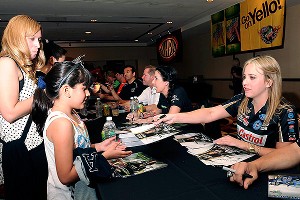 Courtesy of Force RacingTBD
During the FanFest I was sitting beside Alexis DeJoria and my brother-in-law Robert Hight, which made the event more enjoyable. Being able to have other girls to talk to on the Mello Yello Series makes things easier because we can relate to so many of the same things. I always have my sister Courtney I can talk to -- but the more girls on the road the better!
John Force showed up as the boss and my dad all rolled into one. He said he wanted to make sure I was settled in and doing my job but, in all truth I know he wanted to see the fans. He has always told me the fans will love you know matter how well you do on the track or how bad you screw up. He also told me the fans can give you that spark a driver needs before a run to get them motivated to go out and kill it on the track. My dad has giving me so much advice on driving over the years but this one I believe comes from the heart and has so much truth.
The FanFest really got me pumped up for the weekend. I was with a lot of the drivers which is exciting to know that on the track, and off the track, we are doing our job and taking care of the fans who make racing possible.
It was the best weekend my team has had so far. We made three really consistent runs in qualifying which made me more comfortable as a driver going into first round. We qualified in the top half of the field on Friday and eventually slipped to No. 11 but it was a relief to be qualified early on. Not having to worrying about making it into the show takes a lot of extra pressure off everyone's shoulders.
I had a good feeling going into race day on Sunday because this is such a familiar track for me. I raced in Super Comp, A-fuel and even made my first full pass in my Top Fuel car in Las Vegas. I got my first round win on Sunday and the first round win in a Top Fuel car for John Force Racing which was such an honor and so exciting. I jumped out of the car screaming and hugged my dad. I remember telling my guys I was so proud of them and I couldn't believe we were going to the second round.
Earning my first round win was a big accomplishment for my team and me. It is proof this dragster is headed in the right direction and we are going to do great thing this year. Going in to second round against Tony Schumacher was unreal to me as a rookie driver. I have wanted to race Tony Schumacher forever. He is the seven-time Top Fuel champion and is such a big name in the sport of drag racing. He has given me so much advice over the past year during my year of testing and has been someone I have looked up to as a driver. My dragster shook really hard so I lifted early and Tony went on to win the race. I am looking forward to running him again and can't wait to head to Charlotte for the Dollar General Four Wide race in two weeks!
January, 15, 2013
1/15/13
12:14
PM ET
By
Brittany Force
| ESPN.com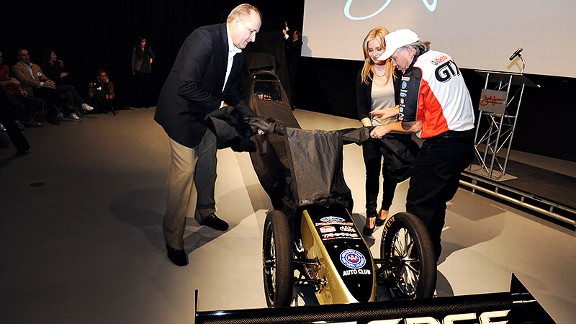 Courtesy of Force Racing Brittany Force becomes the latest to join the family business. She will drive Top Fuel in the NHRA this season.
Last week John Force Racing announced I will be joining the NHRA this season as the driver of a Top Fuel dragster. I think it will finally sink in at the Winternationals in Pomona, Calif., in mid-February. I still feel like I have a lot to learn as a driver, which is why I am glad to be heading back to West Palm Beach, Fla., for more testing. When Pomona begins -- with fans everywhere and so much going on -- the craziness will be a little more real. I am really excited.
I think my Top Fuel dragster looks awesome. I was worried when my dad said it was going to be pretty much an all-black. Throughout my whole career I have only driven white dragsters. From Super Comp to A Fuel to the Top Fuel dragster I tested last season, they were all white. I was really curious to see how it was going to turn out, but I love it. It looks mean and fast. Brandon Baker, our graphic designer at our Brownsburg, Ind., shop, did an awesome job.
We did a big press conference at our West Coast shop in Yorba Linda, Calif. My favorite part? When my speech was done. I was a little nervous and there were a ton of people, but I was really happy with how it went. After, I did a ton of interviews and it really got me pumped up for Pomona.
Dealing with my dad all day was fine but the speech was what I was focused on. I practiced it a few times and we did a rehearsal the night before. Our whole family is known for being able to speak well so I wanted to give a good first impression. On Thursday morning I even had my dad open up the shop early so I could run through my speech a couple more times. After a run-through that was a little off, I would tell myself, "that was terrible," and then I would do it again and get better. It was really a good exercise to just get comfortable.
I am trying to take the start of the season one step at a time. We are going to Palm Beach Raceway for the Pro Winter Warmup this weekend. The dragster will have the enclosed canopy so I am a little nervous because it is something new. I know once I make a pass in it I will be fine. I am also looking forward to running with another Top Fuel dragster in the lane beside me. I have never run with another dragster before. Once I get the first canopy run and the first side-by-side run out of the way, I will be ready for the season.
I have to thank my dad and mom as well as Courtney, Ashley and my brother-in-laws Robert Hight and Dan Hood for all their support.