December, 21, 2013
12/21/13
5:05
PM ET
By
Mikayla Lyles
| ESPN.com
Photo courtesy Cal Women's BasketballLeft to right, Cal players Afure Jemerigbe, Justine Hartman, Reshanda Gray, Kyra Dunn and Brittany Shine pose with their stuffed Bears at the San Francisco airport before departing for Newark, N.J.
It is that time of year again ... finals week. When water becomes coffee, sleep is a distant memory and the need for "TGIF" is stronger than ever.
For student-athletes, there is typically added stress because of the anticipation and preparation of the next game on the schedule. Our lives sometimes resemble the tale of David and Goliath, facing an insurmountable foe. Preparing for one test is hard, but multiple tests, even harder.
Preparing for a game is hard, but preparing for a game against the reigning national champs in one of the grandest arenas ... that is the essence of David and Goliath.
We are truly being tested this week, in more ways than one, but my team and I are in preparation mode. Playing the UConn Huskies, the No. 1 team in the country, clearly is not an easy task. However, we have been diligent by stepping up in practice and film, hoping to give ourselves the best chance to influence the outcome of this tale.
Coincidentally, Malcom Gladwell just wrote a book titled David and Goliath, and one of his most compelling messages is, "Believing the power within us is an important lesson for us to learn in our battles with opponents of all kinds."
The point being, that in both situations, whether in the classroom or on the basketball court, it is a test of the intangibles that dictates the outcome. How much do you believe? How much will you compete? How hard are you going to study/play?
We are incredibly honored and humbled by the opportunity to play in the Maggie Dixon Classic at Madison Square Garden on Sunday against the No. 1-ranked UConn Huskies. We recognize that we are co-authoring a tale. The ending just hasn't yet been written.
April, 3, 2013
4/03/13
3:50
PM ET
By
Layshia Clarendon
| ESPN.com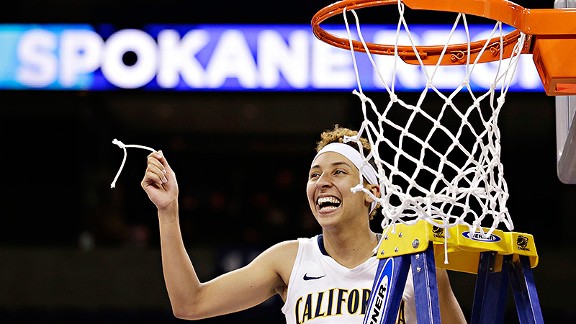 AP Photo/Elaine ThompsonLayshia Clarendon has helped the Cal basketball team to its first Final Four.
Best start in school history, longest winning streak, first Pac-12 Title, highest tournament seed, first regional title, first Elite Eight and Final Four appearance in school history.
Anyone who has caught a glimpse of our warm-up stretches, pregame shots, or that postgame celebration on Monday knows that we are a team that likes to have fun and enjoy the moment.
So it only made sense that while interviewing my teammates and asking them what they were most excited about in New Orleans; I received consistent answers surrounding the food and festivities that await us. Reshanda Gray said, "Oh New Orleans, definitely the crawfish." Others said, the Cajun Culture, the urban experience, the decorative masks, and most importantly as I screamed in my postgame interview Monday night; THE BEIGNETS!
The Golden Bears will definitely be making a trip to the world famous Cafe Du Monde and soaking in the unique Final Four culture we will all be experiencing together for the first time.
So how do we balance the dancing, singing and utter silliness and still focus on the scouting report, lock in and get a stop, and finish games in overtime? Why is Coach G OK with us making music videos in the middle of the season?
Because the work ethic is ingrained; it is who we are and what we do. It isn't something that needs to be discussed a whole lot, but practiced and embodied in each step we take as a team. Whether the clock is winding down in a guard-post breakdown drill, a race against the clock in 27 in 2 and a half or getting a stop with a minute left in overtime … this team leaves all we have on the court, for each other, for our coaches, for our university, because we don't know any other way. One drill, one sprint, one practice, one game at a time -- we focus on gratitude, loving each other and exuding Cal basketball. Being us is a way of life rather than a slogan.
Go Bears! Everyone check out our music video!! It's a perfect example of who we are -- a fun-loving group!