October, 3, 2013
Oct 3
8:01
AM ET
AP Photo/Damen Jackson/Triple Play New MediaCandace Parker, 27, doubled up on the trophies again in 2013, being named league MVP as well as MVP of the All-Star game.
On this day in 2008, Candace Parker of the L.A. Sparks was named the WNBA MVP, becoming the first – and still only -- rookie in league history to win the award. Parker, who averaged 18.5 points, 9.5 rebounds, 3.4 assists and 2.3 blocks in 2008, led the Sparks to the Western Conference finals that year, where they fell to San Antonio. Parker earned her second WNBA MVP this year and joined Lauren Jackson (three), Lisa Leslie (three), Sheryl Swoopes (three) and Cynthia Cooper (two) as the only multiple-time winners. Parker is still looking for her first WNBA title.
September, 19, 2013
Sep 19
10:15
AM ET
By
Candace Parker
| ESPN.com
The playoffs never get old. The competition increases, physicality escalates, tempers rise and every play matters.
We have worked so hard in the regular season to get to this point, and it means absolutely nothing going forward. The playoffs are a clean slate to either right your wrongs or go home (actually, in a lot of cases, it might mean heading back overseas for the offseason).
[+] Enlarge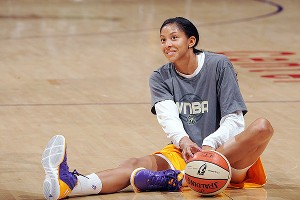 Juan Ocampo/NBAE/ Getty ImagesAs a veteran who's been through adversity, Candace Parker appreciates the postseason more than she did when she was a rookie.
I can remember back to my rookie season and my first professional playoff experience. Lisa Leslie was my teammate, and she told me to enjoy the moment and own it or someone else or some other team would. I was naive. At that time, I took the game for granted. My expectation was that Los Angeles would be playoff-bound and I would be healthy forever. As a young rook, at this time in my career, I imagined I would have three to four championships.
A last-second dagger by Sophia Young, a beautiful daughter, one shoulder injury, one knee injury and a devastating loss to Minnesota all proved to be solid doses of reality and a reminder every day to continue to work hard. At 27, I am humbled because of my journey, and I understand that moments like these don't come around all the time.
The playoffs are a chance to seize and enjoy a moment in time. Going forward into the postseason, I understand and am living proof that adversity builds character and reveals it.
Candace
August, 19, 2013
Aug 19
12:20
PM ET
By
Candace Parker
| ESPN.com
Getty ImagesSparks All-Star Candace Parker loved watching the whole gang on "Saved By The Bell."
If you were to ask me what one of my favorite TV shows growing up was, there would be no hesitation to my answer -- "Saved By The Bell!" I loved that show -- AC Slater, Lisa Turtle, Zack Morris, Kelly Kapowski, and of course, Mr. Belding -- all living through the high school melodrama that we all either dreamed of living, or in some remote way, could relate to. Fast forward several years later (no need to say how many years); I'm a mother, wife, professional athlete and consider myself quite composed around other professional athletes and celebrities. Let's just say I get it.
[+] Enlarge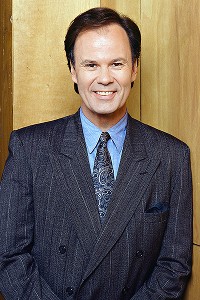 Paul Drinkwater/Getty ImagesCandace Parker was excited to meet Mr. Belding aka Dennis Haskins at the WNBA All-Star Game.
What I can tell you is that calm, collected and cool Candace was nowhere in sight the night before the All-Star Game and I have one person to blame; Mr. Belding! YES! That's exactly right -- Mr. Belding, principal extraordinaire, the man; Mr. Belding! Here we (my teammates and WNBA colleagues) were, enjoying All-Star weekend activities, catching up and laughing when someone said, "Oh look, there's Mr. Belding." I wasn't sure if it was a joke or not, but I immediately turned around and couldn't believe it -- it WAS him. Not only did I completely lose my composure, but I lost all sense of time and found myself back in the hallways of Bayside High School hanging out with the gang!
Mr. Belding is the bomb! He posed for photos. We chatted about our friends and families. He gloated about the WNBA and the Sparks! He posed for more photos and unbeknownst to him, he brought back many happy memories while making lasting ones that I could pass along to my daughter. He was genuine, jovial and full of WNBA love! It was such a joy putting a tangible experience to a childhood memory. It was a moment I'll never forget.
Mr. Belding didn't just talk the talk either. He truly does love the WNBA. The Sparks first home game since the All-Star break was Tuesday night. When I came onto the court for pregame warm-ups, guess who I saw sitting baseline ready to give me a high-five? That's right, Mr. Belding! The night was a win for us, and a great night for Sparks' fans. After the game, we caught up for a bit and he got to meet my husband, Shelden, and daughter, Lailaa. Ask any teammate of mine and they all will say that having Mr. Belding at our game -- supporting the WNBA -- was exciting! Kristi Toliver was taking pictures with him, Marissa Coleman gave him a postgame shout out and Mr. B himself was active on the twitter feeds with tons of Sparks love!
So, thanks Mr. Belding for bringing me back to a place in time that had so many wonderful memories. Those were the days when I was becoming who I am today -- and you were part of those days. I'm glad you got to see me now. I'm sure somewhere along the way -- in some episode by the lockers when you were talking to Kelly or Zack, that you reminded us to work hard and follow our dreams. I did! We did! And here we are.
See you soon Mr. Belding, aka Dennis Haskins!
GO SPARKS
July, 26, 2013
Jul 26
8:21
AM ET
Andrew D. Bernstein/NBAE via Getty ImagesCandace Parker is averaging 18.1 points and 9.2 rebounds this season and has started all 18 games for the 12-6 Sparks.
She was the No. 1 pick in the 2008 WNBA draft and became the first player to earn MVP and rookie of the year awards in the same season. She was the second player in league history to dunk and the first player to dunk in consecutive games. And she's won two Olympic gold medals with Team USA. But one thing Candace Parker has never done? Played in the WNBA All-Star Game. The Los Angeles Sparks' center/forward will be making her first appearance Saturday (3:30 ET, ABC) at Connecticut's Mohegan Sun after being the top vote-getter in the Western Conference. Parker was selected for the All-Star Game in 2011 but missed the game due to an injury. There were no All-Star Games in 2012 and 2008 due to the Olympics. The birth of her daughter cut into her 2009 season, and her 2010 season ended after 10 games with a shoulder injury.
July, 8, 2013
Jul 8
4:52
PM ET
By
Candace Parker
| ESPN.com
Courtesy of Candace Parker
Getting ready to head to the BET Awards -- same day we came home from a two-game back-to-back road trip! What a day and night!
Courtesy of Candace Parker
(My husband) Shelden (Williams) and I about to 'step out for a date night at the BET Awards.
Courtesy of Candace Parker
Posin' at the BET after party with Shelden and Justine. Great night out in Los Angeles having fun with my husband and one my best friends...
Courtesy of Candace Parker
Another fun night out in LA at the Beyonce Concert with Shelden, my teammate and friend, Jenna O'Hea, and one of my best friends, Justine Brown. Beyonce (Queen B) was a blast.
June, 10, 2013
Jun 10
12:28
PM ET
By
Candace Parker
| ESPN.com
Andrew D. Bernstein/NBAE/Getty ImagesCandace Parker has gotten out of the gates quickly this season, averaging a double-double through the Sparks' first three games.
Life has been a whirlwind since returning from my Russian team in early May. This past "offseason" I played basketball in Ekaterinburg, Russia, for UMMC. We had a successful season and swept the triple crown, winning the Russian Cup, Euroleague Championship and Russian Super League Championship. I'm hoping I can take what I learned overseas and apply it to make this WNBA season a successful one.

I love being back in Los Angeles. Over the years this city has really become home. I love getting out and about and exploring all L.A. has to offer. My husband, Shelden, is back from his overseas season in France and my daughter, Lailaa, is settled into her daily routine of school, gymnastics and swim class. Our days are filled from start to finish and I am exhausted by nightfall. I can't help but smile to have all of my family together in one place.

Recently, Shelden and I were able to get away with one of my best friends for a movie screening of "White House Down." We really enjoyed Jamie Foxx and Channing Tatum's movie -- it really is a must see. After the screening we went to Boa Steakhouse in Beverly Hills and enjoyed great food and great company. I love nights like this and it makes me enjoy Los Angeles that much more.

The WNBA season has begun and you best believe I can still taste my tears and feel the knot in my stomach after we lost last season. The feeling of defeat alone is not going to get us back to the playoffs, but I'm hoping it can serve as motivation to make us do better and work harder in everything we do this season.

I cannot believe this is my sixth season in the league. Time sure does fly, but I've learned and matured a great deal. I realize it's not how you start, but how you finish. Throughout the season you are going to have highs and lows. Don't ride those waves. Stay even-keeled because you are never as bad as you think, nor as great as you think! There's always room for improvement.

Good health and love. Thanks for your support!

-- Candace
February, 16, 2013
Feb 16
7:25
AM ET
By
Lizzie Haldane
| ESPN.com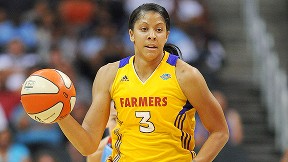 Kirby Lee/Image of Sport/US PresswireCandace Parker actually won a dunk contest against the guys in high school.
Today's NBA Slam Dunk Contest has been hosted since 1984, coincidentally the same year Georgeann Wells became the first woman to dunk in college ball. More recently, Baylor standout Brittney Griner brought the dunk into the spotlight, extending her NCAA record number of dunks to 13. The hopeful top draft pick is set to join other dunkers in the WNBA this spring. The Los Angeles Sparks' Lisa Leslie was the first in 2002, and the Sparks' Candace Parker, who won the McDonald's dunk contest as a senior in high school in 2004, was the first to dunk twice in one game.
Read more WFYIs.
September, 27, 2012
9/27/12
12:09
PM ET
By
Candace Parker
| ESPN.com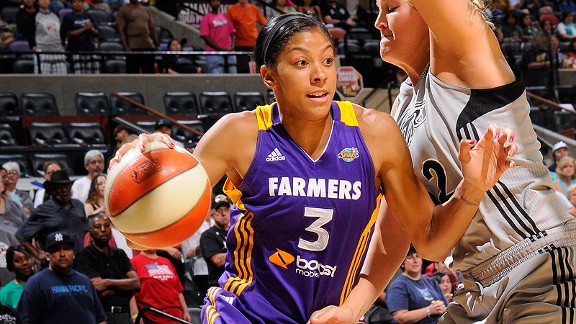 D. Clarke Evans/NBAE/Getty ImagesCandace Parker will lead a markedly different Sparks team into the playoffs against San Antonio.
Playoffs are a time for teams to remember the past with a chance of changing the future. Going forward, each game matters and it's win or go home. The regular season allows teams to jockey for home-court advantage and gain the best position to be the last team standing. This time of the year is what you work the whole season to get to in hopes of winning the championship.
The feelings you get before playoff games are different than regular-season games. Everyone understands the game can come down to a possession or which team makes the last mistake. The atmosphere is filled with pressure and only those who can handle the hype and expectations will survive.
Before games I prepare much in the same way I do for regular games. I admit, in the postseason I get a few butterflies before lineup announcements. But once the ball is tipped, my mind focuses on the game and I forget about my nerves. My mindset going into every postseason game is to remember it is an opportunity. I cannot control if my shots go in, but I can control my aggressiveness and how in-tune and involved I am in the game.
San Antonio is a familiar foe. This is my second time facing them in the postseason. The first time we faced them was in 2008, my rookie season. Sophia Young hit a fall-down bank shot at the buzzer to tie the series. San Antonio went on to take Game 3. To this day, I have never watched that game. To taste the WNBA Finals and to have it slip through your fingers is a painful, unforgettable feeling.
Four years later, both teams face off once again. Although the names on our jerseys may be the same as before, the dynamics of our teams are quite different. No longer am I alongside Lisa Leslie and playing in my rookie season. These playoffs promise to be compelling and exciting. I am ready, are you?
September, 10, 2012
9/10/12
10:04
AM ET
By
Candace Parker
| ESPN.com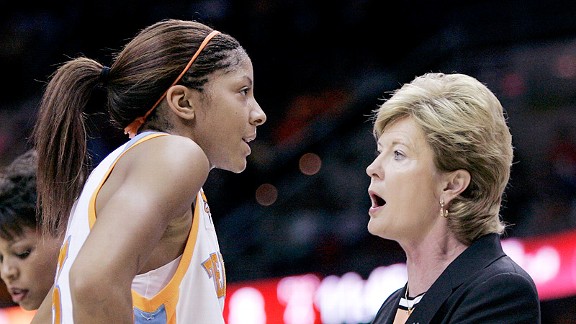 AP Photo/Tony DejakCandace Parker's early fear of Pat Summitt turned into admiration.
When I first signed at the University of Tennessee, I must admit, I was a little afraid. Pat Summitt was a 5-foot-10 woman who possessed a deep Southern drawl, paced the sidelines, yelled at refs and glared at her players. Rumor had it she vowed to make each of her 300-plus players cry at one point during their career, and she had!
Pat Summitt is inspiring to others because of the amount of wins she's accrued (1,098), the NCAA titles she's won (eight) or the years she's been coaching (38). She inspires ME because she lives by her words and she is a model for her advice.
When I first arrived on campus and received the Lady Vols' handbook I noticed a list of Pat's policies on the back, "The Definite Dozen." Quickly, I skimmed over them and one jumped off the page: Handle success as you handle failure. This specific policy is the most important lesson I have ever learned.
During my darkest days at Tennessee I never felt alone. Coach was there when I woke up from my season-ending knee surgery. She cried alongside me as I tried to piece together my life following my parents' divorce. I always had a shoulder to lean on and words of advice to follow.
Pat did as she said. The same words and advice she offered me, she followed as she publicly dealt with a divorce from her husband. In the team meeting in which she disclosed the news of her split, we were in shock at how up front and honest she was. We were a family and our leader, in the toughest times, still somehow set an example.
My four years at UT flew by. Those years were filled with ups and downs, wins and losses. Following wins, Pat encouraged us to work harder and never get complacent. After losses, we graciously congratulated our opponent and went back to work on getting better. I believe Pat was successful in coaching because her work ethic is second to none. She is successful in life because she cares.
In my junior and senior years we reached the pinnacle of success by winning NCAA titles. Pat reminded us to remain humble and give others credit because no one reached the top alone!
I watched as Coach gave her all for the University of Tennessee. Whether Pat was signing autographs, conducting interviews or spending all day at our summer camp for little kids, she did it to the BEST of her ability.
One day, I asked her how she did it all on a daily basis. Pat simply replied, "It's easy to tell people how certain things are done. Real leaders show people how things are done."
If you ever were in doubt about how truly inspirational Pat Summitt is, look only to August 2011. Courageous and up-front, Coach Summitt announced she was battling early-onset Alzheimer's.
Anyone can be inspirational in their greatest moments. Pat proves to be most inspiring in her weakest. Through her, I've truly grasped the concept "handle success as you handle failure." Pat Summitt is a constant, never-changing person. She possesses the same ideals and morals regardless of the circumstances. She will get on stage and celebrate life's greatest achievements, but also publicly battle life's disappointments. Pat is the embodiment of her Definite Dozen. She lives it every day.
Pat's eyes can see through you. Literally! The crystal-blue circles are filled with passion, pain and power! I dare you to try to stare back at that glare. Impossible. She's the pioneer of the game, but her greatest influence isn't a result of the bouncing ball and the game she helped grow. Pat Summitt coaches her players on life, and that is why she is my inspiration.
August, 27, 2012
8/27/12
6:39
AM ET
By
Candace Parker
| ESPN.com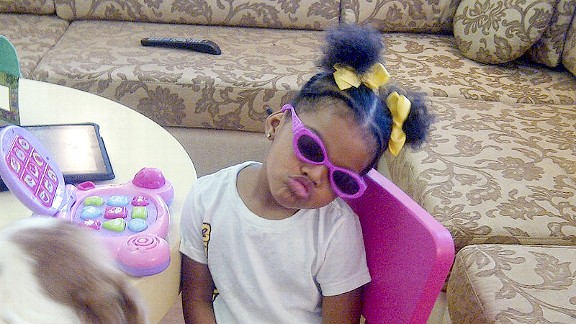 Courtesy of Candace ParkerCandace Parker's daughter, Lailaa, has seen the world thanks to her mother's job as a basketball player.
Ever since my daughter Lailaa was born, she has been traveling with me everywhere I go. From Los Angeles to Russia, to Spain and London, Lailaa has become quite the world traveler. In fact, she was only 7 weeks old in her first trip with me to New York.
I never wanted to be that parent with the screaming child on the plane. Thankfully, Lailaa rarely ever did that. She has always been great on planes -- she loves to fly.
[+] Enlarge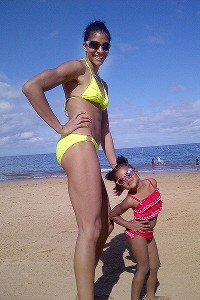 Courtesy of Candace ParkerSparks star Candace Parker and her daughter pose on the beach.
Whenever I'm flying overseas, you can find Lailaa in first class, legs crossed, arms behind her head, watching a movie or playing a game on her iPad. She's always so excited to find out where we are going next. Whenever we fly overseas, she always asks: "Are we going under the sea?" What can I say? She's into Little Mermaid.
In the offseason we fly to Russia so I can play for UMMC Ekaterinburg. She absolutely loves Russia. She is always in the snow or at the park playing with the other kids. One time, I walked over to her at the park and a bunch of kids were circling around her. At first I was scared, I didn't know what they were doing. Then, Lailaa said "Da" ('Yes' in Russian) and the kids started touching her hair. They had never seen hair like hers. It was way too funny.
Another unforgettable moment in Russia was when we were in a hotel recently. Some hotels in Russia have gas masks as a regular accessory, like it's a hair dryer! Anyway, I went into the bathroom to change for bed, came out, and Lailaa was standing there with a gas mask on. I was crying I was laughing so hard.
Like I said, she has no problems on planes, in hotels or in foreign countries. If you ask her about the Olympics, she will tell you "WE won the gold medal, and I saw a big clock." Some mornings she wakes up, and asks if we can go to Spain. What 3-year-old asks their parents that?!
Maybe my favorite, but embarrassing, moment traveling with her, was when she was still nursing. It was night time on the plane and extremely quiet. She was nursing under her baby blanket. Out of nowhere, she stuck her head out of the blanket and let out the biggest burp! Then she made a "yum" sound and went back to nursing. Everyone heard it. It was so embarrassing!
I am absolutely lucky that she is so easy going and willing to travel anywhere. She makes the best of any situation she is in. She's my little world traveler.