December, 12, 2013
12/12/13
7:48
PM ET
By
Cassie Potter
| ESPN.com
Courtesy of Cassie PotterCassie Potter (left) and teammates Jamie Haskell, Jackie Lemke, and Stephanie Sambor at the U.S. Olympic trials.
There's no easy way to lose.
It's no different if you have a good week and lose it all in one final game, or you start out mediocre and scratch and claw your way to have a shot at the final, only to miss it.
That second scenario was my team's experience at Olympic trials last month in Fargo, N.D. All I can say is, losing is really hard.
But there are many of us who don't make it on to the next level. We are the ones who quietly go back to our day jobs, filling up our coffee mugs and answering meeting requests for the week ahead. We empty our suitcases and load up the washing machine while we repack our duffel bags with regular curling gear (not the U.S.-branded) for a recreational league on Tuesday nights.
[+] Enlarge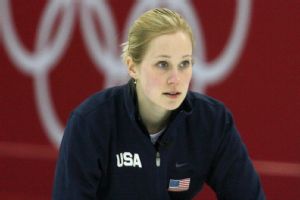 JOHN MACDOUGALL/AFP/Getty ImagesCassie Potter (then Johnson) qualified to the Olympics with her team in 2006.
Nothing can prepare you for that loss -- it's part of the process. You have to accept that there is the "other" side of winning. It's not a terrible thing. Even if you've lost, you at least had the opportunity. To take full advantage by giving it your all is how you become better.
So I guess you can't lose, really.
My team had a wonderful week at Olympic trials. But it just wasn't our week. We started with an extremely close first game, my first 12-ender (usually games are eight or 10 ends; an "end" is when both teams have thrown all eight stones). We lost, though, and followed it with three more losses.
After each game, we sat down with our coach and discussed our performance. Always, we knew exactly which shots and strategy calls gave us momentum and which ones put us in more difficult situations. We were able to finish the week with two solid wins, but it wasn't enough to win the trials and be the team that moves on to the Olympics.
What's next? I'm excited to watch curling in the Olympics again.
Team Brown (Erika Brown, Debbie McCormick, Jessica Schultz and Ann Swisshelm) will be a great representative for USA, and I hope we see a U.S. men's team in Sochi, too. They're currently competing in the Olympic Qualifying Event in Fussen, Germany, for their Olympic spot.
As for the next Olympics, it's too soon to for me to decide. For now, my plans are to put more of my time towards my family. Right now, we're busy getting ready for the holidays and and then I'm looking forward to hosting an opening ceremonies party at home and snuggling with my 9-month-old little girl while we cheer on the entire Team USA.
November, 5, 2013
11/05/13
2:33
PM ET
By
Cassie Potter
| ESPN.com
Jeff Albertini, JNA Media, for USA CurlingCassie Potter is hoping to qualify for a second Olympics at the U.S. Olympic trials, held Nov. 10-17 in Fargo.
The past few months have been a whirlwind. Where did the weeks go? How did it get to be November so fast?
The laundry has piled up more times than I can count, I haven't gone shopping for groceries in weeks, my toothbrush has found a better home in my travel bag, and my curling shoes are a permanent fixture in the back of my car in case I have a chance to hit the ice during the day.
[+] Enlarge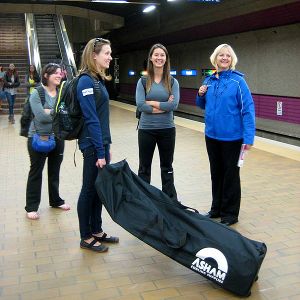 Courtesy Cassie PotterCassie Potter (holding the gear bag) and her team have been on the road nonstop this season, in preparation for the trials and, hopefully, the Olympics as well.
It's less than a week before opening ceremonies of the U.S. Olympic curling trials on Nov. 10 and I'm ready to go. Of course, for those who know me well, I won't be completely ready -- as in packed -- until the night before, or possibly even until the morning we drive up to Fargo. I'm going to squeeze in every moment I can with my family while I'm home, even if it means letting the dishes go for a little while longer or ignoring the tumbleweeds of dog hair floating in the corners of our house.
My teammates and I had a great final practice this past weekend. We rallied up some local competitive curlers to play a couple of timed 10-end games. World Curling Tour events are eight ends (an "end" is when both teams have thrown all eight stones), but competitions leading up to worlds or Olympics are 10 ends. And there is a significant difference between eight and 10 ends. With more ends, big comebacks are possible, and a patient strategy can sometimes be required.
We also played timed games, so we had to focus on keeping a good pace in shot selection and preparation in the hack (the starting block where curlers push from). All of these things were important steps in getting mentally prepared for what next week will bring.
Curlers and curling fans will have the chance to get together throughout the week and cheer on their favorite teams, or cheer for good shots, or both. All nine teams -- men's and women's -- will be playing with passion for the right to represent the USA in Sochi in February. There will be spectacular shots and missed shots (and we'll wish we could have second chances), dreams realized and hearts broken.
But it will be a fantastic week. We've all put a lot of time and dedication toward the trials and toward making the team. Now it's finally here!
October, 15, 2013
10/15/13
3:53
PM ET
By
Cassie Potter
| ESPN.com
Courtesy Cassie PotterCassie Potters curling team (from left: Potter, Jamie Haskell, Jackie Lemke, and Stephanie Sambor) is preparing for the U.S. Olympic trials in mid-November.
What do I do on my time off?
If asked by a non-curler, that would be easy. I would reply "I curl" and the conversation (after a surprised, brief pause) would inevitably turn to questions about sweeping and how heavy exactly are those stones, and, "Hey, isn't that an Olympic sport?" And I would reply, "Why, yes. Yes it is." Sometimes I am asked if I knew the sisters who were on the 2006 Olympics team. True story. For the record, I was one of those sisters.
If asked about my free-time activities by someone who already knows I spend most of my time off curling, it gets more difficult. They're essentially asking what I do besides curling.
Hmmm ...
Well, I work full-time as a Web designer. And I also spend as much time as I can with my family. I have other interests and activities, like camping, hiking, taking my dogs to the park, reading and doing home improvement projects -- things I can do on a weekend here or a weeknight there.
[+] Enlarge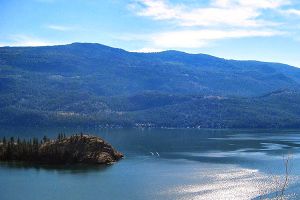 Cassie PotterCassie Potter and the team stayed in Vernon, British Columbia during their last competition and enjoyed every minute of the breathtaking views.
But you can scratch vacations off the list. Most years, a majority of my accrued time off is set aside for curling. And I don't think most people would consider curling competitions to be a vacation.
We book our flights, ground transportation and accommodations so we can get to our destination with time to settle in, get in practice ice time before the event and a good night's sleep before our first game.
After that, our days usually go something like this: Wake up early, eat a healthy breakfast, get to the arena early, warm up and stretch, throw practice rocks, watch the competition throw their rocks and start our first game.
We're on the ice for up to two and a half hours. When the game is over, we pack up and meet with our coach for postgame analysis. Then it's lunch before going back to the hotel to put our feet up for an hour. Then we're back on the ice with the same sequence of events as before. After the second game we have a good dinner before heading back to the hotel for more game discussion and to plan our next day's schedule.
There really isn't much time for sightseeing in there. In fact, it pretty much embodies the common expression of eat, sleep, curl.
Our most recent competition, though, was completely different. It was in Vernon, British Columbia, and our team was invited to stay with a host family who had a gorgeous view of the nearby lake and surrounding mountains.
What a nice change of pace! We'd wake up to see the sunrise coming over the mountains, read on the patio overlooking the lake, and sit and eat in the kitchen in our pajamas. We were so thankful for the hospitality shown to us, and, in those moments, it actually felt more like a vacation.
Our next competition is back to the grind, as we head to Winnipeg, Manitoba. There are only two more competitions and one practice weekend left in our early season before the 2014 U.S. Olympic trials. Will we see you there in Fargo, N.D.? I hope so!
Is there anything you want to know about our team or curling in general? Reach me on Twitter @ccpotter.
September, 3, 2013
9/03/13
1:50
PM ET
By
Cassie Potter
| ESPN.com
Courtesy of Cassie PotterSkips determine a lot of strategy for their teams, so staying level-headed on the ice is imperative.
At last! We have entered the curling season. These are the final weeks (10 to go!) before the Olympic trials. Every day is an opportunity to improve and be the best curler I can be come November. And I'm not the only one stepping it up. "No regrets" seems to be the theme ringing out this year among curlers from all over.
And what a year it has been so far with competitions, camps, training and practice.
I started last season three months' pregnant, traveling and competing alongside my teammates, and never far from my Tums. But at the culmination of last season I was home, not on the ice for the 2013 U.S. national championships -- only the third time I haven't competed in a national championship since 1998. So I got my curling fix by scouring the Internet for every international match I could find, and then I nervously watched the Webstream of my team's games at the U.S. national championships while my husband and I patiently waited for our new daughter to arrive.
[+] Enlarge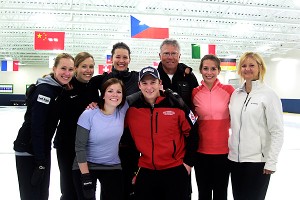 Courtesy of Cassie PotterTeam Potter, which has qualified for the U.S. Olympic team trials, took part in a training camp in August in Blaine, Minn.
Wait, make that while we anxiously waited for our new daughter to arrive. The anticipation was about as much as I could handle, especially when baby takes after her mom -- er, me -- and ends up running a little late to everything. (Then again, I don't blame her for wanting to wait out a bitterly cold Minnesota winter just a little bit longer.) I'm sure many of you moms (and dads) out there can relate to doing anything in those final days to stay busy and momentarily distract yourself from the suitcase sitting by the door and the empty car seat perfectly snug in the backseat. You checked them over a dozen times, too, didn't you?
On the flip side, I'm pretty calm and collected on the ice. Patience is a necessary quality for a curling skip. Like a quarterback, skips call the shots, so we need to be levelheaded and mentally tough. I can't step onto the ice frazzled by something negative in the press or worried about results from previous games. There's a lot to focus on. It's not just throwing rocks. We're responsible for taking into account many factors during a game:
• We "read" the ice: Does it run straight? Does it swing? At what point does the rock break and really curl? Do we need to watch for frost? How much curl does it take to get the rock to the button? How much force does it take to get the rock to the tee-line?
• We need to account for the current score: Are we up? Are we behind? Do we have hammer (last rock)? What end are we in? Do we keep hammer in even ends, so we can have the advantage at the end of the game? Should we throw guards or play it open?
• We also analyze our opponents and their abilities: Who is throwing right now? How do they play the first few ends? What are their strengths and weaknesses?
• We watch for changes throughout the game: Is the ice getting slower, straighter, flatter?
In short, skips have to be good at analyzing and reacting to every bit of information that we can pull together in a very short amount of time (games are timed), and at determining how we will proceed. Do we play defensively or offensively? Do we go for the steal, blank the end, hold the other team to one or take two? One of my main goals as skip is to put our team in position to control the house. And if that doesn't happen, we need to adapt quickly and know when to remedy the situation.
I'm used to having a strategy and being in control. So when my little girl decided it was time to finally make her arrival, I was definitely nervous. There I was in a situation where I had little to no control over the what, when, where and how. I didn't have any kind of plan, but everything went fine and we are blessed with a happy little girl.
I can easily say that this season is one of the most aggressive and earliest starts I have ever had. The stakes are high and the bar is being raised every year in the sport of curling. I love it. It challenges everyone to be even better. And it makes me excited for curling's future. I expect there will be some exceptional curling over the next few months. And I will be ready and look forward to it -- with patience and much excitement.
*Note: I just realized I threw a lot of curling jargon at you, so if you are scratching your head, wondering what a hogged rock is, what a biter is or what it means to be heavy, here's a great glossary of terms.
August, 8, 2013
8/08/13
9:07
AM ET
By
Cassie Potter
| ESPN.com
Elsa/Getty ImagesCassie Potter was the skip, or captain, of the U.S. curling team that finished eighth at the 2006 Winter Olympics, and she's hoping to get another shot in Sochi next year.
I'll admit, when I was a kid, I didn't have my sights set on becoming an Olympian. This was mostly due to the fact that the obscure sport I grew up with and loved didn't become an Olympic sport until 1998 -- about 11 years after I threw my first rock and two years after I first represented my state at the national level. Olympians were the best of the best. They were the athletes I saw only on television, in commercials, in magazines and on billboards. They were superheroes. I was a curler. It didn't really cross my mind that curling might be an Olympic sport and I would someday have that opportunity. I loved to curl and I was pretty good at it. So I curled a lot. I thought that was that.
My teams came close to winning nationals. I began to collect a lot of silver medals. Seriously, second place is tough. But we would pick ourselves up and try again the next year. Then something clicked. My team won junior nationals in 2002 and went on to win junior worlds. It was the first gold medal for a women's team in any division in the U.S.
[+] Enlarge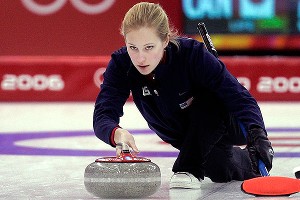 AP Photo/Morry GashCurling has similarities to bowling, shuffleboard and even golf, and requires intense concentration and precision.
Ten years after I began curling competitively, my team -- nearly fresh out of the junior category -- won the U.S. Olympic curling trials after an impressive week and went on to represent the U.S. in the Torino Winter Olympics in 2006. That was our goal, our dream. I was a curler, and now I'm an Olympian.
To sum up our Olympics run, we had a great world championship immediately after the Olympic trials -- winning another silver medal. I'm very proud of that silver medal. It was recognition of our hard work and gave us confidence leading into the Olympics. But we didn't fare as well in Torino. We ended up eighth out of 10 teams. The week didn't go as we had hoped. The precision wasn't there. We had some bad luck on key shots.
We didn't have any regrets. We played our best in those moments, and the other teams played better. Now I want to go back and be that better team.
Maybe you're wondering how I got into curling. I was introduced to it because it was like a tradition in my family. My parents curled, their parents curled, and so on. In the very early years, my Sunday nights were spent at the local curling club arena, where my sister and I gathered with other rosy-cheeked kiddies roughly the same age whose parents, like ours, volunteered to teach us how to throw rocks at houses.
Now, if you haven't heard of curling before, that last statement sounds like we were on the path to becoming experts at vandalism, but that's not what curling is. Imagine pushing a polished chunk of solid granite down a sheet of ice toward a target painted just under the surface. Yeah, it's like bowling. And shuffleboard. Even similar to golf in some ways. But it's also much more than that. You might be asking, "Is that where you have the sweepers? And they go back and forth and stuff?" You got it. That is what I do. Well, if you ask my teammates, they would say I don't do much of the sweeping part. Skips tend not to get much credit in that department. We each have our own job out on the ice, much like each player on a football team has their job. But I'll expand on that another time.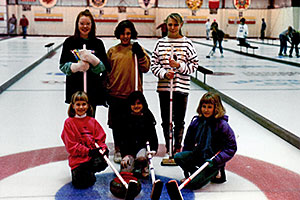 Courtesy of Cassie PotterCassie Potter, left in front row, and her sister Jamie, right in front row, grew up spending their Sunday nights at the local curling arena and went on to become 2006 Olympians.
For now, I want to introduce myself.
Hi there. I'm Cassie and I'm a curler. To be more precise, I'm the skip, or captain, of a team on the United States Curling Association's High Performance Team. I was also skip of the 2006 Olympic curling team. I'm married, and mom to a 4-month-old little girl. We have two lovable dogs that are complete opposites in personality. Because curling is an amateur sport and doesn't pay the bills, I also have a full-time job.
Life usually gets crazy for me from September through March and this season is no exception. My team is one of a select few that will be competing in the upcoming 2014 U.S. Olympic team trials this November. We will be training hard and traveling more in the months to come, all while juggling families, jobs and life in general.
I would love to wear USA on my back again in Sochi in 2014. Having been to the Olympics before and falling short has been a heck of a motivator for me to get back and do even better. It's not going to be easy and it's going to require a lot of preparation to get there. Throughout this season, I'll be posting here to give you a glimpse into our team's season -- win or lose -- leading up to Sochi, life as an athlete and new mom, and reflections on seasons past.
Is there anything you want to know about our team or curling in general? Contact me via Twitter: @ccpotter