April, 22, 2013
4/22/13
1:43
PM ET
By
Elena Delle Donne
| ESPN.com
My days leading up to the draft were spent with 11 other rookies going to meetings to help ease the transition into the professional sports world. Rookie orientation was only three days long and as you can imagine, there is a lot of information that can be helpful in preparing to enter the WNBA. So, because of the short time period, we had to fit a lot of meetings into those three days. Because I was so busy focusing on the tips and information I was being presented with, I barely had time to focus on the fact that I was just days away from one I had dreamt of for as long as I could remember. Playing professional basketball was a lifelong dream and I was lucky enough that, due to the fact that the league existed for most of my life, this was a realistic dream.
[+] Enlarge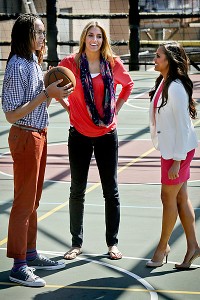 AP Photo/Bebeto MatthewsFrom left, Phoenix Mercury's Brittney Griner, Chicago Sky's Elena Delle Donne and Tulsa Shock's Skylar Diggins did a media tour in New York City after the WNBA draft last Monday.
When I woke up on the morning of the draft we immediately headed over to the ESPN campus to go through a media circuit, get into hair and makeup, and prepare for the draft! For the early part of the day there was nothing but excitement and high energy surrounding all of the draftees. It was just as I was preparing to go onto "SportsCenter" that we heard about the tragic events in Boston at the marathon. At that point the mood shifted to shock and sadness. Again because this tragic event occurred, I was not competently focused on my impending draft.
Around 5, I had the chance to see my family, take some pictures and relax a little bit. It was incredible to be able to have my family with me on one of the most memorable days of my entire life. Around 7, we were told to enter the draft room. At this point, I was 1 hour from hearing where I would begin my professional career. As I sat in that room it all started to hit me ... all the work that I had put in, the years devoted to my sport, and the often difficult decisions that came along with basketball were culminating into this incredible event.
When I heard [WNBA president] Laurel Richie announce that I had been selected by the Chicago sky, I was overwhelmed. Not only had I reached my lifelong dream but I had been given the amazing opportunity to do so in Chicago, the city that was my first choice to play in. After a huge sigh of relief I walked on stage and held up that Sky blue jersey. I was filled with pride and excitement. I was and still am overwhelmingly excited to get to Chicago and get on the court with my teammates.
For the two days following the draft I went to New York City with Skylar [Diggins] and Brittney [Griner] to do a media tour at various media outlets. Although all three of us were completely exhausted, I had a truly amazing experience spending time with those girls and getting to know them better. I even had the chance to get a makeover by an E! News glam squad with Skylar. The days surrounding the draft were full of excitement and high energy and I really enjoyed myself. But now ... I'm ready to get to Chicago, pull on that Sky jersey and hit the court with my team!!! GO SKY!
April, 4, 2013
4/04/13
10:58
AM ET
By
Elena Delle Donne
| ESPN.com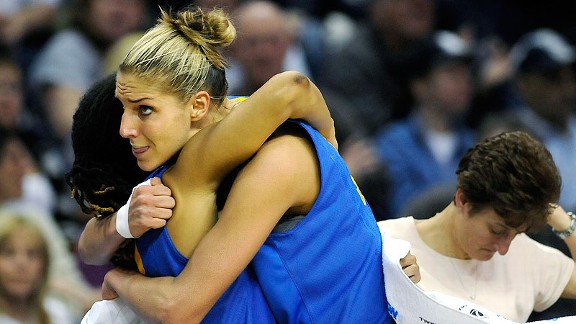 John Woike/Hartford Courant/MCT via Getty ImagesElena Delle Donne played her last game for Delaware in an NCAA regional in Connecticut, and she couldn't help but think about her decision to transfer as a freshman.
As I walked off the court in Bridgeport on Saturday afternoon, it hit me that my college career was finished. I would never again suit up in a Delaware uniform and take the court with the girls I had played with for the past four years.
This thought made me sad instantly. I have truly enjoyed my time representing the University of Delaware and have created friendships with my teammates that will extend well beyond our playing years.
The way the season ended was ironic in a sense. I never pictured my career ending in Connecticut in a gym full of Huskies fans. These fans were incredibly welcoming. Several stopped me to tell me that they are still fans and that they understood my decision [to transfer]. Several said they were extremely proud of the courage that I showed.
While no one likes to see a season end, especially not with a loss, I was able to leave that arena with a sense of pride. I was proud that my team did not give up, proud that we went to the Sweet 16 for the first time in school history.
But more than anything, I was happy that people were able to accept and understand the decision that I'd made years before. I was able to finish my college career knowing that the 18-year-old girl who made a drastic decision years earlier did the right thing. She followed her heart, and everything worked out.
March, 28, 2013
3/28/13
12:03
PM ET
By
Elena Delle Donne
| ESPN.com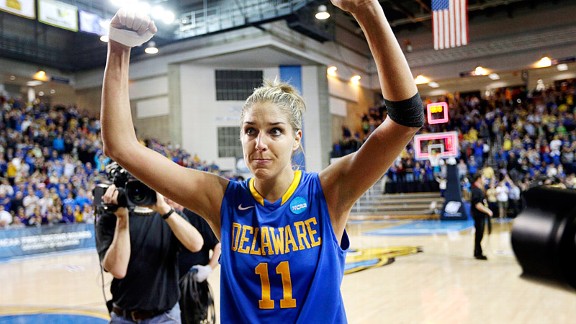 AP Photo/Patrick SemanskyElena Delle Donne face Kentucky in the Bridgeport regional in the Sweet 16.
After Tuesday night's game against North Carolina ended, I spoke to the media and celebrated with my teammates. Finally, I was able to sit down in my locker and check my cell phone. I had a lot of text messages and Twitter mentions from friends and family congratulating us on the win. As I read through the messages, I came across a text that truly summed up the atmosphere of the night. A friend of mine, who is a diehard Ohio State football fan, sent me a text that read, "You guys have, by far, the best fans in the country, it sounded just as loud as any of our OSU football games in that arena." Hearing someone say that the 5,000 plus screaming Blue Hen fans packed into the Bob Carpenter Center were as loud as the 100,000-plus fans that attend OSU football games was incredible. We truly have the most dedicated, passionate, supportive fans an athlete could ever wish for.
It was these fans that played major part in filling me with all of the overwhelming, mixed emotions that I felt after the victory over UNC. My first and most prominent emotion was that of sheer excitement. The excitement that comes with pulling off an upset in March Madness and being a part of a team that is headed to the Sweet 16 for the first time in school history. The adrenaline that was pumping through my body was unlike anything I have ever felt before. Along with this excitement and adrenaline came an unbelievable amount of pride. Pride in my teammates, pride in my school, and finally pride in being able to call myself a Delawarean.
After processing these feelings, it hit me … I had just played my last game at the Bob Carpenter Center, a gym that I have been competing in for over a decade, a gym that I chose to call home after walking away from the game for an entire year. I immediately became aware of just how bittersweet the night was. The Bob has been an amazing place to call home for the past four years. During the second half of the game I told my teammates, "We deserve to win our last game on this court" and we did just that. The seven seniors finished our last home game in the best way possible in front of the best fans in the country.
Now, with our team mottos "no limits" and "not done yet" in mind, we will begin to prepare for our next game against Kentucky, in Bridgeport … and we're bringing our fans with us!
March, 22, 2013
3/22/13
11:07
PM ET
By
Elena Delle Donne
| ESPN.com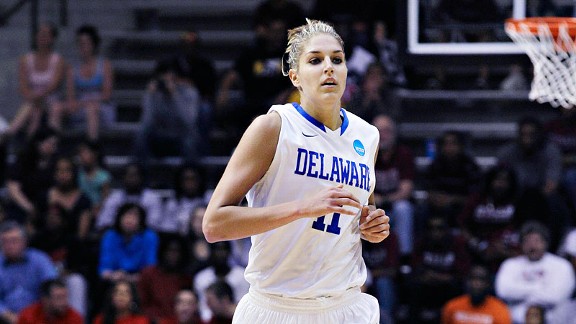 AP Photo/Danny JohnstonElena Delle Donne and No. 6 seed Delaware will face No. 11 West Virigina on Sunday.
In less than 48 hours, my team will take the court in the first round of the NCAA tournament. As if the expected excitement that comes with the "big dance" isn't enough, we have had the privilege of watching the preparations for the tournament take place right before our eyes.
In what seems like no time at all, NCAA officials and staff members have taken over our home arena, the Bob Carpenter Center. Black tablecloths and carpets cover the building and the blue NCAA logo can be seen at every turn. All of these preparations have only helped to increase my anticipation for tip off against West Virginia on Sunday.
We will be taking the next two days to become fully prepared for Sunday's game. Although the games are being played on our home court, we are staying in a hotel off campus for the weekend to block out any and all distractions. The next few days will be filled with watching film, reading scouting reports and getting on the practice court to prepare for the game.
When the whole team is together, you can feel the excitement, anticipation and deep focus we are possessing. We are preparing to take full advantage of the opportunity we have been given. I am constantly reminding my teammates that, every once in a while, we need to step back and really take in the experiences we are having. March Madness is a ton of basketball packed into just a few weeks -- we can't forget to enjoy this quickly passing time.
On Sunday afternoon, my teammates and I will hop on the bus and head to the Bob for another game; another home game. I can't wait to see the Bob plastered with blue and gold and the excitement for these first-round games. There really is no better time of the year than March Madness.
Let the games begin ... and, as always, GO BLUE HENS!
March, 19, 2013
3/19/13
2:36
PM ET
By
Elena Delle Donne
| ESPN.com
After the excitement, adrenaline and celebrations from our CAA championship began to slow for the night on Sunday, I was able to lie in bed and really soak in the feeling of being a champion. Eventually, I dozed off and my thoughts shifted to whatever my dreams for that night brought. But the minute my eyes opened in the morning, I was reliving the incredible feelings that are brought on by an accomplishment as fulfilling as being a conference champion.
I think most athletes can agree that waking up after a big win is an indescribable feeling. While your body may ache, you get to savor the feelings of success and happiness from knowing that your team was successful. I was fortunate enough to wake up with these exact feelings Monday morning. I was able to scroll through my Twitter timeline and see the excitement from our student body, my teammates and the city of Newark, Del.
I was able to spend most of Monday truly enjoying the victory. I stopped at my dad's office and talked about the game and the whole CAA tournament with him and my brother, Gene. I was texting my teammates and the rest of my family, being sure to stay in the moment and enjoy the team's success and the accomplishment of securing back-to-back CAA championships. But, as with most athletes, after taking the time to enjoy this moment, I quickly shifted my focus to the future.
I got ready to leave to meet my teammates, family, Delaware students and season-ticket holders for the selection show to see what the rest of our season would bring. Monday was a day to enjoy Sunday's victory; Monday night was a time to prepare for future success. I headed to the selection show very excited to see what Delaware's NCAA trail looked like!
When I got back from the selection show watch party, the first thing I have to say is that our fans are the best! We packed the atrium of the Embassy Suites and we were loud. We are very excited about our No. 6 seed and the draw that we have for the tournament. We know that we are going to focus on one game at a time. All of our focus is on beating WVU in Round 1. Having the opportunity to host the first round of the tournament at the Bob is amazing. We will have the fans behind us in the stands, our sixth man. Until next time ... go, Blue Hens!
March, 22, 2012
3/22/12
2:32
PM ET
By
Elena Delle Donne
| ESPN.com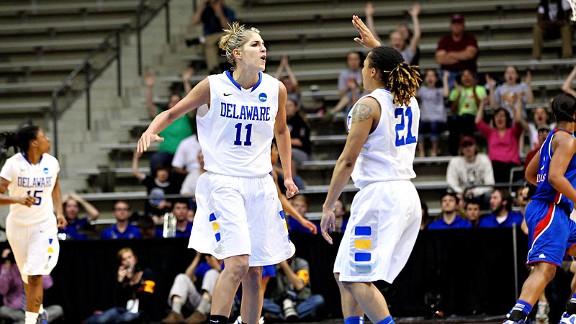 Nelson Chenault/US PresswireElena Delle Donne got a taste of the NCAA tournament and wants more.
Although this season ended far sooner than I ever wanted, the NCAA tournament was a journey that I am extremely glad our team was able to take part in. The state of Arkansas showed us nothing but hospitality and treated our team so well. Little Rock is rich in history, which was fun to explore with such a close-knit team.
The tournament was unlike anything this team has ever been a part of, and the national exposure is something we have been working toward all season. Our team has made history all season long, and we know we've only just begun. This loss has been extremely motivating, and I am already looking forward to next year. You haven't seen the last of us yet!
March, 19, 2012
3/19/12
8:40
PM ET
By
Elena Delle Donne
| ESPN.com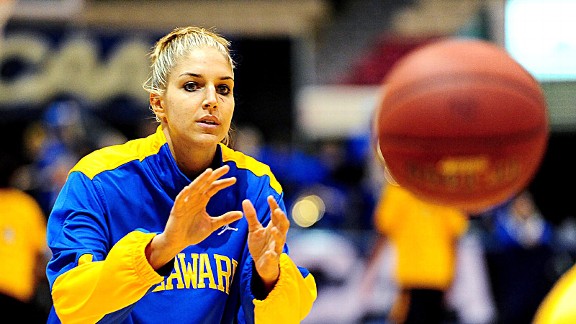 Evan Habeeb/US PresswireElena Delle Donne and her Blue Hen teammates face Kansas on Tuesday.
Yesterday was finally game day, which overall was a fun and exciting day. The nerves were high since this was our first time in the NCAA tournament, but Coach Martin helped lighten the mood by doing her little duck scene at the hotel.
We're staying at the Peabody, which is known for twice-daily shows in which the Peabody ducks march from the hotel elevator to a red carpet and into the duck pond in the lobby. Coach Martin led the ducks after practice in front of a crowd of hotel guests and Blue Hens fans. It was a lot of fun.
Game time came, and I think we played really well together against Arkansas-Little Rock. We played as a team and played good defense, which is why we were so successful.
I met my great uncle who lives in Arkansas for the first time before the game. It was a crazy experience to see and meet him for the first time, especially since he looked a lot like my grandfather who passed away a few years ago. It meant a lot to have extra family in the stands, not just my parents, brother, and sister-in-law, but my Arkansas family as well.
Today, we were able to get a little bit of down time before heading off to practice. The team was really focused during practice this morning. We went light today and went through some plays in preparation for tomorrow. We focused a lot on what Kansas does and tried to figure out a game plan for tomorrow, so hopefully we can execute it to the best of our abilities. I definitely think the team is focused and ready to go for tomorrow.
After practice, we had the opportunity to visit Little Rock Central High School, which is where our country implemented integration for the first time during the civil rights movement. It was a fun thing to see. Basketball brings you to a lot of places, and it's nice to visit places like that when you're away on these trips.
As always, "eyes forward," and we can't wait to take on our next challenge vs. Kansas tomorrow!
March, 17, 2012
3/17/12
8:59
PM ET
By
Elena Delle Donne
| ESPN.com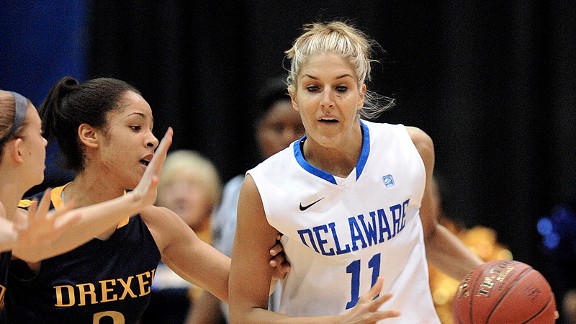 AP Photo/Nick WassElena Delle Donne will be surrounded by family when she and Blue Hens play Sunday.
Yesterday, we had a very early flight, but we were so excited just to get going and get to Arkansas. We had a charter flight, which was incredible because we could just spread out, get our own row, and sleep through the whole flight. We were exhausted by the time we arrived in Arkansas, but luckily we had time to nap before heading off to practice. When we finally arrived at practice, it was nice to touch the ball. We were so excited to be practicing in the gym together and refocus a little bit after a day of traveling.
After practice, we went to a really nice place for dinner. It was a Tuscan setting, partially outside, so we were able to experience Arkansas a little bit. Fun fact: My grandfather was born and raised in Little Rock, Arkansas, which means a large part of my family is here and will be coming to our game tomorrow.
Today was just another day where we were able to get up, get breakfast, and then practice at the arena, which is something we were definitely excited about because we wanted to see the gym. The arena is beautiful, and we're really excited to play there tomorrow. Hopefully, it's just going to be a magical place for us (fingers crossed!). Now we are able to get a little free time and get some work done before we head off to dinner. I can't wait for tomorrow and hope to see lots of Blue Hens fans there!
March, 12, 2012
3/12/12
11:15
PM ET
By
Elena Delle Donne
| ESPN.com
I woke up this morning thrilled after the day my teammates and I had together yesterday. Making history by being the first CAA champs at Delaware was everything we were hoping for, and we couldn't have been more excited. As the day progressed, I tried to take in everything that was ahead of us for tonight's show. I talked to my brother a lot about where we might end up because he does so much research on bracketology. His predictions were actually incorrect, but he did pick us as a No. 3 seed, so I wasn't too shocked to end up where we did.
Overall, it was just a really exciting day. When we were sitting there watching the show, everybody's hearts were pounding. We were all looking at each other as if it were hard to breathe because all we wanted to do was see where we were going to end up. We're very happy with where we are [Delaware opens against Arkansas-Little Rock on Sunday] and excited to get going now.
I've never been to Arkansas before, but I'm ready to head down there with my teammates. We've had a lot of road games and played in a tough atmosphere all season long. Obviously, the CAA is a very tough conference to play in, and we've had some difficult road games playing against teams like JMU and Drexel. I definitely think this team is ready to play on the road and face whatever challenges come our way.
Right when we got our seed, our coaches started pulling up stats and information on the other team, so I know they are getting ready and getting their game plan together. We get one more day off tomorrow, and then it's back at the gym and time to prepare. I am looking forward to all that's ahead and hope to see some of our awesome Blue Hen fans down there with us!