March, 20, 2013
3/20/13
1:53
PM ET
By
Destiny Williams
| ESPN.com
Baylor senior Destiny Williams talks with teammate Mariah Chandler about winning a third straight Big 12 championship, enjoying the off days (time to sleep) and the Lady Bears' first-round matchup with Prarie View A&M in the NCAA tournament.
Look out Kevin Durant, Williams is eyeing a trip your town of Oklahoma City in the Sweet 16.
January, 18, 2013
1/18/13
11:59
AM ET
By
Destiny Williams
| ESPN.com
Hello again! I'm back with a lot of stuff to catch you up on.
Everyone on the team had a wonderful Christmas -- time we spent with family and friends.
Prior to leaving for the holidays, the team took a trip to two different hospitals to spread some cheer to those who might not be home around Christmas. We gave gifts to them and posed for lots of pictures. As a team, we really do enjoy giving back to our community. There were some patients who were surprised and super happy to see us.
Also, we had a team Secret Santa gift exchange, and let me tell you, don't let me draw your name, because I will surprise you, just like I did Nae-Nae [Kimetria Hayden] this year.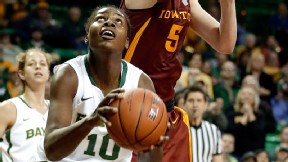 AP Photo/Tony GutierrezDestiny Williams and Baylor are off to a 5-0 start in Big 12 play.
The day before we left for our holiday break, we hosted Tennessee. Everyone was so excited to go home that Kristina [Higgins], Nae-Nae, Jordan [Madden] and Niya [Johnson] all left right after the game to go home with family. Mariah [Chandler] and I took a road trip to Georgia, Mariah's home state, for Christmas. Santa was very nice to me. Had a chance to see family that I haven't seen in years!
After Christmas we came back with our last game of 2012, a win over Southeastern Louisiana. After that, we were ready and eager to start Big 12 Conference play.
League play and postseason games are what we really play for. There are a lot of good and new teams this year. We were excited to play TCU on their floor and get the win. As I write this, we have started conference play with a 5-0 record.
Other than basketball, we seniors are excited but sad this is our last semester for school. So, to get this semester going feels good.
Thanks for taking the time to read this. Go Lady Bears!
Sic 'Em,
Destiny
November, 30, 2012
11/30/12
4:43
PM ET
By
Destiny Williams
| ESPN.com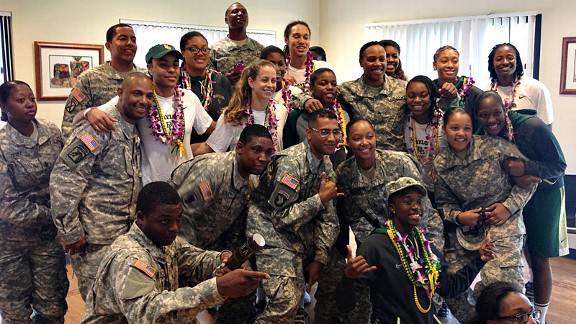 Courtesy of Baylor AthleticsThe Baylor Lady Bears visited the Wounded Warriors unit and Pearl Harbor while on their trip to Hawaii.
Hey, women's basketball fans, Destiny Williams from the Baylor Lady Bears here, checking in with my first blog of the season. I'm new to this so "Bear" with me!!!
After a couple of exhibition games, we opened the season. We hosted Kentucky in our second game on national television. The highlight of the night, other than our win, was raising our Big 12 Championship and 2012 NCAA Championship banners. Lots of fans were there, which made it even more special.
The next morning we flew out of Dallas for Hawaii. Eight hours on a crowded plane was challenging but the end result was well worth it. We had an awesome time in Hawaii.
A couple of unique things that I took from the trip: 1) in order to have "SWAG", you must hold up your thumb and pinky and put the rest of your fingers down. Then, hold your hand up and shake it (it's called a shaka sign and means hang loose) and 2) the arena in Hawaii is a duplicate of our Ferrell Center.
I really enjoyed myself and being with the team made it even better. There were life lessons learned on and off the court. We visited the Wounded Warriors unit at Schofield Barracks, the pineapple visitor center and Pearl Harbor and went snorkeling at Hanauma Bay.
Coach Mulkey does a good job of making sure we give back to the community and get to see the local sights when on these types of trips. Many thanks to former Lady Bear player Dionne Brown for helping organize the Wounded Warrior visit. That visit, along with our visit to Pearl Harbor, really makes us realize how much we owe our armed forces for the freedom we enjoy today.
As I write this, the semester is winding down. It has been a good one and for many of us, only one more to go (we have five that are projected to graduate in May or August).
I'm looking forward to playing at Notre Dame, they're a very talented team, and the game will be another chance to gauge our progress. Also, it's only about 30 minutes from my hometown of Benton Harbor, Mich. Hello family!