August, 6, 2013
8/06/13
11:09
AM ET
A couple of thoughts as ESPN's three weeks of live golf from the United Kingdom come to a close and the U.S. women attempt to regain the Solheim Cup next week in suburban Denver.
1. Can we finally put to rest the assumption that Americans are at a disadvantage playing links golf?
Scottish Open champion at Castle Stuart the week preceding the Open Championship: Phil Mickelson. Open champion at Muirfield: Phil Mickelson. Senior Open champion at Royal Birkdale: Mark Wiebe. Women's British Open champion at the St. Andrews Old Course: Stacy Lewis. Four-for-four for the USA on courses where the traditional default comment has been that players from the U.K., Ireland and Europe have a distinct advantage on the firm, rolling seaside layouts because they have played them more often.
[+] Enlarge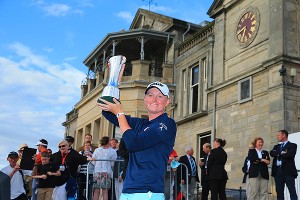 David Cannon/Getty ImagesStacy Lewis' love affair with St. Andrews began five years ago when she walked the course before the Curtis Cup.
What these three American players did was learn to adapt their equipment (Mickelson didn't even carry a driver), attitudes and shot shapes to the tests they faced. Mickelson learned, after 19 failed attempts at the Open Championship, to play shots with a lower trajectory and let those sometimes-crazy bounces come with a more "That's just what happens in links golf" attitude.
Wiebe, who didn't even arrive on site until less than 48 hours before his first-round tee time due to air-travel issues, seemed more concerned about his son Gunner's performance in the Colorado Open than his own in senior golf's last major of the season. With a preferred shot shape (left to right) that didn't fit Royal Birkdale's closing holes particularly well, he fired at flags when he could and played conservatively when he couldn't, eventually letting Bernhard Langer's double-bogey on the last hole in regulation open the door for his playoff victory.
Lewis traced her win to a walk in the rain when she first saw St. Andrews five years ago during the Curtis Cup. Being on the course without clubs allowed her to absorb and embrace the subtleties and quirkiness of the Scottish layout. A love affair began that would see her go 5-0 in that amateur match-play competition, and then this past Sunday close with two fabulous birdies to win her second career major and stop the Asian domination of the LPGA's majors at 10 straight.
2. There is NOTHING easy about being involved in selecting a team to bring the Solheim Cup back to the USA, even when you've never lost on home soil.
[+] Enlarge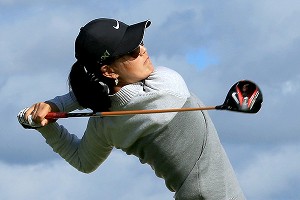 David Cannon/Getty ImagesWill being a captain's pick for the U.S. Solheim Cup team jump-start Michelle Wie's career?
As one of two assistant captains to Meg Mallon, I can promise you Sunday was as gut-wrenching a day as I've had in quite some time.
With a new formula for choosing the American team (eight from a two-year point-earning process, the next two from the Rolex world rankings and then two at-large captain's picks), there were six players who could have actively impacted the points, rankings and selections in just the last nine holes.
I was calling the tournament from the analyst's position and at the same time crunching numbers, watching texts and emails fly in during commercial breaks as Meg and my fellow assistant, Laura Diaz, began the final decision-making process. Neither Meg nor I was ever a captain's pick in our Solheim Cup careers, making the entire experience even more emotional as we had to tell players whether they were in or out.
The brutally difficult decisions to tell players they were off the team, though, were outweighed by the reactions of our two picks, Gerina Piller and Michelle Wie.
Piller's reaction was like she had won the Miss America pageant -- the shocked gasp, hands up over the face and then a flood of tears as she started to comprehend what she had just been told. Meg went with her gut and more recent performance/improvement, as well as team chemistry, as the basis for both picks, but she was fully aware that both were going to raise some questions. Piller has never been on a stage as big as the Solheim Cup but comes with a background in team sports, positive energy and limitless physical abilities.
Now a captain's pick for the second time in her third Solheim Cup appearance (she was also a pick in 2009), Wie brings with her power that will fit a big, wide-open golf course; experience; confidence on the rise; and promise. There's no way to tell if she will ever live up to the potential she showed as a teenage amateur contending regularly in professional majors, but here is captain Mallon's hope: that Wie responds as positively as Adam Scott did when Greg Norman, as International captain, picked him for the 2009 Presidents Cup team.
Scott was falling through the rankings like a rock, going through a swing change, and didn't appear to bring a whole lot of positives to the team based on his form at the time. That pick literally turned Scott's career around, and he is now a major champion. Meg is hopeful that selecting Wie will have the same impact ... and, oh by the way, that we get the Solheim Cup back to this side of the pond, too!
July, 23, 2013
7/23/13
8:47
AM ET
One of the coolest things about being an announcer is postproduction (OK, cocktail-hour) conversation as various topics in and around the game are brought up and endlessly debated.
When you sit with those who have won nearly 75 tour titles, won multiple major championships, played on and/or captained Ryder Cup and Solheim Cup teams and are Hall of Fame members, there are bound to be lots of passionate opinions. Throw in a handful of hosts and hole announcers who are absolute golf nuts and walking Google entries of golf research, and you've got yourself a world-class discussion.
One of those topics debated early last week was Phil Mickelson and whether he was more well-known for his major championship triumphs or his defeats.
[+] Enlarge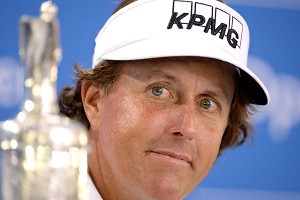 Stuart Franklin/Getty ImagesWith his victory Sunday, Phil Mickelson got out of the dreaded Greg Norman category of golfers who will be best remembered for their spectacular defeats.
Although Mickelson is a member of the World Golf Hall of Fame and winner of four major championships at age 43, there was a reasonably clear consensus that he would end up the same as Greg Norman, known more for his crash-and-burn finishes in the biggest events than triumphant walks to trophy presentations.
In the same breath, nearly all of us recalled Norman's ball trickling off the front of the ninth green at Augusta National in 1996, effectively wiping out his 6-shot 54-hole lead, setting the stage for Nick Faldo to win his third green jacket. We then remembered Mickelson's wide-left gaffe from the 72nd tee in the 2006 U.S. Open at Winged Foot. The resulting double-bogey let Australia's Geoff Ogilvy raise the hardware and caused Mickelson to utter in a postround interview, "I am such an idiot."
Jump forward to last month's U.S. Open at Merion, where Mickelson opened with a brilliant, jet-lagged 67 after an overnight flight from the West Coast, where he had attended a not-to-be-missed graduation for one of his daughters. He would make a crucial miscue at the 102-yard 13th hole in the second round that led to a bogey from the back bunker, and another on the same short hole in the final pairing on Sunday that led to another bogey. He had seemed to be within an hour of finally getting his name on the U.S. Open trophy but imploded yet again.
After Justin Rose was crowned champion, Mickelson said it was his most heartbreaking loss ever. He went down in flames again, this time not by the long, crooked shot but by two seemingly straightforward wedge shots. Six times a runner-up in his own national championship -- twice with errors that were pretty much inconceivable by a player of his credentials -- yet there they were. No thrill for "Phil the Thrill." A Hall of Fame career to be remembered more for gutting losses than for exclamation points of brilliance.
The next major on the schedule, the Open Championship, was the one in which Mickelson had by far the least amount of success throughout his career. Only a somewhat distant tie for second at Royal St. George's in 2011 added some sunshine to a dim record.
With more missed cuts than top-five finishes in the Open Championship and that scarring loss at Merion so fresh, our debate was pretty well over and done: Mickelson would be firmly planted near the top of that list of those known more for loss than victory. That opinion didn't seem to be varying at all when he headed to the final round 5 shots back of Lee Westwood's lead. While Mickelson said he thought a round in the 60s would give him a chance on Sunday, the BBC's Peter Alliss said something to the effect of, "My, he's a positive man. Let him live in his own happy little world." Even the British thought he had no chance!
To our ESPN production team's great credit, we never lost sight of Mickelson as he continued to linger through the first 12 holes of his final round while Westwood, little by little, gave away his lead and many other contenders emerged. When Mickelson began his final push with a birdie at 13 and punctuated the run with birdies at both 17 and 18 for a final-round 66, we were there to watch him douse those flaming finishes at Winged Foot and Merion.
As announcers, we're not supposed to root for anyone or any team -- no homer calls -- yet you can't help but pull for someone who has been so resilient throughout his career and who seemingly wipes out such disappointment so quickly. Our debate about wins or losses defining a career is no longer on the table. Mickelson's final six holes at Muirfield erased all that.
We will surely find another worthy debate topic to bat about in these next two weeks of Open championships in the U.K., but there is no debate about this: We are all anxious to get to the 2014 U.S. Open at Pinehurst No. 2 to see whether Mickelson can carve his name onto that elusive silver trophy and complete the career Grand Slam.
July, 1, 2013
7/01/13
4:28
PM ET
I am sitting here 24 hours after Inbee Park claimed her third straight major of the LPGA's 2013 season, and I am struck by the great hope that parallels will collide a month from now at St. Andrews as the greatest in the women's game gather at the home of golf for the season's fourth major.
You may ask what parallels exist, and I offer you these eerie similarities, not only between Bobby Jones, the last golfer to complete the Grand Slam, but also Tiger Woods, Merion and how the common denominator is St. Andrews.
Ponder this for a moment:
In 1930, the British Amateur was held at St. Andrews, where Bobby Jones would go on to capture the first leg of his Grand Slam. While not crucial to the eeriness of this argument but worth noting, Jones would go on to complete the slam at Merion, where we just three weeks ago watched the U.S. Open be contested.
Inbee and Tiger Woods are both former USGA junior champions, Tiger winning three consecutive championships in 1991-1993, while Inbee won hers in 2002. The Tiger Slam, in which he held all of golf's major championship trophies from June 2000 to April 2001, had its second leg completed at St. Andrews.
So much of the talk leading into the U.S. Women's Open last week was of Inbee's chance to do what no other woman had done since Babe Didrikson Zaharias in 1950 -- win the first three majors of a season. With that now in the rear-view mirror, we turn to all of golf history, not just women's history, to put Inbee's last 83 magical days into perspective. Will there be a ticker-tape parade in downtown Seoul much the same as there was for Jones in New York after he won the final leg of his slam?
As the Women's British Open returns to St. Andrews for the first time since 2007, keep in mind that Inbee had reasonable success there the first time around with a tie for 11th place as a 19-year-old. Since that time she has won four major championships and comes in playing, arguably, the best golf of anyone in the game today. She won every time she teed it up in the month of June and will play two more events before she arrives at St. Andrews, possibly on history's doorstep.
Bobby Jones once famously said of championship golf, "It is something like a cage. First you are expected to get into it, and then you are expected to stay there. But of course, nobody can stay there."
Without a doubt, Inbee Park is in that cage right now, and I consider myself to be darn fortunate to be able to announce all four days of the Women's British Open on ESPN. We'll all be able to watch a run at history at St. Andrews, and let's hope Inbee stays in the cage for just 72 more holes of championship golf.
June, 29, 2013
6/29/13
8:17
PM ET
Getty ImagesDid you know that Na Yeon Choi is a phenomenal cook, or that Inbee Park loves snow skiing?
I have received countless Twitter and Facebook messages over the last year or so sharing a common thread: "Where are the Americans?"
Pretty easy to ask that question when South Koreans have won four of the last five U.S. Women's Opens and five of the last eight. Take that a step further: No American has won a major since early 2011 when Stacy Lewis won at the Kraft Nabisco, traditionally the first major of the year. In fact, seven of the last 10 Kraft Nabisco champions have been from overseas.
Here's my answer: Golf has become a global game. The Americans are
still there ... in fact, Lewis was the No. 1 player in the Rolex World
Rankings from mid-March to mid-April, but the world has caught up.
[+] Enlarge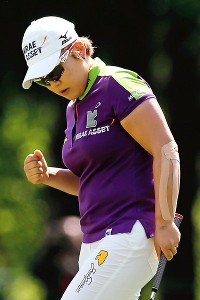 Scott Halleran/Getty ImagesJiyai Shin has produced two albums/CDs, all for charity.
You can thank Se Ri Pak for changing the face of the LPGA as her entire country watched her win two major championships in a month's time in 1998. She made golf cool for millions of little girls, including current world No. 1 Inbee Park, who saw Pak carry home that massive amount of hardware and decide she wanted to be like Se Ri.
We as American viewers naturally want to turn on the television or
computer and see our own in contention or at the top of the leaderboard.
That's easy. We can pronounce their names and we are familiar with their
stories.
When players from other countries get into contention or -- gasp -- begin to dominate, we are taken out of our comfort zone. We struggle to
pronounce their names, recognize their faces or share their personal
stories.
Nearly every women's golf fan knows Paula Creamer is known
as the Pink Panther and plays final rounds with a pink golf ball. But how
many can pronounce Jiyai Shin's name properly, know she is a former No. 1-ranked player in the world, lost her mother in a car accident at age 16 and has produced two vocal albums/CDs, all for charity?
Lots of those same golf fans know Cristie Kerr has done a phenomenal job raising research dollars in the attempt to find a cure for breast cancer and has a world-class wine label that benefits that cause, but how many know that Na Yeon Choi, the 2012 U.S. Women's Open champion, is not only a phenomenal cook but regularly visits children's hospitals in her native country? Na Yeon was recently so moved by one of these visits that she paid for brain surgery for a child who otherwise would have died because of the family's economic status.
Those same in-tune golf fans know of Stacy Lewis' battle
with scoliosis and her efforts to make others aware of the disease, but who
knows that Inbee Park came to the U.S. as a 10 year old, enrolled in an all-
English-speaking school in Las Vegas, was not allowed to speak Korean at
home with her family to make her assimilation to the American culture
easier and absolutely loves snows skiing?
I have been a board member of the PGA of America for the last eight months, tasked with, among other things, growing the game. It is so incredibly easy to slip down the dangerous slope of thinking that golf is just an American, European or English-speaking game when today it is anything but.
This game, now back in the Olympics beginning in 2016 after a 112-year hiatus, is truly world-wide, and it is our duty as those who love the game to look at it and appreciate those who play it so incredibly well, regardless of nationality. As broadcasters we need to better share with you who make the choice to watch our shows, a reason to embrace these players, their stories and come back for more.
I challenge you all, as we enter the three-week swing of the Open Championships in the United Kingdom next month, where the fields will be filled with sometimes challenging and unfamiliar names, to let us show you the golf shots but also familiarize you with why golf's stories are so great, so personal and so global. The names may not be easy to pronounce or faces quickly recognizable, but best golf shots are always that, whether they come off the face of a clubhead swung by an American, South Korean, Scot, Canadian, Swede, Spaniard,Japanese or anywhere else in between.
Look big and look wide ... because the best of golf is everywhere.
June, 26, 2013
6/26/13
9:51
AM ET
Courtesy of the United States Golf AssociationLike all U.S. Women's Open courses, Sebonack GC in Southampton, N.Y., will be set up by the USGA, not the LPGA, providing an unusual challenge.
The LPGA's newest marketing slogan is "See Why It's Different Out Here," but that tag could also be used for this week's U.S. Women's Open conducted by the USGA.
It is a different week from any other on tour and without a doubt the championship every player wants to win most. Because it is the only week on the LPGA Tour when its officials do not set up the course, the Open has always been a bit of a mystery.
In my 17 years on tour, I can count on one hand the number of regular events when I went in early to play extra practice rounds to become more comfortable with a course and setup. I made it a fairly regular practice to make that extra effort when it came to the Open because the USGA makes the setup such a complete test ... an exam you see just once a year and one that constantly keeps you off-balance.
More than 30 players made the trip to this year's site, Sebonack GC in Southampton, N.Y., in the tour's off week during the men's U.S. Open to try to get that little extra edge. It is not abnormal to see multiple teeing grounds and angles used throughout the week or to see holes vary by 40 to 50 yards in length.
More families, friends, coaches and managers tend to make the trip to the Open, and that places a premium not only on hitting great golf shots but also on juggling those extra balls -- another element that makes the week of the Open different from all others.
Another element that inevitably comes into play during the Open, especially those held in the East or Midwest, is weather. June is prime time for thunderstorms, and managing weather stops and starts -- resumptions shortly after sunrise and play until sunset -- is crucial. It's just going to happen, and Monday finishes are not out of the norm.
I witnessed classic weather management at the recent men's U.S. Open when I was assigned to follow Justin Rose in Friday's second round. With 2½ holes to play and darkness setting in rapidly, Justin started checking in regularly with the walking official, asking about the length of time they would allow play to continue. He was aiming to get a ball in play off the 18th tee so he could finish the hole in accordance with the rules and get a restful night of sleep. He made a crucial par save at that final hole and remarked to me, "That should be worth a shot somewhere this weekend." He was spot-on. A normal dinner and night of rest, rather than a grab-and-go meal with a 7:15 a.m. resumption with one hole to play, set him up to become the national champion.
Whoever wins the U.S. Women's Open this week will have to be the ultimate manager both on and off the course.
Some of my very best memories came during the Open, from my 14-year-old sister caddying for me in my first Open in 1984 at Salem, to announcing my retirement from competitive play in 2004 at The Orchards, both in Massachusetts.
While I never got the job done at our national championship (I had my best chance in 1990 at Atlanta Athletic Club, needing to hole my second shot at the last to force a playoff), I did win two major championships. I am super proud of those majors and the records associated with them that still stand, but I know as a young girl in Saratoga Springs, N.Y., I always practiced the putt or the chip-in that would win the Open.
I consider it a privilege to be able to cover the premier event in women's golf for ESPN, and all the while I would trade both of my majors for that one U.S. Women's Open ... it means that much.