February, 7, 2014
Feb 7
9:52
AM ET
Courtesy of Emily CookTeam camaraderie is one of the things Emily Cook values most about the Olympic experience.
The 2014 Olympics are finally, finally here! We arrived in Munich early Wednesday morning, and started our day with U.S. team processing, which includes a whirlwind of trying on and altering our new Olympic clothing, ordering Olympic rings and taking team photos. Afterward, we hit the gym for a quick recovery workout before dinner and an early bedtime. Throughout the day we greeted old friends, met new teammates and shared stories of our Olympic journeys -- a perfectly inspiring introduction to the 2014 Winter Olympic Games.
As Olympians' stories are told throughout the month, the world will learn about the obstacles each athlete has overcome and the lifetime of training it has taken to get to this point. Most of these stories will also highlight the support behind each athlete and the unique thread of family, friends, coaches, teammates and sponsors that made it possible for us to get here. To me, this is the best part of the Olympic Games: being able to share the journey and acknowledge those who helped me reach my dreams.
When the Olympic team was named two weeks ago, there was a stark difference with teams of the past. Not only was our aerials team much smaller than usual, but there was a staple to my personal experience noticeably missing. I qualified for my first Olympic Games in 2002, shattering both of my feet just two weeks later. When I learned that I would not be able to compete, my spot was filled by one of my best friends, Jeret "Speedy" Peterson.
I have shared each of my Olympic experiences until now with Speedy. He truly taught me what it was to be a teammate and a friend, from our early days of laughter-filled training when we were barely teenagers. Speedy was always there. In 2002, he flashed the TV cameras with "Hi Emily" gloves, and after a trying three-year recovery from my injury, I walked with him into the opening ceremony of the 2006 Torino games, tears streaming down my face.
Four years later, I watched as he took home a silver medal in the 2010 Olympics in Vancouver. We shared so many Olympic experiences together that heading into this Games without him is poignantly different. After suffering for the majority of his life with depression, Speedy took his own life in the summer of 2011. What he left behind were devastated friends and family, but also as time moved on, a legacy.
After his death, his family and friends developed the Speedy Foundation to help those who suffer as he did and to continue a conversation on mental health that was so important to him. But to me, the legacy spans far further than that. Speedy taught all of us to take care of each other.
[+] Enlarge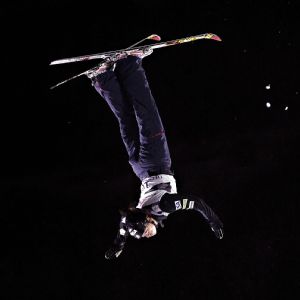 Ezra Shaw/Getty ImagesEmily Cook is back for her third Olympics in Sochi.
Last week, the three aerialists named to the Olympic team (myself, Mac Bohonnon and Ashley Caldwell) jumped at Deer Valley in Utah, working to fine-tune our tricks before heading to Sochi. When the weather got challenging and the site needed more work, the rest of our team came to help us prepare the hill, chopping up the landing, slipping snow off the inrun and shoveling and raking the outrun.
These athletes spent hours making sure that the hill was safe for the three of us, before heading to our other Park City site to train to be the future Olympic teams in 2018 and beyond. There is no way we would have had as successful a prep camp without the work of our entire team, and I very much look forward to helping each of them toward their own Olympic goals after Sochi. This sort of attitude is what Speedy left behind and is one of the things that makes me proud to be a part of the Olympic movement.
On our last day of camp in Deer Valley, as we were getting ready for jumping, a young boy asked if he could take a picture with our Olympic team. When I offered him my new Olympic jacket to wear for the picture, his eyes lit up and I could practically see the dreams spinning in his mind. We took the picture and I mentioned that maybe one day he would have his own Olympic uniform, to which he smiled and replied, "I hope so."
This conversation is so similar to one I remember having myself as a 12-year-old, with stars in my eyes. That conversation helped me learn that with hard work and perseverance, I too could be an Olympian. Whether this young boy dreams to be an athlete, a doctor, a teacher, a musician, a writer or has any other aspiration, I can only hope that seeing others fulfill their dreams will be the catalyst for him to realize his own. That is the spirit of the Olympics: coming together to reach for common goals and celebrating the human spirit.
Embroidered into the pockets and on the inside of our new Olympic gear are phrases such as "This is your moment." I could not possibly be more honored to be on this journey, and to represent our team in Russia. I am so excited for the weeks to come and after four years of leaving no stone left unturned, I know I am prepared to represent Team USA. I can't wait to create new memories and to share those experiences with the world.
January, 15, 2014
Jan 15
8:45
PM ET
Aerial skier Emily Cook was the top American finisher on the women's side at last week's Freestyle International FIS World Cup in Deer Valley, Utah. She placed seventh and is hoping to qualify to her fourth Olympic team later this month. With the help of her father Don, a photographer, Cook shows us what it's like to compete on the World Cup stage.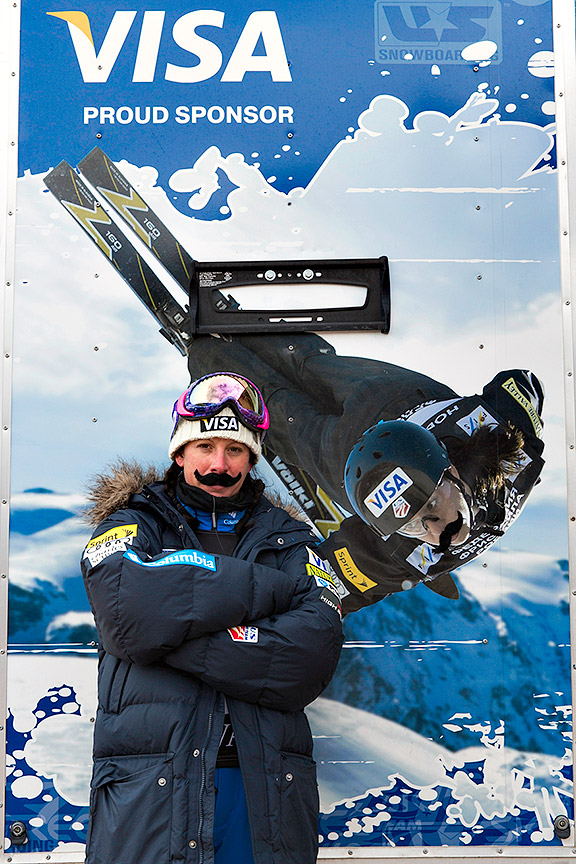 Don Cook
Someone thought my Visa billboard should have a mustache!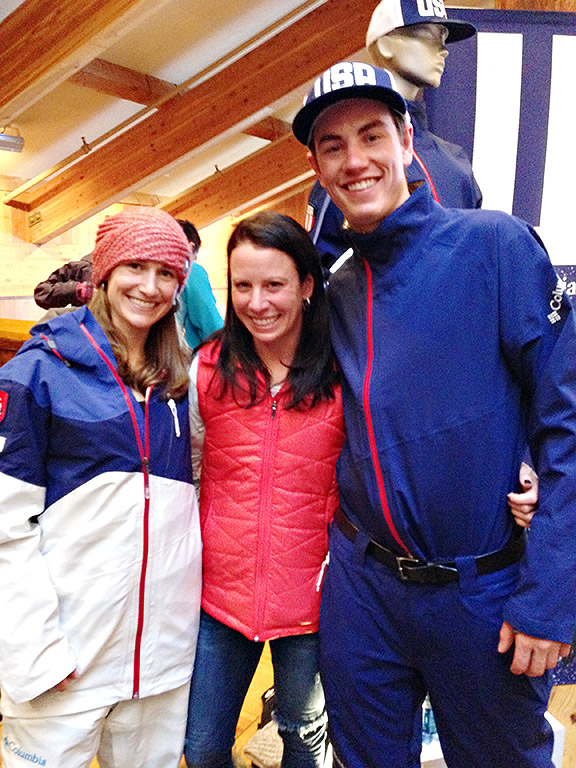 Courtesy of Emily Cook
Before it all started, Columbia unveiled the new Olympic uniforms. I'm here with my teammates Dylan Ferguson and Heather McPhie as they model them. I'm working hard to wear one of these while representing Team USA in February!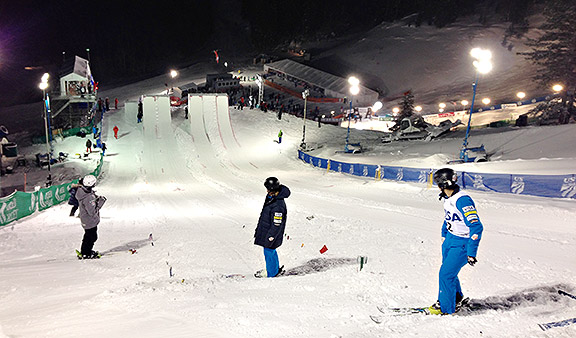 Courtesy of Emily Cook
An athlete's view of the ski jump. This is our snowy training session the night before competition.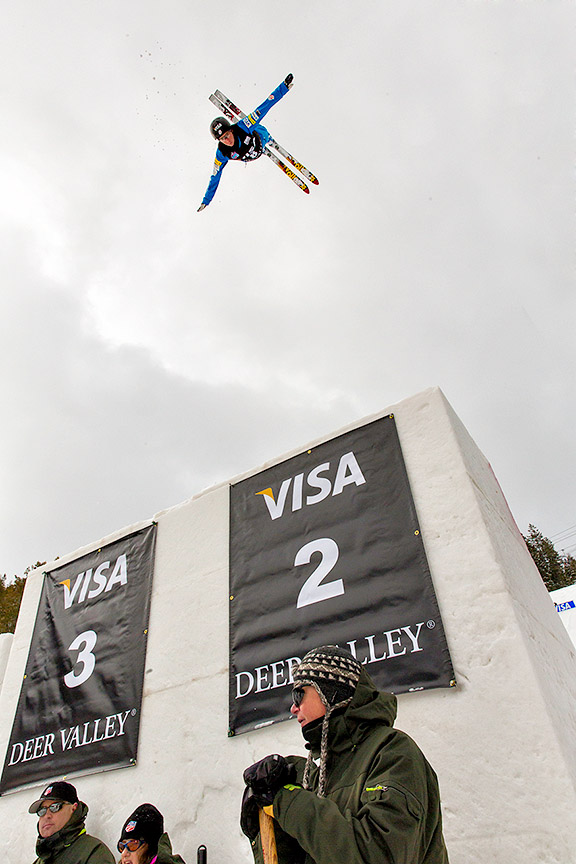 Don Cook
Looking at the ground is one of the most important aspects of jumping. It looks like I'm saying hi to our amazing Deer Valley volunteers here, but really I'm spotting my landing.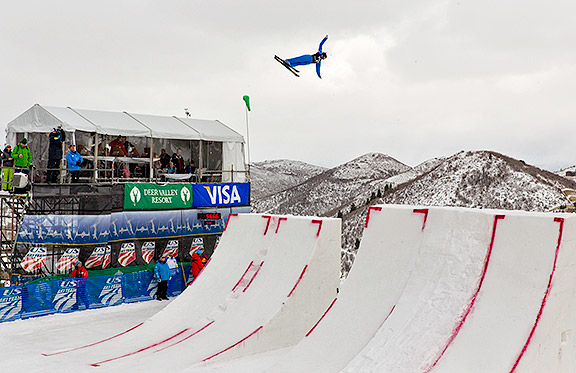 Don Cook
A competition run, which launched me into finals.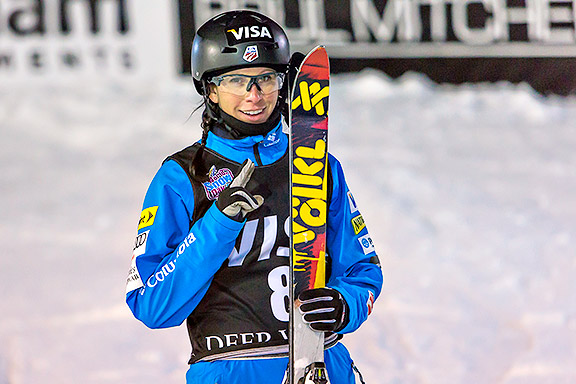 Don Cook
Here, I'm getting ready for the next round and am happy to advance to finals!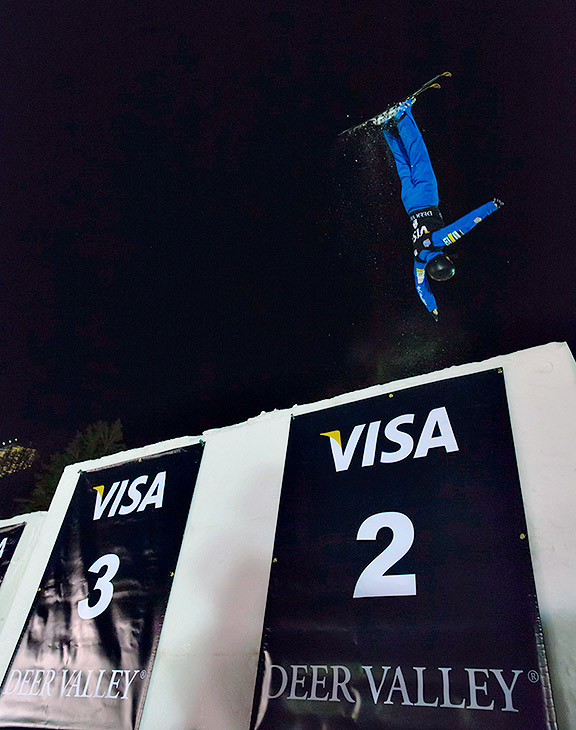 Don Cook
A training jump during the finals. I'm about to wrap into the twist and am training a double-full-full -- a triple-twisting double-back flip.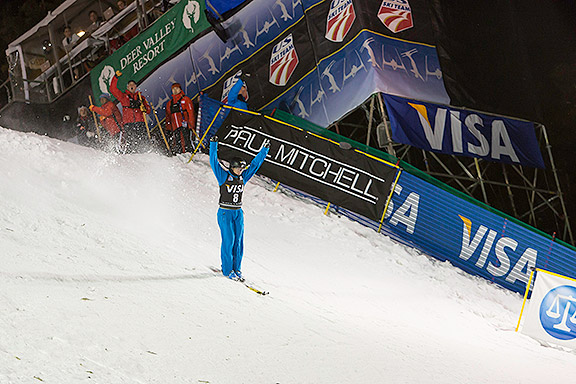 Don Cook
Skiing away from a solid landing in the final. I love my coach's reaction in the background. This jump was a full-full -- a double-twisting double-back flip.
November, 11, 2013
11/11/13
7:23
PM ET
Matthew Stockman/Getty ImagesEmily Cook has qualified to three Olympic teams and been a member of the U.S. ski team for 16 years.
I was asked recently whether I think I am a master of the sport of aerials. I thought hard about the 16 years I have spent on the U.S. ski team, the three Olympic Games I have qualified for and the 20-plus years of training I have put in to be the best athlete I can be.
But my response was still no -- I think I am far from mastery. This, though, is why I love what I do.
There is always more to learn, and that's what gets me out of bed and to training every morning. There is no definition for the number of hours needed to get the point where we have arrived, but I think that once we feel that way, it's probably time to find a new game, goal or adventure.
[+] Enlarge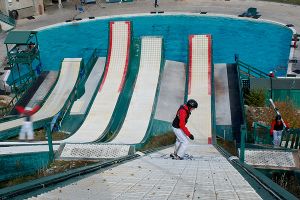 Scott HallenbergWhen there's no snow, aerial skiers train into a pool in Park City, Utah.
My teammates and I recently completed a six-month block of training. We spent immense time in the gym running, cycling, lifting weights and doing core strength and plyometrics drills -- striving to be the strongest, most dynamic athletes we can be.
During this time, we also bounced on the trampoline to learn new skills and performed our jumps into a pool, rather than landing on snow. This is where we make our biggest improvements, learn new tricks, safely crash jumps and make the adjustments necessary for dramatic improvements in competition. In essence, this is where we practice mastery, and make the mistakes necessary to move forward.
The schedule was intense. One Sunday, our team started at the jumps at 9 a.m. and got home from the gym at 9 p.m. In between, we completed two jumping sessions, a sport psychology meeting, video review and both a cardio and lifting workout. I warmed up three times and cooled down three times, ate three meals and spent plenty of time discussing what was needed to improve mentally and physically.
This is what it looks like to train for the Olympic Games, and to me this is what the journey toward mastery entails.
Every morning I record daily objectives and goals in my training log. I discuss the plan with my coach, warm up and then walk over 100 stairs to the top of the ramps.
[+] Enlarge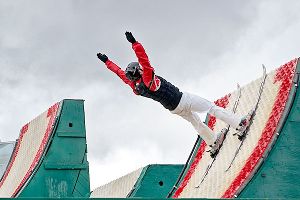 Scott HallenbergSome of Emily Cook's training days this past summer lasted 12 hours, but it's what she feels was needed to prepare for the upcoming season.
Sometimes, when I look down the inrun, I feel anxiety about a new jump, how the weather will affect my speed on the ramp or a new variation of a skill, but I know I have done the preparation to be where I am. I take a deep breath, calm my nerves and drop in.
Often we make mistakes, and sometimes we crash. But each time I falter or succeed, I get up, walk to my coach and discuss what I need to do to make the next jump better and make the necessary adjustments. At the end of the day, the second half of the training log is written. What goals were accomplished? What do I need to do tomorrow? Where can I improve?
Throughout the summer, there were days that were amazing, while others left me exhausted and a bit unsure. At times, the pool dropped below 45 degrees, colder than our cold tub recovery sessions, and snow fell on our "summer training." These days were harder than others, but what I knew was that, regardless of my level of motivation or confidence on that day, I would be at the jumps again the next morning.
This is what I expect of myself, and it is something I have trained those around me to believe and support as well. We will inevitably encounter roadblocks on our individual journeys, but each day we can take the next step toward reaching for our own version of mastery.
This week, ice covers the pool, but not quite enough snow covers our winter jump site, so we train inside the USSA Center of Excellence in Park City, Utah. We continue to work our skills on the trampolines and our bodies in the gym and devise the best plan to prepare for the upcoming Olympic season.
I am so excited for this last push toward Sochi, and with just under 100 days left before the Olympics, I know that the long summer days of training have left me completely ready for the season ahead.


Now it's just a matter of getting enough snow to get going!
June, 14, 2013
6/14/13
9:30
AM ET
Courtesy of Emily CookEmily Cook's father Don has been by her side throughout her career in aerial skiing.
Growing up, there were a few things I knew for sure. I knew my family was a little different. I knew I was loved, and I knew if I worked hard enough, I could achieve anything. My father raised me to know these things.
Though my dad and I were surrounded by a myriad of friends, family and loved ones who impacted our lives on a daily basis, it was often "just the two of us." My mother died when I was very young, after a car accident caused by a drunk driver. As I approach 34, I'm now the same age my dad was when this happened, and I'm overcome by the impact something like that would have on my life today.
There are few words that can begin to describe how this experience must have been for my family, but despite the tragedy before him, my father managed to remember that he had a daughter to raise, and for this I am most thankful.
Throughout my childhood my dad made sure I was surrounded by love, yet there were countless times that I missed having a mother. As a young girl I had some dark moments where I was certain life couldn't possibly be any more unfair. With her photo tucked under my pillow, I grieved for a mom I never had the chance to know.
But in the wake of each moment of despair, my dad was there. In my eyes, he was a solid foundation of hope and inspiration, always encouraging, always moving forward, being both mom and dad. Over the years we moved through these experiences together. Through stories and pictures, he and our family taught me to know and love my mother, a gift I now hold close to my heart.
[+] Enlarge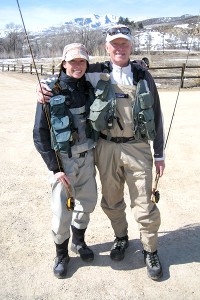 Courtesy of Emily CookDon Cook has shared many of his passions with his daughter Emily, including one for fly-fishing.
As I grew up, my dad realized the amount of energy his young daughter had and quickly enrolled me in as many sports programs as possible to give me an outlet for all that fire. He taught me to share his passions of photography, fly-fishing, scuba diving and skiing, and he committed to providing me with every opportunity available. He rarely missed a soccer game, diving meet or gymnastics competition and though we of course had our disagreements at times, they were rare, and we always managed to come up with a solution together. We were a team.
When I discovered my love for freestyle skiing, my dad quietly made it his mission to support me every step of the way. After work on Fridays, he would pick me up from gymnastics and drive us four hours to Sugarloaf, Maine, so I could train on snow. On those long rides, we discussed the constellations, school and often my dreams of becoming an Olympian.
My dad reminded me that my dreams could, and would, come true -- that obstacles were there to make us stronger and to always work hard and play hard. He taught me how to set goals and how to plan and work to achieve those goals. Today, the dreams we discussed on those long car rides have been checked off, and new goals have emerged. Though he never pointed it out directly, I knew my dad's life experiences proved that all I envisioned for my life was possible.
Looking back, the times we have shared on my Olympic journey are memories I will treasure forever, and I know that not one moment of it would have been possible without my father's love, support and constant encouragement. Through crashes and success, he has been my foundation. He has picked me up from the depths of disappointment and shared the celebration of life's most precious moments.
Now that I'm in my thirties, on occasion our roles reverse. This spring my dad spent a few weeks in my home, rehabilitating from a knee replacement. This time he was the one who needed support, and together we navigated the details of his recovery.
But, just as quickly, we switch back, because, let's face it: I'll always be his little girl. On a daily basis I call him to celebrate some random success, ask what to do about a flat tire, to help with some yard work or for his advice while steering through life's many choices.
Perhaps, it has always been this way, the ebb and flow of life. But today, what I know to be true is that our journey is far from complete, our family is still a little different, I am loved and that with hard work I can achieve anything.
Thanks for helping me achieve my dreams, Dad, and happy Father's Day.
March, 6, 2013
3/06/13
4:59
PM ET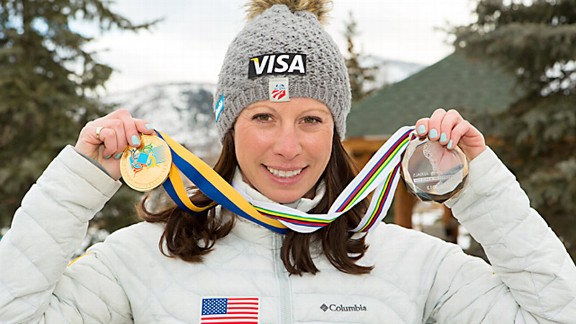 Don CookEmily Cook won the World Cup finale in Bukovel, Ukraine, placing her second in the world overall for the season.
Exactly one year before the 2014 Winter Olympic Games, our team arrived in Sochi, ready for snowy weather and a world-class competition: The Sochi World Cup and Olympic test event would be held a week later, on Feb. 17.
But on our first day there, I went for a run on the beach with my teammate Allie Lee. We weaved through palm trees in tank tops and tights and finished with a swim in the black sea. We wondered whether winter would grace Sochi with its presence, but we were thankful to have a beautiful introduction to our Olympic host city.
[+] Enlarge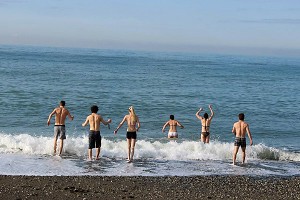 Madison OlsenEmily Cook and other skiers on the U.S. aerials team wade into the Black Sea during the Sochi Olympic test event.
The next day we found ourselves 40 kilometers away at an elevation of 3,800 feet, surrounded by the stunning Greater Caucasus mountain range in the alpine village of Rosa Khutor. Though higher and certainly a bit colder there, our first night's training was canceled -- the jumps simply couldn't handle the warm weather and were falling apart. Throughout the week we saw rain, sleet, snow and fog as organizers scrambled to keep the jumps in one piece. Training times were altered to keep the fragile site together and chemicals and dry ice were used daily to create pseudo-cold conditions.
Finally, we were allowed to jump, with training times starting at 8:30 p.m. and concluding by 11 -- late at night, but cold enough to be effective. Dry ice clouded the air and the fog was so thick, we had to simply trust that once far enough down the inrun, the jumps and ultimately the landing hill would appear. Jumping in the fog requires a lot of trust. But, surprisingly, I jumped great and was thrilled with the way the site had turned out.
On competition day, freezing rain turned to snow the moment training finished and the qualification round started. The conditions coming into the jumps changed drastically, slowing us down as we approached. We did our best to adjust, but I was affected and made a mistake big enough to keep me from the final. I was devastated. I cried my eyes out, my heart ached and I wondered how it was possible that I could have made such a mistake.
However, every successful athlete knows that the only real failure is not learning from our mistakes. So, I wallowed in my misery for about an hour and then moved on, watching the final and absorbing as much information as possible. Today I am thankful this happened a year from the Olympics rather than next season. I know what adjustments need to be made and my coaches and I have now had the chance to study the intricacies of the Olympic site in order to be fully prepared for whatever comes my way at the Games.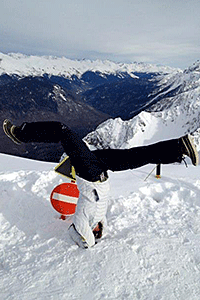 Greg HeuerEmily Cook does a headstand atop the (much colder) mountains by the village of Rosa Khutor near Sochi.
I also have learned that sometimes an athlete needs to hit rock bottom before learning lessons necessary to take the next step to success. It can be painful, but setbacks are a part of the process. Throughout the next week I dug deep, and my coaches and I studied my mistakes in Sochi, searching for what was missing that would make the difference in my jumping.
When I arrived in Bukovel, Ukraine, for the World Cup finale, I realized I would have a little extra time on my hands, waiting for my ski bag, which had gotten lost in transit from Sochi, and recovering from a sickness picked up during the two travel days to Ukraine. The more time I had to think about Sochi, the more determined I became to improve my performance this coming week.
My bags arrived the day before competition and I had a chance to take a few training jumps on the Bukovel hill. The organizers did a fantastic job preparing a brand-new site and I performed some of my best jumps of the season that day. The next morning in competition, I stayed focused on each individual round, advancing throughout the day to the final round of four and ultimately finishing the night standing at the top of the World Cup podium, my first World Cup win in two seasons.
My teammate Dylan Ferguson landed on his first World Cup podium of the season with a second-place finish, and teammates Kiley McKinnon and Mike Rossi were named 2013 Rookies of the Year. It was an incredible night. Since this event was the World Cup finale, my victory launched me up in the 2013 rankings to second place -- a career-best season.
I couldn't be more excited about this finish to the regular season. We headed home to Utah for three days to rest our minds and bodies in preparation for the last international competition of the season, the world championships in Voss, Norway. The win in Ukraine leaves me feeling confident and prepared for worlds, and I feel ready to step up my game and try a jump that I have not had the chance to use yet this season (an additional variation of a triple-twisting double backflip) in order to push the envelope and leave no stone unturned in the pursuit of my best performance. I love Norway and am thrilled to have the chance to compete for a world championship here on Thursday!
February, 7, 2013
2/07/13
2:05
PM ET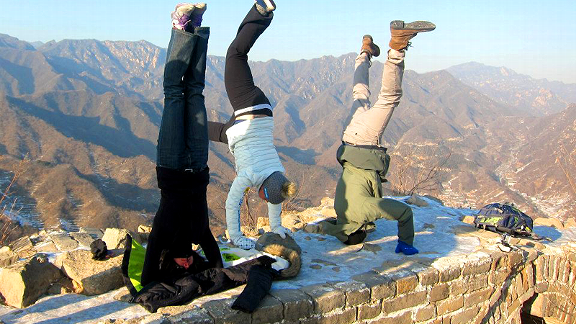 Courtesy Emily CookEmily Cook (left) and teammates Allie Lee and Dylan Ferguson on the Great Wall of China. Says Cook, "Aerialists like to be upside-down!"
One of my goals as an athlete is to go into each competition feeling prepared and confident. I love planning, so setting strategies to reach my goals makes me feel in control.
I have always considered this to be one of my strengths, but I was reminded early this season that sometimes success requires a serious deviation from the drawing board.
My plan was to use our team's early season prep period in Park City to practice the fundamentals and my more challenging tricks on our home hill at the Utah Olympic Park. Unfortunately, a crashed jump in early December left me with a minor concussion. The team takes head injuries very seriously and our medical staff devised a conservative protocol that involved a series of testing and progressive activity and would ideally get me back to jumping for our first World Cup of the season in China on January 5.
With some unanticipated time on my hands, I focused the majority of my energy on resting my body, finishing my last class at the University of Utah and refining my mental game for the upcoming World Cup season. I spent time visualizing the jumps I was unable to do and meeting with our team's sport psychologist, Dr. Nicole Detling. Together, we worked to prepare for the upcoming event in China and recognize the fact that the unexpected should often, in fact, be expected. As I looked back at years of competition, I noticed many of my most important events included some sort of surprise -- broken equipment, bad weather or injury -- and, more important, many of these surprises preceded my best results.
[+] Enlarge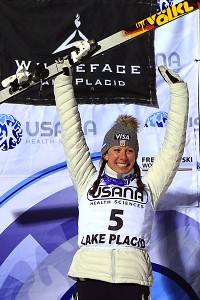 Don CookEmily Cook came back from an early-season concussion to place third in front of a hometown crowd at the Lake Placid World Cup.
After a refreshing trip home to Boston for the holidays, and receiving that much-anticipated diploma in the mail from the University of Utah, I was thankful to feel symptom-free and ready to rejoin the team. A few days after Christmas we embarked on the long trip to China -- and arrived to jet lag, unfamiliar food and minus-30-degree weather. We bundled up and started the World Cup season.
Aerialists crash; it's a part of our sport, but it can still be a bit unnerving, not to mention painful. After a month off from training and with a new jump site and some windy weather, I was definitely rusty. I took a few crashes in training in China, and went into the competition sore, tired and without completing my most difficult tricks.
But I did have mental preparation and 15 years of experience on the World Cup tour. On competition day, I took a few long, deep breaths, centered myself and found confidence in what I had done in years past. After qualifying for a second jump, I increased my degree of difficulty and performed a well-executed triple-twisting double flip (called a full double full), just barely missing the final round to fight for a spot on the podium. I finished the day very satisfied, in fifth place.
The morning after the competition, our team flew to Beijing, got in a workout and took in the beauty of the Great Wall before heading home for some much-needed laundry and one night of sleep in our own beds. We then went on a January World Cup whirlwind: We competed in Val St. Come, Quebec, Lake Placid, N.Y., and at home in Deer Valley, Utah.
My favorite moment came in Lake Placid, where I earned my first podium spot of the season with a third-place finish. I was ecstatic and felt proud to have overcome the reduced training time that comes from a month of nonstop competition.
Now, with the 2014 Olympics just one year away, I am so thankful for each learning opportunity I've been given -- even the ones that stung a bit at the time. Throughout these past two months, I've had the opportunity to practice patience and calm in the face of adversity. I've also tested my ability to be flexible with changes and perform well even when things go awry.
I am definitely looking forward to having the opportunity to work on my plan and train some of my more difficult tricks, though! This week, the U.S. team will have training and three competitions at the Utah Olympic Park before heading to Sochi on Monday for our first look at next year's Olympic venue.
Throughout the next year, as I work toward reaching my goal of bringing home Olympic gold, I will do my best to cherish each step of the process and use every moment as an opportunity to learn and grow.
It's one year until the Olympics, and I can't wait!
December, 6, 2012
12/06/12
3:46
PM ET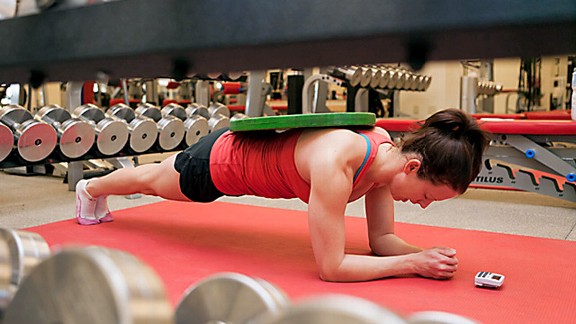 Don CookEmily Cook is back training, enjoying the daily grind 10 years after making her first Olympic team.
When I was 23, I was on top of the world. It was 10 years ago, and I had qualified to represent Team USA in my first Olympic Games in aerial skiing. When I put on my first U.S. Olympic team jacket I felt like I had reached the most incredible accomplishment life could offer. At the time, it felt like the planet would stand still forever, allowing me to bask in the glory of a dream come true.
As a young girl I was taught by my father and those close to me that if you work hard and believe, anything is possible. So, when I discovered my love for aerial skiing -- flipping and twisting through the air on skis -- I did just that. I worked hard and with all my heart. I believed … every day. At age 12, I set the goal to be a member of my first U.S. Olympic team. I set my sights on Salt Lake City, Utah, where I had moved to train with the best in the world and where the 2002 Olympics would be held. For years I confidently followed the path directed by my coaches.
[+] Enlarge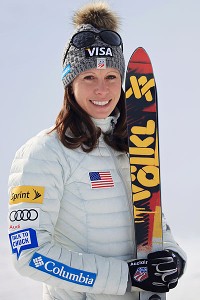 Sarah Brunson/U.S. Ski TeamEmily Cook has won five national championship titles and two World Cups.
When success knocked, with an Olympic trials win on New Year's Eve of 2002, my heart soared. I cried tears of joy, fireworks exploded overhead and I imagined myself walking into the opening ceremonies hand in hand with my Olympic teammates.
But two weeks later, while performing a training jump in Lake Placid, N.Y., I landed wrong, hitting the flat part of the hill, rather than the steep landing. When my skis hit the ground, I heard a deafening crack. The noise was the sound of both of my feet shattering, along with my Olympic dreams. A few days later and just hours after surgery, I watched the 2002 opening ceremonies from a wheelchair in the stands. It goes without saying that the tears on my cheeks were not of joy, but of heartache and deep desire to be with my teammates in the stadium below.
In the 10 years since the 2002 Olympics, I have encountered those who believed and those who did not. Though many disagreed with my desire to return to the sport I loved, I found doctors, physical therapists and supporters who spent the next three years helping me reconstruct my broken feet and heart. I tentatively regained strength and the youthful confidence that had once flooded my thoughts, and returned to aerials just before the 2006 Olympic season. Though doubt occasionally invaded my thoughts, I was blessed by the support of some very special people; those people believed, and expected me to do the same.
Four years after my first Olympic trial win, I qualified for my second Olympic Games, and this time had the opportunity to represent my country in Italy. Though my competition result (19th place) was disappointing, it paled in comparison to the lasting feeling of pride in being at the Games after such a long journey.
I followed my 2006 Olympic experience with seasons of World Cup podiums, national championship titles and an appearance in the finals of the 2010 Vancouver Olympic Winter Games. After Vancouver, I had planned on retiring from the sport and moving on to the next adventure. That is, after one last season … just for fun.
[+] Enlarge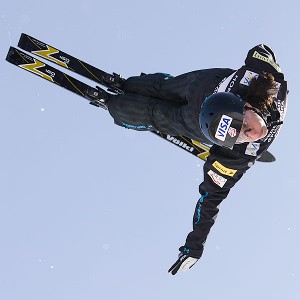 Don CookAfter a devastating injury just two weeks before the 2002 Games, Emily Cook underwent three years of rehab, making it back just in time for the 2006 Games.
But my plans for a new beginning took an unexpected turn.
During the 2011 season, I discovered a new passion for my sport. After leading the aerial team to years of success, my longtime coach Matt Christensen chose a new path, leaving us with an opportunity to bring fresh direction to the team. Our new coach, Todd Ossian, brought a different experience, technique and perspective, and I began to improve in new and exciting ways. I found new satisfaction in the fundamentals of each movement and the meditative minute-by-minute process of training. I also found myself back on top of the podium, and once again believing in my ability to improve dramatically, while thriving in the process of the daily grind. A fellow competitor literally said to me, "I guess you can teach an old dog new tricks." I took it as a compliment.
Instead of retiring from aerials, I chose the goal of bringing home an Olympic medal from Sochi in 2014.
And now, here I am, back once again in the fall training period of aerial skiing. I've been here many times before, waiting for snow as we navigate the period of time between our water ramp season (where we perform our tricks off plastic-covered jumps into a pool) and the eagerly awaited competition season. Fall training is like the movie "Groundhog Day," a repetitive process that has become routine: sleep, eat, train, repeat.
We start with a dynamic warm-up of running and active stretching, followed by a two-hour trampoline session. Coaches stand by as we practice versions of the jumps we will perform on snow. With slow-motion video on hand for instant review, we pick apart each portion of our performance in a safe and contained environment so that when the time comes to take each skill to snow, we are able to perform the trick on skis, 40-60 feet in the air, safely and successfully.
After trampoline, we go to the gym to work out with our strength and conditioning coach. An hour of cardio, followed by two hours of lifting weights, plyometrics and core strength is typical. The challenge is to build a body with the perfect balance of agility and raw strength in order to manage graceful jumps, long training sessions and, sometimes, 50-foot crashes. After workout we grab a snack and return for another two-hour trampoline session before cooling down, stretching and preparing for another day.
Today, 10 years after qualifying for my first Olympics, I find myself surrounded by a team half my age. I often miss those I used to train with, but this team continues to remind me of the energy and excitement I felt when I first put on an Olympic jacket or stepped onto a World Cup podium. On long days when fatigue threatens to take over and my motivation wanes, I remember the belief in myself I had back then, and it helps me to, once again, point my skis in the direction of Sochi.