December, 4, 2013
Dec 4
1:02
PM ET
By
Erin McLeod
| ESPN.com
AP Photo/Hussein MallaErin McLeod and the Canadian national team are already prepping for the 2015 World Cup, held in Canada. Their mission: to be the fittest and most organized team on the field.
When you're a soccer player, sometimes you're really happy with your performance, and sometimes you just want to hit your head against a wall.
Now that the National Women's Soccer League (NWSL) season is in the rearview mirror, I'm back full time with the Canadian national team, and we're working on a bunch of new things -- call it a growing and learning stage.
Our recent performances in international friendlies have been both good and bad. We played in Edmonton, Alberta, with temperatures just above freezing and beat South Korea (3-0). Then we had a scoreless draw with Mexico in front of a crowd of over 20,000. I know it's normal in the U.S. to have a crowd that size or bigger, but for us it's been a big change. And since the 2015 World Cup is at home, we'll have to be used to the crowds, so now's the time to get comfortable with it.
As our coach, John Herdman, says, sometimes you have to be willing to lose to win. When you've got fans coming out you just want to show them a big game and get goals in the back of the net, but at the end of the day we really have to work on the tactics. It's a process right now, and we just have to stay patient.
We have been in a residence program since mid-October -- basically a training camp situation. We're in this beautiful new training facility called Fortius in Burnaby, British Columbia, that's basically a sports science institute with all these soccer fields, a beautiful gym, chiropractors -- an all-in-one ideal training environment. And we'll be living and training here through the Cypress Cup in the middle of March. There are few facilities like it, so we're pretty lucky.
[+] Enlarge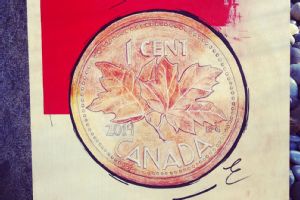 Courtesy of Erin McLeodErin McLeod: This was a commission piece. I sat down with a 24-inch-by-36-inch piece of wood and went to town. I loved how it turned out and its amazing what a few colored pencils can do!
John wants us to be the fittest and most organized team by the World Cup, so we're working on fitness day in and day out. Being the most organized involves being very tactically aware -- spending hours and hours watching and analyzing different games.
When I was growing up in Canada we basically had "soccer Saturday," where everyone watched a game or two on the weekend. These days it's changing, though. Now you can watch soccer any day of the week, so we have 16- and 17-year-olds coming in with a similar understanding of the game to someone my age! (For the record, I'm 30.) The tide is definitely turning.
But a coach can only take you so far and there are going to be game situations when it has to come from the leaders on the team. For me as a goalkeeper, I'm working on being able to control the tempo of the game by reading the team and being more commanding in the back.
From a young age, people tell keepers to talk, but what they don't tell you is what you should be saying. For so long I've been over-communicating, and now I'm trying to focus on seeing what the other players aren't seeing and communicating that.
The keeper's role is changing a lot in the women's game, too. Instead of standing on the line all the time, I'm also hitting diagonal balls with both feet and serving as an extra player on the field.
Outside of soccer, I've been finding plenty of opportunities to stretch my creative muscle. I had an art show in Toronto in September that went really well, and I got four commissioned pieces that have been keeping me busy when we have free time. I feel lucky that I can just go to my room and do a little sketching and painting when there's a break in training. My teammate Carmelita Moscato, who's one of my best friends, will come in and put on some music and we call it "creative corner." So far I've finished three of my commissioned paintings. It's just fun to do something that challenges a different part of your brain!
I've also joined up with a couple of girls to start a clothing line that's launching in January called Peau de Loup (translation: Skin of Wolf). We basically created a women's button-up shirt that's actually designed for a woman. It's a brand for tomboys like myself who love button-ups but find that nothing fits right. Our shirts are all about the small details, like the button in the back of the collar, and an inside pocket. I have a BA in advertising, so this has been a really cool opportunity. I was proud to have our shirts as part of the silent auction at U.S. goalkeeper Jillian Loyden's Break the Silence Gala to promote awareness of domestic violence. We're slowly getting the word out, especially in a sport where there are a lot of tomboys!
And with all of our training, there's a light at the end of the tunnel with some games coming up! We're heading to Brasília, Brazil, this week for three weeks of games against Chile, Brazil and Scotland before we break for Christmas. It'll be nonstop this holiday season with training, travel and games. And, of course, "creative corners" whenever it's possible!
August, 2, 2013
Aug 2
10:07
AM ET
By
Erin McLeod
| ESPN.com
My National Women's Soccer League team, the Chicago Red Stars, just took a weeklong trip out to the West Coast to play the Seattle Reign and Portland Thorns. Although we didn't come out with the points we wanted -- we lost to Seattle and tied Portland -- we showed a lot of heart and determination. Here is a peek into what we do when we aren't out on the pitch.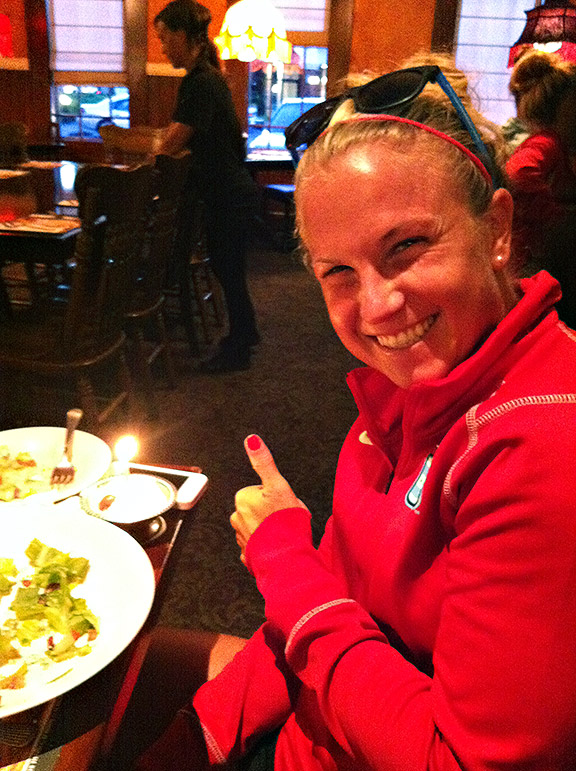 Erin McLeod
My teammate Alyssa Mautz at the Old Spaghetti Factory living the dream (and eating sweets) on her soon-to-be birthday.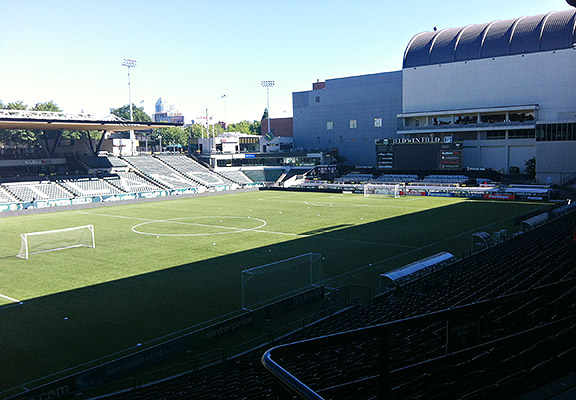 Erin McLeod
A shot of the Portland pitch, the day before our game. It ended up being a packed stadium on game day, and we had an amazing comeback. Mautz, most likely due to all the whipped cream she ate, made the big difference and scored two goals.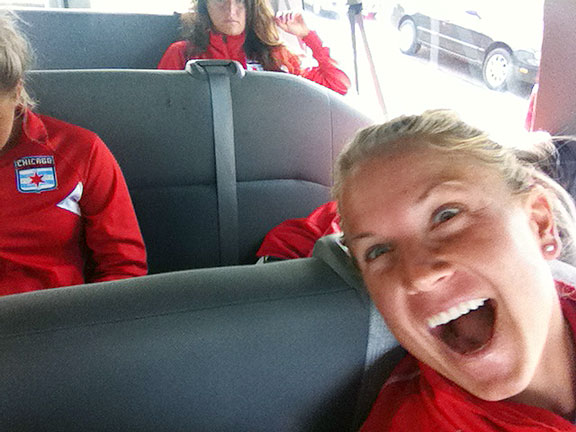 Courtesy of Erin McLeod
One more of Mautz, still on a sugar high.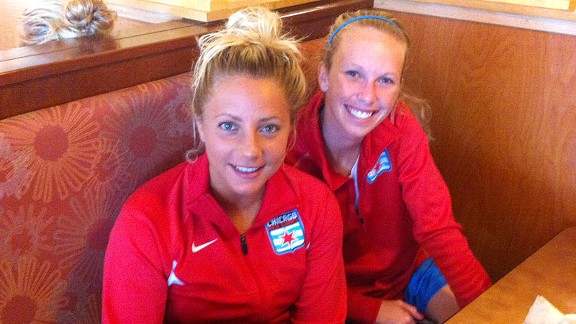 Courtesy of Erin McLeod
Dre Leon and Michelle Wenino at wonderful Panera, starting the day right.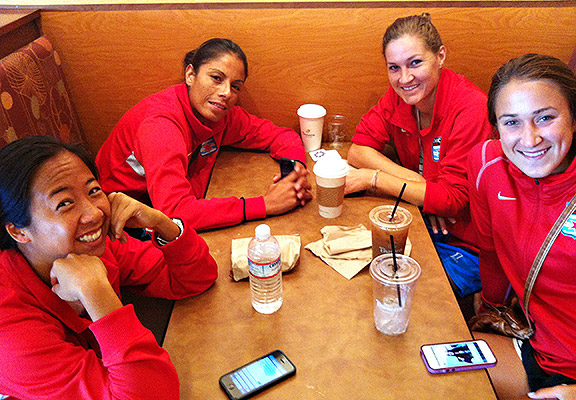 Erin McLeod
Another morning shot of the Red Stars' international flava table: (from left) Rachel Quon (half-Canuck), Maribel Dominguez (Mexican), Lydia Vandenbergh (American) and Jen Hoy (American). Lydia speaks Portuguese with Maribel, who is also learning English with Jen's help.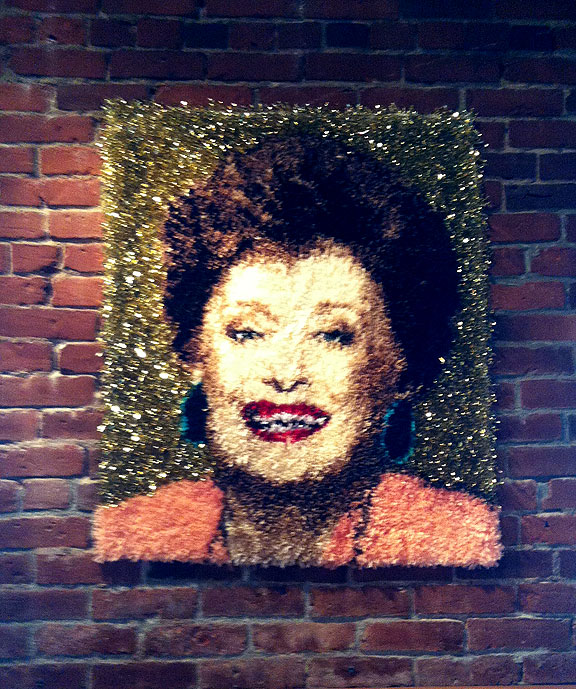 Courtesy of Erin McLeod
Floyd's coffee shop in Portland had some killer collectibles on the wall, like this shot of Blanche from "The Golden Girls." I know Robyn Gayle of the Washington Spirit would love this, since she has every season of the show!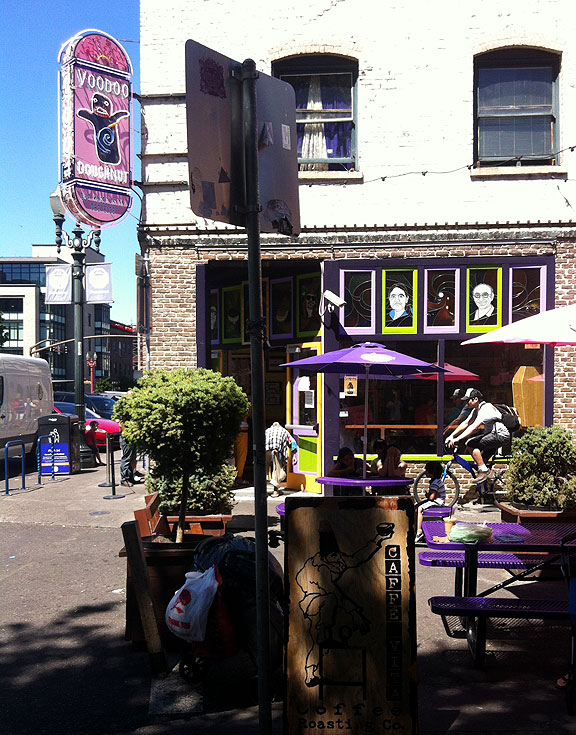 Courtesy of Erin McLeod
The infamous Voodoo Doughnut in Portland, where a doughnut in the shape of a voodoo doll is displayed, pinned down with a pretzel stick. People are often lined up around the block to get in.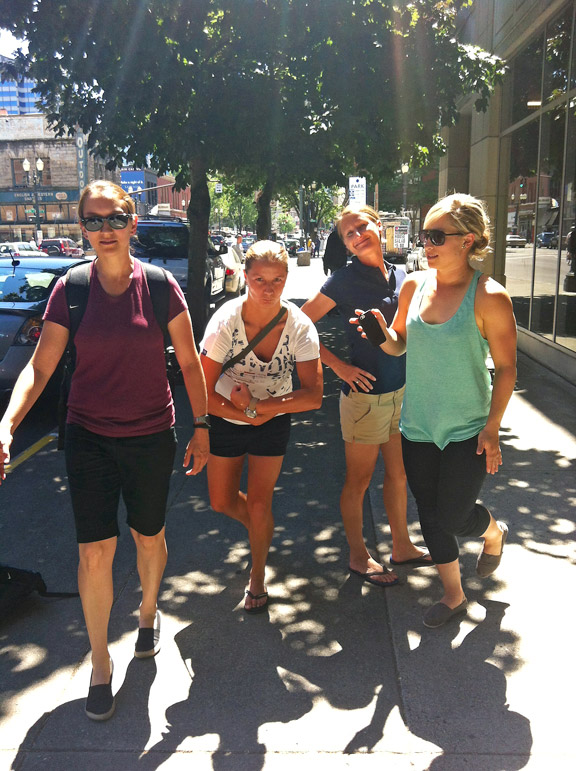 Courtesy of Erin McLeod
Getting my German teammates (Inka Grings and Sonja Fuss), general manager Alyse Lahue (we usually call her GM) and Ella Masar to pose for this was like pulling teeth!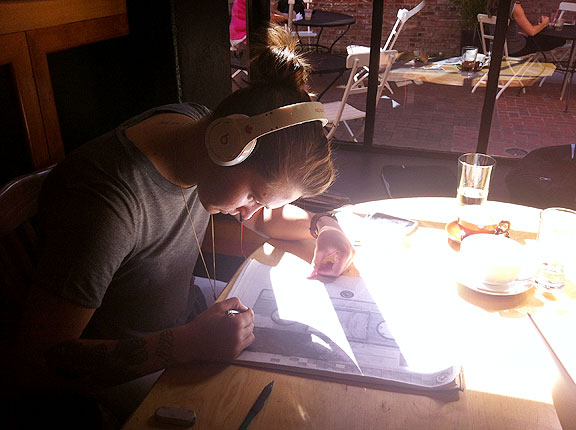 Courtesy of Erin McLeod
Last of all, this is me working on my 14th piece during a little bit of downtime. I'm getting ready for my art show in September at the Jane Roos Gallery in Toronto.
May, 16, 2013
May 16
2:08
PM ET
By
Erin McLeod
| ESPN.com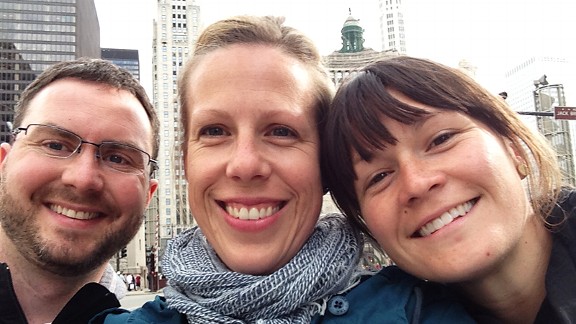 Courtesy of Erin McLeod Erin McLeod, right, playing tour guide for her sister and brother-in-law in Chicago.
With three games in the past week and a half, the Chicago Red Stars have been traveling a lot lately. And there are challenges that come with such a schedule.
We do all the old tricks to help our bodies recover during the crazy travel calendar: compression pants and compression tights on the plane, ice baths after workouts and games, and hydrating like it's our job, which I guess it pretty much is.
[+] Enlarge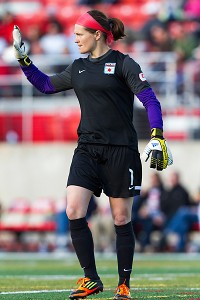 AP Photo/Damen Jackson/Triple Play New MediaThe Red Stars have had a rough start to their season, with three losses and two ties, but Erin McLeod is optimistic that the team's grit will come through as the season progresses.
There has been one major highlight, though. Jess McDonald's 1-year-old son, Jeremiah, comes along with us, and everyone absolutely comes out of their shell when he's around. I think I am normally I'm pretty good with kids, but Jeremiah plays hard-to-get with me. He's finally giving me high-fives now, so I've come a long way, but it wasn't easy to get to this point!
On the field, there have been plenty of up and downs so far. We kinda got pummeled by the Boston Breakers (4-1) at the beginning of last week. We made some simple errors; and, in this league, there are so many great strikers and offensive players that, if you make mistakes in the back, you're going to get punished. But I was proud of how we came back just two days later against the New Jersey Sky Blue. It was a tie – so, still not the outcome we're after -- but when they scored on us in the 88th minute of play, the fact that we didn't let up and came back and scored again just four minutes later in stoppage time showed a lot of character and heart.
Our coach, Rory Dames, is no-B.S. -- he will call you out for your mistakes -- but he told us after the New Jersey game that we showed a lot of character in those closing moments. He has also been telling us that we need to figure out who we are as a team: what we want to be known for, do the work to back it up and not let other teams define us. The city of Chicago is known for its hard-working people who have a lot of grit, and that's what we keep coming back to as a team.
There's no doubt it's been a rough start. I've been on a lot of teams, and it's easy to get along when you're winning; but I think we've become closer as a team through the wins, losses and ties. Even with all the travel we've been doing, as soon as we get back home, we all hang out and go out for team dinners. That's actually one of Rory's philosophies: If you genuinely like the people you play with, you'll play harder for one another.
Shannon Boxx had the idea that we should get together and cook once a week. A lot of us on the team, myself included, are gluten-free, and cooking that way can get kind of boring if you don't put some effort into it. About four or five years ago, I had a bunch of work done to figure out what my allergies are and what I should eat, and not eat, to be a more efficient athlete. I've heard that nutrition can make up to a five-percent difference in your athletic performance, and when you multiply that across a team, it can really add up. Plus, when we only have two days between games to recover, what we eat is even more important.
[+] Enlarge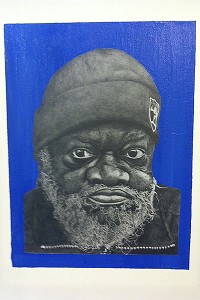 Courtesy of Erin McLeodErin McLeod likes to paint and sketch in her free time. This drawing of a homeless man came from a photo she found online.
As women, even as athletes, a lot of times we fall into calorie-counting, and it's just so important to make sure we're getting all the nutrients. I don't believe in diets -- I believe in a healthy lifestyle -- so it's a commitment. On top of avoiding gluten, I try to stay away from corn syrup and other high-fat, high-sugar stuff. And I'm always working to make sure I have the electrolytes and protein I need to recover for workouts and games.
But I still enjoy food quite a bit! My sister and brother-in-law came to visit this past weekend, and we did some good eating in Chicago. We went to this sushi place called Yuzu, where I had to get reservations four weeks ahead of time -- talk about exclusive. We also went to the Hancock Tower, which has the best views of the city. I've had so many friends and family come to visit already that I'm becoming quite the tour guide.
I've also been getting back to my artistic side when I'm not playing. I just bought five massive canvases so now I've got to fill them with something. I mostly sketch, but I bought some acrylics so I'm going to be using those, too. I usually look at black-and-white photos online until something sticks out and resonates with me, and then I start sketching. I have this photo of a homeless man with a Raiders hat, for example. I just loved his face, so I printed it out. I also have a photo of a cassette tape. I guess you could say my sketching is super random!
We don't have another game until May 24, so I should have a bit more downtime to sketch and do other fun things. Did I mention I have tickets to a Bulls playoffs game? I'm a big basketball fan, so I'm pretty much going to be the happiest kid alive.
Here's to a little bit of recovery time. I know we'll come back filled with grit and determination for our game next week.
April, 25, 2013
Apr 25
5:27
PM ET
By
Erin McLeod
| ESPN.com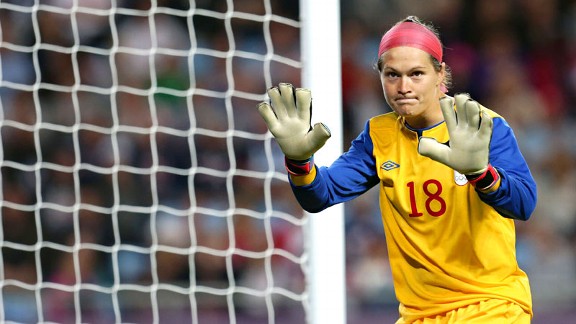 AP Photo/Armando FrancaErin McLeod has temporarily traded the Canadian team jersey for a Chicago Red Stars one. Chicago tied Seattle 1-1 in its first NWSL game.
The new National Women's Soccer League has brought a fresh start for me, on and off the field. A new squad (Red Stars), new city (Chicago) and new teammates too.


Our season opener on April 14 against the Seattle Reign had some parts that were great and some that, well, weren't. We really came alive in the second half and dominated most of the play, but Seattle's goalkeeper had an incredible game and we just weren't able to finish it. We wound up with a 1-1 tie.
Nerves were totally understandable for our first game, and we made some mistakes that will only help us going forward. We still have some things to figure out tactically, but the team is moving in the right direction. For me, I know I need to step up from a leadership standpoint, make sure I've got the best view of the whole field and be vocal out there.
[+] Enlarge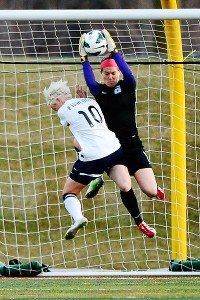 AP PhotoErin McLeod: "I need to step up from a leadership standpoint, make sure I've got the best view of the whole field and be vocal out there."
I've been battling a groin and hip-flexor injury, so my coach, Rory Dames, ultimately told me to take the week off after the game to heal. With a crazy travel schedule between the Canadian national team and Red Stars, I've been going since January with not much time off and keep getting these nagging injuries. I know I'm not a spring chicken anymore, so it's all about being careful and taking care of myself.
I still went to all the practices to support the other girls and I'm getting to know everyone, which is fun. After our game against Seattle, we all went out for some team karaoke. Jess McDonald sang "Baby Got Back," which was amazing. And my roommate, Carmelina Moscato, did a cheesy slow-song duet with a girl we didn't know -- it was hilarious. I wish I could remember the song. I love to sing, but I hung back -- hey, you've gotta let other people shine sometimes!
We've been developing some other fun team traditions, as well. A bunch of us all go to this place called The Protein Bar, a healthy restaurant, after practice; and Carm, Lori Chalupny, Taryn Hemmings, Ella Masar and I are obsessed with watching the show "Scandal." We all live in the same apartment building, so we get together and watch it almost every night on Netflix. It's a pretty big commitment.
Right now, I'm psyched that the man in my life is on his way to Chicago -- that is, my Chihuahua, Maxwell. My parents are driving my car -- and dog -- all the way from Calgary. They're coming for a week to visit and to support me and the new team. I've been so busy I really haven't had the chance to do the touristy Chicago stuff yet, so I can't wait to do it all with my parents. I'm pretty sure my dad will have a schedule with bullet points of all the places to visit -- he's like that, and I can totally get on board! We're going to go to the Chicago Art Institute, which I've heard so many great things about. I'm a total art nut. I also can't wait to eat lots of good food and go shopping on Michigan Avenue.
Our next game is against the Portland Thorns on Saturday and, after a week off (and a weekend without a game), I'm excited to get back out there. We've been doing a lot of defensive work this week since it's no secret Portland has two of the best strikers in the world, Alex Morgan and Christine Sinclair. Alex is one of the fastest players in the league, so we'll have to adjust to be ready for her. We're looking great in training, so wish us luck this weekend!
April, 14, 2013
Apr 14
11:38
AM ET
By
Erin McLeod
| ESPN.com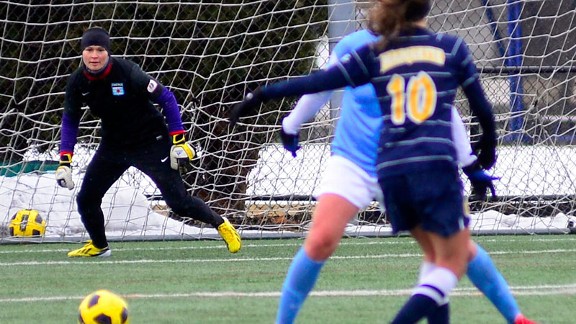 Chicago Red Stars Erin McLeod of the Chicago Red Stars is excited for the opening games of the NWSL this Saturday and Sunday.
I just got back from a trip with the Canadian national team for friendly games against France and England, and I am psyched to join my new club, the Chicago Red Stars, for our first game Sunday.
The National Women's Soccer League and the Red Stars have been on my mind since last fall, but there were still a lot of question marks about the new league. Ultimately we had to submit our top three team choices near the end of December, and then wait to find out where we'd been allocated. Chicago was No. 1 on my list, so it's nice to know they wanted me as much as I wanted them!
I really like our coach Rory Dames' philosophies on work ethic and the type of people he wanted on the team. He didn't want any egos, and if you look at the roster, it's full of good people with lots of character who care about connection to the team. That's the kind of a team I want to be part of. And Chicago is an awesome city -- that doesn't hurt!
It's great to be with Carmelina Moscato, my teammate from the Canadian national team, and a lot of the other players are people I've played against since we were 18 or 19 years old. But there are some new faces, too.
We flew down to Austin, Texas, for the preseason, and on top of busting our butts in practice, we did lots of cool activities to help us connect and build the team bond. We played get-to-know-you games, like sharing five things about ourselves around the circle. Everyone has made an effort to connect, and I have a lot of respect for all the players. It's awesome to want to play with someone you just met a couple weeks ago. I definitely feel like I came to the right team.
Rory also talked about how important it is that we are Chicago Red Stars all the time. We're always representing the team, putting in the time as needed to promote the league and get the word out, and putting in quality performances so that people want to come watch us play every week. That's what's going to make this new league a success.
The league is a great opportunity to showcase North American talent, and I love that it's keeping the focus on Canadian, Mexican and American players. It's so important to keep developing soccer talent here in our own backyard rather than shipping all our best players overseas.
I just moved into my new apartment earlier in the week. Carmelina and I are sharing a place in the Wicker Park area close to Chicago Avenue -- with lots of restaurants and shops. All of our walls were painted for us (lime green and turquoise, it's pretty bright!) and the league administrators made sure we had plenty of furniture. Our owner, Arnim Whisler, also owns the apartment complex, so some of the other girls are in the same building. We're right by the train, and it's easy to get to the airport, which is important for us, of course.
I'm pumped, all in all. Since we were just flying back from the games in Europe, Carm and I did some recovery stuff when we first got back and went to practice to watch and support a bit before we jumped back in at full speed. Now we're ready to go, and everyone looks really sharp for Sunday's game. It's going to be a great season!