August, 2, 2012
8/02/12
10:04
PM ET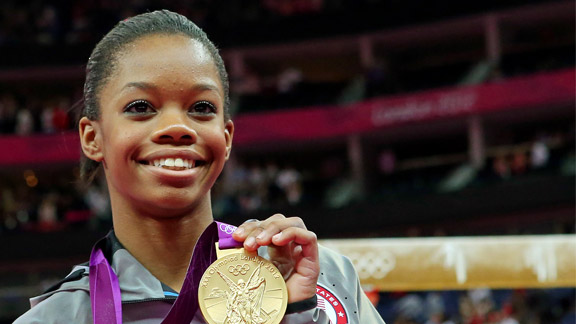 Ronald Martinez/Getty Images
LONDON -- One of the most nerve-wracking moments of my life happened tonight, as I waited for the final score on floor in the Olympic all-around final. I had finished and was in first place, but Russian gymnast Viktoria Komova was the last gymnast to go and had done an amazing floor routine. My heart was absolutely racing.
Do I have it? Do I not have it? Will I be first? Second?
My coach, Liang Chow, said, "You're the Olympic champion! You have it!"
But I couldn't believe him until I saw the scoreboard. When I finally saw the results, I was speechless. Tears of joy streamed down my face, and I started waving to the crowd and my family in the stands.
When my mom first took me to Chow's gym two years ago, she told him I wanted to be an Olympic champion someday. He told her he would do his best. He jokes now that he wasn't so sure he could do it.
He has pushed me so hard, and some days I would wonder, "Why do I have to do this?" In the end, though, he believed in me and all the hard work really did pay off. He and his wife Li have shaped me into a better gymnast than I ever thought I could be.
When I first got here to London, I was in some pain from a tweaked muscle. I was feeling a little down. But Chow reminded me that everyone has pain. He said, "Don't focus on that, you're at the Olympics! If you don't push it now, you'll regret it." He got me refocused, and, of course, he was right. When I got to the competition and all the nerves kicked in, I didn't feel a thing.
Tonight, I didn't think about avoiding mistakes -- that's what gets you into trouble. Instead, I just thought about going out there and representing Team USA, my coaches, my family and myself as best as I could. I just wanted to enjoy the moment. Chow told me not to fear what might happen, but to just believe in myself.
People have asked if I felt like I was on fire here in London, but I just feel normal, the same as I do every day in practice. The difference has been that I was ready to seize the moment, to focus and to trust in what I can do.
You say you want to do it and you dream about it every day, but then when it happens, it's hard to believe it really has. Tonight, when the U.S. flag was raised and the national anthem played, there were so many camera flashes going off I felt like I was at a concert.
And the crazy thing was, they were all taking pictures of me.
August, 1, 2012
8/01/12
8:11
AM ET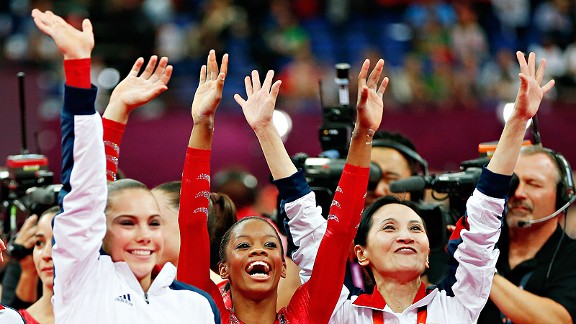 Jamie Squire/Getty ImagesGabrielle Douglas, center, and the U.S. women's team won their first team gold in gymnastics since 1996.
We were confident, strong and ready.
And we won it!
I still can't believe that we are Olympic champions. I feel so honored and blessed.
Jordyn Wieber started us off with an amazing vault -- she pretty much stuck it -- and then it all just went from there. We carried that momentum from event to event, hitting our routines, one after another. It felt amazing.
When we got to floor, our last event, we heard the crowd gasp for a couple of the Russian routines, so we knew something had gone wrong for them. But we just stayed in the background, relaxing as much as we could and keeping warm, doing some easy tumbling and running around. We didn't watch, because we wanted to focus on ourselves and do what we needed to do.
Then it was our turn to go. I could hear the crowd cheering, and I tried to perform for them. I was so excited, because I did one of the best floor routines I've ever done.
After Aly Raisman finished the final floor routine, I thought, "Yes! We have it!" I just jumped and jumped and jumped for joy.
We wanted to give it our absolute best, and we did. I'm so proud of our whole team.
July, 29, 2012
7/29/12
7:27
PM ET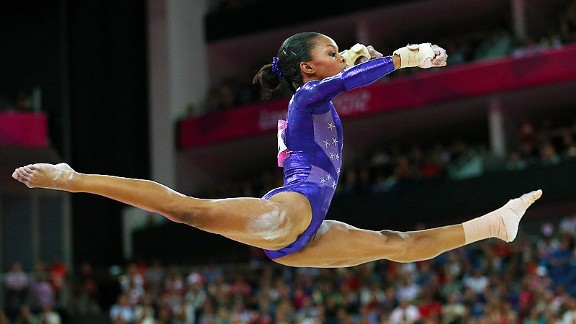 Ronald Martinez/Getty ImagesGabrielle Douglas knew it would be a good day when she woke up and it was raining.
When I saw the rain pouring down this morning, I grabbed my phone and texted my mom right away. "Mom, it's raining," I typed. She wrote right back, "It's going to be a great day today!"
We have a superstition: When it rains, it means something good is going to happen. I don't know when it started, but we've always talked about it. So I was very happy to see that rain.
I've found a new calm on meet days, ever since the U.S. nationals this year, and today it was true again. I wasn't a bundle of nerves like I expected to be. In fact, I spent the morning relaxing and listening to upbeat music like Lil Wayne and Jay-Z. It's what I always listen to, and I didn't want to change anything today!
Though there are definitely improvements I can make, I was very happy with how the competition went. As a team, we did awesome. We qualified ahead of all of the countries into the team finals, and though everyone starts again from zero in the finals, it's still a huge confidence boost to know that we can be No. 1.
I'm most happy with my beam routine. I have been a little shaky on it lately, and I wanted to prove to everyone that I could hit it. And I did. I can't believe it, but I qualified into the beam finals. Bars went really well too, and I'm so excited that I'll be in the event finals there as well. On floor, we had a lot of little mistakes -- three of us, including me, went out of bounds -- and I know we can do better. We just need to calm it down a little bit and we'll be able to fix those mistakes.
The big surprise that everyone is asking about is Jordyn Wieber. I feel very badly for her, and everyone was really shocked when she didn't qualify to the all-around finals. She is so important to our team, and always one we can count on in meets. I know she will be able to get past this disappointment and help lead us in the team final. At the same time, I'm happy for Aly Raisman, who qualified into the all-around final with me. She deserves to be there, and we knew it would be a close competition to get into the final.
We have the rest of the night off, and then one day of training before team finals. We'll rest and relax a little bit, but it's not over by a long shot, so we won't let down at all. We'll train tomorrow and focus on the finals. We want to do the same thing we did today, but even better. I'm very confident in this: If we just do what we do in training, then we'll be up there, in gold medal contention.
June, 14, 2012
6/14/12
3:51
PM ET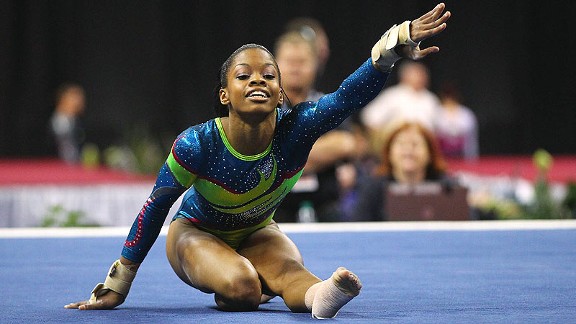 Dilip Vishwanat/Getty ImagesGabrielle Douglas says she performed "the best floor routine of my life" en route to a silver-medal finish in the all-around at the 2012 U.S. gymnastics nationals.
When I opened my eyes Sunday morning, I knew right away it was going to be a great day. It was the final day of the U.S. gymnastics nationals, one of the most important meets leading up to the Olympics, but I was so calm. I've never felt that way before such a big competition.

I did very well the first day and was going into finals tied with Jordyn Wieber -- the 2011 world all-around champ. I was definitely excited to be in the top spot, but I also wanted to make sure I didn't get cocky and think, "Oh, yeah, I've got this in the bag," or make myself nervous by focusing on winning too much. I tried to stay cool and confident, and I was able to hold that feeling all day and into warm-ups at the meet.
But then, on the first event, I messed up my layout step-out in the first few seconds of my beam routine. I was so mad at myself, thinking, "How could I fall on this easy skill?" I was especially frustrated because I made the same mistake just a few weeks earlier at the U.S. Classic. When I was done, both of my coaches, Liang Chow and Liwen Zhuang, gave me a hug and said, "Take it out of your mind. Don't even think about what went wrong, just move on. Pretend like it never happened."
And so I did. I was determined to perform the last three events as perfect as I could and to show I was a fighter. I listened to some Lil Wayne songs to pump me up and visualized the floor set I wanted to do. Then I went out and hit the best floor routine of my life. I had fun the whole time and I stuck every pass! I was so proud, and it proved to me just how powerful my mind can be. The momentum from floor just carried over to vault and bars, and in the end I was just two-tenths away from the national title, even with the fall on beam. It was an amazing day for me, and I am so pleased with how far I've come.
Last year at this same meet, I had a horrible competition and ended seventh all-around. Two years ago was the first time I made the national team. I feel like I'm the underdog who is starting to come out on top. I am so thankful to Chow, because he has shaped me into this awesome gymnast I never knew I could be. I dreamed about it, for sure, but with Chow's help, my dreams are becoming real.
You have to dream big, and I do visualize myself standing on the top of that podium in London. It's why I decided to move to Iowa almost two years ago. I had to move away from my home in Virginia Beach, Va., and live with a host family to do it, but I knew if I wanted to be the best, Chow was the coach to get me there. He coached Shawn Johnson to four Olympic medals in 2008. He knows what he is doing.
I haven't been home since I moved, and being so far from my mom and my brother and sisters (I am the youngest of four kids) was definitely a big challenge for me at first. I Skype and text and email with my family all the time, and my host family, the Partons, treat me as their own. They have four young daughters, so I had to get used to being the oldest one in this house. I try to be a role model for them as best as I can and give Leah, who's 7 and a gymnast at Chow's, gymnastics tips.
Next are the Olympic trials at the end of June in San Jose, Calif. The top all-arounder there gets an automatic spot on the Olympic team, so I'm aiming for that. As soon as I got home, I watched the TV broadcast from nationals, analyzing and criticizing my routines on each event. If I can see my errors, I can correct them. That's exactly what I intend to do. I had one of my best meets at nationals, but I can still do better at trials. I also want to prove to everyone that I can nail that beam routine!