May, 26, 2012
5/26/12
2:07
PM ET
By
Ashley Pauly
| ESPN.com
After practice Thursday we loaded the bus and headed to Knoxville. We grabbed some late lunch and hit the open road. Since we were heading to Tennessee, it was fitting that we watch the ever-popular movie "Walk the Line" to really tap into our inner country girl. While most of us on the bus enjoy that movie, we had a few objections from our Chi-town and Cali girls. I'm going to go out on a limb here and say that movie was their first encounter with country music legend Johnny Cash, and let me just say, their reaction to his southern style was priceless.
Like always, our bus ride was full of movies and naps. My teammates all agree that I can sleep anywhere and have an uncanny ability to look so cozy on a bus. Personally, I think they just envy my sleeping style of curling up all compact because they insist on taking pictures of me every time I close my eyes.
This week has been great, and after watching so many super regionals get under way, we are even more excited to take the field.
A former Georgia Bulldog great, Herschel Walker, once said, "If you train hard, you'll not only be hard, you'll be hard to beat." All year we have trained hard, and this weekend we hope this mentality will pay off. Super regionals are an exciting part of the season, and we are blessed to have another opportunity to put on our Georgia uniforms.
It's time to band together and fight and leave no room for what ifs. They say that all over the world, athletes are some of the most motivated people on the planet. While our coaches have helped guide us throughout this entire season, it's our team's self-motivation to succeed and work hard that has helped get us to where we are today. We are one of the 16 top teams in the country that have this opportunity to play and get to Oklahoma City.
Coach Gerry always tells us to enjoy the moment and the opportunity to compete. We are going to do just that. Every inning is a battle, and to win the war we must win every battle!
To all the teams playing this weekend, good luck. Go Dawgs!
May, 24, 2012
5/24/12
5:05
PM ET
By
Ashley Pauly
| ESPN.com
Supers here we come! It feels good to say after this weekend we are one step closer to our goal. We were able to come out of our regional 3-0 and played some great teams along the way. It's surreal, but I have officially played my last home game at Jack Turner Softball Stadium. On the plus side, I can say I was able to win my last collegiate home game. All the credit goes to my awesome teammates that showed heart and so much grit during regional play. I couldn't be more proud of this team and the things we have been able to accomplish thus far in our season.
It's back to the grind this week as we prepare to take on Tennessee. It will be like our regular-season SEC series matchup only this one is on steroids! The stakes are higher, and one team will be packing its bags for Oklahoma City.
Tennessee is a great team with a history of being highly competitive in postseason. During regular season we split with them, so I know this weekend will be a Dawg fight for sure. We know we have our work cut out for us this week, but we love the challenge. The team is excited to get back to work and start preparing for our opponent.
We'll head up to good ole' "Rocky Top" sometime Thursday after practice. It's not too long of a trip up to Knoxville but just long enough to spend some time with the team on the bus and do what we do best: watch movies! I'll write again Friday with all the juicy details of traveling with the team. Until next time, everyone have a great week and Go Dawgs!
May, 18, 2012
5/18/12
4:57
PM ET
By
Ashley Pauly
| ESPN.com
Postseason is officially here, WAHOOO! Conference tournaments are completed and the NCAA bracket has been set. Teams across the country are preparing for Regionals this weekend in hopes that in 22 days they will be the 2012 National Champions. Just that thought gives me chills and I can't think of a better place to finish my senior season than in Oklahoma City!!
After the SEC tournament, Coach gave us the weekend off so we could get a little rest to refuel for regionals. Upon our return to Athens a few of us from the team decided to take a short trip up to Blue Ridge, Georgia, and spend a little time in the mountains. Another perk about the great state of Georgia is you can drive a few hours south to Savannah and enjoy the beach or head north to the Appalachian Mountains ... either way you get the best of both worlds. Anyway, while on our miniature vacation we decided it was time for Georgia softball to join the YouTube video craze. After seeing Harvard's baseball team come up with their dance to "Call Me Maybe" we felt compelled to go viral ourselves. When you take Kristyn Sandberg's video making skills and match those with the dance moves of Gracie Goulder and Erin Arevalo, aka Latinaheat27, the
end product
is nothing short of pure awesomeness So be sure to check it out and help us go viral on YouTube. Just search "Georgia Softball Party Rocks" and then look for our "Bottoms Up" one!! You're definitely in for a treat and I can promise you won't be disappointed.
After our short weekend trip we headed back to Athens so we could watch the selection show at Coach's house. It was great to get the team together and watch this year's path to the Women's College World Series unfold. We were thrilled to receive our No. 10 seed! Having the opportunity to host Regionals is always great and there is nothing better than being able to play at home for the start of postseason. For our team to be the No. 10 seed is a true testament to our hard work this season. We have some quality wins this year but we know the path ahead won't be easy and we are going to have to work extremely hard these next few weeks in order to get where we want to be, and that's OKC.
I have no doubt that this team is capable of making it back to Oklahoma. It's going to take a total team effort because when we play as a unit we are strong and can play with any team in the country. I absolutely love this team and when I think back to our first day of practice in the fall to where we are now it's amazing how we have developed over the course of the season.
"It's not about how you start, it's how you finish." This is what post season is all about. It starts this weekend with Regionals and it only gets better from there. Congratulations and good luck to all the teams making postseason appearances and as always, GOOO DAWGS!!!
May, 12, 2012
5/12/12
12:45
PM ET
By
Ashley Pauly
| ESPN.com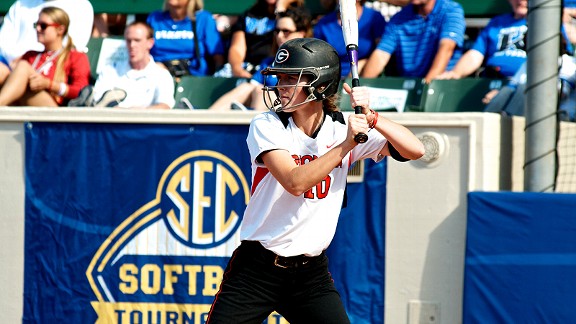 Courtesy of Georgia Sports Communication
What a week! Like always, the SEC tournament didn't disappoint. The crowds were great in Tuscaloosa and it was an atmosphere comparable to the Women's College World Series. Our team played great in Game 1 against Kentucky and again in Game 2 against Alabama. Anyone who has played in T-town knows it is always tough to beat the Tide, but I'm so proud of the heart and fight we showed [Georgia lost 1-0]. Again, we had a stellar performance from our pitcher, Erin Arevalo, and to out hit such a strong Alabama team gives us nothing but confidence going into regionals next weekend.
The conference tournament is over and the road to Oklahoma City starts this week. As we await the highly anticipated selection show Sunday, we all have one thing on our minds: let's play ball and leave no room for regrets. Our team loves the big crowd, the lights and the big moment. This truly is the best part of the season.
The scene on the bus this time of year is a bit different than a few months ago. We traded in our textbooks and calculators for movies and Draw Something competitions. With classes over, we can all take a breather and play the game we love.
I'm excited to see how the postseason shapes up and how our team responds to the challenge. To play in the postseason is something we all dream about growing up as softball players. We are blessed to have this opportunity and it's time to start living the dream. Our team motto this year is "strong heart, tough mind," and to get us back to Oklahoma City, we will need both of those factors.
Whelp, that's it for this one. We and other teams across the nation await our fate Sunday! To all the mothers out there, Happy Mother's Day and thanks for all you do!
As always ... GOOO DAWGS!
May, 8, 2012
5/08/12
9:16
PM ET
By
Ashley Pauly
| ESPN.com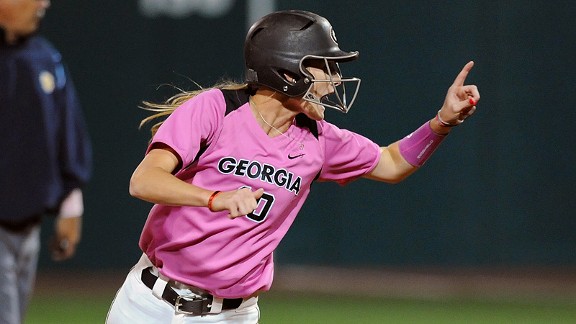 Georgia Sports CommunicationsWhat is the thing Georgia senior Ashley Pauley will miss the most after this, her final season? She says competing in the SEC.
Hey ya'll! Another SEC series is in the books. We concluded regular-season play against Arkansas this past weekend, and we were able to walk away with the series win. It was a total team effort from top to bottom. Everyone played an instrumental role in our success, and I'm extremely proud of how hard we have all been working. A special shout out to our shortstop, Paige Wilson, on being named SEC freshman of the week for the fourth time this season. Stud status for sure, and I can't wait to see how great she becomes in our program in the next three years.
Senior weekend was a success, and it's a bittersweet feeling to know I just finished my last home SEC series of my softball career. The thing I'll miss most is getting the opportunity to compete every weekend in the SEC. In the words of Coach, it takes "guts, fight and courage" to win in this league, and every game is a battle no matter who your opponent is. We had a great turnout, and it was awesome to see my fellow senior class members get to celebrate with their families. We have all grown up so much these past four years, and I'm tremendously blessed to be able to call these girls my sisters. I know that no matter where life takes us after softball, I will always have them as my closest friends.
It's finally May, aka, it's finally the start of postseason. Another semester of classes has come to an end, and it's time to focus on softball. I know the entire team is ready for this part of the season, and I can't wait to see how things shape up for us.
This week we travel to Tuscaloosa, Ala., for the SEC tournament. We open with Kentucky, and I'm excited for the opportunity we have. Our team loves the big game, and this month every game is big. Tournament time is always exciting, and when you play in this conference, any team can beat you on any given day. Coach Glasco always tells us that "every out is a battle and to succeed you must win every battle to win the war." We will definitely have to take this mentality into the next couple of weeks. I am excited for the challenge we have ahead of us, and I know the team can't wait to take the field Thursday and compete.
I hope everyone has a great week, and as always, GO DAWGS!
May, 4, 2012
5/04/12
11:27
AM ET
By
Ashley Pauly
| ESPN.com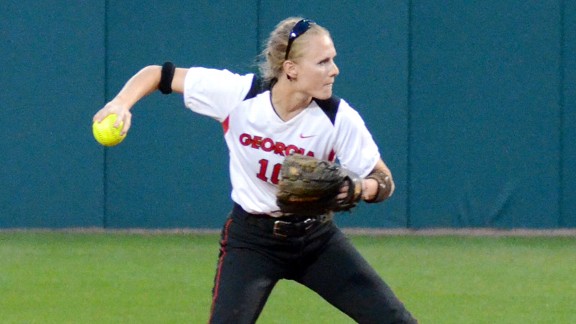 Georgia Sports CommunicationsBetween studying for finals, playing tug-of-war with new puppy Colbie and gearing up for senior weekend, it's been a busy week for Ashley Pauly.
What a weekend in Baton Rouge. Let's just say that after that series, we can all cross a few things off our bucket lists. We played the longest game in UGA history at 15 innings, got to see Mike the Tiger and had some of the best Cajun food ever!
In that 15-inning game, a 1-0 win, I was extremely proud of our team and our pitcher, Erin Arevalo. She went the entire way and kept us in the game with her one-hit performance. Our defense was solid and offensively we kept battling until the very end. The atmosphere was awesome to play in, and the outcome was a great win against a very competitive LSU team.
To top the weekend off, we met former Ole Miss football coach Ed Orgeron at the airport (we all know him from the movie "The Blind Side'' as Michael Oher's college coach), and he was kind enough to let us take a picture with him. I also spotted Falcons quarterback Matt Ryan but didn't get a chance to snap a photo, so naturally I took to Twitter and tweeted him. Feel free to respond any time, Matt, it's @apauly10. J In the words of teammate Paige Wilson, our weekend was nothing short of "Gucci!"
On a more serious note, it's that time of year again -- time to hit the books hard and finish the semester. Many of us make study schedules to help reduce the stress. Just the other day, a few teammates came over for dinner, and afterward, we all got some studying done. But the best part about finals week isn't that summer is right around the corner, it's that only a few tests stand in the way of the start to postseason softball!
This week will be spent preparing for my tests while getting in some batting practice and workouts with the team. There's nothing like a hitting session with my teammates to help clear my mind when I'm feeling stressed with school. Not to mention, my roommates and I have a new addition to our family -- a precious but extremely energetic yellow Lab puppy named Colbie. When we aren't studying or trying to sneak in a quick power nap, we are playing tug-of-war with her. She is a handful but can put a smile on anyone's face!
Before we start talking about the postseason, we have a very exciting series this weekend against Arkansas. It's senior weekend in Athens, and I can't wait to celebrate with my fellow senior class members and our families. Where has the time gone? It seems like yesterday Brittney Hubbard and I were nervously planning our bus routes to get to class during freshman year. And yes, we were those kids that took a bus map everywhere for fear of getting lost!
Looking back, our actions may have been a bit drastic, but they make for a great story. I have been so blessed to be a part of this Georgia program, and the friendships I have made will last a lifetime. It will be awesome to play in front of our home crowd one last time in what will be an exciting SEC matchup.
That about sums it up for this week in Athens. I hope you enjoyed my first blog, and I can't wait to write again next week. For those taking finals, good luck, and GO DAWGS!!!