April, 1, 2013
4/01/13
7:44
PM ET
Haley Peters interviews Duke teammate and All-American Chelsea Gray about her season-ending injury, how she motivates her teammates from the bench and some "personal issues" with her roommate.
March, 31, 2013
3/31/13
4:09
PM ET
Haley Peters took the camera along as the Duke women's basketball team visited Elizabeth Williams' house in Virginia Beach, Va. Williams' family hosted the team for a home-cooked meal before the Blue Devils' game against Nebraska in the Norfolk Regional semifinals.
March, 23, 2013
3/23/13
10:01
PM ET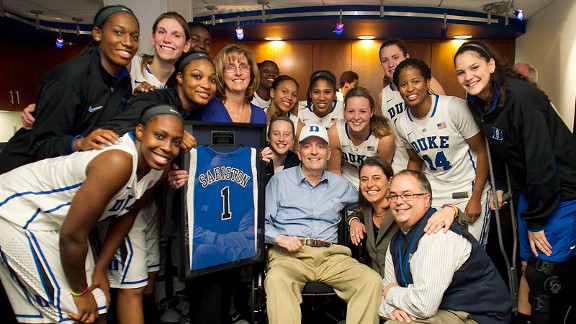 Jon Gardiner/Duke University PhotographyDuke supporter Jim Sabiston, fighting non-Hodgkin's lymphoma, encourages the team to play "junkyard mean.''
DURHAM, N.C. -- The first time I met Jim Sabiston was at a Duke football tailgate on my official visit, after I had committed. He knew everything about my high school career, who I was as a player, the kind of person I was, what I wanted to study.
There were three other recruits that weekend, all of whom would become my classmates and closest friends. He knew everything about them, too.
When we arrived at Duke the next summer for classes and workouts, we spent the first few months in the guest locker room of our practice facility as ours was being renovated. The primary donors were Jim and his wife, Susan.
During my three years, Susan, who bakes as a hobby, has made us countless "Cake Boss" style cakes -- Duke themed, of course. And for all of my freshman year, Jim and Susan sat along the baseline in Cameron Indoor Stadium. I can remember Jim yelling at me to rebound and to bring the fight to whoever our opponents were.
In calmer settings, he always asked about my family and how school was going and always left me with a reminder that I needed to get on the boards.
Jim has been undergoing his own fight with non-Hodgkin's lymphoma for the last two years, a fight far greater than any we face on the court. Throughout his battle, Jim has remained the most ardent supporter of our program and of us as individuals.
A few of us have been able to visit Jim this year as he undergoes the final stages of his treatment, and, as usual, his message was about our own toughness and his excitement and expectations for our coming games and what he saw we needed to improve on.
Jim's support and encouragement for me has always meant a lot. I admire and love his indefatigable spirit and persistence, both in his own battles and in his criticisms and encouragements for us./p>
We as a team have been preparing for the most exciting part of the season: the NCAA tournament. Our first and only focus is on our game Sunday, facing off with Hampton in Cameron Indoor Stadium at 12:05 p.m.
As always, Jim's admonition to play "junkyard mean" will be on our minds and in our hearts. We're ready to start dancing.
Go Duke!
March, 18, 2013
3/18/13
2:15
PM ET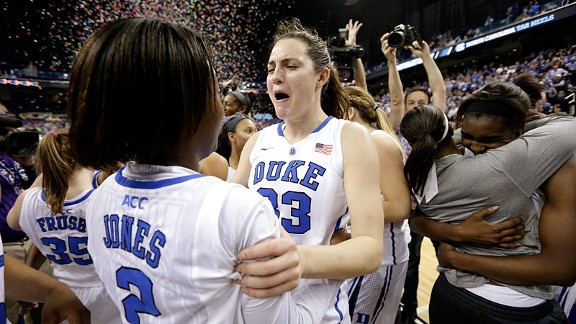 AP Photo/Chuck BurtonDuke's Haley Peters, right, and Alexis Jones celebrate after beating North Carolina in the ACC title game.
DURHAM, N.C. -- What a whirlwind few weeks it has been, culminating in a great night tonight for the NCAA selection show! We finished our regular season more than two weeks ago with a win at home over North Carolina. That is always one of the best games of the year, with Cameron sold out and intensities high. We played a tough 40 minutes that day and came away with a close win.
Exactly a week later, we faced off with the Tar Heels again in the ACC Championship. It was the second time in my career we played on championship Sunday and the second time we'd faced Carolina. We had flashes in that game of the team we could be, especially on the defensive side of the ball. Alexis Jones, our freshman point guard, stepped up and competed throughout the tournament and demanded a lot of intensity that final day. She went on to earn tournament MVP honors, marking only the third freshman to do that in the history of the ACC.
Our whole team enjoyed our moment beneath the confetti and balloons, not to mention hoisting the ACC championship trophy. Winning a conference tournament is one of the most exhilarating feelings I've had as an athlete. You have to earn the right to play three days in a row, earn the right to no practice and no shoot-arounds. Games are followed by ice baths, meals and scout film for the next day.
Being "in the bunker" for three days with your team in a sprint towards the finish line requires a lot of focus and consistency. When the clock hit zeros on Sunday and our work has culminated in a championship, the satisfaction was sweet. The whole weekend seems exemplary of my favorite Vince Lombardi quote: "I firmly believe that any man's finest hour, the greatest fulfillment of all that he holds dear, is that moment when he has worked his heart out in a good cause and lies exhausted on the field of battle -- victorious."
One of the stranger things in our season is the break we have following the tournament. After our championship game last Sunday, and clinching our automatic bid to the NCAA, we had two weeks until we would play again. Coach P gave us four days off and people headed home for a bit of rest. But, when we returned for practice last week, our focus was on getting back into that "bunker" mentality, on getting ourselves prepared for the final leg of our season.
What we've accomplished thus far will hold no merit on Sunday and the work we've put in this weekend and this coming week to improve is all that will matter. We have begun something new.
Go Duke!
March, 2, 2013
3/02/13
11:36
PM ET
Checking in to preview Duke's upcoming rivalry game against North Carolina.
February, 10, 2013
2/10/13
11:13
PM ET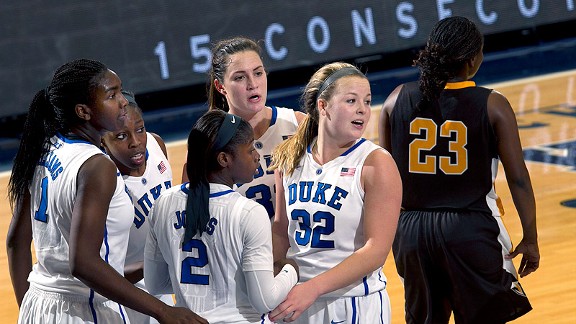 Jon Gardiner/Duke PhotographyFocus is key if Duke is going to consistently play 40 minutes of good basketball, rather than 20.
For anyone who follows Coach P on twitter or knows her at all, you know she is big on motivation and inspiration. Recently, we got an essay from an anonymous 12-year old who watches us play. In it he wrote, "To someone who is great, there is no such thing as the best. The only thing is to be better tomorrow than you were today."
Buying into that is probably one of the most important things for any team to do to reach its potential. For us, the month of January was one of growing toward the maturity to commit to that approach and the consistency to do it all the time.
We started conference action with some strong play, were challenged on the road a few times, and buckled down in our preparation and practices. We took a painful loss to UConn in Storrs toward the end of the month, our first loss of the year. That defeat was disappointing, but it also was representative of something we've struggled with all year: playing only 20 minutes of good basketball, not 40.
Since then, we have rebounded for some strong performances at home against Miami, and most recently at our cross-town rivals, North Carolina in Chapel Hill. But we still have struggled to play how we want to for an entire game.
As we get closer and closer to the end of the conference regular season, we are striving to become the team we can and need to be, one that is relentless and focused for 40 minutes. That is our goal: to be better tomorrow than we are today.
Go Duke.
January, 21, 2013
1/21/13
3:27
PM ET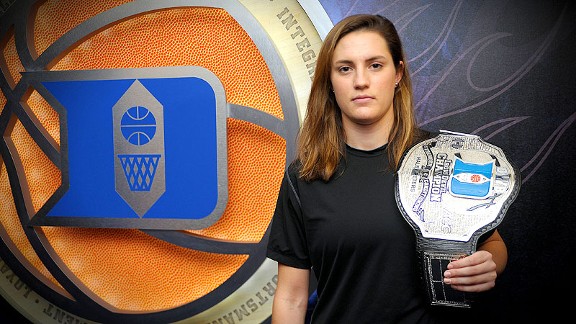 Courtesy of Haley PetersHaley Peters ignored "The Beast" time and time again and retained the Iron Devil Belt.
After we finished nonconference play this season, our strength and conditioning coach, Will Stephens, made the second annual presentation of the Iron Devil Belt.
First, a few words about the one and only Coach Will, and then more about this belt.
Coach Will has been at Duke for nearly as long as I've been alive as the strength and conditioning coach for both the men's and women's basketball teams. Before that, he was a professional power lifter and worked in law enforcement. One of his favorite football players is Ray Lewis, and a quote by the Ravens linebacker -- "Greatness is a lot of small things done well, stacked up on each other" -- is the most apt description of Coach Will. He is a model of discipline and strength. He is the kind of guy you have to beg to take a vacation or a day off. He is in the gym every morning at 7 or 8 and doesn't leave until 7 or 8 at night. He still bench-presses more than anyone in either program. Every workout, Coach Will is checked in, with an unmatched intensity.
Beyond his incredible dedication to his craft, he is an unbelievable human being. He is the most consistent person I've ever met -- consistent in his demeanor, in how he greets people, in how he treats people. He devotes himself equally to every person who asks for his help, and believes in every person wholeheartedly and unfailingly. He has been a rock for me many times in my career, when I have doubted myself or been unsatisfied. He has always believed in me, and been there to tell me to keep working or to push me to do more. And the worst curse word ever to come out of his mouth is "crap." To a person from New Jersey like me, this is an astonishing achievement.
Coach Will talks to us all the time about "The Beast," the little voice in your head that is telling you that you can't do something. After a long practice or at an early-morning workout in the summer, The Beast creeps in. The Iron Devil Belt is given to the person who defeats The Beast time and time again in the summertime and makes the greatest improvements in our tests -- the Big Four (bench press, push-ups, jump rope and mile-and-a-half run), plus the vertical jump, lane agility drills and three-quarter-court sprints.
The belt itself is no joke. It's a "heavyweight champion of the world" type of belt, with a silver face engraved with the Duke basketball logo and the name of the winner. It covers most of your stomach and weighs at least 30 pounds.
I won the belt in its inaugural year after winning all four of our major tests. This year was a closer contest, with Elizabeth Williams beating me in the bench press (by a measly five pounds) and Chelsea Gray and Sierra Moore winning the on-the-court tests. But their efforts weren't quite enough, and I retained the title, for at least another year!
It was an incredible achievement and a lot of work went into winning this belt. My teammates pushed me very hard and I know that to be able to win it for a third time next season, I will have to work even harder.
January, 11, 2013
1/11/13
6:03
PM ET
After putting up a triple-double against Boston College on Sunday, Chelsea Gray set a school record with 15 assists against Clemson on Thursday. Haley Peters chats her up.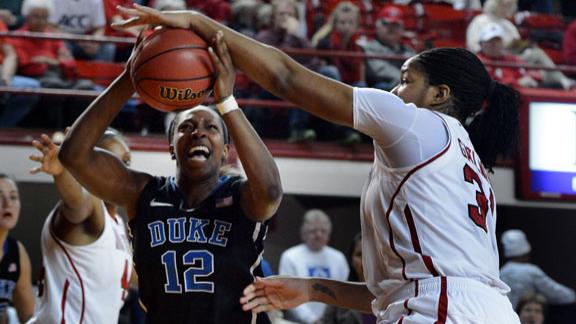 January, 7, 2013
1/07/13
11:12
AM ET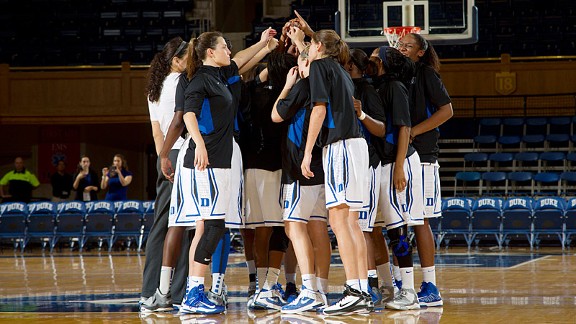 Duke PhotographyDuke started off the New Year with two wins in conference play, over N.C. State and Boston College.
Happy New Year, women's basketball fans!
The holidays are always a hectic time for us. After our trip to California, Coach P gave us some time off to spend Christmas with our families.
One of the coolest things about our team is the different places we come from. Chelsea Gray and Chloe Wells are both Cali girls -- Chloe from SoCal and Chelsea from the Bay Area. Katie Heckman is right next door in Colorado. Richa Jackson and Tricia Liston hold it down for the Midwest in Oklahoma and Chicago, and Alexis Jones for the Southwest in Texas. Jenna Frush, Ka'lia Johnson, Sierra Moore and I flew back to the East Coast.
Our lone senior, Allison Vernerey, had a 17-hour flight from California to her home in France. Everyone got some much-appreciated time with their families.
Before we got back to business as a team, a few of us got to travel to Charlotte to watch Duke football play in its first bowl game since 1992 (shout out to #dukegang). Duke's student-athlete community is a pretty small one, and an incredibly connected one. Being able to watch our classmates and friends establish a new tradition for Duke football was an honor. Duke football has been a joy to follow, and they maxed out their season.
We can learn a lot from how they handled adversity, how they played together and got the most out of each other every week.
We have since started back full swing with conference play in the new year. We opened with a tough road game at Reynolds Coliseum against NC State, and shipped up to Bean Town to face Boston College, winning both.
Opening conference play is by far my favorite part of the year. We stay in a grind mode now, with games coming back-to-back quickly, all tough and familiar opponents in venues we've played in, and a regular-season championship on the line every night.
I'm excited for our team and the direction we're moving every day now. This is a really important time for us to start building the kind of investment in each other that makes a team's journey through the end of the season so special -- 2013 is going to be a memorable year!
December, 20, 2012
12/20/12
1:49
PM ET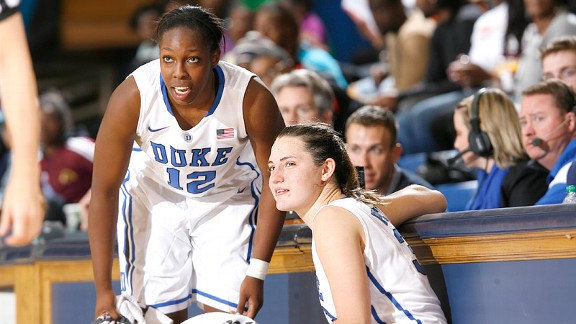 Jon Gardiner, Duke PhotographyChelsea Gray, Haley Peters and the Duke women's basketball team will play two games in California -- Gray's home state -- and maybe even get to In-N-Out Burger.
DURHAM, N.C.-- Playing basketball, at any level, can take you to incredible places. This summer, my teammates and I had the chance to visit France and Italy for 10 days -- a once-in-a-lifetime experience for all of us.
Our last two weeks have been no less exciting. Before finals week, we traveled to New York City to play in the Maggie Dixon Classic at Madison Square Garden.
For a few of my teammates, it was their first experience in the city. For me, though, it was a homecoming. I grew up in Maplewood, N.J., about
45 minutes from the city. And I had played in the Garden once before. As an 8-year-old Girl Scout, I scored one basket in a 10-minute game after watching the New York Liberty play.
Our game against St. John's obviously had greater implications. Playing in honor of Maggie Dixon and against a talented Big East team, we managed our jitters and came away with a win. It was a really important growing experience for our team, learning how to handle playing in such an incredible venue and to focus with a lot of things going on around us.
With exams over and Christmas break finally here, we have headed to the West Coast for Chelsea Gray and Chloe Wells' home state of California to play games at USC on Friday and Saturday.
Los Angeles will be another new experience for a lot of us, including me. We're really excited to see Chelsea and Chloe's families and hopefully have some In-N-Out Burger!
Go Duke!