June, 4, 2014
6/04/14
12:06
PM ET
By
Hilary Knight
| ESPN.com
Dave Sandford/NHLI/Getty ImagesIf Hilary Knight had to pick one favorite player, it would be Rangers player Ryan McDonagh, pictured here. He also happens to be an old college crush.
Hilary Knight has won two Olympic silver medals with the U.S. women's hockey team. On Wednesday, the forward will receive the Bob Allen Women's Player of the Year award, given annually by USA Hockey to the top American women's player. In short, she's a pretty big deal. We asked her to weigh in on the Stanley Cup finals, which also start Wednesday.
There's nothing like playoff hockey. Everything is on the line. The guys have their hearts on their sleeves. And in another good cliché, I'm at the edge of my seat.
Two great hockey clubs will battle it out in the Stanley Cup finals, and I'm so excited about the East-West duel between the New York Rangers and the Los Angeles Kings. I'm hedging my predictions until after the first game Wednesday night because I think it will be a good indicator of how both teams match up.
I'll be watching every minute, though, and I think my super-fandom as a fellow hockey player is pretty different from your average TV viewer hoping to see a fight, or focusing on goals and penalties. Here's what I'll be looking for:
[+] Enlarge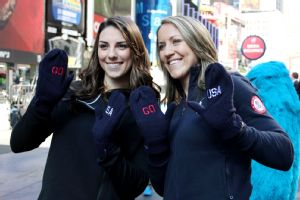 Thomas Nycz/NHLI via Getty ImagesHilary Knight (left with U.S. team captain Meghan Duggan) is a two-time Olympic silver medalist.
The details. The game can come down to little things, like knowing which side to check a defender on, or knowing if your defenseman is a left-handed or right-handed guy. Chipping a puck a certain way against the boards can create time and space for another player to make an important play.
The veterans. Watch for guys like Jeff Carter of the Kings, who's been playing very well, and Dustin Brown, who's been so reliable as the L.A. captain. These players might not seem to be the ones making an impact, but they are always a factor. We talk about quarterbacks having a good football IQ and knowing how to read plays. Well, it's the same way with hockey. These are the players who know those details I was just talking about. They've got the brains.
The theme of the game. Most fans watch for this in some way intuitively, but the ebbs and flows of the game are important. If one team is in the offensive zone more than the other -- if that team's players look like they're skating around the other team -- that's the team that will score. But this is the more obvious part. As I'm watching, I'm also checking out the defensemen on the attacking team. Is there someone still back there who can clean it up if they make a mistake? Because if not, one small error can change the whole game.
Plays I might not understand. A lot of fans assume things will go a certain way. They're wondering why a team is shooting from behind the net, thinking, "That's awful, they should just move to the center!" But we don't know what the scouting report is like -- the goalie might be phenomenal down the center. I'm not in the locker room discussing the game plan. I know there will be things that surprise me. And that's why I like watching the playoffs.
Shot-blocking. The team with players who are willing to sacrifice their bodies and jump in front of 100-plus-mph shots is often the one that wants it most, and that can make a difference. I've found that the team that wants it most usually finds a way to get it done.
All the players I love. I admire all the players. But if I had to pick one player, I'd say I'm partial to Ryan McDonagh of the Rangers, probably because I went to the University of Wisconsin with him. (There was actually an embarrassing incident in which I tipped over on a scooter in front of him. I had a big crush on him at the time, so it took me a little while to get over it.)
The amount of ice time he logs is incredible, and he stays sharp. I don't know how he does it as a defenseman -- he's always got one of the forwards barreling down at him and he has to make a plan under pressure. They always say the smartest person on ice is a defenseman, and it's so true. Also, did I mention I once had a crush on him?
[+] Enlarge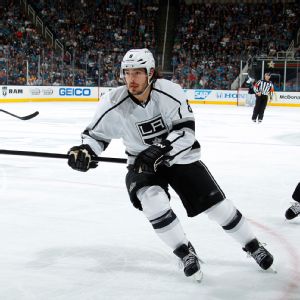 Rocky Widner/Getty ImagesHilary Knight will be watching -- and learning from -- "shifty" Drew Doughty of the Kings.
A third-period hero. I think there's going to be one, possibly in more than one of the games. It'll be someone who maybe hasn't been playing very well or someone you don't know much about. I don't know who it will be, but watch for one! There always seems to be someone who surprises.
What I can learn from it all. When I watch other players, I'm constantly trying to see what they do and I think about how I could apply what they're good at to my own game. Does someone make a defenseman stop dead in his tracks with a fake-out? How are they creating space for their teammates?
Drew Doughty of the Kings is amazing -- he's extremely shifty and can also be an offensive defenseman. He can shift one way, then be going in the opposite direction while you're still thinking about the previous one. I'll be marveling at that, for sure.
And finally, the team reactions. Hockey is dynamic, and a lot of things go into the puck going your way. Sometimes you can do everything right and the puck just won't bounce the right way for you. I know firsthand what it feels like to play in a high-stakes game and come up short. I've won two Olympic silver medals when we wanted gold more than anything.
It stinks. It hurts. It's so hard to get home, get over it and get ready for the next season. It's heartbreaking.
But on the flip side, one of these teams will experience the ultimate success -- on a huge stage. I've won world championships with the U.S. team, and getting the most coveted trophy in sport is an unbelievable feeling.
I know exactly what I'd do with a Stanley Cup. I've been trying to get my teammates to come visit my home state of Idaho. So I'd take a kayak down some Idaho whitewater rapids -- just me, some teammates and the Cup.
April, 1, 2014
4/01/14
12:36
PM ET
By
Hilary Knight
| ESPN.com
I have a bit of a reputation on the U.S. women's hockey team -- for being a practical joker, that is. Whenever something weird is happening, someone always turns to me and says, "What did you do?"
[+] Enlarge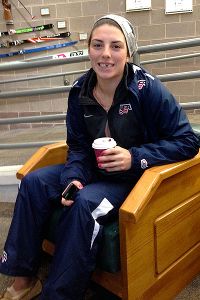 Courtesy of Hilary KnightAnother Hilary Knight prank: the missing tooth fake-out.
But I know it's important to have fun. When you're at the top of your sport you can't be serious all the time. Maybe my best "get" ever was The Booby-Trapped Locker Room.
One year I came up with this idea to go on Amazon and order a whole box of those little firecrackers you throw on the ground and they make a loud "pop," like you see every Fourth of July. I had so many I didn't even know what to do with them. So I came in really early one morning and started putting booby traps everywhere in the locker room. I taped them under the toilet seat, under the scale, even under people's shower sandals.
Pressure or friction makes them go off, so when people stepped into their shoes it started to trigger them, and my teammates thought the scale was breaking! Then more and more pops kept going off everywhere and people realized what was happening.
The one on the toilet seat was the funniest because you had to sit down to trigger it, but obviously no one is really expecting a big pop right then -- and you're kind of in a vulnerable position. I think one of my teammates (who will remain nameless) thought she'd somehow broken the toilet seat.
Hilary Knight, a forward on the U.S. women's hockey team, is a two-time Olympic medalist. Check out her last espnW blog here.
March, 18, 2014
3/18/14
6:15
PM ET
By
Hilary Knight
| ESPN.com
Hilary Knight, a forward on the U.S. women's hockey team that earned silver at the Sochi Olympics, takes a look back at her favorite photos from the Games -- and updates us on what's next for her.
Who is ready for Sochi? We're all leaning in for a group picture on Team USA's flight from Frankfurt, Germany, to Sochi, Russia. We're exhausted at this point, but looking pretty savvy in our new Nike threads. Can't wait to land and get to the village -- it's been too much travel!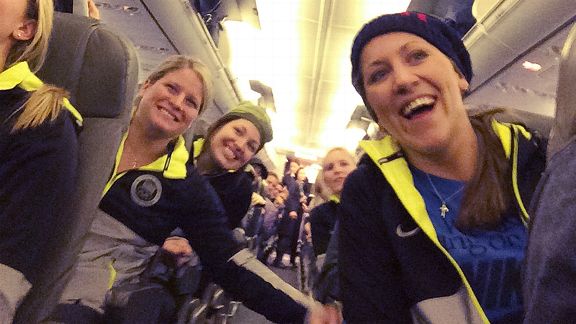 Courtesy of Hilary Knight
Your Boston Bladies: Kelli Stack, Anne Schleper, me, Kacey Bellamy, Meghan Duggan and Molly Schaus. The six of us moved to Boston the previous year to train with the amazing Mike Boyle and play in the CWHL (Canadian Women's Hockey League). The past two years have been quite the adventure! We figured we should get a picture at our plane's gate before we arrived in Sochi.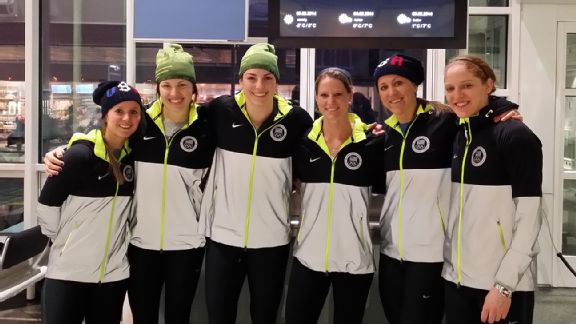 Courtesy of Hilary Knight
Thanks to Brianne McLaughlin for posting this lovely picture. I wonder if she got more Twitter followers?! Since we had a game against Finland the following day at noon, our team decided it would be in our best interest not to attend the opening ceremonies. It was a difficult decision to make because there is no other feeling like walking in the opening ceremonies with Team USA. The event is always magnificent
Though we couldn't walk, we still played dress-up and pretended we were there. Because of customs and different regulations, some of the athletes who were walking in the ceremony didn't receive their Ralph Lauren boots in time, so I gave up my boots...and I guess I just got lost in all the excitement, and I forgot to put my pants on, too!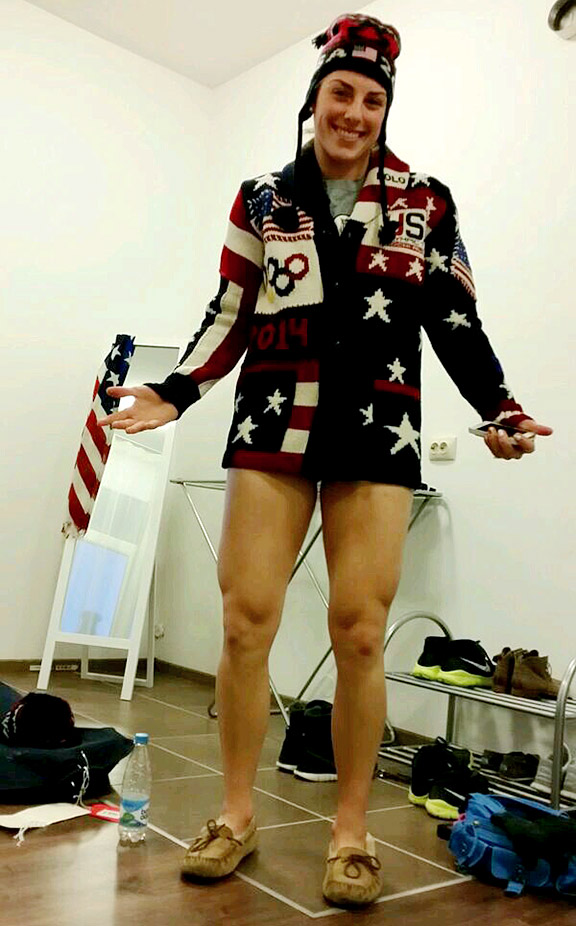 Courtesy of Hilary Knight
Straight chillin'. Jessie Vetter and I gained Bri as a roommate as soon as we set up the yoga mats, food/beverage service and Apple TV in our Olympic Village room. It was pretty well-equipped for people to come and hang out or just stop in and say hi. Since the walls were so thick (we were able to bounce bouncy balls off them -- don't judge, we all have our inner-child moments), we had to leave our door open in order to get a decent Wi-Fi signal.
It was an important process we figured out one time when we lost our signal mid-show. I was joking around that I would go out in the hallway and do the "get Wi-Fi" dance in order to bring the signal back, and ultimately continue the show. As soon as we opened the door, the signal returned, and the show went on! Our room was absolutely hooked on the TV show "The Blacklist," and terrified but addicted to "The Following." Julie Chu had to stop watching because it scared her. Our TV time got a little out of control.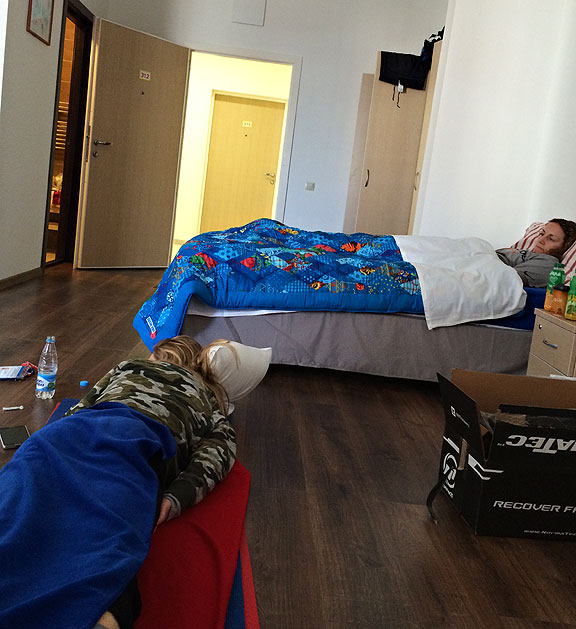 Courtesy of Hilary Knight
Oh, hey there, mind if I slide in? I've always wanted to be a goalie. And I get a little envious when I see how much fun they are having. These three (Vetter, Bri and Molly) are a blast, so it's only natural that I would want to get a pic with them...right?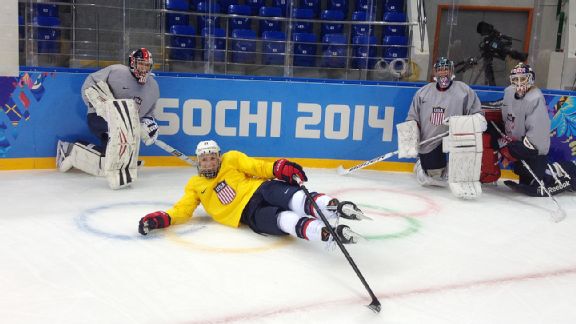 Courtesy of Hilary Knight
In order to participate in the Olympic Games, we needed to get visas. It just so happened that the picture we submitted for our visas was also the picture on our village and park credentials (mind you, you can't do anything without your credentials -- it's a three-week perma-lanyard around our necks). In the fall, we were asked to submit pictures for our visas, so I sent in mine, but my picture was rejected due to shadows.
I got frustrated with the process and decided to take my visa photo after a hard practice, when I had some pretty amazing helmet hair. Although I don't think the shadowing was any better for this approved visa picture, I think the visa-accrediting department was enamored by my ridiculously good-looking hair. Also, this photo looks like I have two black eyes and a prison stare as well.
I want to thank the officer who approved this picture, because I will forever have my credential as a memento from the Sochi Olympics. I might put my Vancouver credential on top just so I don't get spooked when opening the memorabilia box!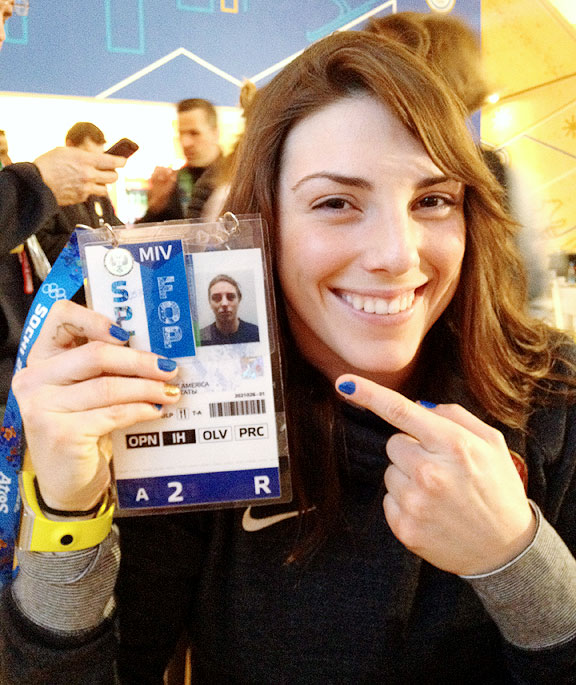 Courtesy of Hilary Knight
This looks like it hurts with the needles and electric current and all. But this technique, called "dry needling" actually allows my muscles to relax. The needles release pressure in specific areas, and the electrical stimulation unit's current allows for increased blood flow to the muscles.
After treatment, my leg feels loose -- as if it is about to fall off -- but the following day, I feel amazing and fully recovered, and wishing that I'd needled my entire body! The first day my teammates saw this treatment, they had looks of disgust on their faces for the first minute or two, and then they asked if they could touch the needles and a whole bag of questions ensued thereafter.
Monique Lamoureux asked what would happen if she turned up the stim unit, and we accidentally turned up the machine a little too high. It's safe to say that I discovered muscles in my leg that I never knew you could see -- my quad fully flexed itself and literally leapt off the table. But everyone was OK, and we had a good laugh afterward.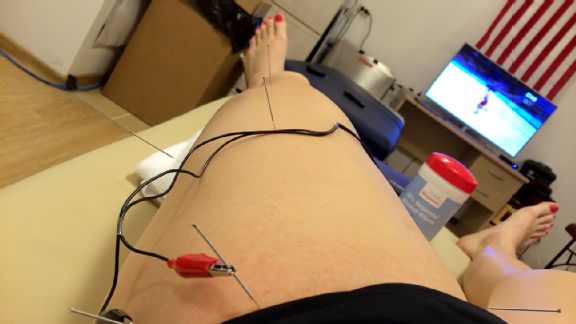 Courtesy of Hilary Knight
Mo and I decided to have a little fun at our postgame team news conference. We might have been running on empty and no sleep, but hey, what better time for some laughs? One of the reporters at the conference managed to snap this pic of us having fun. Mo decided to write "JL+BD" in a heart to represent her sister, Jocelyne's, engagement to Brent Davidson. I'm not engaged, nor am I dating someone, so I figured it would be best to quote Ron Burgundy from "Anchorman" (the first movie, obviously): I love Lamp. I wonder how many reporters actually understood our humor?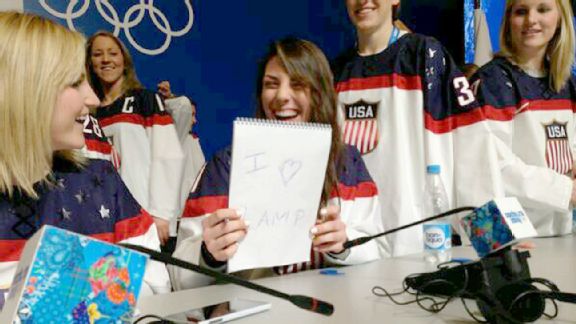 Courtesy of Hilary Knight
Cha-Ching! Bri is getting ready for the closing ceremonies. Bri captured my best moment while getting dressed for the opening ceremonies (remember that picture posted sans pants?).
She says it doesn't take her long to look her best, and we strongly encouraged her not to go to the ceremony with her butterfly hair clip. It's sexy, but maybe not event-appropriate (I think Ralph Lauren would agree).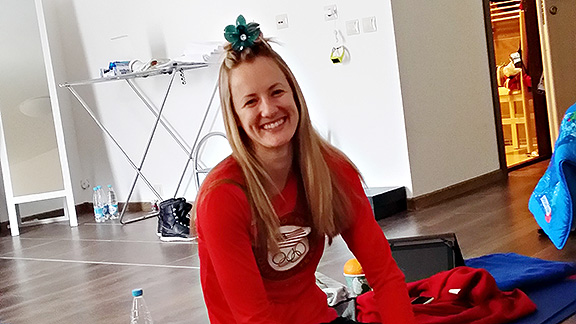 Courtesy of Hilary Knight
After we got back from Sochi, I took a few (awesome) days off and went snowboarding up in Canada. Good times and lots of relaxing. Then I headed back to Boston, where we did our pre-Olympic training, to play for the Boston Blades in the CWHL.
The Blades are now in Markham, near Toronto, playing for the Clarkson Cup. This led to this hotel check-in moment where my bag was on top of one of the Canadian players'. Awkward! Though it's back to hockey for the moment, I'm also busy planning a trip around the world after the season is over! Niiiiiice.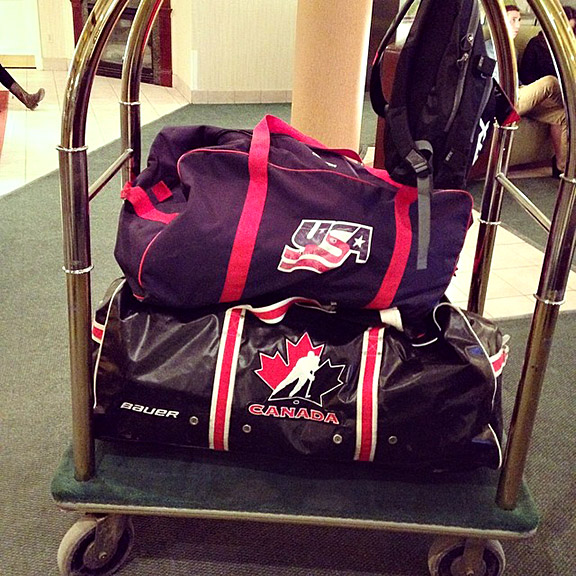 Courtesy of Hilary Knight
January, 9, 2014
1/09/14
12:35
PM ET
By
Hilary Knight
| ESPN.com
The U.S. women's hockey team packed in three victories (and one major brawl) around Christmas and New Year's -- then announced the final Olympic roster on Jan. 1. Hilary Knight, a forward on the team, gives a glimpse at what those hectic weeks were like.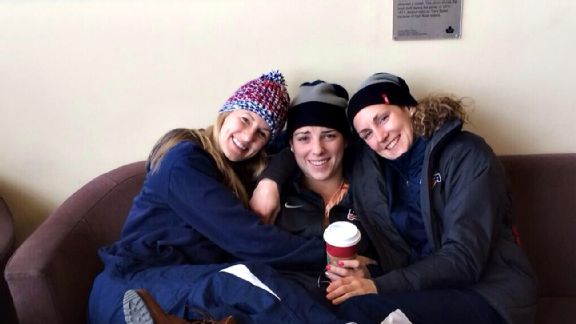 Hilary Knight
Awww mannnn, a goalie sandwich. I was sitting waiting for the bus, minding my own business jamming away to my music, and bam! Bri McLaughlin and Jessie Vetter smother me with some love! These gals are awesome -- they keep the mood light, but are also the backbone of this team.
I did have to buy Jessie a case of beer once because I hit her in the head a few too many times… but you wouldn't know there were ever any hard feelings by looking at this picture!
We are waiting for the bus to take us from the hotel to the magnificent Ralph Engelstad Arena in Grand Forks, N.D., for our game against Canada on Dec. 21.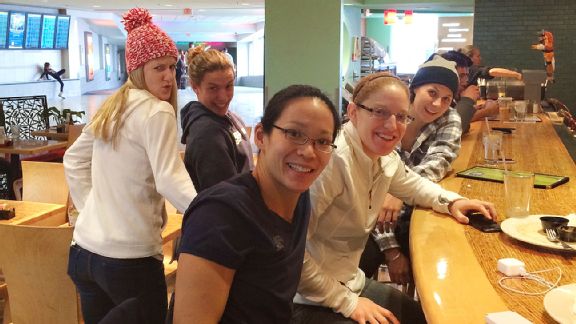 Hilary Knight
After a solid win (4-1) in North Dakota, we decided to grab a group breakfast at the airport before we all headed out to our separate locations for our short Christmas break.
This was our favorite breakfast place when we were on the 2010 Olympic tour, so we decided to hit up our old spot. You can't see the TVs in this pic, but the brawl we had with the Canadian team during the game the night before is replaying on all of the screens!
(Pictured from left to right: Bri McLaughlin, Shelly Picard, Julie Chu, Molly Schaus and Megan Bozek)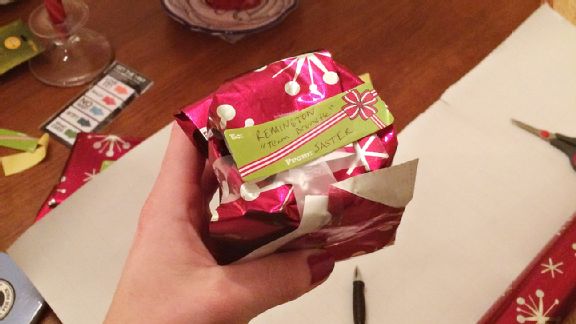 Hilary Knight
Home for Christmas at last!
I am an excellent gift wrapper. This particular gift is to my brother Remington. Since he also happens to be on Team Brunette, he knows the poor wrapping job doesn't reflect my true sisterly love.
Team Brunette vs. Team Blond is a family tradition. The four of us Knight children are extremely, extremely competitive. We have tournament teams for everything, and how do we decide the teams? Hair color. Remington and I both have brown hair while William and Jamie are blond.
And yes, Team Brunette's tag line is… What, is it because you're blond? Let the chirps begin.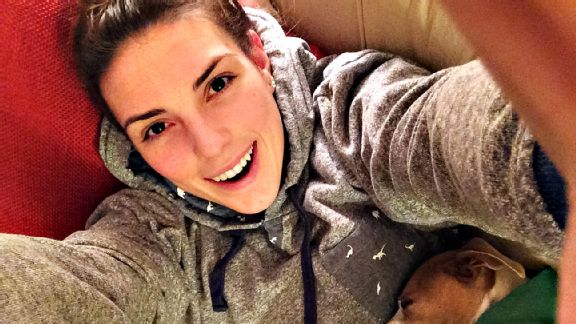 Hilary Knight
A picture of my puppy, O.V., and me snuggling on the couch. I like to take my downtime seriously, because I'm home for only a few days. I take that time to hang out with my family and do absolutely nothing.
OK, maybe I go to the gym sometimes just to stay in shape. We make a family event out of it and everyone goes and works out together. I am fortunate that my mother is so athletic, because she was the big push in getting me out of the house to play when I was younger, which led to my interest in hockey.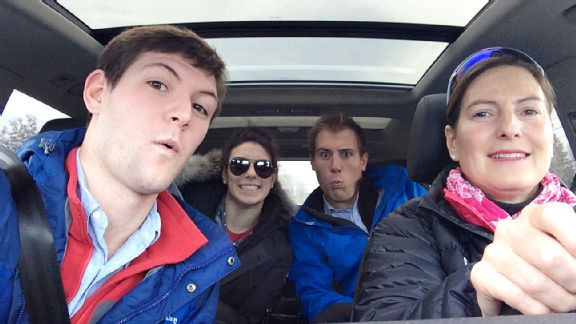 Hilary Knight
Family bonding time. This crew is heading to the mall for some last-minute Christmas shopping. (I mean, I needed to go Christmas shopping so I dragged them along with me!)
It is always fun to have Mom drive because we play ridiculous rap music and trick her into thinking that we are about to put on "her favorite song."
(Pictured from left: Remy, me, William, Mom)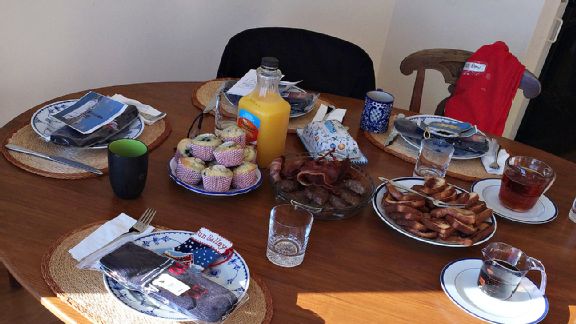 Hilary Knight
Christmas morning! Our traditional French toast feast with stockings. We open stockings, eat breakfast and then continue on to the big gifts! (And I try and fit a nap in there somewhere.)
This Christmas was super special because the boys received printed-out look-a-likes of their lodging accommodations in Sochi. They found out they were going to Sochi before I did!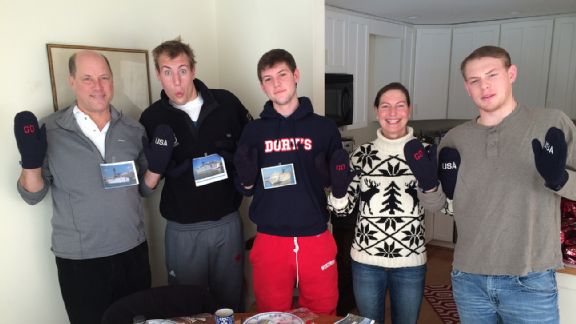 Hilary Knight
Dad, William, Remington, Mom and Jamie. The whole crew with those dashing "Go USA" mittens!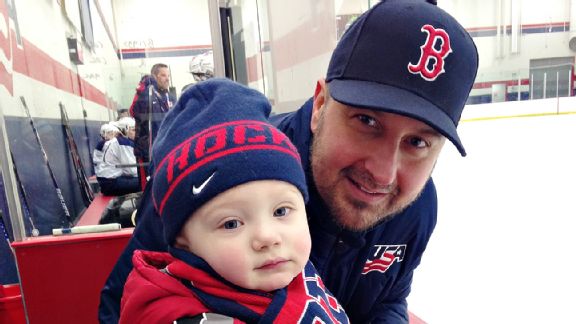 Hilary Knight
Right after Christmas, it was on to Minnesota to play against Canada again on Dec. 28.
You probably have not seen Brent Proulx. He is the man -- the man behind all the equipment and other miscellaneous organizational things. He is amazing and we would be a hot mess without him. While Brent is working with us, his family is usually back in Minnesota, so when we were skating there he was able to bring his son to the rink. Adorable!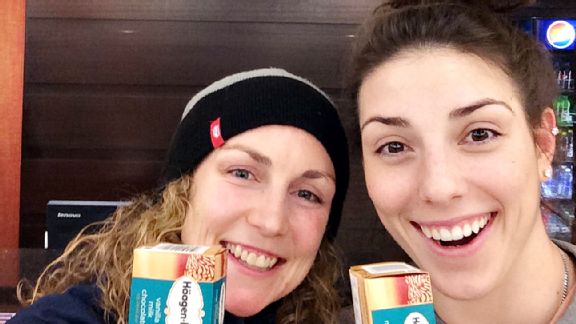 Hilary Knight
My roommate, Vetter, and I were so giddy after our win in St. Paul that we stayed up and chatted most of the night. That turned out to be OK because a fire alarm sounded in the early-morning hours, and we had to join our other teammates in the hotel lobby. They were woken up out of a dead sleep and it's safe to say they were a bit less chipper than us.
Ice cream always tastes good after a win, so yes, we had a "treat yourself" moment. (Anyone seen "Parks and Recreation"?)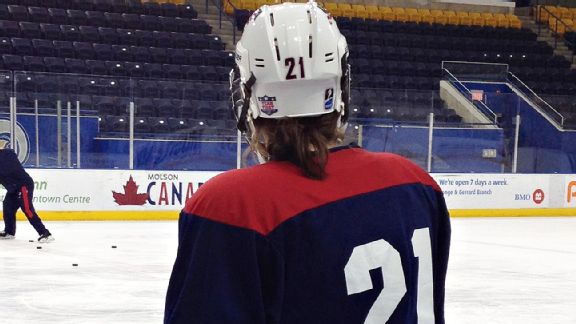 Jill Radzinski
Clearly I am in ridiculously deep thought, pondering all of the world's metaphysical questions. Actually, we were short a few forwards for practice, and I think I was just trying to steal a few breaths of air before the next drill.
I was also looking around the arena because after our game in St. Paul, we headed to Toronto to play in a new facility there, against Canada yet again. This was our first time practicing here, and I was trying to take it all in.
What a crissssp number, too.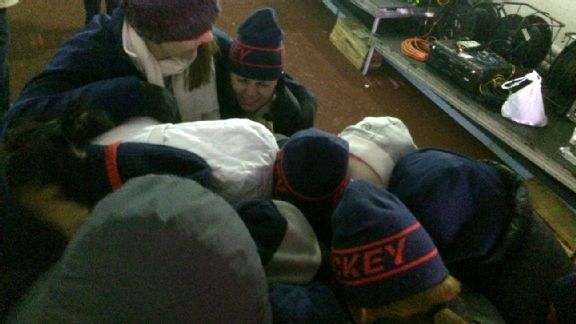 Hilary Knight
After another win in Toronto, we were on our way again to Ann Arbor, Mich., for the Olympic team announcement during the NHL's Winter Classic. If you watched it, you know that it was freezing cold, and every commentator continued to tell the viewers how cold it was!
Well, the night before the Winter Classic during our rehearsal was no different, if not colder. We decided to huddle together in a giant mosh form in order to keep warm. After a few minutes we rotated the people from the outskirts of the blob into one of the center positions.
I think I kept telling myself two words: beach and Bermuda. It didn't physically help me keep warm, but at this point it was mind over matter!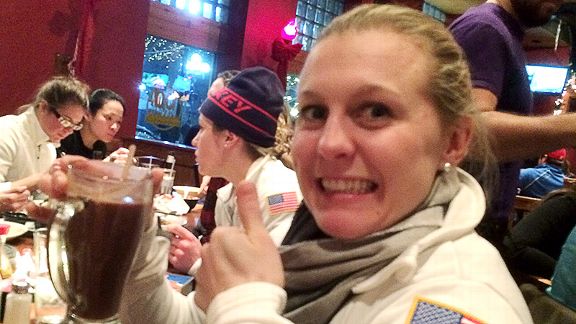 Hilary Knight
After the rehearsal, we had our New Year's Eve dinner! It was so much fun to spend NYE with this group, because we truly are family and there wasn't a better way to hang out until the clock chimed in the New Year!
(Pictured: Kendall Coyne trying to warm up with a hot chocolate)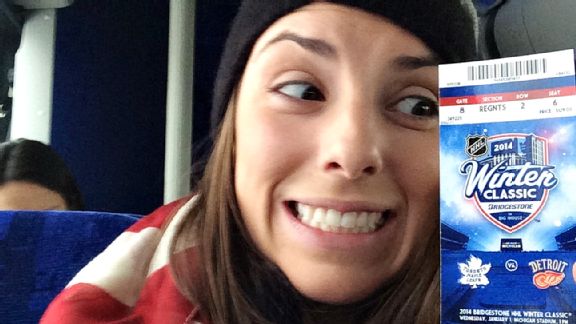 Hilary Knight
A quick picture on the bus with the golden ticket! We are off to the Winter Classic. I'm so excited, because the announcement will be made in front of 105,000 people, and I will be able to share the great news with friends and family!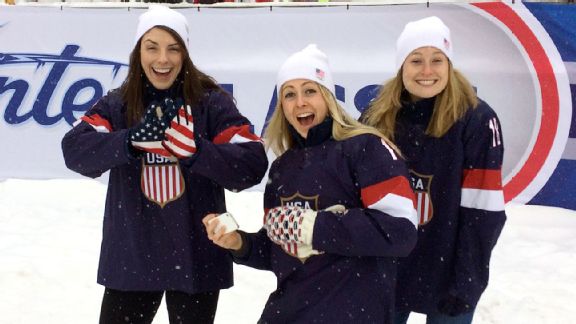 Courtesy of Hilary Knight
We stopped to take a silly on-field photo before we got on stage for the official U.S. Olympic team announcement.
(Pictured from left to right: me, Gigi Marvin and Lyndsey Fry)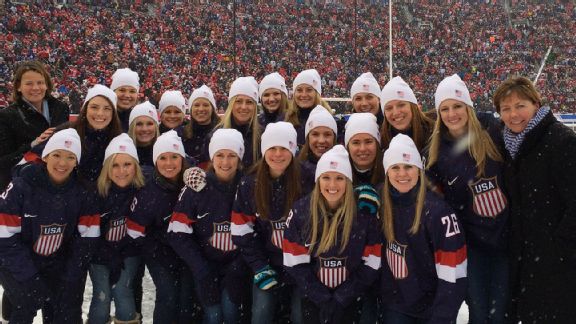 Hilary Knight
Twenty of the 21 players on the 2014 U.S. Olympic Hockey Team. Meghan Duggan is missing from this picture because she is fulfilling her duties as our leader and captain. She was being interviewed by the studly Jeremy Roenick when this picture was snapped.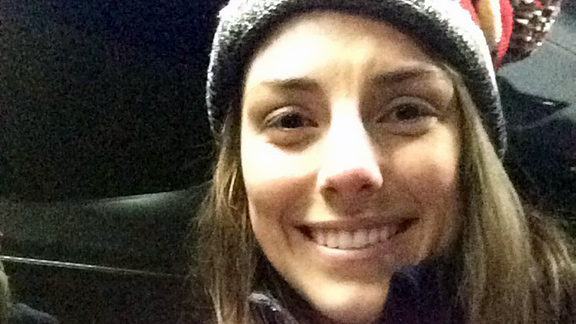 Courtesy Hilary Knight
This is the last time I will be able to wear the Olympic jersey until we compete in Sochi, Russia, on Feb. 8. I decided to savor the moment and take one last picture.
I can never say it enough: It is truly an honor every time I put on the USA jersey. I am so fortunate to have another opportunity to play for our country. What an amazing journey this has been, and cheers to 2014 and continuing the journey to the Olympics as we pursue our road to gold!
December, 17, 2013
12/17/13
8:33
PM ET
By
Hilary Knight
| ESPN.com
The U.S. women's ice hockey team squared off against three-time Olympic champion Canada on Thursday, in one of six matchups this winter as the squads prepare for the Sochi Olympics in February. Hilary Knight, a 2010 Olympian, shows us how many pickles and pieces of luggage were required for the trip.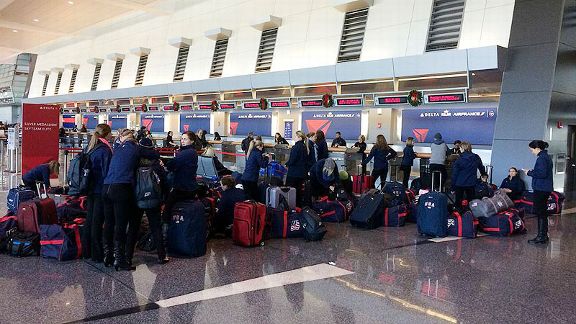 Hilary Knight
We packed lightly for our December travel schedule (or not!). Here, we've just arrived at the airport, and are waiting to check in for our first flight. The next stop is in Calgary for an exhibition game against Team Canada. I'm excited to get my bags checked and get through security.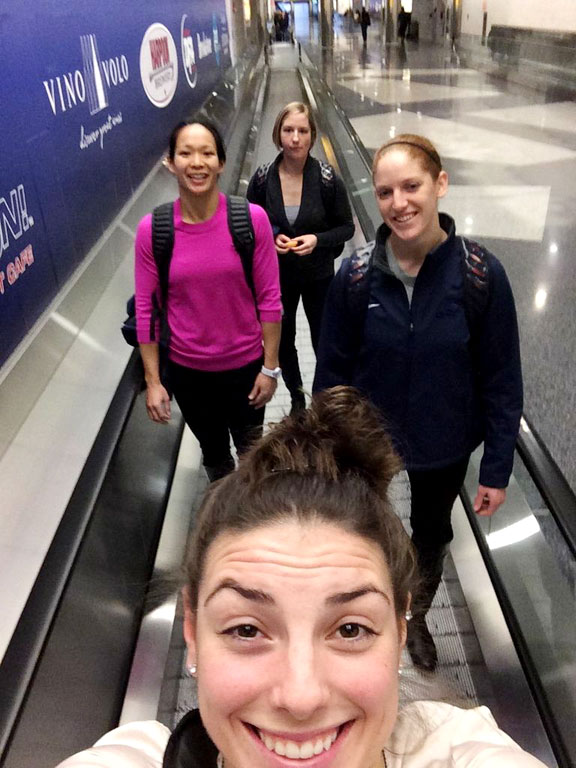 Courtesy of Hilary Knight
A group of us "seasoned" veterans taking advantage of the moving walkway. We get enough exercise in the weight room or on the ice so the moving walkway, elevators and escalators are all very important routes for us when traveling!
(In the back, left to right: Julie Chu, Lisa Chesson, Molly Schaus; I'm in front)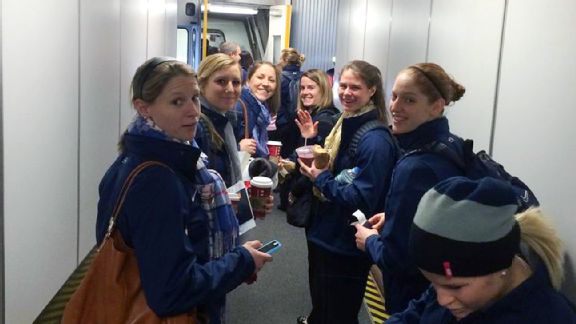 Courtesy of Hilary Knight
Bon voyage! In the jetway waiting to board our plane from Minneapolis to Calgary. Notice our team loves coffee! Everyone is trying to send their last text messages before our phones are turned off while traveling abroad.
(Front to back: Brianna Decker, Kacey Bellamy, Molly Schaus, Annie Pankowski, Josephine Pucci, Meghan Duggan, Sarah Cahill)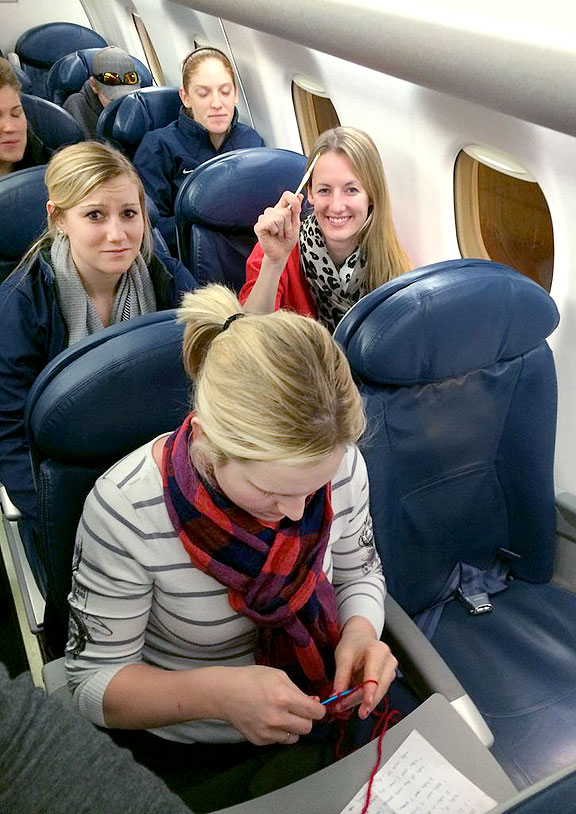 Courtesy of Hilary Knight
My lovely seat companion, the engaged Jocelyne Lamorouex, crocheting. Annie (left) and I share the same feelings of crocheting: We're scared that Bri has a rather large needle and looks like Vince Vaughn's overbearing girlfriend from the movie "Wedding Crashers." Yes, our team is obsessed with crocheting. My excuse is that I keep forgetting to get yarn.
(Front to back: Jocelyne Lamoureux, Annie Pankowski, Bri McLaughlin)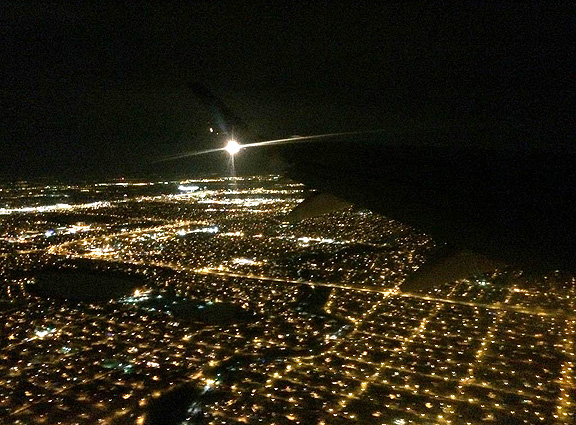 Courtesy Hilary Knight
Snapped a picture from the plane before landing. All I could think was, "Man, does it look cold." You'd think we'd be accustomed to the cold, playing a winter sport and all, but the cold never gets warmer. Upon arrival, the captain of the plane announced, "Remember, there's heat in the terminal. Keep moving. If a family member falls in front of you, still keep moving."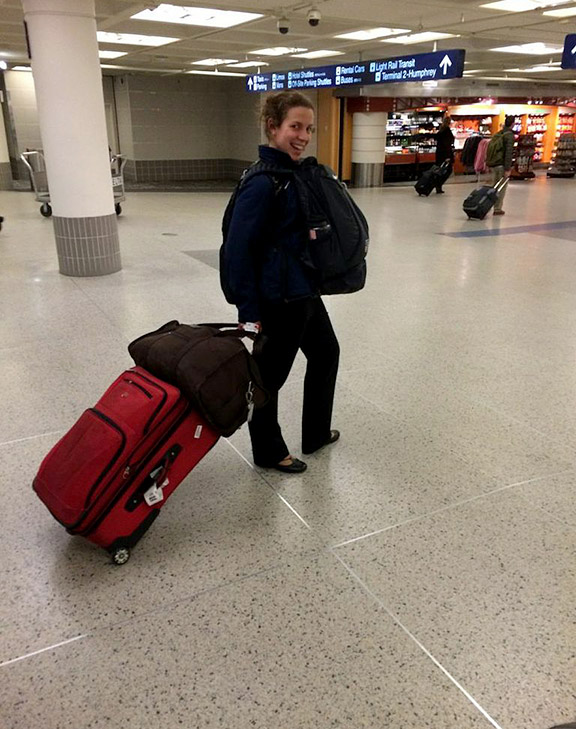 Courtesy of Hilary Knight
Oh hey Shelly. She swears it's not her first time traveling, but this picture might show otherwise. We are on our way to the bus to the hotel here. I decided to get a luggage cart because I could not pull off this suitcase carry/sling by Shelly Picard.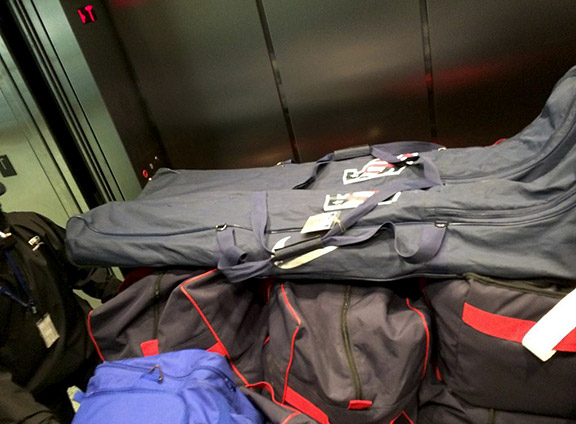 Courtesy of Hilary Knight
Bags on bags on bags. I did a rough estimate, and came up with a bag count of 70, and that count doesn't include the supplies that we pre-shipped to Calgary. Each player checks two bags, the staff members each check one, and then miscellaneous equipment is packed in a number of other bags. In this picture, one of the three airport representatives has wheeled a cart into the elevator. Would this be a bad time to mention that I am claustrophobic? Hah, just kidding.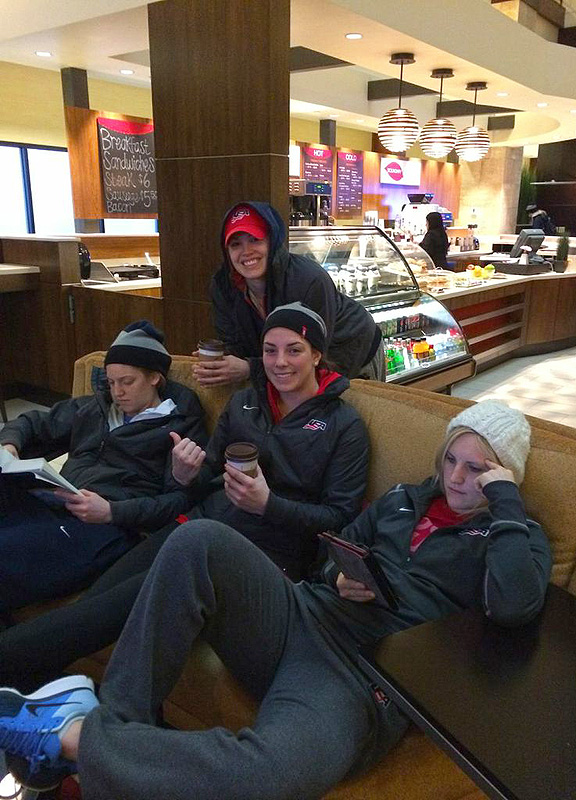 Courtesy of Hilary Knight
Lounging around in the hotel lobby before our morning practice. Schlep and I grabbed coffees while Monique and Schausy are in a deep book-reading session. Riveting.
(Left to right: Molly Schaus, Anne Schleper, me, Monique Lamoureux)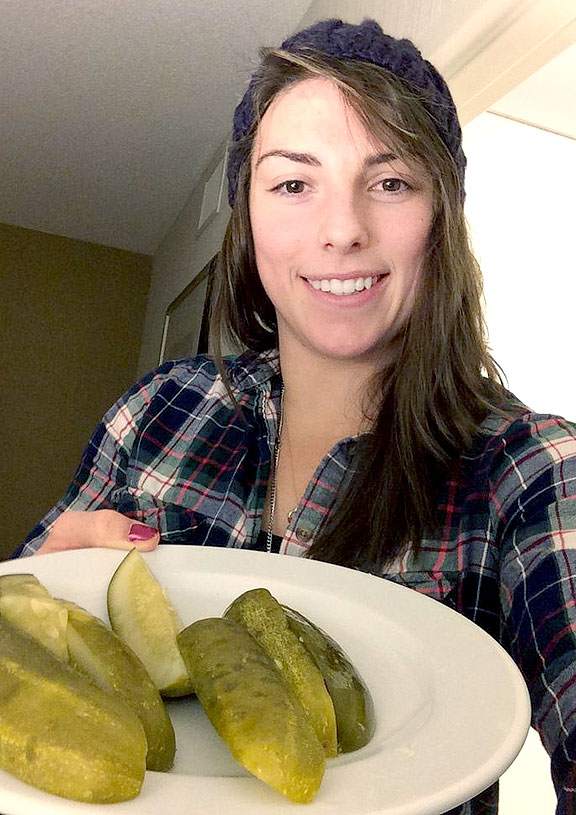 Courtesy of Hilary Knight
So I am on this pickle spear kick. After we'd all eaten quite a few, I took the rest back to our hotel room and put them in the fridge. A few hours later I reach in to grab a snack, and the plate of pickles is frozen...whooops. My road roommate, Anne Schleper, and I had a great laugh because we posted a picture on Twitter with the caption "Unthawing our frozen pickles. That's about as exciting as our life gets on the road on a Saturday night."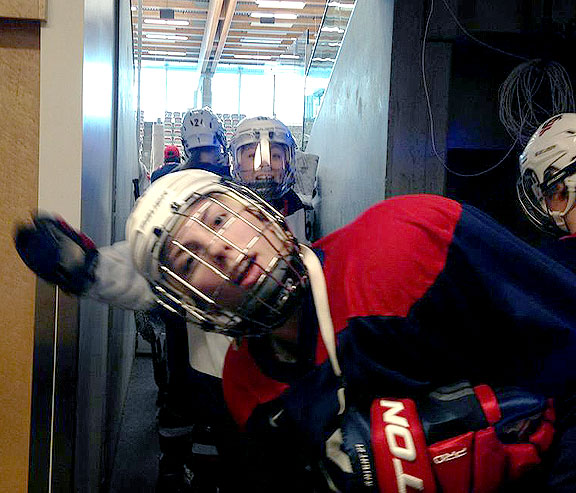 Courtesy of Sarah Cahill
Photo-bombing a pregame skate picture. We like to have a lot of fun. Our pregame skates are always exciting and packed with drills that we like. It allows us to get moving, feel the puck and get accustomed to the environment. Get in a quick skate, stretch, shower up, go back to the hotel and relax, then return to the rink a few hours before puck drop later that evening. Just living the dream one stride at a time!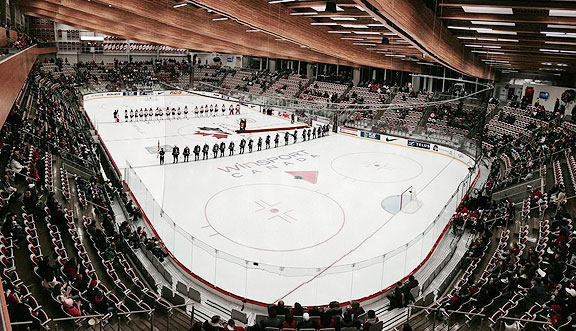 Courtesy of Hilary Knight
This is the view of our teams on the blue line during a short ceremony before the game, honoring Canada's Caroline Ouellette. For ceremonial puck drops and national anthems, we stand across this line in numerical order. Team USA is a sharp-looking team. It's also the calm before the storm!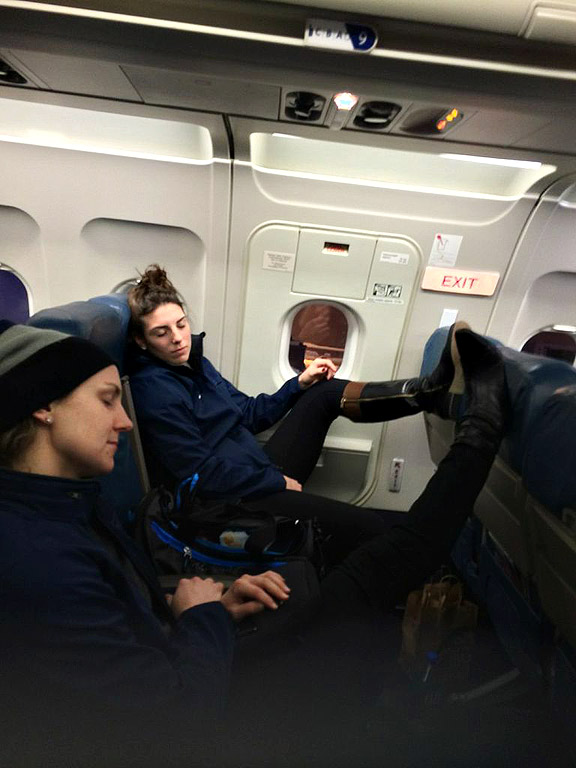 Courtesy of Hilary Knight
Row 9 on our flight back to the US after a 5-1 win over Canada last night. The flight attendant put the most attentive and capable people in charge of the emergency exit. The responsibility and legroom were greatly appreciated!
(From left to right: Jessie Vetter, me)
November, 14, 2013
11/14/13
6:46
PM ET
By
Hilary Knight
| ESPN.com
Last week, Hilary Knight and the U.S. hockey team played against Canada, Finland and Sweden in the Four Nations Cup, held in Lake Placid, N.Y. The U.S. -- the 2013 world champions -- finished third, while Canada took the title. Knight, a forward on the team, takes us behind the scenes of the tournament.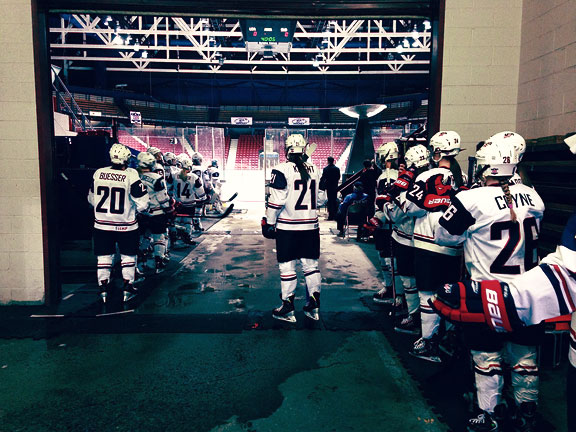 Courtesy of Sarah Cahill
The ladies -- my team -- clad in red, white and blue. The finest females in this sport, I may add. We're in lines, walking out in order by our numbers at the same arena where 1980's Miracle on Ice happened. Hosting the Four Nations Cup in the same building is an unreal feeling. As I was stepping out onto the ice, I couldn't help but think about how one of the greatest and most influential moments in sports history happened here -- and now here I was, skating on the same surface, in the same building, decades later.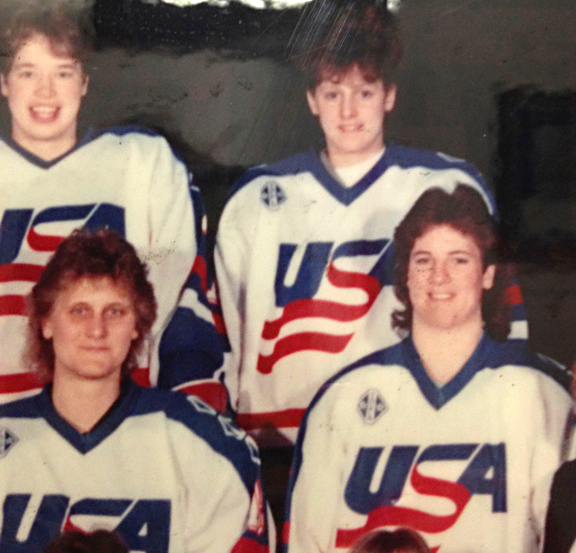 Courtesy of Hilary Knight
As you walk into our dressing room, the halls are lined with plaques that date back to the first U.S. women's national team. At first you see the spectacular hairstyles and get a few chuckles spotting old teammates in their younger years (ahem Angela Ruggiero, aka the Original Baby Huey -- she then passed the nickname to me for the 2010 Olympic Games). But then, a real appreciation and feelings of gratitude set in. I can't help but think how incredible these women were in representing our country, inspiring and trailblazing a path for younger generations.
I had to snap a picture of Cammi Granato (top right) because I remember watching her lead the 1998 team to a gold medal. She was a huge inspiration to me when I was growing up, and she is also partly the reason why I wear the same number, 21.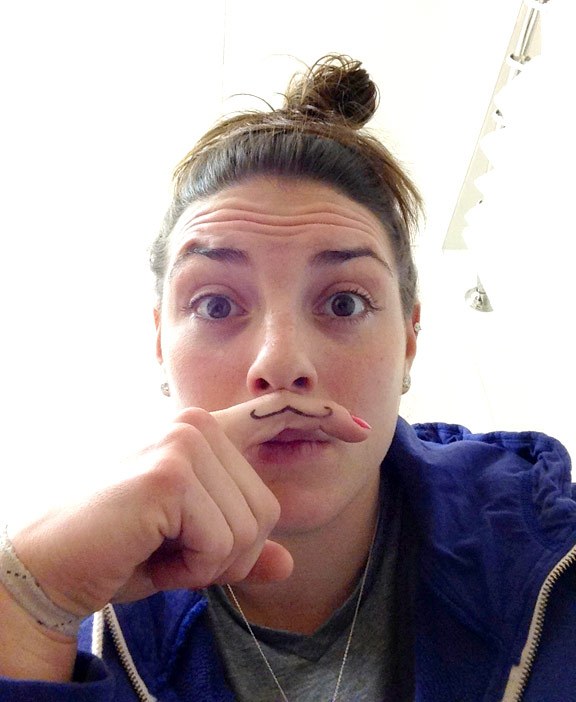 Courtesy Hilary Knight
The drawn mustache on my finger serves one major purpose: I like to make people laugh. In order to perform your best, you need to love what you do and have fun doing it. I also like to pop out of laundry bins and waddle around the cold tubs.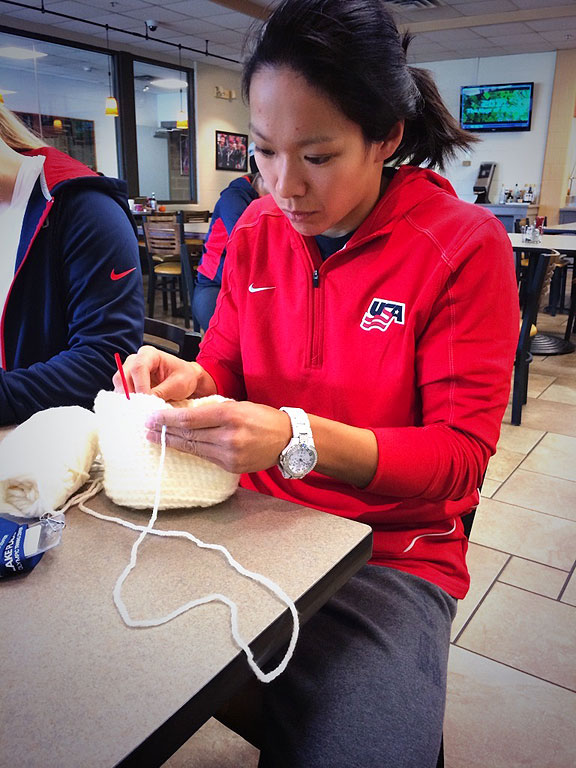 Courtesy of Hilary Knight
I have a special jingle for our veteran of the team, Julie Chu. When I pass her in the hallways I sing the "Scooby Doo" theme song, but insert Julie's name because it rhymes. I'm saving my loquacious voice for a later time but the lyrics are as follow: "Julie, Julie Chu, where are you? We've got some work to do now …"
Bri McLaughlin started this crocheting craze on our team. It began on a bus trip, and by the time we got to Lake Placid, people were begging her to teach them her ways. Julie, pictured here, is a proud and phenomenal product from the Brianne McLaughlin School of Crochet. I am not exaggerating when I say six or seven people returned with bags full of yarn! I have put in a few clothing requests, but none have been fulfilled. I don't think Bri or Julie took my request (finger sock with a mustache stitched on) as a serious request.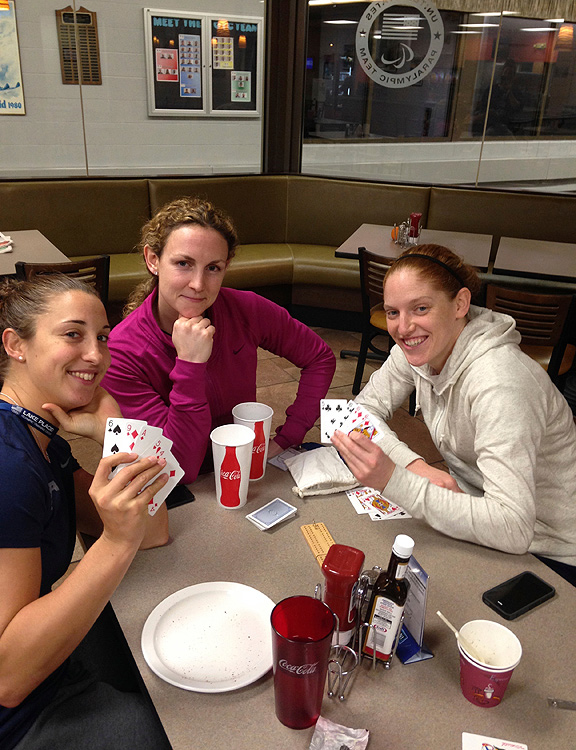 Courtesy Hilary Knight
As you can see, there is a fair amount of downtime at the Four Nations Cup. Some people like to crochet and make hats, while others like to play cards -- and play more cards. I asked if we could play my favorite game, Egyptian Ratscrew, but Bues (Kate Buesser) has lost too many times and politely declined my game offer.
(Pictured from left to right: Kate Buesser, Jessie Vetter and Molly Schaus)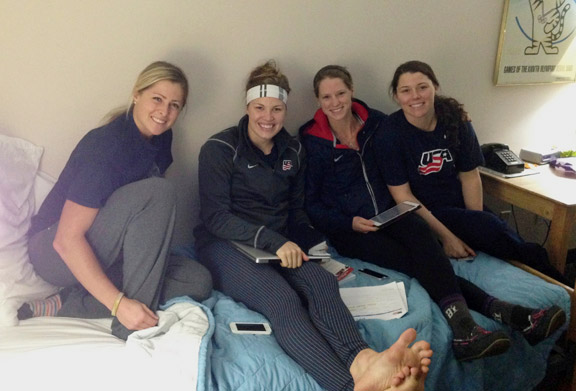 Courtesy of Hilary Knight
A little hangout session. I think Jincy Dunne (far right), our youngest player at 16 years old, appears to be tutoring the older players. After all, she did beat Kacey Bellamy (to her right) and Julie Chu in our team's version of "Are You Smarter than an 11th Grader?"
In all seriousness, we have a wonderful group of girls and great team chemistry -- and it's only natural we help mentor one another both on and off the ice. This team is family and not many people (aside from the Duggar family) can say they have 24 amazing sisters.

(Pictured from left to right: Gigi Marvin, Anne Schleper, Kacey Bellamy and Jincy Dunne)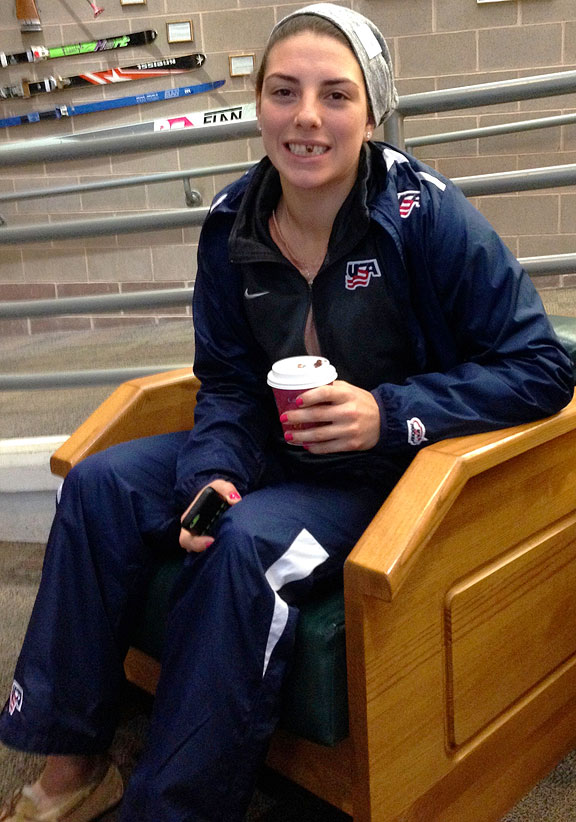 Courtesy of Kate Buesser
The movie "Bridesmaids" continues to be a shining beacon of comedy that most of us relentlessly quote. After watching the scene in the beginning of the movie where Kristen Wiig says she needs dental, I decided to put a chocolate chip over one of my teeth and smile at people to see their reactions. It all goes back to rule No. 1: Have fun.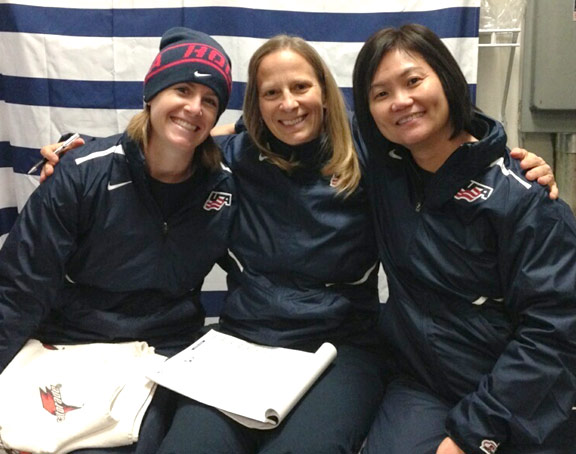 Courtesy Hilary Knight
I want to give a huge shoutout to this team -- Sarah Cahill, Jill Radzinski and Jennifer Chee. They are the team behind the team, and are in charge of everything that helps aid, heal and bind the 25 players who compete for the United States.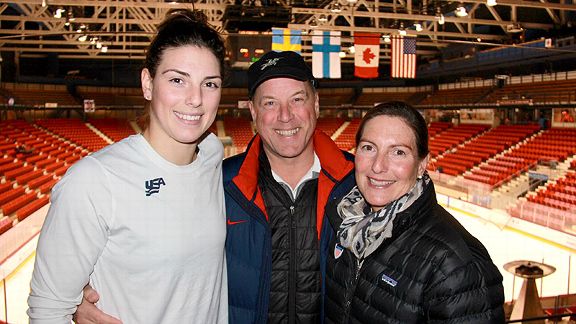 Courtesy of Hilary Knight
My biggest supporters! Sorry to my three baby brothers, James Jr., Remington and William -- Mom and Dad took the cake! What a treat to be able to skate in front of my parents while representing our country. The jury is still out on who I resemble most, though. Thoughts?
June, 25, 2013
6/25/13
7:13
PM ET
By
Hilary Knight
| ESPN.com
On Monday, Hilary Knight and 24 other U.S. hockey players were named to the Olympic training roster (the final 21 Olympic team members will be picked at a later date) after a weeklong selection camp. Knight, a forward on the squad and a 2010 Olympian, takes us behind the scenes at camp.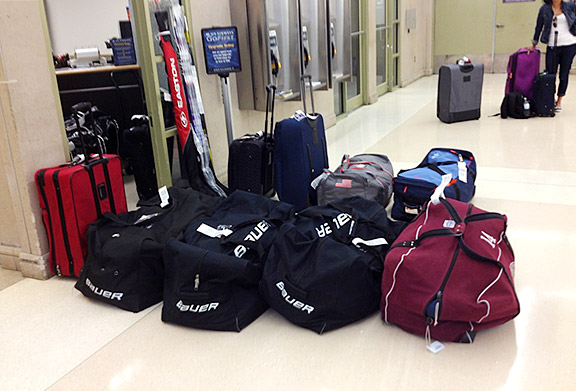 Courtesy of Hilary Knight
The journey to tryouts. While waiting for my teammates' flights to arrive, I sat at baggage claim and reflected on this amazing endeavor, excited for a chance to represent the United States in the 2014 Winter Games. After this cut, we would (hopefully) be one step closer to achieving our dreams.
My next thought was, How am I going to carry my bags without breaking a sweat? We sure don't travel or pack lightly. As you can imagine, it is especially difficult for us to try to avoid extra-baggage charges.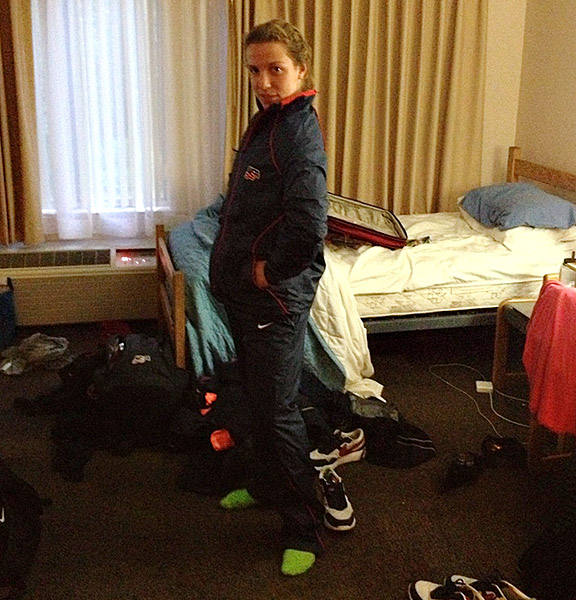 Courtesy of Hilary Knight
In my room at camp, modeling one of our USA tracksuits. The tracksuit exists in two forms: a lightweight navy blue suit and a heavy-duty insulated one for colder climates. We are always asked to pack both because of the dual climates of many places we travel to. But the suits take up a fair amount of precious luggage space, and we rarely use both of them.
The heavy-duty suit is nicknamed the "snowsuit" because of its weight. After a long travel day, you feel as if you and your snowsuit are intertwined as one, perhaps because your skin is grafting to the comfy material.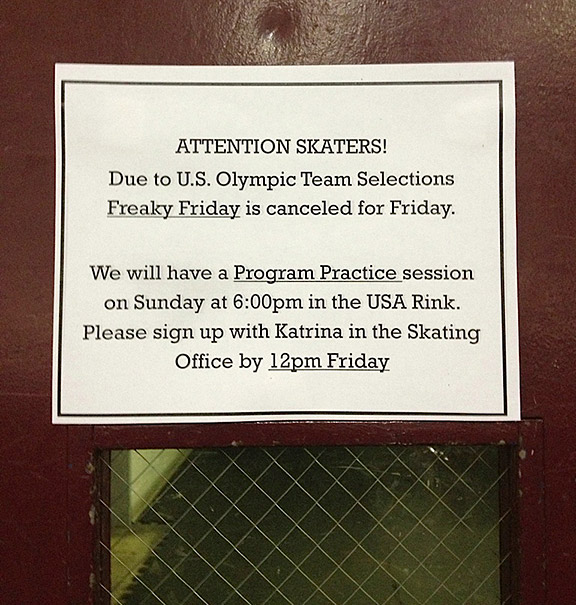 Courtesy of Hilary Knight
The Lake Placid Olympic Training Center hosted our selection camp. Lake Placid is such an incredible place to skate, and there is so much history and tradition -- after the 1980 gold medal, who doesn't believe in miracles? Apparently our Olympic Team selections put a hold on the local Freaky Friday skate, however. We saw this sign and got a bunch of chuckles in. I'm sure Freaky Friday is a ton of fun, but this sign feels like that scene from the movie "Bridesmaids" when Kristen Wiig's character retorts, "This is a very strict plane."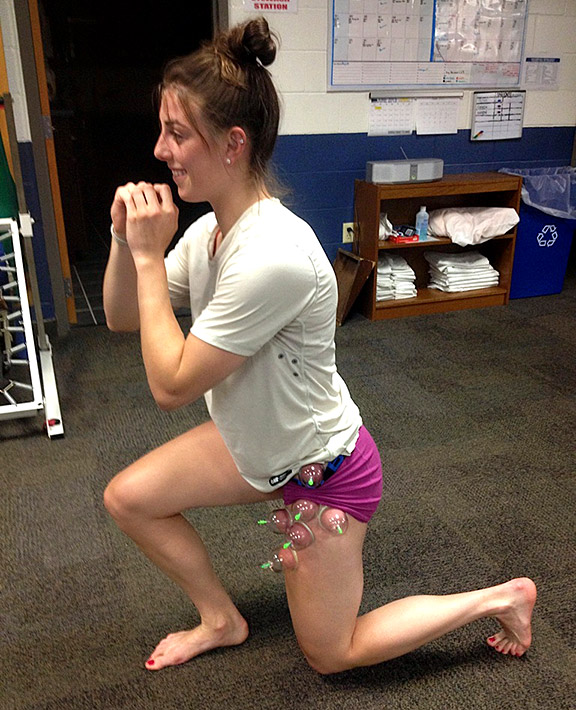 Courtesy of Hilary Knight
This is called fire cupping, and it looks more painful than it really is...I promise! This is one of my favorite treatments to rejuvenate areas that need a bit more help with recovery. Essentially, each cup is lifting up a layer of tissue called the fascia from around my muscles. By stretching and moving with these cups, blood flow is increased to the area and the "gunk" that builds up is flushed out, making me feel 150% better! It gets easier once I get over the fact that I am doing split squats…in boxers…in the middle of the room. Awkward!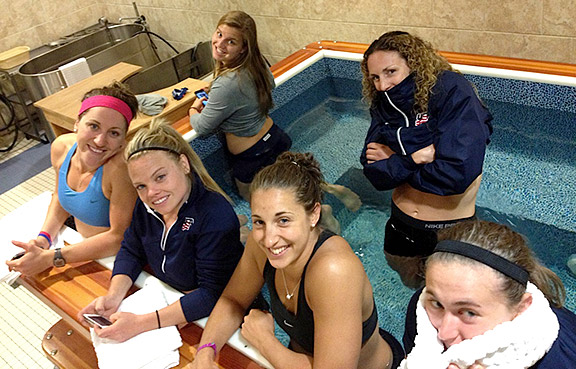 Courtesy of Hilary Knight
Oh hey! Just your casual cold-tub experience! Do not be fooled by the smiles, or the fact that this giant tub looks like a Jacuzzi: The water is colder than 50 degrees and we do not have fur.

(Left to right: Meghan Duggan, Erika Lawler, Emily Field, Kate Buesser, Jessie Vetter, Haley Skarupa)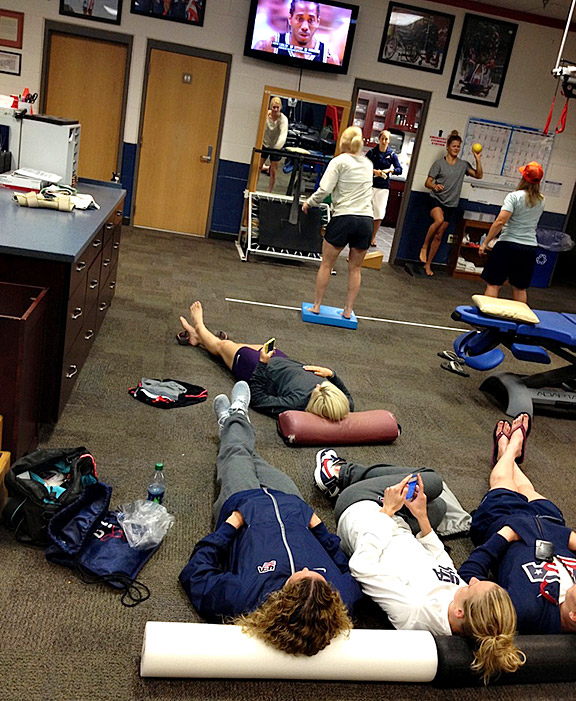 Courtesy of Hilary Knight
This is the scene in the training room after a long day's work. If you're ever looking for someone, you might want to check the training room (after checking the dining hall first, of course). Not only do we receive the best care and attention, but we enjoy one another's company so much that the training room turns into a hot spot for hangouts.
With our frequent use of foam rollers, we have discovered that they also have a secondary use as pillows. Here are (bottom to top) Jessie Vetter, Bri McLaughlin, Molly Schaus, Monique and Jocelyne Lamoureux, Jill Radzinski, Sarah Erickson and Kate Buesser watching the Heat vs. Spurs in Game 7 of the NBA Finals.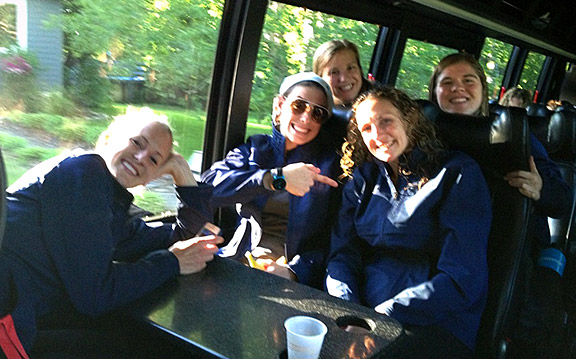 Courtesy of Hilary Knight
Rocking out in the "clubhouse" of our game-day bus. When it pulled up, it looked like a party bus, and we happened to have two birthday celebrations at camp so we joked around that we had rented the bus just for the birthday girls. I like to point at Vetts (Jessie Vetter) in photos. Her poof is famous. You can't hide that volume. She says, and I quote, "My poof is different than everybody else's poof because I use Paul Mitchell styling foam." Zoolander, can you deal with that?
(Left to right: Bri McLaughlin, me, Emily Field, Jessie Vetter, Hannah Brandt)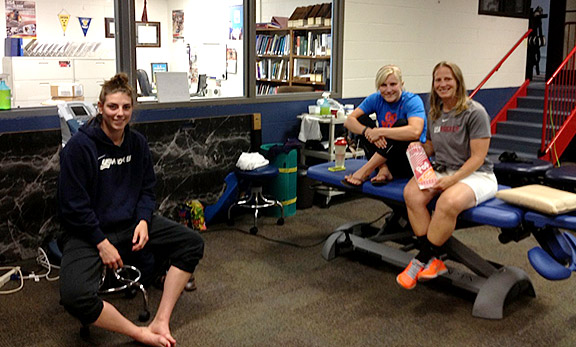 Courtesy of Hilary Knight
Monique Lamoureux (center) and me, palling around with our favorite athletic trainer, Jill Radzinski, aka J-Rad. She is awesome and always brings a smile to everyone's face. We started a "tip" jar for our staff, because popcorn seemed to be a good form of payment. Personally, I paid in sour watermelons and sour worms (there's a theme here…).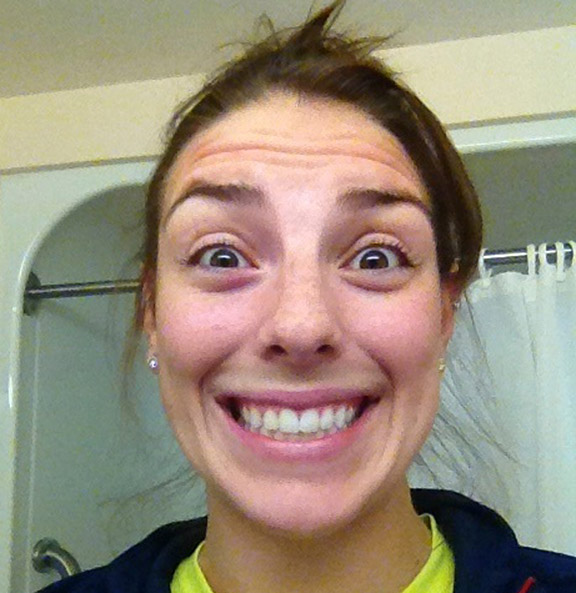 Courtesy of Hilary Knight
My pre-conditioning-test selfie shot. We all have that one thing that we just really do not like to do. Well, the conditioning test is the most grueling thing I have ever done. I'm at the point where mentioning it causes me to sweat, increases my heart rate and immediately gives me that nauseous feeling. So, a coping mechanism (if you will) is to sit in front of the mirror and smile. By smiling I change my body's posture and alleviate some of the anxieties that surround testing. Smiling really does work!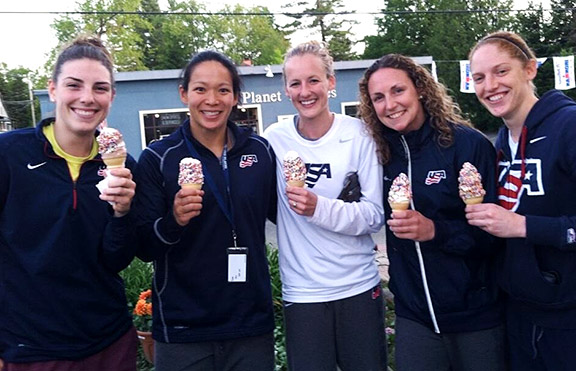 Courtesy of Hilary Knight
Celebrating Bri McLaughlin's sixth -- I mean 26th -- birthday. We had vanilla/chocolate twist frozen yogurt with rainbow sprinkles…yum! (Left to right: me, Julie Chu, Bri McLaughlin, Jessie Vetter, Molly Schaus. This photo is courtesy of Kate Buesser, a non-sprinkle lover who was willing to take the pic!)
April, 18, 2013
4/18/13
3:55
PM ET
By
Hilary Knight
| ESPN.com
Hilary Knight is a forward on the U.S. women's hockey team that won gold April 9 at the world championships.
The past week and a half has been a whirlwind of activity, ending with a victory against Canada for the world championship.
I am honored every time I have the opportunity to represent the United States and compete in the USA jersey. Since it is such a memorable experience, I like to take random pictures throughout my journey with my teammates. Hopefully these will give you a better look at us beyond the times when we are clad in our equipment, competing on the ice or in the gym. It should give you a better feel for our non-gladiator look -- after all, we are the only team who can make navy blue and black look fresh!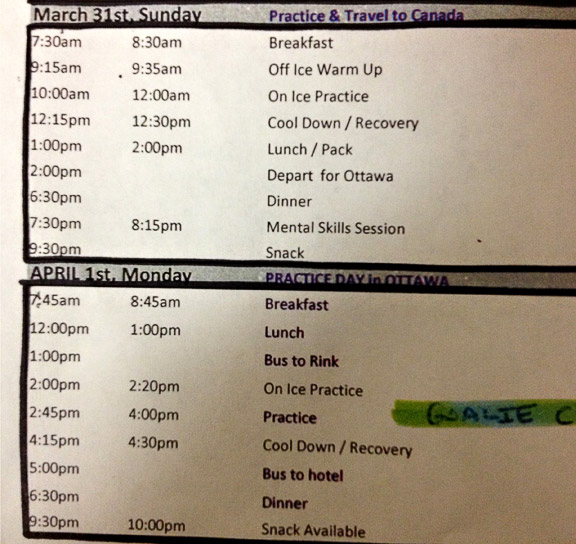 Courtesy of Hilary KnightAt training camp before worlds, invitees were vying for a spot to play for Team USA in this year's world championships in Ottawa. I took a picture of our schedule because March 31, the day we traveled to Canada, was the first step in our quest for gold.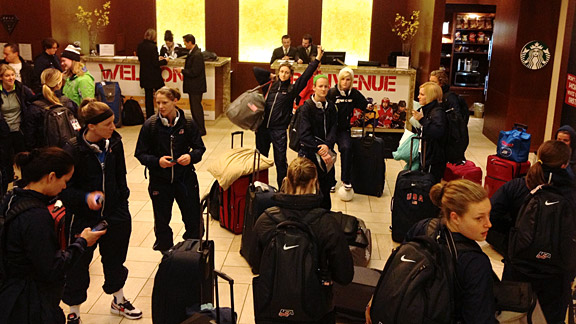 Courtesy of Hilary KnightHere, we've arrived at the hotel in Ottawa! After a bus trip from the Olympic Training Center in Lake Placid, N.Y., to our hotel, we hopped off the bus, excited to scope out our new digs. This is where we called home for the week of the tournament.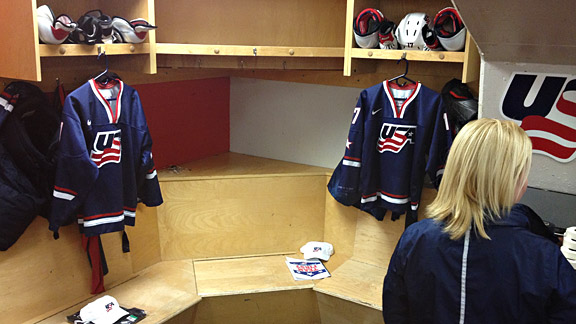 Courtesy of Hilary KnightBrent Proulx, our equipment manager, had everything ready in our locker room. Jocelyne Lamoureux and I have the corner stalls, or as we call it, our honeymoon suite. The corner location is not ideal for chalk talk, but I don't mind the extra legroom!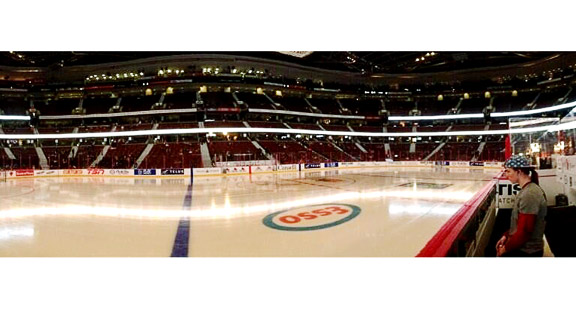 Courtesy of Hilary KnightMy teammate Rigs (Alex Rigsby) snapped this panoramic shot before our first game against Canada. I like to take a few minutes after off-ice warm-ups to sit, listen to music, think and relax before I get dressed in my equipment.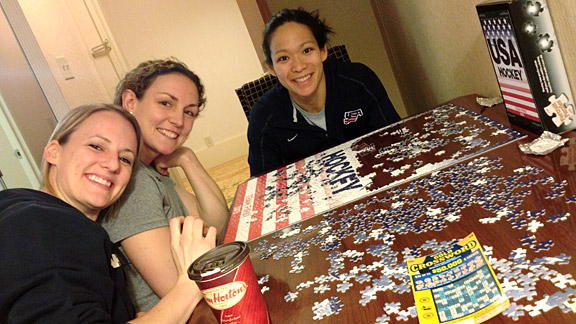 Courtesy of Hilary KnightWhen we weren't eating, sleeping, training or playing hockey you could find us chatting it up in our treatment room/player lounge. Our team loves puzzles, and Brianne McLaughlin, Jessie Vetter and Julie Chu even did a fitting USA Hockey puzzle design.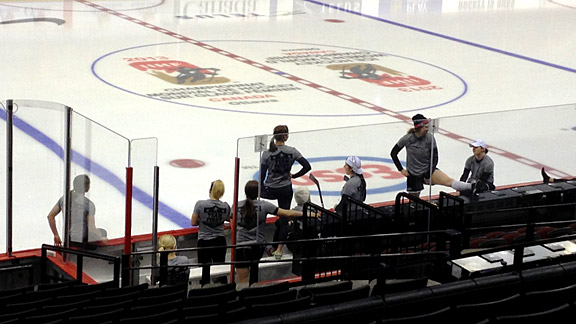 Courtesy of Hilary KnightHere we are, hanging around before off-ice warm-ups during an early game. A few players attempted penguin-belly-slide races on the ice to see how far they could slide past the blue line.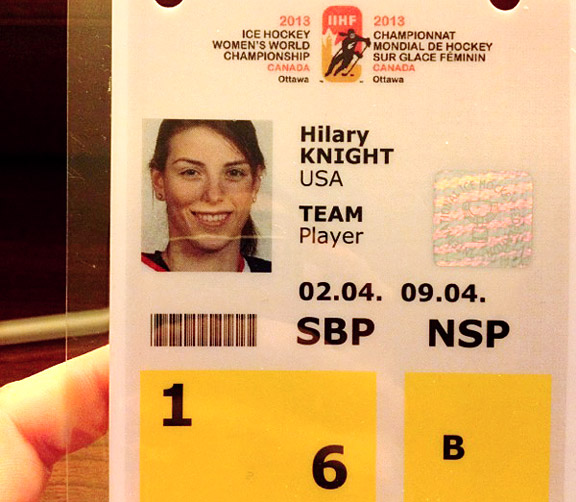 Courtesy of Hilary KnightI'm always so pumped to receive my player credentials! We can't go anywhere around the rink without this.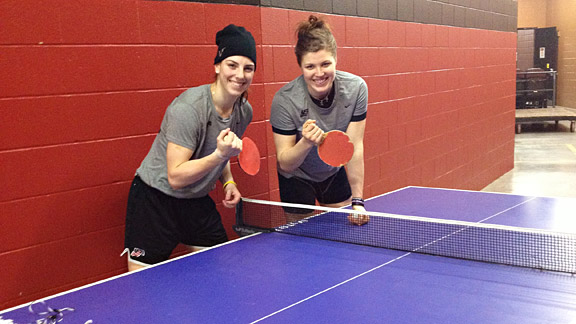 Courtesy of Hilary KnightLook, we found a table tennis table! We might be out of college, but Anne Schleper and I like to keep it light and have fun, and we were pleasantly surprised to find this. Let's just say that table tennis could be a career for either of us.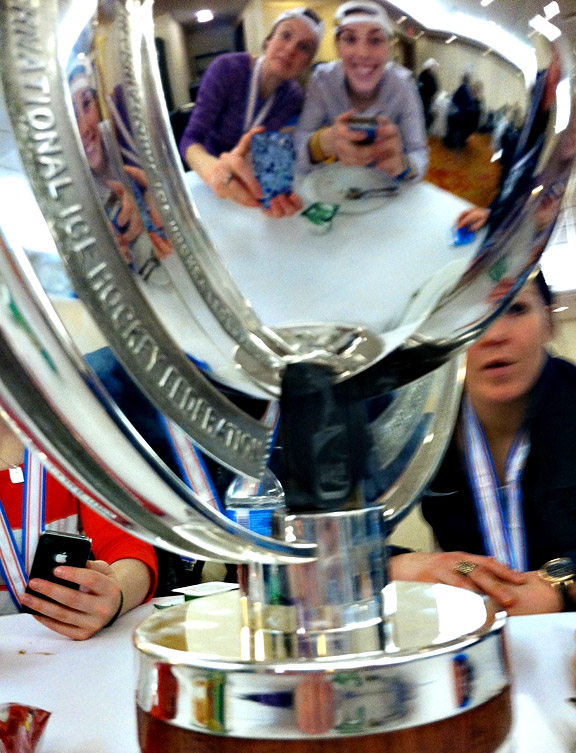 Courtesy of Hilary KnightBrianne McLaughlin and I taking a picture at our post-championship game meal. We thought we were being really artsy. It didn't quite turn out that way, but any picture with the most coveted cup is a great picture!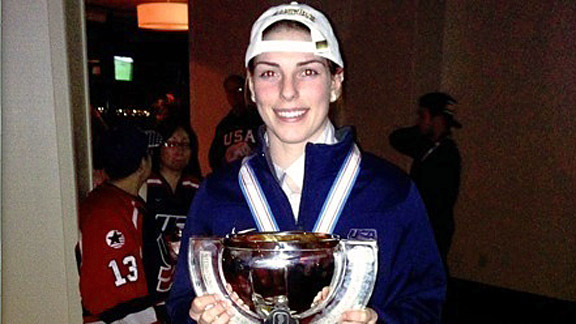 Courtesy of Hilary KnightThe world championship trophy and me having a casual moment during our postgame celebration.