October, 21, 2013
Oct 21
8:33
AM ET
Ron Hoskins/NBAE/Getty ImagesIn 2012, Tamika Catchings, 33, was the only WNBA player to start every regular-season and playoff game, as well as every game in the Olympics.
One year ago today, the Indiana Fever beat the defending champion Minnesota Lynx 87-78 in Game 4 of the WNBA Finals to win their first and only championship. Tamika Catchings, who scored 25 points in Game 4 and averaged 22.3 during the series, was named MVP of the finals. The win gave the 2011 WNBA MVP the final jewel of the women's basketball "triple crown." Catchings had won an NCAA title at Tennessee and three Olympic gold medals and celebrated the WNBA championship at age 33. This year, the Fever were swept by Atlanta in the Eastern Conference finals. The Lynx won their second title in three years.
September, 25, 2013
Sep 25
3:29
PM ET
AP Photo/AJ MastTamika Catchings, center, battles Atlanta's Sancho Lyttle for the ball. The Fever and Dream will meet in the WNBA playoffs for the third straight year.
Confident.
I think that's the best way to describe how we're feeling right now, and the word I use when people ask me about the Indiana Fever.
A lot of people still see us as the underdog. We're playing with just nine players and we're the No. 4 seed, but I don't mind people watching us like that. I kind of like that.
We started 1-7 this year because of a lot of injuries and players being shifted into new roles. Then we started to win a few games. Some people said we just crawled into the playoffs, and they never really knew what to expect from us. But now, I think we are finally starting to play like people expected in the beginning, after we won the championship last year. We have come together and now we need five more wins.
When you get to the playoffs it's all about getting 40 minutes of quality basketball, focused on one goal. Throughout the year, for so many reasons and because of some adversity we went through, we played well for a few minutes here and there -- but it's not until you put together a full 40 minutes that the best comes out.
When we won Game 1 at Chicago, we talked about not getting caught up in that one game. We knew Chicago would come at us with more intensity and more focus. We met the higher intensity and kept it up for 40 minutes.
Against Atlanta, you always think about Angel McCoughtry and Erika de Souza. Both of them were All-Stars this year. And Armintie Herrington is one of the most tenacious defenders in the league. They really thrive off turnovers and getting down the court with easy layups, so we are going to have to take care of the ball.
Defense and rebounding are always our keys. Rebounding is something we have struggled with off and on this year, and Atlanta is one of the best rebounding teams in the WNBA. They send everyone, and I mean everyone, to the boards. So we know we'll have our hands full, but that is why the boards are so important, especially in this series.
If we can take care of both of those areas, shoot the ball well and play within our team offense and defense, I am confident we can do it.
Another big key for us against Atlanta is Erlana Larkins. She is so important to us both offensively and defensively. When it comes to rebounding and her tenacity, she has just been a beast down in the post.
People say she is undersized. And as a team, it seems like we've been undersized over the years. So that's why I think we continue making a difference with our defensive intensity. Erlana is very physical -- that's her game. She has kind of come into her own and, with the rest of us all playing good team defense, we have been able to succeed.
It seems we all are peaking at the right time. Five more wins, but we have to look at one game at a time...
September, 19, 2013
Sep 19
3:53
PM ET
Gary Dineen/NBAE/Getty ImagesTamika Catchings, boxing out Chicago's Swin Cash, says the defending-champion Fever will have to hit the boards to beat the Sky in their first-round playoff series.
It's playoff time, and now is when any team needs to begin making its push for a championship.
I think our season is really split into thirds. You have the first half leading into the All-Star break. Then you have the second half building up to the playoffs. Now, you have a third season.
Our team has had a lot of adversity and transition this season, and there were a lot of people who counted us out. I even saw some WNBA commercials recently that were showing clips from all the other teams and never showed a clip from the Indiana Fever. I stopped and said to myself, "Wait a minute!" At the end of the next commercial, they showed us getting the trophy last year, but I felt like we weren't even being considered to win again.
It's a clean slate for everyone now. It's 0-0 across the board. Now that we have made the playoffs, we don't want to relax. We need to make our push now -- defend our championship. Our energy is really high, and everyone is excited about the competition.
We don't even care where we are seeded. Honestly, we never looked at 1 through 4. Our mentality was just to continue to get better all season and make the playoffs. We knew that once we made it, it doesn't matter what seed we are, because we all have to play. There are just two short series to get to the WNBA Finals, and anything can happen in three games.
I look at the playoffs as an opportunity for the Fever. I don't think we have anything to prove to anyone, but we have a chance to see, still, just how good this team can be. I don't think anyone has seen us at our best.
For the Fever, it all starts with defense. Our team is known for its tenacity. We have a comfort playing with each other, and we know that if somebody gets beat on the wing, the post is there to back her up.
You've seen us coming together in glimpses again this year, but nobody's seen it for 40 minutes like we put together last year in the playoffs. Every single game last year, it was constant. If one person got beat, the next person had her back. I feel like we are getting back to that.
We have a lot of players who have gained great confidence, and we got back Katie Douglas, who is such a big offensive threat and just a threat by her presence alone. Our confidence is up, and now is the time to be playing our best.
I think Chicago is a great team. People might say, "Ahh, you got their number," but that's really a great team. Swin Cash is a great leader, and Elena Delle Donne plays with such poise for a rookie. Then, of course, you can't count out Epiphanny Prince, who's able to create any shot she wants, and Sylvia Fowles -- the beast down low. The Sky have a solid cast with a great coach in Pokey Chatman.
To defend our championship, we have to come out rebounding every single game. We have to do a better job of that. Taking care of the ball is important, and we have to play Fever defense the way we know how to play it.
August, 9, 2013
Aug 9
11:42
AM ET
By
Jessica Breland
| ESPN.com
Scott Cunningham/NBAE/Getty ImagesJessica Breland couldn't find a spot in the WNBA last season but now is contributing to the defending champion Fever.
It is often said that overcoming adversity builds character. This is certainly a statement to which I can attest, as I believe it to be one of the primary reasons I have been successful in returning to the WNBA this season.
Many people may not know that my college career was interrupted by Hodgkin's lymphoma, a form of cancer that originates in white blood cells. I had no idea what it was, but I found out that I had the disease in 2009 while attending summer school at the University of North Carolina at Chapel Hill. I was preparing for a tryout with USA Basketball, and before going to tryouts, I was always tired; however, I attributed this to the fact that I was working out a lot. I also had other symptoms, such as night sweats, difficulty breathing and chest pain, but thought that these symptoms were all due to something else, too.
Subsequently, I went to the doctor for a sore throat that would not go away. After mentioning my other symptoms to the doctor and undergoing several tests, I was diagnosed with Hodgkin's lymphoma and spent the next six months undergoing chemotherapy. I missed that season of basketball. However, I was fortunate to get healthy enough to play again as a senior (2010-2011).
[+] Enlarge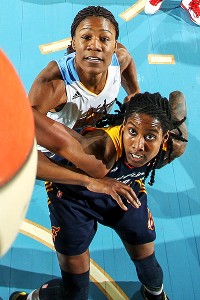 Gary Dineen/NBAE/Getty ImagesJessica Breland has learned to embrace everything she experiences, good and bad, along her life's journey.
The hardest part about playing again was regaining my weight, muscle mass and conditioning. I had dropped to approximately 140 pounds within a week of starting chemotherapy (down about 25 pounds from her average). The saying, "If you don't use it, you will lose it" is true. I struggled to regain my footwork at a top level. My post moves were slower than before, and my foot speed was gone. Getting back into game shape was tough.
When facing adversity, it is often hard to understand the "why": "Why am I going through this?" or "Why me?" I used to ask myself those questions all the time. However, once I finished chemotherapy, I could definitely see -- and can especially see now -- that this experience was a blessing. Not only because I am still able to play basketball, but because I can give hope to others facing adversity.
It is a blessing to be able to show kids that adversity does not have to dictate their future. Your dreams may be postponed, but with the right attitude and determination, you can still accomplish anything. Adversity makes you stronger, builds character and makes you better. I have learned to embrace all that I experience, good and bad, along my journey as I prepare for my next battle.
I have had many bumps in the road since my senior year at UNC. I was drafted into the WNBA and played at the beginning of my rookie year with the New York Liberty before getting cut midseason. The Connecticut Sun picked me up to finish the season. Last summer, I was cut during training camp by both the Sun and the Washington Mystics. Needless to say, I had doubts that I would be able to play at this level. I kept pushing forward and fighting, using the strength and knowledge gained from the challenges I had faced. Although I was disappointed with the outcome of my rookie season and the fact that I did not make a WNBA team last year, I continued playing professionally for the past two winters in Israel.
Since receiving a second chance in the WNBA with the defending champion Indiana Fever, I think I have become a better player. I know I am a better person, and I am thankful to have this chance again. The character traits I've developed through my experience, such as patience, respectfulness and reliability, have made me better on and off the court.
There was a period after undergoing chemotherapy during which even walking across campus to get to class was physically challenging. Now, I am playing with one of the best teams in the WNBA. Yes, I definitely believe that overcoming adversity builds character.
July, 25, 2013
Jul 25
4:02
PM ET
Ron Hoskins/Getty ImagesYes, Fever coach Lin Dunn might like a couple of days off to prepare for the second half of the season, but she's thrilled to be coaching against Cheryl Reeve in the All-Star Game.
I'll be coaching the East in Saturday's WNBA All-Star Game, and I think it's obviously a great thing that Cheryl Reeve and I will be coaching this game.
It's always an honor to coach a marquee event like an All-Star Game. For both of us, it's a reflection of the good teams we have had, playing each other in the WNBA Finals last year, and so for that it's nice to be recognized.
What is special, though, is that it's the first time there have been two female coaches in the All-Star Game. That's saying something since this is the WNBA. I was actually surprised when I was told that was the case, since our league stands so strong for women. But I guess it just shows that we need to have more women win a championship!
Looking back, I guess we've just had three of us win a championship -- Anne Donovan, Cheryl and I. So I think it's good for the game. It's good to have female role models in leadership positions. It's another reason we need to have a female president!


Do I take any particular pride in being a part of the first game with opposing female coaches? Absolutely! I think that any time you have a woman in a leadership role who is successful, it creates a mentor role model for all women. I think that can only be positive.
The truth is, with the Indiana Fever, we've had a rough start to our season. Fortunately, we've gotten a little better of late, but my mind really hasn't been focused on coaching this weekend in Connecticut. I'd have loved to have a couple of extra days to recover for the second half of the season, but like I said, this is a benefit of being in the Finals last year.
For that, I wouldn't change a thing, and Cheryl and I will try to make things entertaining for the fans. See you at Mohegan Sun!
June, 18, 2013
Jun 18
8:48
PM ET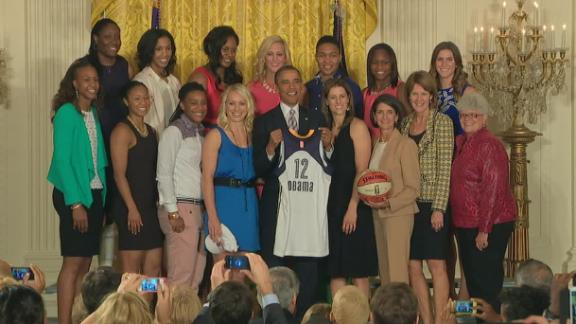 Visiting the White House was a great way to finally put a cap on our championship from last year! It's kind of tough still talking about last year's title while our current team is struggling with so many injuries, but there's no denying what a great privilege it is to be hosted by the President of the United States!
We had some travel difficulty getting there, with a bunch of flight cancelations due to storms in the D.C. area, and players and coaches split on about four or five flights the following morning. Everyone arrived OK and it really was a great day to spend an afternoon at the White House.
This one was special. It was special because it honored our championship and we got to share the experience with each other -- our teammates and our friends and families.
I have been there a couple of times, but instead of meeting and mingling with prominent people who I was meeting for the first time, this time I got to celebrate with my friends and teammates. It's kind of a once-in-a-lifetime opportunity to go with a team. To be able to share it with my sister (Tauja) and see the excitement on everybody's faces made it so much better for me. It made it more special than any other visit I have made.
It was cool to visit with President Obama again. He is always so positive. We had about five to 10 minutes of casual conversation before we all got staged for the ceremony. Whenever he walks into the room, people just stop and pay attention. He was so gracious to all of us and there was a lot of positive discussion as people got to meet him for the first time. It was cool to see all my teammates get to shake his hand and say hello.
Erin Phillips told him she was from Australia and he said, "G'day!" That made me laugh.
Another light moment was when he came to me and asked me how the season was going. I smiled and said: "Let's talk about last year!" That got everyone around us laughing.
I have obviously been blessed to play this game at this level; and play for so long and have so much success. This championship has been just one example, and obviously capping our championship celebrations with a trip to the White House was icing on the cake.
Now, our team needs to focus on how to win games with so many of our teammates still being out with injuries. My focus is on winning again, and as always, to further the Catch The Stars Foundation.
Maybe I'll make it back to the White House one day. But no matter when and if that happens, with another team or for any other event, this trip will remain special because I got to share it with so many people that are close to me. I'll always remember it for the smiles I got to see on so many faces that mean so much in my life.
June, 14, 2013
Jun 14
9:43
AM ET
By
Briann January
| ESPN.com
Cal Sport Media/AP ImagesBriann January promises to find something special for her dad when she visits Washington D.C.
What does Father's Day mean to me?
Father's Day is a very important day for me. My dad and I have a great relationship; I've always been somewhat of a daddy's girl. It's a day to honor him for all he has done for me in my life and show my appreciation.
Growing up, my dad was my karate instructor and we used to do karate all the time. Those experiences taught me so many lifelong lessons. He instilled in me the discipline and focus required for sports and those values have helped shape the woman I am today.
When I was young I was involved in so many activities that were time consuming and costly. If it wasn't for my dad's relentless hard work I would have never had those opportunities. He did whatever he could to help me get where I wanted to be -- whether it was getting me to extra workouts or buying me new basketball shoes. You know, when times were tough or if money was tight, he always figured out a way to make it work, he always wanted to provide for his family.
On this day in particular, I feel it's important to reflect back on our relationship and what he has meant to me.
Now that I am older, I try to do whatever I can to show him my appreciation for all he has done.
When it's his birthday or maybe on Christmas, I usually try to get him a special gadget or something he can use -- he likes that kind of stuff. Now that I'm away so often and traveling all the time, I try and provide him opportunities to go places and see things that he maybe would not have had the chance to experience. And what makes it even more special is that I am able to experience it with him and my family.
For instance, I was playing over in Israel during Christmas time this year and I flew my parents and sister out so we could spend the holiday together. It was pretty special having them there with me.
Father's Day though, is a chance for me to spend a few moments just between him and me, even if I'm a thousand miles away. Sometimes we keep it lighthearted; we have a similar sense of humor. I'll tease him that he can't spar with me like he used to -- he knows I get the best of him now, and then he'll mess with me right back. But I will always take a moment to express to him, in all seriousness just how much he means to me.
This Father's Day we will be at the White House and traveling in Washington so I think I'll try to get him a little memento of our trip -- something that I can share, that he knows comes just from me and from my heart.
For Barry January in Spokane, Wash., from me to you -- Happy Father's Day! Your little girl just got you a little shout out on ESPN!
May, 24, 2013
May 24
1:20
PM ET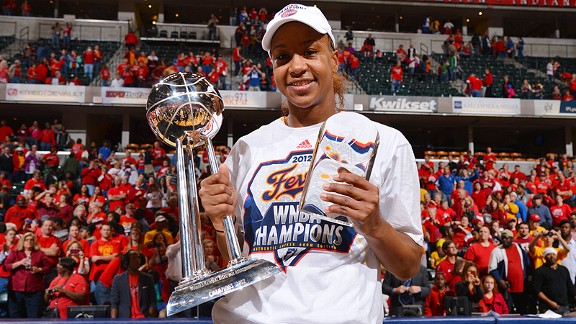 Jesse D. Garrabrant/NBAE/Getty ImagesTamika Catchings knows the defending champion Fever will have a target on their backs.
When I was asked to write this blog, my first thought was: "How and when am I going to get this done?" It has been a busy week for the Indiana Fever, and me, as we get ready to begin our season on Friday.
But when I sit back to reflect on my thoughts, I guess the best thing to convey is that I have been so very blessed in my life and this week is really a reflection of all of it.
It is WNBA Cares Week and, for me, that coincides with one of our biggest events of the year for my Catch The Stars Foundation. On Wednesday night, we hosted our annual scholar-athlete reception in which we gave away scholarship money to deserving Central Indiana high school scholar-athletes. All of our recipients are so deserving, and humble and thankful. And it just makes me feel so good every time our foundation has the chance to do something like this in our community.
The Catch The Stars Foundation has been alive since 2004 and we have grown in our programs and donations each and every year. It's humbling to be able to lend a hand as we do, and it's exciting every time we can make a big gift to make someone's life better. It's the same feeling we get during our clinics and camps and other events --- every time you can put a smile on someone's face, you receive as much as you give. It sounds corny, maybe, but it's true.
It is kind of surreal to think we're starting a new season already. We know that the Fever has a target on its back this season as defending champs, but that is something that was earned last year and obviously something I'd never give back!
Winning that championship in October was something I'd waited for my whole life. But you know, leaders and champions aren't made by looking back on past accomplishments. The only goal ahead of me and my teammates is to win on Friday night and pursue the same excellence we achieved in 2012. We'll only win if we continue improving because everybody in our league is not only out to take our trophy, but they've gotten better. Our league is always getting better. We won't win again unless we get better ourselves.
And I guess that's the way I look at our foundation, too. We've done some nice things and I'm so proud of our staff and volunteers and sponsors for last night's event. But so many people still need our help -- whether it's giving kids in our community the chances they might not otherwise have; or helping the handicapped or disabled or elderly; or even those struck by tragedy like those in Oklahoma last week. We have to always get better.
-- Tamika Catchings