April, 28, 2014
Apr 28
9:11
AM ET
AP Photo/Lee Jin-manJessica Hardy has been on the U.S. national team with Michael Phelps since 2005.
I have to admit: It's not often that the whole world is talking about swimming in the spring of a non-Olympic year. That's what happens when the most decorated Olympian of all time decides to come out of retirement. The return of Michael Phelps is a great thing for our sport, and we were excited to have him back in competition at the Arena Grand Prix in Mesa, Ariz., last week.
As expected, there was a big media presence at the event. There was even a helicopter circling overhead, which isn't exactly typical. Although most of the press attention was focused in Michael's direction, all of us enjoyed the atmosphere. The crowds were huge!
The swimming community is a close-knit group, so news of the Phelps comeback wasn't a total surprise. We train on opposite coasts, but I know from fellow swimmers that he's been a familiar face at his home base in Baltimore. He's even made himself available as an unofficial mentor to the national team.
It's always hard to believe that a larger-than-life sports star is actually humble, hardworking and introverted underneath it all. That's Michael Phelps in a nutshell.
We first met when I was a rookie teenager; he already was a big star in the swimming world. He had an unmistakable air of confidence, but he didn't cross the line into cocky territory. In fact, he was pretty quiet, listening to music on those big headphones or playing cards with a few other guys.
That individual approach to his swimming seemed to change two years ago in London. He always has inspired us with his swimming and set a great example for how to handle success, but that summer he appeared to be more laid-back. He joked around with his teammates and even spent time in our team room, which I had never seen him do before. At the time, he was adamant that the Olympics would be the last meet of his career, so I'm guessing he decided to savor every moment. I imagine I'll feel the same way when I reach my finish line two years from now in Rio.
I don't know the exact reason for Michael's return -- it could be anything from boredom to competition withdrawals -- but I hope the media, and even his fellow swimmers, can allow him to maintain his London outlook and swim for the fun of it.
Michael Phelps has accomplished everything there is to accomplish as an athlete, so this comeback, no matter how long it lasts, is just icing on the cake. He has always wanted to make the sport of swimming as big as the NBA, and he's gotten us off to a pretty good start.

February, 11, 2014
Feb 11
5:52
PM ET
Ian MacNicol/Getty ImagesJessica Hardy is drawing motivation for her own training by watching the Winter Olympics in Sochi.
Confession: I'm a nervous wreck while I watch the Winter Olympics on TV. I get so stressed! I know just what it's like to be so close to realizing your dream, and I get so upset when athletes stumble on a ski jump or fall on the last lap of a race. I feel their disappointment in such a real way.
Plus, let's be honest, the danger factor in the Winter Olympics is just a tad higher than in most Summer Olympic sports. I'm always afraid I'm going to see someone break a bone or get a concussion.
[+] Enlarge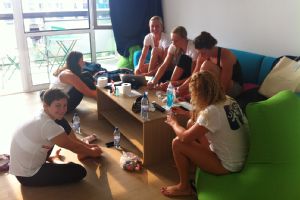 Credit to Jessica HardyJessica Hardy and her teammates painting their toenails at the Olympic Village in London in 2012.
But even with the stress and the fact that my winter sports experience boils down to a little recreational skiing, I absolutely love watching the events in Sochi. It brings me back to my time in London almost two years ago.
I know a lot has been made of the conditions over in Russia, but I'm confident the athletes are taken care of. My experience in the London Olympic Village was very similar to "welcome week" in college: lots of noise, lots of laughs and not a lot of sleep. The walls were paper-thin and the athletes next door had a habit of playing the drums at all hours of the day and night. But the excitement level is so high that your surroundings and accommodations are secondary; you're just eager to compete.
Best of all, the Winter Olympics remind me that the Summer Olympics are not that far away. Just the thought of Rio adds a little extra fuel to the fire in my training. In January I swam in the Arena Grand Prix where I ended up posting the fastest time in the world for the 100-meter breaststroke.
[+] Enlarge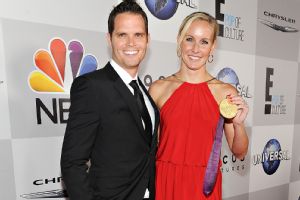 Angela Weiss/Getty Images for NBCUniversalJessica Hardy and her husband, Swiss swimmer Dominik Meichtry, had a blast meeting Matthew McConaughey at the Golden Globes.
That same Grand Prix meet allowed me to do something I've never done before: poll my Twitter followers and Facebook fans to ask what stroke I should swim for the 50 free. Technically, in a "free" style event, you can swim whichever stroke you prefer. I gave fans the choice of a traditional freestyle stroke or breaststroke. Can you guess which they chose? Yep, breaststroke it was. I came up only a tenth of a second off the girl who has the top freestyle time in the world so far this year. Not bad!
I've had some excitement out of the pool as well. I was able to attend the Gold Meets Golden gala at NBC's official Golden Globes after-party. It was a once-in-a-lifetime event! Since I spend most of my time in sweats with soaking wet hair, it was fun to dress up for a change. I got to see some fellow athletes and plenty of famous actors. I even got to meet Jessica Chastain and Matthew McConaughey! They both impressed me, but McConaughey, in particular, was so unguarded and uninhibited. You don't expect that from a big Hollywood star.
For now, it's back to the pool for me. Though training can definitely seem like a drag with four years in between Olympics, I've learned to focus on something new every day in order to keep myself stimulated and, most importantly, feeling positive. The Winter Olympics are helping with that, too. You just can't help but be inspired. Now, if you'll excuse me, I'm off to watch the action in Sochi!
November, 12, 2013
11/12/13
8:15
AM ET
Courtesy of Jessica HardyJessica Hardy spent lots of time in the water during her honeymoon in Phuket, Thailand -- sometimes up to six hours a day.
It's official! After seven years together, I finally tied the knot with my best friend and fellow swimmer, Dominik Meichtry.
After the world championships ended in August in Barcelona, we had a small reception in Dominik's home country of Switzerland for those who wouldn't be able to make the main event Oct. 5. When we returned from Europe, the wedding countdown began.
Though I somehow managed to stay in shape during that time, I definitely had what I would call an "unconventional" training schedule. Anyone who has planned a wedding knows that it can be stressful trying to make everyone happy before the big day. Let's just say I too was excited to reach the finish line.
[+] Enlarge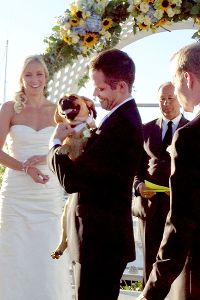 Courtesy of Jessica HardyJessica Hardy married fellow swimmer Dominik Meichtry on Oct. 5. Their dog, Duke, served as reluctant ring bearer.
Our relatively small, laid-back ceremony took place on dry land at the Long Beach Yacht Club in California, but the water wasn't far away. The venue is located right on the ocean, and we even recited our vows poolside. Our mutual sponsor, Speedo, was nice enough to make us custom "Mr. and Mrs." suits and caps. We did a fun underwater photo shoot just a few days before the festivities.
As far as the wedding day itself, I only have one complaint: It went by too quickly! The highlight was the ceremony. Dom and I convinced our coach of many years, Dave Salo, to officiate. His speech was short, sweet and absolutely hysterical. He also was very helpful in guiding our dog, Duke, down the aisle as ring bearer.
Afterward, we headed off to Phuket, Thailand, for an awesome 12 days. Though I didn't know much about the area going in, it was amazing. You could just as easily relax by the pool as ride an elephant or go white-water rafting. And it was so affordable! We got fantastic massages for less than $20. Of course, the food is always a big part of any honeymoon, and we had our fill of the super spicy Thai cuisine, too.
Believe it or not, Dom and I got plenty of swimming in while we were there. When the hotel staff heard we were newlywed Olympians, they upgraded us to a room with a 47-meter private pool! Between that and the ocean, we were swimming up to six hours a day. Let's just say that the honeymoon didn't set us too far back as far as training goes.
We haven't gotten to ride any elephants since we've been back in California, but nonetheless, it's been nice to settle back into our routine. I will be competing next month at the Dual in the Pool event in Glasgow, Scotland, where the U.S. national team will face off against a group of European all-stars.
Given my inconsistent training lately, I'll be going in with no expectations -- I'm just looking forward to the challenge. After that, I plan to shift my focus to next summer's Pan Pacific Championships.
In the meantime, I'll be enjoying married life. I've heard that some people experience a letdown after the wedding and honeymoon, but so far we seem to have avoided that. We love the fact that we are officially teammates for life.
So often the media portrays pro athlete relationships as a negative -- a distraction -- but I see it differently. Not only does Dom understand the unique challenges I face on a daily basis, but he has also been there to support me through some major highs and lows (believe me, there have been plenty of each in the last seven years!).
If anything, our relationship has renewed my perspective. In fact, I now know there's a lot more to life than swimming. Or at least, if you're going to swim all the time, you might as well do it in a private pool in Thailand!
April, 11, 2013
4/11/13
9:12
AM ET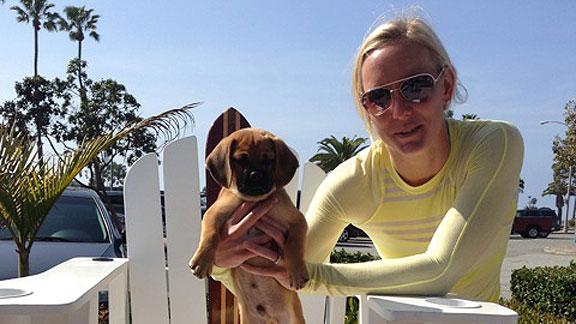 Courtesy of Jessica Hardy Jessica Hardy hanging out with her new puppy, Duke.
What a difference a year makes. At this time last year, leading up to the London Games, there was a lot of anxiety in my life. After my suspension just before Beijing, I was afraid I wouldn't get another shot at the Olympics. Even if I did perform well enough to make it to London, I worried I wouldn't perform my best once I was there.
Now, with two Olympic medals under my belt, I treat life differently. In addition to being more relaxed, I've gained a better understanding of the big picture. I've toned down my training a bit (three hours a day instead of six), and if I see a brownie lying around, I might even let myself eat it. Don't get me wrong; I'm still just as competitive as I've always been. But for the first time in my career, I've learned to spend a little more time having fun and enjoying life. I highly recommend it!
[+] Enlarge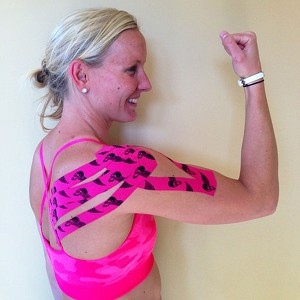 Courtesy of Jessica Hardy"Some of the maintenance a 26-year-old body needs," said Jessica Hardy.
Since I haven't competed at all this year, I've had the opportunity to do things that weren't necessarily available to me before the Olympics, like appearances, photo shoots, motivational speaking and clinics. It's been a blast. I'll be participating in the Toyota Grand Prix pro/celebrity auto race in Long Beach, Calif. I recently spent five days training for the event, and I'm amazed at how much technique is involved. It's like swimming, in some ways: You need the technique before you can apply speed. For the record, racing 105 mph around a track is a great way to get some aggression out of your system.
With all the fun as I'm having out of the pool, it's tough to get excited about the daily training grind. On one hand, I have three more years until the hard work really matters again at the Olympics, but I also have some things I'd like to accomplish at the world championships this summer. Over the past couple of years, I've been about a tenth of a second off the world record in the 50-meter breaststroke. I'm a little superstitious when it comes to sharing my goals, but that's one record I would love to get my hands on.
Even though I'll be 29 once Rio rolls around in 2016, I definitely believe I can make it there. Maintaining a healthy body gets tougher every year (thank goodness for chiropractors!), but, after missing out on the Beijing Games, I'm hungry for one more Olympic experience.
[+] Enlarge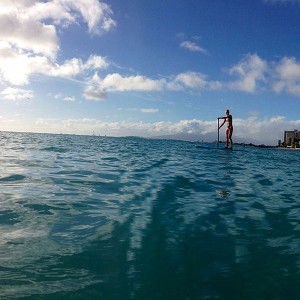 Courtesy of Jessica Hardy "On my stand-up paddle board, loving my downtime," said Jessica Hardy, who's had a more relaxed training schedule this past year.
Until then, my priority is my happiness. I recently decided to move back to my hometown of Long Beach. I could live without my one-hour commute to the pool every morning, but I'm reaping the benefits of living near family and friends. In my downtime, it's so nice to be able to hang out at the beach or have dinner (preferably Japanese or Mexican food) with a group of old friends. I'm also the proud new owner of a puggle puppy named Duke.
On top of everything else, I'm excited to be marrying my fiance, Swiss swimmer Dominik Meichtry, this fall. Our schedules make for a lot of time apart, so it will be nice to make things official. I'm happy to report that wedding planning hasn't been quite as nerve-racking as I was anticipating.
It's fascinating to see how a change in perspective has freed me up to enjoy my sport and my life in a new way. During and after my suspension, I struggled with depression and post-traumatic stress. Now, thanks to some therapy, some work with a sports psychologist and even some brain training, I've learned that there is nothing to fear. If I put my mind to something, I know I can accomplish it.
November, 13, 2012
11/13/12
2:22
PM ET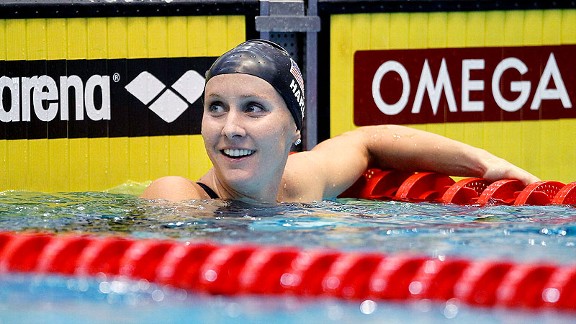 Boris Streubel/Bongarts/Getty ImagesJessica Hardy has had a smile on her face since her Olympic dreams came true in London.
I didn't expect winning Olympic medals to feel quite this good!
Since I started swimming, I've dreamed of competing at the Olympics and earning medals with the U.S. team. Seeing those dreams become reality this past summer has brought me immense satisfaction. Life since London has been more relaxed, and I have a big smile on my face all the time. I'm extremely grateful, and in many ways, fulfilled.
But I'm not done. Having those Olympic medals has not changed how I love swimming and the racing lifestyle. I'm a competitive person (some would say super-competitive), and even now, with my suits hardly dried out, I feel a strong urge to continue.
[+] Enlarge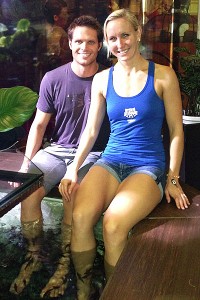 Courtesy of Jessica Hardy Jessica Hardy and her fiancÚ, Dominik Meichtry, get their feet cleaned by fish while in Singapore for the final leg of the World Cup series.
I did take a break after London -- I took a month off and did some inspirational speaking and clinics with children. I was part of a parade in my hometown of Long Beach, Calif., and traveled to the White House with many other members of the U.S. Olympic team.
I missed training, though. You get into this structured routine, and you begin to feel strange when you're not doing it. It was weird not to have a purpose. Sure, I could sleep as late as I wanted, but at the same time, I began to wonder: now what?
That feeling made it easier to return to the pool. My training regime is a bit lighter than it was before the Games: I had been doing three hours of dry land -- what swimmers call cross-training -- per day, and now I do two hours of dry land a couple times a week. But I still get up at 6 a.m., drive an hour to practice, and am in the pool at 7:30.
Remember those commercials where the winner of a Super Bowl or Olympic gold medal would be asked where he or she was going next? The answer was always "I'm going to Disney World!" During the months since London, I've traveled all over the world -- almost everywhere except Disney World, in fact.
I just got back from the World Cup series, and I'm very happy with how I did. I started off stronger than I expected after the nice post-Olympic break, and swam myself into even better shape by the end, ultimately going best times in the world for this season so far in the 50- and 100-meter breaststrokes. I ended with lots of medals, and lots of experiences from around the world.
I traveled as a "mentor" with the U.S. junior national team in Europe, so I had a lot of fun meeting the up-and-comers in our sport. They taught me about the iPhone app Snapchat (it's all the rage, apparently!) and we saw some amazing things like St. Basil's Cathedral in Moscow and the Berlin Wall in Germany.
The last part of the World Cup series was in Asia, and since I've been to Singapore, Tokyo and Beijing before, it was a more relaxed sightseeing schedule. My fiancÚ Dominik (a Swiss swimmer) and I visited friends in Japan and enjoyed awesome cuisine -- from teppan to sushi on a conveyer belt. In Singapore, we had our feet cleaned by fish, which tickled almost to a point of being painful! It was a nonstop, whirlwind trip, but was so much fun too.
Now I'm setting my sights on South America. Four years from now, Rio de Janeiro will host the 2016 Games. Though it's still very far away, the London experience got me hooked, and I already know that I want to try to make that team to Rio. I'm the world-record holder in the breaststroke, an event I didn't even compete in at the London Games. So that's one goal: to compete breaststroke in Rio. And to keep pushing myself, because there's more I want to do in this sport.
August, 10, 2012
8/10/12
12:34
PM ET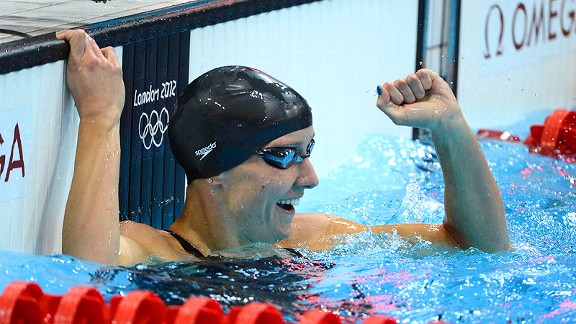 Kirby Lee/USA TODAY SportsWinning a gold medal and a bronze in her first Olympics gave Jessica Hardy plenty of reason to smile (not that she needed one).
My racing is complete, and my suits are drying out for the first time in longer than I can remember.
Swimmers don't get much of a break. We pretty much train full time, year-round, which I have done for my entire career. (I have been on the national team since 2005.) It feels nice to sleep in and worry about when I need a shower rather than when I need to hop into a cold pool. I am enjoying the mental and physical vacation.
My racing went extremely well. I finished my first Olympic Games with two medals, a bronze in the 4x100-meter freestyle relay and a gold from swimming the prelims of the 4x100 medley relay. I swam a lifetime best in the individual 100 freestyle, raced in three Olympic finals -- 4x100 freestyle relay, 100 freestyle and 50 freestyle -- and definitely had the most fun of any athlete competing at the Games, if you couldn't tell by the perma-smile I had plastered on my face the entire time.
I raced until the final night of swimming, but I got to do some sightseeing before leaving London. I saw the Williams sisters win doubles gold, the Andy Murray versus Roger Federer final and Misty May-Treanor and Kerri Walsh Jennings' quarterfinal beach volleyball match. I went on the London Eye and even got to visit some sponsors' houses around the city. I am currently at my fiancÚ's family house in Switzerland for a few relaxing days before heading back to the village for the closing ceremonies.
I am not sure when I will be getting in the pool again, but I look forward to running, yoga and gym workouts when I get home. It will be nice to stay in shape with some cross-training and not be staring at the black line at the bottom of the pool for a while.
August, 1, 2012
8/01/12
12:51
PM ET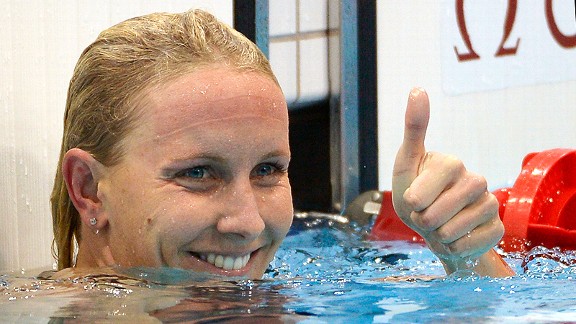 AP Photo/Mark J. TerrillJessica Hardy gives a thumbs up after her 100-meter freestyle heat Wednesday.
You asked U.S. swimmer Jessica Hardy questions via Twitter, and she answered. She weighs in on her love for the sprint events, her swimming strengths and her time in London:
Tina, @TinaLaswim: Have you considered competing in the 200m breaststroke, and if yes will it be in recent future? Congrats and good luck!
Hardy: Thank you very much! No, I won't be racing that event anytime soon. I am having too much fun in the sprint events!
Donal Murphy, @polladdy: Which is stronger, your arms or your leg element of the stroke?
Hardy: Definitely my legs, I have some quadzillas!
Mary Christopher, @SwimmerGirlMary: When and how did you realize you wanted to be an Olympian?
Hardy: My best memory was while watching the swimmers during the Atlanta Games on TV when I was a young girl.
Matt Henbest, @mattpuma: Are you enjoying our English hospitality?
Hardy: LOVE it here! Thanks for putting on such an amazing show!
Amanda, @iadoreMPnRL: What is one thing you want to accomplish before you leave London?
Hardy: Stepping foot on the blocks here at the Olympic Games has already been my dream come true! Everything else is a cherry on top.
July, 26, 2012
7/26/12
10:57
AM ET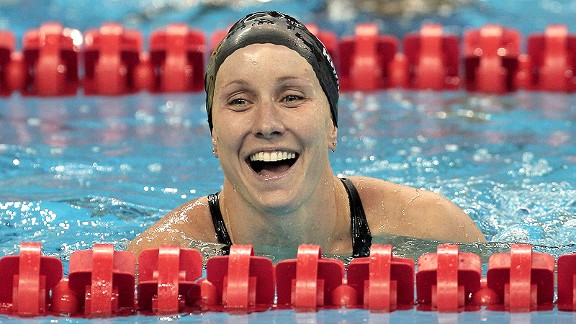 Adam Pretty/Getty ImagesJessica Hardy is already having a blast -- at training camp in France, at the Olympic pool and in the village.
Greetings from the Olympic village! The swim team arrived on Monday, and I have finally finished unpacking the cornucopia of clothes that we found waiting for us in our rooms upon arrival. I have seven suitcases stuffed into my dorm room! We are going to be styling during the games.
We had our preparation camp in Vichy, France, before coming to London. It's safe to say that we were taken care of extremely well in France. We had beautiful sunshine to accompany us when we trained at the outdoor pool there, and for good measure, we also had an indoor pool with a waterslide. Since there was an extremely competitive group of people at that camp, we had as much fun trying to get down the slide as fast as possible as we did racing in the pool.
But I did get some great work in since our Olympic trials a few weeks ago, and I am really excited to begin racing this Saturday here in London. The competition pool is the most breathtaking venue that I have ever seen. The pool has beautiful details, down to the very last tile laid on the bottom. The stands are so vast that when you're near the starting blocks, you can only barely see the top row. I can't wait to feel the energy when it is filled with spectators watching us compete.
The village is also quite amazing. It's my first Olympic Games, so I don't have anything to compare it to, but all of my teammates say that it's the best one they've seen. My suite has a gorgeous balcony view overlooking the center square of the village, and I have been enjoying some serious people-watching in my downtime. It's a blast trying to guess which country everyone is from, as well as which sport they play.
So far, my Olympic experience has surpassed anything I could have ever imagined, and the Games haven't even officially started!
July, 6, 2012
7/06/12
4:01
PM ET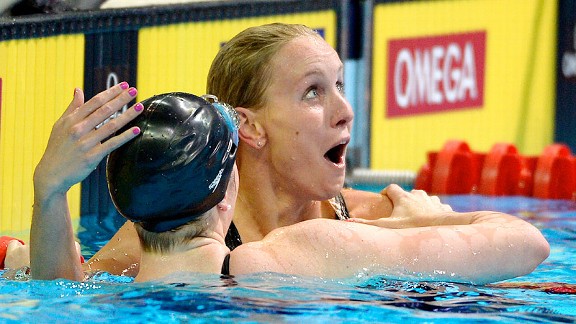 AP Photo/Mark J. TerrillJessica Hardy was shocked and thrilled to win the 100 freestyle at the Olympic trials, just three days after she failed to qualify in the 100 breaststroke (her best event).
When I touched the wall at the end of the 100-meter breaststroke final last week at the U.S. Olympic swimming trials, my first thoughts were happy ones. I knew it had been a good race, but then I looked at the scoreboard.
My name was third behind Breeja Larson, a girl I had never raced against, who put up an amazing time of 1:05.92, and Rebecca Soni, the 2008 Olympic silver medalist in the event.
Third place meant I wasn't going to London.
I was completely shocked and heartbroken. I was second in the world going into the race, and I think I was first in the world at one point this year. It was my best event and best chance to make the team. I was scared the Olympics might not happen for me at all.
For the next 24 hours, I just kind of survived. I'm not going to lie -- I cried pretty hard. I had to withdraw in 2008 after qualifying to compete in Beijing, and now I had to process that I might not be in London, either. I spent a lot of time talking to my fiancÚ, Swiss Olympic swimmer Dominik Meichtry. He made me feel a million times better, saying he believed in me and this was not going to be the end result at trials. It took a little while, but I was able to get my mindset back to having fun and being grateful that I was there competing in the first place.
I got back into the pool for the 100 freestyle and swam pretty close to my best time in prelims. I made it into the final, and this time, when I touched the wall and saw my name, it was completely different.
I had won.
I absolutely couldn't believe it. The 100 free is my weakest event and I swam my best time ever. At 25, I didn't see that coming! I was honestly thinking, "Just place in the top six," so that I could have a relay spot on the team. There were that many awesome athletes -- like Missy Franklin, Allison Schmitt and Natalie Coughlin -- in the race. To get first, no way! I was the one least likely to win. It was the night of my life.
Two nights later was the icing on the cake; I was able to win the 50 free, as well. I thought I could possibly win that race after the 100 had gone so well, but I wasn't sure. In the 50, if you make one mistake you're out, so you have to swim a near-perfect race. Needless to say, I was thrilled to win, and it was exciting to race against Dara Torres, a true legend in our sport. She's been winning since way before I was even born, and has had enough success for 10 lifetimes. She's made us all realize that our swim careers can last much longer than we ever dreamed possible.
Now, I head to Tennessee for training camp this weekend, then on to France to train, and finally to London. It's a weird transition for me right now since I didn't qualify in the breaststroke, and I'm only training freestyle. I've always been a breaststroker and I'm insanely sore right now from all of the increased freestyle training! Freestyle is more instinctual, and takes more brute force. But it's more relaxed, too, because in breaststroke you really need to think about your technique a lot, and it requires more warm-up and stretching, and takes more time overall. It's an interesting challenge to try to focus on my weaker stroke, and I haven't been racing freestyle as long so I have a lot more room to learn and improve.
I'm not sure I believe I'm really an Olympian. It just hasn't sunk in yet, but it's starting to. After all the ups and downs of trials and everything that has happened since 2008, I will have the biggest smile on my face when I get the chance to step on the pool deck in London.
May, 31, 2012
5/31/12
2:56
PM ET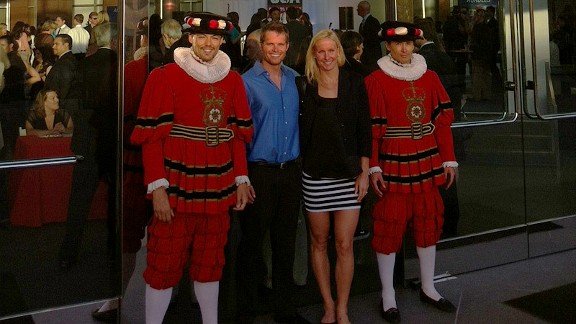 Courtesy of Jessica HardyJessica Hardy and her fiance, Swiss swimmer Dominik Meichtry, are hoping to both be in London this summer, swimming for different countries but with the same goal: an Olympic medal.
There are some days when the absolute last thing I want to do is wake up before dawn on a cold morning and jump into an equally cold pool. But there is one thing that makes it so much better: my fiancÚ Dominik Meichtry is right there with me. We met on the UC Berkeley swim team my freshman year, and now we live together in Santa Monica and are both training for this big swim meet we have coming up in London this summer.
While Dominik, a Swiss citizen, earned his Olympic ticket at the world championships last year, I won't have my chance to make the U.S. team until the Olympic trials, which start June 25 in Omaha. In the meantime, it's a huge motivator to know he's going. I'm his biggest supporter, and I want to be there with him whether I make the team or not. Obviously, though, my heart is set on competing -- and medaling -- at my first Games. It would be so incredible to do that together!
Well, maybe not completely together. Since we'll be representing different countries, I'm sure I wouldn't get to see him often at the Olympic Village. We might be able to sneak in a few meals at the dining hall together, though, and I'll see him some at the pool I'm sure.
But that's OK. We're really good at giving each other space. When we train now, you'll likely find us on opposite sides of the pool. Dominik frequently swims twice a day (mornings and afternoons), and I swim once daily. His event is the 200-meter freestyle, so he has to focus on aerobic training in the pool to build endurance. My events, the 50- and 100-meter freestyle and breaststroke are short and explosive, so I do a lot more cross-training outside of the water. While he's still swimming laps, I'll often be strength-training or doing plyometrics in the gym.
The few times I do land in the lane next to him, I use his speed to pace myself for one lap. Sometimes I swim faster than him and when I do, he likes to tease me, saying, "Yeah, you can beat me for one lap, but you can't keep going for three more!" And for the record, he's totally right … I can't.
[+] Enlarge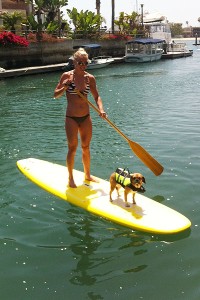 Courtesy of Jessica Hardy Jessica Hardy goes stand-up paddling with her dog, Stevie, in her free time.
Driving home after practice, we chat and eat the delicious egg sandwiches Dominik has cooked for us that morning. Over the years, we've really figured out a good balance of support versus staying out of the other one's hair. I'm careful not to get too coachy with him and vice versa. We wait until the other asks for advice before we start doling it out -- and if one of us says something that's not sitting well with the other, we are both good about backing off.
I think a huge part of knowing how to read one another stems from the fact that we've been through a lot. During my suspension in 2008, he kept me connected to the sport of swimming because he was still training, competing and traveling to meets where he'd see my friends. At times, it would get to me, especially when he'd complain about waking up early to work out. I used to bitterly say, "Well, at least you can swim." Dominik is always calm and level-headed, so he helped me realize that was pretty unfair. (And, like I said before, I know how hard it is to stay motivated at the crack of dawn!) Letting my guard down and accepting his help through that tough time brought us so much closer than I could have ever imagined.
We've been together for six years now, and though we haven't set a wedding date, we're planning to get married next summer. And we've already made one big commitment: We have the cutest puggle, Stevie, who is always a handful. Our favorite thing right now is to take her stand-up paddling in the ocean with us. Wearing her little life vest, she sits right there on the board, happy as a clam and quiet like one, too.
Our free time is pretty limited for obvious reasons, though, and our main focus is on the Games, and for me, the trials in June. Cross your fingers, because the next time you hear from me, I hope to have some great news!
April, 17, 2012
4/17/12
4:26
PM ET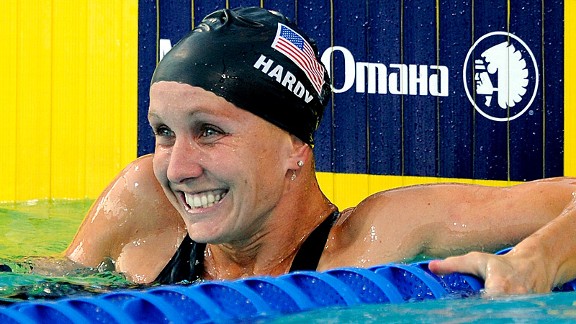 AP Photo/Mark J. Terrill Jessica Hardy credits her new mental focus -- and support from her fiancÚ, Dominik -- for her convincing comeback after a 2008 doping suspension.
Going through a moment of crisis transformed me, humbled me and brought out what mattered most in my life. During my suspension from competing, I probably would have lost my spirit completely if I didn't have a loving group of family and friends there supporting me through it all. Giving up my spot on the Olympic team was extremely traumatic. But more than anything, I needed to fix it and I knew I couldn't do it alone -- though I wanted to. For the first time in my life, I was forced to let my guard down and let people help me.
My mom is a practicing, licensed psychotherapist, but I'm sure it wasn't easy for her to play the role of my mom and therapist. She was so good at talking me through emotions, calming me down, pumping me up and helping me process my own thoughts. My sister, Amanda, who was a junior national team-level athlete in water polo, and stepdad, Bill, who's a lawyer, were amazingly understanding, too. Luckily, I had the perfect support group for an unlucky situation. I couldn't have survived the ordeal without them.
As supportive as my family was, it was my fiancÚ, Dominik, who encouraged me to seek help outside of my family. At one point, I was depressed, feeling really negative and taking it out on him. He sat me down and urged me to see somebody. Looking back, I realize I had put him in a really uncomfortable position. Every time he tried to cheer me up, I'd shoot him down. So it was a reality check and definitely the right thing to do. When I told my mom, she suggested I revisit my childhood family therapist -- the one I used to see after my parents' divorce. I also sought the services of the U.S. Olympic Committee's sports psychologists.
Having these professionals in my corner was huge for me. They all attended to different needs. My mom and the family therapist were very nurturing. Both have known me my whole life, know my emotions and know how to handle me very well. The sports psychologists, on the other hand, were great at directing that competitive drive and dealing with feelings that surround sport and competing. They got me to focus on being a better swimmer and trained my brain to be a better competitor through techniques like visualization.
To be honest, doing this type of mental work was the easy part. I could immediately start working on these strategies, but getting rid of the anger, hurt and frustration took much more time. It took three years, actually, to fully get over it and start using the experience to grow.
I still do the brain training I learned from them and work on controlling my emotions and mindset every single day. My mental game had never been my focus before 2008, but now it is. I rehearse my energy level and the emotions that I feel when I'm racing. I practice my whole race-day strategy in my head -- on a day when everything goes exactly how I want it. I read sports therapy pysch books to learn new mental approaches. I think about it almost all the time, and that's all new for me. Now that I'm past all that negativity and anger in my life, it has all become such a positive place for me to grow as an athlete and a person.
I'm proud of how far I've come and even a bit surprised. I am training and competing better than ever before. I didn't expect to swim the season's fastest time at my first competition: the 100-meter breaststroke at the Indianapolis Swimming Grand Prix on March 30th. It wasn't my goal going into it, so for that to happen when I was just having fun is awesome -- and a bit of a relief. To know I'm on the right track during such an important year is exciting and motivating. And best of all, I'm on the right track mentally, too.
March, 14, 2012
3/14/12
9:39
AM ET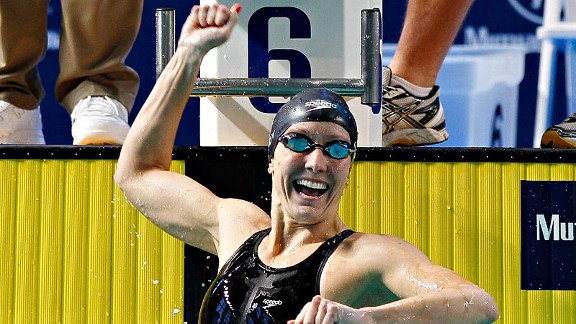 Kevin C. Cox/Getty ImagesJessica Hardy is back swimming and gearing up for London after a suspension forced her to sit out the Beijing Games.
Jessica Hardy will be blogging for espnW in the lead-up to this summer's London Olympics. Check back in April for more on her journey.
I was at an Olympic team training camp in Palo Alto, Calif., two weeks before Beijing, when my whole world fell apart. I received a phone call from the U.S. Anti-Doping Agency informing me that I'd tested positive for low levels of clenbuterol, a type of stimulant. I was ushered out of camp -- no time to even say goodbye to my teammates -- and was put on a 6 a.m. flight home to Long Beach, Calif. Mark Schubert, the national team's head coach at the time, told me, "Go home, get a lawyer and be with your family."
I was so confused. I knew that I'd never done anything, ever, to cheat. Shock, disbelief and a desperate need to comprehend what was going on all went through my head. It was almost a joke, because I knew there was no way I had intentionally done anything wrong. But the thing is, you're treated guilty until you can prove yourself innocent. So it was my responsibility, as a 21-year-old, to find out what had caused the positive test result to get my two-year suspension lifted or reduced.
I took all my prescription medications and nutritional supplements to a lab and paid for them to be examined. I looked into food and water contamination as well as possible sabotage from someone else. But there was no way I could get to the bottom of this in time to compete, so I had to voluntarily take myself off the Olympic team roster. Watching the opening ceremonies on TV was definitely the lowest point in my life.
There was nothing I could do about the situation, so I just went into survival mode. I felt isolated from my sport, my calling in life, and my teammates. Soon after, I was diagnosed with post-traumatic stress disorder and depression. I took a month off training, then started up again two or three times a week with Dave Salo, my personal coach. He didn't want me coming in every day because we didn't know when I would be allowed to compete again. But I needed a distraction.
After many long months, it was determined by the AAA panel that the positive test was caused by a contaminated supplement that I had unknowingly ingested. I've since filed a lawsuit against the company that manufactured the supplement, which is still going on -- almost four years later.
And finally, in May 2009, I was able to reduce my suspension to a year, which meant I could start racing that August. I broke the world record in the 50-meter and 100-meter breaststroke (in the same race!) on Aug. 7, improving on the mark my American teammate Rebecca Soni had set less than two weeks earlier. In the fall, I dominated the World Cup circuit, breaking four world records in the short course 50-meter breaststroke, and was named the overall female circuit winner. It was a furious comeback -- as in, I was furious that I had missed out on the Olympics.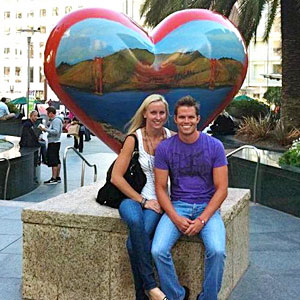 Courtesy of Jessica HardyJessica Hardy with fiance and Swiss Olympic swimmer Dominik Meichtry.
Last February I found out that I was officially eligible to compete in the London Games. (A 2008 IOC rule that barred athletes who'd served a doping suspension of six months or longer from participating in the next Olympics was overturned.) By that point, I had regained my confidence and stopped worrying about and listening to any negativity surrounding the 2008 controversy. After almost three years, I was able to relax, have fun and appreciate moments in the pool again.
I haven't raced yet this year, but my training is going fabulously. I work out twice a day, six days a week -- up to 12 hours weekly. I'm not going to lie, it's hard when you're tired and sore and the water is freezing in the early morning. But as soon as I get in and warm up, I'm addicted to the feeling of easy speed in the pool. I love to fly in the water. I also love feeling exhausted and accomplished after a workout. When I'm not exercising, I'm recovering -- and that includes getting massages, physical therapy and sports psychology. Having a clear head is extremely important after all I've been through. It's about getting better, not bitter.
My first meet is the Indianapolis Grand Prix on March 29, but each competition between now and my third U.S. trials on June 25 is just a warm-up. That's the big event before the Games, and I have a good chance to make the team. My fiancÚ, Swiss swimmer Dominik Meichtry, qualified in the 200 freestyle last summer, so he's already going to London. Hopefully, I'll join him.
My goal is to qualify in at least the same events (the 100-meter breaststroke, the 50 freestyle and two relays) I qualified in for Beijing. If you're American and you earn a spot, you're pretty much a contender to medal, because the U.S. is so strong internationally. I hope to medal in all of my races, and if those medals are gold, I won't complain! Though I officially had my comeback in 2009, this year definitely feels like I'm coming out with my armor on and sword out, ready to go live the dream that was crushed in 2008.