espnW:

Joanne P. McCallie
March, 31, 2013
3/31/13
12:57
PM ET
By
Joanne P. McCallie
| ESPN.com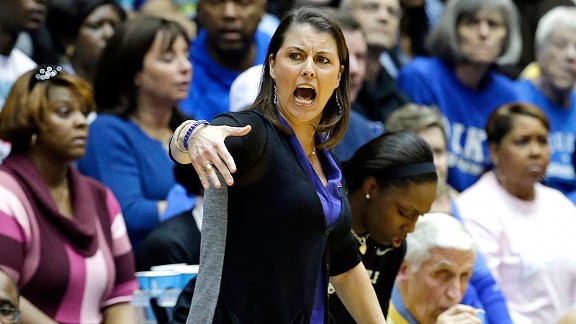 AP Photo/Gerry BroomeDuke coach Joanne P. McCallie helped her Blue Devils stop Oklahoma State in a second-round game.
Well, we've made it to Game 3 and Norfolk, Va. We are so excited to take two of our players Elizabeth Williams and Ka'lia Johnson back to their home state! This is an exciting time for our program. Our veterans have been here before and understand the process while our freshmen are gaining valuable experience in what this postseason is all about.
A few nights ago we had a tough battle against a very good Oklahoma State team. It truly was a story of two halves. In the first, I felt we tried too hard to take Elizabeth home and we found ourselves down 13 at the half. In the second half, we came together, Elizabeth played her best basketball at key moments, Haley Peters was all over the place being the best screener on the floor, playing defense, hitting some shots, and Chloe Wells was a game changer defensively. It wasn't great but it was gutsy. Great lessons for all involved, everyone contributed as we displayed strong resolve in our come back.
Since we weren't playing until Sunday, we gave the players the next day off. They needed to take a day off, rest their legs, and to prepare themselves for a great week of practice.
On Thursday and Friday we went over game film before practice. During Thursday's film session we went over our game against Oklahoma State. We watched footage of areas we are looking to improve on and will help us play better and move forward. Friday's film session was about our opponent, watching their tendencies, going over personnel and our game plan.
Our practices on both days were a bit shorter than usual, yet intense and to the point. There is good amount of information that is given so it's important to make sure they have enough time to process everything.
After practice on Friday I ran into Susan Sabistan at the store. For the last six years, Susan and her husband Jim have been unbelievable friends to me and our players. Jim has been very ill for some time but his fight and determination has been a true inspiration for us. I would receive text messages from him -- often with words of encouragement or advice for the team. Susan and Jim are more than just friends to our program, they are two people who I admire and care so deeply about. I wear a wristband honoring them and their fight every single day and they are with us through this journey.
Friday afternoon we loaded up our team bus and headed north to Norfolk, Va. We play on Sunday, so we were able to visit with Elizabeth Williams' family on Friday night, who invited us over for a big dinner with their friends and extended family. It was an unbelievable time! "E" comes from a wonderful family, her parents and her sister and brother are just great people, so warm and welcoming.
The whole neighborhood came out to greet us and the celebration began. We heard stories and looked at pictures of E as a child and her growing up in the house. We dined on traditional Nigerian food, such as Jolof Rice, Puff Puffs and Do Do -- all of which was so delicious! It was an amazing time and I am so glad that we had the opportunity.
One of the most memorable moments was visiting E's room and jumping on the bed laughing just like E would have done years ago when she was a little girl!
Go Duke!
Coach P
March, 23, 2013
3/23/13
10:41
AM ET
By
Joanne P. McCallie
| ESPN.com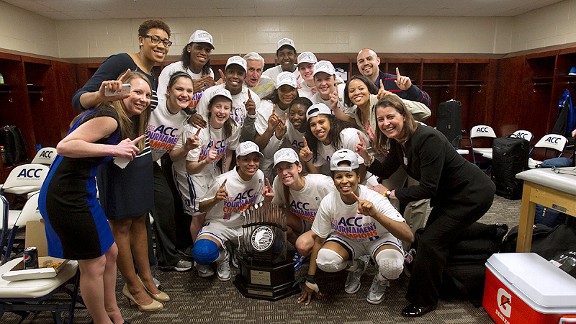 Courtesy Jon Gardiner, Duke University PhotographyDuke won the ACC tournament in grand fashion, beating N.C. State, Florida State and North Carolina.
Wow, the past few weeks have been such a whirlwind for Duke women's basketball! We finished up the conference season winning the ACC tournament. We beat three quality opponents in N.C. State, Florida State and, in the championship game, North Carolina.
All three posed different challenges in terms of style of play. Our coaching staff did a great job of putting the scouting reports and preparation together. After our win in Greensboro, I told our players to take a few days off, so they could rest up and enjoy spring break before we started preparing for our new season.
During the time off, I went to see my daughter, Maddie. Her team, Miami (Ohio), played in the MAC tournament. As a coach, being a fan is something I don't experience much, so having this time to watch Maddie and the team compete is something I truly cherish. Unfortunately, our trip lasted only one night as they ended up losing the game, which means they are headed to the WNIT.
Also during spring break, our All-America point guard Chelsea Gray underwent surgery to repair her knee. Chelsea is motivated to come back stronger than ever, and her tremendous attitude and outlook on life is contagious. I visited her after surgery, and that trademark smile was as beautiful as ever! We will need her energy and passion as we head into the tournament.
Last Friday was our first day back from break, and it was a practice you would typically expect from a team that took some time off. It had low energy, and I wasn't too pleased. The next day, I reminded our team the importance of being prepared and willing to stand up and be a leader. I read them a few excerpts from Sheryl Sandberg's new book "Lean In."
Sheryl is the COO of Facebook and is ranked in the top 50 of the most powerful women in business. Her book has some great examples on details we can work on to prepare. Saturday's practice was better, the players were moving well and the sense of urgency had come alive!
Sunday's practice was scheduled to be a bit shorter; it was also the first time we watched clips from our ACC championship game against UNC. Although we controlled the game, there were still many areas we needed to address -- all of which will help us play better moving forward.
Selection Monday was another step in our journey. We celebrated together as a family as our team, staff and fans came together to watch the show. It was an evening full of energy and anticipation for the Duke family.
We are one of the host sites for this year's tournament, so we already knew our first two games would be at home. After watching what seemed forever, the Norfolk bracket was announced, and the last bracket had us matched up against a very good Hampton University team.
Tournament time is a new season for everyone. We have to let our players understand that all the teams are excellent. Everyone who is the postseason deserves to be there, and Hampton, which went undefeated in a very competitive MEAC conference, will be a tremendous challenge for us.
We will continue to prepare for this game as we have for every game this year. As always, it truly is all about us, and our focus, preparation and desire is to become a special team.
Go Duke!