February, 28, 2013
2/28/13
12:30
PM ET
By
Johnny Weir
| ESPN.com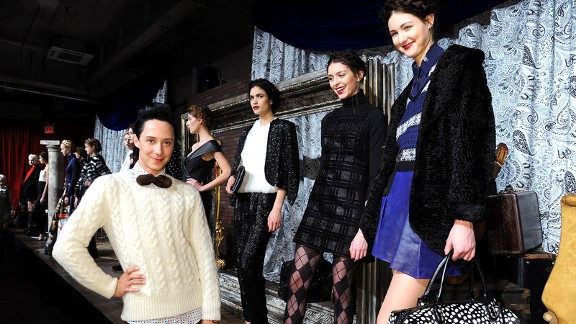 Jennifer Graylock/Getty ImagesJohnny Weir at New York's Fashion Week in early February. Weir is taking the rest of 2013 off from competition in order to focus on training for the Sochi Olympics.
Over the past several months, I've been taking mental notes on the questions people have been asking me in media interviews, on Twitter or just between friends and I've decided to try to answer them all. So, here's what's going on with me right now.
My decision to take a break from competition for the rest of this year wasn't an easy one, and in fact, it's a bit of a long story. Leading up to my Grand Prix debut in Russia last November, I was very stressed about competing in front of an audience that I consider to be very much like a home audience because my husband, Victor, is Russian. I was also living by candlelight due to power outages from Hurricane Sandy and training at a foreign rink because mine was flooded. Somehow, with all this stress, I lost a lot of weight very quickly. Everyone I met seemed to comment on it and I didn't realize how physically weak I was because of the amount of stress my brain and body were under.
When I got to Moscow, I took a bad fall on basic warm-up steps in a training session and, because I had no fat to cushion the blow, I badly bruised my right knee and hip, which are connected by the ACL. I did not want to draw attention to it and spoke to no one about my injury because I wanted to compete with no excuses.
[+] Enlarge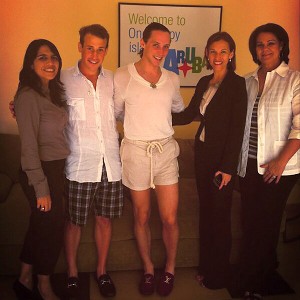 Courtesy of Johnny WeirJohnny Weir vacationed in Aruba as a guest of the island's tourism board, and may serve as an Aruban ambassador of sport.
I performed embarrassingly in the short program and knew my condition was not good enough to compete the free program, so I made the torturous decision to withdraw. I was heartbroken that I couldn't fight to the end, but my comeback had been scoffed at enough that I did not need a bad performance in my Grand Prix debut.
After my debacle, I took some time to sleep -- at times, 14 hours a night -- and regain my strength, seeking the help of my physical conditioning team in New Jersey to fix my injury. After my long absence from competition, I had been able to see how I stacked up against the skating worlds' elite and realized I have a lot more work to do to be competitive at the 2014 U.S. nationals and, ultimately, the 2014 Olympic Games. The only way to improve was to abandon my original plan of competing at nationals and worlds this season and focus entirely on training my quad jumps and conditioning my body. I needed more time to train seriously if I wanted to be competitive, and it took competing again for me to see that clearly. The time I'm taking now, however disappointing to my fans and the skating community, will be for the best and I believe that.
So far, training has been going well. I am still performing all my jumps and reworking the technique on my quad toeloop and quad salchow. I am also playing with different pieces of music to be sure what I choose for the Olympics is just right. I have been working to improve my skating skills and transitions, which have become increasingly difficult with the level of skating men are showing internationally.
I was always looked upon as someone who had very good skating skills, but since my return, I am apparently not as strong. When I was monitored for my conditioning and competition readiness by the U.S. skating federation last summer and fall, my feedback was very poor; but when I slowed the program down and showed how detailed the programs were to the officials, they said, "Oh, you made it look so easy that we didn't notice what you were doing." To me, skating should look effortless even when you're doing the hardest of elements.
My off-ice schedule has been busy, too. I performed with "Stars on Ice Japan" in January, supported my friends at New York's Fashion Week earlier this month and have a very busy show and appearance schedule coming up for the spring and summer. I wouldn't have it any other way. Being in the public eye is part of what I do and taking on a multitude of different projects -- television, radio, fashion, writing or deep-sea diving -- is a blessing. It is also how I pay my bills and fund my own skating, as I don't have a sponsor or financial help from my federation.
[+] Enlarge
Johnny WeirJohnny Weir with husband Victor Voronov. Voronov's Russian heritage makes Weir all the more committed to competing in Sochi at the Olympics.
I am often criticized for spending too much time off the ice, but if you were in my shoes, you'd see how necessary it is. I am also criticized quite often for saying I need a sponsor to fund my skating when I am frequently photographed in very expensive clothing at important events. So I'll set the record straight: Many of the clothes and items I am seen in are either on loan or were gifts from fans and friends. I shouldn't have to explain my wardrobe, but it comes under scrutiny a lot; if people actually knew me, they wouldn't think to criticize these things, as I rarely am out shopping for anything aside from salad.
Some have asked about my thoughts on the recent U.S. nationals. I was very impressed with the men's event, for the most part. Our new national champion, Max Aaron, skated a near-flawless routine and performed one of the most difficult technical programs in the past decade. (I believe that had I skated well, I would have been able to achieve one of the spots for this season's World Championship. I definitely felt better about my possible position in U.S. figure skating after seeing the nationals.)
Since the beginning of the season, I had planned to go on vacation right after nationals, as I wasn't planning to compete at the Four Continents Championships even if I had qualified. So I stuck with that previous plan and was able to visit Aruba as a guest of the country, meeting with leaders in the tourism industry regarding publicity for the island in America. I was also pleased to have talks with their Olympic committee about a possible ambassadorship of sport and lending my name and assistance to speak with young Aruban athletes. The trip was wonderful and very needed.
Now that I'm back, I am simply training. I'm on the ice every day, working up a sweat and creating new programs for the Olympic season. I will be touring in the United States, China, Japan and, hopefully, Russia this summer and look forward to being in front of an audience again. I am currently working with David Wilson, a master choreographer, on designing a new costume for Japanese national champion Yuzuru Hanyu, and I hope to help more skaters in this way. Otherwise, things are status quo. I have turned down a lot of opportunities in order to train for the Olympics and hope it will be worth it. I am working hard and push myself every day. In the end, that's all that is important.
We are just under one year away from the Opening Ceremonies and I couldn't be more excited. I watched a special ceremony and performance on Russia's Channel 1 when it was officially 365 days away – I couldn't help but smile while listening to president Vladimir Putin speak about making dreams come true in Sochi. The Olympics are a blessed event and I dream every day I'll be competing in my third come February.


October, 15, 2012
10/15/12
9:31
AM ET
By
Johnny Weir
| ESPN.com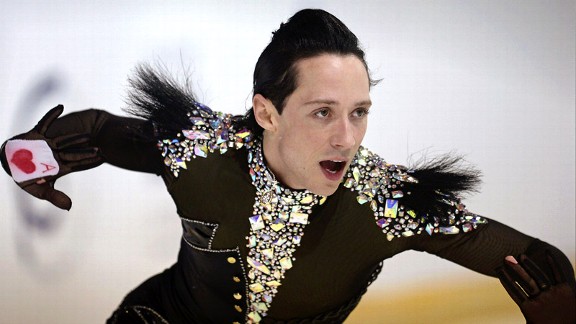 Antti Aimo-Koivisto/AFP/Getty ImagesJohnny Weir had forgotten the nerves that accompany performances, but not the perfectly choreographed schedule he adheres to leading up to competition day.
If dog years are something like seven human years, then athlete years must be something like 63 years per average human year. Two-and-a-half years away from competitive figure skating, a sport I've been training in since age 12, felt like an eternity when I took the ice for my first competition last weekend in Finland, my first since completing the 2010 Winter Olympics in Vancouver. I couldn't get over how quickly my body and brain had forgotten the sensations of being nervous, excited and terrified, being judged down to my toepicks.
Since deciding to return to competition last winter, the prospect of actually competing didn't become real until I got off the airplane in Helsinki and made my way back to the pressure cooker that is international competition. The skaters have somehow gotten younger since I've been away, they've also become more skilled and, in some cases, sparklier. The judges and coaches have gotten older, but in the "fine wine" sort of way. Aside from the natural progression of time, everything in figure skating is status quo; the way things are done is the way they have always been done. Today, there is official practice, tomorrow is the short program, and a mere 24 hours later is the long program. Every nap is predestined, every step you take is to better your performance, every calorie you take in could make or break your chances.
For me, this competition wasn't about winning or losing. It wasn't about the judges. I simply wanted to skate and make good on the promise I made to my fans on that chilly day in February when I said I would be back and on the road to the Sochi Olympics in 2014. I worked hard all summer with my coaching team. I lost the weight of two-and-a-half years worth of chicken fingers and Chablis. I reinvigorated my lungs and taught them what a marathon of a long program feels like again and, most important, I prepared music and costumes that inspire me.
My nerves were unrelenting as I stood in the middle of the arena, waiting for my music to start and to be thrown to the wolves. The fans in the building had come from Japan, Russia, all over Europe and America to see my comeback debut. With every jump, I felt more confident; with every exhausted thump of my aging heart, I could feel proud. This was it. I was competing again. A mistake here and there peppered my return to the ice, but I made a huge step that not many critics in my sport believed in. Skaters have always toyed with the media and fans about coming back, saying they would but never really doing it. I proved I could.
I didn't win, I didn't even medal, but what I did was worth its price in gold. I had defeated myself in this war of sport versus freedom. I conquered my fears and can't wait to be back out there in less than a month. Slowly but surely is what wins the race, and I can only look forward in this comeback. I can only forget what I've done in the past and start fresh, every day. The road to the Olympics is a long, treacherous one, but if you believe in yourself and surround yourself with love, you can do anything.
I'm back.