October, 14, 2012
10/14/12
12:13
AM ET
By
Lindsay Whalen
| ESPN.com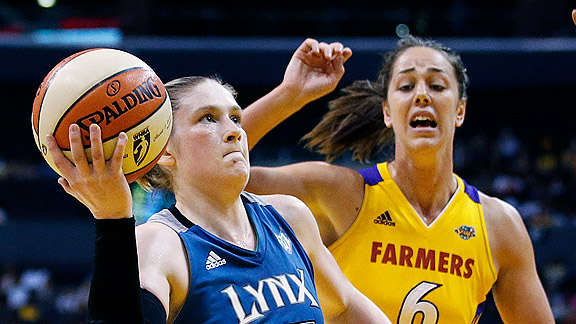 AP Photo/Jae C. HongLynx guard Lindsay Whalen is counting on the fans' support to help bring another title to Minnesota.
I'm what outsiders might call a "townie." I'm a proud Minnesotan, born and bred, and wouldn't have it any other way. I grew up in Hutchinson, Minn., a town of 13,000 people about an hour and a half outside Minneapolis.
I was always athletic growing up, but my first love was not basketball -- it was hockey, which is a norm in the North Star State. I started playing in kindergarten but slowly started realizing there wasn't a future for females in the sport at that time. I played through fifth grade -- and like to think I can still work my way around an ice rink -- but that was when I started playing basketball.
By the time I got to high school in 1997, the WNBA was just starting up. I had thought for a while that I would grow up to be an athletic trainer or maybe a physical therapist ... something that would keep sports a part of my life. But the WNBA changed that for me. I saw that women could be professional athletes, too, and I had a whole new vision for my future.
At Hutchinson High School, I played basketball, tennis and track -- and was all-conference in all three (Go Hutch Tigers!) --and went on to accept a basketball scholarship at the one and only University of Minnesota.
The life of this Minnesotan continued just 65 short miles away from home. With a lot of hard work and some long nights in the gym (and library), my teammates and I gained the respect of the Golden Gophers population, and then the country. Making Minnesota proud, our team made it to the NCAA Final Four my senior year. Playing in front of thousands of people in Williams Arena and around the country in college was unbelievable. I didn't think it would get better, although it was pretty cool to have my own bobblehead doll and to have my jersey retired in front of my hometown and home crowd.
Six years later, in 2010, I was acquired by the Minnesota Lynx. It was time to come back home. My family is here, my husband -- also a Golden Gophers alum -- is here and I certainly missed the Land of 10,000 Lakes. Being back home and playing in front of my home crowd again is like nothing else. I am confident in saying that we have the best fans in the country. They come out and really rev us up on the court. We came out in 2011 and brought home the highest league honor, a WNBA championship. But as any Minnesotan would say, one championship is never enough, and we want another one. I have been working hard in the gym with my teammates to bring another one back for Minnesota, but we're going to need your help, too. Help us pack the house and show that same pride I've felt the past 30 years (note: I am 30) for this state.
My name is Lindsay Marie Whalen. I am a University of Minnesota graduate, a guard for the Minnesota Lynx, a WNBA champion, an Olympic gold medalist, and a Minnesotan through and through.
Hope to see you at the Finals!

September, 19, 2012
9/19/12
10:47
AM ET
By
Lindsay Whalen
| ESPN.com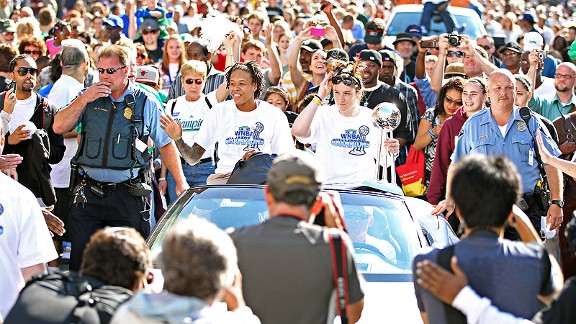 David Sherman/NBAE/Getty ImagesLindsay Whalen, right, and Seimone Augustus shared a ride at the Lynx championship parade last fall.
Nothing quite compares to winning a championship. It's something that you cherish forever and will never forget. Just the memories of the celebration afterward are something you can never really duplicate, never even come close to matching. The postgame celebration, the spraying of champagne in the locker room, everyone was ecstatic. Nothing else mattered at that point; it was only pure joy. The following days, I just walked around with a glow.
When we got back to Minnesota from Atlanta, the airport was mobbed with fans. We came down the escalator, and it was crazy. There were hundreds and hundreds of fans there just wanting to share the experience with us. I had never seen or been a part of anything like it -- it was amazing.
And yet, it was somehow topped the next day when we had our championship parade down Nicollet Avenue. The sidewalks were packed with fans. They were at least four rows deep on every block. When we turned the corner to head down Seventh Street toward the Target Center, it looked like there was a sea of fans just waiting to congratulate us. I was in a car with Seimone [Augustus] throwing out candy to the fans and signing autographs. The support was overwhelming; it was really unbelievable.
Those are easily the top memories of my postseason career. Honestly, I'm just lucky that I have some playoff memories to look back on. I've been lucky enough to be on a lot of really good teams over the years, and I'm just fortunate to have the opportunity to look back and reflect on some of these memories from earlier in my career.
Once you reach the playoffs, the atmosphere is unlike anything else, especially in the first two rounds, where one slipup can mean you're going home early. With a best-of-three series, you can't slow down at all. You need to play your best for every minute of every game, or the series could slip through your hands. It's tough to keep that level up, but a chance to win a ring is why we play.
At that point of the year, you've put in the hard work. You've already spent all the hours in the gym, all the days watching film, and you simply need to go out there and execute. The playoffs really are the ultimate test to see which team is the best in the league. If you don't win in the playoffs, nothing else you did during the season matters. Playoff games usually come down to a couple of possessions here and there where you need to just execute your plays.
Every year, the playoffs are an absolute thrill ride of emotion. Hopefully our run this year will be as fun as it ended up being last year!
September, 5, 2012
9/05/12
10:17
AM ET
By
Lindsay Whalen
| ESPN.com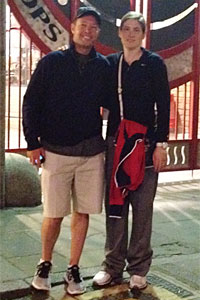 Courtesy of Lindsay WhalenLindsay Whalen and husband, Ben Greve, spend weekends watching their fantasy stars rack up stats and talking a little trash.
With September here, I thought this would be a good opportunity to reflect a little bit on my favorite parts of fall. Not only are the WNBA playoffs coming up, but football season is just getting started. This means my free time on weekends will be filled with Minnesota Gophers football on Saturdays and the Minnesota Vikings on Sundays.
September also brings the return of one of my favorite hobbies: fantasy football. Every year, I have a couple of different teams in leagues with varying groups of family and friends, including my husband, Ben. The leagues are about having a good time and, of course, bragging rights. Fantasy football gives you a rooting interest in every game. It doesn't matter if your favorite team is playing, all you need is a player from your fantasy team to be involved and any game is suddenly important!
When you've been in the same league with a group of people for five-plus years the way I have, trash-talking is natural. Whether it's poking fun at a family friend for reaching on a Packers player in the draft or someone drafting a player who's hurt and will miss the first half of the season, trash-talking is part of the game. Ben and I try not to talk trash to each other, but when your player comes through in a game we're watching together, it's hard not to say something!
On Sunday, we held our draft in one of my leagues, and I'm pretty happy with my team. With my first couple of picks, I like to target running backs who can give consistent production week in and out. This year, I ended up with LeSean McCoy and Chris Johnson, a pair of running backs who can certainly be dominant. McCoy scored a league-best 20 touchdowns and still managed to run for more than 1,300 yards in the process. On the other hand, Johnson is coming off a down year, but he was unquestionably one of the top running backs in the NFL just two seasons ago, making him a big rebound candidate this season.
[+] Enlarge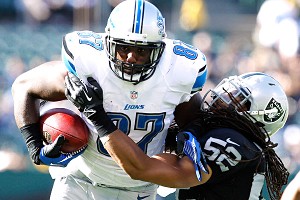 AP Photo/Tony AvelarLindsay Whalen is hoping Detroit Lions tight end Brandon Pettigrew is the steal of her fantasy football league's draft.
Next, I turned my attention to quarterback, where the big names like Tom Brady, Drew Brees and Aaron Rodgers had already been taken. I opted to go with Philip Rivers, who has thrown for more than 4,000 yards in each of the past four seasons. There's a little bit of risk with him, but he's a good bet to throw for 250-plus yards and a couple of touchdowns each week, which is all I need.
It's always tough to find dependable production at tight end, but this year I was able to pick up Brandon Pettigrew from Detroit. Pettigrew is in a perfect situation for regular fantasy production, making him the steal of the draft! He has a young quarterback in Matthew Stafford, who is coming off an excellent season, and every opponent needs to focus its attention on Megatron (Calvin Johnson) to make sure the wide receiver doesn't take over. This means Pettigrew will have some more space to work with, which can only be a positive for my fantasy team!
With my fantasy team picked and the preseason over, there's only one question left: Are you ready for some football? I know I am!