espnW:

Lindsey Jacobellis
July, 18, 2013
7/18/13
7:40
PM ET
By
Lindsey Jacobellis
| ESPN.com
Courtesy of Lindsey JacobellisLindsey Jacobellis is finally back on the snow and feeling like new after two ACL surgeries and extensive rehab.
I'm back!
It's been a long year and a half since I first injured my ACL and had to have surgery to repair it -- twice. But now I am finally back on the snow -- and it's been amazing!
I first got out there at a U.S. team snowboard camp in Mt. Hood, Ore., about a month ago. My coaches didn't really care if I got onto the course -- they were just hoping I could ease into riding. But I was out there the very first day. It was awesome -- everything felt really solid, and we were all ecstatic. I also feel just as confident as ever, and ready to try any jump.
Having to start the whole process of training again was challenging, but I made the right decision by staying at the Olympic Training Center full time, even when I was unable to snowboard at all. I realized that staying in Park City, Utah, where I could live and breathe my Olympic dream was the only way it would be possible to come back and make a run for the Games in February.
I needed the extra motivation that came from being surrounded by other athletes, with all the support I could ever need: physical therapists, doctors, strength coaches, nutritionists and everybody checking in with me and monitoring me daily.
This last year was really the make or break line. I thought I'll give it my all and try my hardest every day, but I knew it might not pan out. If I did everything I could and it still didn't work out, that might just be the sign that I'm not supposed to be competing anymore.
Luckily, though, that wasn't the case. When I got on that snow, I felt like new. I had really missed it, and I realized this is what I'm meant to be doing. It was just an injury -- a fluke -- not a sign that my career was over.
So I'm still taking it one step at a time toward my Olympic dream. I'm in the gym all the time, doing lots of plyometrics and agility work. My goal is to progress past where I was strength-wise before all this ACL business began. And of course, I want my knee to feel just as fluid as my other one -- like there was never anything wrong with it.
Racing is still too far off to think about, and I don't even know when the first competition is. But I can say that being in Mt. Hood racing my teammates has really gotten my competitive juices flowing. I can't wait!
February, 19, 2013
2/19/13
1:19
PM ET
By
Lindsey Jacobellis
| ESPN.com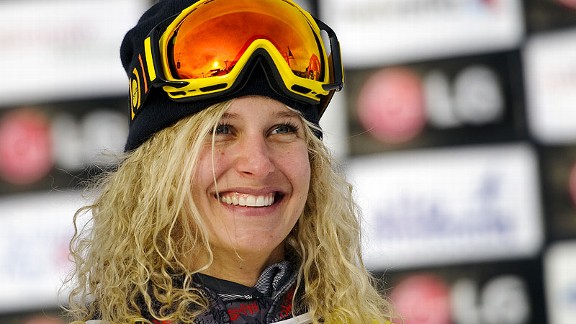 Fabrice Cofrini/AFP/Getty ImagesLindsey Jacobellis is busy rehabbing after a second ACL surgery in December. She hopes to return to the snow late this year.
The last thing you want to hear almost a year after ACL surgery and a little more than a year before the Olympics is, "I'm not even sure you have an ACL."
That's what my doctor told me on Dec. 18. I was just beginning to get back into boardercross but had started feeling pain again. On that day in mid-December, I got an MRI that found my repaired ACL had stretched to the point it wasn't functioning properly. Enter surgery No. 2. The doctor was able to get me in the very next day, so my holiday plans did a 180 pretty quickly. I decided to be out in Vail, Colo., and have the surgery before staying in Park City, Utah, to heal rather than going home to Stratton, Vt., for Christmas.
It was a total fluke, but it's really good we caught it when we did. Otherwise, I could have gotten hurt just as I returned to my sport, or, even worse, fallen at a random time later on -- even closer to the Olympics than we are now. Apparently, I'm among a special 3 percent of people who experience this following ACL surgery. Doctors don't understand why it happens, but the skin graft they took from my hamstring slowly stretched the entire year I was rehabbing. So for the second surgery, an allograft from a cadaver was used.
Thankfully, the second surgery wasn't nearly as intense as the first. I wasn't even on crutches for a week this time, whereas I was on crutches for 10 weeks following my first surgery. And I didn't lose nearly as much muscle mass this time around.
[+] Enlarge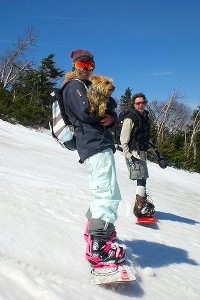 Courtesy of Lindsey JacobellisLindsey Jacobellis with her dog, Gidgit, and father, Ben, snowboarding in Vermont before her ACL injury.
Still, it was tough when I found out I was going to have surgery again because I hadn't done anything wrong. I didn't cause my ACL to fail. It's hard to wrap my head around the fact that I did everything right, and it still didn't work out. But I'm moving forward. I'm hoping to get back on the snow in June. For now, I'll be here in Park City logging hours of therapy every day because that's all I can really do.
For now, my "teammates" are the other injured people here at the training center. Sports teams come through in waves, but for the most part, it's pretty dead other than those of us who are here doing our therapy. We're there for each other emotionally because we all have our down days. Some days you are the voice of reason, and other days you're the one who needs someone to talk to. It's a supportive group.
I spend five hours at the gym every day -- at least two hours working on my leg and then the rest on my upper body, core and on my right leg (the good one). I'm swimming a lot, although I'm not allowed to kick. That's the only cardio I can do that gets my heart rate up. I also ride the spin bike, but I have to keep the resistance so low it's not much of a workout. Luckily, I love exercising so the endorphins are a good pick-me-up if I feel down.
Obviously, I'd rather be snowboarding, but there are some upsides. I got to check out the Sundance Film Festival for the first time this year. Usually, I'm on the road when it's in town, and even if I were here I wouldn't have the energy to go out to a party or meet up with friends for drinks, so it was fun to experience that different side of things. Park City was filled with celebrities -- my best sightings were Ashton Kutcher and Daniel Radcliffe. It really is like bringing a little bit of Hollywood into the middle of Utah!
What's weird is I hardly even knew the X Games were happening last month. It was the first time in 12 years I wasn't there, and my sport wasn't even in it since it was dropped this year. So there I was at Sundance, and I almost forgot the X Games were happening. I did see snowmobiling and caught a little bit of the men's halfpipe snowboarding, but it just wasn't the same.
Another big pick-me-up has been my dog, a Yorkshire terrier mix named Gidgit. She was living in Vermont, but I brought her back here after a late post-New Year's/Christmas celebration in Stratton. It's been really snowy here, and in Old Town where I live, the roads are a little sketchy, so when I didn't want to risk taking her for a walk on icy streets I brought her into the training center and put her on the treadmill. She was pretty confused, but I got her going with a little cheese for bait ,and once she figured it out she was really good. She got a solid workout and was tired for the rest of the day so my goals were met.
Being off the snow for a year now is definitely teaching me patience, but only time will tell how it changes me. I'm definitely more motivated than ever, and I really miss snowboarding. I didn't think I missed it that much until I started riding again and started to progress and get back into the rhythm before it was taken away -- again. I can't wait to get back on the competition circuit and travel, hopefully in New Zealand next September. But I don't want to spend much time looking down the road to competing -- or to the Olympics -- because it's too overwhelming. I just need to live in the present moment and focus on what I have control over. For today, it's rehab and making sure Gidgit gets a good walk!
November, 28, 2012
11/28/12
12:16
PM ET
By
Lindsey Jacobellis
| ESPN.com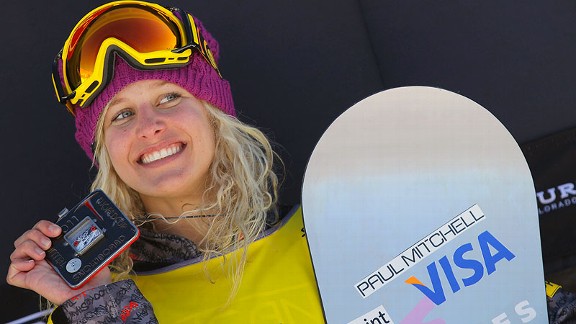 Doug Pensinger/Getty ImagesLindsey Jacobellis was leading the field in January with three World Cup wins, but a torn ACL and meniscus at the X Games ended her season very early.
The old adage, "You have to walk before you can run" pretty much sums up the last year for me. Of course, in my situation it's more like, "Before you can snowboard on an Olympic course, you have to prove that your repaired ACL can handle running." But you get the idea.
Running -- and now, finally, snowboarding -- are much more of an accomplishment these days than at any other time in my life. On Jan. 25, I tore my left ACL and meniscus during a training run at the X Games. I had been in Aspen with one goal on my mind: to become the first woman to five-peat in snowboard cross. Unfortunately, a different kind of first was in store. I overshot the final jump on the course and actually heard my knee snap as I landed (gross, right?). There was no getting away from it: I was done for the season.
In the 10 years I've been on the U.S. team, this is the first injury that's kept me out of competition for a year. I've broken my wrist and collarbone, but each paled in comparison when it came to seriousness, recovery time and, well, the ability to move around the house on my own.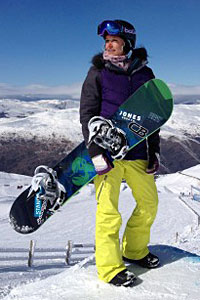 Courtesy of Lindsey JacobellisAfter 10 months of intensive rehab, Lindsey Jacobellis is finally back on the snow, hoping to compete again in early 2013.
My crutches became my best friend. I spent the first nine weeks after the injury trying to get around Park City -- and since it was winter, it was dangerous to crutch anywhere! Sometimes, I would crutch to the gym and pedal on the arm bike because it was the only thing I could do. It was disheartening watching the body I had worked on so hard slowly disintegrate. Within two weeks, the atrophy on my leg and quad reached what was definitely a "sad" state.
It was especially maddening because I had been doing the best I'd ever done that season. While it normally takes me a little while to get moving in the beginning of the year, I had won my first three World Cup races. It felt like the 2014 Sochi Olympics were just around the corner, and the season was another big stepping-stone toward the Olympics.
So, after the injury, as I did the sad little arm bike at the gym, I'd think, Will I ever get back to the way I was? Will I be able to trust myself to land on my knee like I did before? Will I have a gnarly scar from the surgery?
At some point, I realized how lucky I was. My dad was able to stay with me for months at a time when I was still crutching and completely helpless, while my mom, who had to work back home in Vermont, provided tons of support over the phone. I had awesome physios and trainers who had the recovery process mapped to a science. I didn't even get the gnarly scar -- that five-inch incision down the front of the patella that usually is the official branding of someone who has had ACL surgery. Mine is only an inch and a half or so, and very small and clean.
Now, 10 months later, my knee is healthy enough for me to be freeriding around on my board, though I'm not yet cleared to compete. If I had to put a number on it, I'd say the knee feels like it's about 80 percent. I'm feeling strong, but there's still a lot of work to do. It's still a roller coaster; I have great days, and then plateau and don't feel like I'm progressing. But my numbers and strength are continuously going up and the difference between my right and left knee is shrinking. The atrophied area is steadily being replaced by muscle; these days, only a trainer could look at my legs and know what happened.
Although I'd love to be back out competing again, I'm not in any rush to force anything when it's not ready. The Olympics are still more than a year away, and I'm taking my time and working to a point where I'm really feeling strong and confident, both mentally and physically. My body is going to be able to tell me if it's "go" time or not, and I aim to be back competing in February. With some luck and a lot more hard work, maybe another first I had my eye on -- winning an Olympic gold medal -- will still happen after all.