February, 27, 2014
Feb 27
2:40
PM ET
By
Lindsey Van
| ESPN.com
Lindsey Van was the first women's ski jumping world champion, in 2009, and was part of the sport's Olympic debut in Sochi. Van, who placed 15th overall in the competition, takes us through her Olympic experience.
I'm here with Japan's Noriaki Kasai before the opening ceremonies. He is one of my idols. He won a silver medal in Sochi on the large hill at the age of 41 -- 20 years after he won his first silver in Lillehammer in 1994.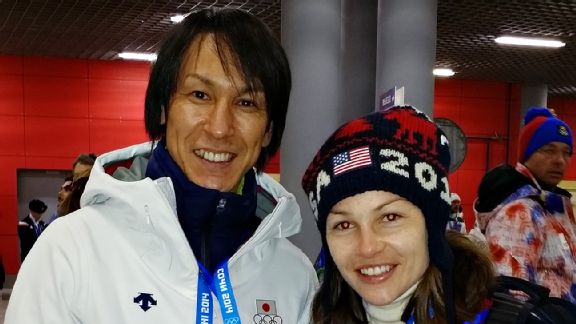 Courtesy of Lindsey Van
My teammates Jessica Jerome and Sarah Hendrickson with me enjoying the opening ceremonies. We had a blast. The energy was electric in the building and like nothing I've ever experienced. I couldn't stop smiling and crying.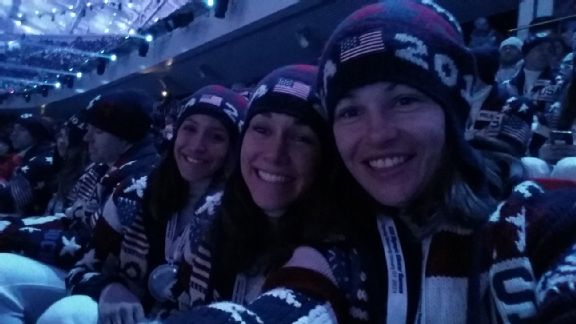 Courtesy Lindsey Van
Meet the infamous Sochi dogs. There were many friendly puppies lounging in the sun around our hotel in the mountain cluster. Snowboarder Lindsey Jacobellis adopted one of these dogs.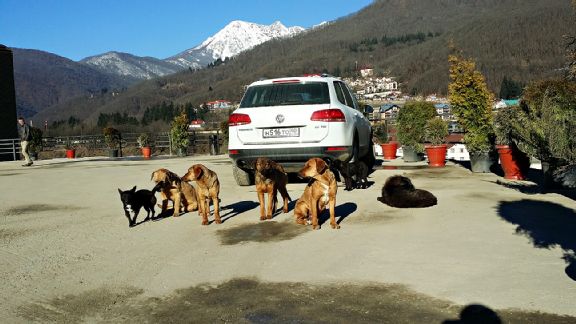 Courtesy of Lindsey Van
Here's a great shot of the mountain athlete village.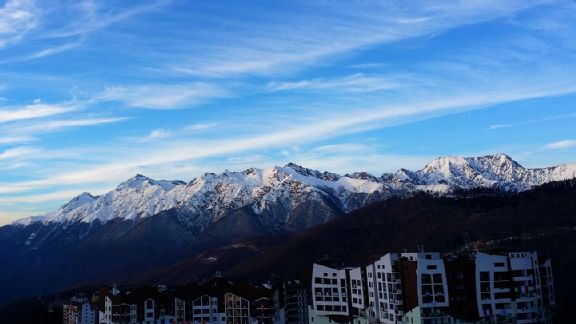 Courtesy of Lindsey Van
The Olympic flame right before the medals ceremony for the first-ever women's ski jumping event in the Games.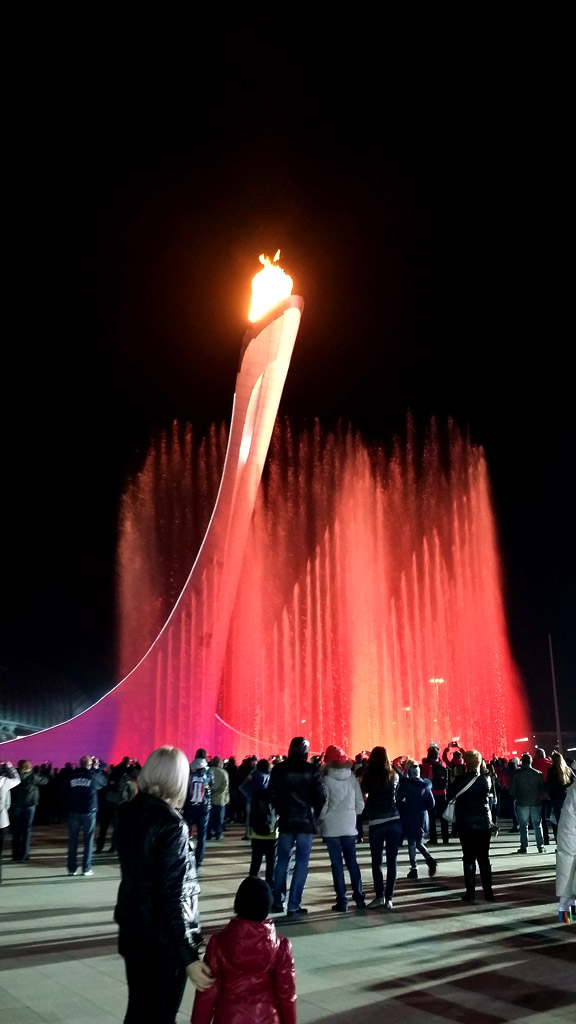 Courtesy of Lindsey Van
I attended the medals ceremony and it was emotional and amazing to see my peers Daniela Iraschko-Stolz, Carina Vogt and Coline Mattel receive the honors. We've finally made it into the Games.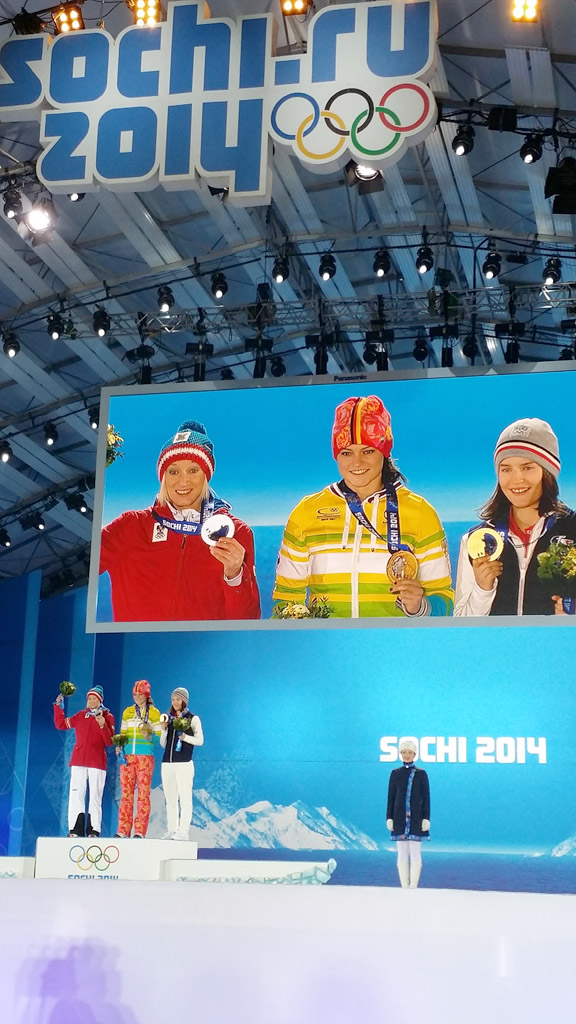 Courtesy of Lindsey Van
A selfie at the men's large hill event with my friend Blair Tomten, a former ski jumper and current ski jumping judge.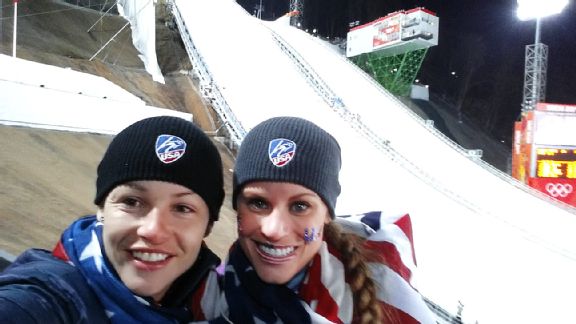 Courtesy of Lindsey Van
A couple of days after our event, I went skiing in the mountains above Sochi with my friend and U.S. men's ski jumping head coach Clint Jones. The skiing there provided great options, including some challenging terrain.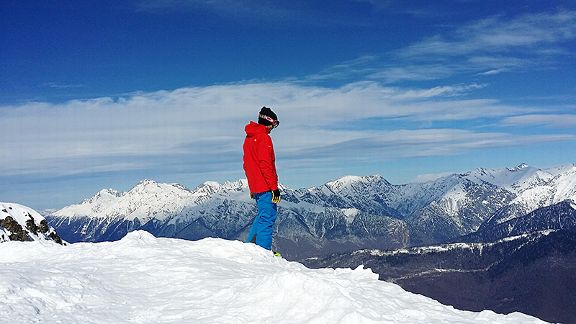 Courtesy of Lindsey Van
January, 22, 2014
Jan 22
5:57
PM ET
By
Lindsey Van
| ESPN.com
Veteran ski jumper Lindsey Van was one of three women named Wednesday to the 2014 U.S. Olympic team. Van, 29, was the first women's ski jumping world champion, in 2009, and will now be a part of the sport's Olympic debut on the women's side in Sochi. She shows us her photos from the recent World Cups in Sapporo and Zao, Japan, two competitions used to help decide the Olympic roster.
Fellow ski jumper Sara Takanashi of Japan, with me at the airport as we head to the World Cup. She's won eight pf the nine World Cup titles this season so far!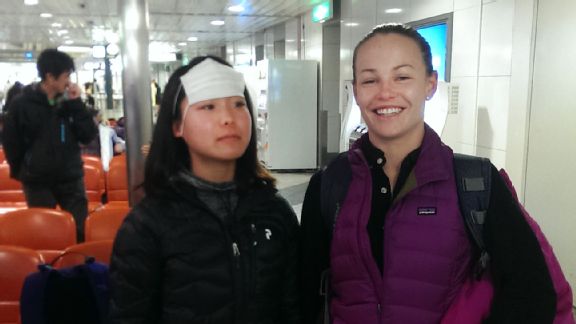 Courtesy of Lindsey Van
This is the bib ceremony where we received our start numbers for the Sapporo World Cup competition. So many fans came to watch, and it's fun to see such support of ski jumping in Japan.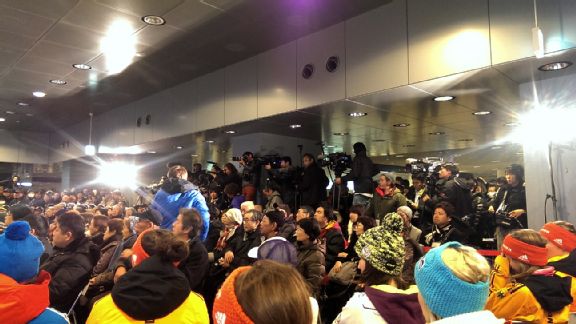 Courtesy of Lindsey Van
Team sushi in Sapporo. Some of the best sushi I've ever had. This tuna was delightful.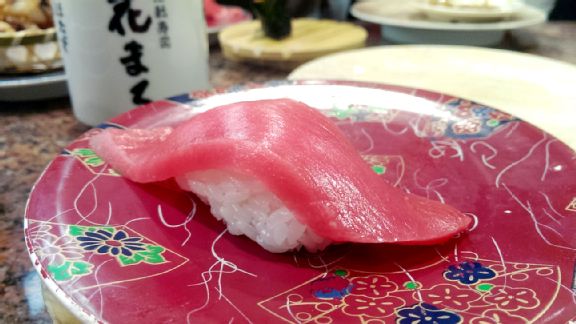 Lindsey Van
The streets of Sapporo were full of snow -- it was snowing on and off all week. It looked like a winter wonderland.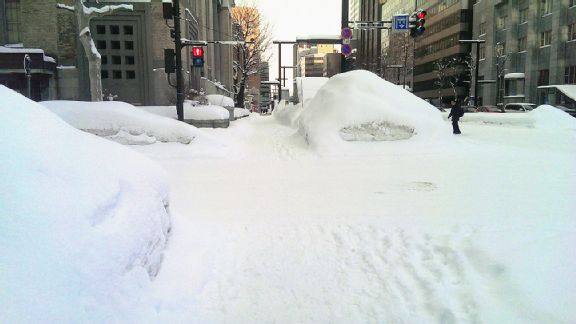 Courtesy of Lindsey Van
Here, fans are waving to the bus as we head back to the hotel after the competition. They watched for hours -- in a blizzard. I ended up fifth overall, and was proud to climb up from the 14th spot after the first round.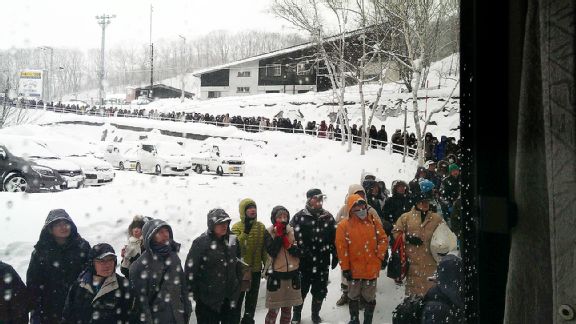 Courtesy of Lindsey Van
We headed to the next World Cups in Zao, Japan. This was our new jumping hill in Zao, on a perfect winter day.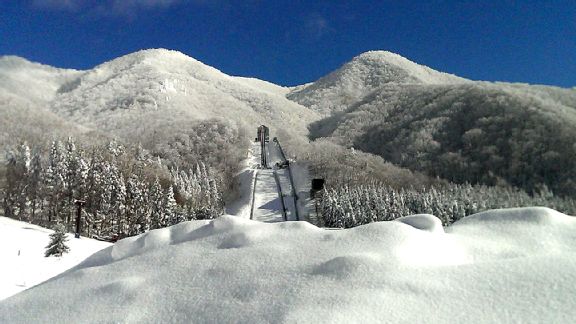 Courtesy of Lindsey Van
Downtown Yamagata -- near Zao -- on a walk.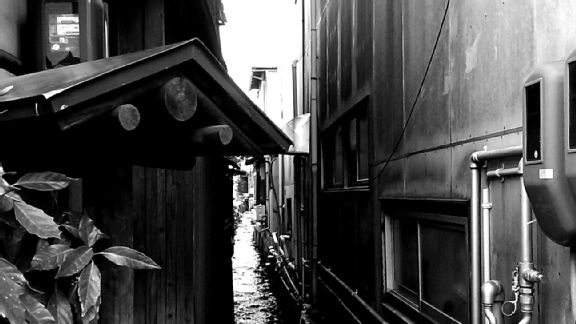 Courtesy of Lindsey Van
Zao has some great skiing. Looks nice; I should have taken some turns on my jump skis!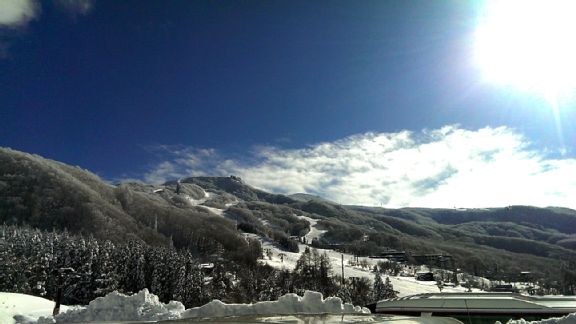 Courtesy of Lindsey Van
November, 21, 2013
11/21/13
8:01
PM ET
By
Lindsey Van
| ESPN.com
Lindsey Van made history in 2009 by becoming the first women's ski jumping world champion. Now she's training for the Sochi Olympics, where her sport will be contested in the Games for the first time. She gives us a look at what this past fall was like for her and her teammates.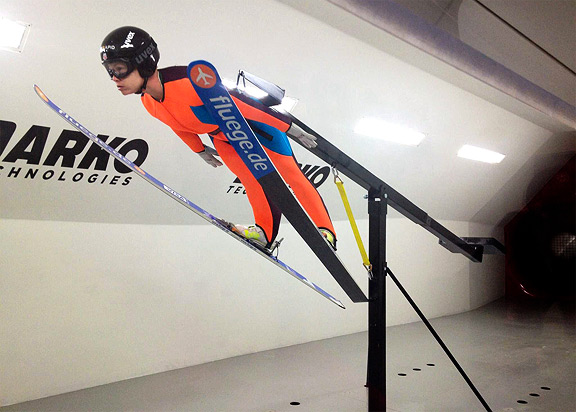 Courtesy of Jessica Jerome
Darko Technologies. Ogden, Utah.
November 15, 2013.
This is me, in the wind tunnel where we get to practice our flying. It allows us minutes at a time to feel what we usually feel on the ski jump for only a few seconds. It's like having a whole summer season of jumping in a single two-hour session of wind tunnel. I had a blast and learned a lot that I will try to transfer to the hill.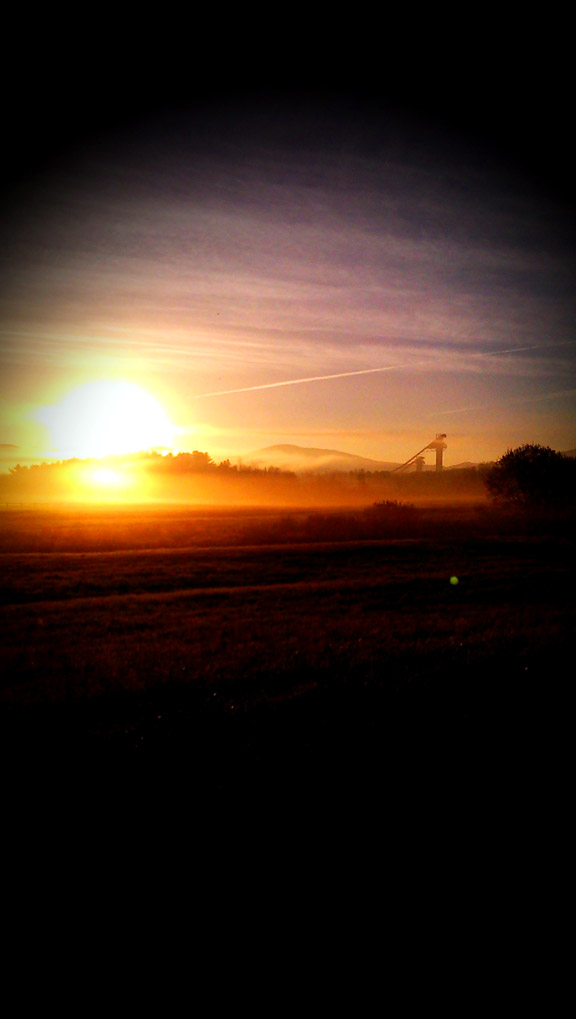 Courtesy of Lindsey Van
Lake Placid, New York.
October 13, 2013.
I took this picture while on an early-morning walk when the sun was rising. I'm a morning person and I like to go outside to get some fresh air and get my blood moving. This was the morning of the U.S. championships in Lake Placid. I liked the silhouette of the ski jumps in the distance.

Courtesy of Lindsey Van
Cecret Lake. Alta, Utah.
October 22, 2013.
I free ski at Alta, Utah, in the winter, but I don't get many chances to hike around here in the summer and fall. This lake is frozen in the winter and usually goes unnoticed -- in fact, I always knew there was a lake there, but I had never seen it.
It was a perfect fall day for a hike -- mid-60s with the higher mountains capped in the first snow. The lake is runoff water from the spring melt, so it's chilly. It was neat to see, uncovered, what I ski on in the winter.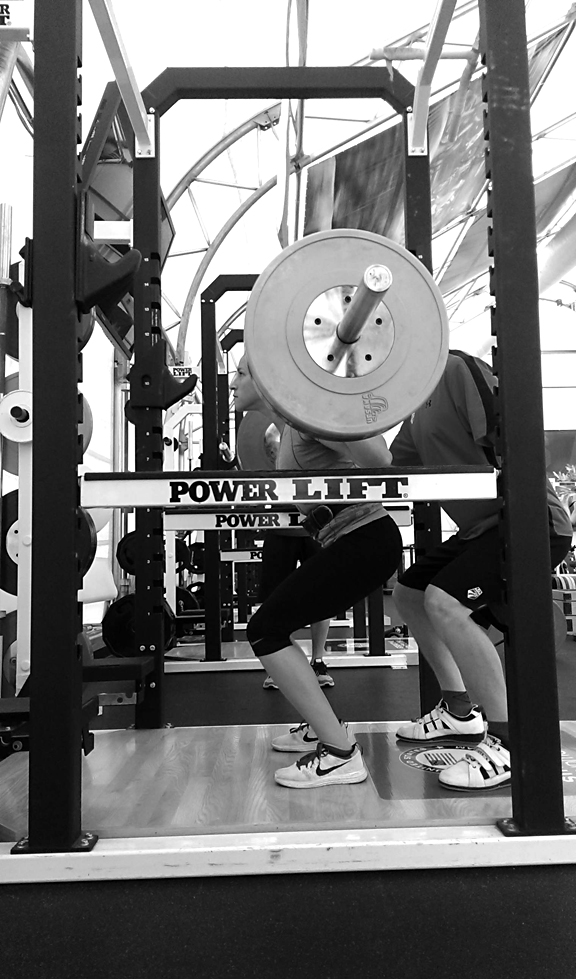 Courtesy of Lindsey Van
USOC Training Center. Chula Vista, California.
November 7, 2013.
My teammate Jessica Jerome is squatting 100kg during a weight session at our training camp with trainer Michael Naperalsky spotting her. The Visa Team is looking strong and fit and we are motivated for the upcoming 2013-14 season.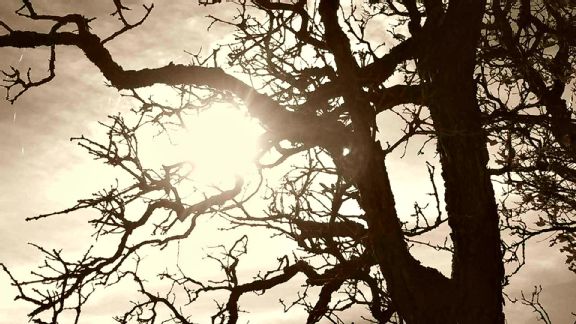 Lindsey Van
Armstrong Trail. Park City Mountain Resort, Park City, Utah.
October 24, 2013.
I was getting in one of my last mountain-bike rides of the season in late October. The first snow had already come and weighted down the last of the leaves. I rode on the trails surrounding Park City all spring, summer and fall.
On this day it was quiet with all the leaves on the ground, but they did crunch below my tires. It's fun to experience these mountains in all seasons. Each season is so unique and I enjoy every one for different reason.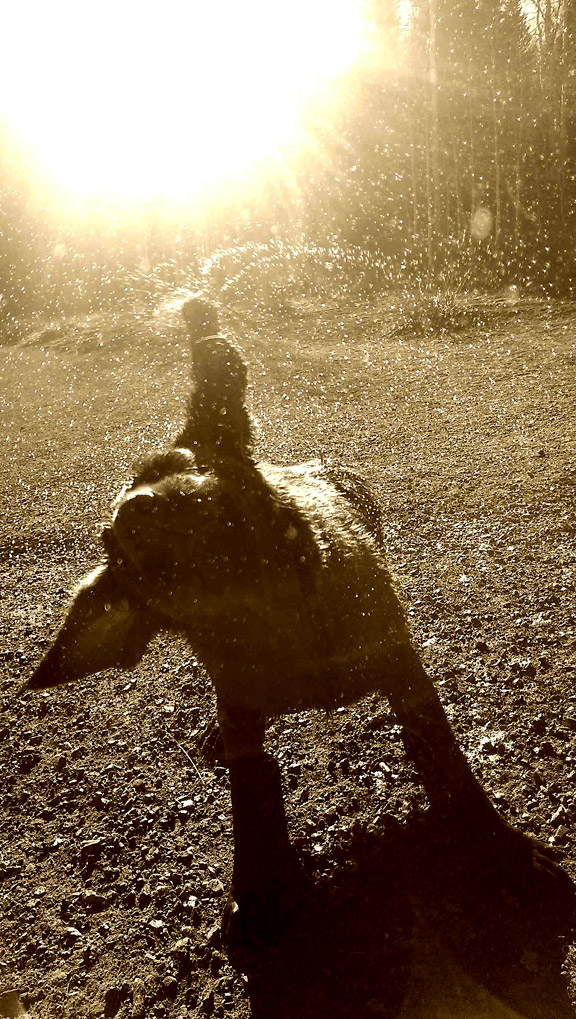 Courtesy of Lindsey Van
Dog Lake. Mill Creek Canyon, Salt Lake City, Utah.
October 26, 2013.
I love to hike. It's one way I do cardio during the offseason. I went hiking with some friends to Dog Lake in Salt Lake City, so naturally we brought our dogs. This is Jack, a friend's pooch, who enjoyed the hike and, especially, fetching the ball in the lake. Jack is also prone to getting his human friends wet by shaking himself off after. Here I tried to capture that moment with a cool camera filter.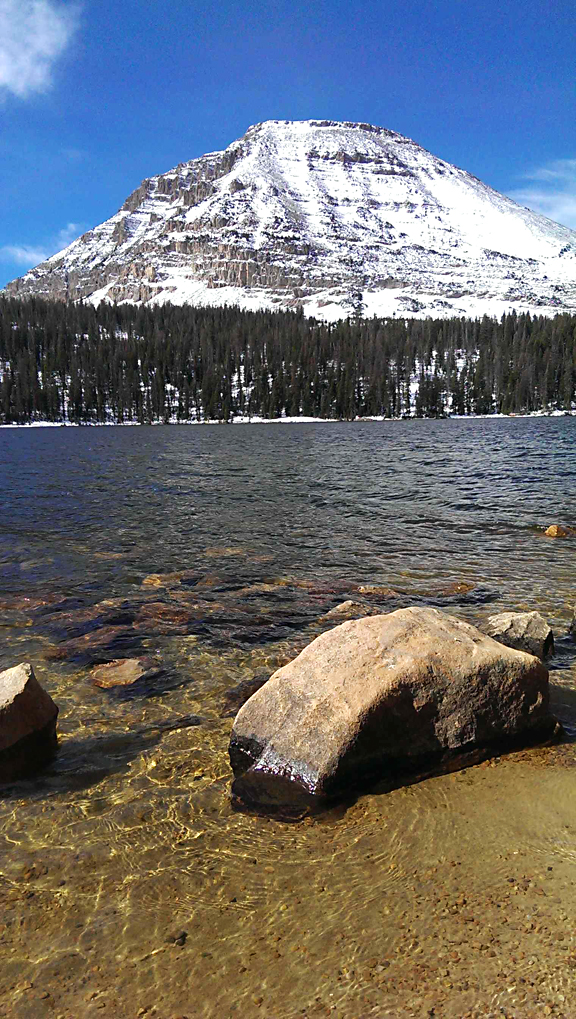 Courtesy of Lindsey Van
Mirror Lake. Uinta-Wasatch-Cache National Forest, Utah.
October 20 2013.
This was a day or two after one of the first snowfalls of the year. The Uinta Mountains are above 10,000 feet, and the road closes early in the season because of the snowpack. I head up there in the summer for cooler hiking and camping.
I wanted to get in one last trip before the road closed. It was a perfect bluebird day, crisp and quiet. I took this picture of Bald Mountain while walking around Mirror Lake. It's a busy destination in the summer, but this day I was peacefully alone.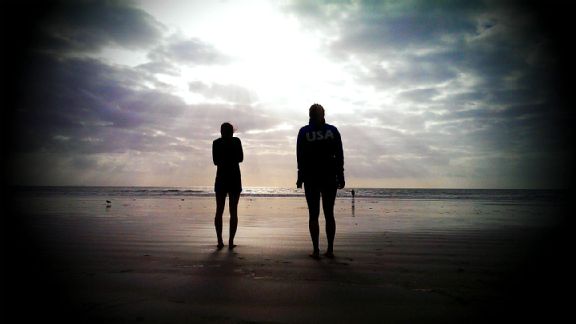 Courtesy of Lindsey Van
Silver Strand State Beach. San Diego, California.
November 4, 2013.
Our team traveled to San Diego for an intensity training camp. We went through track workouts, mobility, weights, plyometrics, hiking, beach sessions, volleyball and surfing -- all geared to motivate us and update our normal work sessions back in Park City. This is a picture of my teammates Jessica Jerome and Abby Hughes prior to a beach workout. It was great weather. It was nice to see the sun and play in the ocean before our winter season begins.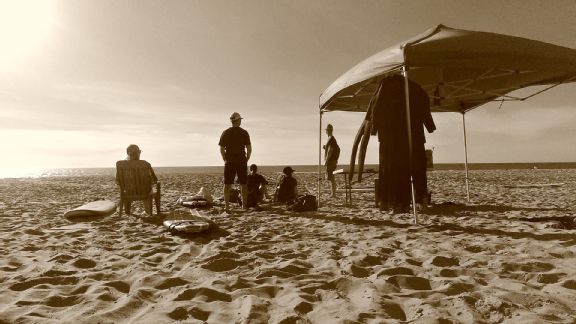 Lindsey Van
Mission Beach. San Diego, California.
November 6, 2013.
During our training camp in Chula Vista, we learned to surf. This is a picture of the Visa Women's Ski Jumping Team before we took to the sea. Everybody performed great and we were all able to stand up with no problems. I discovered a new hobby and fully plan to be surfing again next spring.
Courtesy of Lindsey Van
Round Valley Trail. Park City, Utah.
November 1, 2013.
The lower mountains and hills around Park City were snowless but muddy on the first day of November. I hike, bike and cross-country ski on these trails. Snow caps the higher-elevation mountains but leaves the lower stuff still usable for hiking and biking in the late fall. This picture is looking west at the Canyons Ski Resort.
July, 11, 2013
7/11/13
6:37
PM ET
By
Lindsey Van
| ESPN.com
Mike Hewitt/Getty ImagesLindsey Van first competed at the famed ski jump at Holmenkollen as a 15-year-old, in front of a crowd of 100,000 cheering Norwegians.
As I train for the upcoming ski jumping season at the Olympic Park in Park City, Utah, I've also been daydreaming about one of my favorite places in the world, and how it kickstarted my career.


The Holmenkollen -- the iconic 120-meter ski jump in Oslo, Norway -- is the most famous jump in the world. Every ski jumper dreams about competing there, because Norway is the birthplace of our sport. The Holmenkollen to Norwegians is what Yankee Stadium is to Americans.


The first competition held at the Holmenkollen was in 1892, and the jump has been rebuilt 19 times since then. Holmenkollen Day, which is held annually in March, is regarded as one of Norway's national holidays. Thousands of people, sometimes as many as 120,000, flock to the hill to watch competitors jump.


[+] Enlarge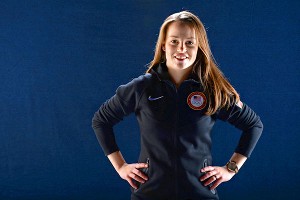 Harry How/Getty ImagesLindsey Van will compete in her first Olympic ski jumping competition on Feb. 11.
I first jumped in Holmenkollen in 2000, when I was 15, in front of 100,000 fans. I had never jumped in front of anywhere near that many people, so it was an overwhelming experience. It was a sunny spring day in March, and I remember coming out of the elevator at the top and looking out over the city and the Oslo fjord. I looked down the hill into a sea of red-and-blue Norwegian flags. From the top of the hill, you could hardly tell all the people were real.


I remember feeling anxious when I heard the roar of the crowd after the first jumper. The stadium is shaped like a bowl surrounding the area where the jumpers land (the outrun), so it looked like ski jumpers were flying into a sea of people. I had never seen anything like it, and needless to say, I was intimidated to jump in front of such a big crowd.


I don't remember the specifics of my jump, but I remember the sound and the energy when I came to a stop. I didn't take my skis off right away, but just stood there and looked around. Chills ran through my body and I had a huge smile that made me giggle. I will never forget that feeling and the energy in the air that day.


I was able to jump at Holmenkollen for six years in a row through 2005. But then, the International Ski Federation (FIS) ruled that women were allowed to jump hills only 100 meters long or smaller. Holmenkollen at that time was 115 meters, so we were excluded. I was glad that I had gotten to jump there six times, but bummed that I could no longer do it.


[+] Enlarge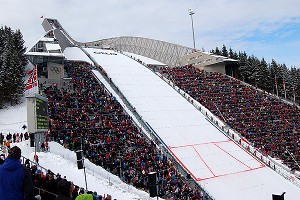 Whitney ChildersThe famed Holmenkollen ski jump in Oslo, Norway.
Over the next seven years, I watched the competition at Holmenkollen wistfully on television. Then last spring, the FIS revealed the upcoming World Cup calendar for the 2012-2013 season and the last on the list of competitions was Holmenkollen. I didn't believe it at first, but was elated to see it had been added to our schedule as the finale for the season -- the first time that women would be allowed to compete on a large hill (called a K120) in an FIS-sanctioned event.


So in March of this year I was back at the historical ski jump, which had been completely demolished and rebuilt since the last time I'd jumped there. The steel structure stood above anything else in the city and could be seen from miles away. I could feel the energy even on our first training day, when no one was there. I had the same feeling and chills I'd had at 15, even just walking around the new facility.


My Visa Women's Ski Jumping teammates and I were excited and honored to be there on competition day. I knew it would be a great day for our team. At the top of the jump I forced myself to take it all in. I looked out over the city of Oslo and down into the stadium. It was a sunny day and the bowl was filled with a sea of people once again. I sat on the stairs at the top and just let myself smile. As my turn approached, I once again felt the nerves of jumping in front of that many people. Thirteen years after my first jump at Holmenkollen, many of my feelings were exactly the same.


I jumped well and it was the most fun I had in competition all year. I was motivated by the energy in the air, and it was contagious for us all. My teammate Sarah Hendrickson won the competition, I was seventh, Jessica Jerome 10th, Alissa Johnson 19th and Abby Hughes 28th.


We all had a great experience, and I'm already looking forward to jumping there again next March. It keeps me going every day in training, because jumping at the Holmenkollen is like playing in the Super Bowl -- a dream come true.


Lindsey Van is a member of the Visa Women's Ski Jumping Team and represents the United States on the World Cup circuit. She made history in 2009 by becoming the first women's ski jumping world champion. Van has helped lead the charge to get her sport into the Winter Olympics, where it will debut in Sochi in 2014. Find out more at Women's Ski Jumping USA.