espnW:

Los Angeles Sparks
July, 2, 2014
Jul 2
11:52
AM ET
By
Nneka Ogwumike
| ESPN.com
Shane Bevel/Getty ImagesNneka Ogwumike will add some hoops to her July 4 weekend when her Sparks host the Mercury on Sunday.
July is by far the best month of the year for a multitude of reasons!
Besides it being my birthday month, it signifies an incredibly important and exciting time for our country. The thrill of fireworks, tri-colored decor and our favorite picnic cuisines are all things we look forward to once July rolls around. However, they aren't close to what this time of the year represents.
The Fourth of July is a commemoration of freedom, independence and liberty. My earliest and fondest memories of the Fourth always incorporated the importance of these pillars. As a USA basketball medalist, summers always treated us well; and there was no better time than winning a gold medal that symbolized the independence July 4 brought so many centuries ago and remains until this day.
In the midst of our pridefully passionate celebrations, I do hope that we never lose sight of the true essence of unity this time of the year brings.
AND ... don't forget to tune in for some Fourth of July weekend-themed basketball on Sunday, July 6, for ESPN2's spectacular double-header. Start the patriotic day off with the Minnesota Lynx vs. the New York Liberty at Madison Square Garden and end your day with a "Sparkling" game as the Phoenix Mercury take on my Los Angeles team at Staples Center.
Happy Fourth of July!
May, 11, 2014
May 11
12:50
AM ET
By
Nneka
and
Chiney Ogwumike
| ESPN.com
Basketball stars and sisters Nneka and Chiney Ogwumike share their Mother's Day greetings for Ify Ogwumike via photos.
Courtesy of Nneka and Chiney Ogwumike
No matter where we are you're always there. Whether in spirit or en route, you always find a way to our hearts.
Courtesy of Nneka and Chiney Ogwumike
Your aura is gorgeous. You shine brightly on our lives in every way and we only hope to reciprocate the love you've showered upon us. Mom, you are glorious!
Courtesy of Nneka and Chiney Ogwumike
You've taught us so many things, but most importantly all we know of ourselves. Never steering us wrong, you've instilled in us a confidence that goes unshaken. Your strength is always in our hearts.
Courtesy of Nneka and Chiney Ogwumike
We're not sure we can ever match the sacrifices you've made for us, but we hope you know our individual success is a reflection of you. Nothing would be possible without you. You're THE force and foundation of four flourishing lives, and there's nothing more to it. Thank you, mom, for everything and more.
December, 23, 2013
12/23/13
2:43
PM ET
By
Nneka Ogwumike
| ESPN.com
Courtesy Nnemkadi OgwumikeNneka Ogwumike, right, and family drove overnight from Houston during Christmastime last year to see sister Chiney play for Stanford.
In the midst of basketball season, it's easy to forget about the holiday season. In between games and practices, we, as athletes, try our very best to bring holiday cheer with us wherever we go. Though celebrating Christmas with family may last only a few days, my family and I make sure to make the very most of the rare time we can all be together.
From Christmas in Mexico to a full-blown family reunion in Washington, D.C., I've seen my share of holiday adventures. Surprisingly enough, however, my most favorite Christmas memory was last year's holiday. After playing the first half of my rookie year overseas in Poland, I was able to come home to my family for a week and a half; a week and a half that was quite eventful.
After arriving back home in Houston, my two youngest sisters and my parents decided to drive overnight to Tennessee to surprise Chiney at her game. The trip was grueling but well worth it. Chiney was completely shocked, played awesomely and got the win before we all drove back to Houston to celebrate Christmas. It was the first time since my Stanford graduation that we had all been together. Midnight Mass was beautiful, everyone was more than satisfied with their gifts and Christmas dinner nearly paralyzed everyone. It was truly special.
After enjoying the time I had with my family, I then followed Chiney back to "The Farm" to catch a game and see some familiar faces. My trip to California made me realize just how much I'd become a Cali girl (honorary, of course). I felt like I was home again when I saw some many people from my Stanford family.
Before I knew it, though, it was time for me to get back to work. As I got ready for my journey back to Poland, I couldn't help but be thankful for the best Christmas I'd ever had. It was simple: I spent the most important time of the year with the most important people.
September, 19, 2013
9/19/13
10:15
AM ET
By
Candace Parker
| ESPN.com
The playoffs never get old. The competition increases, physicality escalates, tempers rise and every play matters.
We have worked so hard in the regular season to get to this point, and it means absolutely nothing going forward. The playoffs are a clean slate to either right your wrongs or go home (actually, in a lot of cases, it might mean heading back overseas for the offseason).
[+] Enlarge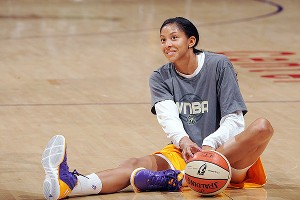 Juan Ocampo/NBAE/ Getty ImagesAs a veteran who's been through adversity, Candace Parker appreciates the postseason more than she did when she was a rookie.
I can remember back to my rookie season and my first professional playoff experience. Lisa Leslie was my teammate, and she told me to enjoy the moment and own it or someone else or some other team would. I was naive. At that time, I took the game for granted. My expectation was that Los Angeles would be playoff-bound and I would be healthy forever. As a young rook, at this time in my career, I imagined I would have three to four championships.
A last-second dagger by Sophia Young, a beautiful daughter, one shoulder injury, one knee injury and a devastating loss to Minnesota all proved to be solid doses of reality and a reminder every day to continue to work hard. At 27, I am humbled because of my journey, and I understand that moments like these don't come around all the time.
The playoffs are a chance to seize and enjoy a moment in time. Going forward into the postseason, I understand and am living proof that adversity builds character and reveals it.
Candace
August, 19, 2013
8/19/13
12:20
PM ET
By
Candace Parker
| ESPN.com
Getty ImagesSparks All-Star Candace Parker loved watching the whole gang on "Saved By The Bell."
If you were to ask me what one of my favorite TV shows growing up was, there would be no hesitation to my answer -- "Saved By The Bell!" I loved that show -- AC Slater, Lisa Turtle, Zack Morris, Kelly Kapowski, and of course, Mr. Belding -- all living through the high school melodrama that we all either dreamed of living, or in some remote way, could relate to. Fast forward several years later (no need to say how many years); I'm a mother, wife, professional athlete and consider myself quite composed around other professional athletes and celebrities. Let's just say I get it.
[+] Enlarge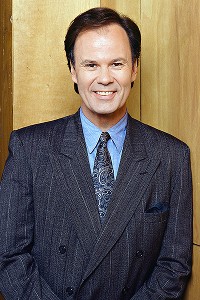 Paul Drinkwater/Getty ImagesCandace Parker was excited to meet Mr. Belding aka Dennis Haskins at the WNBA All-Star Game.
What I can tell you is that calm, collected and cool Candace was nowhere in sight the night before the All-Star Game and I have one person to blame; Mr. Belding! YES! That's exactly right -- Mr. Belding, principal extraordinaire, the man; Mr. Belding! Here we (my teammates and WNBA colleagues) were, enjoying All-Star weekend activities, catching up and laughing when someone said, "Oh look, there's Mr. Belding." I wasn't sure if it was a joke or not, but I immediately turned around and couldn't believe it -- it WAS him. Not only did I completely lose my composure, but I lost all sense of time and found myself back in the hallways of Bayside High School hanging out with the gang!
Mr. Belding is the bomb! He posed for photos. We chatted about our friends and families. He gloated about the WNBA and the Sparks! He posed for more photos and unbeknownst to him, he brought back many happy memories while making lasting ones that I could pass along to my daughter. He was genuine, jovial and full of WNBA love! It was such a joy putting a tangible experience to a childhood memory. It was a moment I'll never forget.
Mr. Belding didn't just talk the talk either. He truly does love the WNBA. The Sparks first home game since the All-Star break was Tuesday night. When I came onto the court for pregame warm-ups, guess who I saw sitting baseline ready to give me a high-five? That's right, Mr. Belding! The night was a win for us, and a great night for Sparks' fans. After the game, we caught up for a bit and he got to meet my husband, Shelden, and daughter, Lailaa. Ask any teammate of mine and they all will say that having Mr. Belding at our game -- supporting the WNBA -- was exciting! Kristi Toliver was taking pictures with him, Marissa Coleman gave him a postgame shout out and Mr. B himself was active on the twitter feeds with tons of Sparks love!
So, thanks Mr. Belding for bringing me back to a place in time that had so many wonderful memories. Those were the days when I was becoming who I am today -- and you were part of those days. I'm glad you got to see me now. I'm sure somewhere along the way -- in some episode by the lockers when you were talking to Kelly or Zack, that you reminded us to work hard and follow our dreams. I did! We did! And here we are.
See you soon Mr. Belding, aka Dennis Haskins!
GO SPARKS
July, 8, 2013
7/08/13
4:52
PM ET
By
Candace Parker
| ESPN.com
Courtesy of Candace Parker
Getting ready to head to the BET Awards -- same day we came home from a two-game back-to-back road trip! What a day and night!
Courtesy of Candace Parker
(My husband) Shelden (Williams) and I about to 'step out for a date night at the BET Awards.
Courtesy of Candace Parker
Posin' at the BET after party with Shelden and Justine. Great night out in Los Angeles having fun with my husband and one my best friends...
Courtesy of Candace Parker
Another fun night out in LA at the Beyonce Concert with Shelden, my teammate and friend, Jenna O'Hea, and one of my best friends, Justine Brown. Beyonce (Queen B) was a blast.