April, 6, 2013
4/06/13
5:37
PM ET
By
Shoni Schimmel
| ESPN.com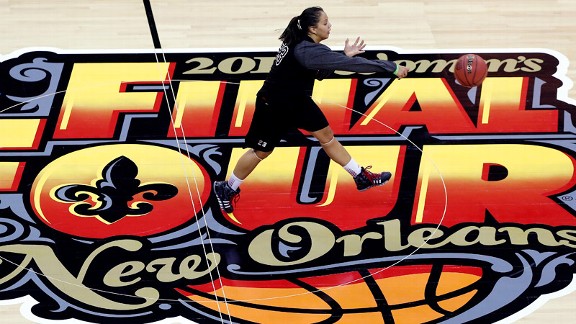 AP Photo/Dave MartinFinal Four activities include media obligations, dinner with the other teams, a Mardi Gras-style parade and, of course, the business of practice.
Friday was a very busy day for the Louisville women's basketball team. It started with a pool workout at our hotel. Our strength coach, Teena Murray, makes us get in to get our bodies moving and relaxed for the long day ahead of us. We usually use an indoor pool, but this time we had the pleasure of having the pool outside. It was super cold, especially with the wind blowing, but we made the most out of it because champions always want to start their days off right!
Next, a few of the players went to the arena to do a lot of media, along with tons of crazy, funny pictures and some video work. This was a new experience for Nita Slaughter, Bria Smith, Sara Hammond, Jude Schimmel, Sheronne Vails and me, because this is our first time in the Final Four.
But it wasn't all fun and games. We had practice for a few hours before heading to our next event, the Salute on Parade.
The Salute had a lot of activities for us there, as well. When we walked in we picked out our Final Four rings and got them sized, which was exciting. Then we had dinner with the three other teams and had the pleasure of enjoying each other's company. Next, we went on to a parade similar to Mardi Gras and threw out beads to everyone and had a lot of fun.
The atmosphere here in New Orleans is something else. If you aren't down here already you need to because the real fun is about to begin. We are taking in every moment, but we are also focused on our goal. Only one more day until the games begin!
April, 5, 2013
4/05/13
11:53
AM ET
By
Shoni Schimmel
| ESPN.com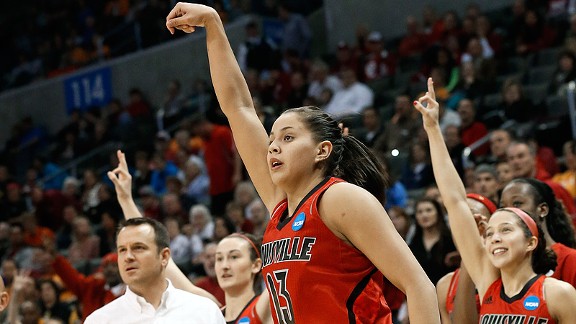 AP Photo/Sue OgrockiShoni Schimmel and Louisville earned their trip to the Final Four by knocking off No. 1 Baylor, then ousting Tennessee.
Words can't describe how exciting and pleasurable it is to be down here in New Orleans. Except for our fifth-year senior, Monique Reid, we have not had the opportunity to play in the Final Four. And we're all happy to be here!
Even though it wasn't an easy road for us -- losing Shawnta' Dyer, Asia Taylor and Tia Gibbs for the whole season and Reid for a few games -- we still have come a long way. We were lucky to play the first two rounds in Louisville on our home court, but at the same time we did our job to continue on our journey, defeating 12th-seeded Middle Tennessee and fourth-seeded Purdue.
Next was Oklahoma City, the so Sweet 16, where we got the blessing of playing the overall No. 1 seed, the Baylor Bears. Let me tell you something: 6-foot-8 on TV (Brittney Griner) is very different from 6-8 in person! Being the dominant team it is, Baylor didn't give up and came back from a 20-point deficit to make the game very close with nine seconds to go. But with hard work and execution of our game plan, we came out on top. Then we played Tennessee in the Elite Eight to continue our journey to NOLA.
This was our goal the whole season. And after defeating higher-ranked Purdue, slaying the Baylor Bears, beating the Lady Vols ... we've finally made it to the Final Four and can't wait for all the fun to begin.