May, 14, 2014
May 14
10:46
AM ET
By
Meghan Duggan
| ESPN.com
Harry How/Getty ImagesTwo-time Olympian Meghan Duggan is captain of the U.S. women's hockey team.
It's Game 7 of the Bruins-Canadiens matchup of the Stanley Cup playoffs tonight -- we're down to the wire! I grew up in the Boston area, so I've been a Bruins fan my whole life. It's a family thing for us, and we all get together to watch games.
I am what you would call an intense fan, however. During the Bruins' second game against the Canadiens, I was watching with my parents, sister, brother, sister-in-law and some friends. The Bruins were down by two goals in the third period, and I was feeling a little queasy, to say the least.
[+] Enlarge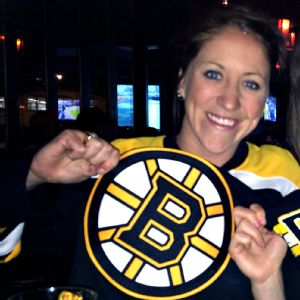 Courtesy of Meghan DugganAs a Danvers, Mass., native, Meghan Duggan is a die-hard Bruins fan.
There were eight minutes left in the game so I said, "OK, we've all got to do something different. Go change your shirt or put a different hat on." I swear I'm not making this up. Every single one of us changed our shirts, and the Bruins came back and won 5-3. I'd like to think I had something to do with it.
I'm a firm believer that a little superstition never hurts -- and it could help. Last season on the women's national team, a group of us would play soccer before every game. We'd finish by playing keep-up, and everyone had to touch it once before we could stop. Sometimes it would happen quickly -- there'd be 10 of us and we'd go through several times, one person to the next. But sometimes it would take us forever, and we'd be diving after balls just trying to touch it with our foot before it hit the ground. Regardless of how long it took, we had to do it. I'm pretty sure every game we won was because of that, and the games we lost, well, those are harder to explain, I guess!
The Bruins are a nose-to-the grindstone, hard-working team, and I love the way they play -- it's a lot like the way we do on the national team. They don't have one Sidney Crosby-type player -- they're just hard-working guys, and they've played that style for years.
I'm a huge Patrice Bergeron fan. He isn't super-flashy, but he is arguably one of the best two-way players in the game. He wins big draws and blocks shots, plays great defense but is also an offensive threat.
I love the playoffs -- it's my favorite time of the year because hockey is on TV every night! -- but I am really sweating out this one. I think I'm more sensitive than the average fan to all of the momentum shifts in a game, and I get worked up about every one of them.
I'm beginning to get a feel for what it must have been like for my parents to watch me play in the Olympics, and that must have been 10 times worse. I don't even know any of the Bruins personally, and I feel sick when things don't go well.
I have a good feeling about tonight, though. I'll be on the edge of my seat for every moment of it. Go Bruins!
January, 3, 2014
Jan 3
12:13
AM ET
By
Meghan Duggan
| ESPN.com
The 21-member roster of the U.S. women's Olympic hockey team was announced Wednesday between periods of the NHL's Winter Classic at the University of Michigan in Ann Arbor. Meghan Duggan, captain of the national team, takes us through the day.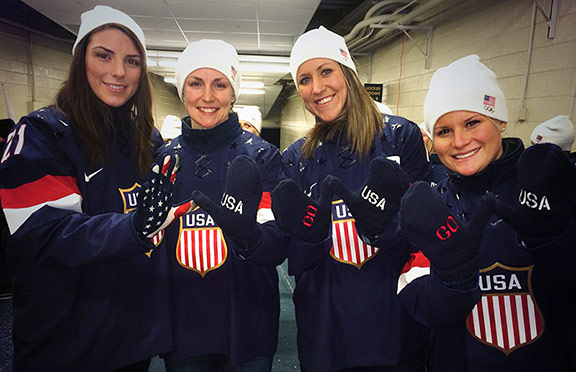 Courtesy of Meghan Duggan
Wisconsin alumni Hilary Knight, Jessie Vetter, myself, and Brianna Decker throw up the famous "W" in support of the Badgers! It's probably the first time any Badgers have been cheered that loudly in the Big House -- home of the Michigan Wolverines.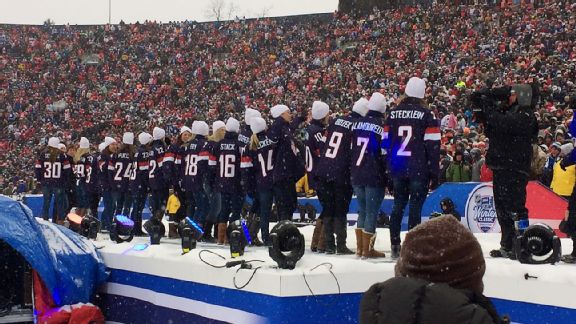 Courtesy of Meghan Duggan
The whole 2014 Olympic team up on the stage during the announcement. It may be the coldest any of us have been in a long time, but in a moment like that one, there is nothing else on anyone's mind except pride and the excitement of the journey that lies ahead!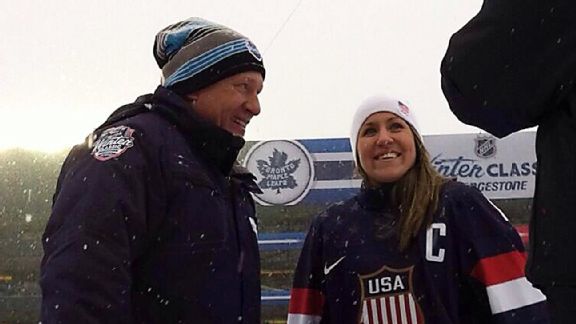 Courtesy of Meghan Duggan
I'm here in the snow with Jeremy Roenick prior to an interview on NBC after the announcement. I never realized how difficult it is to speak in an interview when you can hear yourself talking over the loudspeaker in the stadium as well.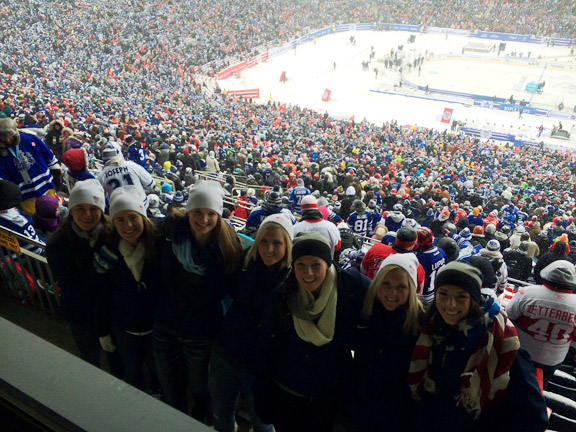 Courtesy of Meghan Duggan
Continuing to brave the weather -- and watching the game from outside the warm box we were so kindly provided. Both Lamoureux twins are in this photo -- can you tell who is who? (For the record,
Jocelyne is second from the right, while Monique is in the center of the picture.)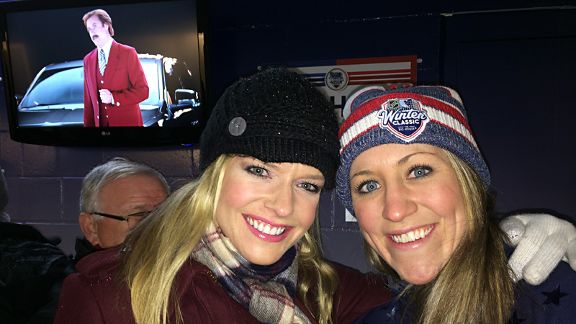 Courtesy of Meghan Duggan
I got the chance to catch up with NHL Network reporter Kathryn Tappen behind the scenes at the Big House. She is as excited as I am to be traveling over to Sochi in February to cover the men's and women's USA hockey teams. Also, the one and only Ron Burgundy photo-bombed this picture with some serious style.
November, 1, 2013
11/01/13
2:28
PM ET
By
Meghan Duggan
| ESPN.com
Meghan Duggan Times Square became an Olympic playground to mark 100 days until the Sochi Games for hockey teammates Meghan Duggan, right, and Hilary Knight.
It was a whirlwind 48 hours in New York City for the USOC's 100 Days to Sochi event, celebrating the road to Russia for the 2014 Winter Olympics.
After a 6 a.m. practice on Sunday morning with my team in Boston, I hopped on a plane and flew to New York on Sunday night for the festivities. Most of Monday was spent in the NHL store and the NHL offices, meeting with media members from CBS and the NHL Network to talk about our USA women's national team preparations for the games as well as our long-standing rivalry with our neighbors to the north. I was accompanied by teammate Hilary Knight, and we had the opportunity to meet some past NHL greats such as Brendan Shanahan and Brian Leetch. We were treated like stars that night as we walked the "blue carpet" outside of Madison Square Garden for the Rangers' home opener and grand opening of the newly renovated MSG. Fans screamed, music blared and lights flashed. It was a great night in NYC!
[+] Enlarge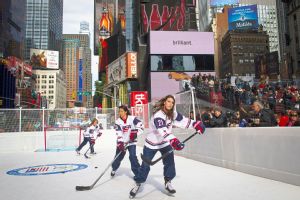 AP Photo/John MinchilloMeghan Duggan, left, and her U.S. teammates will face Canada, Finland and Sweden this weekend at the Four Nations Cup in Lake Placid.
Tuesday morning came quickly, and there wasn't a dull moment from when we woke up in our hotel in Times Square in the morning until we landed back in Boston that evening. Times Square was transformed overnight practically into a U.S. Olympic training center. There was an ice sheet for hockey and curling, and a downhill covered in snow for the skiing and snowboarding. The area was lit up with signs and lights all reflecting the Road to Sochi. Athletes, staff, media, and fans filled the streets.
Getting to "ham it up" on NBC's "Today" show in the morning with Hoda Kotb and guest host Anthony Mackie was great. Hilary Knight and I showed them some stickhandling skills and spoke about our team's journey in the next 100 days during our segment. We continued to be moved around most of the morning and afternoon between photo shoots, news conferences and autograph signings, doing our best to represent our respective teams and our country as a whole. Teammate Julie Chu joined Hilary and me on the outdoor ice sheet for two hockey demonstrations that we put on for the crowd and the media at points throughout the day. We shot and passed the puck around, wearing our jerseys and big smiles, getting people excited about watching hockey in the Olympics. It was a busy but fun-filled day, and we were excited to have that opportunity to represent our team!
It was a quick turnaround when we returned back to Boston and met up with our team. We head on the road this weekend to Lake Placid, N.Y., for the 2013 Four Nations Cup. This tournament features the women's national teams from the U.S., Canada, Finland and Sweden. Seeing as it is the only major international tournament until the Olympics this season, there is a lot on the line. Our U.S. team is looking to win the whole thing. We have captured first place in the past two Four Nations Cups, beating Canada in the championship game both times (2011 in Sweden and 2012 in Finland). Our goals for the week revolve around work ethic. We are demanding a lot from ourselves, and we will continue to push one another in every game we play. Our staff has implemented systems for us on the ice, and our game plan is to work as hard as we can every single shift. I will be following up with picture/video blogs with write-ups during the tournament.